Acrylic paints can be painted onto wood. It could be a great experience and a piece of art. But you have to prepare your wooden surface properly before you start if you don't want to redo it later (which is not so easy as painting on canvas).
If you have an idea to paint acrylic on wood, you might wonder how to prepare and how prime wood for acrylic painting. The recommended way is to sand it, apply at least 2 coats of sealing, 2 coats of priming, and start painting. That's all.
Some people say you can paint directly on the wood which is not true. In this article, I'd like to share why it's vital for a wooden surface to be sealed and primed and how to do it step by step I will also give you 6 examples of the best-recommended product to prime and seal your wood before applying acrylic paint.
Table of content:
This article may contain affiliate links. It means NO extra costs for you, but small comission for me to support this website. Thank you!
Read also: Can You Use Acrylic Paint on Wood? Best Supplies for Painting Acrylic on Wood
Primer or sealer: what you should know before you start?
Sealers are often confused with primers. Here is a simple table that explains the difference.
Sealer
Primer
A sealer protects the wood. It creates a barrier and doesn't let the wood soak paints or be altered by environmental factors.

The sealer applies BEFORE primer.

Sometimes called sizing in order to not to confuse with sealing which we apply to finish and protect the painting when it's done.

Example: PVA glue, Golden CAC, etc
A primer is a foundation layer. It makes paint adhesion stronger and also helps us to create the painting as we imagined it.

The primer applies AFTER the sealer.

Example: Gesso
6 reasons to prepare the wood before acrylic painting
If you are going to paint acrylic on the wood you definitely need to seal and prime the surface first. This step can't be skipped in any case. Why? The understanding of the nature of such material as wood and the consequences of not preparing it will help you create your next masterpiece, protect it, and save your time and money.
Here are 6 reasons why you should prepare, seal and prime your wood before acrylic:
Sanding the piece first will get rid of any ridges and make the surface smooth.
Priming lets acrylic paint apply easier. The wood is a porous surface, without prep, it will just soak the paint you put on and you won't have desirable colors and effects. It also prevents the paint from becoming patchy.
Priming makes lighter colors appear more vibrant.
Without sealing the acids of your paint can seep into the wood and destroy it.
Sealing protects wood from the shifts in humidity, stains, rotting, or peeling
Sealing eliminates Support Induced Discoloration (SID).
SID occurs only with acrylic paints. The impurities contained in support can cause an amber yellow discoloring to any light colored or clear acrylic layer.
If you decide to skip the primer, the results might look fine for a while, but in a couple of years the paint can just start to flake, and you'll lose your beautiful painting.
---
How to prepare and prime wood: 6 easy steps
The procedure of preparing wood is very simple. I'll guide you through the detailed instructions.
Note: for smaller craft projects I only sand and prime with gesso, skipping sealing the wood before painting it. Maybe I'm doing wrong, but I haven't seen bad results and it saves time.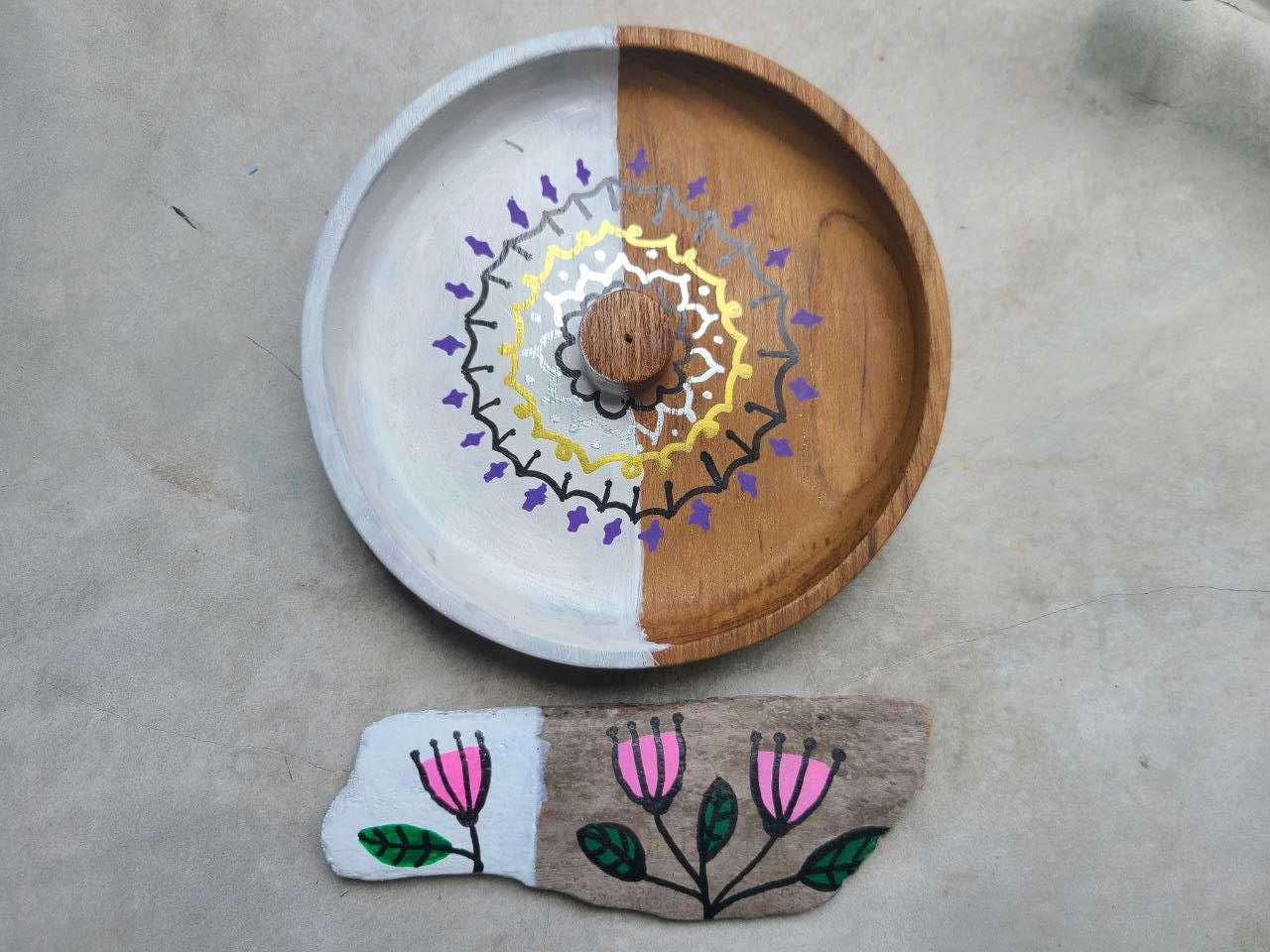 Go through 6 quick steps to prep wood for acrylic painting. Sanding the piece first will get rid of any ridges while priming it will help the paint stick on better. Adding a coat of sealer will protect all your hard work, and help it last for years to come.
Clean
Clean the surface, sides, and back of the wood panel pr piece. You can use a vacuum or air pressure if very dusty. Wipe it clean with a lint-free cloth slightly dampened with water.
Place the wood
To make the process easier consider placing each corner of the wooden piece on a jar, wood props, etc.
If you have a large piece of wood, consider reinforcing its back with a couple of strips of wood. It will stop it from warping. (Glue and clamped in place)
Sand
– if your wooden piece is pre-sanded and it is completely smooth, skip this step.
– If it wasn't sanded down, use 140 to 280-grit sandpaper or a sanding sponge to sand down your wood.
a sanding sponge will work the best on curved surfaces
Always follow the direction of the wood grain. Sanding across the grain will break and fluff up the wood fibers, making the job more difficult.
DO NOT use coated stock sandpaper (orange or blue or green or another unnatural color)
Clean
Wipe all dust and grains with a tack cloth and make sure that now the wood is smooth and clean.
You can also remove sanded particles using a lint-free cloth soaked with paint thinner, as the humidity of the cloth will pick up all loose sand.
Seal (2 coats)
Apply the first coat of sealing on all sides and let it dry (until it's no longer tacky).
Wipe the surface clean (*If the side you wish to work on feels grainy you can sand it again with 220 sandpaper)
Apply the second coat
Usually, 2 sealing coats are enough, making the wood appear slightly satin or glossy in sheen. Optionally apply more coats if you desire a more saturated seal. Let it dry
If there are knots in the wood, as often found in pine, seal them with a knot sealer. If this isn't done, over time the knots will leak sap, which will penetrate the paint looking like a surface stain.
Prime (1-2 coats)
Apply the first coat of primer and let it dry thoroughly before applying acrylic paint but don't leave it for more than a few days beyond that time before you apply the topcoat. Prime the front and sides first, let them dry, then prime the back. You can use a brush, roller, or spray.
You can sand the first coat of primer, wipe it clean, then apply more primer over it. Do this a few more times until there are no ridges remaining.
I recommend applying 1 or 2 coats of primer.
Once the wood is dry to the touch it is ready for the application of acrylic paint.
If you skip any of the steps or mess up the drying time, you can face some problems later.
Here is some advice for artists on what to do, which is not "traditional" but could still work for you personally:
– put down a basecoat of white acrylic paint first as it typically leads to fewer layers of whatever color you are using,
– apply a coat of rabbit skin glue to the bare wood, or at least a very slightly watered-down coat to make sure the wood is sealed, and add topcoats when it has dried (normally 2–3 hours)
---
6 recommended products to seal and prime wood for acrylic painting
I made for you a table with prices and quick notes and before you'll deep into studying it I'd love to say that you can use your own, homemade gesso (with any chalk you like). Considering sealants you can choose a spray or brush-on sealant including matte, gloss, satin, and many more.
*Prices are listed for this specific volume. Each product can be purchased in different volumes.
Type
Product
Price
Link
Notes
Sealer
GOLDEN's GAC100
24,23$ for 32 oz
Click
A glossy acrylic medium. It has a special thin formulation of polymer acrylic, soaks in quickly, and minimizes brush strokes and texture.
Sealer
GOLDEN Acrylic Gloss Medium
25,19$
for 32 oz
Click
This medium works (as the brand says) better as a seal than GAC100. It can create brushstrokes though as some artists mentioned.
Sealer
PVA glue, e.i. Mont Marte PVA Glue
24,99$ for 1L
Click
You can dissolve it with water or H2O and put 1-2 coats to seal the wood (on each side).
Primer
Gesso Old Hollands
28,25$
for 0,5L
Click
It's a universal gesso. You can also dilute it with water (up to 20%). If you apply more than 1 layer, let it dry for 3-4 h between layers.
Primer
GOLDEN Acrylic Gesso
24,23$
for 32oz
Click
Adds adhesion strength between the sealed wood and your first layer of acrylic paint. The lesser quality primer, though, does not have a high pigment content for the extra adhesion strength that acrylic paints require.
Primer
Liquitex white acrylic gesso
22,35$
for 32oz
Click
A popular choice. Adds an ideal level of tooth. It's suitable for wood and a large variety of mediums. Available in different colors.
Below are 2 reference charts made by manufacturer GOLDEN to show typical product applications to properly prepare the support to accept paint. GOLDEN notes that there are general guidelines and certain circumstances will require additional products and procedures.


Read also: Try 15+ Gesso Alternatives Or Make Your Own Cheap Gesso
Helpful videos
How I drew on wood using Artistro acrylic paint markers. I tested each wooden surface unprimed and primed with a few layers of gesso.
Here is a nice video on how to seal and prime wood panels using PVA glue and homemade gesso (the recipe is not included!) to give you an idea.