Do you have a hard time deciding what's better between satin vs gloss for varnishing your painting or redecorating cabinets?
Both have a similar consistency and are good to use, but many are still confused about how the gloss and satin finishes differ from each other.
The level of sheen is what satin vs gloss differ from each other. Satin paint finishes give a pearl-like sheen suitable for bedrooms and dining rooms, while gloss paint finish sheen is twice higher than satin, making it best to use in kitchens, trims, and bathrooms.
Although we have different preferences, we're all in the same boat in choosing what's the best finish to use for our home, art, or DIY crafts.
So here are some essential key points in choosing between gloss or satin finish.
What is the difference between Satin and Gloss?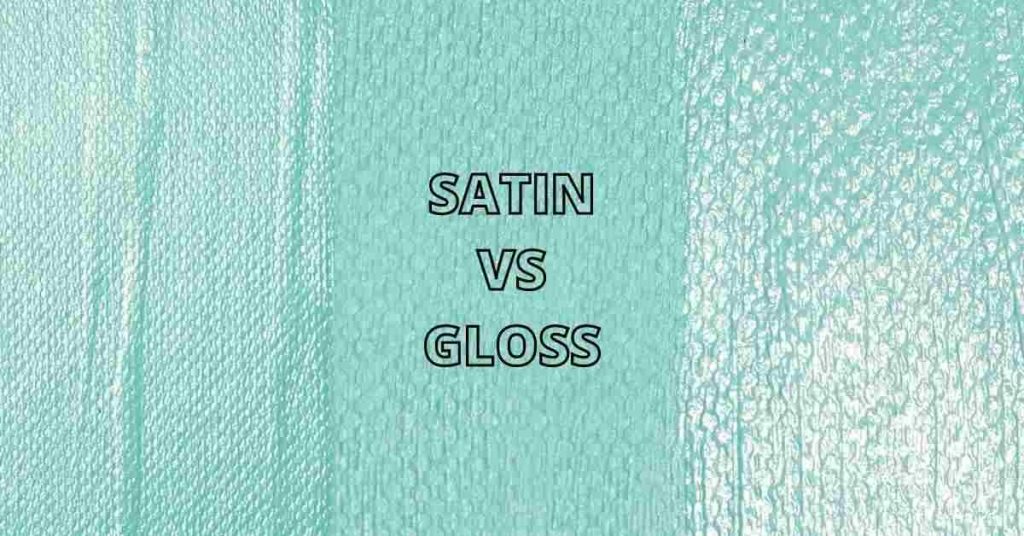 Satin paint gives a slight shine, while gloss paint has more sheen. This makes others prefer satin for it gives a soft glow. While others choose a gloss finish to give their paint colors more fun.
Another difference between satin and gloss paint is how the two handle imperfections. Neither of the two can completely hide imperfections, but because satin only reflects less light, it makes it a better choice for hiding scuff marks.
Differences in:
Satin paint
Gloss paint
Sheen level
26-40%
70-90%, higher sheen
Ease to apply
Easy to apply
Harder to apply
Durability
Durable but rough scrubbing will lose its sheen
Highly durable even in heavy cleaning, good for high traffic areas
Uses
Best in large areas like bedrooms, living rooms, and playrooms
Best in small spaces and need high maintenance such as bathrooms, kitchens, doors, woodwork
Maintenance
Low maintenance, easy to clean
High maintenance, easy to clean
Visibility
Its low reflection better hides imperfections
Tends to highlight imperfections because of its reflective surface
Resistance
Can retain scuff marks and dirt
Stain-resistant, moisture-resistant, mold and mildew resistant
Coverage
Easier to apply
Need additional prep work for smooth application
Cost
Gloss finish can be $2 and more expensive than satin. Spray paints are cheaper (and smaller)
Recommended
Satin paint
Gloss paint
Apart from this, there are many aspects to knowing where gloss and satin finishes are best to use, which are based on the following:
Satin vs gloss appearance
Satin paint is ideal for a contemporary and cozy look since it reflects less light. It's a popular choice if you want to give your rooms a homey atmosphere.
The satin finish also gives the paint colors more pigment, though depending on the light reflection, the paint colors may look a little lighter.
Meanwhile, gloss paints make the paint colors lively and work well to make the room bigger. It's best to use it if you want to highlight the architectural features in your house.
Also, the paint colors may look darker depending on how the light reflection hits.
Satin vs gloss texture
The satin finish gives a smooth feeling surface and is known for its velvety look. While gloss paint gives a slick surface because it has a more shiny appearance.
Since satin paint texture is not totally flat but also not glossy, this makes it better to hide imperfections than gloss paint.
In fact, the shinier it is, the more it also highlights imperfections, making gloss finishes not suitable for bigger spaces.
Satin vs gloss durability
Satin vs gloss is the two debated finishes for they are both durable, washable, and can withstand wear and tear. However, the two differ in their level of durability.
Take note, the more glossy the more durable it is. Though satin paint can last longer, it can't withstand everyday maintenance and rough scrubbing because the sheen will fade.
Instead, it can hold stains better than gloss since it will not highlight imperfections.
On the other hand, since gloss paint's sheen is high, it's more prone to constant washing and will not lose its shiny appearance.
This makes gloss finish known as more robust, highly durable, and moisture-resistance.
Satin vs gloss cost
A paint finish costs more expensive based on how glossy it is. On the average price, a satin finish is $4 cheaper or more, than a gloss finish. Here's a comparison table from the same brand, Krylon.
---
What is satin paint?
Satin paint's shine level ranges from 26-40%, which gives a subtle shine and is a popular choice for areas that need a warm atmosphere such as bedrooms and family rooms.
Although it does not completely hide imperfections, it's better to use since satin finishes tend to reflect light lesser than gloss paint. In fact, rather than reflect, it absorbs light reflection making the paint colors a little lighter.
A satin finish is also commonly used for woodwork and crafts since it can hide flaws and is not as flat as eggshell. There are still more benefits and drawbacks to a satin finish, which are the following:
Pros
Ideal to use in bigger spaces like bedrooms, dining rooms, family rooms, and ceilings
Better hides imperfections than gloss paint
Gives a velvety look and a smooth feeling of surface
Called a rub-on finish for it's easier to apply and clean with the use of cloth and a little elbow grease
Offers a more pigmented-colored surface
Cons
Difficult to touch up from chipping and water stains for it does not blend and will tend to highlight uneven sheen paint
Not ideal to use in outdoor areas
Not suitable for small spaces for it gives a duller atmosphere
Rough scrubbing will lose its sheen
Types of Satin Products
Satin finishes come with different kinds of products, either for your rooms, woodwork, or DIY crafts. Although these products have different purposes, they still offer the same level of sheen.
If you still find it complicated what kind of satin finish products to use, check the following:
Paint finishes
Clear coat finishes
Wood stain
Aerosol spray paint finishes
Varnish finishes
Furniture wax
Sealants
Polyurethane
Satin Paint Finishes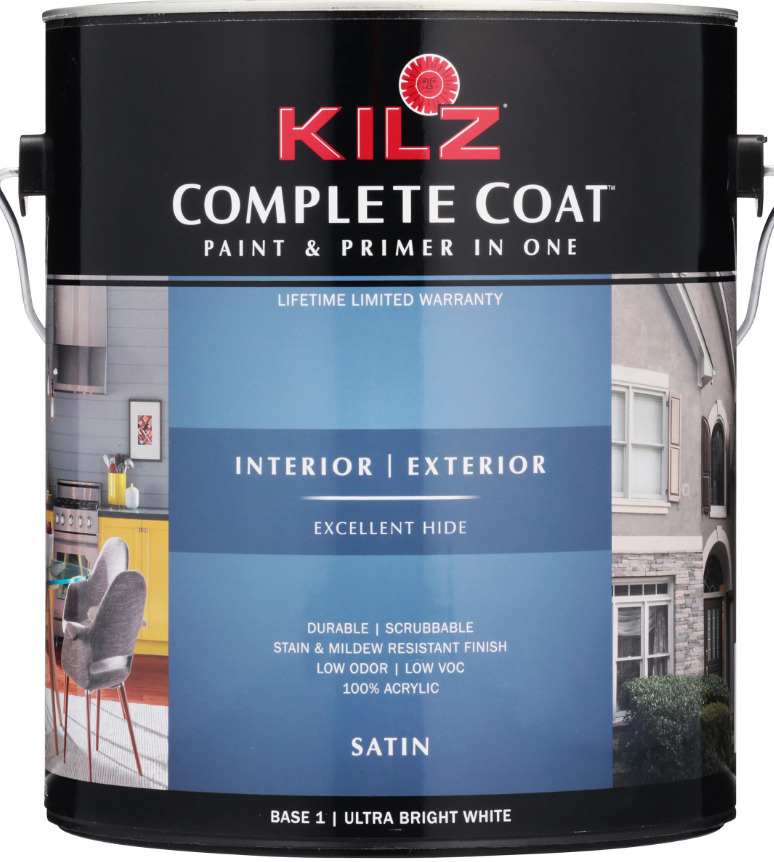 Satin paint finish sheen level is between flat and gloss paint. Its subtle glow is perfect to use for cozy areas like bedrooms, family rooms, and living rooms, but for exterior surfaces as well. A satin finish is also the best to use if you're painting radiators.
KILZ Complete coat is one of the best satin paints for interiors and exteriors and it combines primer and paint.
If you're debating between white satin vs gloss paint, you can use white satin paint to avoid getting a dull room. It's recommended to use water-based paints to avoid yellow tinges.
Meanwhile, if you're choosing what is best between satin vs gloss black for car exteriors and metal surfaces, you can pick satin black for a semi-gloss paint-like finish.
Satin Clear Coat Finishes
Between clear satin vs gloss paint, satin clear coat finish is more affordable than gloss. It's popular to use for workpieces and gives different effects depending on the existing paint or stain used for a workpiece.
With satin, the coat is almost invisible and can only be noticed from a short distance.
A satin clear coat is available in form of aerosol tins and cans. If you want a semi-gloss paint-like finish using a satin clear coat, keep in mind that any dirt or dust is difficult to dispatch since overspray will affect the gloss of the clear coat.
Satin Wood Stain
Wood stain is known as all-in protection against strong heat exposure, moisture, and even insect infestation.
Satinwood finish is commonly used for workpieces that get high-foot traffic such as hallways and stairs.
Wood stain also maintains the texture of wood, though it's advisable to use a sealant too for the protection of wood surfaces and the paint finish used. Satinwood paints can be water-based or oil-based.
Satin Aerosol Spray Paints
Satin paint offers a variety of products which include spray paints too. A satin aerosol paint usually dries to the touch in 30 minutes and fully dries after 24 hours.
You can apply a clear coat between 1 to 48 hours. Shake it well for 1-2 minutes to thoroughly mix the paint and then you can apply up to 2-3 light coats a couple of minutes apart.
You can use this application whether you're using a satin white or satin black aerosol paint. The result gives a pearl-like sheen and is a bit lighter depending on the light reflection.
Satin Varnishes
Satin varnishes are commonly used for giving your painting a final glow. It gives protection to a finished artwork while maintaining depth and reflection of the painting, so the color will not alter or look darker.
Varnish finishes these days have low volatile chemicals (VOC), which will make the paint dry quicker, odorless, and safe from harmful gas chemicals.
With a satin varnish, the paint or wood floors will look lighter because it absorbs light rather than bouncing it off.
However, in the long run, the varnish will become darker because dust and dirt tend to stick to it. Organic varnishes will even get yellow tinges faster than synthetic varnish, so it's best to choose wisely what type of satin varnish you'll buy.
Satin Finishing Wax
Satin finish wax is designed for giving wood floors a shiny finish look. It can also be used for worn surfaces as a scratch-remover or as a polish after applying new finishes. The satin finish wax goes well with water-based or oil-based finishes.
Satin wax is easy to apply and can even use as a finish on bare wood. It gives a smooth look that will highlight the natural color of the wood surface. It will not produce a glossy effect, so it's best to use it if you want to achieve a subtle gloss finish.
Satin Sealants
Together with a clear coat, putting sealant gives better protection to the finish. Sealants, as well as a primer, are preparatory products to ensure a smooth base for your paint. It will also hold the paint.
We recommend a satin sealer, it's a water-based acrylic sealer designed to strengthen the natural colors while giving your paint a soft glow.
Satin Polyurethane
The two types of polyurethane (oil-based and water-based) give different depths of color. Although the two provide a subtle shine, a satin polyurethane oil-based offers a more depth of color and is shinier than water-based polyurethane.
Satin polyurethane is ideal to use for areas like dining rooms, and living rooms for its low sheen hide imperfections better than high gloss paint and is popular to use indoors. However, since it has a more flattening paste, it gives a duller appearance.
---
What is gloss paint?
Gloss paint gives a particularly reflective surface because it contains a high gloss finish.
A high gloss sheen level ranges from 70-90%, so it's ideal for rooms that need high maintenance such as kitchens, bathrooms, and even painting skirting boards.
Even though both satin and gloss paint is washable, gloss paint works best and withstands rough scrubbing because of its high gloss.
Gloss paint durability looks promising, but take note of the following pros and cons so you can choose what paint finish is best for you:
PROS
CONS
– More robust and highly durable
– Best for areas that need constant maintenance such as kitchen cabinets, skirting boards, and bathrooms
– Ideal if you have pets and kids
– Moisture-resistant
– Best to use for woodwork
– High maintenance than a satin finish
– Highlight imperfections because it's a reflective paint
– Requires additional prep work for a smooth finish
– Any touch-up can be highlighted if the sheen is uneven
– Can be overwhelming to the eyes
– Not suitable for all wood types
Types of Gloss Finish Products
Gloss finish is not only used for interior walls or wood floors but it also offers a variety of products for other purposes. Check out the following types of gloss finish products to find the right product you need:
Paint finishes
Clear coat finishes
Aerosol spray paint
Wood stain
Varnishes
Sealants
Polyurethane
Gloss Paint Finishes
Gloss paint gives a high-shine finish where light bounces off and makes smaller spaces bigger. We recommended a gloss paint finish for smaller spaces paired with glass and white colored paints.
The gloss finish needs additional prep work for a smooth and good finish. The type of paints used, either oil-based or water-based affects the result appearance.
We don't recommend painting straight over a gloss finish because the surface of it doesn't have good adhesion and the paint will not stick so it will not give a good result.
Gloss Clear Coat Finishes
The clear-coat gloss products give a high gloss effect on the surface. It's affordable and available in tins and cans. Acrylic clear coat gloss sprays are usually used in craft items, like coasters and painted surfaces.
You can put a clear coat over latex paint if you want to give your hardwood floors a more glossy finish. It will also protect the paint from scratches and fading.
If you plan to apply a new clear coat to an existing one, make sure not the old clear coat is not de-laminating or damaged, so you can expect a better result. Otherwise, remove the old coat and start a new base coat.
Gloss Wood Stain
Wood stain finish gives a richer and more depth color to wood grain. It's also weatherproof and versatile, so a gloss wood finish or stain is better to use than varnishes. If you wish to make the wood color darker, you can freely apply a new wood stain over the old one.
For a darker tone, leave the stain for 5 to 10 minutes before wiping it off, otherwise, wipe it off immediately if you want a lighter tone. Make sure to wipe all the leftover stains following the direction of the wood grain.
Wood stain is mainly used for highlighting appearance, so it's ideal to use for tables and chairs.
Gloss Varnishes
Gloss varnish reflects most light which makes the paint go lighter. Its drying time range from 18-24 hours. If you're putting varnish on tables or chairs, 2-3 coats for the top is enough, while 1-2 coats for the base or leg.
Gloss varnish mainly protects the wood. It's transparent and usually doesn't change the color of the wood.
Aside from wood, it is also ideal to use in second wood, paper, metal, canvas, and other art supports. However, oil-based varnishes normally make a warm tone to the wood color.
Gloss Finish Sealants
Gloss sealers are mainly used as a base for most paint jobs. It gives a smooth surface and makes the paint stick to the surface. It takes about 1-5 hours to dry to the touch.
Gloss sealers may last for about 12-15 months, depending on the amount of foot traffic it receives.
High gloss sealers also may become slippery when wet, hence, it's not ideal to use them in areas like swimming pools or bathrooms. If you want to avoid slipperiness, use grit additives or an anti-slide coat, a common method for sealers users.
Gloss Polyurethane
Both satin and gloss polyurethane is used to protect the wood surface from scratches and water damage. It also gives a smooth and glossy finish. With high gloss polyurethane, its glossy surface effect will be doubled.
Gloss polyurethane is shiny because it has a less flattening paste. Thus, for a smooth and glossy finish, high gloss polyurethane is within your reach, available in oil-based and water-based.
---
Which is better satin or gloss?
Satin paint is the most ideal to use if you want to achieve smoothness and cover holes and imperfections. However, if you want to highlight your interior furniture or want a long-lasting finish that can withstand wear and tear, then a gloss finish is the best choice.
Satin vs gloss spray paint
Between gloss and satin finishes, gloss spray paint is more reflective and stain-resistant than a satin finish. Gloss finish reflects light more than satin, making it easier to clean and ideal to use in kitchen cabinets and bathrooms.
On the other hand, the satin finish has a low sheen, closer to a matte finish. It's also easy to clean, though regular cleaning will make it lose its sheen. It's best to use in areas like bedrooms and family rooms.
Satin enamel vs gloss enamel
Enamel paint itself gives an opaque and glossy effect. With satin enamel, its sheen gives a pearl-like result best for areas that don't require constant maintenance like living rooms, study areas, and bedrooms. It can also be used for metal, masonry, and wood surface.
Meanwhile, gloss enamel has a high gloss effect because it reflects light the most than satin enamel. It's an all-in paint used for glass, resin, plastic, ceramics, wood, and other craft areas.
Satin vs gloss exterior paint
Satin exterior paint finish absorbs light rather than reflecting it, thus, it does a better job of hiding imperfections. It's ideal to use as an exterior paint in large areas for its low maintenance, withstand peeling, and ease to clean.
While gloss exterior paint gives a reflective surface, which makes it ideal to use in small spaces like doors, trims, and windowsills. It's highly durable, long-lasting, and moisture-resistant.
---
Where to use satin paint?
The satin finish velvety look is suited for a homey atmosphere. If you are still undecided about what areas at home and even other paint surfaces that satin paint can be used, we have provided lists of areas to give you ideas.
Where to use satin paint finishes:
Bedroom
Dining room
Playroom
Family room
Living room
Hallways
Ceiling
Garage
Car paint
Radiator
Exterior
A. Bedrooms and Dining rooms
Large areas such as bedrooms, family rooms, and playrooms are areas that often get scuff marks and dirt. This makes satin finishes suitable to use because its low reflection hides flaws, though not completely but enough to be unnoticeable to the eyes.
Satin finishes are also good for covering holes, hence, it provides good coverage for your exterior walls and ceilings.
Satinwood finish is also good for hardwood floors. A brand like Minwax is best to use in wood finish.
As for the maintenance and marks, you can use a sponge and soapy water. However, it's not advisable to use the abrasive side of the sponge for satin finishes that can't withstand rough scrubbing, otherwise, its sheen will wear off.
B. Garage and Car Paint
The combination of the matte finish and slight gloss makes satin finishes an ideal choice in areas like a garage. It gives good coverage for marks, screw heads, and dents and is also easy to clean.
In addition, satin finishes are also perfect to use for car paints since it doesn't need daily maintenance. You can use a wipe cloth for cleaning to avoid the loss of its sheen.
For car paints, we recommend Sherwin-Williams automotive finishes, which give richness in color and metallic consistency.
---
Where to use gloss paint?
Gloss finishes tend to be used in smaller areas since their high gloss makes flaws stand out more. Hence, if you're still hesitant about which areas gloss finish can be used, check our recommended areas below:
Kitchen
Bathroom
Interior trim
Furniture
Skirting board
A. Interior Trim and Furniture
The gloss paint finish is ideal to use in trims, skirting boards, and furniture since it can withstand daily maintenance and highlight your architectural features in the house.
Gloss finishes are also best for woodwork since their high gloss is perfect as furniture wax. For the wood finish, we recommend Minwax products for protection and a luster finish for your wood surfaces.
B. Kitchen and Bathroom
Aside from smaller areas, gloss finish is best to use in rooms that need high maintenance such as bathrooms and kitchens. The gloss finish has moisture-resistant so it's highly durable and perfect for daily cleaning without worrying to lose its sheen.
Furthermore, the gloss finish can resist mold and mildew, making it ideal to use in areas like kitchen cabinets. It will be great for an easy-to-clean and stain-resistant finish.
---
Satin vs Gloss Acrylic Paint
Acrylic paint is shiny when dry by its nature because of the polymer binder it is made of. The polymer binder forms a plastic film when dries and as regular plastic it ahs a certain sheen, I would not not say it is super glossy, but it is rather semi-gloss or satin.
You can alter the sheen of acrylic paint using a few methods:
adding matte acrylic medium to the paint directly. It will soften the colors, but also extend drying time a little bit.
choosing matte or satin varnish to cover your finished painting.
Unless specified on the label, you should assume that most acrylic paint finishes will be semi to high gloss. Craft paints like Folk Art, Apple Barrel have Satin acrylic paint and they will say on the label if the paint is Satin or Matte. I also have satin paint from Mont Marte but I think they stopped selling it.
All of this means that unless you want to buy matte paint, choosing between satin vs gloss acrylic paint will come down to choosing varnish and not the paint itself as most acrylics are glossy or semi-gloss paints.
---
Satin vs gloss varnish for acrylic and oil paintings or crafts
For acrylic and oil paintings, you can choose satin varnish if you want a semi-gloss finish effect and enrich the colors of your painting. Varnishing completes a painting and makes the surface smooth, even and shining.
However, using gloss varnish will not only give a reflective and glossy look but will also protect your painting from dust and UV rays. I recommend Liquitex products for better protection of your acrylic paintings.
And Gamvar varnish products for oil paintings. It offers protection and saturated colors.
If you want to add sealer or finish for your craft projects, Mod Podge got you covered. It offers an all-in-one product, a glue, sealer, or finish, perfect for your DIY artwork.
Meanwhile, if you're debating between satin vs gloss glaze for your clay projects, Sculpey glaze can give your desired finish look:
You can choose Sculpey satin glaze for a velvety seal look, and
Sculpey gloss glaze to highlight your clay crafts features.
---
Satin vs gloss polyurethane
Polyurethane is mostly used to clear-coat wooden surfaces like furniture, stairs, trims, door frames, etc. Satin polyurethane contains a high-flattening paste that makes the appearance duller. However, its subtle shine is perfect to hide those dents and marks that a gloss polyurethane can't achieve.
Gloss polyurethane has a less flattening paste, which makes it shiny and lets flaws stand out.
While semi-gloss polyurethane has the perfect amount of gloss so the appearance will not too glossy and dull. Thus, the sheen level is what differs between polyurethane satin vs gloss vs semi-gloss.
Water-based polyurethane is ideal for hardwood floors, as durable as oil-based, and eco-friendly.
---
Satin vs gloss vs matte vs semi-gloss
Knowing the difference between satin vs gloss vs matte vs semi-gloss can be tricky, but it's actually easy. The level of reflection is how they all differ. First is matte, which reflects virtually no light.
Here you can check further how satin vs matte differs: Satin vs Matte: Which Paint Makes for a Good Finish?
Next is satin finishes, which offer a subtle shine. Although, between satin vs semi-gloss, a semi-gloss finish is more reflective. Among the three types of finish, gloss finish gives the most reflective surface.
Hence, if you haven't decided which type of finish is best to use, you can check the table below:
| | | | | |
| --- | --- | --- | --- | --- |
| Areas | Matte | Satin | Semi-gloss | Gloss |
| Bedrooms | ✓ | ✓ | | |
| Living rooms | ✓ | ✓ | | |
| Playrooms | ✓ | ✓ | | |
| Dining rooms | ✓ | ✓ | | |
| Family rooms | ✓ | ✓ | | |
| Hallways | | ✓ | | |
| Exterior | | ✓ | | |
| Kitchens | | ✓ | ✓ | |
| Bathrooms | | ✓ | ✓ | ✓ |
| Ceilings | ✓ | ✓ | | |
| Trims | | | ✓ | ✓ |
| Doors | | | ✓ | ✓ |
| Interior furniture | | | ✓ | ✓ |
| Skirting boards | | | | ✓ |
| Garage | | ✓ | ✓ | |
| Car paint | ✓ | ✓ | ✓ | |
Read also: Satin vs Semi-Gloss Paint: Everything You Need to Know
---
Satin vs Gloss Paints FAQs
Does satin last longer than gloss?
Comparing satin and gloss in terms of durability, gloss finish last longer, around 5-10 years, because it's moisture-resistant, making its sheen withstand constant cleaning.
Although satin and gloss finish are both easy to clean, satin paint's shiny appearance will lose from rough scrubbing.
Is the satin finish shiny or matte?
Satin finishes are more reflective than matte. Its sheen level is 10-25% higher than matte paint with less than 10%.
The satin finish gives a pearl-like sheen compared to the matte which gives a flat appearance. Thus, satin finishes are ideal to use if you want to give some subtle glow to your interiors.
Read also: Satin vs Flat: Where is it Ideal to Use?
Is satin or gloss black trims better?
Satin black vs gloss black is the common choice for trims. However, gloss black is ideal to use in trims for its more sturdy and durable than satin finishes. It can withstand heavy cleaning, compared to satin where using an abrasive side will lose its sheen.
Should I choose satin or gloss tiles?
Satin finishes are best to use in tiles because although it has a smooth surface, it is not slippery. It has better friction than gloss. While the gloss finish is very reflective, making the tiles slippery may lead to injuries.
Final Thoughts
Gloss and satin finishes offer almost the same level of durability, appearance, and coverage. However, it all comes down to preferences.
Satin paint's slight sheen is best to use for bigger spaces, while gloss paint's reflective surface is ideal for trims, doors, and other smaller areas.
We hope we helped you decide on the right paint sheen for you. May you have a good day!