Sometimes we are just not ready to embark on this serious painting, thinning, and varnishing journey with oils or acrylics. We do have amazing alternatives for ALL levels – paint pens! While Copic markers are extraordinarily expensive, I found an amazing alternative. And I'm happy to introduce you to my Artiqo Paint Pens Review as I discovered these great markers by chance!
Overall, I think Artiqo paint pens are amazing for painting rocks and paper, as they have bright, creamy colors with excellent coverage. They also dry so fast that there is no chance you can accidentaly ruin your painting. I prefer medium tip pens to fine tips. Recommending for easy painting ideas these beginner-friendly paint markers 100%.
When not use it? I would say for calligraphy and large canvas paintings. They are also not for mixing or blending. For this, I would still insist on acrylic paint 🙂
Table of Content
---
What are Artiqo Paint Pens?
Artiqo paint pens are beginner-friendly oil-based markers with fine or medium tips for painting on rocks, paper, wood, glass, metal, ceramics, and practically any surface you want!
The ink is a high-quality opaque ink made in Korea and it dries super fast to a rather satin finish.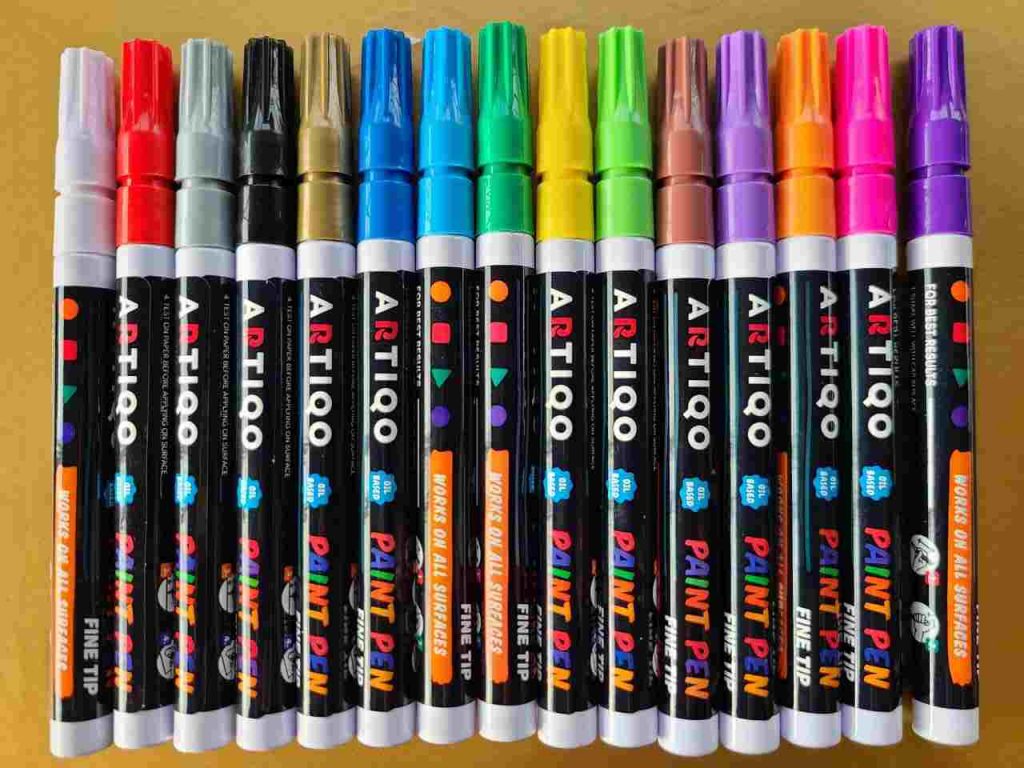 Pros:
Korean-made ink (but the paint pens are assembled in China as per package)
Fast-drying formula (they literally dry within a few seconds!)
Opaque vibrant colors with very nice, even, and smooth coverage
Satin to glossy finish on light and dark surfaces.
The formula is 100% non-toxic, and paint markers have no odor so you can use them with kids! But they are not edible!
Easy to apply, as they are leakproof
Waterproof, weather resistant
Work nearly on all surfaces – endless ideas for your future art project
4000+ Reviews with 4.6 stars on Amazon served more than 300k happy customers
Extremely affordable – around $17 for 15 paint pens compared to $70 for 12 Copic markers.
Money back guarantee
If you order from Amazon you'll get a free ebook about Rock Painting
Cons:
I haven't discovered any real cons yet, but some things can be improved:
I would skip individual plastic packaging for every single pen.
Fine tips are quite stiff so be careful with your thumb when you're first activating the pen (I pushed too hard and it hurt lol). Fine-tip pens feel more like calligraphy pens and I needed some time to get used to them. Meanwhile, medium-tip pens are just perfect.
I would like to see a separate website for the brand, I think it would add credibility!
The paint pens are leakproof on the surfaces, but a few of my medium-tip pens bled and I could only use them once 🙁
Besides paint pens, Artiqo brand cute and budget-friendly paint by numbers and DIY canvas frames.
---
Artiqo Paint Pens Review
I like when reviews cover all aspects, so I'm trying to make it as comprehensive as possible for you, my fellow beginners! Sometimes the supplies are nice, but the ordering and shipping is a nightmare so we need to know everything!
All of it is my honest opinion after using the pens!
ordering 5/5 ⭐
packaging 4/5 ⭐
colors 4/5⭐
pen tips 4/5⭐
bleeding or leaking 3.5/5⭐
drying time 5/5⭐
coverage 5/5⭐
surfaces 5/5⭐
permanent 5/5⭐
cost 5/5⭐
reviews 4/5⭐
Total 4.5/5⭐ – I think it is an amazing score for affordable paint pens!
Ordering
You can easily order Artiqo pens on Amazon with one click, it is that simple. If you are lucky you may get a coupon for 10% to 25% off so the paint pens will come to you at a bargain.
Shipping is as easy as it can get with Amazon, and fast as always. So 5/5 here, no issues!
Ordering from Amazon from a less popular brand is also safer, as you can have a money-back guarantee, read reviews before buying and have access to customer support.
Packaging
The boxes for paint pens are compact and cute but each paint marker is sealed in plastic and it was very time-consuming to unwrap them all. And of course, I understand why it is done, but maybe there is a better solution than using so much plastic that sticks so tightly to the pen!
I am excited to paint and I want my pens ASAP! No time for unpacking 🙂
I talked about unpacking the pens in my video here:
Artiqo Colors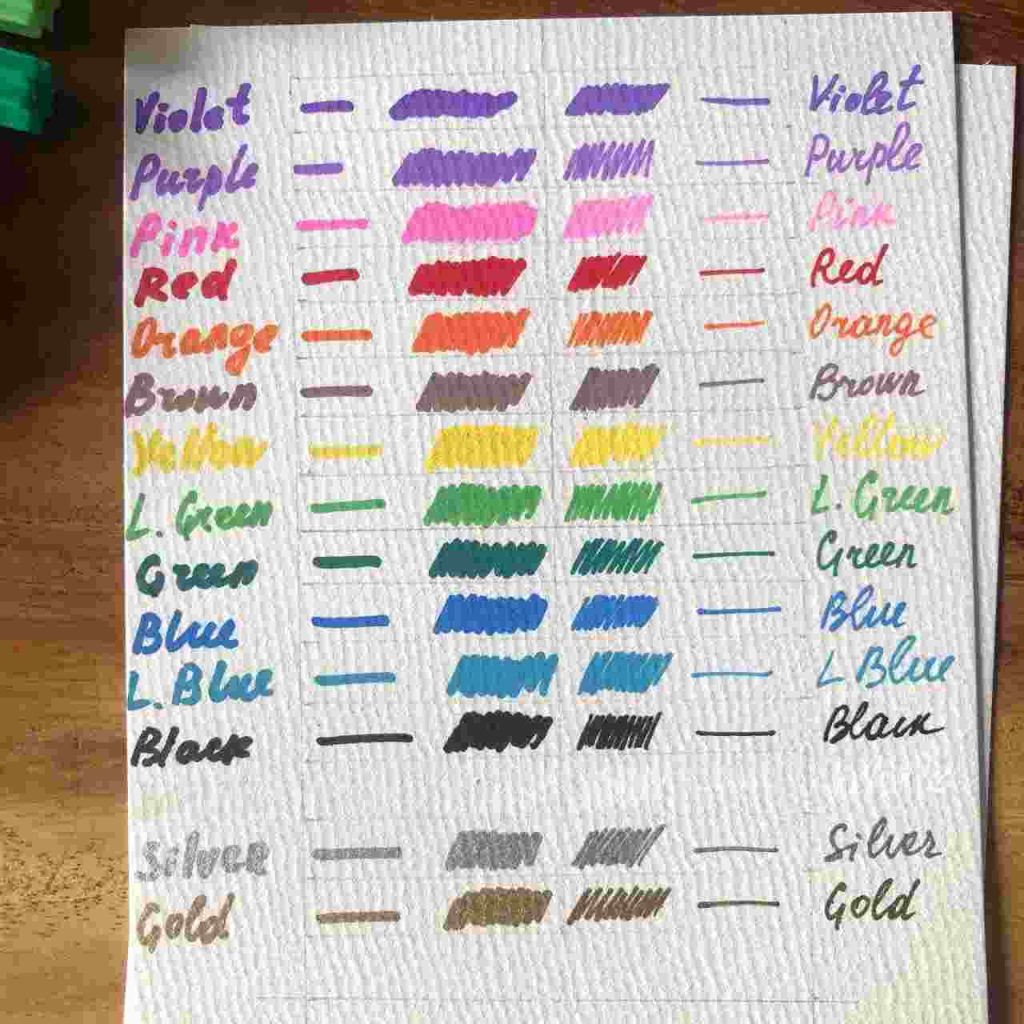 Both fine and medium tip packs come with 15 vivid colors, 13 regular and 2 metallic colors, which is super convenient:
Violet,
Red,
Pink,
Yellow,
Orange,
Green,
Light green,
Blue,
Light Blue,
Purple,
Light purple,
Black,
White,
Brown (dries darker)
Metallic gold,
Metallic Silver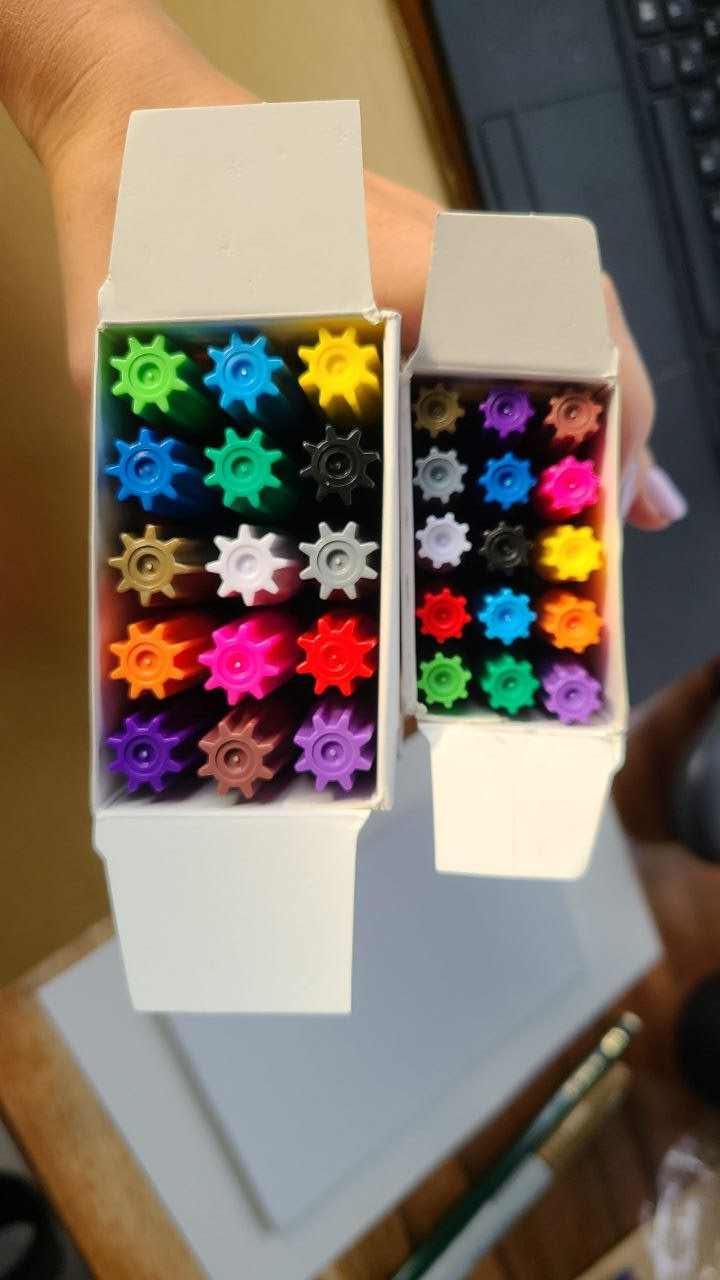 Transparency / opacity
Most colors are very opaque, only pink, yellow, light purple, and light blue are semi-transparent. One layer of orange will also be transparent, but if you do 2-3 layers, it will cover black easily.
White is opaque and you can easily use it to create accents and highlight over the dried paint layer.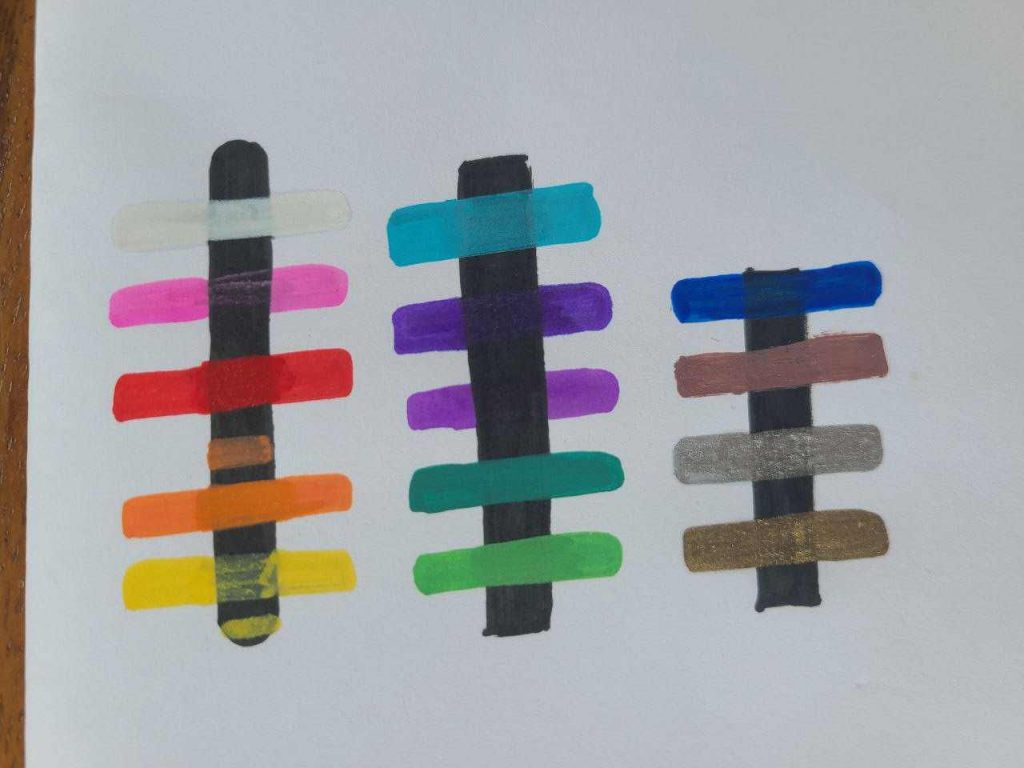 Mixing / Blending
Mixing is not really a thing with these pens, but you can layer opaque colors over transparent (not the other way around). My guess is because of super quick drying. Here I tried to mix yellow and blue, but the colors just layered:
If you want to create complex shades of the objects or different color nuances, you won't really be able to do so with Artiqo, as there are only 15 colors in the palette and they are not mixable.
But I truly believe that for starters it is more than enough. If you are not a professional painter, and you don't even know how to blend or mix colors, Artiqo will be a perfect choice, easy to achieve great results.
Washability
I saw someone say that they are not waterproof and smeared once you spray it. I checked. I sprayed water – no reaction, they are 100% waterproof. And I also (just to try), sprayed regular hand sanitizer and it smeared but very little the paint. That means – water-based sealers are fine, alcohol-based – no.
Pen tips
Artiqo has 2 main tip sizes: fine and medium. And they are quite different in material too. Medium pen tips are sort of squishy but firm material and fine tips look plastic to me.
Medium tips are easier to work with for me and I'm more used to such tips than to the type of fine tips Artiqo uses. The fine tip feels sort of plastic-y and sometimes I was afraid it will scratch the paper or bend. On the other hand, doesn't look like fine tips tend to bleed.
Drying
They dry fast, I would say within 10 seconds on paper and canvas pad – I timed it!
They have minimal odor while painting or drying, only if you will really sniff the tip!
If you work on paper, be prepared that the markers will transpire on the other side:
Coverage and finish
Artiqo paint pens have amazing coverage and the paint flows easily.
All colors are opaque and bright and dry to more of a gloss velvety finish on canvas and a satin opaque finish on paper.
Coverage and finish on paper remind me of gouache or poster paint.
Surfaces and Use
Most people pick paint pens for rock art or creating doodles, but the Artiqo paint pens actually work just fine on wood, paper, canvas, glass, ceramic, plastic, metal and tires – almost any solid surface.
I've tested these paint pens on watercolor paper, regular print paper, and canvas pad. The best performance will be on paper, canvas is slightly challenging to cover well, especially with fine tips. Some marker strokes may also be visible on the canvas. Artiqo is permanent even on plastic and metal, just takes a few additional seconds to dry.
I've tried print paper, watercolor paper, paper cups, and canvas pad and was very pleased with the coverage and outcome on all these surfaces. Wood, mug, and rocks are my next target!
On paper, Artiqo offers a velvety, oil-like satin finish, extremely opaque and smooth! I've tried drawing on 230 gsm watercolor paper: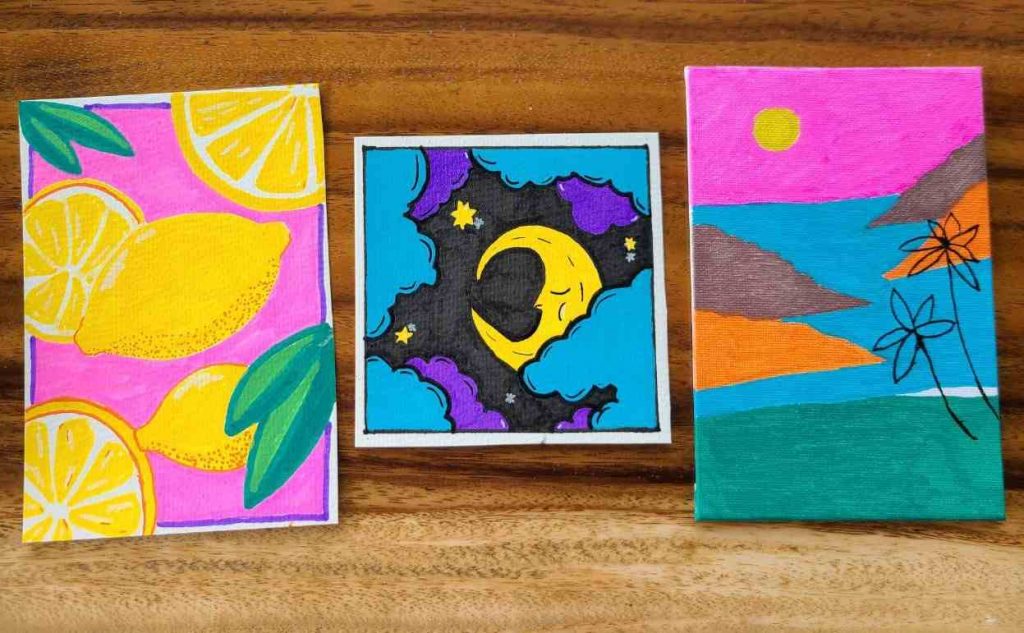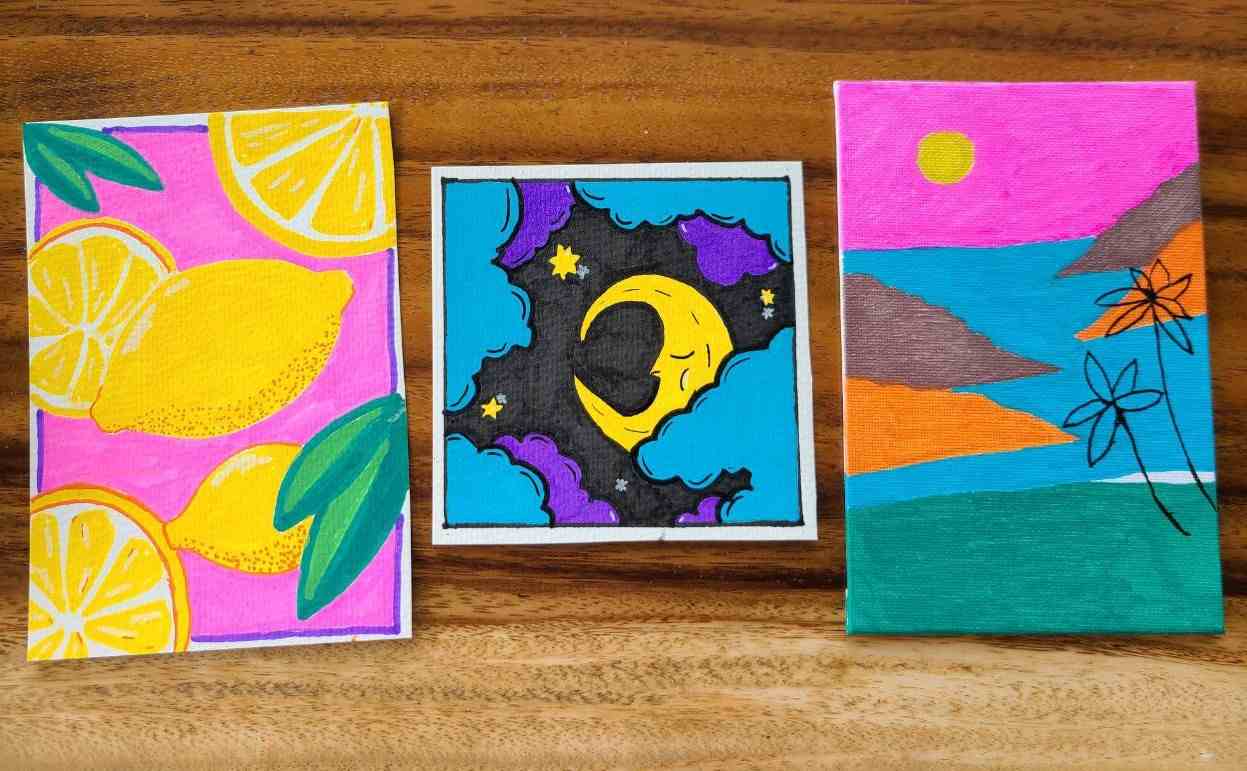 Here are my tests on metal and plastic. Artiqo works smoothly and perfectly on plastic, takes maybe 3-5 additional seconds to dry, but is permanent. With metal comes colors are not as opaque as they are on paper, ex., metallic colors. Still, dry to a permanent satin finish.
I would not really use these pens for calligraphy though if you need extra fine lines. Even fine tips leave quite wide and not always consistent strokes (or it is just my hands):
Durability
The oil-based paint pens will last for quite a few projects. Make sure to store them horizontally and use them properly to make sure they will serve you a long time.
Always close the lid tight! I left one lid not tight enough and my brown pen dried out 🙁
Most likely, black, white, and green colors will run out first as they are the most popular to paint with.
Cost
In terms of cost, Artiqo beats all significant players on the market, it is 3 times cheaper than Posca and Copic markers and I'm pretty sure with later we are paying a lot for marketing and branding, while Artiqo is still underrated and not as popular.
If you are on a budget, I would definitely recommend using Artiqo, and I am sure you won't have regrets. The closest competitor is Artistro, yet they are also marketed way better than Artiqo.
| Paint pens | Price |
| --- | --- |
| Artiqo Paint Pens, 15 pc | $17 |
| Posca Paint Pens, 15 pc | around $24 to $60 |
| Artistro, 15 pc | $20 |
| Copic markers, 12 pc | around $70 |
Reviews
Artiqo is a small brand but they already have a legion of followers on Instagram – almost 40K! They also post cute videos, please check!
And more than 4000 reviews on Amazon averaging 4.6 stars out of 5.
What others mention:
Ease to use and paint on any surface with Artiqo modern pens
Maneuverability
A nice sheen of the finish
Long-lasting pens
Great value for money ( I agree!)
Ease to clean up
The main issue seems to be that some people didn't receive their ebooks (but you always scan a QR-code on your box to get it 💁‍♀️), but other than that, I haven't found bad reviews on the actual quality of the paint pens. There were very few reports of leaking paint pens (I found less than 10 among 4000+ reviews)
---
How to use Artiqo Paint Pens
How to prepare your paint pens:
Unpack all pens
Shake well
Press the tip with your thumb
Press a few times (I would say 5-10 times) against paper until the tip is colored and the paint starts coming out
Test on a piece of paper before painting
Painting on paper with Artiqo Paint Pens
I looked up trendy drawing ideas on Pinterest and decided to do a minimalist sunset with markers.
First I drew light sketches with pencils, but next time I would skip it as some colors are quite transparent and pencil is visible.
Prepared colors. Each time I paint with a new color, I shake it, press it on the test paper, and only then paint. I put the lid back quickly to keep the pens from drying.
I paint!
This is how it turned out on canvas pad:
Here is how it worked on watercolor paper:
And one more painting, tried to do some bright lemons here:
How to seal Artiqo Paint Pens
Artiqo Paint Pens are permanent once dry, so you don't really need to seal them, but if you feel like you need to be extra confident, you can use a few options:
you can use water-based spray sealant only if the paint is completely dry. Do not use solvent-based sealers as they can smear the paint and don't place the nozzle too close to the painting.
alternatively, using a foam brush, seal your painting with Mod Podge.
if you painted a mug, you can bake it to seal the paint.
How to clean up Artiqo Paint Pens?
Immediately after painting, you can wash your hands with just soap and water but be ready to scrub them well. If the paint doesn't come off, try rubbing alcohol!
To remove paint from plastic you can try acetone! Some crafters even successfully used nail polish remover.
Water only will not wash off Artiqo paint pens from paper or other surfaces as they are permanent.
---
Artiqo Paint Pens vs Posca Pens vs Artistro
Made with Artiqo
Made with Posca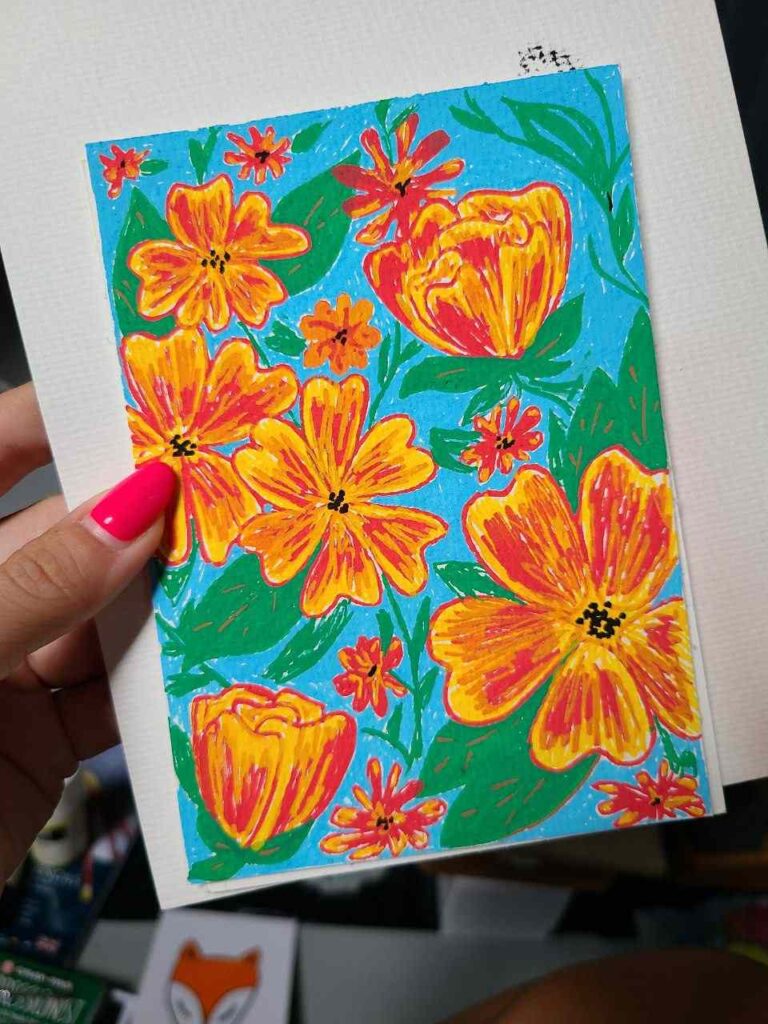 Made with Artistro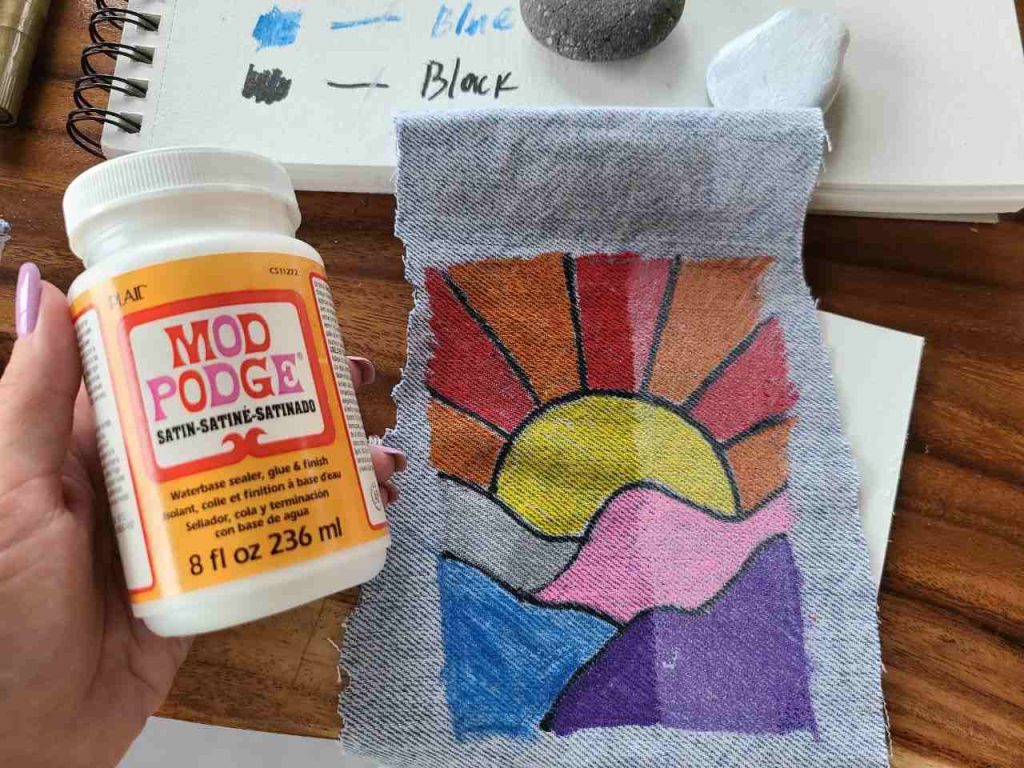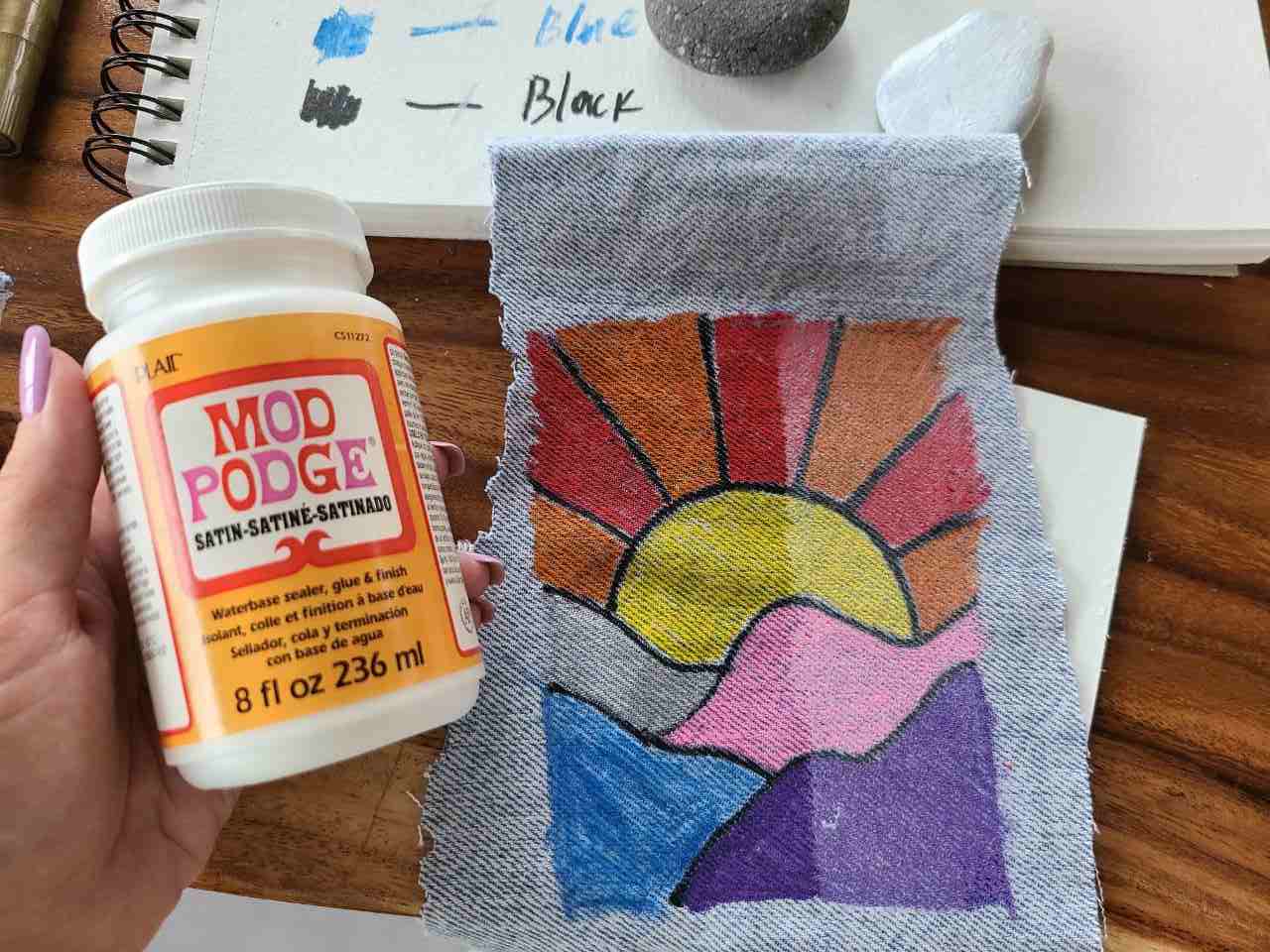 ARTIQO
POSCA
Artistro Paint Pens
Type of paint pens
Oil-based
Water-based
Acrylic OR Oil-based
Type of tips
Fine or Medium
Extra fine tips, fine, medium, and reversible tip (with 2 different tips)
Extra fine, fine, medium, brush tip
Colors
Opaque, vivid
Balanced color choice:
Violet, red, Pink, yellow, orange, green, Light green, blue, Light Blue, Purple, Light purple, black, white, brown, gold, and silver

Opaque, vivid

White, light blue, Gray, brown, orange, peach, light orange, Yellow, pale green, purple, blue, green, pink, red, and black

The total color chart includes 39 colors.
yellow, red, blue, orange, green, violet, pink, black, white), 4 Pastel colors (yellow, orange, green, blue), and silver, gold
Mixing colors
❌
❌
❌
Layering
✔
✔
✔
Finish and coverage
Satin to gloss, great coverage
Matte to satin
Gloss
Surfaces
rock, canvas, wood, paper, metal, glass, ceramic, plastic, tires – almost any surface
wood, canvas, rocks, paper

not good on plastic or metal
rock, stone, metal, pottery, smooth treated wood, plastic, canvas, fabric, paper, leather, cardstock, terra-cotta, polymer clay
Reviews on Amazon
4.6
4.8
4.5
Shipping from Amazon
Worldwide
Only in the US
Worldwide
Price (for 15 pens)
$17
$26-$60
$19
---
Final Thoughts
I think for 20 dollars Artiqo Paint Pens are extraordinarily high in pigments, well made, and easy to paint with. I would definitely recommend them for all crafters, even beginners to paint on paper, rocks, wood, mugs, and even to add accents to your dried pouring or painting.
I enjoyed painting with Artiqo a lot and I honestly love the golden pen by Artiqo more than the Sharpie marker that I use a lot.
It is true that everyone finds what they like and the same as with acrylic paint – I'm using so many different brands and I'm always open to trying new ones. So why give Artiqo a chance? It is a great way to customize your cups, and tumblers, make doodles, practice painting and simply have fun!
You are still here? Go grab some markers and start drawing!