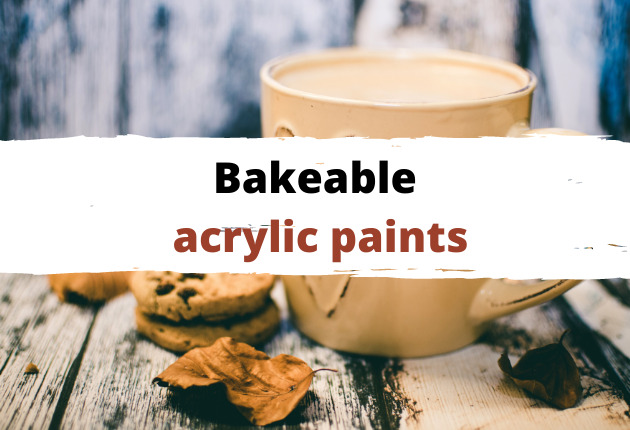 Acrylic paint is one of the most common, favorite and easy-to-use paint. It is versatile and works perfectly not only with canvas and paper, but also for exterior works, fabric, wood, plastic, rocks, ceramic and glass.
Acrylic paint adhere to any absorbent and porous surface. Acrylic sticks to ceramics and glass, but if you will just let it dry, it will peel off. You need to seal it and use bake method to make sure acrylic will stay on your ceramics.
NOT All acrylics are safe and bakeable and can be used to bake a ceramic or glass item in your oven. The best and most safe bakeable acrylic paint are Folk Art Satin or Glass Acrylic paints and special bakeable Pebeo Porcelain paint. Enamel paints are better options than acrylics.
Let's see How to bake acrylic paint on glass or ceramic and what are bakeable paint brands exactly. I will also share with you general information about baking method, so you can see it is easy to try even with your children or for a complete beginner. But what a wonderful gift or decoration you can create in few hours!
Table of content:
---
Thank you for reading my articles. This post can contain affiliate links, which mean no extra cost for you, but tiny commissions for support my blog. Thank you!
Can you bake acrylic paint in the oven?
Bake method is the way to keep acrylic paint to the surface permanently as you can wash it and eat or drink from the pieces you've made. You can bake a fully dried item with acrylic paint at temperatures exceeding 150 degrees Fahrenheit. You can use a normal oven in your kitchen.
If you want to cure glass with Folk Art paints, the brand says you must bake it to make it dishwasher safe.
You do not need any special equipement to bake a ceramic or glass items with bakeable paint! You can make it on your own.
Baking acrylic paint onto clay, glass or ceramic has some advantages:
decreases the curing time
increases the production rate of painting when dealing with multiple objects, or when dealing with layered coats of differing colors
reduces a paint job
allows the acrylic paint to stick permanently to the surface
allows to eat or drink from and dishwasher the glazed item.
Related:
What you can use bakeable paint onto?
Clay or ceramic: plates, mugs, vases, pots, bowl, ring or essense holders, etc.
Glass: plates, wine glasses, vases, jars and glasses, bottles.
Acrylic paint is a versatile medium, open to all your ideas!
---
Bakeable acrylic paint
Acrylic paint can be bakeable, only if the manufacturer allows it (Folk Art and Pebeo). Glitter paints are not bikeable. It is better to only use recommended products.
After being fully dried, the paint is set, it does not melt. The important factor to consider is if you want to drink or eat from the thing you paint, choose non-toxic paint! In general, nowadays all artist grade acrylic paint are non-toxic, try to buy not a very cheap one and read carefully the labels.
Wet acrylics are not recommended to heat set (no more than 90F) or they will release toxic fumes, if the composition contains metals that are harmful. But once it dried, there is no fumes and it is ok to bake if the brand allows it (Folk Art and Pebeo), and paint can be heated up to 320F.
Read also: Is Acrylic Paint Toxic or Safe? 23 Brands Toxicity Included
You can also use any paint recommended for glass or ceramics – enamel paint.
However, there are some bakeable paints that are tested and approved by artists:
Pebeo Porcelain paints
Pebeo Vitrea paints
Folk Art Enamel Acrylic paints or FolkArt Multi-Surface
Apple Barrel Multi-Surface,
Delta Ceramcoat,
Martha Stewart Multi-Surface (frost Translucent, opaque, pearl Glass Paints as well)
Arteza glass acrylic paint
Artistro acrylic paint markers (I have those, they are amazing!)
Bakeable paint
Price
Note
Folk Art Enamel Acrylic paints – BEST BEAKEABLE ACRYLIC PAINT
OR
Folk Art Multi Surface
under $25
Set of 16 bottles (2 oz).
Non-Toxic Formula. This acrylic paint is explicitly made to work with glass and ceramic. Durable, opaque, and is dishwasher safe.
Pebeo Porcelain
$8-$50
Paints that you can heat set in the oven. Best for porcelain, tiles, and ceramics. Dishwasher safebut not really food-safe.
You can buy any of 150 colors available or a set.
Pebeo Vitrea
$60 for a set of 10
waterproof and dishwasher safe formula comes in 160 vibrant colors. Heat set in oven with 325F and 40 min.
Best for glass, crystal, ceramic, porcelain, china, glazed earthware, terracotta
Delta Ceramcoat
around $23
Set of 16 colors with matte finish for glass and ceramics. Heat set as all Plaid's products – 30 min in oven at 350F after the item is dry.
Artistro Acrylic Markers
Under $20
Super universal, permanent and easy to use markers for crafts.
Glass acrylic paint Arteza
Under $20
A set of 12 colors or ceramics and glass, non-toxic, UV reactive. The brand says it can be baked, tho themselves they haven't tried it.
Brands like Golden do not recommend baking their acrylics at all. Here is official quote I got from Golden:
We do not recommend baking or heating acrylics in an oven.

Acrylic paint is a combustible plastic. When plastic burns, it creates monomer fumes, which are harmful. Drying acrylic paint can take some heat, more on the scale of a hand-held air dryer than an oven. If too much heat is applied, one will begin to see the paint bubble.

Acrylics also have poor adhesion to glass and Glazed ceramic tile generally.

Golden
Another popular brand, Liquitex suggests to use enamel paints instead of Liquitex acrylic paint for better adhesion and painting (and baking) on ceramics:
There are acrylic enamels on the market that are designed to be applied these kinds of material and you can bake them in the oven to make them scratch resistant and to allow the item to be hand washed. But our acrylics are not enamels.

Liquitex
Which leaves Folk Art enamel paints once again the best option for painting and baking paint on ceramics and glass.
How to use bakeable acrylic paint?
You can bake dried acrylic paint on ceramic and glass in oven. It is a safe and easy way to seal and protect the painted item. Baking gives a nice gloss finish to your ceramic or glass piece and is a nice way to make your DIY gift or spend time with family.
What you need to use bakeable acrylic paint:
an idea
jar of water
rubbing alcohol and cotton balls
bakeable acrylic paint: Folk Art Enamel Acrylic paints or any other
paint brushes: main shapes are round and flat, but the choice is fully on you.
a ceramic or glass item you want to paint onto, e.i. a glass or a mug
trash bags and tape
make sure your oven is working and you know how to set up temperature and if it has its own tricks 😉
Tip: while painting before baking tries only to touch one specific area on the item, e.i. a handle if it is a mug because oils on our skin will alter the results.
First of all, make sure you protect the surface around you, I always use the cheapest way to do it, I cut and tape trash bags on the floor or table.
Get a jar of water to keep your brushes clean.
If you don't feel confident, print or open on your phone/laptop a reference: a photo or a Pinterest image you want to paint.
Using rubbing alcohol, clean the item from all dust and oils, and do not touch it all over surface again! The paint will not stick to areas with skin oils on it.
Prepare paint you want to use, a palette to mix colors. Use a little bit of paint because acrylics are fast-drying. Mix in different sections tints you will need.
Paint in layers, don't apply thick layers and do not add to much water to paint. Clean brushes in between with water and towels, the brush should be almost dry, because water destroy both acrylic and enamel paint.
Let all layers dry while you're painting.
Once you've done, clean your brushes immediately and let them and your painting fully dried before you will bake it.
Working on glass, Martha Stewart Crafts says baking paint on glass is equal to air drying painted piece for 21 days.
How to bake bakeable acrylic paint
After you paint your ceramic piece and allow it to dry, you can bake it, Bake method helps you seal the paint and protect the item.
The oven heats gradually and the ceramics or glass also heat gradually and it prevents breaking it.
Total Time: 4 hours
Allow to dry
Once you finished painting, leave a painted piece for 24hrs to dry.
Place your item in a cool oven
Please, make sure you place your painted pieces in a COOL OVEN! Glass or ceramic should heat gradually, otherwise they will crack and break.
Bake
Folk Art brand recommends to set the oven temperature to 350ºF, allow the oven to come to temperature for about 10 minutes and bake for 30 minutes. Pebeo recommend 300F temperature.
If you cure markers, Artistro recommends baking ceramics painted with Aristro markers for 1 hour at 180C (350F).
Let it cool down
Turn off the oven and let the piece cool down INSIDE the oven for about 45 min. Do not open the oven until then!
Let it sit
Wait about 72 hrs before using the item. It will help the painted item to strengthen and cool down completely.
You can also use a clear sealant, like Krylon spray sealant or Mod Podge, to add glossy finish and prevent the acrylic paint from cracking. If you don't want to use this item for food or drink, wash it thoroughly or scrub, you can only spray it, but some ceramics and glass will still need to be baked. I would rather spend some hours to bake an item to make sure I will not ruin it later.
If you use only spray it is also not really safe to use this plate or mug with food. Please, choose non-toxic bakeable paint.
How to bake acrylic paint on glass
First of all, please note, that technically acrylic paint will not stick to glass because it is a non absorbent surface. You need to prime it to make sure the acrylic paint will adhere to it.
Baking method works perfectly for glass too, you can follow the same steps as for baking paint on ceramics:
let the painted item dry for 24 hours
place it in a cool oven
set the temperature 350F, bake the item for 30 minutes
do not open the oven, turn it off and wait until it is completely cool (about 45 minutes – 1 hours, depends on your oven)
leave the piece for extra 72 hours. When you take the glass out of the oven, place it only on the dry surface. Any liquids will cause shattering.
use it and enjoy your DIY project!
It is also important, that if you need a glossy look to you glass item you can use a varnish after it is baked and cool down.
dilute a varnish with water
apply it in one even layer with a synthetic brush. Use a separate brush which you do not use for painting.
let it dry completely for 24 hrs.
Note: you can not bake Pyrex, only standard glass.
Arteza brand has shared with me some details from in-house testers:
After the paint is dry to touch, place the glass in your cold oven. Preheat the oven to 350 degrees, and bake for 30 minutes. The 30 minutes includes your preheat time. That would be a starting point for baking any of our acrylic paints whether it be on glass or ceramics. The time can be extended if needed, but the temperature and 30 minute time is a good benchmark.

Arteza
However, Arteza themselves didn't test any of their paints in the ovens.
You can paint acrylics on glass without baking it, check out my post: Can You Use Acrylic Paint on Glass? 9 Best Sticky Acrylic Paints for Glass!
---
Need inspiration to use bakeable acrylic paint and bake your favorite mug? Check this video, easy-to-go guide about baking acrylic paint:
---
Bakeable Acrylic Paint FAQ
What temperature do you bake acrylic paint on?
If you want to cure acrylic paint on a mug or ceramics, you always put your item in COOL oven after it is completely dried. Then set the oven to 350F degrees (around 180C) and bake it for around 30 minutes.
What happens if you bake acrylic paint?
If you bake acrylic paint, it will adhere better to a mug or glass. However, baked acrylics can wash off over time especially if you will try to wash them in a dishwasher. You can only put dry acrylic paint in the oven, otherwise, it will release toxins and will not have a desirable effect. It may start bubbling, run, and peel off.
How do you make acrylic paint heat resistant?
Baking a painted and dried item is the best way to make acrylic paint heat resistant. Place the dry object in a cool oven, set the temperature to 350 degrees F and wait 30 minutes. Afterward, let the item cool in the closed oven.