Interested in painting miniatures and overwhelmed by choice and prices of special paints? You've come to the right place. I'm here to help you learn about the best miniature paints for your projects.
The best paints for models are determined by a combination of factors including brand, viscosity, color, opacity, and drying time. If you're looking for the best acrylic paint for miniatures, this article has got you covered!
The best miniature paints are well known among miniature painters, dry fast, have smooth coverage and vibrant opaque colors, and don't peel off from plastic models. Best miniature paint brands are Citadel by Games Workshop, Vallejo, Army Painters, Reaper Miniatures, Badger Minitaure, Warcolours, and many more miniature paint brands that I'll review.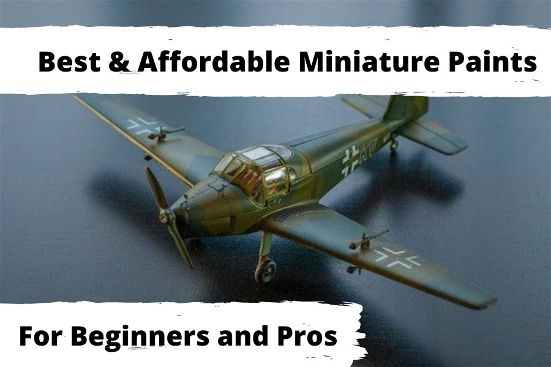 Table of content:
This post contains affiliate links, which cost nothing for you, but leave little commission to support my blog.
---
Do you need special paint for minis?
Different painting techniques require different paint thicknesses. Some paints may be too thin or too thick for a project.
But, generally speaking, you don't need special paint for minis! Acrylic paint, craft paint from Michaels, Hobby Lobby, Walmart, or Amazon will work.
However, it is great to know the top-recommended paints that model painters really use for minis, right?
Best miniature paints are typically the type of acrylic paint that has a higher ratio of pigment to medium so they'll be more opaque and can maintain their volume when dripped on a high gloss surface, but they are not thick and flow great.
They also need to stick to metal or plastic better than regular acrylic or craft paint, as regular acrylics sometimes can peel off plastic or other non-porous and non-primed surfaces.
A good set of best paint for miniatures will have six or more colors chosen to closely resemble the same natural light that is available in your workspace.
Furthermore, many spray lacquers designed for use specifically on model painting also work well with miniatures – just make sure to choose one without any added solvents.
Yet, a reasonable question is…
Can I use regular acrylic paint for miniatures?
Absolutely yes, if you like painting with acrylics, you can paint miniatures with acrylic paint easily and fast!
Acrylic paint is good for minis, D&D and Warhammer models as well as it is good for painting on various surfaces.
Acrylic paints can be used with airbrushes or sprayers and there are also acrylic paint markers that make painting miniatures easier, and as acrylics are one of the most common and easy-to-buy mediums for painting – yeah, regular acrylic paint is great and cheap for miniatures!
Choose acrylic paint that is not runny and too transparent, test colors before painting models as some colors are more transparent than others and you will need to make them more opaque.
---
How to choose the Best paints for miniatures
I'm here to help you learn about the best miniature paints for your projects.
The best miniature paints are determined by a combination of factors including brand, opacity, flow and drying time.
One of the best types of paint to use is acrylic paint. Acrylic paint is also one of the easiest to clean up as well as being available in a wide variety of colors.
The best miniature paint for a hobbyist should be not only high quality and durable, but also simply easy to buy and refill your stocks!
Some paints are great, but every refill becomes a challenge so eventually we may switch to an available alternative.
Transparency vs Opacity
One important consideration when choosing paint is transparency.
Transparent paints allow the surface beneath it to show through whereas opaque paints cover up what's beneath them.
Opaque paints are good for painting solid objects whereas transparent paints are better for painting skin tones or other skin-like colors because they have a higher level of detail and realism.
The better coverage you need, the more opaque pigments you should choose. Some pigments are naturally more transparent or opaque, check all pigments opacity here.
Drying Time of Miniature Paint
Another important consideration is the drying time. If you are painting a whole army, you cannot wait to put second coat for days.
Different paints have different drying times, which will affect how you plan your project and work on it with other colors or mediums that may also be wet at the same time.
Some acrylic miniature paints are more easily affected by water than others so consider this when choosing a paint for your project.
The best choice is acrylic paint, as they are fast-drying. On average acrylics dry within 5-20 minutes. And once they dried, you won't be able to reactivate them with water.
The only two exceptions are Golden Open Acrylics that stay workable and wet up to 60 min., and Chroma Atelier Interactive – they can be reactivated with water and Chrome special formula medium.
Among miniature paints Privateer Press P3 has extended working time and dry slower than other paint for models.
Miniature Paint Brands
There are also many different brands of miniature paints to choose from. Some of the most popular choices include Reaper Master Series Paint Set, Citadel Paint range by Games Workshop (and Army Painter), and Vallejo Model Color Paint set.
All three of these lines have a wide variety of colors and styles in which to choose.
For example, Games Workshop has paint sets specifically for painting Warhammer miniatures whereas Reaper offers paints sets to master different skills of model painting.
Viscosity
Viscosity is in another words how thick your miniature paint is.
While we are painting on canvases or wood, we are often using thick paints, but they can dry longer and if there is any issues – the paint can peel off.
For models and minis we should use low viscosity paint – more fluid and thin paint to make sure it will stick to the model, cover it nicely and dry quickly.
Reviews
When looking at miniature paints it can be helpful to look into customer reviews as they often include the first-hand experience with how the miniature paint performs in real life.
For example, some brands of acrylic paint dry quickly even with a thin coat while others may take hours to dry depending on thickness which can affect how you plan your project and work around other wet colors or mediums that are applied at the same time such as inks or glazes.
Budget
Money always matter: how much are you willing to spend?
Is it your hobby or you're planning to sell your painted models?
Is it your first time or you've already tried some cheap miniature paints and now you want to upgrade your paint sets?
Miniature paints prices vary from $3 to $10 per bottle of 1/2 tot 2 oz, and from $12 to $25 for triads and small paint sets. Master sets of 60+ paint colors will cost much more than $100.
Many professional model painters consider how many ml of paint do you get for your money and decide whether buy or not a paint based on this ratio.
By taking all these factors into consideration you'll be able to choose the best acrylic paint for miniatures that will allow you to get your project done smoothly with minimal effort.
---
Best Miniature Paints
Here are the best paints for miniatures:
All reviewed miniature paints:
(click to jump straight to the quick review)
Regular Acrylic paint for models
*and any soft body or liquid acrylic paint, basically
Miniature paint sets under $30
Scale75 Scalecolor (Essentials)
Weathering sets by Secret Weapon, AK Interactive, and Ammo.
Camo sets by Green Stuff World
Some of the most popular miniatures to paint are Dungeons and Dragons by Wizards of the Coast, Warhammer by Games Workshop, Pathfinder Miniatures by Paizo, and Heroclix by WizKids.
Some of the most popular models to paint are trees, castles, dragons, war models, and historic landmarks.
The best paints for miniatures are mostly acrylics. They are easy to use and clean, dry fast, cover the surface amazingly, and offer great viscosity, along with a nice price. Acrylic paints can be used on any surface, including metal, plastic, leather, and wood.
The best brushes to paint miniatures are very fine brushes like special miniatures brushes, filbert or round pointed brushes. Always test paint and brushes before painting your minis.
Related post:
---
1 – Vallejo Miniature Paint – Best paint with effects for war models
One of the best miniature paints to use is Vallejo.
This brand produces paint in the US since 1965. Vallejo has an amazing range of colors to choose from and easy-to-use bottles for the paint.
The paint will cover both metal and plastic models.
When painting miniatures with Vallejo, you should always paint in thin layers and in a light color in order to avoid runs and drips in the detail areas in your model.
The basic paint set – Vallejo Basic USA Colors Paint Set – includes 16 bottles of 17 ml each – great paint set for beginners or as a gift. Downside is the price – almost $60 for a set.
In fact, Vallejo also sells different sets designed for some types of models like:
The variety is so diverse and unique that this is an absolute leader for war models
Are Vallejo paints good?
Vallejo paints are great for miniature and model painting – they are one of the most recommended and known paints used for plastic models. Vallejo paint for miniatures is versatile, opaque, rich in pigments, and lightfast.
Yet, they are often going under the label "pricey" and that's why some miniature painters vote for other brands.
---
2 – Citadel Games Workshop Paint – Best paint for Warhammer 40k
Citadel paints are the best because they provide a smooth finish with excellent opacity, but also because Games Workshop is well known as the best game shop and manufacturer for miniature painting supplies.
Army Painters and Citadel are both featured by Games Workshop and are bestselling miniature paints of the highest quality.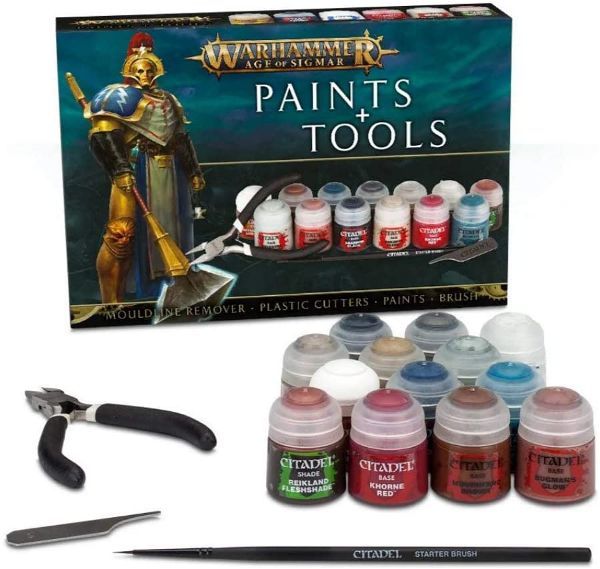 Hobby Model Choose-Your-Own Paint Set is the easy way to go if you're shopping on Amazon: you can pick the colors you like, one color will cost around $5. This paint is ideal for painting your minis in layers.
Games Workshop officially sells miniature paints & tools sets with Citadel paint for Warhammer 40k like Warhammer Age of Sigmar Set or Games Workshop Warhammer 40,000 Box.
Both will make a perfect gift for a Warhammer 40,000 fan! No wonder, Warhammer was created by Games Workshop and they know best what will work for the models.
How good are Citadel paints?
Citadel paints are the most popular for Warhammer models – they have special paint for every step of the painting miniature process: solid base colors, shades, and great texture paints.
You can always buy an individual color or a paint set.
The sets are mostly available on the official website, but you can find all colors on Amazon too.
Citadel miniature paints are a great choice for beginners and professionals, offering the top-notch quality for model painting.
---
3 – Army Painters – Best paint for D&D miniatures
Army Painters paint is the best acrylic paint for D&D miniatures as they do have special Dungeons and Dragons painting bundles and master miniature paints and wargaming for more than 10 years already.
This paint is created by real fans and hobbyists which means that people know how a good miniature paint should perform.
Army Painters mostly sell paint sets and bundles – great gift and starter pack for every beginner and D&D fan, or in general, model painting enthusiast. The most popular one is The Army Painter Dungeons and Dragons Official Paint Line Adventurer's Paint Set.
Army Painters Pros:
Extremely affordable for a set – only $35 for 10 high-quality miniature paints.
The official line of acrylic paint for Dungeons and Dragons by Army Painters.
The set includes 1 metallic, 1 brush-on primer, and 1 synthetic miniature brush.
Includes a Minsc and Boo D&D miniature!! Perfect for gift – everything in one place and so cheap.
Nolzur's Marvelous Pigments – creamy, fine pigments for perfect coverage.
Nordic Swan Eco-labeled – eco-friendly and non-toxic paint.
Amazing reviews, 4.8 score on Amazon with more than 3,800 reviews.
Best paints for D&D miniatures
Prices range from $35 to $233 for a bundle with tools.
But don't be confused, Army Painters produce miniature paints for ALL types of models and miniatures, not only D&D. You can fully trust them with any other models!
---
4 – Reaper Miniatures – Best miniature paints for Beginners
Reaper has an amazing range of colors to choose from and easy-to-use bottles for the paint.
The paint will cover both metal and plastic models.
When painting miniatures with Reaper, you should always paint in thin layers and in a light color in order to avoid runs and drips in the detail areas in your model.
Reaper Miniature paints are perfect for first-timers and beginners.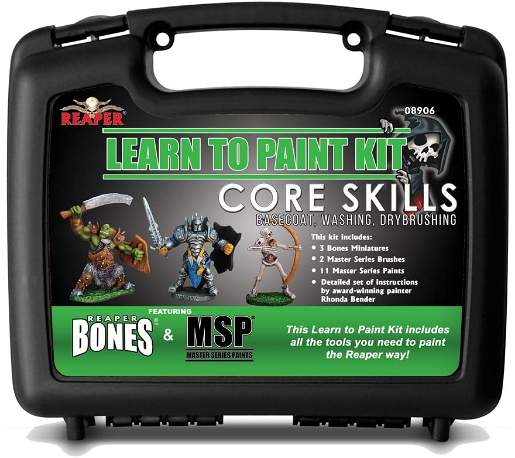 Learn to Paint Kit Core Skills by Reaper is the all-in-one bundle for a beginner to learn how to paint miniauters and models – it includes 11 paints, 3 miniatures, 2 miniature paint brushes, and a full guide on how to paint minis, and a storage box itself that can fit 25 more paint bottles.
Reaper Miniatures sell bundles, paints and a lot of mitiatures to paint. The brand is very budget-friendly (around $30) and beginner-friendly – they tried to make miniature paints set to teach you model painting:
Each of them includes paints, brushes, miniatures to train on, storage box and a detailed guide by a professional painter, for example, Rhonda Bender.
---
5 – Testors Acrylic or Enamel Paint
Testors produces enamel and acrylic paints for diverse surfaces, not only for painting miniatures and war models.
They are especially good on plastic, paper, and wood and offer nice coverage with high-pigmented colors.

You can get basic colors set, metallic set or buy some colors individually on Amazon. The classic Testors Enamel paint set comes with a thinner, a brush, a tray, and 9 colors, including 2 metallic – gold and silver.
This paint is not non-toxic, Testors enamel paints contain petroleum distillates and some other chemicals, so they are definitely not for children.
Testors Acrylic paint set is pretty much same as classic enamel set, but this time you'll have 9 acrylic paints. This paint is still toxic, so be careful.
Both Testors enamel and acrylics are affordable model paints and have a lot of nice reviews from hobbyists!
However, as the sets only include basic colors, be ready to mix some tones and make some samples before you paint your actual miniatures.
---
6 – Molotow Acrylic Markers
Molotow Acrylic Markers Set is a nice alternative to paint, brushes, water, thinners and any traditional painting mistakes.
These UV and water-resistant, vibrant 2 or 4mm acrylic markers will work great for painting models and minis, and for most surfaces too!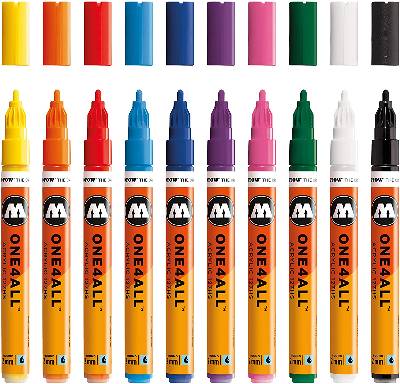 The basic small set include high-pigment high-covering 10 colors and you can choose between 2 or 4 mm round tip (this will affect the price).
They are durable, long-lasting and are sometimes presented as an alternative for Posca markers.
However, if you're not used to paint with markers, you need to keep in mind few things:
blending may be challenging and not as straightforward as with acrylic paint,
the tip is 2 or 4 mm and it may be stiff or dry sometimes which can affect the results,
good quality markers are more expensive than some miniature paints.
2mm set will cost around $45, and 4mm set – around $50.
---
7 – Ammo of Mig Jimenez
Ammo of Mig Jimenez has a whole series of different paints, effects and washes for models and Mechas, especially.
Wow! There are so many mini-sets and individual colors – for any type of desirable effects and weapons, uniforms, vehicles, military equipment.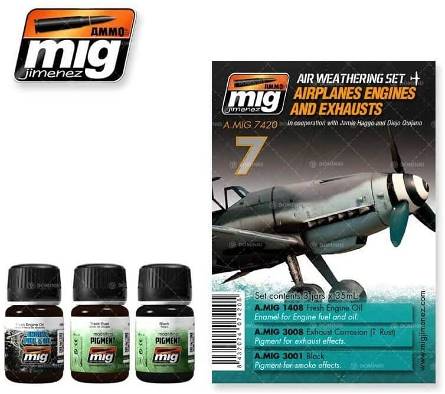 Ammo paints are not quite popular on Amazon and it's quite hard to get them delivered, but you can always browse their official website – tons of useful information and products.
---
8 – AK Interactive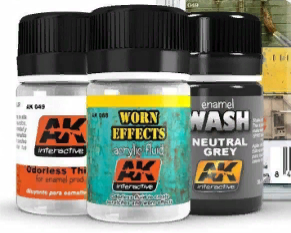 AK Interactive is a Spanish competitor of Ammo and they also specialize in war models – they sell immense number of different weathering sets, coloring sets for different vehicles, uniforms and effects.
AK Interactive paints fit best-experienced war, civil or space model painters who know exactly what they need.
They also produce brushes, tools and all additional supplies you may need to do model painting.
The sets or individual paint bottles are quite pricey for a beginner – $13-$20 per bottle or a mini-set with a very specific purpose.
---
9 – Badger Minitaire – Best paint for airbrushing models
Badger is a very reputable American manufacturer of airbrushes and airbrushing supplies, including miniature paints.
If you're working with airbrushes, you should definitely consider trying Badget Minitaire serie for model painting and wargaming.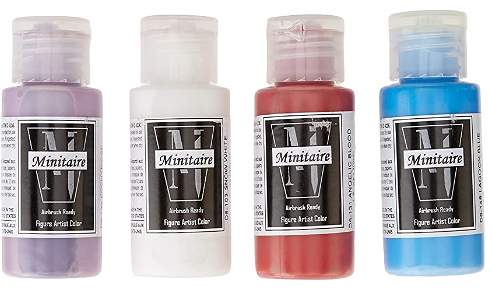 Badger Minitare Paint Set includes 12 colors, non-toxic, organic and quick-drying. In total, Minitare collection has a color chart of 80 colors, that you can buy individually later on.
This paint is great for models airbrushing and assure easy and smooth coverage.
Of course, you can use this paint with regular brushes too – the consistency will work fine and adhere great to models.
The price is very reasonable for twelve 30ml bottles – around $38 for the whole set ($3 per bottle).
---
10 – Warcolours – Best eco-friendly miniature paints
Warcolours offer one of the world's finest handmade acrylic paint for wargaming and miniature painting. Their acrylic paints are hand-made, rich in pigments, compatible with brushes and airbrushing, and guarantee smooth finish with no strokes.
The brand is sustainable and eco-friendly, all paints are non-toxic, and the packaging is recyclable.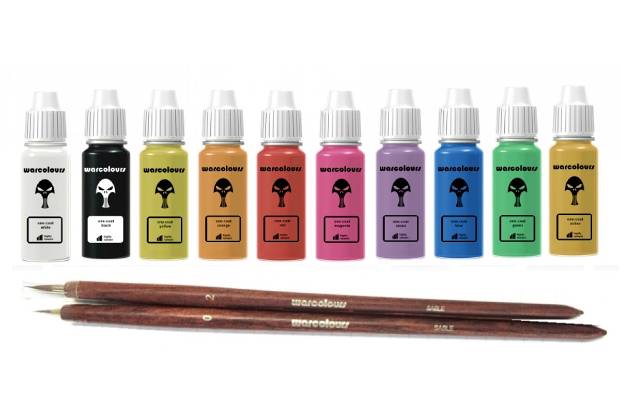 The ultimate Warcolours set includes 240 colors (wow!!), but there is a Warcolours starter set: 10 colors with matte finish, 15 ml each, and 2 brushes.
Of course, you can buy each color individually.
All colors are lightfast, high-pigmented, contain 100% acrylic emulsion with no additives, UV and weather-resistant, and dry quickly.
Yet, I would say that for a beginner, this paint is not wallet-friendly, as the simplest set will cost you around 35 EUR (around $42), plus shipping (flat shipping to the US is 8.95€).
The best option is to order Warcolours paints directly via their official website.
Apart from model paint and paint sets, Warcolours also produce brushes, primers, mediums, additives, varnishes, model painting tools, glue pens and markers, all airbrushing supplies and many more things that will help you enjoy your hobby.
I highly recommend checking their products.
---
11 – Secret Weapon Miniatures Paints
Secret Weapon acrylic paints come individually or in sets: Mech acrylics sets, weathering sets, and washes.
Unfortunately, it's not available on Amazon in the US, even if it is an American brand, but you can always order it directly from their website.
Secret Weapon miniature paints are high-quality pigmented paint both for paintbrushes and airbrushing as they have just the perfect consistency and coverage. Individual 1/2 oz. dropper bottles cost around $5, and regular weatheting sets around $12, which is extremely affordable.
The company is constantly growing and to compete with market leaders they have no choice but to deliver the highest quality standards, that's why weathering pigments they use are pure art and cosmetic grade pigments free from any additives.
All paints are non-toxic, contain natural pigments and offer incredibly vibrant colors.
---
12 – Black Hat Miniatures – Coat d'arms
Black Hat miniatures paints were created by Mike Lewis – experienced wargame, Sci-Fi and fantasy writer and huge wargaming enthusiast – and operated in the UK since 2004.
Throughout their story they produced miniatures, but also high-quality paint and paint sets for model painting.
Today Coat d'arms paints have so much to offer: fantasy or military ranges, World War II range, shaders, inks, washes, British, German or American coloring sets, Ancient sets, shades triads, and more miniature painting supplies.
It is recommended for a first timer to get a 901 starter set – for $30 you'll get 10 paint bottles (18 ml each) to start your journey.
Not available on Amazon US or UK, only via official website.
---
13 – Green Stuff World
Green Stuff World specializes on wargames paints: they manufacture acrylic paint for military models, acrylic inks, fluorescent, chameleon, and metallic paint, and some mediums like retarders, and varnishes.
All paints work great for paintbrushes and airbrush.
Weathering liquid pigments create a very natural-looking effects similar to powder pigments.
All acrylic paints are rich in pigments, non-toxic, have homogenous smooth consistency and coverage and work best for wargame models, vehicles, miniatures and dioramas.
I always recommend buying a paint set for a beginner, and later on buy any additional colors you want.
With wargaming models paint sets are different: they are created based on the purpose, not just the number of different colors.
If you need some rust, some dust, if you paint winter tanks or whatever – you'll find a very specific paint set for that.
Individual bottles of acrylic paint or ink cost around $3, a paint set – $18 to $25, which is a very reasonable and affordable market price. Available only via Green Stuff World official website.
---
14 – Tamiya – Best all-in-one weathering set for war models
Tamiya produces acrylic paint and paint sprays, as well as semi-wet weathering paint sets – all products are made in Japan, adhere nicely to the scale models and dioramas.
If you're looking to get a weathering set, you'll see that every brand sells each weathering set separately for $12-$20 while with Tamiya you get the best deal: ALL weathering effects in one set – TAMIYA Weathering Master 6-Sets: mud, rust, snow, sand, stain and more! 18 different semi-wet pigments in total for only $60. They are super easy to use by the way and come with an applicator.
If you would buy them all one by one from other manufacturers it will cost you more than $100, so I think it is the best option for a beginner!
Tamiya full weathering set and some individual paints and sprays are available on Amazon but there is much more choice on their official website (it looks very old-school, don't be scared) and the US and UK reseller – The Hobby Company.
Honestly, both are very complicated to navigate and do not have the same product lines 🙁
---
15 – Scale 75 – Scalecolor Paint
Scalecolor produces amazing acrylic paint and paint sets for models and miniatures painting: a variety of wargaming, fantasy, mediums and individual artist grade paints.
They got you covered if you want to paint metal shades, skin tone, eyes, soil washes – anything!
---
The Ultimate Scalecolor Collection set includes 63 colors with rich matt finish and a wooden storage tray. Each bottle of 17ml. The price is quite adequate – around 165 EUR (taxes excl.) for 63 bottles, means less than 3 euros per bottle.
The essential basic color set will be an amazing gift for a modeler-beginner and has 8 colors and a step-by-step guide. The basic paint set will cost you around 20 EUR without taxes and shipping fee.
Scale75 sell tons of scale models of all historic times, scale games, paint sets, brushes, airbrushing supplies and mediums.
They are not available on Amazon US, but some products can be found on Amazon UK, and, of course, on the official website. Shipping is around 6,25 EUR without taxes.
---
16 – Privateer Press – Formula P3 Paint
Privateer Press are known for their Warmachine and Hordes miniatures and they also have a paint series called Formula P3 with liquid pigments.
All paints are smooth, opaque (as far as the pigment allow), and offer great coverage even with one single coat. Formula P3 has an extended workable time – this paint dries slower than other miniature paints.
You can buy each color individually or get a paint set for a miniature you're working on: ex., Mercenary colors set. There are 12 paint sets in total and a whole color range in individual bottles.
The individual bottles of 1/2 oz are quite expensive on Amazon- almost $10 for each, while the average market price is around $5. Plus, the choice on Amazon is very scarce…The official website will give you better price and choice.
---
17 – Wargames Foundry Paint System
Wargames Foundry produces a whole lot of models: animals, ancient minis, Dark Age, including vikings, Mediaval models, war and civil models – all centuries and major cultures or events are covered, plus Science Fiction and fantasy, of course!
To maintain such a diversity they launched their own Paint System with a unique feature: each color has 3 shades to give your miniatures depth and details.
Each color then comes in a set of three 20 ml bottles called a triad: main color, shade and highlight. In total, Wargames Foundry Paint System's color chart offers 350 colors. If you need a refill, you can buy each of them individually.
Special sets by historic times will also help you choose the right one for you. If it is your first time painting models, just go with a Starter Paint kit – the ultimate set for a beginner. It includes 36 colors, 6 brushes, and a Kevin the Painter model for practice. The set's price is £99.00 (around $130).
Not available on Amazon.
---
18 – The Grinning Gargoyle Paint Starter Set
The Grinnin Gargoyle produces wargaming paints and supplies and one of their bestsellers is the Gargoyle Paint Set available in Started, Advanced, Core and Extra options.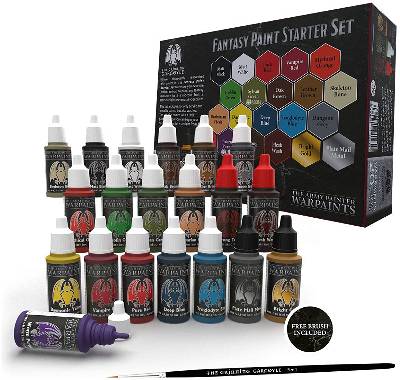 The Grinning Gargoyle Starter Paint Set is a perfect gift and purchase for a beginner: 16 acrylic paints, 2 metallic paints, 2 shading washes, a paintbrush – it is all you need to start model painting.
Optimal consistency and great coverage, as well as Army Painters color range and easy-to-squeeze dropper bottles make this set an ideal choice for any modeler.
Yet, keep in mind one serious precaution: this paint is not for people with allergic reaction as it contains benzisothiazolone.
Haven't seen them on Amazon US, but available on Amazon UK for around 50.
---
19 – Monuments Hobbies Pro Acryl
While not very popular choice among beginners, Monuments miniature paints are long adored by hobbyists like Ninjon, Vince Venturella, Sam Lenz, and many others.
They offer stunning coverage and the paint is very rich in pigments. Come in regular and metallic sets.
They are also very consistent in their performance – easy to thin but also can be used straight from the bottle, dry to matte finish, and do not peel.
Their no-clog bottles are said to be one of the best bottles on the market by users and that is a very strong statement.
Compared to Citadel the quality is amazing but Monuments are much cheaper.
Absolutely worth trying!
---
Best Acrylic paint for Miniatures
Below I'll list some acrylics that are not specifically designed for miniatures and models, but are still popular choices for model painting, and, more important, are super affordable!
I should say that they are more for beginners and I would recommend a special miniature paints like Citadel, Army Painters, Warcolours or Vallejo for someone who is serious about wargaming.
20- Apple Barrel – Best cheap miniature acrylic paint for beginners
Apple Barrel is a versatile, cheap acrylic craft paint that can work for all kind of creative projects you have in mind.
It wasn't specifically designed for painting miniatures but as almost all acrylic or craft paints, especially if they are such a bestseller, it will work just fine for models and minis.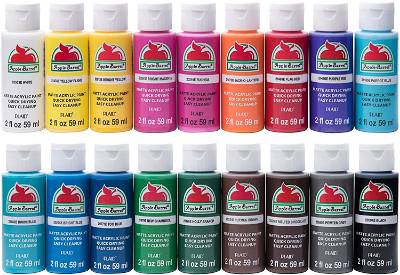 The absolute must have from Apple Barrel is their Paint set of 18 colors with matt finish – it will only cost you around $20 and you get all colors you will potentially need! Perfect pick for a first timer, especially if you're painting not only models. Each bottle is 59 ml (2oz).
Almost 30,000 reviews on Amazon with 4,8 average score and I'm saying it again perfect for beginners: easy to use and clean, vibrant basic colors, non-toxic, and can be used on any surfaces!
Sometimes you may need several coats, keep that in mind.
---
21 – Folk Art
Folk Art as well as Apple Barrel are under the same global brand – Plaid. Both craft paint are extremely affordable and good quality which makes them so popular among beginners and even experienced hobbyists.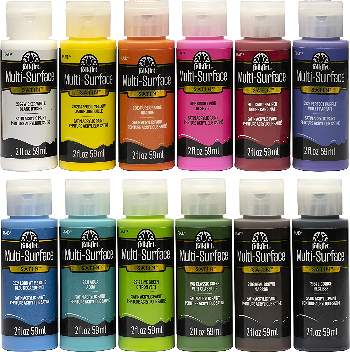 Again, Folk Art was not created as miniature paint, but it is a multi-surface acrylic paint and will adhere to models and miniatures with proper priming.
The Multi-Surface Satin Finish Folk Art Paint Set includes 12 bottles of non-toxic acrylic paint, all colors are vivid, easy to apply and quick to dry.
Each bottle is 2oz (59 ml), and the whole set will cost $20 only.
There are other sets available on Amazon: with matt finish, with more colors, etc.
Choose the one for you, you won't regret – it is a good craft paint for its price. Yes, it may not be as good as wargaming paints, but it is a decent way cheaper alternative, especially for a beginner!
---
22 – Castle Art Supplies
Castle Art Supplies is a great beginners acrylic paint for versatile surfaces and purposes.
It offers decent quality pigments, a rich range of colors – 48 colors in a set, and dries quickly with smooth thin layers.
The Castle Art Supplies Paint Set of 48 is a great giftable set for a first time model painting.
It has more than you need colors in 22ml tubes, which will make it easier for you if you don't like mixing colors or blending.
The set also has a simple painting guide. The paint has nice coverage – sometimes even one coat is enough.
The whole 48 pieces set will cost you less than $40 – a very affordable deal for simple acrylic paint.
---
23 – Caliart Acrylic Paint Set
Caliart offers ultimately the cheapest set of acrylic paint for craft project and even model painting – 52 colors for $20.
Caliart acrylic paint is a craft paint for small projects, it doesn't offer professional artist grade paints, but it will work for some DIY and first time painting – great value for money.
Caliart paint is easy to mix and apply, easy to clean and thin with water, non-toxic, and guarantees you a nice quality painting.
Otherwise they are ready to fully refund you.
As I said, the set has 52 colors, 48 regular acrylic paints and 4 metallic (gold, silver, copper, and bronze).
---
24 – Liquitex – Best Acrylic Paint for Miniatures
Liquitex is one of the titans on acrylic paint market. It is the right choice for a beginner (Basic series) or a professional artist since 1955, but…not always a budget-friendly one.
There will be no doubt in quality when you're buying Liquitex – all paints are rich in premium pigments, have different grades and viscosity depending on your painting techniques, offer ideal coverage and last long.
This is why it is a very popular choice among professional artists selling their paintings all over the world.
Painting models and miniatures you may vote for a professional miniature paint, but in the world of acrylic paints, Liquitex is a perfect alternative.
Liquitex Basics is the best acrylic paint for miniatures, for ex., a basic set of 48 colors.
Some of the Pros of Liquitex Basics Set:
huge colors choice (48 colors).
durable high-quality pigments.
multi-surface.
easy to blend, mix, layer and dries fast.
---
Best Miniature Paints Care Tips
Not only you need to read the labels carefully to get the best miniature paints, you should also take good care of them once you start using it, otherwise the paint will not last as long as you wish and results may disappoint you.
Always shake miniature paint before use. You can add paint mixing balls in each bottle so every time the paint will be homogenous and well mixed before use.
Apply acrylic paint in thin layers and always let them dry in between.
Always wash your miniature in warm water before painting.
Working with professional paints like Citadel, you will need a set of 3 types of bottles: basecoat, color (tone) and shade or wash. Washes can come on top of colors to add transparency and effects. Technical paints are optional but they can give cool effects like rust or blood.
If you're airbrushing your models, thin the paint accordingly (not till dripping state) or use miniature paint that is labeled as good for brushes and airbrushes.
For painting armor pick metallic colors.
---
Best Miniature Paints FAQ
What are the best paints for painting miniatures?
Acrylic paint is best for miniature painting, while enamel paints are great to paint weathering effects. Some of the best paints for painting miniatures are Citadel paint for Warhammer 40K models, Reaper Miniatures for mastering the skill, Vallejo paint for versatile projects and experienced modelers, Tamiya Weathering sets for adding effects and stains to war models.
Army Painters is the best miniature paint for D&D models, and Warcolours are one of the most eco-friendly brands.
What paint is best for Warhammer?
The best paint for Warhammer is Citadel paint by Games Workshop, because Games Workshop created Warhammer – they know exactly how to paint it and what paint to use. Citadel paint has best base coats, shades, layer paint for Warhammer models.
Can you paint D&D minis with acrylic paint?
You can absolutely paint D&D minis with acrylic paint, the best choice will be to buy Army Painters acrylic paint set for Dungeons and Dragons miniatures. They offer a lot of bundles created specifically for D&D fans and using the best matching color charts.
Are Vallejo paints better than Citadel?
Both Vallejo and Citadel paints are highest quality paints for miniature and wargaming painting. Citadel is the best choice for painting Warhammer minis and it is one of the bestselling products from Games Workshop. Citadel is a trusted choice for base coats, adding shades and technical details for Warhammer.
On the other hand, Vallejo has just an overwhelming choice of sets, stains, effect and paints for any kind of model and miniatures, and situations you may think of. Hands down they are the most versatile brand. Yet, one of the most expensive as well.
What type of paint do you use for miniatures?
You can use regular acrylic paint, special paints labeled "miniature" or "model", craft paint from Amazon, or hobby stores. The best choice is acrylic paint as it has vivid colors, rich in pigments, is easy to use and dries super fast. It also lasts long and is water-resistant.
Is acrylic paint good for minis?
Yes, of course! Acrylic paint is perfect for painting miniatures because it's inexpensive and easy to find and to paint with. It is also a versatile paint, easy to clean, thin and apply. Dries fast and has a great coverage!
Do I need to prime my miniatures before painting them?
In general, it is recommended to prime any miniature or model before painting it or airbrushing. It will work the same way as you're priming a canvas before painting: the paint will adhere better and evenly, the surface will be smoother and the color will be enhanced. The best primer is Vallejo surface primers and it comes in several colors.
Pots vs Dropper bottles: which are better?
For miniature painting, dropper bottles with a good no-clog lid are the best. Monumets Hobbies Pro Acryl models paints probably have the best bottles.
Pots are better for regular painting, as it is easier to scoop more paint and it also dries fast.
For models you need smaller amounts of paint and precision.
The bottle are also tightly closed and the air doesn't come in contact with paint like with pots.
Whether you are a beginner or an advanced miniature painter and models collector, painting your new Warhammer set is always exciting and satisfying. Get a nice fine brush, a set of miniature paints and make yourself a cup of coffee!