If you're looking for affordable museum-quality prints, look no further! In this article, I will discuss the best prints that you can buy for a good price.
I'll also explain what Museum Quality means and why it's so great to have high-quality prints in your home. There is nothing more satisfying than bringing history and classic art to your living room or bedroom. Feel like since you bought a museum-quality print, you are hosting a Louvre museum exhibition!
Here are some of my favorite Museum Quality Prints from Van Gogh, Monet, Picasso, and other famous artists that I discovered online, and most importantly, they are on a budget!
Table of content
---
What is Museum Quality Print?
Museum-quality print is a reproduction of an artwork that has been printed using a high-quality printing process (Glicée).
Museum-quality prints are typically larger and more detailed than other types of prints. They are also more expensive, but they are worth the investment because they will last for many years.
UpperPin creates an authentic art experience through a combination of hand painting and exhibition-grade framing, Glicée printing technology, and the usage of museum-quality canvases.
Scanning of the highest quality allows us to get a very crisp resolution of up to 2400 x 1200 dpi and a 10-color non-fading ink set combined with Glicée printing technology makes a print look exactly like the original artwork. Our aim is not simply to preserve colors but to transmit timeless emotions of great and famous artists of all times.
---
Best Museum Quality Prints to Buy
Today, you can check the reviews, see how the art looks in the room, and order it online.
In 5 minutes.
I recommend using UpperPin – one of the emerging and soon best art print companies in the US – they feature around 60 most famous artists in different styles.
All prints are handcrafted and printed using Glicee – the most high-end printing technology, hand-framed and protected with non-fading and non-yellowing finish. And yes, they are extremely affordable!
Yes, You can get a museum-quality print of Van Gogh for $200!
List of all Artists whose museum-quality prints are available on UpperPin:
Aelbert Cuyp
Albrecht Durer
Alfred Sysley
Anders Zorn
Antoine-Jean Gros
Artemisia Gentileschi
Auguste Renoir
Camille Pissarro
Caravaggio
Caspar David Friedrich
Charles Demuth
Childe Hassam
Claude Monet
Conrad Marca-Relli
Edouard Manet
Edward Burne-Jones
Egon Schiele
Francisco Goya
Francois Boucher
Franz Marc
Frederic Legihton
Giorgione
Gu Yunrui
Gustav Klimt
Gustave Courbet
Hans Holbein der Jungere
Henri Fantin-Latour
Henri Horace Roland de la Porte
Henri Martin
Ivan Shishkin
James Abbot McNeill Whistler
Jan Van Eyck
Jan Van Huysum
Jean Baptiste Simone Chardin
Jean Francois Millet
Jean Leon Gerome
JMW Turner
Johannes Vermeer
John Constable
Leonardo Da Vinci
Pablo Picasso
Paolo Veronese
Paul Cezanne
Paul Gaugin
Peter Paul Rubens
Pierre Auguste Renoir
Pop Jacques Louis David
Raffaelo Sanzio de Urbino
Raphael
Rembrandt Harmenszoon Van Rij
Thomas Eakins
Thomas Edward Lawrence
Thomas Gainsborough
Vincent Van Gogh
William Adolphe Bouguereau
Wu Guanzhong
Xu Beihong
Zao Wouki
All images I share are photos of actual print created by UpperPin and displayed in their online gallery. You can visit their site to check all the details, browse all prints available, choose your format (where you want to display the art, what mood you'd like to get into), and purchase the one you like! Customers service is very good, so don't hesitate to ask them any questions.
However, for now, they only deliver in the US.
💎 Using my coupon code "mashaeretnova" you will get a 15% discount. Browse prints from $149 here 💎
---
Framed Van Gogh prints
UpperPin has a collection of hand-framed Van Gogh prints, including the most impressive and famous paintings The Starry Night and Irises, but also 20 more printed reproductions: Landscape with House and Ploughman, Sprig of Flowering Almond Blossom in a Glass, Banks on the Seine, The Red Vinyard, Daubighy's Garden, Almond Blossoms, and more.
All Van Gogh prints in the UpperPin shop are museum-quality giclee prints, framed, and will be carefully shipped and delivered to your door.
#1 The Starry Night by Vincent Van Gogh
One of the most popular paintings of Van Gogh – mysterious, inspiring, meditative Starry Night. This framed print has a smaller size than the original artwork – 30 x 25 in and will complement a living room, a dining or a bedroom. The original masterpiece was created in 1889 and belongs to a private collection yet is available for visitors in the Museum of Modern Art in NY.
Initially, Van Gogh even referred to this painting as a failure. Could he imagine that it will be one of the greatest paintings in the history of art?
Hand framed, gold museum grade frames
Museum quality canvas
Ready for hanging
Glicee printing technology
Dimensions: 30 x 25 in
Made in USA
---
#2 Irises by Vincent Van Gogh
Irises by Van Gogh bring freshness, spring, warmth, and joy to the air. Bright yet simple colors, evocative painting, dynamic within the artwork move a lot of heart – that's why it is one of the bestsellers on UpperPin! Perfect as a gift for women and art lovers.
Manually framed
Full size gold high-quality frame
Museum-quality canvas with texture and vibrant colors
Glicee printing
Dimensions: 29 x 24 in
Made in USA
---
Framed Claude Monet prints
UpperPin features 31 prints of the most famous paintings of the French impressionists – Claude Monet.
#3 Pool with Water Lilies by Claude Monet
There is no doubt Monet's Lilies are one of the world's most recognized artworks. A 35″ x 19″ museum-quality print in a black classic frame will be a great addition to your house, especially if you like nature and need something meditative and zen in front of you.
In fact, Monet created a series called Water Lillies with 250 paintings and all of them actually picture his flower garden in Giverny. Yet, unfortunately, most of Lillies paintings Monet created suffering from cataracts.
Black frame, the painting is ready to hang
Museum-quality canvas
Glicee print
Dimensions: 35 x 19 in
Made in USA, free delivery.
---
Framed Pablo Picasso prints
Picasso once said that "Art washes away from the soul the dust of everyday life", and his art for sure does that. Co-founder of cubism, art inventor, surrealist, and an extravagant personality, Pablo Picasso left an immense heritage, starting with his masterpiece Guernica.
UpperPin collection is home to 14 printed reproductions of Picasso's work.
#4 Les Demoiselles d'Avignon by Pablo Picasso
Les Demoiselles d'Avignon is considered being one of the most famous paintings of Picasso, right after Guernica. Original oil painting was created in 1907 in the cubism genre and remains in the permanent collection of the Museum of Modern Art.
As the author himself admitted, Spanish art and Iberian sculpture influenced him a lot, he was practicing on numerous sketches before creating this final work.
The printed version is much smaller and will be perfect for an apartment.
Black frame, mounted manually
Museum-quality canvas with special ink
Glicee printing
Dimensions: 28 x 28 in
Made in USA, free delivery.
---
Framed Leonardo da Vinci Museum Quality Art prints
Leonardo has marked his time and changed a lot in our both art and world perception. No other masterpiece has hunted art historians and collections like Mona Lisa.
And with modern technology, you can get access to his most famous and brilliant works, such as The Lady with an Ermine, The Last Supper, or The Madonna of the Carnation.
#5 Mona Lisa, da Vinci – Fine Art Printing by UpperPin
The most mysterious smile and piercing gaze – Mona Lisa or La Gioconda dating 1503-1517. One of the most intriguing facts, to me, about this painting, is that it was once considered to be a self-portrait! Today, Mona Lisa is the most guarded artwork with the highest insurance valuation of $870 million dollars. Even if you go to the Louvre, you will only have a glimpse at this Renaissance miracle, so I suggest you get yourself your own Gioconda 🙂
Black museum-quality frame
High grade canvas printed using Glicee technology and special inks
Dimensions: 26 x 35 in
Made in USA, free delivery.
---
#6 Framed prints of Rembrandt – The Storm on The Sea of Galilee
The power of nature, the dynamic, the effort, the willpower – the strength behind this famous work of Rembrandt "The Storm on The Sea of Galilee" is inspiring and motivating. The print is made using modern high-quality canvas and unique Glicee technology.
One of the most affordable prints on UpperPin – under $150 with free delivery across the US.
Hand framed in a black museum-quality frame, ready to hang
High quality canvas
Dimensions: 16 x 18 in
Made in USA, free delivery.
---
#7 The Kiss, Gustav Klimt
The ode to love and intimacy, as recurrent themes in Klimt's art, found their apogee in The Kiss. Some people argue that this is the exact moment when Orpheus turned around to kiss his beloved Eurydice and lost her forever. The tragedy of fading love.
It is also one of the most famous paintings in the world and could be a great gift to someone you care about. The print has a nice size and will be perfect for a wall in the living room or bedroom, as a more intimate space for such art.
Hand framed in a black frame, ready to hang
Giclee print painting on museum-quality canvas
Dimensions: 29 x 30 in
Made in USA, free delivery.
---
#8 Raphael, The Triumph of Galatea
A beautiful Greek mythological scene painted by Raphael – again, about love, losing loved ones, and death. It is one of the best pieces of Renaissance heritage in world history and art. Originally, Galatea is a fresco, but today we can transfer it onto canvas and print preserving all vibrant colors and style of the genre.
Hand framed in a gold full-size frame, ready to hang
Giclee printing on canvas
Dimensions: 17 x 21 in
Made in USA, free delivery.
---
#9 Jan van Eyck "The Arnolfini Portrait"
Jan Van Eyck and Northern Renaissance are something that always comes together. One of his most famous paintings is this portrait of Arnolfini couple, well, family, as the woman is pregnant. They also have a small dog and are pictured in cozy house interiors. Actually, this painting was and still is considered one of the most complex and beautiful works as it has amazing composition and perspective, the smart use of a mirror – van Eyck was a revolutionary of his time.
A print of this artwork will be a good choice for a family of art lovers, for living or dining room.
Hand framed in a gold classic frame, ready to hang
Museum quality rinting on canvas
Dimensions: 20 x 25 in
Made in USA, free delivery to your door.
---
Museum Quality Prints FAQs
What does museum quality mean?
Museum-quality is considered to be the highest quality of reproduction or prints because it means they were created extremely close to the original artwork in terms of colors, techniques, materials, canvas. Museum-quality reproductions are hand-painted by the most experienced artists and the process takes a lot of time, this is why such reproductions can often be quite expensive. On the other hand, museum-quality prints are printed on high-quality paper or canvas – using Glicee technology, high-resolution scanners, and special inks, which gives them a more authentic look. These prints are made on real high-quality canvases.
What is museum-quality paper?
Museum-quality paper is a type of paper that is made to withstand the test of time. It is often thicker and more durable than other types of paper, which makes it perfect for preserving delicate or rare artwork. Museum-quality paper is also acid-free, which prevents it from fading over time.
Are museum prints valuable?
Museum art prints are absolutely valuable among buyers and realtors for both decorating the house or staging one. The original art is either exhibited in museums around the world or held in a private collection so only the eye of its owner can now see it. What good does it when we are separated from art? Art has an immensely educational and therapeutical impact on us and thanks to museum-grade prints everyone can get closer to the authentic art and the world that the greatest minds and artists once created.
Additionally, museum prints are not just printed on a regular printer. They are some sort of high-technology reproductions of original oil paintings. Today, the best printing and best reproduction companies are using special grade, museum-grade canvases, inks, finishes, techniques to create a stunning masterpiece.
Museum quality prints Reviews
Upperpin has open reviews so every customer and visitor can view them as well as photos if someone added them. It helps to see the prints in real life. It is curious that Van Gogh Irises is the most frequently purchased print as of now!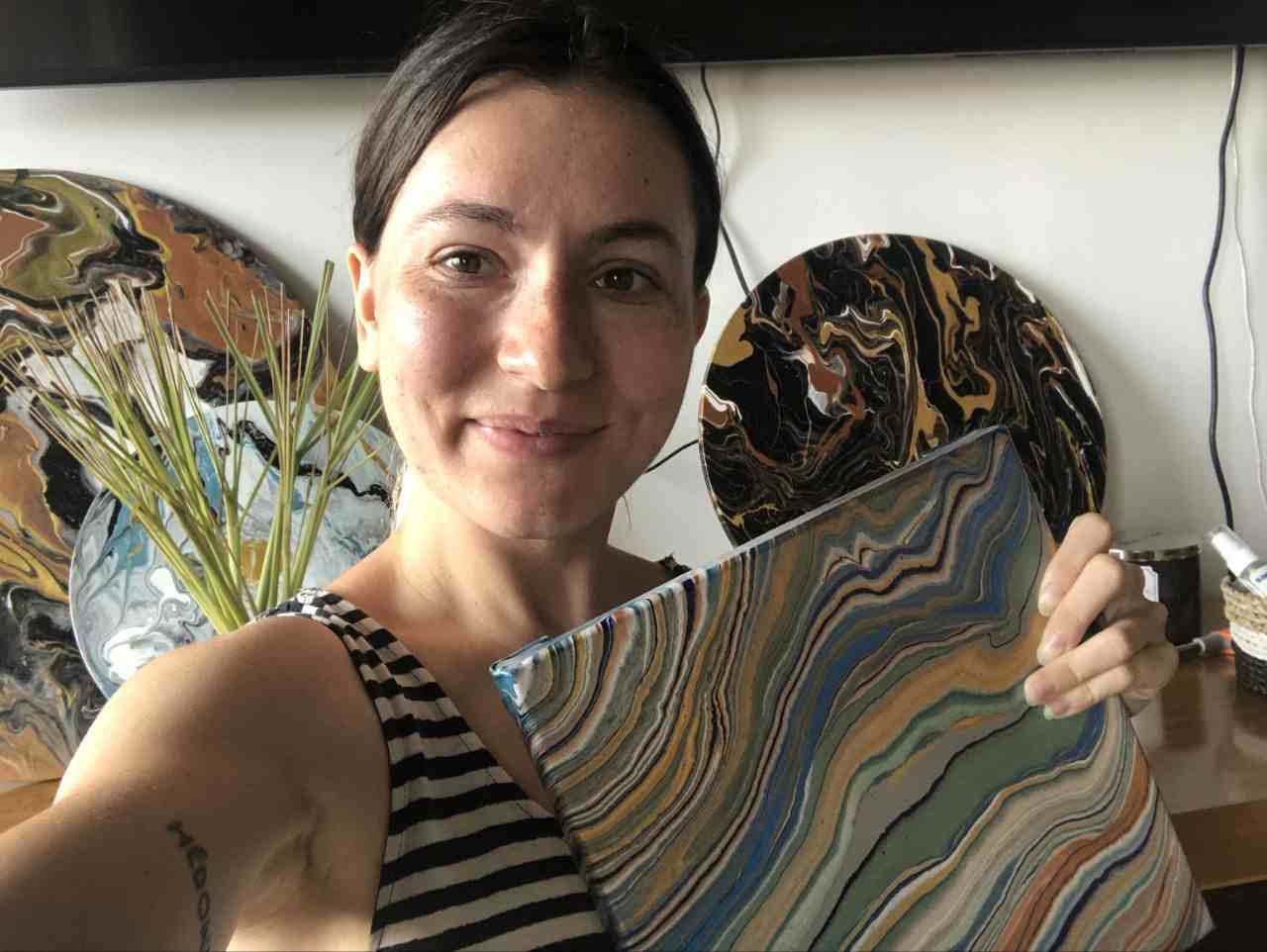 Masha Eretnova is a certified teacher. She started painting and drawing 20+ years ago and now is an international abstract artist and educator passionate about acrylic painting, gouache and crafts.
More about me.