Isn't it annoying how many acrylics are on the market and you have no clue which one to buy? I feel you.
I was blessed to try Hippie Crafter acrylic paint, precisely their full pour paint set. And I loved it! In this review, I will be sharing my honest opinion as an abstract artist and I made 3 videos on how I make pouring painting with Hippie Crafter so you can see it for yourself!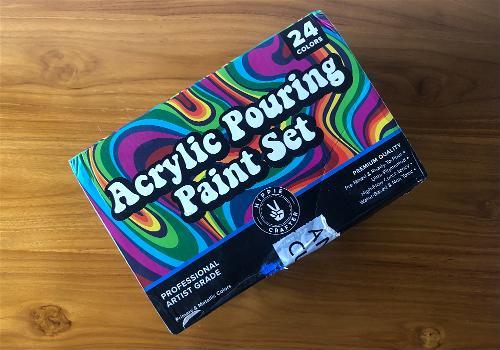 Table of content
---
About Hippie Crafter
Well, if you have time to read only one sentence about Hippie Crafter, remember this, they are actually producing all craft supplies, including pouring, paint, clay, vinyl, and more.
The brand is actually a family-owned business, passionate about creativity, freedom, and self-expression. All products are proudly made in the USA and feature the best practices for each em
However, the brand is now emerging. I was researching some activity like Google searches and such and was surprised that so few people know the brand. I hope my review will contribute to their growth so they will create even more products tailored to your interests!
---
24 colors, including primary, secondary, tertiary, and metallic colors. They all work together very nicely and you can create hundreds of patterns and different color combinations.
Perfect size for small and medium pouring painting – each bottles is of 2 oz (59 ml).
Non-toxic paint. Safe to use for kids and adults – great for family fun painting session. Confroms to ASTM D-4236 standard.
Pre-mixed high-flow paint. It comes very handy, as you don't have to stress yourself out about the paint to pouring medium ratio. Shake the bottle and you are ready to pour.
Artist grade paint – it means it is high in pigment and guarantee opaque, vibrant and smooth coverage and good adhesion to diverse surfaces.
Beginners friendly. Both size and pre-mixed consistency are perfect for first time pour. No mess, no stress, pure fun and beautiful result.
Fast-drying as all acrylics are.
Versatile paint – not only for canvas, but for wood, glass, paper, tiles, stones, and more. Both for indoor & outdoor use.
List of all colors in the set: 14 regular colors (grey, cold grey, cobalt blue, orange-yellow, scarlet, ultramarine blue, violet, lemon yellow, mars black, emerald green, viridian, titanium white, rose, phthalo blue), 10 metallic colors (copper-gold, gold, viridian, purple, silver, scarlet, sapphire blue, white, rose, blue).
---
My Hippie Crafter Acrylic Paint Set Review
Buying paint in sets is cost-effective and very exciting for me – I love unpacking the box and picking colors one by one, imagining in my head color combinations I will try later.
My hands immediately get itchy! The exact same thing happened when I got my Hippie Crafter Pour Paint set of 24 colors, including some metallic! I will keep the review structured and then add my personal feeling in the end.
Paint quality
The key to a high-quality pouring acrylic paint is its consistency, its fluidity, and nice dense coverage. Hippie Crafter pouring paint has high flow, nice fluid creamy consistency, rich vibrant colors with amazing coverage and adhesion.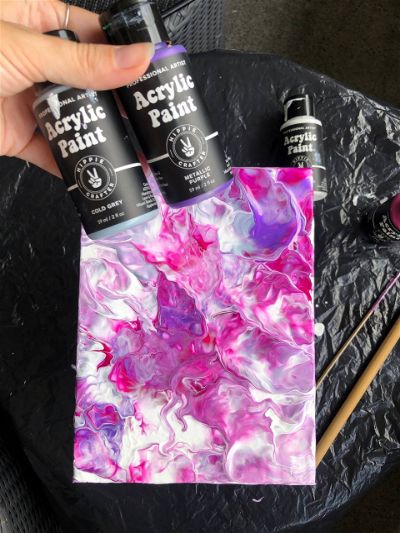 Read also: 38 Stunning Paint Pouring Color Combinations
The paint dries fast, with no cracks. I am always leaving pouring paintings overnight with a plastic or cardboard box on top, leaving a bit of airflow. It is the best way to prevent cracking and assure even drying.
Hippie Crafter paint is amazing for crafts projects and is absolutely beginner-friendly.
Paint Bottle SIze
One 2 oz bottle of each color is enough to make a few small-sized or couple of medium-sized paintings. Of course, white and black are normally the colors that you may run out of first.
Pro tip: the more colors you're using in your color palette for each painting (they should match of course), the less paint you use – ta-dam! being effective 🙂 How do you know if the colors match? Use a color wheel chart and learn about mixing colors.
For me, I need more paint. And I would like to have bigger bottles as I work not only with small canvases but with larger ones. Fortunately, the Hippie Crafter brand is already making new series of paints in big volume! Can't wait to see them.
Pouring Techniques
Hippie Crafter paint works amazingly and equally well with all pouring techniques, I've tested a few of my favorite techniques myself and was glad to see how easy the paint is to use.
Ordering
Easy via their official website or on Amazon. They have a great shop on Amazon, all products sorted by category with detailed descriptions, and they deliver a good amount of pictures. Check your settings and add your home address to find out how much is the delivery to your house.
Ordering from the official website you get a chance to spin the Hippie Crafter Secret bonus Wheel and get a coupon of 5 to 10% off or free shipping.
Shipping and packaging
The package itself looks so dope! It's very hippie and very crafty!! Look how colorful, joyful, and pretty it is, it immediately encourages me to create something: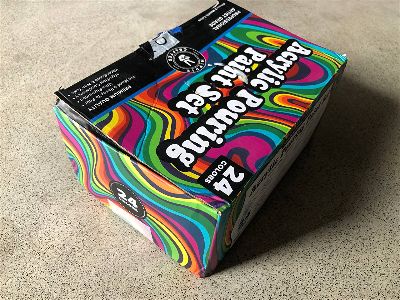 I live currently outside the US and had to find a way to ship Hippie Crafter supplies to test. I found the way, but I was unlucky: customs opened the box and something might have happened. But one bottle opened up and all the paint was gone. I was upset, but the lesson was learned. If you do the same, please make sure you tell your shipping campaign that the product is fragile.
Apparently, it is a problem specifically with Blue color that few painters reported. The brand is working on it and I'm sure there is a way to make a flip cap more secure as it is a huge bummer when you got only 23 colors and the blue is missing and there is maybe no time or you simply don't want to return it.
Each bottle is easy to squeeze, hands down, but if I have to find something I would change or do better, I would prefer this type of bottle to make even thin lines.
These squeeze bottles are larger and the cap is thinner. Of course, you can buy them and pre-mix your own paint in these size and style bottles, which many painters actually do.
Read also: How to Fix Lumpy & Chunky Acrylic Paint? [10 Easy Methods]
Customer Services
Very friendly customer service and no problems whatsoever. When I had some shipping issues, I've contacted the team and they immediately responded back and were very nice and empathetic to my problem.
Price
In my opinion, Hippie Crafter pour paints offer amazing value for money and the price is average for the market of professional pour paints. As it is a review, I thought I need to compare visually prices of some more popular brands to give you an idea:
| | | |
| --- | --- | --- |
| Paint Brand | Paint Set | Price |
| Hippie Crafter Acrylic Pouring Paint | 24 colors, 2 oz each | $35.99 – $37.99 |
| Arteza Acrylic Pouring Set | 32 colors, 2 oz each | around $50 |
| Mont Martre Acrylic Pour Paint | 4 colors, 4 oz | around $15 |
Arteza is one of the most popular paint brands among crafters as well as Mont Martre, and as we can see, the Hippie Crafter pricing is reasonable and I think completely reflects the market. I would not prioritize other brands over Hippie Crafter based on prices for sure.
Related post: 21 Best Acrylic Paint Brands for Beginners and Professional Artists
---
Photo & Video Review – My tests with Hippie Crafter Acrylic Paint
All content you're currently viewing I filmed on my balcony while having a trip to Bali, I shared it on Youtube also, so you will be always able to rewatch it. I tested most colors on canvas and a canvas pad.
I've tried only a few pouring techniques, of course, there are dozens of beautiful techniques for beginners and more advanced crafters.
Related post: 25 WOW Acrylic Pouring Techniques for Beginners and Advanced Artists
---
#1 – Using Blow (Straw) Technique
First, I made a quick test on a canvas pad: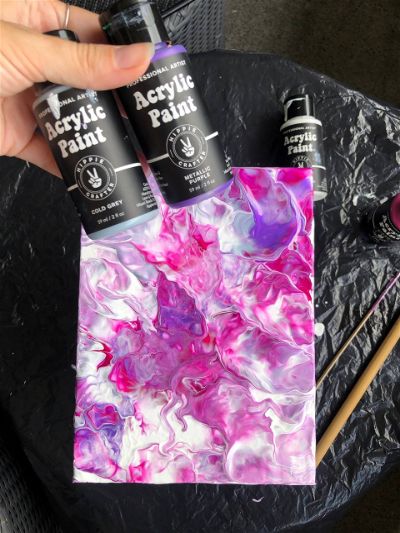 Supplies:
I poured background color and spread it over the canvas pad (I used white as background color here). Then I created lines with colors and blew them with a simple wooden straw. To dry it I cover the pouring painting with a plastic box, leaving some space for air to freely come in and out. I left it dried overnight and sprayed it with Winsor & Newton varnish after a few days.
---
#2 Youtube Video – Adding more Pouring medium, Flip Cup Technique
Supplies: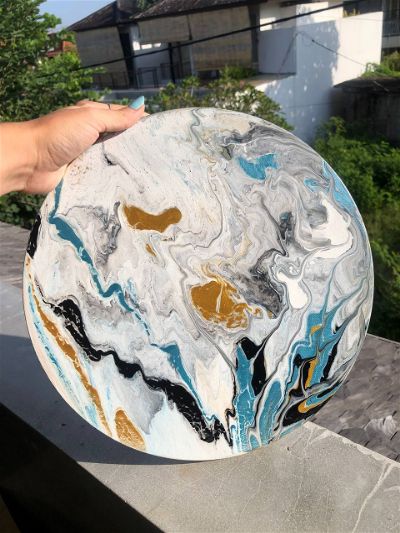 This time I used a new palette, closer one to my heart, and used the Dirty pour technique – one of the easiest to master! It works beautifully with 4-5 colors and especially metallic ones.
---
#3 – Paint Lining
This is my favorite work so far! The gold and blue lines are just perfect!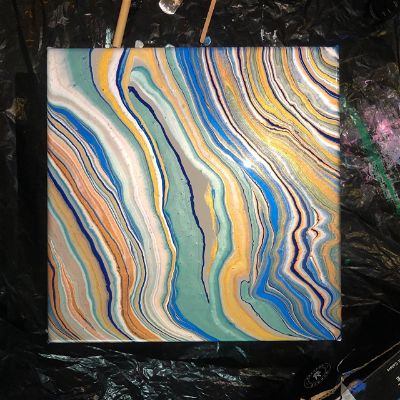 Supplies:
---
Final words
I absolutely love Hippie crafter paint for pouring and had so much fun with it! I thought first, that the color palette is not traditional and lacks some regular colors but in actuality, it is well thought of specifically for pouring when you need to combine colors and make beautiful patterns. I think having metallic colors in your pouring palette is a must for me now.
I encourage you to try it for yourself to see if it meets your needs but I will absolutely do more pourings this week with Hippie crafter until I run out of all paints, lol.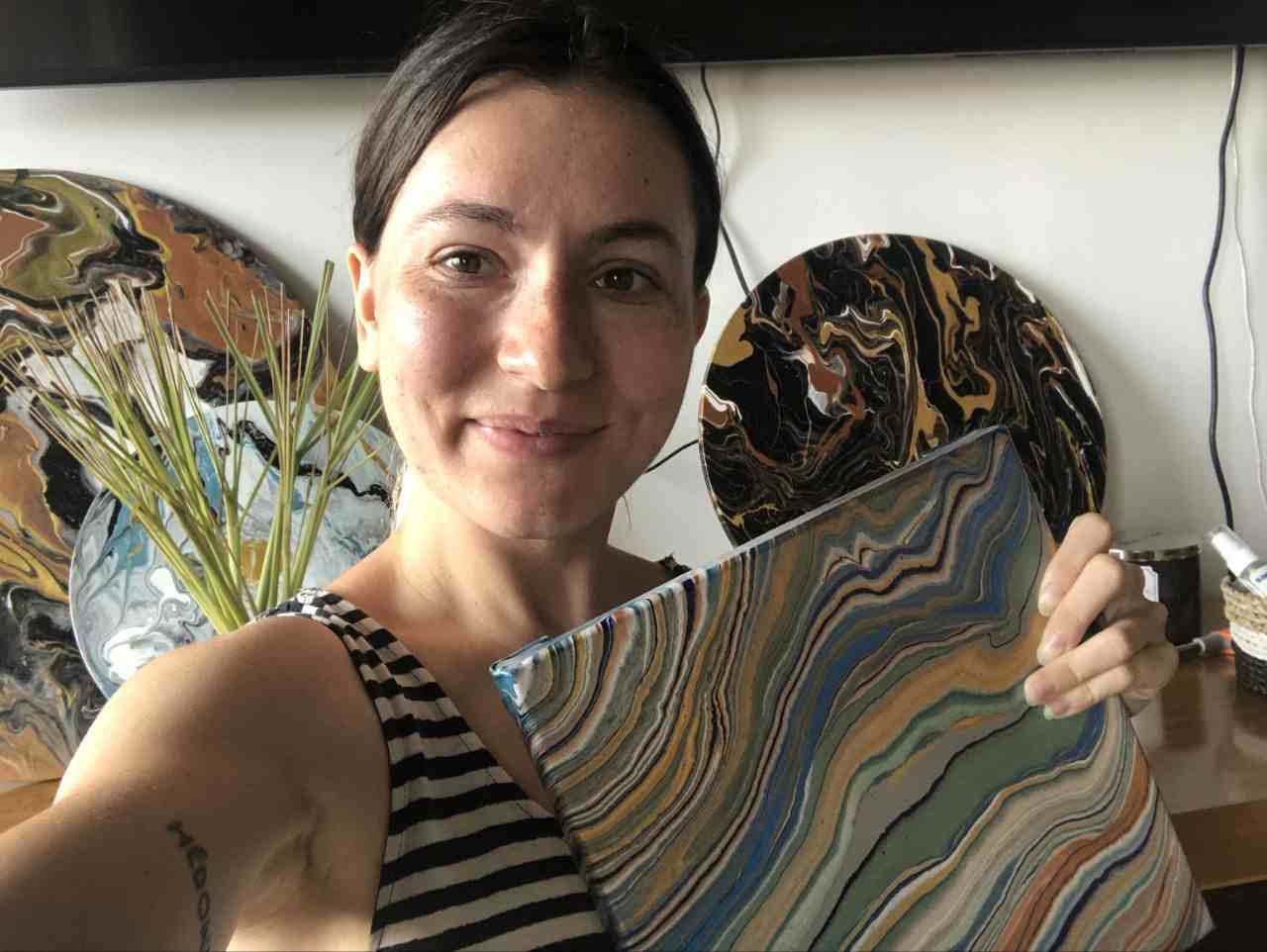 Masha Eretnova is a certified teacher. She started painting and drawing 20+ years ago and now is an international abstract artist and educator passionate about acrylic painting, gouache and crafts.
More about me.