Oil Pastels are one of the most unique, satisfying and beatufil art medium to use.
Yet, there are quite a lot poor quality, waxy sticks that make people abandon oil pastel painting quickly.
On the other hand, there are sets for $100+ which no beginner will be comfortable buying. I'm on my way to restore your belief in pastels with this brand new Haiya Paul Rubens oil pastels review.
I will be testing and drawing with the color set I received from Paul Rubens – it is an improved Haiya series and my set includes all the 72 colors available.
This article contains affiliate links. It means no extra cost for you but a little commission for me to support my hobby and blog. Thank you!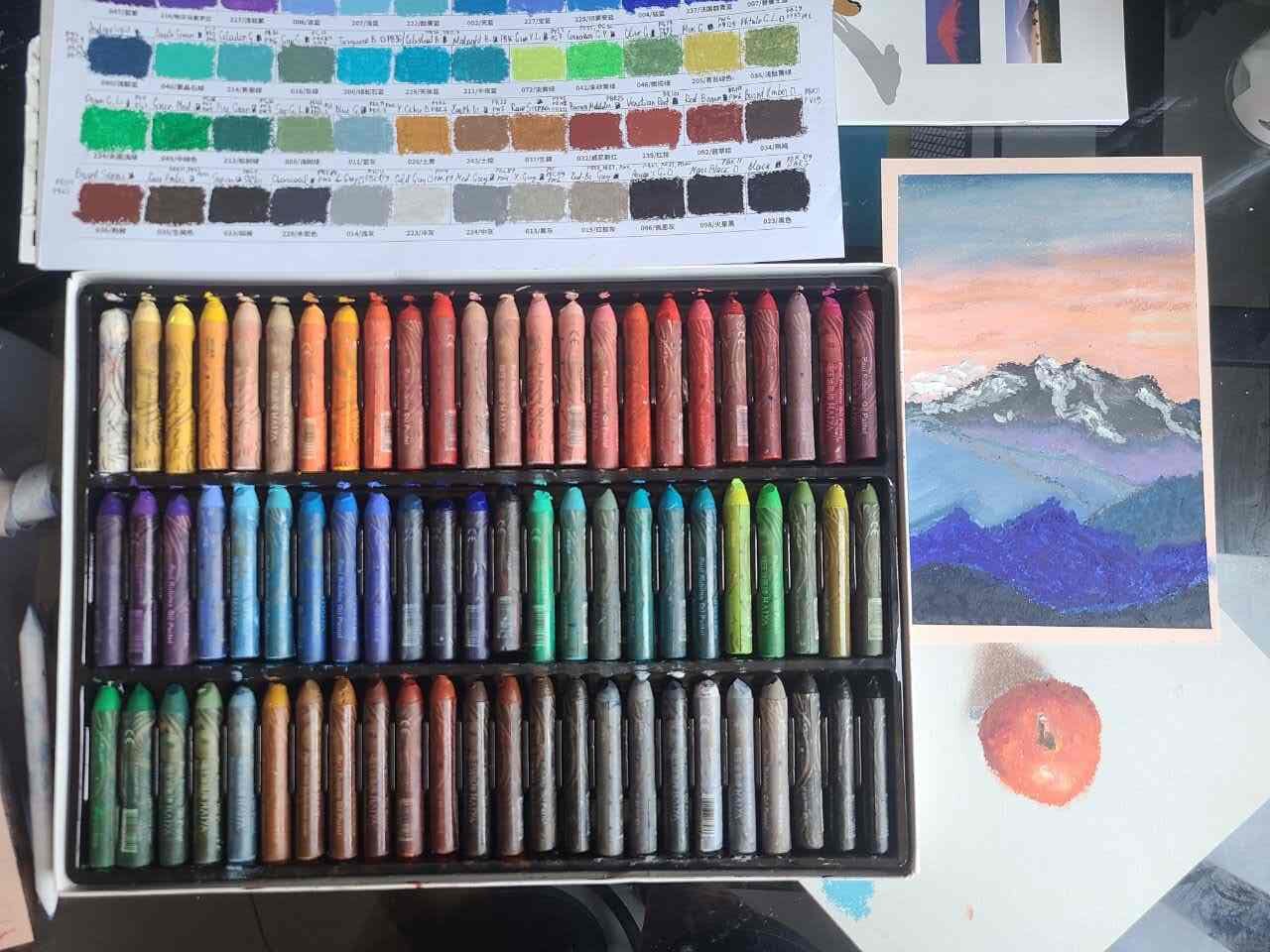 My Honest Paul Rubens Oil Pastels Review – 72-color Haiya set
Paul Rubens oil pastels are a popular choice among beginners and advanced artists due to their high quality and vibrant colors.
They are created, designed and produced in China but the knowledge blended within comes from oil paintings origins countries in Europe and from multiple experiments of Paul Rubens team.
Key features of Haiya set at a glance:
New bullet-head sticks design.
Improved formula
Super soft and creamy, the application is smooth and the pastels just glide on paper.
Strong coverage
Highest-quality oil pastels for beginners or advanced artists
Professional paper sleeve (unlike most pastels) with detailed information: about pigments, lightfastness, transparency and color name
No inconsistency, no stickiness.
Considering the quality, super affordable – 72 colors for roughly $47 brings it down to $0.7 per stick.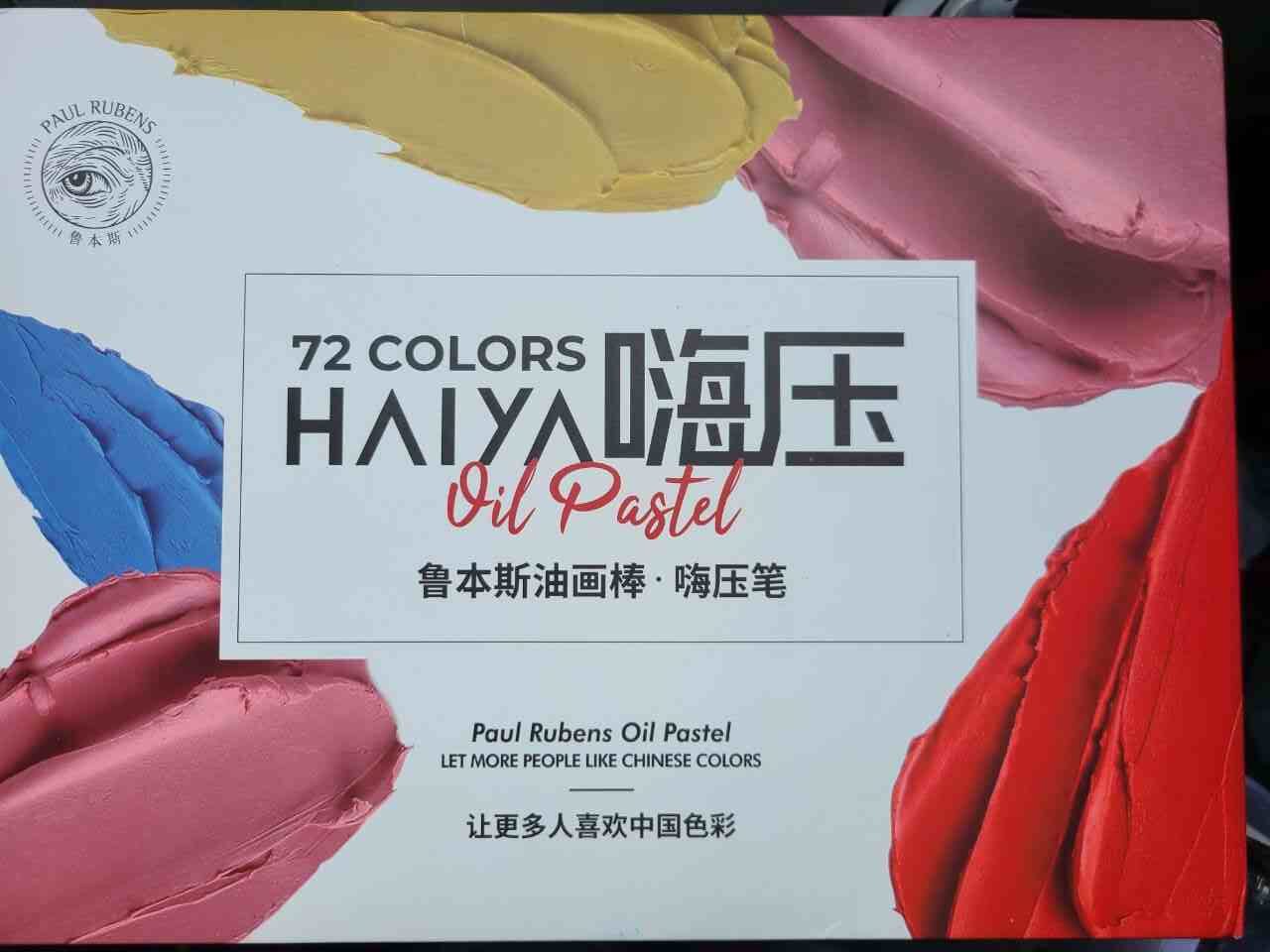 Haiya oil pastels are made with a direct blend of finest pigments with vegetable oil and a little addition of wax to make them sticks.
They have smooth and creamy texture that is easy to blend and layer and use with any of oil pastels techniques.
Another great thing about Paul Rubens oil pastels is their versatility.
They can be used on a variety of surfaces, including paper, canvas, and even wood or metal.
Overall, if you're looking for a high-quality oil pastel that delivers vibrant colors and excellent lightfastness, Paul Rubens is definitely worth considering.
For inspiration and just pure aestethical pleasure check out their Instagram – it is simply beautiful and they do contests where you can win art stuff!
---
HaIya oil pastel set – New Design for the Sticks
Paul Rubens had launched many oil pastels sets before and in 2023 they upgraded their oil pastels with HaiYa oil pastel series.
The new design features bullet-shaped head and cylindrical stick that allow you to grip and draw comfortably.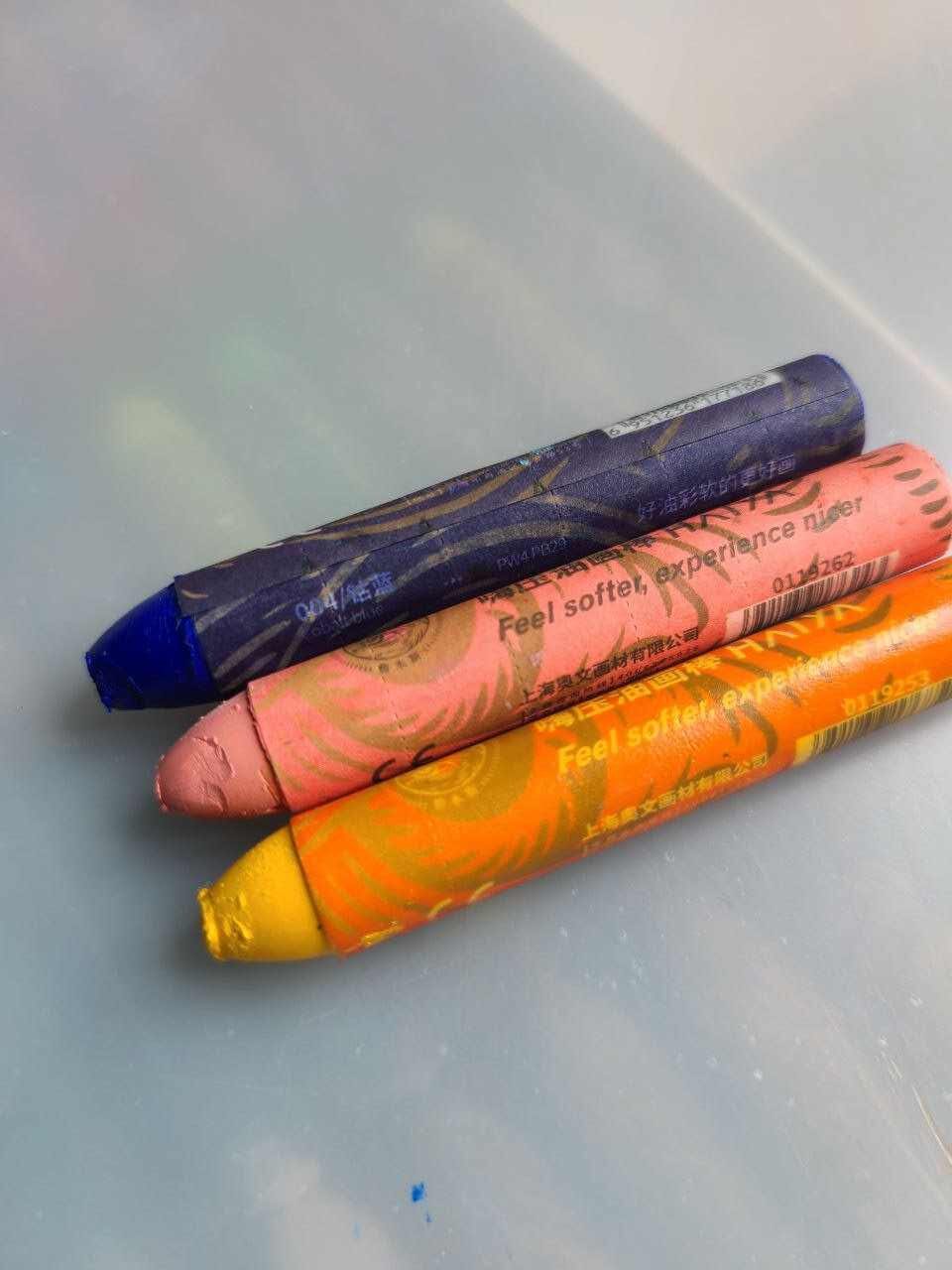 Pastels lovers see that these pastels look and feel like Sennelier sticks.
I find them to be quite sturdy, easy to hold and comfy to paint with.
I love the new head design I think it is easier to use like this for painting.
Because Haiya are very creamy and soft I'm though pretty sure you will burn through the sticks pretty quick.
What I would suggest is to using them as finish layer for details, vibrant colors or very nice blend.
But I would not waste them on mixed media works as they are just too good for it.
Each paper sleeve has dotted lines so you can easily rip off a part of it only when you got down to it and yet keeping the rest of the stick in the paper (which will reduce how messy the painting session gets haha).
Which is +1 point for Paul Rubens for being thoughtful!
Each paper sleeve has information about color's name, pigments used to make it, opacity label and light fastness label.
Other brands do not have it at all but I really appreciate it!
Something I didn't quite like:
There is nothing in their appearance that affect performance but there are still a couple of things I noticed:
I had one weirdly shaped stick, so the paper sleeve doesn't sit well on it. But the bump is only at the end of the stick, I don't hold it there so it is only a visual defect.
As sticks are super soft, the box needs to handled very carefully. Of course, I cannot (nor the brand) control it, and it wasn't that bad, but a few of heads were smooched against the walls inside the box. I can still use all of it with a palette knife though.
I feel like some sticks are more consistent than others. A few ( literally like only 5) had small holes on the surface. Not really a big deal (I think), none of the colors are peeling or flaking at all. Just, again, visual aspect.
---
Haiya Paul Rubens Oil Pastel Color Chart
I am a happy owner of 72 colors but the Paul Rubes pastels come in sets of 5, 12, 18, 24, 48 colors as well.
All Haiya Paul Rubens colors are vibrant, rich and consistent.
While with acrylic paint I tend to buy smaller sets as I enjoy color mixing, with pastels I love to have all possible colors right in front of me as it allows to create stunning landscapes and portraits and work with every nuance of color.
In 72-color set there are all primary colors, lots of neutral colors (greys and browns), white, reds, greens and yellows come in a variety of both warm and cool colors.
I like that the set comes with a printed color chart that you can fill in.
Yet, I wished thecolor names were in English! I made the swatches and them wrote down information from the paper sleeves (as it is quite small there and some are oily and you can't read it).
But it took some time which I wasn't expecting to spend on it to be honest.
Anyway, now I have a functional color chart I consulted so many times painting and writing this review, so definitely do yours!
Tip: Spray it with fixative though to make it permanent!
---
Opacity
The majority of colors in the 72 set of Paul Rubens oil pastels are opaque or semi-opaque. With only 16 colors being completely transparent.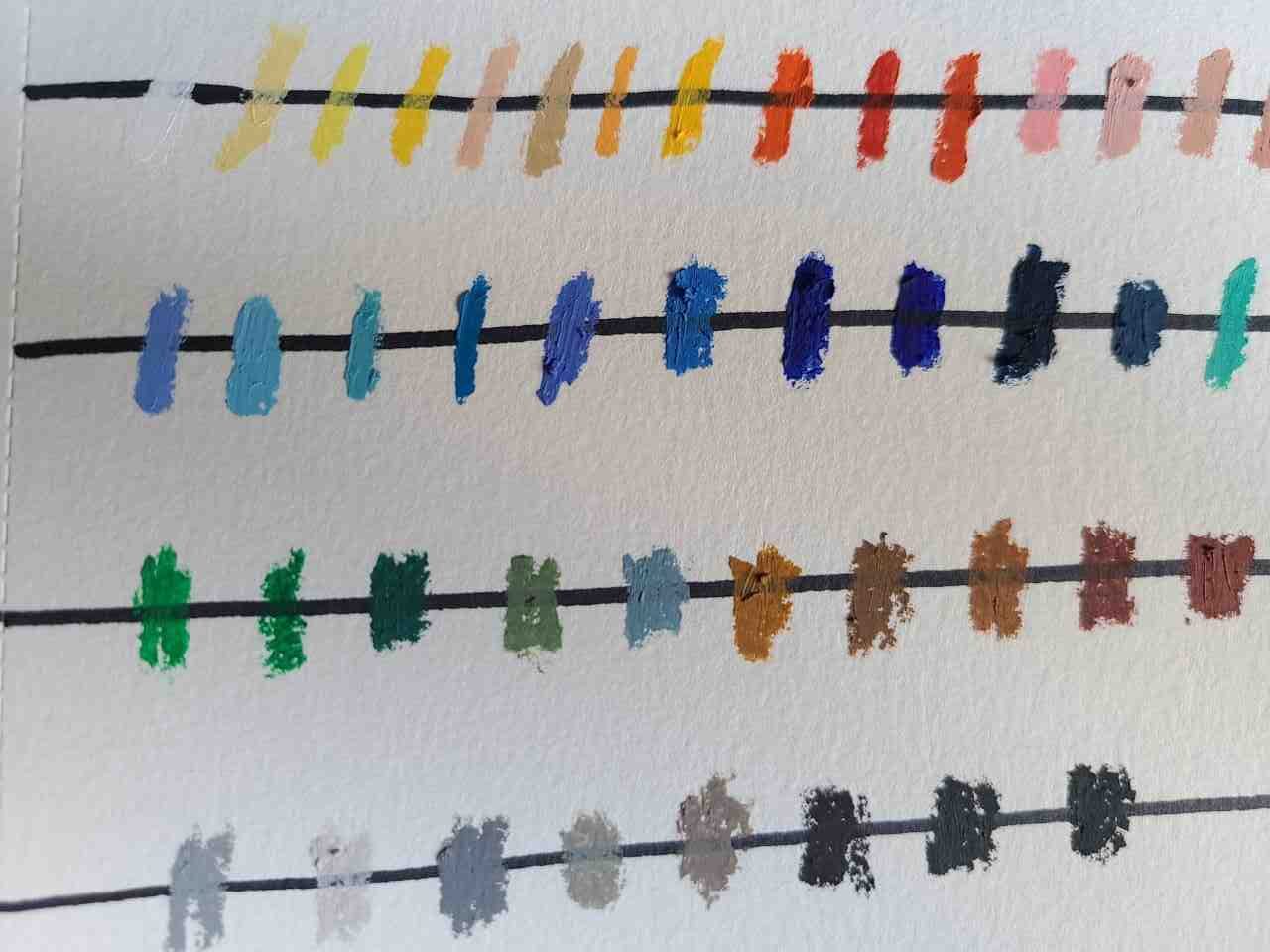 Yet, during my tests I think I would label Naples Yellow, Lemon Yellow, Cold Yellow, Yellow deep as semi- or fully transparent.
They are not as opaque as other opaque colors and I'm not sure why they are labeled as opaque. Even in paint, yellow are rarely opaque.
At the same time when I was mixing and blending colors, Greys didn't really act that transparent, they are pretty visible even if layered over darker colors.
So definitely do your own test before painting.
Full list of colors with their opacity:
Opaque colors: white, Naples Yellow, Lemon Yellow, Cold Yellow, Yellow Deep, Orange Ochre, Flesh Ochre, Pale Pink Madder, Reddish Coral, Red Deep, Ruby Red, Violet Ochre, Blue Violet, Parma Violet, Pale Blue, Ash Blue, Phtalo Blue, Azure Blue, Indian Blue, Cobalt Blue, Indigo Light, Barite Green, Celadon Green, Grey Green, Celestial Blue, Olive green, Moss green, Sap Green, Venetian Red, Red Brown, Burnt Sienna, Charcoal, Yellow Grey, Red Brown Grey, Black.
Semi-transparent colors: Bright Yellow, Mandarin, Coral, Rose Ochre, Red light, Permanent Intense Red, Royal Blue, French Ultramarine, Midnight Blue, Green Yellow Light, Cinnabar Green Yellow, Permanent Green Light, Green Medium, Pine Green, Blue Grey, Earth Brown, Raw Sienna, Brown Madder, Raw Umber, Sepia, Medium Grey
Transparent colors: Luminous yellow, titanium buff, Chinese orange, Vermilion, Purple, Bordeaux, Cobalt Violet Light, Prussian Blue, Turquoise Blue, Phtalo Green Light, Yellow ochre, Burnt Umber, Light Grey, Cold Grey, Payne Grey, Mars Black.
I'm making a full list as there is no pdf or color chart with color names in English yet you may need it.
---
Mixing and Blending
I absolutely love how blendable and mixable these Haiya oil pastels are – it's just pure pleasure!
For skies, mountains, new colors – blending is soft and smooth and very easy. I use my fingers, you can use tools or cotton pad or paper towel.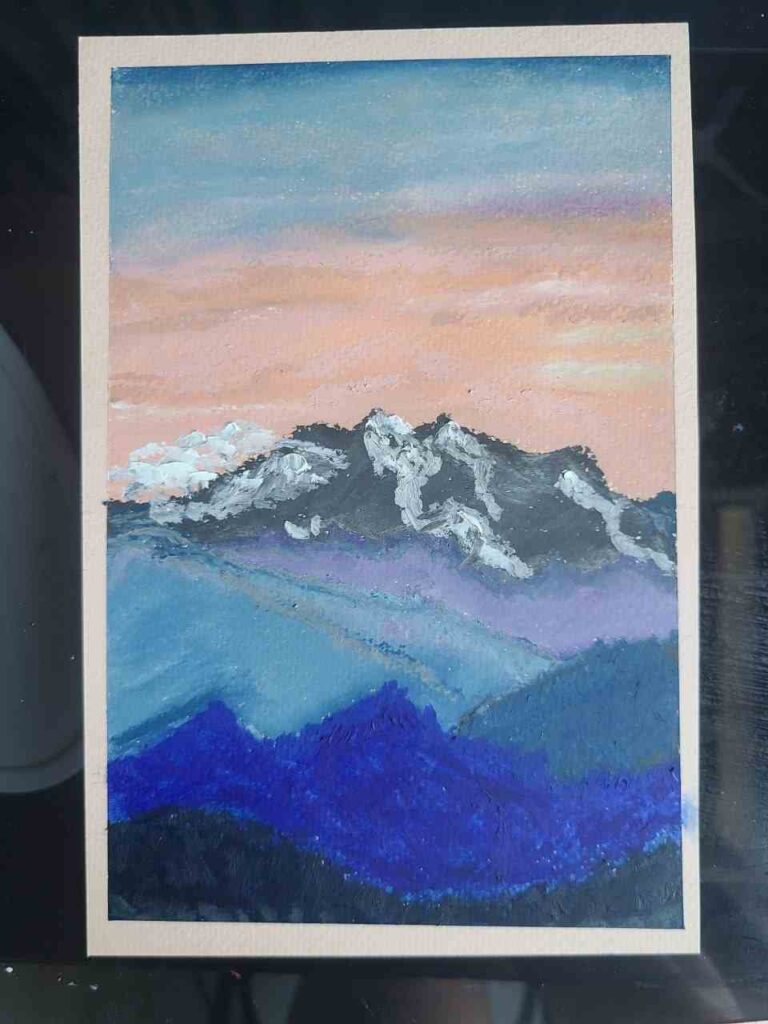 ---
Laeyring
Haiya oil pastels layer great, they slide along like spreading buttery lipstick. They can be used for a variety of techniques including layering, scratching, working with a palette knife, etc.
Of course, transparent colors will not layer well over opaque colors as a general rule, but you can always add details and highlights with a palette knife.
Actually, using these oil pastels with a palette knife is super easy and enjoyable. I could just clean the stick, and scrape some on my smallest palette knife and apply on pastel paper.
---
Light fastness
One of the standout features of these oil pastels is their lightfastness. They are resistant to fading over time, which means that your artwork will stay vibrant and true to color for years to come.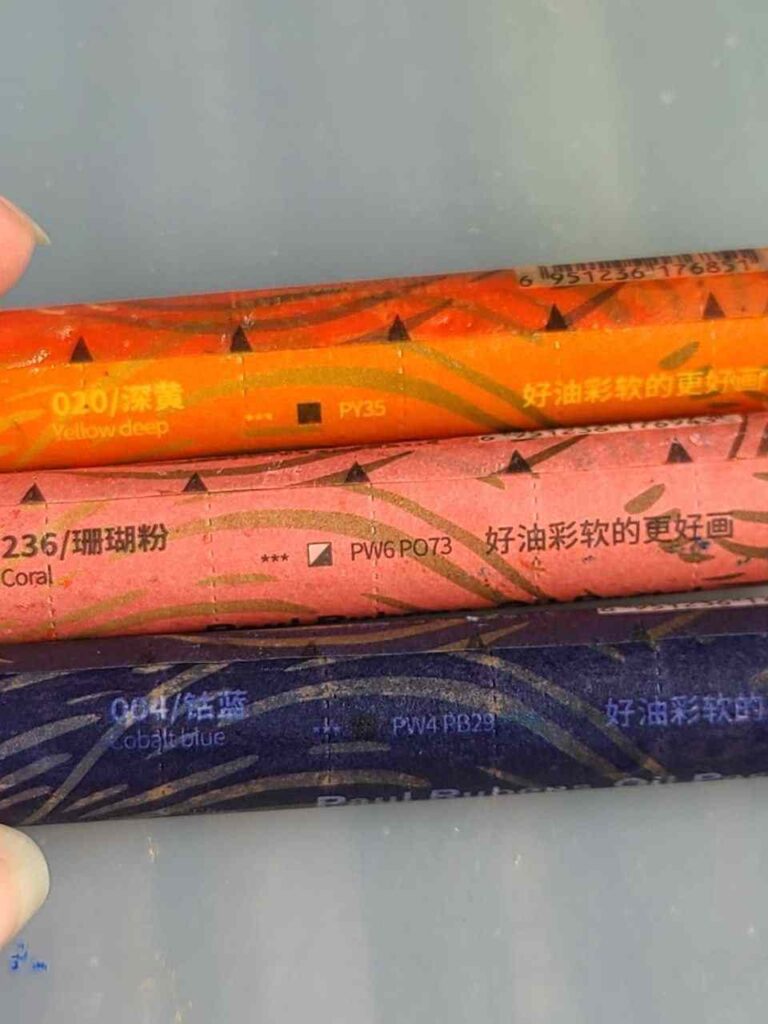 Yet, the brand hasn't yet released a detailed PDF or a full guide on how to read *** and ** lightfast symbols and what kind of classification was adopted.
I would assume the standard – *** for good lightfastness for around 50 years colors vibrancy in gallery conditions. And ** for moderate lightfastness.
At the same time don't forget that no oil pastels are durable or resistant to rubbing, stacking painting or any harsh impacts.
---
Are Paul Rubens oil pastels toxic?
All our products have passed the safety monitoring test and are in compliance with the standards.

Paul Rubens team
Most oil pastels are made with a combination of wax, oil, and pigment, which are all relatively safe materials.
Paul Rubens go an extra mile producing eco-friendly pastels safe for humans and our planet.
Sticks are in general not safe to use for children under 3, but other than that Haiya oil pastels are safe and non-toxic to use, they don't have any strong odor or residue.
There is also no animal product, including beeswax in these oil pastels.
Note: Oil pastels need to be stored at room temperature and keep away from moisture, sunlight and high temperatures.
---
Price Comparison To Other Oil pastels
Haiya oil pastels offer great value for money for any levels of artists.
Compared to Sennelier, Paul Rubens oil pastels are more than twice cheaper yet offer similar grip, design and creamy texture and performance.
Sakura Expressionists are way way less creamy and soft and the biggest set they have is 50 colors.
| Set | Price |
| --- | --- |
| Paul Rubens Haiya 72 colors set | around $46-47 / $0.6-$0.7 per stick |
| Sennelier oil pastels, 72 colors | $119 / $1.65 per stick |
| Sakura Cray-Pass Expressionist, 50 colors | $36 / $0.72 per stick |
Read also about cheaper (craft quality) option: Pentel Oil Pastels Review [12 Colors Set]
Where to buy Paul Rubens Haiya:
Please note that as of July 2023, the 72-color HaiYa oil pastels are temporarily out of stock in the UK (It tells us they are good!), but no to worry – they will be back in August 2023.
Meanwhile you can still buy 48 or 60-color sets.
---
Haiya Paul Rubens Oil Pastels Performance
Quick notes on How to use oil pastels?
You can use them directly on paper
You can mix them with Turpentine like oil paints or any other solvent you are used too.
You can mix them by layering or buy chopping some off the stick admixing on a palette
You can add thick details with a palette knife
You can use your finger or a cotton pad to blend and smooth the surface.
Stronger pressure will give you more opaque and evener coverage, light pressure willallow paper to show through.
Test before painting, some colors may make a muddy mix.
Remember that oil pastels never dry out (not on paper, canvas or as a stick) so you need to be careful how you store the painting.
If you live in a hot climate some soft pastels can melt.
You can use oil pastels for mixed media painting, oil pastel painting or as a sketch tool.
How did Haiya oil pastels worked for me?
Paul Rubens Haiya oil pastels feel like butter on toasted bread – smooth, creamy, perfect application.
I enhoyed it so much! It felt like a meditative moment and also a very curious journey as I was excited to test absolutely every single color.
A 72-color set for me is like a Christmas gift and I was happy as a kid to make swatches, hold it and paint with it.
I've tried to do a quick sketch of an apple and also a more complex painting.
Firts, I'd like to say that filling the color chart was so satisfying! I'm glad they included it in the set.
I especially loved Ash Blue, Phtali Blue, Coral, Bordeaux, Barite Green, browns and greys!
What I used:
Quick sketch:
I've tried to sketch a little apple on grey pastel paper, using a real apple as a reference.
Color matching was pretty easy, the blending was extremely smooth and hassle-free and I finished the small sketch within a few minutes.
Would be perfect for practice, you can experiment with light source, shading, highlights.
In my video review you can follow along the process.
Landscape with Paul Rubens oil pastels
As an abstract artist I'm not fantastic with landscapes or portraits but I wanted to try as the sketch worked so well!
This time I used rose pastel paper following along the general tone of the reference photo.
I started by trying to match colors and it was pretty challenging. Probably because of the muted colors of the photo I picked, I'm not sure, but even with 72 colors I struggled to find the best match.
So my solution was to test some mixes and it worked better.
I still think that I could have done better with mountains and the sky needed more like smokey purple color. But I don't have any pale purples in the set and I initially saw it as more blue grey.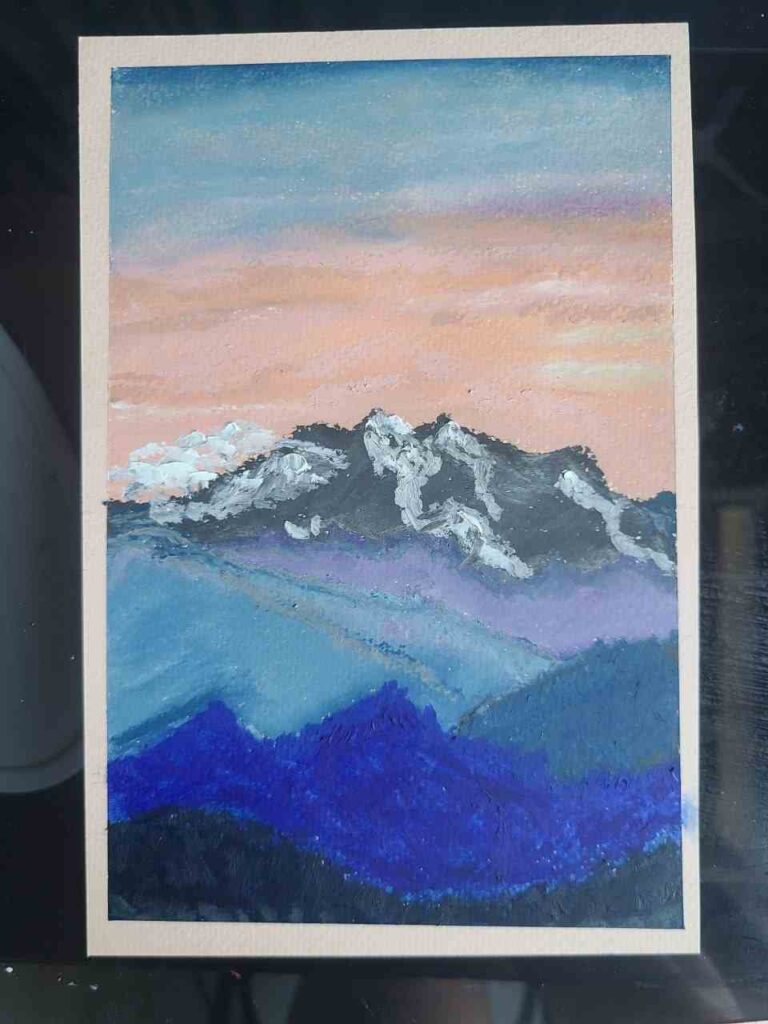 Although I'm not happy with my skills (retreating to paint my abstract) I was supported by how easy it was to use Haiya oil pastels.
Easy blend for background with a finger or paper, easy application without any crumbling or flaking, no waxing of course, no oily feel.
The highlights I made with a palette knife and first layering a light great and white on top of it without blending them.
Overall, I'm excited to use them again and I will definitely improve my techniques to create better landscape and do these pastels justice.
Once it's done I will upload it here as well.
Recently I've made a quick drawing of my friend's cats Sani and Oju:
Some CONS I noticed
a few sticks feel oily – I assume it is because it is pretty hot where I live. I know that people mention it in reviews and I have to say that maybe 10 out of 72 sticks feel oily, and yes it is slightly annoying in a longer painting session but it doesn't affect the performance at all, I didn't feel like they can slip off my fingers or break. At all. I find the sticks to be quite comfortable to use.
small letters and information on pigments, opacity and light fastness are not easy to read on all paper sleeves unfortunately. Especially if that stick is also happen to be oily. But other brands don't have that information at all, so I think it is just something that can be improved and is not relevant to performance.
I've aslo read reviews of other users, of course, to look out for potential issues and my experience was much better and I want to address a few issues mentioned:
Melting – I live in a tropical climate and no, these pastels do not melt. At least I don't see it. They are extremely creamy, but still firm.
Oil pools – No oil was pooled in the box, at all. I believe it is the doing of the new, upgraded formula.
In previous sets Phthalo Blue could reportedly cause issues with coverage, but in this set there is no issues with coverage for any color and there is also no Phtalo Blue, they added Prussian Blue instead.
Not at all relevant to performance, but something I would like to see.
I really enjoy how brands like Liquitex, Holbein or Jackson's Art build their online presence. In terms of supplies, you will always have access to safety data sheets, full brand's book on how to read labels and understand paints or mediums, etc.
I think to elevate users experience and create more trust it would be perfect if Paul Rubens can add pdfs, articles, details on products and how to use them.
---
Paul Rubens oil pastels FAQ
Is Paul Rubens oil pastels good?
Yes, Paul Rubens oil pastels are a popular choice among artists due to their high quality and vibrant colors. One of the standout features of these oil pastels is their lightfastness, which means that they are resistant to fading over time.
Which oil pastels are best for beginners?
Paul Rubens oil pastels and Sakura Cray-Pas Oil Pastels are some of the best pastels for beginners while Sennelier oil pastels are considered to be best for professionals.
For crafters and amateurs Pentel and Daler Rowney pastels may also work.
Are Paul Rubens oil pastels light fast?
Paul Rubens Haiya oil pastels are lightfast and have lightfastness labels on each color paper sleeve. Most of the colors have good permanency.
Paul rubens oil pastel vs mungyo
Both Paul Rubens and Mungyo 72 color set costs around the same. Paul Rubens are way softer and easy to blend, better for layering than Mungyo which are not too creamy, can crumble when layering and blending, and some colours are reportedly bland.
But at the same time Mungyo happen to be less sticky and oily and some beginners prefer them as they can't handle the softness of Paul Rubens.
Final words
If you're looking for oil pastels that will make your artwork pop and your landscape look like an impressionist oil painting, Paul Rubens Haiya oil pastels are the way to go, even if you are a beginner.
With their vibrant colors, smooth texture, and excellent lightfastness, you'll be able to create masterpieces that will stand the test of time.
Give Paul Rubens Haiya oil pastels a try and let your creativity run wild with 72 colors on the range 🙂
Let me know in comments if you already tried them and what do you think!