Gesso is a classic foundation for canvas, paper or wood prep for acrylic or oil painting.
Yet, many painters, especially beginners feel like most gessos on the market are quite expressive and thus, look for better gesso alternatives.
Some common and effective alternatives to gesso are acrylic medium, clear gesso, primers, and grounds. Cheap alternative to gesso are homemade gessos with glue, gelatin, cornstarch or plaster of Paris.
Let's talk about what exactly is gesso and once we understand its function and basic composition I will list down 10+ gesso alternatives and a few homemade gesso recipes you can try to make today for super cheap (without losing the quality).
Even though I'm mostly working with acrylic paints, I will give recommendations for oil painting, wood painting and even oil pastels.
This article contains affiliate links. It means no extra cost for you but a little commission for me to support my hobby and blog. Thank you!
Some Gesso alternatives:
No gesso at all
Fleur Universal Primer – great gesso alternative for non-porous surfaces
Golden Pumice Gel Mediums
Acrylic mediums
Matte acrylic gels
Clear gesso
Homemade gesso (many recipes) – cheap alternative to gesso
White glue or mod podge
Thin layer of acrylic paint
Casein Gesso
Wood filler – gesso alternative for wood and paper mache
Gelatin or pastel ground – for oil pastel paper
Oil Painting Ground – for oil paint
Rabbit skin glue – for oil paints
Latex housepaint
Turner Glass Primer – gesso altentative for painting on glass
Wood Primer – gesso alternative for water-based painting on wood
I'd like to note that gesso doesn't really work for watercolors in the first place, so for them use watercolor ground.
---
What is gesso made of?
Gesso is usually made of calcium carbonate (chalk), 100% acrylic polymer emulsion (for acrylic paint) and other chemicals (often including paint for color) and its main function to prepare any surface to be painted on.
Cheaper gesso can have glue.
The true gesso has 3 distinctive features that we need to look for in any alternative to understand how good it is: gesso allows the surface to absorb just enough paint to make it stick, it creates a certain tooth (or can be sanded to a very very smooth finish) and it increases the opacity and the coverage.
Classic gessos also increase the longevity of the painting and never will damage it.
Read more: Is Gesso Really Necessary for Acrylic Painting?
On an unprimed canvas, estimated coverage at 200 square feet (~18.6 m2) per gallon (3.8 L). On a primed canvas, or after the first layer of gesso, coverage goes up to about 425 square feet (~39.5 m2) per gallon.

Golden
That means that technically 8oz (237 ml) of Golden gesso (or other high-quality brands) will cover 12.5 sq f of unprimed canvas. 16×20 in canvas is roughly 2.22 ft² so you will be able to cover almost 6 of those with 1 small jar of gesso.
---
Professional And Crafty Gesso Alternatives
If i want to look for a good alternative for a gesso I would go for good brands to at least make sure I have something decent I'm layering under my paint.
I'm usually going for Liquitex, and Golden is probably one of the most stable art supplies out there.
So first, let's address alternatives to gesso that are the closest based on function and composition:
acrylic mediums
pumice gel
matte gel
clear gesso
casein gesso
Fleur Universal Primer
latex housepaint
white acrylic paint
glue or mod podge
1) No gesso at all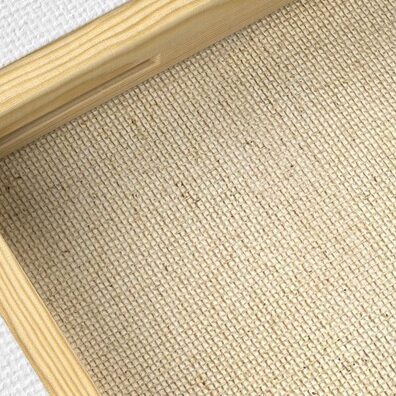 Many artists love the roughness, the color and the feel raw canvas has. It works particularly well for abstraction and heavy texture.
Yet, for beginners and more realistic style painters a raw canvas is more of a problem.
First, a raw cotton or linen canvas is a very porous painting surface. In practice it means that it will happily soak as much paint and water you apply on it…
But then it can sag, loosen the stretching, the paint may appear duller and you will waste more paint.
What's worse, the paint may not stick evenly and peel off. And if you are drawing – the lines won't be as visible and it will be very hard to draw a smooth even line.
So if you are making abstract experiments, alternative to gessoing your canvas is not doing it at all, but if you prefer more traditional painting or drawing, this way is not for you.
---
2) Fleur Universal Primer for non-porous surface
Fleur Universal Primer is a specific product that is a waterbased white acrylic primer for tricky surfaces like metal, melamine, plastic or glass.
To a non-pourous surface paint doesn't adhere well and can crack or flake or won't simply cover it at all.
So if we skipping gesso, we should use an acrylic primer then.
Goes for acrylics and oils, but I'd assume for any paint.
Downside of this amazing product is the price – around $26 for 11 oz (330 ml). But at the same time, it does a very good job.
---
Golden Fine Pumice Gel
According to the Golden brand, you can use textured gel like Golden Fine pumice as a nice ground for drawings.
note that there are 3 types of pumice gels by Golden: fine, coarse and extra coarse and only fine one will be good as alternative to gesso.
Even though Golden recommends it as drawing prer, all Golden gels work perfectly with acrylic paints as well.
8oz (237 ml) is roughly $16.
---
Acrylic mediums
Some acrylic mediums can work instead of gesso with Matte medium being one of the best alternative to regular gesso.
Matte medium has the closest consistency to a regular gesso but it just dries to a clear finish. It protects the canvas and allow acrylic paint to adhere just as nice as gesso.
Usually, a matte medium has some matting agents and they can stay milky while wet.
Matte medium-gesso is good for both painting and drawing and even creates a tooth similar to gesso unlike gloss mediums which are reflective, and allow paint to slide.
Matte mediums can work instead of gesso for acrylic paints, oil paints, pencil drawings.
---
Clear gesso
Clear gesso is like a special clear ground that has tiny, transparent particles added to it.
These particles help to make rougher texture that helps paint stick to it better or drawing lines pop.
It works even better than matte gel or medium and has similar to gesso texture which is better for drawing, charcoal, pastels, and mixed media.
Can be used on raw canvas, wood, hardboard and other heavier supports.
It is archival prep, that acts very stable.
Altough, it can be pretty pricey compared to other alternatives – approx $37 for 8oz of Liquitex clear gesso.
---
Its composition is very simple and natural: mostly milk protein (casein), chalk and linseed oil Water, Natural Tree Resins, Fossilized Sea Shells, Saponified Olive Oil and Salt.
But despite the fact that there is oil in it, Casein gesso is a universal gesso substitute – will work for gouache, acrylic, pastel, oil, egg tempera, watercolor – most of the mediums and surfaces.
At the same time, natural composition only make it good for 2-3 months once opened.
Recommended to apply in 2 coats.
It has the needed tooth (yet less than clear gesso), it's permanent and it increases color adhesion. Great medium but hard to find – only on the official website.
---
Wood filler – gesso alternative for wood and paper mache
Wood filler can help you both prepare the surface and also hide some imperfections if any when you work on wood, clay or paper mache.
It looks more like a paste and you can dilute it with water for better application but don't make it too runny (it still needs to dry properly before you can paint over it).
Just as regular gesso, wood filler can also be sanded for extra smooth finish.
I would still though go with at least one layer of gesso for painting over wood filler (can be homemade). As wood filler works more as a wooden sealer than 100% gesso substitute.
Read also: How to Prime Wood for Acrylic Painting
---
Turner Glass Primer – gesso alternative for painting on glass
Turner glass primer is an alternative for gesso for painting on flat and contoured glass with water-based paints (not only for gouache).
You can apply it directly or dilute with a little bit of water (10%) in 1-2 coats and allow it to dry for at least 24 hrs.
---
Wood Primer – gesso alternative for water-based painting on wood
Turner Wood Primer is a simple primera-la gesso for all water-based paints on wood.
It is white when wet and it doesn't dryto a transparent finish.
It acts both as a wooden surface sizing so the wood doesn't soak in too much paint and as a gesso – increasing paint adhesion and creating smooth even painting surface.
Can be diluted with up to 30% water for better application. Dry time – 24 hrs.
---
Craft ways to substitute gesso
These methods do work for some crafts but they also can easily don't. I know people still use them, but I wouldn't jeopardize a painting I'm planning to display or sell, especially a commission work with these methods.
For your own fun and experiments, sure, why not.
White glue or mod podge
Mod Podge has glue in it and some homemade gesso recipes as I will mention below do so as well.
It sort of make sense to cover a porous surface with glue to seal it before painting on it, but glue is not archival.
It can grow mold, melt, peel off, and yellow over time. The worst part – the glue won't last as long as professional paint will, so at some point in time it will simply desintegrate under the painting.
Yet, as I will show you it can be a part of cheap gesso alternative.
Mod Podge works much better as cheap sealant than a cheap gesso.
Thin layer of acrylic paint
Preparing the surface for acrylic painting with acrylic paint also makes sense as acrylics will definitely stick to each other and they do have polymers, just as a gesso does.
Yet, the ratio of this polymers is not enough to properly seal the surface.
A thin layer of paint will always act like a thin layer of paint.
For your practice paintings, you can do that, no problem, but for commissions and work for sale, I would still make my own or use a store bought gesso.
Probably the most important consideration is that acrylic paint by itself doesn't stick properly to some surfaces like wood or glass or plastic. Gesso resolves this issue and makes the paint stick.
When you are using a thin layer of paint that won't stick as a ground for next layers to stick it doesn't make any sense, does it?
Latex housepaint
Latex housepaint can increase opacity but it was never made to increase adhesion or size the painting surface.
So you are not preparing the surfacetechnically, you are just painting it with a different type of paint which creates even more challenges.
House paint also shaves off a little bit constantly and if it is covered with layers of paint it may eventually peel or crack.
It also has different drying time from any art paints we can use over it.
Yet, I know that there are painters on forums that swear they are using house paint instead of gesso for years.
I would not do that, and some reputable sources like Jackson's art store wouldn't recommend it either.
---
Alternatives to Gesso For Oil Paint
Better alternatives for gesso for oil painting are:
Oil Painting Ground
Casein gesso (we talked just above, can be applied also over rabbit skin glue)
Rabbit skin glue
Oil Painting Ground
Unlike acrylic mediums or acrylic gesso, special oil painting ground are oil-based.
oil grounds, alkyd grounds, casein grounds, chalk ground, half-chalk ground, lead/linseed oil grounds, egg-linseed oil emulsion, pastel grounds will work as gesso alternative for oil painters.
Gamblin Oil Painting Ground is one of the popular choices and it comes in cans and will dry in around 7 days.
Compared to acrylic gessos, oil groundsmay seem stiffer yet they are stillvery flexible.
8-16oz cost around $24-30.
---
Rabbit Skin Glue
Before, when oil painters prepared the canvas they were using rabbit skin glue.
Today it is likely one of the least convenient and challenging ways of preping the raw canvas. It also has very short shelf life.
And Oh boy it stinks (make sense it is made of collagen of dead rabbits, so totally not vegan).
Rabbit skin glue acts as a sizing agent for umprimed canvas, and usually after it is dry you apply an oil painting ground to create a white surface for painting.
Over time though pro artists noticed that rabbit skin glue can also crack. So while it is still a viable ground for oils, I would not go that route.
---
Alternatives to Gesso For Oil Pastels Paper
pastel ground
clear acrylic medium
gelatin
varnish
Pastel Grounds
Most pastel grounds are made of acrylic polymer and have rough surface that allows better adhesion for creamy and soft pastels.
It can also easily be tinted to make a contrasting background.
---
Gelatin
According to Leslie Kenneth in his book Oil Pastel: Materials and Techniques for Today's Artist, gelatin is a clear, thin and flexible way to prepare paper for oil pastels. He included a recipe from George Stegmeir:
Mix 7 gr of gelatin + 5oz warm water, the mixture will be enough for 3-4 sheets of good paper.
You can also dilute it a bit with water for your liking.
---
How To Make Gesso At Home: 10 Recipes
If none of the alternatives seems good enough for you, you can always experiment with your own gesso.
Not all recipes work equally well and were tested over time. Cornstach, glue and plaster recipes, on the other hand, were tested by some painters over years and they work well.
Also, it's good to keep in mind, that DIY gesso may work better with crafts, like paper mache that on canvas or wood.
To store your freshly made gesso get an airtight container and mark when you prepared it as it won't last very long.
Although an 8oz bottle of homemade gesso will be most likely under $8-10, white glue, talcum, chalck etc ingredients are all sold in pretty big volumes thatwill require initial investments more than $8.
---
DIY Acrylic Gesso for acrylic paints
We can actually make almost professional acrylic gesso at home as its main ingredient is 100% acrylic polymer and most good mediums are just that.
1 part titanium white acrylic paint or black paint for black tinted gesso
1 part whiting chalk or calcium carbonate dissolved in water (I saw some people using approx 10 sticks)
In fact, just acrylic medium will work just well as it it, but chalk may add that rough texture and make it suitable for sanding.
Yet, it is not a cheaper household recipe as most acrylic mediums cost not less than a good gesso.
---
Homemade Gesso with Talcum Powder
1/4 to 1/2 cup of talcum powder
1 tablespoon of white glue
1 tablespoon of white acrylic paint (for white gesso)
as much water as you need to have creamy consistency like pancake batter or honey.
There are 2 more variations for talcum powder recipe with different ratios so you are free to experiment:
1/2 cup talcum
2 cups white paint
2 cups white glue
1/2 cup (4 oz) School glue
3 cups (24 oz) Talcum Powder
2 ounces of white or black acrylic paint
Approx budget: under $10 for 8oz
If you can't find specifically talcum powder, look for baby powders and check their composition. Some are made mostly of talc.
---
how to make gesso with plaster of pairs
One of the best, time tested homemade gesso is made with plaster of Paris.
1 part of plaster mix (combine 1 part plaster of Paris, 1 part PVA glue or Elmer's Glue (or white archival glue for better quality)
3 parts white acrylic paint or black acrylic paint for black gesso (apple barrel or folk art will work just fine)
Approximately 1 part hot water.
Mix all by adding liquid to dry ingredients and until all lumps are gone.
If using cups as measures, you will get around 1L of gesso. It is better to wear a protective mask working with plaster.
---
how to make gesso with cornstarch
Cornstarch gesso makes good smooth finish and the recipe is very easy to make.
3 parts cornstarch
3 parts Baking Soda
1 part glue
1 part white acrylic paint or black acrylic paint
2-3 parts water
You can also skip baking soda at all by mixing only glue and paint and then adding cornstarch until you get the consistency you like.
Add water if the mix is too thick.
Some recipes call for 3 or 4 parts of glue to smaller amount of cornstarch so you can experiment.
---
homemade gesso with baking soda
Add glue last and store in an airtight container.
To be honest baking soda has a very interesting texture when mixed with paint and I'm not sure I like it. For me it is not a good alternative for gesso.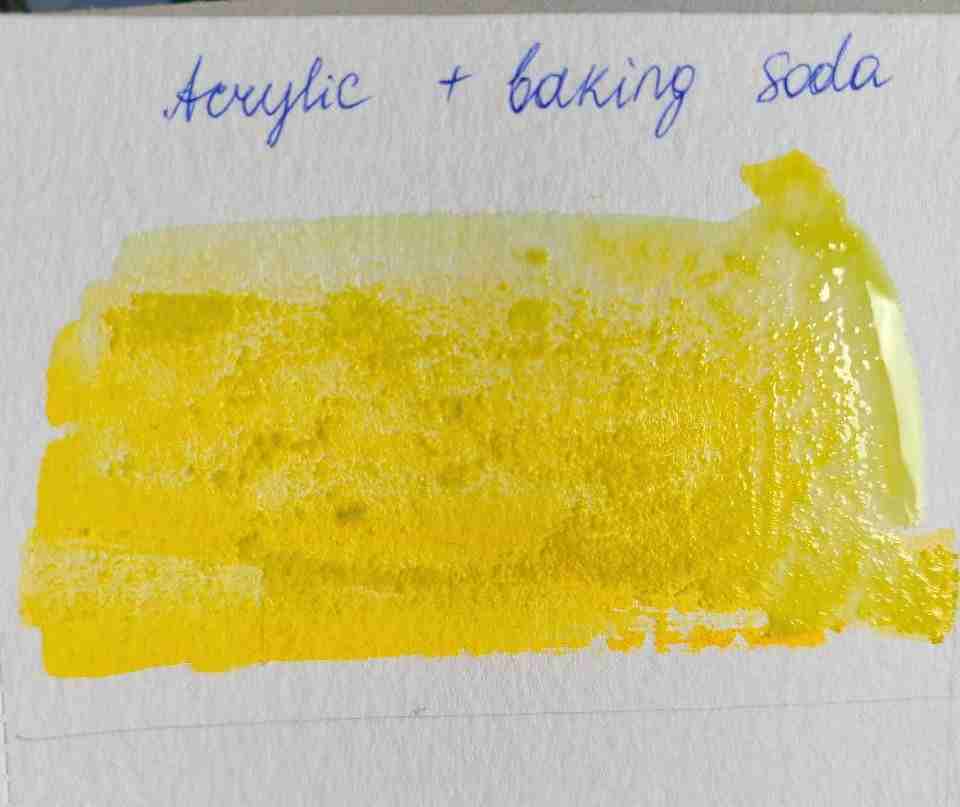 Not smooth enough and not archival.
---
Homemade Gesso Alternatives For Paper Mache
These recipes work better for paper mache crafts, but of course you can try them on other surfaces as well.
1) homemade gesso with calcium carbonate
A thicker version (good for sanding and heavy texture):
2 parts PVA glue (Elmer's or an archival book-binder's PVA glue if you worry about pH),
4 parts water
8 parts calcium carbonate or marble dust
1 part powdered titanium or zinc white pigment (to make it white).
Dries to a very hard finish and good for sanding.
2) homemade gesso with joint compound
3 parts joint compound+ 1 part Elmer's Glue-All + some white paint.
Do not use Carpenter's glue or Dap joint compound – painters tested them and they do not work for gesso recipes.
Great for paper mache.
3) DIY Gesso with latex paint
You can mix left over latex paint with drywall powder and glue, and then add water to make nice consistency.
Not archival, of course and can crack.
---
DIY Gesso with Baby Powder
4 oz plain white glue
2 oz Acrylic paint matte
24 oz talcum-based baby powder
8 oz of water
---
how to make gesso for oil painting
To make at home a variation of a classic oil paint ground you can mix glue with chalk.
The challenge of making your own or preping store bought animal glue is not the pleasant one so I would stick to premade oil painting grounds.
1/2 cup (70 g) of dried animal glue
4 cups (950 mL) of water
1 part whiting chalk or calcium carbonate
Titanium white pigment, optional
---
Tips on Making and Using Homemade Gesso
Experiment with different ratios to find the consistency that works best for you. Some artists prefer a thicker gesso, while others prefer a thinner one.
If you want to add some texture to your gesso, try adding some sand or fine grit, pumice gels to the mixture before stirring.
To ensure a smooth surface, use a fine-grit sandpaper to sand down any bumps or imperfections on the surface after the gesso has dried.
When applying gesso to a canvas or other surface, use a brush with stiff bristles to ensure an even application.
If you want to tint your gesso, you can add a small amount of acrylic paint to the mixture before stirring. Black gesso or grey are common choices.
Store your homemade gesso in an airtight container to prevent it from drying out or becoming contaminated. Glass containers are better protecting the mix.
Instead of tap water use distilled water. It can make better quality mix.
As homemade gesso doesn't contain any preservatives, it can go bad – weeks or a few months max. Make only a small batch that you know you will use quickly.
If working with any powders especially heavy duty like joint compound or plaster, wear mask.
Don't add too much water. Water can break fragile mix and make it runny and prone to cracking or not adhering well.
Always mix well and get rid of all lumps in the mix.
---
FAQ
Can I make my own gesso?
Yes, you can make your own gesso at home using simple ingredients such as plaster of Paris or calcium carbonate, white glue, and water. Making your own gesso can be a cost-effective and fun way to customize your painting surfaces and achieve the desired texture and absorbency. It can be not as durable as professional gesso though.
Can I use Mod Podge instead of gesso?
While Mod Podge and gesso may appear similar, they are not interchangeable. Mod Podge is a water-based sealer, glue, and finish that is often used in decoupage and other craft projects. It is not designed to be used as a primer or ground for painting, and it may not provide the same level of absorbency and tooth as gesso.
Can I paint without gesso?
Most store bought canvases are already primed with gesso so you can paint directly without applying more layers of gesso.
Some artists also prefer the color and texture of raw canvas and do not use gesso.
For beginners though it is still recommended to use gesso. It helps the paint adhere better and prevents it from soaking into the surface, which can cause the colors to appear dull or uneven.
Can I use house paint instead of gesso?
While you can use latex or emulsion house paint as gesso, it is not recommended. House paint will crack or peel over time as it is sensitive to temperature or humidity changes. House paint doesn't work well as primer for oil paints.
Can Acrylic Paint Be Used Instead of Gesso?
While some crafters use a thin layer of white acrylic paint instead of gesso, it is not a suitable substitute for gesso. Gesso is specifically formulated to create a surface that is good for painting, drawing, or other art media. It creates a porous and slightly textured surface that allows the paint to adhere better and provides a consistent base for the artwork. Acrylic paint, on the other hand, is designed to be a paint medium and not a primer.
In conclusion, while gesso is a popular and effective primer for preparing painting surfaces, there are several gesso alternatives that you can consider.
Some of these alternatives include using white acrylic paint, matte medium, or even chalk paint.
However, it's important to keep in mind that these alternatives may not provide the same level of absorbency and tooth as gesso, and they may not be suitable for all painting techniques or styles.
I recommended to experiment with different alternatives and find the one that works best for your particular needs and preferences.
And if the hussle of making your own gesso was worth not using a store bought gesso.