The most popular support used for acrylics is a canvas. Choosing the best canvas for acrylic painting is a key to the success and joy of painting, it is the foundation of your future painting, as paint and other supplies. But a bad-quality canvas can easily ruin all your art later and lead to cracks.
The best choice of canvas for beginners in acrylic painting is to pick a white pre-primed stretched canvas for showcase and hang your paintings and canvas panels or pads for practice. Try to buy a couple of different sizes and shapes (square and round at least) to experiment and learn painting.
The right canvas makes artists' life so easier:
paint adheres better to the primed surface of a canvas
a painting on canvas will last longer
it is portable and lightweight
you can easily hang it even without framing
To choose your canvas to start with you should consider your budget and some small details about the types of canvases that I will cover in this post. There are dozens of canvases available on the market, I'll review 38 best of them but still, you will find the full list of canvases below.
The only thing that can bother beginners is the price of canvases. so I will mention all prices and pick really affordable supports for you.
Table of content:
---
Best Canvas for Acrylic Painting for Beginners WINNERS
TOP choice of the best canvas for acrylic painting for beginners – Blick Premiere Cotton Canvas – best quality with really unique properties and a very appealing price.
Takeaway before we will study all factors and canvases:
To learn about 12 more brands and 38 good canvases and what you should consider buying a canvas, continue reading this buyer's guide with reviews and prices.
You can directly LOOK at all the best canvases or READ to the buyer's guide first to learn more about what you should actually know before buying.
---
Best Canvas for Acrylic Painting for Beginners
by type and brand
I was so frustrated with the amount of information, so I've chosen to give it in a very easy-to-digest way. First I will show you the best canvases by type and in the end, you will find the full sum-up table with all canvases. They are 38 in total. Not all of them are "best", but all of them are good enough for some purposes.
I will describe each type and canvas stating their Pros and Cons, price, and general note, feel free to dig into it.
---
Best stretched and primed cotton canvas
and 12 alternatives
The best stretched and primed cotton canvas is Blick Premiere Cotton Canvas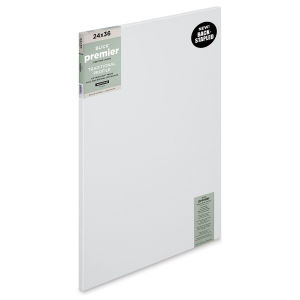 This is a real hand-made canvas for a very good price. For me, it is one of the best options on the market. An EXCELLENT choice for beginners with really unique features compared to all other canvases on the list.
PROS:
maximum archival stability and durability
handwoven
triple primed with sanding in between layers
affordable price
you can re-stretch it: corners are uncut, keys are included
depth: 1-1/2", 2-3/8", 7/8"
10-15 oz weight
professional artist grade
stretcher bars with warp-resistance and long-term stability
two stretched options: Hand-Splined or Back-Stapled.
Wide range of available sizes: from 4×4 to 36×48
If you will buy them online at the official Blick Art Supplies store and in bulk, the price will be even better. Ex., Back-Stapled Traditional Profile Canvas 14×18 costs $9.45 per piece, but if you want to buy 5, you will pay $7.33 per piece.
CONS:
Don't like it? I have 12 alternatives to it.
Even if we've learned that linen canvas is of better quality, you will still find most artists and especially beginners using cotton canvas. They have great quality, and, most important, they are affordable. They probably don't have the BEST quality, but when we just start painting, we will never see this tiny difference.
By the way, all canvas panels and pads are cotton-made. So, don't be frustrated by the fact that linen fabric is better, all artists are still using cotton for diverse purposes.
Feel free to try cotton and linen, and always listen to yourself and rely on your experience.
For your convenience, I will "test" prices on 8×10″ canvas, but I will review each brand in the whole range. I made a big research and I will be happy if this will be useful for you.
---
1. Phoenix Pre Stretched Canvas for Acrylic Painting
PROS:
High tinting strength
The canvas doesn't shrink and is stable in every dimension.
Holds paints well and keeps the paints with their natural tones and glossiness.
Triple-primed
Pre-stretched
High-quality pinewood stretcher bars
Comes in a pack of 4-8 canvases
No alkaline chemicals
CONS:
pinewood should be inspected strictly to check the situation of moisture content, mold, wormhole, and dead knot
can loosen over time
---
2. Academy Art Supply Stretched White Blank Canvas
Academy Art Supply Stretched White Blank Canvas is a pre-stretched and pre-primed white 100% cotton canvas. They are kinda unique because they only sell 10 pieces packs. The profile (depth) is quite standard – 5/8″.
PROS:
primed and pre-stretched
good for painting and pouring
offer a pack with 10 canvases in a variety of sizes: 4″x4″, 5″x7″, 8″x10″, 9″x12″, 11″x14″ (includes 2 of each size)
cheap!
CONS:
you can only buy a 10-canvases pack.
---
3. Artecho Stretched Canvas
PROS:
Triple-primed with acid-free acrylic gesso
Pre-stretched
Comes in 6-20 pieces packs
CONS:
---
4 – Arteza Stretched White Canvas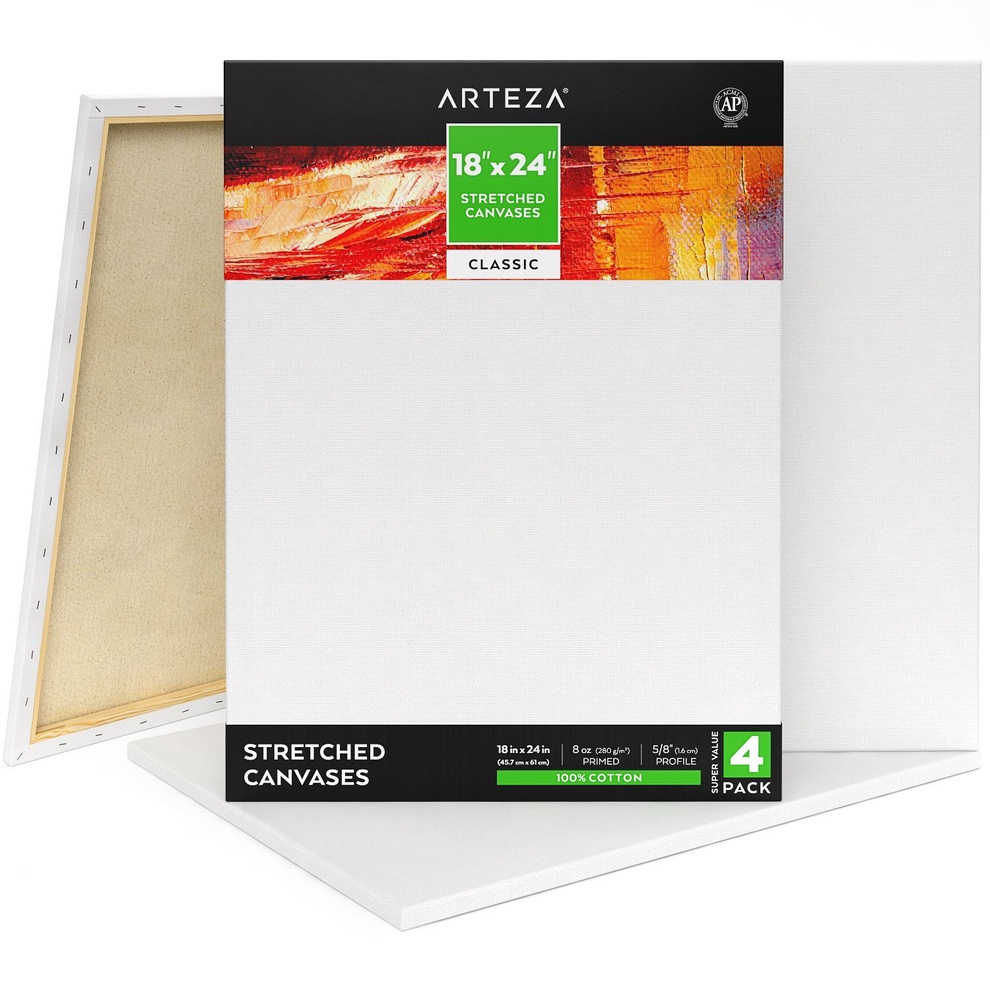 Arteza is slightly cheaper than Blick ($1-2 cheaper) but the quality is weaker – it is perceived as student-grade. Nothing wrong with it, Arteza's stretched Classic canvases are still good for students, kids, and hobby artists, and they have more than 50 nice reviews on Arteza's website.
It is 100% cotton, medium-weight (8 oz) canvas.
Arteza also offers stretched canvas primed with black gesso.
PROS:
affordable price, even better if you buy in bulk
pre-primed with cruelty-free, non-toxic, acid-free gesso
pre-stretched on pine-wood support
full refund if you are not satisfied with the quality
good for students and hobby
multi-pack option available: 28 canvases of different sizes: 6×6″, 8×8″, 10×10″, 12×12″ only for $39. Great deal.
CONS:
Might be too rough for professional painters
Primed with a single layer
---
5 – Darice Studio 71 Stretched Canvas
The Darice brand exists since 1954 but is still not as common among artists. It is another good, 100% cotton, option, but there is no unique feature or quality reason that Darice will beat Blick in my opinion.
PROS:
triple-primed
the depth of the edge ±1,5-2″
comes with wood stretcher keys to help you tighten the canvas
CONS:
only large sizes available: 14×18, 16×16, 18×24, 24×24, 30×40
Some users complain of issues with stapling and some tightness problems at times
Please, note that another brand's product – Darice stretched canvases – is only double primed.
---
6 – Daveliou Stretched Canvas
PROS:
triple-primed
vegan-friendly
water-resistant and with a non-yellowing surface.
good for Plein-air
1-year money-back guarantee
CONS:
all sizes only come in packs of 5
only 4 sizes are available
---
7 – US Art Supply Black Stretched Canvas
Sometimes it is easier to paint directly on the dark background without spending time painting it by yourself. Imagine a galaxy or night sky on this – it makes painting even more enjoyable.
It is a heavyweight (12 oz), 3/4″ Profile sized canvas
Not only this brand has Black canvas.
PROS:
triple-primed
affordable
hand-stretched
black background, but white color is also available
sustainable wood for support
good both for painting and pouring
CONS:
I didn't use this one but I've read some reviews about loosened canvas over time
---
8 – Art Alternatives Stretched Canvas
PROS:
pre-primed
comes per piece and in packs
unbleached
The most popular choice among buyers is Art Alternatives stretched White Canvas, size 8 x 10 inches, Pack of 10 – it has 4.5 rates on Amazon with almost 300 reviews.
CONS:
users report that the canvas might be a little loose, and
some buckling in the back where the stapling was done
weaves are visible
need extra layers of gesso
---
9 – Conda Artist Stretched Canvas
PROS:
very cheap
comes with wooden wedges on the back.
comes in a pack of 5 – 10 pieces
Pre-stretched
Triple-primed
CONS:
canvas can be loosen
some imperfections on the surface
texture may seem a bit rough
need extra layers of gesso
poor size range
student quality
---
10 – Masterpiece Artist Canvas – Elite
If you are looking for something exclusive and highest quality, this is it. But with all of it, you will also get the highest price. Also, I realized that they are extremely hard to purchase and, in fact, can't compete with cheaper competitors.
It is a 100% heavy cotton canvas with 1-1/2″ deep edges. It comes only in large sizes.
PROS:
double primed with archival quality acrylic gesso.
Double wide Cross Braces
up to 50% tighter than other canvases due to their unique technology
linen option is also available
CONS:
price
it is a really heavy and tough canvas
only large sizes
only double-primed!
---
11 – Fredrix Red Label
A 100% cotton duck, medium-textured canvas for acrylic painting. Canvases have a traditional 3/4″ profile.
Sizes: from 5×7 to 48×48
PROS:
All sizes larger than 24″ x 36″ include single or double cross braces.
More than 150 great reviews
CONS:
Canvases smaller than 8″ × 10″ are stapled on the side of the canvas
only double-rimed
---
12 – Winsor & Newton Classic Cotton Canvas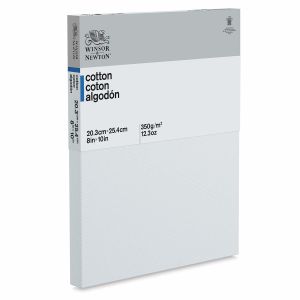 100%, medium-textured, fine, back-stapled canvases. It is a heavily weighted canvas (12.3 oz)
Sizes: from 6×6 to 30×40
PROS:
archival gesso
improved paint adhesion and color saturation
kiln-dried fir and paulownia wood
hand-stretched
stretcher bars are rigorously tested for warp resistance.
2 options for depth: Traditional (3/4″) or Deep Edge (1-3/8″) profile
CONS:
I'm not sure about how many layers of gesso they used
not really cheap
---
Best Primed Cotton Canvas in Roll and 3 alternatives
The best-primed cotton canvas in roll is Utrecht Artists' Acrylic-Primed Cotton Canvas Rolls
Great choice due to its exceptional durability and paint adhesion.
PROS:
triple primed with acrylic gesso
100% cotton
great paint adhesion
great workability
great weight – 14 oz finished weight
CONS:
only 2 sizes available: 60" × 6 yds and 84" × 6 yds
Prices are: $99.05 – $138.17
---
There are 3 alternatives:
1 – Fredrix Style 580 Universal Cotton Canvas Rolls
One of the most popular canvas rolls of this brand. Good quality.
PROS:
highest archival quality
primed for even and smooth surface
medium weight
universal use
61" × 6 yds
CONS:
only one size and weight option
---
2 – Blick Medium-Weight Primed Cotton Canvas Rolls
Another bestseller from Blick – is a primed cotton canvas sold by the yard or in the roll. His main Pro is the weight.
PROS:
double primed
primed weight is 12 oz
great price
CONS:
if you won't mention that you need a continuous length, the brand will ship your canvases in separate one-yard pieces
only one size 64-1/2″ W x yd
---
3 – Caravaggio Acrylic-Primed Cotton Canvas Rolls
I need to admit that this brand name is perfect for an art supplies brand. It's actually from Italy and offers premier quality for artists.
PROS:
double primed
available in 2 weights: 7 and 9 oz
CONS:
expensive
only 2 sizes available: 83" × 5 yd and 83" × 10 yd
---
Best Raw Cotton Canvas
The best raw cotton canvas is Blick Cotton Canvas By the Yard
This canvas comes in the roll unprimed if you order 5 yards or less. If you order more than 6 yards it will come in a roll. This unique canvas has 4 weights available: 7, 10, 12, and 15 oz.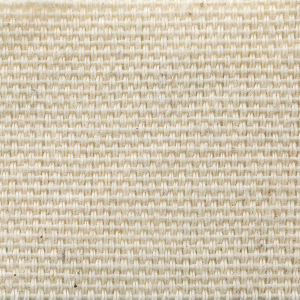 PROS:
4 weights are available: 7oz has a very fine texture, 10oz is good for detailed work, 12 and 15oz are for heavy applications
different sizes available: 37.5″ x 1 yd, 48″ x 1 yd, 60″ x 1 yd, 63″ x 1 yd, 72″ x 1 yd, 84″ x 1 yd, 96″ x 1 yd
unbleached
natural
very affordable, cheaper than alternatives
CONS:
the longest continuous length will be based on inventory availability and may come in multiple cuts.
the price depends on weight and size
unprimed
Price is around 5-16 dollars per yard depending on weights.
---
Raw canvas in roll is cheaper but can cause a real headache for a beginner. If you buy canvas in roll or folded, it means that you already have an idea about how to stretch it. If you don't know yet how to do it and are not sure if you can make it the first time without loosening the canvas on the support, choose the pre-stretched canvas I listed above.
Another option is that you don't want to stretch it at all and want to cut shapes and sizes as you like. In this case, you will be able to paint the floor and experiment.
And these are 4 alternatives:
1 – Blick Medium-Weight Unprimed Cotton Canvas by the Yard
It is a raw, 100% cotton duck canvas. It is considered medium-weight (7 oz) and it is only sold by the yard.
PROS:
you can prime with whatever primer you want
medium-weight
cheapest among alternative "colleagues"
CONS:
continuous length maybe not be available and they will send it to you in multiple cuts
---
2 – Fredrix Folded Cotton Canvas Blankets
Good quality, heavy 100% cotton canvas.
PROS:
heavy (12 oz)
folded blankets or in roll
to better stretching, you can mist or iron it
different widths available: 60″, 72″, 84″, 96″, 120″, 144″
CONS:
can't purchase by yard, only 6 yards package
the most expensive among studied options
---
3 – Masterpiece No. 12 Unprimed Cotton Canvas Rolls
Masterpiece is a brand with an artist quality grade reputation and is well-known for not being cheap. They are not really popular among artists but are still very respected. This one is good for textured and thicker applications.
PROS:
Heavy 11.5 oz
double-filled weave, pronounced tooth
CONS:
---
4 – Fredrix Style 568 Medium Weight Cotton Canvas Rolls
An artists' grade pure cotton duck. Medium-weight (7 oz).
PROS:
easy to stretch
good to learn how to stretch
CONS:
even if it is supposed to be artist-grade, some users state the quality is poor
---
3 Best Linen stretched and primed canvas
Linen is known to have better quality than cotton. The best linen is Belgian linen. The downside of the linen canvases is their price. They could be a nice work surface for professional artists, but they are too expensive to start with.
PROS:
best Belgian linen quality for a reasonable price
light, only 6 oz unprimed and 9 oz primed
archival
hand-stretched and back-stapled
2 depths available: 1 1/2″ and 3/4″
buying in bulk is cheaper
wide range of sizes: from 5×7 to 48×72
largest sizes available in packages of 5
CONS:
recommended to be stored only vertically
packages are expensive
---
A good, Belgian linen canvas is available in sizes from 8×10 to 30×40
PROS:
heavy, 11 oz
7/8″ profile or 1-3/8″
stretched and primed in the USA
extra brace included
Belgian linen
CONS:
can be not as smooth as you expected
more for oil
---
A brand with a very good reputation but not really popular.
Sizes available: from 4×4 to 24×36
PROS:
2 options: Vincent Pro with 7/8″ profile and 5/16″ relief, and Monet Pro with 1-1/2″ profile and 1/2″ relief
archival-quality Belgian linen
double coats hand-primed
heavy, 12 oz
uncut selvage leaves a possibility to re-stretch
excellent bracing system: canvas 16″ x 20″ and larger are cross-braced
CONS:
doesn't have really large sizes
expensive, almost $18 for a 4×4 piece
---
Best Raw linen canvas
The best unprimed linen canvas for acrylic painting is Blick Unprimed Belgian linen canvas
Produced in Belgium with exclusive weave configurations. Pieces up to 6 yards long are shipped folded. Longer pieces are shipped in rolls.
Blick Linen canvas has some unique styles:
Type 66J and Type 144 are smooth and tightly woven and great for portrait and detailed work, Type 185 and 135 are general-purpose high-quality canvases, Type 73D is an ideal midpoint texture between fine and medium, it is a great general-purpose type. Type 74D is extremely strong and has a double wave pattern. Type 215 and Type 79D are the types of choice for artists who work with texture. Style 200 is a style apart – it is a herringbone texture, the heaviest among all types.
PROS:
Belgian linen
Several styles (weights) and sizes available with unique characteristics
Depending on the size sold from 1 yard
CONS:
Styles are a bit confusing, it seems like there are too many of them
Some styles are extremely expensive
---
Best canvas panels For Acrylic Painting
(Cotton & Linen)
A canvas panel is a primed fabric glued to the board. The best option is when the canvas is wrapped around the edges of the archival or acid-free board and is glued to the board with archival glue.
It makes the panel rigid, with smooth textured support for painting. Panels come in white, black, or some other metallic color (uncommon).
Very cheap and low-quality canvas panels will not be wrapped around the edges.
Most of the panels are cotton canvas panels, but I will share with you some linen too.
Canvas panels are ideal for practicing and experimenting, for small painting and pouring works. They are quite impossible to frame.
PROS:
durable
100% unbleached pure cotton duck
triple primed with 4oz acid-free acrylic titanium gesso
Back-stapled and shrink-wrapped
rank 4.7 on Amazon (2000+ reviews)
CONS:
I haven't discovered any, some reviews mentioned warping.
---
There are 6 alternative canvas panels:
1 – FIXSMITH Painting Canvas Panels
100% cotton panel primed with acid-free gesso.
Sizes available: 5"x7", 6″x6″, 6″x8″, 8″x8″, 8"x10", 9"x12", 10″x10″, 11"x14", 12″x12″
PROS:
high strength – the canvas is glued to MDF heavy board
medium weight (8 oz)
natural tone
smooth triple-primed surface
come in a pack of 12 – 24 – 32 pieces
deformation resistance
100% Money-Back Guarantee
CONS:
some report student quality and warping
---
2 – Arteza Painting Canvas Panels
Arteza is one of the main actors in the art supplies scene and their panels' range is quite wide and extremely popular.
White and black primed panels are available in sizes from 5×7″ to 11×14″ and in different packs.
PROS:
cheap!
100% Money-Back Guarantee
lightweight and durable
eco-friendly: board's cores are made of acid-free, recycled paper
CONS:
some artists state that these panels were not good for acrylic pouring
---
3 – Fredrix 3207 Canvas Panels
Fredrix seems to be one of the most expensive panels and yet, this specific model is often considered student-quality.
Number "3207" refers to the size, so they can all have different numbers in the name.
PROS:
The US primed
light-weighted
CONS:
no detailed information available, almost no information.
only 3 in pack
expensive
---
4 – Blick Studio Canvas Panels
Blick knows how to make the good quality for an even better price. And it is a great choice for studies and for beginners.
Note, that Blick put Studio or Premier in the name of the product and you can guess the grade and common use of it.
PROS:
more than 550 reviews, rank 4.5
durable
5 oz 100% cotton canvas
double primed
1/8″ thick
eco-friendly.
CONS:
I've seen some people saying that they wrap a lot.
---
5 – Blick Premier Heavyweight Cotton Archival Panels
This panel is meant to be better than student quality. It is a 100% cotton, primed, and stable portable surface for practicing.
PROS:
archival
heavy – 11 oz
double acrylic-primed
durable
CONS:
---
6 – Blick Premier Belgian Linen Archival Panels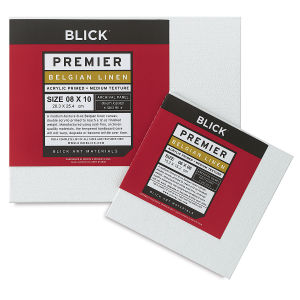 This is the only linen canvas panel on my list. Good quality. To be honest, I don't see the point to spend more money on linen panels if we will still use panels for small works, practicing, series, and not for showcasing or selling.
On the other hand, it could be an alternative to more expensive real linen canvases.
Available sizes: from 6×6 to 24×30.
PROS:
archival and stable, heavy – 12oz
pre-primed
tempered hardboard cores
Belgian linen
CONS:
price
careful: some sizes are oil-primed, don't use it with acrylic paint
---
Best canvas pads For Acrylic Painting Practice
A canvas pad is a sheet of spiral-bound primed canvas or canvas paper.
The canvas paper is simply heavy paper with a surface texture like canvas. Canvas sheets are real canvas.
The real canvas pads might last years, but not centuries. They are good for practicing and tests but not for showcasing your talent in Louvre.
They come in a few different sizes and are an affordable way to improve your painting skills.
Compared to canvas panels, canvas paper sheets are easy to frame.
As they are paper sheets be careful with the amount of water you use.
The BEST Canvas Pad for acrylic painting is Canson XL Paper Pad
I suggest buying on Blick as their Canson pads are much cheaper than on Amazon.
1 – Canson XL Paper Pad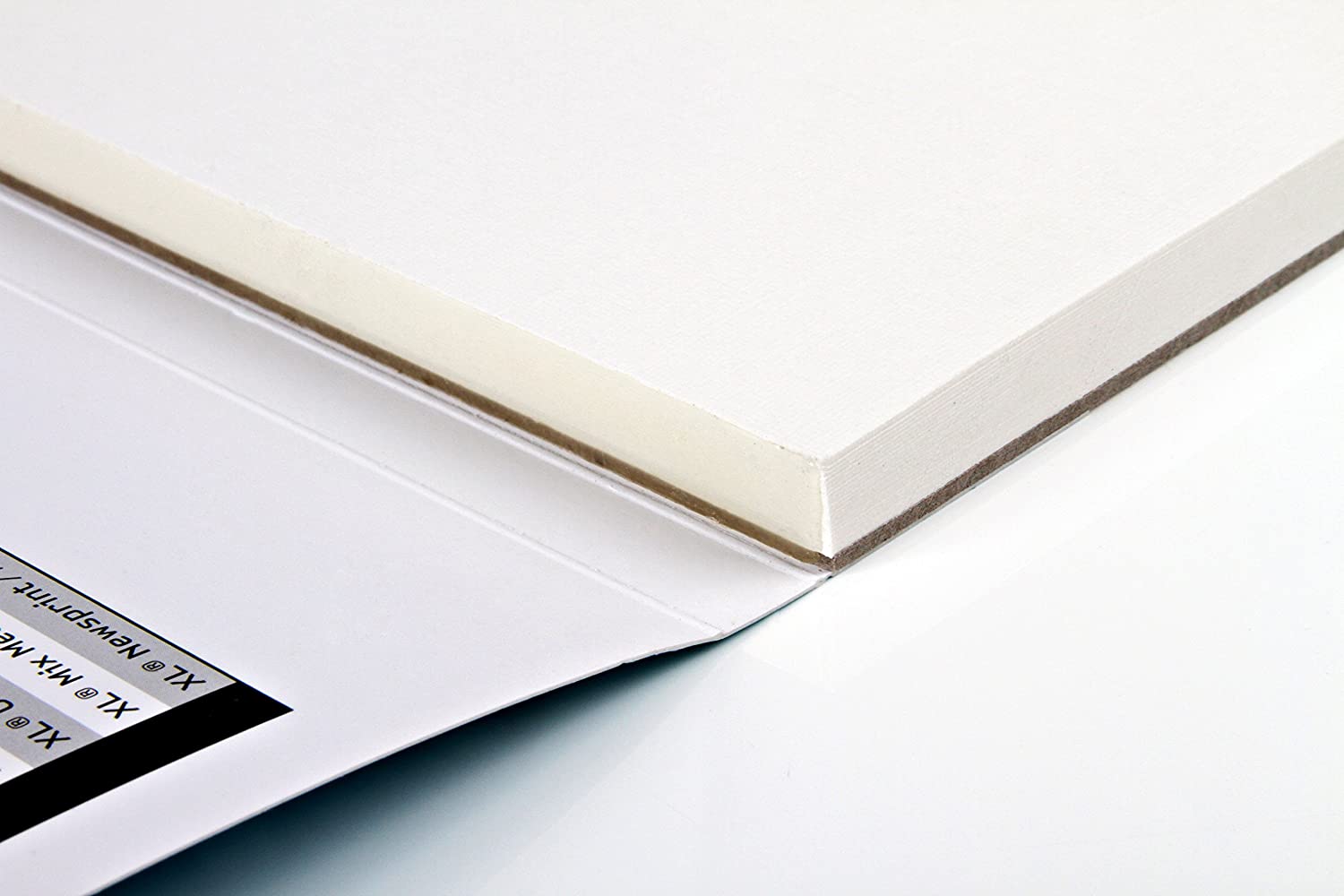 This paper pad is good for oil and acrylic, it is a bleed-proof, textured surface for painting.
Available sizes: 5.5×8.5, 9×12, 11×14.
PROS:
24 sheets of 136 lb/290 gsm acid-free paper in the pad. All alternatives offer 10 sheets in a pad
French-made paper
4.8 based on 3500 reviews on Amazon
extremely cheap: 9 dollars on blick and 14 on amazon, cheaper to buy on Blick
CONS:
the whole concept of sheets in a book will not last long, eventually, they will fall apart
---
Here are 4 alternative canvas pads for acrylic painting:
---
2 – Fredrix Canvas Pads
A nice and cheap option for beginners and practicing.
PROS:
cheap
versatile
triple-primed with acrylic gesso
a good ranking on amazon
large size row
CONS:
only 10 sheets
as usual, this brand doesn't share a lot of valuable information about products.
the texture could be rough
---
3 – Arteza Canvas Pad
100% cotton sheets in a glued pad.
---
4 – Strathmore 300 Series Canvas Paper Pads
This paper pad is available in white and black color in 3 sizes: 9×12, 12×16, and 16×20.
PROS:
2 color available
heavyweight paper 115 lb (187 gsm)
flip over covers
textured
cheap
CONS:
only 10 sheets in the pad
---
5 – Blick Studio Canvas Pads
Cotton canvas pads from Blick are a great wallet-friendly option for beginners. They are student grade quality but still very good.
PROS:
triple-primed
medium-texture
can be stretched or mounted on rigid support for a Plein air
CONS:
only 10 sheets
the texture of the sheets may vary
---
Summary of 38 Best Canvases for Acrylic Painting
Best Primed Cotton Canvas in rolls
Best Raw Cotton Canvas for Acrylics
Best Linen Stretched and Primed Canvas for Acrylic paint
Best Unprimed Linen Canvas for acrylic painting
Best Canvas panels for acrylic painting
Best Canvas pads for acrylic painting
---
Canvas buyer's guide: What to know to choose the right canvas
Canvas is one of the oldest and most fantastically durable support for acrylic painting.
The history of art finds the word "canvas" is back in the 13-14th century – what else can prove to us better than this is the best option to start painting and to keep our masterpiece for centuries?
Nowadays, we can buy canvas in art supplies stores offline and online. Before buying, you need to be familiar with some factors that affect quality and price:
You will easily find all the information on the canvas label or in the description online, it can look like this:
It would be nice if you can immediately make your choice after looking at this, so let's get familiar with each factor. After reading this post you will definitely have NO issues with choosing your canvas.
---
1 – Fabric
The fabric is one of the keys to a great painting canvas. Acrylic paint should stick to it and the canvas should dry well, so the quality of the fabric is vital.
There are 4 types of canvas based on fabric: cotton duck, linen, jute, and synthetic canvases.
Linen fabric is easy to recognize, raw linen canvas is a dull brown, while cotton canvas will be white. Linen is made from fibers of the flax plant and contains natural oils that make it mold and mildew-resistant. It is considered the "top" of canvases. Cotton canvases are THE MOST common and are used by most artists, especially beginners. Synthetic canvases and jute are very rare to find and uncommon
Keep reading, I have a list of the Top Best cotton and linen canvases above. Or you can jump to that section right now. Click here.
---
2 – Weight and weave
Canvas comes in different weights and weaves.
The weight of the canvas refers to the fabric density and heaviness.
Weaving means that cotton or linen fabric threads were interlaced to form the canvas. But the difference is in how tight they are. Weave determines the texture of the canvas. The tighter the fabric is woven, the rougher the surface of the canvas will be. But it can also affect how heavy the canvas will be (but not always). The terms 'super fine', 'extra fine', 'fine', 'medium', and 'rough' describe the texture of the weave.
The weight is measured in ounces per yard (oz x yrd). Unprimed canvas can be:
light-weighted ± 5 oz (140 g). Can be smooth and almost has no texture. The weave is open, which means has some air holes and fine. This type is very easy to stretch and great for a light touch in painting. Not a good choice for a large painting.
medium-weighted ± 8 oz (230 g);
heavy-weighted ±10 oz (280 g) or more. Great for impasto and thicker paint application. Has a pronounced surface and tightly woven. Perfect for larger canvases and paintings.
Primed canvas will be heavier because its weight will include the primer (usually acid-free gesso)
You can smooth weave with gesso or use them as part of the texture of your future painting.
---
3 – Depth of the edges
The depth of the edges is how much will the painting stand out from the wall. The deeper the edges are, the easier it will be to hang the painting even without framing. In the canvas description, you will find it as depth or profile.
The depth of the edge can be:
normal (traditional profile) ± 3/4″, 1½"
deep edge (deep profile) ±1-3/8″- 1 5/8″, 2½" and 3″
In general, the narrower the edge is, the cheaper the canvas will be.
Most artists prefer deep edges because nowadays we don't really like to frame the painting and with deep edges, we can just paint them and hang the painting on the wall. If you plan to frame your work, choose thin edges.
---
4 – Format and shape
No matter what type the canvas is, it could have diverse shapes (even three-dimensional) and formats. The standard formats are called landscape or portrait. The most common shapes are square, rectangular, and round. Great for interiors are also Half Round, Hexagon, and Triangle styles.
The choice of the shape and size is based only on your preferences and ideas! I'm doing abstract art and I adore large canvases or even creating diptychs.
---
5 – Stretching and supporting material
Stretching is a very important step. For beginners, it is easier and more recommended to buy well-known pre-stretched canvas, while pro artists can be very quick with stretching canvas by themselves. Either way, canvases should be well stretched and secured to the stretcher bars.
The stretcher bars themselves should be high-quality.
Canvas can be stretched in some ways:
side stapled (it means the fabric is stapled to the stretcher bars on the sides of the canvas). Nowadays almost none of the good brands do that. First of all, it is perceived as student-grade quality, second – no gallery will accept a painting on a side stapled canvas.
gallery wrap canvas is the same as back-stapled. The most common and best choice. In this case, the corners of the fabric could be cut or just folded. If it is folded and you have large areas left, you can easily adjust the tension.
splined on the back. This type of stretching can look nicer but it will be a pain in the ass to re-stretch it.
sewn into books.
Stretcher bars are actually bars to what canvas is stapled. In general, they are made from kiln-dried pine. They should not be too thin, because it is the actual support of the canvas and future painting.
The stretcher bars are what give depth to your painting, which we discussed above.
Stay away from stretcher bars which are made with finger joint interlock wood connections, because they will fall apart over time and ruin your canvas.
Some pre-stretched canvases, especially large ones, can have additional bars across the canvas – a cross brace. Canvases larger than 20×24 should have at least one cross-bar, canvases larger than 30×30 – two.
Sometimes you can find wooden "keys" in your canvas wrap. It is an old way but still popular to tighten the canvas if it begins to sag. You can always buy them separately too. The keys will look like that:
Pro tip: if you buy a canvas in an art store, slightly press against the stretcher bar. If you see some indentations, this is not good quality.
---
6 – Priming
Some canvases come already primed, but some are raw.
A beginner's recommended way to go is to use pre-primed canvases. But one day you can easily buy a raw one and learn how to prime it. On the other hand, I know that some modern abstract artists use raw canvases without priming.
But what else is important about priming is how many layers the manufacturer applied and what kind of gesso they used. The best choice is the triple-primed canvas. Normally, brands use acid-free gesso, which means the surface is sealed, non-porous and smooth, and ready for painting. Some brands also use eco-friendly gesso.
Single or double-primed canvases are less popular and I assume that they are more like student-grade quality.
You can always apply another layer of gesso if you are not satisfied with how smooth the surface is. Make sure you follow the proper process.
---
7 – Price and preferences
You will be surprised that you can find really good quality for a very pleasant price. Still don't ever make choice only based on price. Try different brands and canvases and makes notes.
For beginners, I recommend cotton pre-stretched and triple-primed canvases. I use them too and enjoy them.
---
How to Choose a Canvas for Acrylic Painting
To sum up, before buying a canvas answer these questions and you will buy the Best Canvas for Acrylic Painting for Beginners for YOU:
what is your idea for the next painting? Is it better to have a small or a large canvas? What shape would be the best?
do you know how to prime canvas? If no, choose pre-primed canvases, if yes – raw ones.
buying a pre-primed canvas, choose the color, would you like to start on a white surface or you have an idea that needs to be done on a black primed canvas?
will you frame your painting? If not, choose a canvas with thick edges.
what is your budget? Cotton canvas is cheaper in general.
will you use a stretched canvas or a roll? If you stretch your canvas yourself, you can buy a roll one, but you are just at the beginning of your artistic way, stick to stretched canvas.
what is your level in painting? Beginner – stay with primed and stretched cotton canvases, cotton panels, and pads, intermediate – try linen stretched and primed canvases or raw canvas, pro – do whatever you want! Joking, do what feels right whatever your level is 😉
if you buy a canvas panel, check what type of wrapping it has and the priming (at least double).
---
The best canvas for acrylic painting FAQ