As a new parent, you want to capture every precious moment with your little one, including their tiny handprints and footprints. However, using regular paint can be harmful to your baby's sensitive skin.
This is where baby safe best paint for baby footprints and handprints comes in.
Baby safe paint for handprints should be a non-toxic and washable paint that is specially formulated to be gentle on your baby's delicate skin and surroundings you'll have to clean 🙂
You want a paint that is easy to apply and dries quickly, but also has vibrant colors that will stand the test of time.
After researching and testing various baby safe paints for hand prints, I have identified the top products that meet these criteria and are sure to provide you with a safe and enjoyable experience creating lasting memories with your little one.
---
This article contains affiliate links. It means no extra cost for you but a little commission for me to support my hobby and blog. Thank you!
How To Choose Baby Safe for Footprints and Handprints
My best friend has recently become a mother and I now understand how important it is for you to remember every special moment with our little ones.
Even being an auntie – I can feel like it is my most important mission!
With babies the time flies! They grow faster then we can comprehend or than we agree on haha!
One of the most cherished memories can be the first handprint or footprint, framed 🙂 Or it can be a perfect gift for mother's or father's day, or first Christmas together.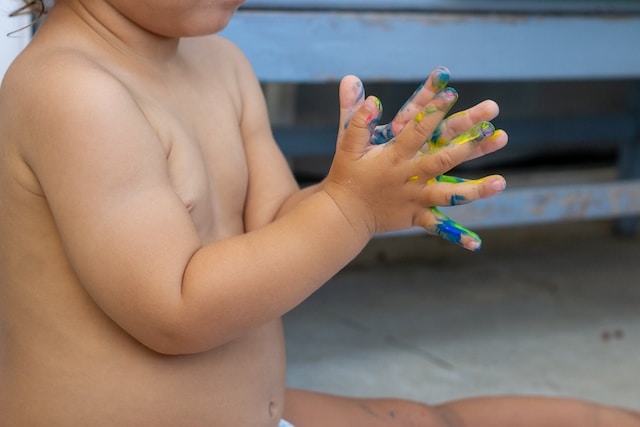 There are two main types of baby safe paint on the market:
paint like washable paint or finger paint – better for 3+ children
ink pads with liquid or powder ink – better for prints for babies under 12-18 mo.
I would say that ink pads are better as they are practically mess-free, there is no paint to be spilled, thrown around, eaten or used on your fresh wallpapers 🙂
But at the same time, they are prone to drying out and be one-time use only.
I'd say ink pads are best for babies under 18 months.
The paint, usually finger paint, comes in tubes and is more expensive, but you can use it a few times and it is better for babies 2-3+ years.
Why regular paint won't work?
One of the most popular paints, acrylic paint, or oil paints or just any professional paints cannot be used for baby prints or footprint crafts for a few reasons.
it is not completely safe for skin, your gentle baby can have some allergic reactions.
paints like acrylics or oils can have heavy metal elements and toxins.
some craft paints don't discole the composition at all.
even non-toxic acrylic paint – as it is certified as non-toxic only for use on painting surfaces and not skin
KeaBabies make one of the best baby safe ink pads and paints for foot and handprints.
Here is the the list of Top-5 Best Paint for Footprints/Handprints (UPFRONT):
For 15 more ideas of products keep reading.
Before we move forward you might need assistance in convincing your newborn bundle of joy to stay still until his handprints or footprints are done 🙂
---
Best Paint for Baby Footprints and Handprints
Tip: With paints you can squeeze small amount in a paper plate and use it as an "ink pad" for child's hands.
DIY Baby finger paint – safest paint option
The safest and eaiest way to make baby foorprints is to make your own homemade paint. Cheap and fun.
Plus, the paint ends up being edible! If you buy a vegan paint from the store it will be around $35 while making it a home will practically cost you nothing as you most likely have all the ingredients already.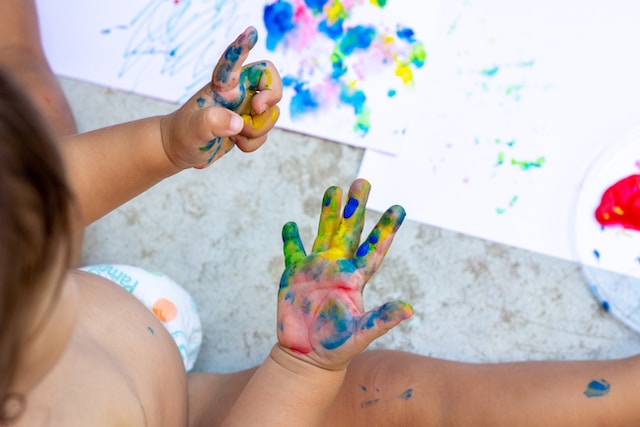 You need:
food coloring
1 cup of flour
1 cup of cold water
salt
There are also recipes with cornstarch, fruit puree and other things you can find at home.
You normally mix it all together, sometimes heat up, for ex when it is flour and water, and then add food coloring.
You only need a few (like 3) drops of food coloring per small paint container.
---
This is one of the best products for anyone looking to create a personalized ornament with their newborn baby's hand or footprints. I highly recommend it!
It creates just an amazing memory piece.
Pros
The kit comes with everything you need to create the ornament, including clay, gold paint, a paint brush, and a name/date printing kit.
The plastic O-ring is the perfect size for capturing your baby's hand or footprints.
The food-grade clay is safe for your baby.
It can be super customizable: there are 10 colors available, 5 shapes, you can imprint baby's name and choose one of the 6 colors of ribons.
Cons
The clay can be a bit difficult to work with at first, but with a little patience, you'll get the hang of it.
The gold paint is a bit thin, so you may need to apply multiple coats to get the desired effect.
The ornament is a bit heavy, so it may not be suitable for use as a Christmas tree ornament if you have small tree.
It can take more than said 4 days to dry.
To better spread the clay use something flat and heavy like a book to flatten it in the mold.
They also have another kit with a premade frame for hand and foot print and the photo of your baby (it is just adorable):
---
Overall score 4.1, around $11
If you are looking to make finger- or hand/foot prints with your kids 3+ years old and get them to interact with paint, this kit may be a good option as you have a few colors and a roller so your child can paint finger and hand in different colors and experiment.
Can also be used not just on paper but on fabric! so you can make a family t-shirts with your prints!
Cons
Biggest disappointment – Small container. You may need to use an entire container of paint for one handprint, so the unit price is a bit expensive for the amount of paint you get.
The yellow paint is barely noticeable.
Some of the paint cups may come almost empty.
If your roller soaks too much paint, switch to a regular brush.
---
oeral score 4.5, around $24
Jar Melo's Safe Finger Paints are definitely worth considering for kids 2+ years old. Parents rate it high for the value and also purchase it often as a gift.
Pros
The non-toxic and washable formula makes it safe for kids to use.
Works not just for prints but for fun finger painting!
You get normal size paint tubes and 10 colors.
The sturdy barrel packaging makes it easy to carry and store, and can also be a fantastic gift for any occasion. And easy to encorouge your child to clean up after the painting session.
Cons
The paint may leave an oily residue that stains after it dries.
The colors can be pretty opaque or "watered down".
Perforated fabric and wood can be penetrated by paint, so they may not be easily washed.
Finally, price. Compared to ink pads or regular paint sets these paint is quite pricey.
As it is real paint, be prepared for some cleaning 🙂
THe colors are so bright and the tubes and packaging is so kids- oriented that they simply loooove it.
The only downside some parents noticed is that the paint may leave an oily residue that stains after it dries on fabric or wood so be careful with those surfaces.
---
Overal score on Amazon 4.6, around $25
For older children, I would suggest buying finger paint.
They can do their own prints but also really paint something and it is not just for one use like most ink pads.
Pros
Creamy texture of the paint makes it easy for kids to use and create beautiful handprints.
The paint has good coverage and not watery
The set includes 10 bright and blendable colors, which is perfect for kids to learn about identifying and mixing colors. Colors: Persian Red, Neon Orange, Lemon Yellow, Lime Green, Sky Blue, Sapphire Blue, Royal Purple, Flamingo Pink, Space Black, Titanium White
The EZ-Squeeze tube design helps kids to control the flow of paint and is easy to open and close.
Certified safety.
Cons
The paint is only recommended for indoors.
It will be hard to clean of wallpaper or wood.
The colors may not be as vibrant as expected when painted on paper.
The paint may not wash off certain materials, such as wallpaper or unfinished wood.
Only for older kids as it is more enjoyable for them.
They are practically same as Jar Melo so if you doubt which one to choose, I'd say go for any, there are very few differences but I do like cute barrel package from Jar Melo better.
---
Overall score on Amazon 4.7, around $8
These washable paints are technically just overall safe paints for kids, for painting or making prints. So if you buy them they can be reused for painting.
Good investment.
Pros
The package includes 6 high-pigmented colors (gree, blue, red, purple, yellow, orange) for prints, painting, dabbing, dotting, and doodling. Work on many surfaces, including painting Halloween pumpkins!
Mr. Pen Washable Kids Paints are acid-free, non-toxic, and eco-friendly, making them safe for your kids to use.
Even if your kids get these paints all over their little hands, they wash off immediately.
Amazing price – under $10, it is very affordable.
Cons
The paints are not as vibrant as some other brands on the market.
The paint may dry out quickly if the cap is not secured tightly.
I would definitely recommend Mr. Pen Washable Kids Paint for parents looking for a safe and fun way to introduce their children to painting.
---
Overal score 4.3, around $25
For parents looking for something more natural – I can recommend these organic baby-safe finger paints. There is no safer paints – these are even edible!
Each color is made from natural ingredients – vegetables and flowers – potato starch, corn starch, psyllium husk, beet, turmeric, spinach, spirulina, and hibiscus.
They come in natural powder that you can mix up with water (1:2) and you good to go!
Pros
Made with natural, organic veggies
Allergen-free (No Wheat, Dairy, Sugar, Nuts, Preservatives or Gluten)
Comes in 5 colors: Purple, Green, Yellow, Orange & Pink
Completely edible paint and non-toxic, eco-friendly
Inspires creative play
They are much cheaper than Earth paints (another popular organic paint brand)
Cons
Can be too messy as you need to prepare your paints.
Colors may not be as vibrant as traditional paints
Some users may not like the smell
For babies older than 6 months
I think as a planet, as a whole we often forget that there is so much in nature that we can use and I cannot think of a better way to introduce your little ones to both the concepts of eco-friendliness, abundance in nature, and well, simply do their prints the safest way possible.
Read more: 15 Best Eco-friendly Alternatives to Acrylic Paint
---
Overall score 4.6, around $16 on sale
I highly recommend the BLOT Kids Washable Finger Paint for parents looking for a non-toxic and safe paint for their little ones' handprints.
Pros
safe and nontoxic paint
The set comes with 10 classic colors, which are perfect for teaching your child about colors and how they can mix primary and secondary colors. The colors are rich in pigment and provide great coverage.
Tubes are bigger than competitors on the list
On sale it comes pretty cheap!
Cons
The paint may dry out quickly if not used frequently, which may result in the need to purchase extra tubes of paint.
The paint may not be as vibrant as some other brands of finger paint.
Doesn't wash off as easy as said.
---
Around $5 – cheapest on the list!
Crayola is a very reliable brand and if you don't want to spend a lot of time on research just get these washable paints.
They are safe for all sorts of painting kids may want to do, including prints but not limiting to it, which makes it a multi-purpose paint set for only $5!
Pros
The set includes six bold, vibrant colors that are perfect for creating kids projects and keeping a stock of craft supplies – Yellow, Green, Yellow Orange, Red Orange, Fuchsia, Teal, and Blue Violet. I love Teal and VIolet the most.
The paint is washable from skin and clothing, making clean-up a breeze.
The smooth, creamy color easily blends to create even more hues, and resealable caps ensure the paint stays brand new.
Cons
The pots are quite small and sometimes tricky to close and open but honestly for the price the product is amazing
For kids 3y.o+
While it is marketed as washable if you let it dry fully on fabrics it may be more challenging to wash off.
Ultimately, I think very parent looks for something affordable, fun for kids and easy to clean for us. 6 paints for $5 to make a few adorable prints?
I'm not sure there is a better offer in terms of value for money.
And I know that many parents buy this set repeatedly!
You can safely buy crayola finger paint as well, it will work great for baby handprint art.
---
INK PADS
Overal score on Amazon 4.5, around $11
If you want to create beautiful hand and footprint art of your baby without the mess of ink and you want to keep it minimalistic and monochromatic black, this simple kit will work for you.
Pros
The clean touch* ink pads are mess-free and leave no residue on your baby's skin. It is not liquid ink so there will be no drips, it is powder-based paint that makes the process super easy.
The ink and film used are of premium quality, ensuring that every detail of your baby's hand and feet imprints will turn out looking perfect
The kit comes with 12 art cards (250GSM), allowing you to stamp multiple hand, foot or paw prints
Tested and approved by more than 4500 parents (including pet parents)
Cons
The plastic holder for the ink pads should be created to hold the card stock in place so when you stamp the foot it will stay put
The cards and stamp pads are relatively small, so they may not be suitable for older kids – Ink window: 3.1" x 4.9" (12.4 x 7.9cm)
The ink pad is only suitable for paper-based baby keepsakes, so you won't be able to use it on other surfaces like ceramics or fabric
Overall, I think it is one of the best ink pads for baby prints on the market considering all of them are in the same price range and cheaper than bigger paint tubes.
*FYI – inkless print kit is when there is no liquid ink, also called clean touch ink.
---
On Amazon UK I've seen these inkless wipes for newborns.
I'm not sure how they work but they are the ultimate mess-free option as there is no ink – not liquid, not powder – none.
You just get a magic wipe and paper pads. You wipe baby's feet or hands, press onto paper and voila!
Pros
don't have to stress about mess
don't have to worry if this is another pad where the ink area is too small – genius!
Cons
only 3 colors available – Black, Blue or Pink.
It becomes visible fully after around 15 min so for this time you can freak out a little bit.
There is only one wipe in the kit and it dries very quick so you have to act fast otherwise you have no second chance 🙁
As the wipe is quite transparent it is hard to know if you covered the feet or hands well enough until you actually press it on paper.
Overall, I think it is a genuis idea but need some more work.
---
Overall Amazon rating 4.2, from $8, available in 4 colors and 3 sizes
If you're looking for a fast and easy way to capture your baby's tiny handprints or footprints, Tiny Gifts Clean Touch Ink Pad is a great option that provides superior safety and convenience.
Pros
The ink pad is non-toxic and baby safe, so you don't have to worry about it touching your baby's skin.
It's quick and easy to use, with a fast-drying and smudge-free ink that captures high detail stamps without the mess.
In comes in 4 colors: black, red, blue and pink and 3 different sizes: standard 3.7″ x 2.25″, large 4.72 x 2.95" and extra large 5.82″ x 3.86″ to fit a few prints
Also safe for pets 🙂
Cons
Some customers have reported that the ink pad arrived with some of the ink already pressed onto the plastic during shipping.
It may take a few tries to get a good print, especially with a wiggly baby.
The ink pad is only good for one use, so you'll need to purchase a new one if you want to create additional prints.
The ink pad is large enough to fit your child's hand or foot, and the ink is fast-drying and smudge-free, so you don't have to worry about making a mess.
---
Overall Amazon rating 4.1, from $12.99
Outus Baby Inkless Handprint and Footprint Kit is a great option as it comes together with 12 cards you can make prints and 6 different colors.
Pros
The kit includes 6 ink pads and 12 cards, providing ample quantity to meet your daily needs.
The pads are made of safe and quality material, ensuring they are safe and clean for you and your baby to use.
The pads are easy to use, with a manual attached to the package making it easy for you and your baby to create cute handprints or footprints.
Cons
The pads are relatively small, measuring 3.7 x 2.2 inch/ 9.5 x 5.7 cm, so they may not be suitable for larger hands or feet. Or if you want to make a family print.
The ink pads can only be used once, so if you make a mistake or your baby moves, you'll need to use a new pad.
Some users have reported that the ink pads lose ink quickly, making it difficult to create multiple prints.
---
oeral score 4.1, around $14
What I like about this kit is that it is reusable so you can try again if something went wrong or if you have a big family 🙂
Pros
The package contains 6 different colors, allowing you to create colorful and charming works. Colors: red, blue, black, pink, yellow and green.
Not just paint is safe, all materials are baby-safe. The ink pads are made from non-toxic sponge as well.
The stackable design of the footprint ink pad makes it easy to store.
Cons
The ink pads are smaller than expected.
The pigment isn't as bright as expected.
The pads are a bit too small for a baby's foot – the sponge pad is approx. 2.99 x 1.69 inches/ 7.6 x 4.3cm. You can either measure your baby feet before ordering or move the hands/feet a few times to cover the whole sole in paint.
Despite these minor drawbacks, I still think the Outus Ink Pad Set is a good choice for creating your baby's hand and footprints.
---
Overall score 4.3, around $9
Another options for newborns (0-3 month old) and parents who are worried about clean-up.
Pros
The ink is safe and easy to clean from the skin.
10+ colors available individually (to buy separately but discount applies when you buy more than 2)
Smudge-proof archival ink stays new-like for way longer.
The compact design is easy to store & carry along.
they also have a kit with frames available separately to organize and hang the keepsake on the wall.
Cons
The ink pad is single-use only.
The footprint stamp pad is not suitable for larger prints, the ink pad size is 3.74×2.48 inches (9.5×6.3 cm) – so only for small hands and feet
The ink pad may dry out quickly if not stored properly.
Only works on paper (not on canvas, fabric, wood etc)
The ink is 100% baby safe, so you will have no worries or concerns about using it on your baby's sensitive skin.
You can wipe the ink off my baby's hands and feet with a baby wipe, and the print won't fade.
---
Another multicolor ink option.
It doesn't have any exciting unique features but sometimes other options may not unavailable on Amazon so you can get these.
Pros
The kit includes 10 different colors of ink pads, making it easy to create colorful prints. And it comes with 20 cards!
The ink is non-toxic and safe for both humans and animals.
The kit is very easy to use and comes with everything you need to get started.
Cons
The ink may not work well on certain types of paper or surfaces.
ink surface measures only 3.7 x 2.2 inches so it is quite small
It can be difficult to get a clear impression on the first try.
The ink may dry out quickly if not used regularly.
---
This Footprint Kit is another non-toxic, easy to use, and hassle-free kit that you can use to make hundreds of prints with one small package.
But I personally prefer square or rectangle shaped pads, I think you can better fit little hand or foot in there.
Pros
The ink pad is non-toxic and conforms to ASTM D-4236, making it safe for babies and young children.
The kit is wriggle-proof and hassle-free, so you can press the ink pad onto a foot, hand, or paw, and then press the foot or hand onto any piece of paper or card in just two quick steps.
The baby safe ink pad comes in 5 bright and bold colors (black, pink, blue, green, or yellow), so you can get creative with your scrapbooks and other projects.
Cons
The ink pad may not be as easy to wash off as advertised.
The ink may have an oily consistency, which can make it rub off easily.
The kit is much more expensive than other ink pads in better quality, sturdier containers.
Shape and size. Small version comes in rectangle shape but is too small in my opinion – 7.4 x 4.3 cm (2.9 x 1.7 in) and big option is round with 3.74 in diameter which is still not that big. So you will have to adapt.
---
Overal score 4.5, around $14
Simple, minimalistic product for baby prints. Safe and easy to use or wipe off.
Tested by more than 3000 families.
Available in 3 colors: black, blue and pink-red.
Cons:
The ink may smudge if not handled carefully.
The ink may dry out quickly if not used properly.
The ink may have a slight blue tinge instead of black. Black also tends to fade a bit.
---
Overal score 4.4, form $5
One of the bestselling ink pads for your newborn's hand or footprints.
Pros
Easy to use
Mess-free
Includes 2 impression cards
Baby safe
Creates a highly detailed black print
Bold black color, very nice printing
Cons
Only good for two-time use maximum
Ink pad is small and only accommodates hands or feet up to 2.25" W x 3.5"H
Ink may not dry fully and can smear on the paper even months after use!
Overall I'd say it is cheap and that's why it is so popular but it has some controversial traits like never drying ink along with really nice black strong color that some other kits lacking.
---
This kit has a bigger ink area than most of products and that's why I like it.
It is still not gigantic but a few cm bigger.
Pros
The ink pads are 100% safe for babies, and their skin never touches the ink.
The ink pads have an XL large ink area size of 12.5*8 cm (5″*3.2″), making it suitable for babies' hands and feet.
It comes with 6 cards.
Cons
The ink pads can only be used 3-4 times maximum.
The ink is limited, so you need to use it wisely.
You need to press really hard to get a bold color.
The product may not work well for handprints of older babies. For under 18 mo works best.
---
For those parents who look for a bit more creative way to frame foorprints this set is super cute!
You have a nice 17 x 7-inch wooden frame where you can also add picture of you baby.
Pros
The frame is made of high-quality wood and comes with non-toxic white paint and a tray to facilitate the impression.
The kit is easy to use and comes with clear instructions.
This makes for a great gift for new parents or grandparents.
very unique and stylish
Cons
Some customers have reported issues with the clasps that hold the photo in place being broken on arrival.
There are no instructions on how to do the prints, although it is easy to figure out.
The kit only comes with white paint, so if you want to use a different color, you will need to purchase it separately.
---
This is a great product to capture your baby's hand and footprints without any mess. I highly recommend it.
Pros
The ink pads are 100% baby safe, non-toxic, and acid-free.
LARGER ink pad – 4.92″ length x 2.75″ width
It's so so so easy to use and you can get a clear and detailed baby's handprint and footprint easily.
The kit includes 4 medium size ink pads and 8 imprint cards for more occasions.
Available in 4 very nice color: green, blue, purple and black. Multicolored pads look quite pastel-ish.
High score 4.4 for over 7000+ orders. That's a massive social proof of quality.
Cons
Dry out pretty quick.
The results may vary depending on how much pressure you put on the pad and on paper. Can smear if baby moves.
The ink pad fits best hands/feet of babies up to 18 months old in my opinion.
---
Pros
For babies up to 3 years old
The extra-large imprint area of 12 x 7.5cm.
The acid-free ink pad can be used 3-5 times, so if you messed up the first one you can still try again.
Cons
Drying times can be much longer than traditional ink.
The pad is not really that big.
The pad is not very big, so a small hand may not completely fit, which could be disappointing at this price.
---
Baby Safe Paint Buying Guide
When choosing the best baby safe paint for handprints, there are a few key features to consider.
As a parent, you want to ensure that the paint is safe for your child to use and won't cause any harm to their skin or health.
Here are some factors to keep in mind when making your purchase:
Ingredients
It's important to look for paints that are made with non-toxic and safe ingredients.
Avoid products that contain harmful chemicals such as lead, phthalates, and formaldehyde.
Look for paints that are labeled as "baby safe" or "non-toxic" to ensure that they are safe for your child to use.
It is important that it is not just non-toxic but specifically skin safe.
For ex., regular acrylic paint is labeled non-tocix but it is not safe for skin. It is non-toxic for painting only.
Washability
Let's face it, babies and toddlers can be messy!
When choosing a paint, consider how easy it is to clean up. Best read the reviews, a mom would always mention if it stained a carpet or clothes.
Look for paints that are washable and can be easily removed from skin, clothing, and surfaces. This will save you time and hassle when it comes to cleaning up after your child's art projects.
Color Options
When it comes to baby's handprints, color options are important.
Look for a paint set that offers a variety of colors to choose from. This will give your child more creative freedom and allow them to express themselves through their artwork.
Most kits come with a few basic colors but sometimes they aren't bright enough.
Application
Consider the ease of application when choosing a paint.
Look for paints that are easy to apply and have a smooth texture.
This will make it easier for your child to create their handprints and other artwork without getting frustrated.
For ex., ink pads can be easier and less messy, but at the same time challenging if the baby doesn't want to flatten the hand.
In this case a brush or roller would be better choice.
Packaging
Lastly, consider the packaging of the paint set. Look for products that come in a convenient and easy-to-use container.
This will make it easier for your child to access the paint and for you to store it when not in use.
My favorite package is with these paints.
How to seal and preserve footprint art?
THe easiest way is to place the paper with the print under glass and frame it nicely.
THere are kits available online or you can use any frame, and even add your pregnancy test there, a few photos or prints of other family members including your pets.
Another budget-friendly option is Mod Podge – it is a liquid, glue-based sealant you can apply with a brush over dried baby handprint art.
---
FAQ
Last update on 2023-12-03 / Affiliate links / Images from Amazon Product Advertising API