Once I started painting I soon found myself getting curious about all kinds of crafts and surfaces for my creativity, it was like I had opened a door somewhere I'd never been before. And most of the time here is how it went: I have an idea, I try it, it doesn't work and then I go to Master Google or Youtube to find out how I should've done it first place 😆 One time I had a white t-shirt that I wanted to throw away, but…as I am an abstract acrylic artist, I was like…wait for a second…Can you use acrylic paint on fabric to upcycle your clothes and shoes?!
And YES, acrylic paint can be used on fabric even by beginners, and acrylic paint on clothing will stick permanently and won't crack if you prepare the fabric properly and heat seal it after painting!
The next question I had and I know you're now facing it is HOW to paint fabric with acrylic paint the way it will stick permanently and won't wash off. Painting on fabric is super easy and fun, the only thing is to use a special fabric medium for acrylic paint – it helps the paint to stick and stay on the fabric and the fabric to stay nice and soft, and iron the painted and dry fabric to heat seal the painting. That's all!
---
Can you use acrylic paint on fabric?
Acrylic paint is a fantastic and versatile medium for an endless list of surfaces, including fabric. You can use acrylic paint on fabric, your clothes, shoes, silk, and leather, and even pillows, curtains, towels, or furniture textile. Acrylic paint is a budget-friendly and simple medium to upgrade your T-shirt and create your personalized style.
Acrylic paint can be used on fabric and clothes, but you must use a fabric medium to make sure the painting will stay on the fabric and won't wash off, peel off or simply crack. To use acrylic paint on the fabric I would recommend using special acrylic paint labeled "for fabric" and vote for liquid acrylic paint – it flows better so it will be easier to work on fabric.
Painting acrylics on fabric supplies:
Iron (to heat-set our painted area)
Cardboard to protect the working surface and stretch the clothes/fabric and large binder clips to fix the clothing on it
Paper towels
Optional:
Stencils (you can use sponge and stamps instead of brushes OR you can use apples or potatoes cut in half!)
Frames (if you want to frame your masterpiece, not wear it)
Curious to paint on leather? Check my Painting Leather with Acrylics: How to Paint and Seal Leather
---
BEST ACRYLIC PAINT FOR FABRIC
Acrylic paint for fabric and fabric paint are not the same. Acrylic paint for fabric is regular acrylic paint adapted to stick permanently on the fabric without peeling. In contrast, fabric paint was created specifically for fabric and most fabric paints can only be used on natural fibers. Here I suggest some wallet-friendly acrylic paints that will work great on fabric and can be reused on other projects too!
You can use any acrylic paint you like or have mixed with fabric medium as a "fabric paint". But sometimes, it's better to go for professional paint made for a specific surface.
Best acrylic paint for fabric -  Arteza Permanent Fabric Paint 
Best acrylic paint for fabric that needs fabric medium - Apple Barrel Acrylic Craft Paint 
Cheap acrylic paint for fabric - Folk Art Fabric Acrylic Paint 
Best fabric paint - Jacquard Textile Paint
Acrylic paint for fabric
Note
Price range
🏆 Arteza Permanent Fabric Paint
Reputable brand, and super popular. Set of 24 colors. Arteza Fabric Paint is the clothing paint that won't wash off your clothes!
Under $30
Apple Barrel Acrylic Craft Paint
This regular acrylic paint will need a fabric medium.
This is THE bestseller among acrylic craft paints.
Set of 18 colors.
Under $25
Folk Art Fabric Acrylic Paint
A beginner set of 8 colors.
A super popular brand for crafts.
Under $20
MagicFly Acrylic Fabric Paint
Ultimate set of 40 colors, 3 brushes, and a stencil set.
There are some fluorescent colors in the set. Great gift!
$25
US Art Supply Acrylic Fabric Paint
Permanent acrylic fabric paint for clothes, shoes, denim, and bags.
Washer and dryer safe.
Not a popular choice. Set of 24 colors + set of 7 brushes
Under $25
Jacquard Textile Paint
The only non-acrylic fabric paint on my list.
Popular and very durable choice, mostly used for furniture.
Can be purchased individually or in simple sets.
$5-$53
Hippie Crafter Fabric Paint
One of my favorite paints overall – amazing quality, value for money, and customer service.
Set of 24 colors
around $30
Tip: Search online or on Amazon not only for fabric paint but also for textile paint!
---
FABRIC MEDIUM FOR ACRYLIC PAINT
Fabric medium is the key to painting acrylics on fabric – it does all the magic. Without it, you can't use acrylic paint on fabric! Period. Acrylic paint is fast-drying but it isn't waterproof and washes safe by nature. It's prone to crack and peel if it isn't used and sealed properly.
Fabric medium is a universal liquid medium that can be mixed with all acrylic paint colors to turn them into fabric paint. Good fabric mediums don't dilute or destroy acrylic paint's basic characteristics: it stays durable and permanent, and colors remain vibrant.
Now, don't worry, it doesn't necessarily mean that you have to buy some more expensive supplies. Fabric medium can be easily homemade! And I'll share the recipe below.
Fabric Medium benefits:
Assure that acrylic paint will stay permanently and become washable.
Gives better adhesion and flexibility (the painted piece will be nice to wear and soft).
Softens the textile.
Increases paint flow and make it easy to use.
Enhances color pigments (they will stay intact after multiple washes).
Best fabric mediums for acrylic paint
Fabric Medium for Acrylic Paint Ratio: 1 part fabric medium to 2 parts acrylic paint
There are 2 best fabric mediums on the market – Liquitex fabric medium (buy on Blick, it's cheaper there than on Amazon) and Delta Creative Fabric Medium – both high-quality, durable fabric mediums that will turn your acrylic paint into fabric paint.
Fabric Medium
Notes
Price range
🏆 Liquitex fabric medium
Absolute bestseller in the world!
Softens the dried paint and fabric,
enhances blending and workability.
4 oz ± $10

Only $7 on Blick!
🏆 Delta Creative Fabric Medium
Cheaper option. Permanent, machine-washable, non-toxic
8 oz ± $9
Golden Gac 900 Heat Set
Makes clothes washable and durable.
This product is mildly toxic: heat-setting can release low levels of formaldehyde
8 oz ± $15
Angelus 2-Soft Fabric Medium
Works best with Angelus paints. Good reviews. Great for shoes.
The ratio is different here – it is 1:1.
4 oz $10
Folk-Art Textile medium
Fabric medium from a popular craft paint brand.
Durable, permanent. Works best with Folk Art paints.
2 oz $5
Martha Stewart
Non-popular choice, but not bad at all. Durable and easy to use.
Non-toxic. Hard to buy.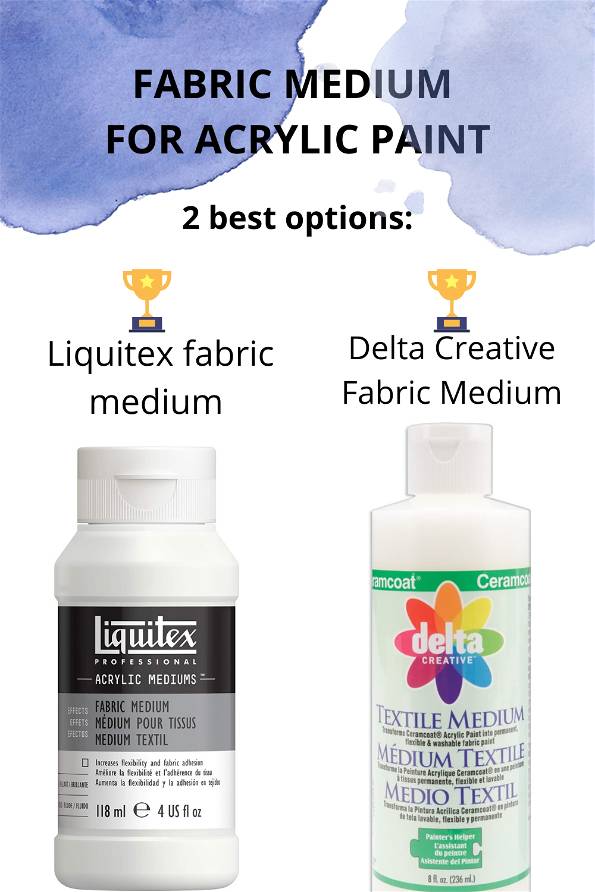 Where to buy Fabric Medium?
You can buy a fabric medium in any offline craft shop or online. For online Amazon and Blick are the biggest and my favorite marketplaces to shop for art supplies, but you can always purchase mediums directly from the manufacturer official website, however, I think most of time it ends up being more expensive than Amazon! 🙁
While I recommend only 6 fabric mediums here, there are, of course, more than that on the market. I also tried Deco Art paints and mediums and it worked well enough on old jeans shorts: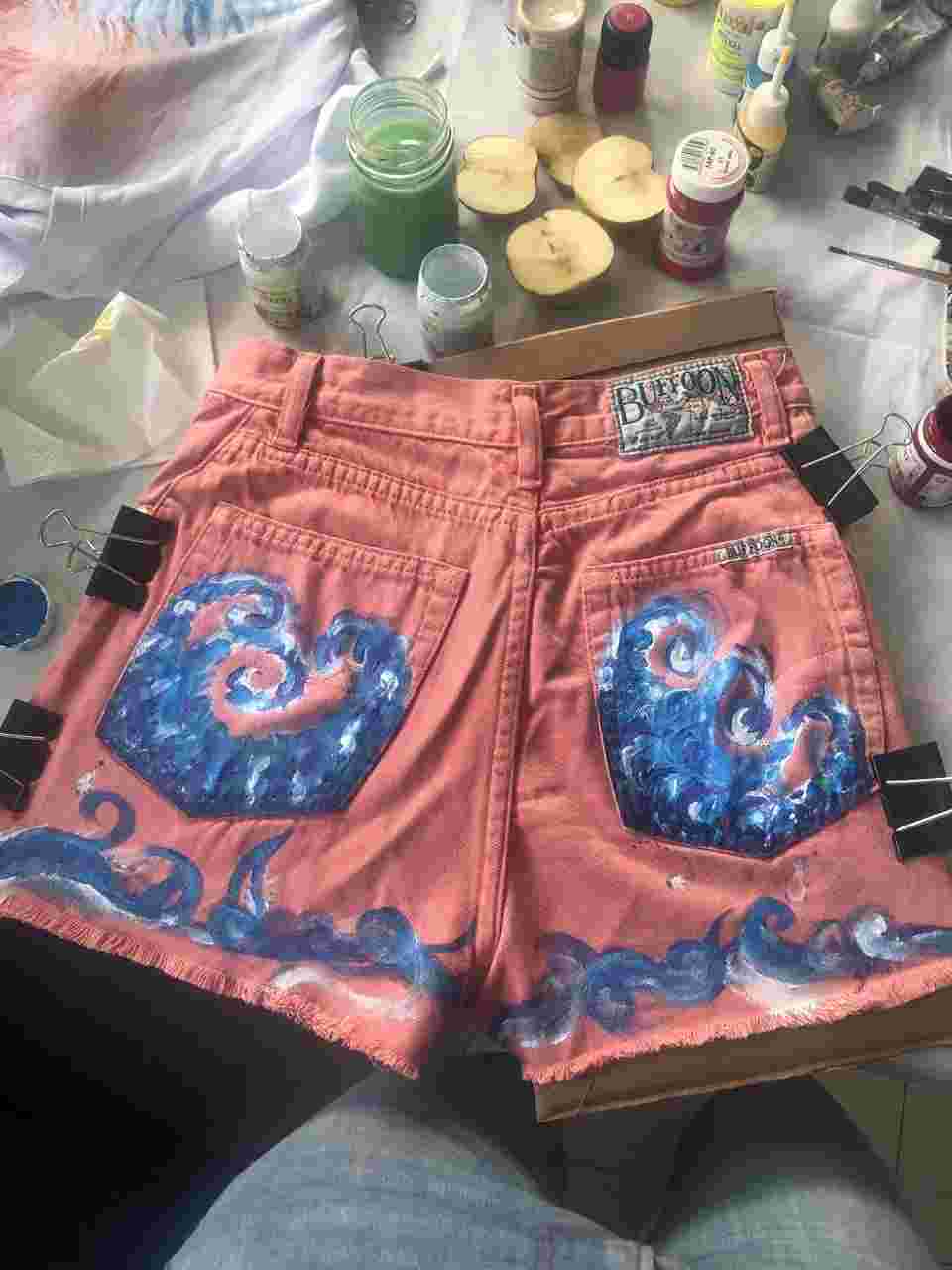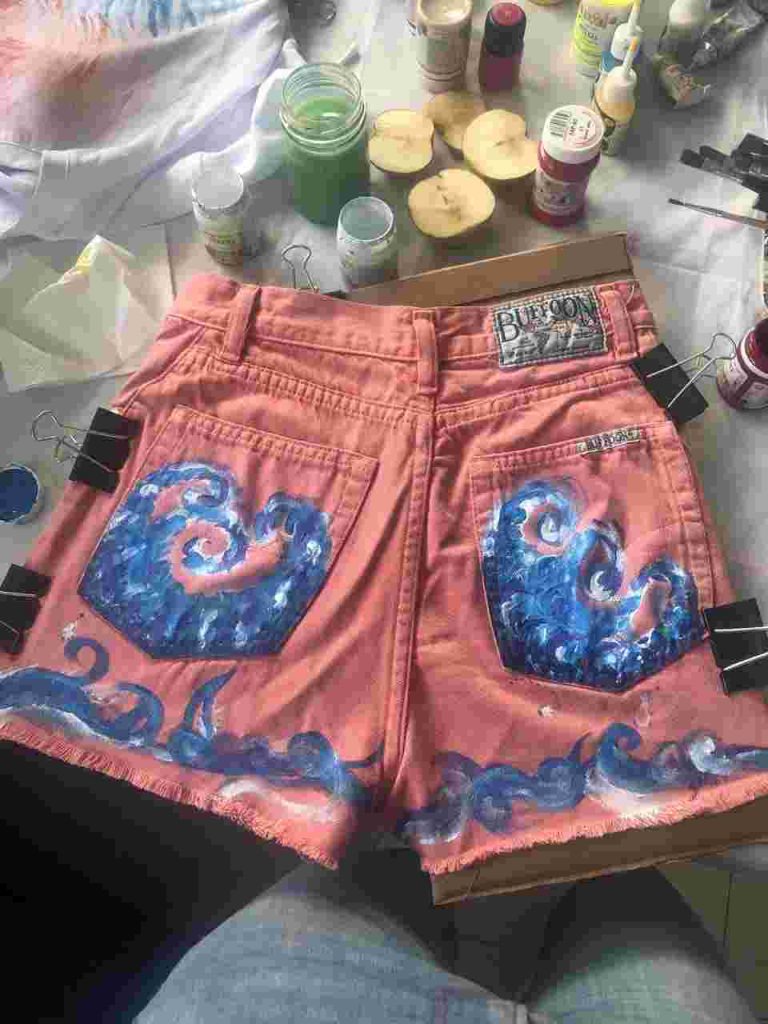 ---
How to turn acrylic paint into fabric paint without a medium?
We need to understand that we need to do something with acrylic paint to paint it on fabric. Otherwise, acrylic paint is not flexible enough, and not pliable at all, so it will crack and fall off just like that. The fabric medium does it – it makes acrylic paint less thick and hard so it will stay on clothes.
However, there is a way to save some money on fabric mediums. Glycerin has similar properties and can replace fabric medium for acrylic paint, but I have to warn you, it may not have all benefits a high-quality fabric medium can offer.
If you're making a simple craft project, go for a DIY fabric medium, but if you're creating a gift or something you'd like to showcase or even sell, please, use a trusted fabric medium.
On the other hand, you can skip fabric medium if you're not planning to wear the fabric you're painting on. If it will be framed and hung on the wall, you can use regular thinned acrylic paint.
A quick note about vinegar
Please, note, that vinegar IS NOT a fabric medium and doesn't even work with paint to make a DIY fabric medium. Vinegar can easily alter the structure of the acrylic paint, and dissolve it, so it will have clumps, and uneven color saturation, and will not for sure adhere better to the fabric.
Why? Mostly because vinegar, fabric medium, and fabric paints work differently. Paint and medium have something that binds them together with the surface – a polymer binder. Vinegar simply goes through the fabric, dyeing it, without sticking to anything.
---
How to make a DIY fabric medium
The most popular and working recipe for a DIY fabric medium is super simple, you only need water, vegetable glycerin (it's cheap), and acrylic paint.
DIY Fabric Medium: Mix glycerin with water in ratio: 5:1. 
Mix it with each color you'll use to paint on fabric.
Some other recipes I've seen around but I haven't tested them (some sound too crazy and over-complicated for me and I don't understand how they are related to actually sealing the paint on fabric).
DIY Fabric medium alternative recipes:
3 parts water, 1 part acrylic and 1/2 part fabric conditioner.
1 part vinegar + 1 part glycerine + 2 parts water.
2 parts shaving foam + 1 part white glue + 1 part of acrylic paint (paint looks very thick and fluffy, I don't think it's a good sign for durability, but people use this method – there is couple of videos on YouTube🤔).
---
How to paint fabric with acrylic paint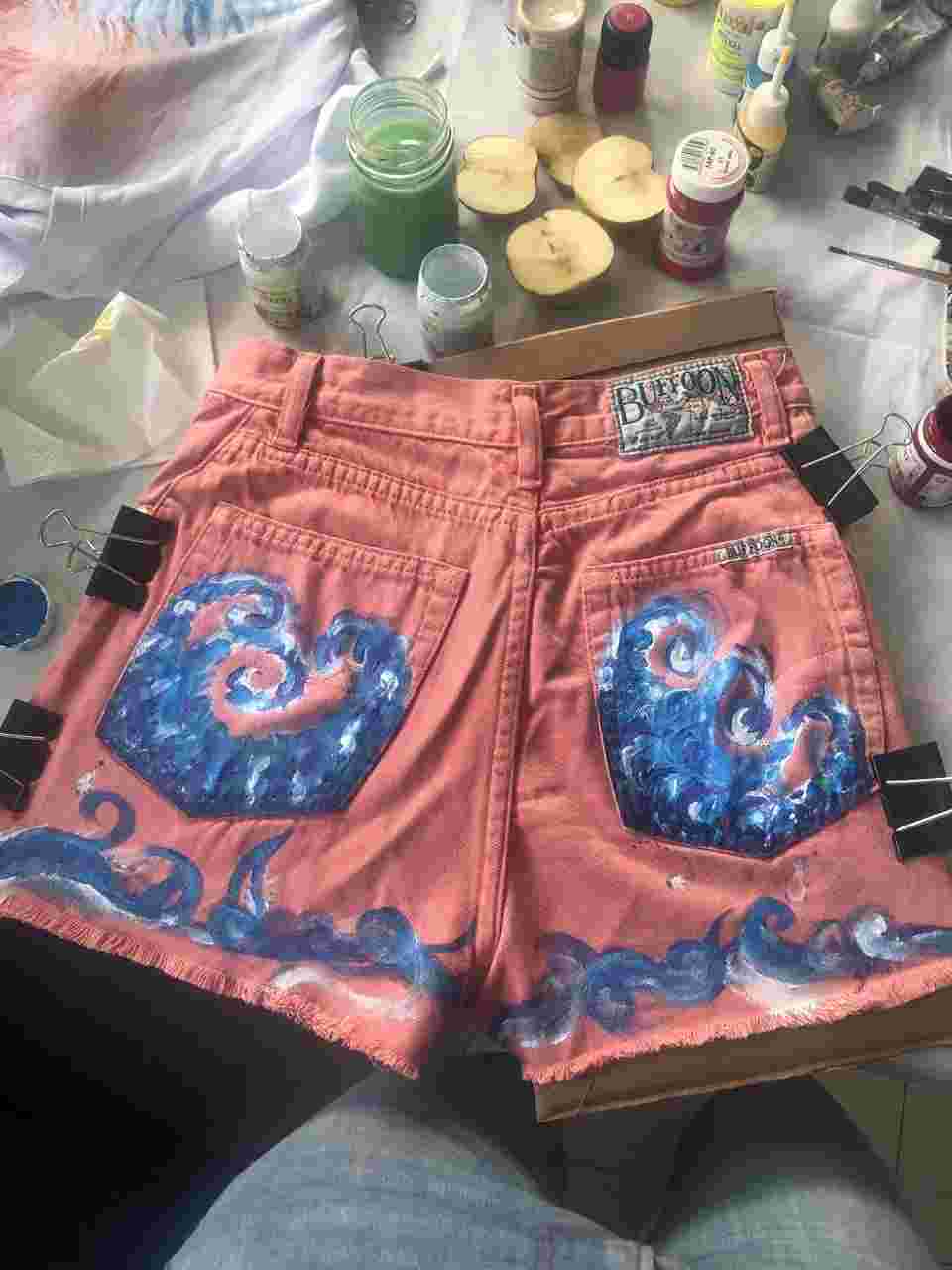 These steps will help you to paint your favorite T-shirt or shorts, create a wall decoration or work with towels, pillowcases, and even shoes. Yet, in fact, there are a lot of fabric painting techniques, that I might eventually cover in a separate post. This is the basic step-by-step guide for beginners on how to paint fabric with acrylic paint.
Total time: 1 hour
Pre-wash
Wash and dry the fabric you'll paint on. Washing is a must, as we need to get rid of sizing – it affects the painting and drying process.
Prepare the workplace and fabric
You may want to stretch your clothes or fabric with cardboard to get an even surface.
Cover your workplace with plastic or cardboard or something as sometimes paint will soak through the fabric. Please, don't overstretch, when you'll loosen it up, the dried painting may wrinkle the fabric. Fix it with binder clips.
Paint
Paint on fabric using your ideas or get some stencils.
Use brushes or sponges, and stamps (even natural like halves of apples) to get creative. To make a sketch use sewing chalk it will help you keep the proportions and composition. When it's done, leave it to air dry for at least 24 hours.
If you don't know what to paint, don't feel like you are not creative, we all were there! Just get some inspiration, ex., from my list of 101 easy painintg ideas!
Seal acrylic paint on fabric
Seal acrylic paint to make it washable and permanent.
The best way to seal acrylic paint on fabric is to iron it for 3 to 5 minutes.
Wash
WAIT 4 to 7 days before you will wash your painted fabric. For the first time, wash it separately to make sure the paint won't contaminate other clothes.
Some extra tips on How to paint fabric with acrylic paint:
Do not over-thin your paint, It should not drip and seem watery. Please, check this post before thinning your paint: How to Thin Acrylic Paint: 3 Correct Ways & 3 Dont's.
Do not apply thick layers – they will dry and become hard and stiff. And they are more likely to crack.
If you need more working time with the paint, use slow-drying mediums.
All fabrics soak paint differently. Try out some paint on a small piece to make sure it works.
Some acrylic paint on clothing may dry darker or lighter, don't be surprised. Some colors are more opaque or translucent by nature, I have a whole list of such colors here: 7 Ways How to Make Acrylics More Opaque & Full Opaque Colors List.
Do not use too many Titanium white or metallic colors, it stiffens the fabric.
---
How to seal acrylic paint on fabric
To make acrylic paint stay permanently on the fabric we need to seal using either a special sealing medium or a more traditional way – heat-set when we seal the painted surface on fabric with some heat. If you used fabric medium you don't really need any additional sealer, simple heat will be enough!
The best and easiest way to seal acrylic paint on fabric is heat-setting.
There are several ways to seal acrylic paint on fabric:
Use a special clear sealing medium as a topcoat to protect your painted area, but this method is not really popular and needs some extra money. You can use Angelus sealer for leather if you painted on leather, or
Use an iron for 3-5 minutes – this is called heat-setting acrylic paint on fabric, or
The same heat-setting but with a dryer: set it for about an hour.
Use the hovering method: hold your warm iron next to the painted area, but don't touch it.
You can try to use a hairdryer to dry and seal the painted area.
How to seal acrylic paint on fabric without medium
The easiest way to seal acrylic paint on fabric without a medium is to use heat: iron is the best choice, but you can also use a dryer or even a hairdryer.
Finish your painting, and let it dry for 24 hours.
Turn on the iron on medium or high heat, let it heat up, and start moving it across our painted fabric for 3-5 minutes – this is called heat-setting acrylic paint on fabric. Do not use steam!

Insider tip: if you're scared that paint will peel off, put some fabric between the iron and the painted area or turn the clothes inside out.

Turn off the iron, the painted area should be dry, hang it and leave for another 4 to 7 days before washing it.
How to seal acrylic paint on denim
Working with acrylic paint or acrylic paint pens on denim you can seal it with regular Mod Podge or special fabric Mod Podge. It will make painted area more durable, and the denim won't lose the flexibility.
I let the painted area dry for 3 days and then used satin Mod Podge to seal Artistro acrylic paint pens on denim and it worked perfectly.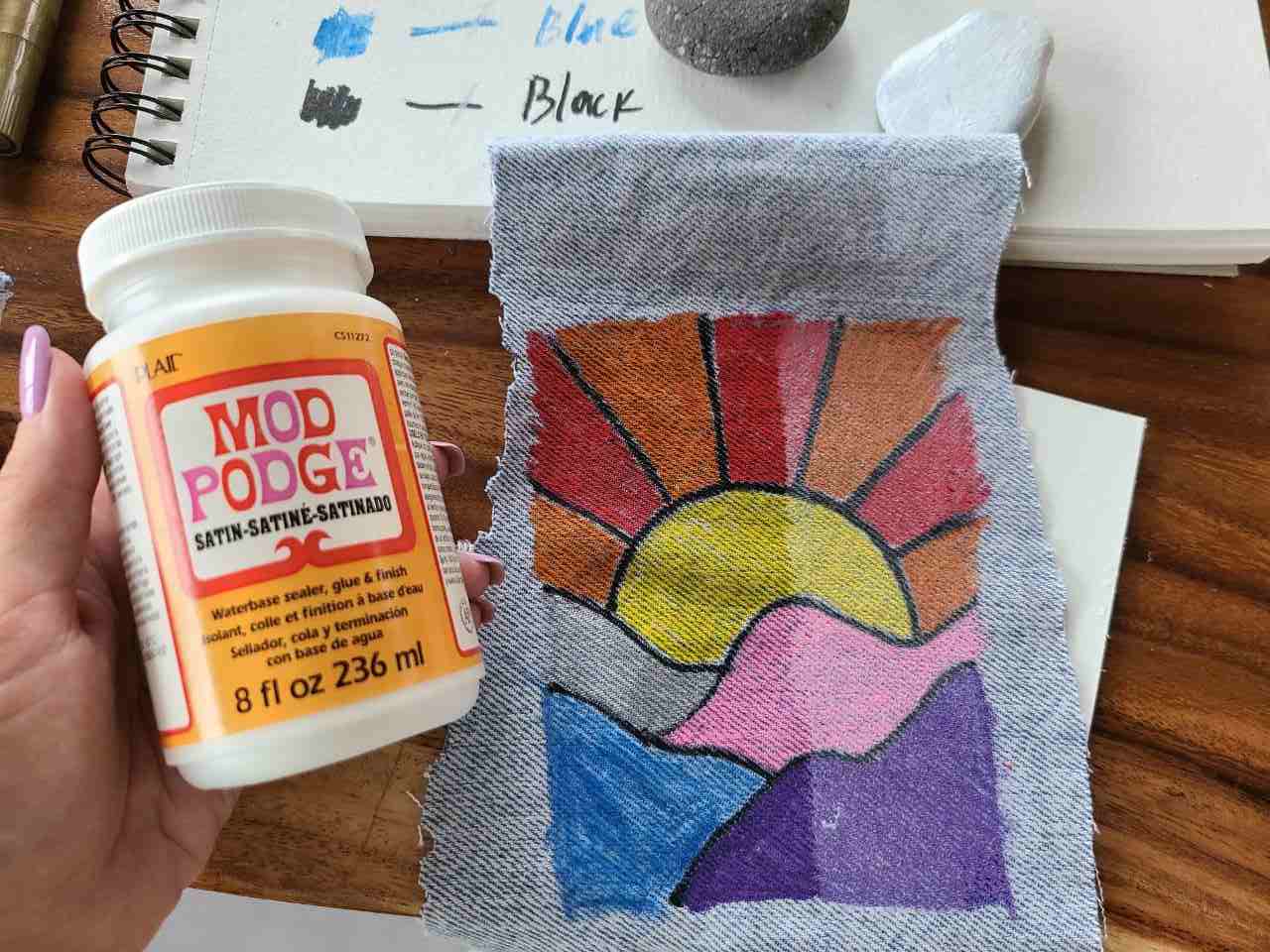 Don't freak out that when you apply the liquid is white, Mod Podge is glue based (thus it's super cheap) and it will become clear once dry.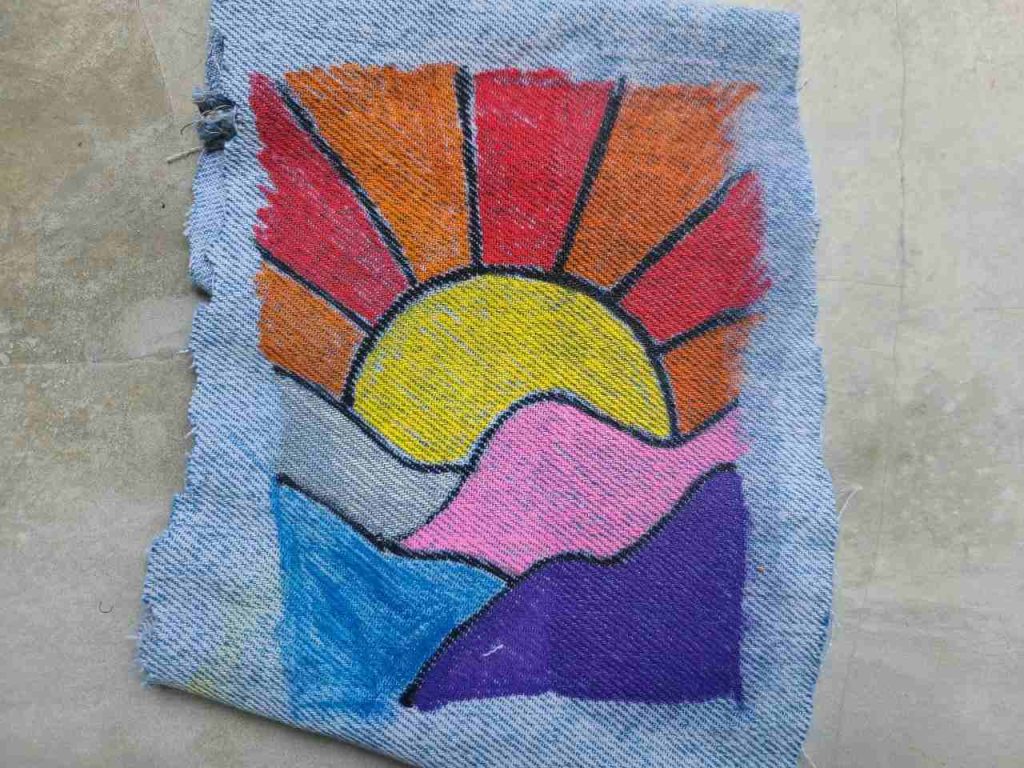 ---
How to take care of painted fabric?
Even if you did use fabric paint or fabric medium, our painted clothes need special attention now. The main care advice is to wash it rarely and gently wash it! But let's go for the full list of aftercare tips:
Wash the painted fabric inside out.
Choose a gentle cycle for washing machine or even better hand wash painted clothes and shoes, at least for a few first washes.
Add fabric softener while washing.
Always use cold water.
Never pre-soak.
Hang painted clothes to dry or use dry cleaning machines at room temperature.
Don't use spot cleaning solutions on painted areas.
To iron, use low heat settings and
If you need to iron in the future, use the low synthetic heat and cloth in between the iron and fabric, or turn it inside out.
Acrylic paint by itself doesn't have UV resistance so please, keep in mind that harsh sun can fade colors.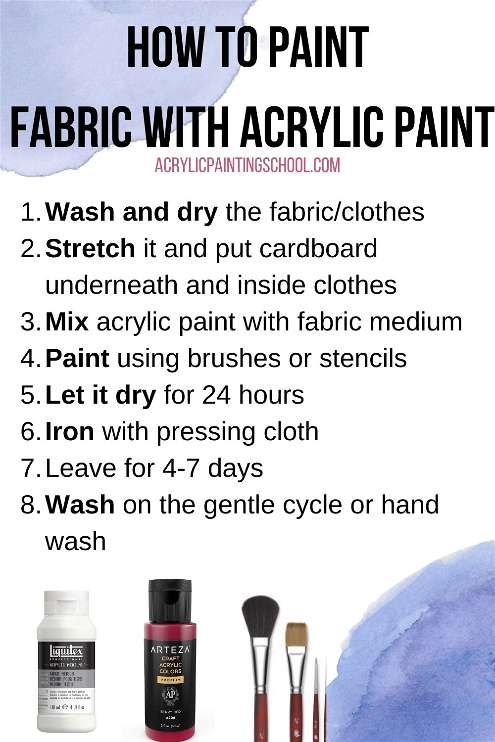 If you are looking to paint not fabric, but other surfaces, please read my painting guides as the paint and direction will be quite different: