Once I started painting I soon found myself getting curious about all kinds of crafts and surfaces for my creativity, it was like I had opened a door somewhere I'd never been before.
And most of the time here is how it went: I have an idea, I try it, it doesn't work and then I go to Master Google or Youtube to find out how I should've done it first place 😆
One time I had a white t-shirt that I wanted to throw away, but…as I am an abstract acrylic artist, I was like…wait for a second…Can you use acrylic paint on fabric to upcycle your clothes and shoes?!
And YES, acrylic paint can be used on fabric even by beginners, and acrylic paint on clothing will stick permanently and won't crack if you prepare the fabric properly,use acrylic fabric medium, and heat seal it after painting!
The next question I had and I know you're now facing it is HOW to paint fabric with acrylic paint the way it will stick permanently and won't wash off. Painting on fabric is super easy and fun, the only thing is to use a special fabric medium for acrylic paint – it helps the paint to stick and stay on the fabric and the fabric to stay nice and soft, and iron the painted and dry fabric to heat seal the painting. That's all!
Table of Contents
---
Can you use acrylic paint on fabric?
You can use acrylic paint on fabric, your clothes, shoes, silk, and leather, and even pillows, curtains, towels, or furniture textile. Acrylic paint is a budget-friendly and simple medium to upgrade your T-shirt and create your personalized style.
Acrylic paint can be used on fabric and clothes, but you should use a fabric medium if your want acrylic paint to stick permanently and to make sure the painting will stay on the fabric and won't wash off, peel off or simply crack.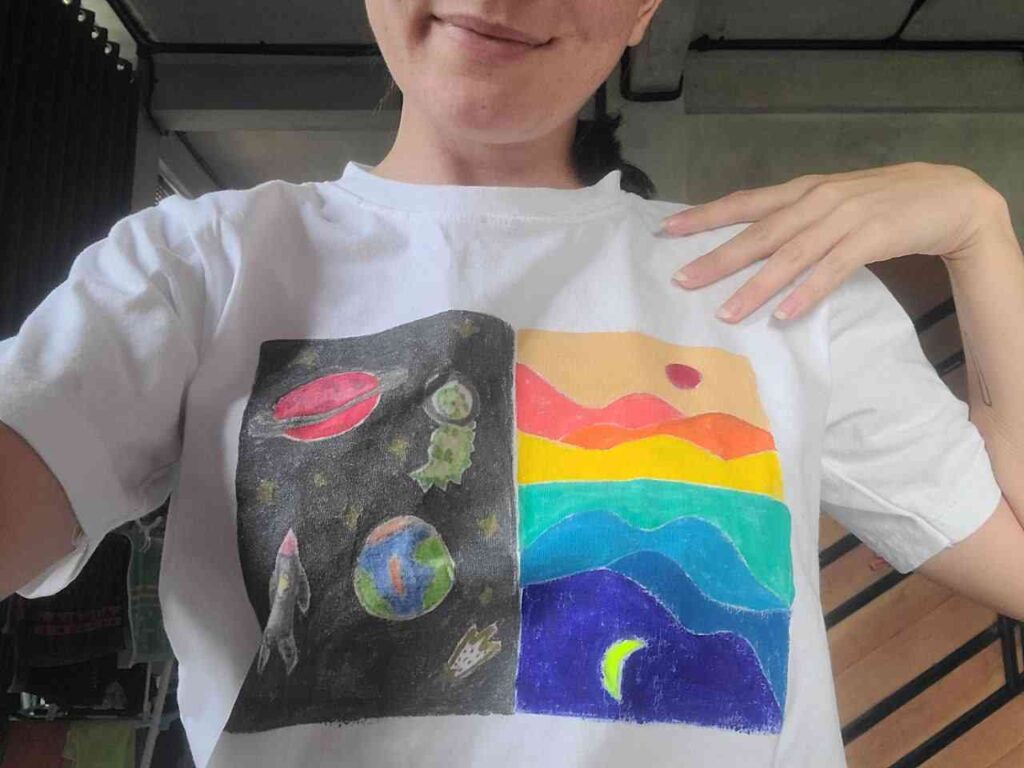 To use acrylic paint on the fabric I would recommend using special acrylic paint labeled "for fabric" and vote for liquid acrylic paint – it flows better so it will be easier to work on fabric.
Painting acrylics on fabric supplies:
Iron (to heat-set our painted area)
Cardboard to protect the working surface and stretch the clothes/fabric and large binder clips to fix the clothing on it
Paper towels
Optional:
Stencils (you can use sponge and stamps instead of brushes OR you can use apples or potatoes cut in half!)
Frames (if you want to frame your masterpiece, not wear it)
Curious to paint on leather? Check my Painting Leather with Acrylics: How to Paint and Seal Leather
This article contains affiliate links. It means no extra cost for you but a little commission for me to support my hobby and blog. Thank you!
---
What is Fabric Paint?
Fabric paint is a craft paint formulated to stick permanently and soak through fabric. It contains dyes, binders and additives that help it adhere to natural fabric better without stiffening it.
Fabric paint vs Acrylic paint: Same or Different?
Acrylic paint and fabric paint are not the same – they differ in composition, usage and durability.
Modern fabric paints are closer to acrylics as they can also be made of polymer and pigments, but originally fabric paint is made of fabric dyes and binder. I assume the use of dyes is what makessome fabric paints look dullet than acrylic paint.
Acrylic paint is probably one of the most versatile paints in the world! (Yay). It can be applied to almost any surface.
While fabric paint only works on fabric and oops…it works best only on natural materials!
This is why sometimes it makes sense to just have a bottle of fabric medium to diversify your acrylic paints even more, than to buy special fabric paints that you can't even use in any other way. Unless your focus is specifically fabric painting.
In general, acrylic paint is very durable. Both shelf life and lifetime of an acrylic painting are quite long. Once dry, acrylics are super water-resistant as they practically form a plastic film.
But because fabric and clothes are regularly washed, cleaning products can wash off acrylic paint. Fabric paint was made to withstand water and rare washes (still, no harsh scrubbing). The reason is because fabric paint actually sinks in the fabric while the acrylic paint sits on top as a film.
Makes sense?
Common issues with acrylic paint on fabric are that it can dry off, crack and peel, while fabric paints flexible and permanent.
Both paint however will fade over time, but acrylic paint will fade sooner on fabric than special fabric paint.
Fabric paint doesn't make the fabric stiff and rock dry, it is comfortable to wear as it is very flexible.
Acrylic paint wasn't designed to be worn so it is quite stiff and not comfortable to wear to your skin and when you are moving.
---
What is Fabric Medium?
Fabric medium, also called textile medium, is one of the acrylic mediums that is formulated specifically to make the paint adhere and stay on fabric, withstanding washing and time.
Please note, that pouring mediums, glue, vinegar (by itself) or water are not professional fabric mediums.
Fabric medium is the key to painting acrylics on fabric – it does all the magic. Without it, it may be hard use acrylic paint on fabric!
Acrylic paint is fast-drying but it isn't waterproof and washes safe by nature. It's prone to crack and peel if it isn't used and sealed properly.
Good fabric mediums don't dilute or destroy acrylic paint's basic characteristics: it stays durable and permanent, and colors remain vibrant.
Now, don't worry, it doesn't necessarily mean that you have to buy some more expensive supplies.
Fabric medium can be easily homemade!
And I'll share the recipes below.
What are benefits of using fabric medium?
Assure that acrylic paint will stay permanently and become washable.
Gives better adhesion and flexibility (the painted piece will be nice to wear and soft).
Softens the textile.
Increases paint flow and make it easy to use.
Enhances color pigments (they will stay intact after multiple washes).
The paint coverage is even. Without using fabric medium you may notice that some parts will remain shiny and some will be matte even after drying.
Avoid crumpled fabric.
Makes clothes softer and more comfortable for you to wear.
---
Best fabric mediums for acrylic paint
Usual Fabric Medium for Acrylic Paint Ratio: 1 part fabric medium to 2 parts acrylic paint, but you can do 1:1 as well.
There are 2 best fabric mediums on the market – Liquitex fabric medium (buy on Blick, it's cheaper there than on Amazon) and Delta Creative Fabric Medium – both high-quality, durable fabric mediums that will turn your acrylic paint into fabric paint.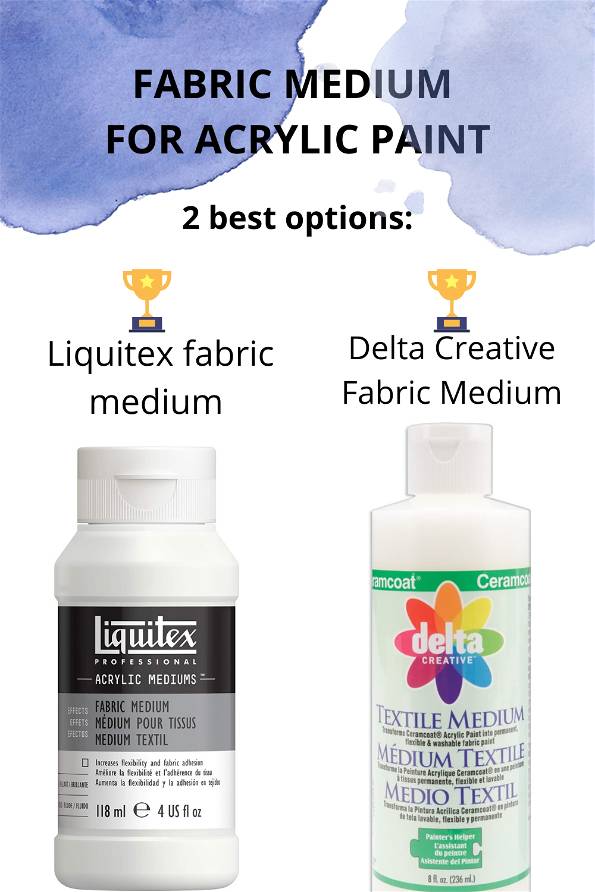 Fabric Medium
Notes
Price range
🏆 Liquitex fabric medium
Absolute bestseller in the world!
Softens the dried paint and fabric,
enhances blending and workability.
4 oz ± $10

Only $7 on Blick!
🏆 Delta Creative Fabric Medium
Cheaper option. Permanent, machine-washable, non-toxic
8 oz ± $9
Golden Gac 900 Heat Set
Makes clothes washable and durable.
This product is mildly toxic: heat-setting can release low levels of formaldehyde
8 oz ± $15
Angelus 2-Soft Fabric Medium
Works best with Angelus paints. Good reviews. Great for shoes.
The ratio is different here – it is 1:1.
4 oz $10
Folk-Art Textile medium
Fabric medium from a popular craft paint brand.
Durable, permanent. Works best with Folk Art paints.
2 oz $5
Martha Stewart
Very popular choice, great quality. Durable and easy to use.
Non-toxic.
Easier to buy offline!
Comparison table of fabric medium prices
Where to buy Fabric Medium?
You can buy a fabric medium in any offline craft shop or online.
For online Amazon and Blick are the biggest and my favorite marketplaces to shop for art supplies, but you can always purchase mediums directly from the manufacturer official website, however, I think most of time it ends up being more expensive than Amazon! 🙁
While I recommend only 6 fabric mediums here, there are, of course, more than that on the market. I also tried Deco Art paints and mediums and it worked well enough on old jeans shorts: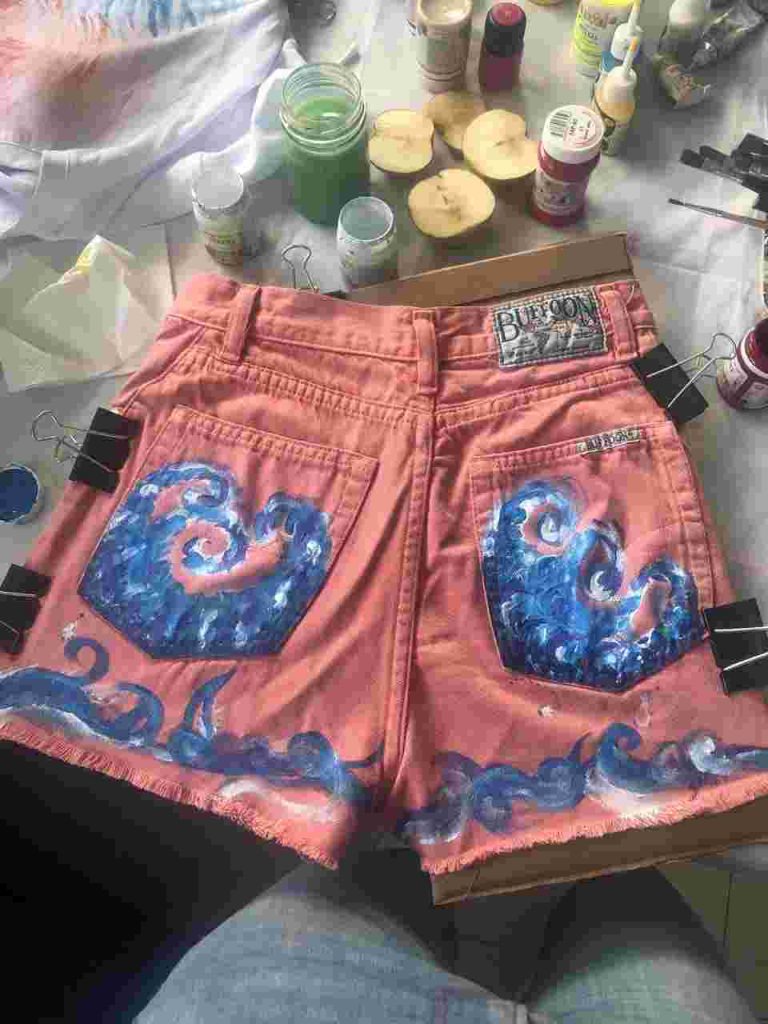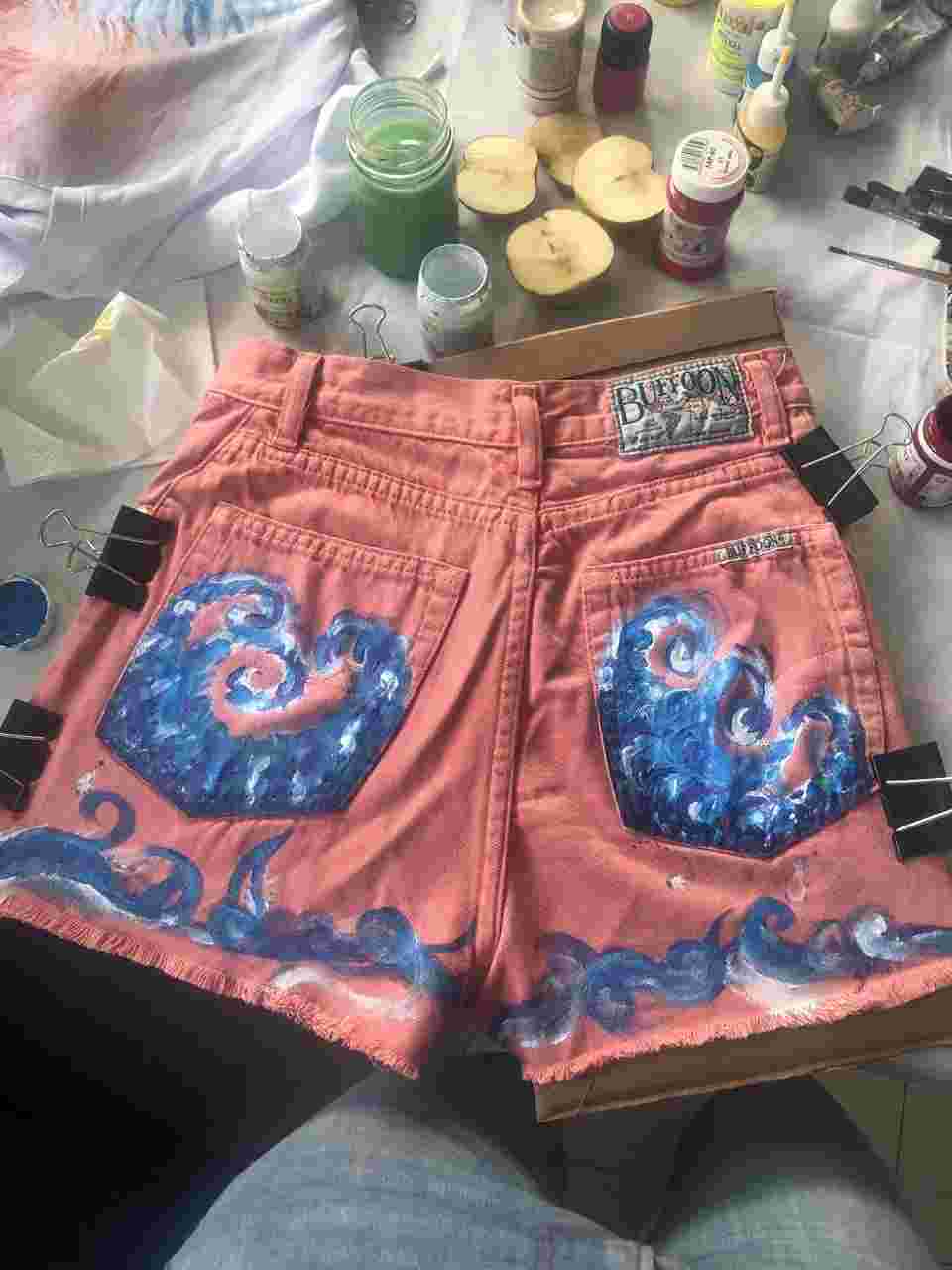 ---
How to turn acrylic paint into fabric paint without a medium?
We need to understand that we need to do something with acrylic paint to paint it on fabric.
Otherwise, acrylic paint is not flexible enough, and not pliable at all, so it will crack and fall off just like that. The fabric medium does it – it makes acrylic paint less thick and hard so it will stay on clothes.
However, there is a way to save some money on fabric mediums and make acrylic paint act like fabric paint without a special medium.
How to Make Fabric Medium?
Glycerin has similar properties and can replace fabric medium for acrylic paint, but I have to warn you, it may not have all benefits a high-quality fabric medium can offer.
If you're making a simple craft project, go for a DIY fabric medium, but if you're creating a gift or something you'd like to showcase or even sell, please, use a trusted fabric medium.
DIY Glycerin Fabric Medium Recipe: 1 part of Glycerin + 5 parts of water.
Ex., 10 ml of glycerin mix with 50 ml of water.
Only then add the mix to acrylic paint.
On the other hand, you can skip fabric medium if you're not planning to wear or wash the fabric you're painting on. If it will be framed and hung on the wall, you can use regular thinned acrylic paint.
---
Can I Mix Vinegar and Acrylic Paint for Fabric Painting?
To make a DIY fabric medium with vinegar, you need to mix equal parts of vinegar and glycerin, and then add 2 parts of water.
Ex. 10 ml vinegar + 10 mi glycerin + 20 ml water = homemade fabric medium.
The mixture then can be mixed with paint.
Yes, please first mix well the ingredients for the DIY medium and only then add it to acrylic paint. I would stick to the usual ratio (1:2) but as it is a DIY method, you can start with 1:1 and then adding the mediumbased on the consistency.
Your goal is a syrup-like consistency.
A quick note about vinegar
Please, note, that vinegar by itself IS NOT a fabric medium and doesn't even work with paint to make a DIY fabric medium.
Vinegar can easily alter the structure of the acrylic paint, and dissolve it, so it will have clumps, and uneven color saturation, and will not for sure adhere better to the fabric.
Why?
Mostly because vinegar, fabric medium, and fabric paints work differently. Paint and medium have something that binds them together with the surface – a polymer binder.
Vinegar simply goes through the fabric, dyeing it, without sticking to anything.
However vinegar AND gliceryn can work together as a fabric medium.
Can I use fabric softener as fabric medium?
Fabric softener and fabric medium are not the same and you cannot use fabric softener instead of fabric medium for painting.
These are two different products – one created for household chores and one for painting.
Fabric softener doesn't have any ingredients that will make the paint stick to the fabric, nor can it make it waterproof.
Is pouring medium the same as fabric medium?
Acrylic paint can be mixed with different mediums.
Even thou pouring medium and fabric medium are both acrylic mediums, they have different composition and purposes.
Pouring medium is great for improving the flow of the paint, but unlike fabric medium it doesn't contain anything that will turn regular acrylics into fabric paint.
Pouring medium mixed with acrylic paint will surely increase the workability and it will be easier for you to work with a brush over the fabric, but it won't make the paint permanent or waterproof.
---
How to make a DIY fabric medium: 4 Recipes
The most popular and working recipe for a DIY fabric medium is super simple, you only need water, vegetable glycerin (it's cheap), and acrylic paint.
DIY Fabric Medium Instructions: 


1. Mix glycerin with water in ratio: 5:1. 
2. Mix it with each color you'll use to paint on fabric. 

Mixing ratio with paint will depend on the consistency and your test, but start with the same ratio 1 part of glycerol mixture to 5 parts of acrylic paint! 
Some other recipes I've seen around but I haven't tested them (some sound too crazy and over-complicated for me and I don't understand how they are related to actually sealing the paint on fabric).
I should also warn you that some DIY recipes will end up drying up to 4 dayson fabric. Be patient or use professional fabric or textile medium instead!
DIY Fabric medium alternative recipes:
3 parts water, 1 part acrylic and 1/2 part fabric conditioner.
1 part vinegar + 1 part glycerine + 2 parts water.
2-3 parts shaving foam + 1 part white glue + 1 part of acrylic paint (paint looks very thick and fluffy, I don't think it's a good sign for durability, but people use this method – there is couple of videos on YouTube🤔).
---
Can I paint on Any fabric?
Acrylic paint is versatile and if you combined it with fabric medium, you are good to go.
You can use it on any fabric technically – cotton, silk, suede, velvet, corduroy, etc, but there are some general considerations.
if the fabric has texture, long hair, uneven surface – it will be much harder to paint. You may skip it or use spray paint and stencils and then go over with a small brush to make sure paint got in everywhere.
Acrylic paint works best on fabrics with good opportunity to adhere such as cotton, cotton blends or polyester blends.
ACrylic paint works less amazing on silk as it is less absorbent than cotton.
Acrylic paint by itself works worst on treated fabrics, leather, vinyl, or heavily treated synthetics. Not to worry there are special paints and mediums to paint leather easily.
If your clothes are labeled "dry clean only" – do not use paint on it.
According to Liquitex, their paint and fabric mediums work best on the following fabric:
Cotton, cotton-poly blends, woven, knitted, felt, terry cloth, silk, velvet, velveteen, corduroy, flannel, suede, leather and most synthetics.

Liquitex
---
Tips on How to paint fabric with acrylic paint
Before we jump in and I share exact steps how to paint fabric with and without fabric medium, here are some useful tips that will give you a bigger picture of what is going on.
Do not over-thin your paint, It should not drip and seem watery. Please, check this post before thinning your paint: How to Thin Acrylic Paint: 3 Correct Ways & 3 Dont's.
Do not apply thick layers – they will dry and become hard and stiff. And they are more likely to crack.
If you need more working time with the paint, use slow-drying mediums.
All fabrics soak paint differently. Try out some paint on a small piece to make sure it works. Cotton and loosely woven fabrics soak paint better. Soft fabrics also work better than rough textured fabrics.
If you are about to paint on some delicate fabrics, use lint-free rollers.
Some acrylic paint on clothing may dry darker or lighter, don't be surprised. Some colors are more opaque or translucent by nature, I have a whole list of such colors here: 7 Ways How to Make Acrylics More Opaque & Full Opaque Colors List.
Do not use too many Titanium white or metallic colors, it stiffens the fabric.
However, if you are painting over black or dark fabric, you may need a base layer of white.
When I first got interested in fabric painting I didn't realize I can use many other tools instead of a brush. You can use rollers, airbrush, wooden printing blocks, or silk-screen printing technique.
My little tip from personal experience
I was once attending a creative batik workshop with my dear friend. She was worried that she cannot draw something freehand and it may end up being not pretty.
Unfortunately, ladieswho organized the worship weren't empathetic with my friend's struggles and tried to encarouge her to draw. I decided to step in and we came up with a solution thatsaved us from creative catastrophe haha 🙂
So, the pencil sketch is NOT advised on fabric. However, I do believe that if you are making small art just for fun you can use a pencil.
So what did we do?
We had a piece of white cotton fixed with embroidery hoop.
We took a piece of paper with printer black and white outline of some cute flowers
Adjusted the paper under the fabric,
and very gently made a light sketch
Pencil lines ended up being absolutely invisible once we washed the fabric! Ta-daaa! My friend was happy and I also used a pencil to make a sketch for mountains. As you cansee no pencil lines remained visible: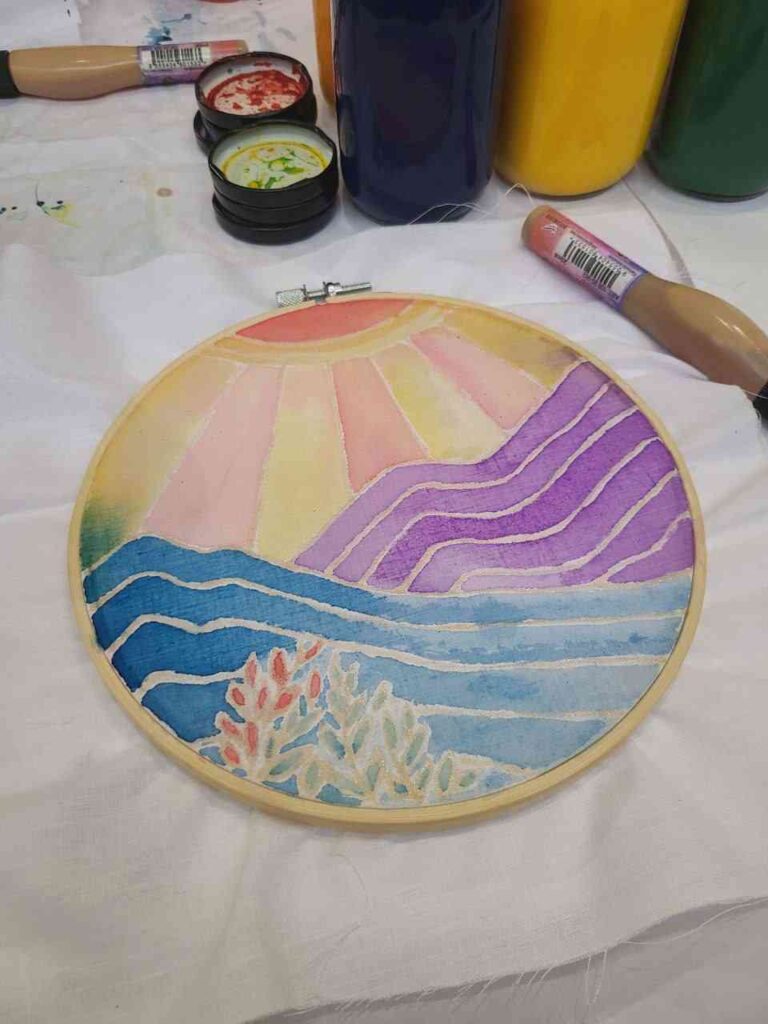 ---
How to paint fabric with acrylic paint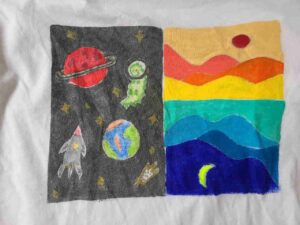 These steps will help you to paint your favorite T-shirt or shorts, create a wall decoration or work with towels, pillowcases, and even shoes.
Yet, in fact, there are a lot of fabric painting techniques, that I might eventually cover in a separate post. This is the basic step-by-step guide for beginners on how to paint fabric with acrylic paint.
Total time: 1 hour and 30 minutes
Pre-wash
Wash and dry the fabric you'll paint on. Washing is a must, as we need to get rid of sizing – it affects the painting and drying process.
Prepare the workplace and fabric
You may want to stretch your clothes or fabric with cardboard to get an even surface.
Cover your workplace with plastic or cardboard or something as sometimes paint will soak through the fabric. Please, don't overstretch, when you'll loosen it up, the dried painting may wrinkle the fabric. Fix it with binder clips.
Paint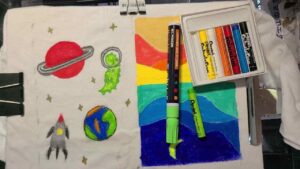 Paint on fabric using your ideas or get some stencils.
If you want some hard edges or blank lines you can use liquid wax! There are some special pens filled with wax for batik and fabric painting.
Use brushes or sponges, and stamps (even natural like halves of apples) to get creative. To make a sketch use sewing chalk it will help you keep the proportions and composition. When it's done, leave it to air dry for at least 24 hours.
If you don't know what to paint, don't feel like you are not creative, we all were there! Just get some inspiration, ex., from my list of 101 easy painintg ideas!
Seal acrylic paint on fabric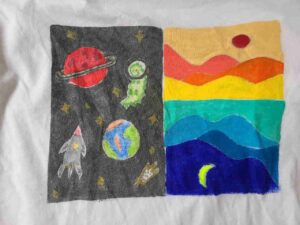 Seal acrylic paint to make it washable and permanent.
The best way to seal acrylic paint on fabric is to iron it for 3 to 5 minutes.
Wash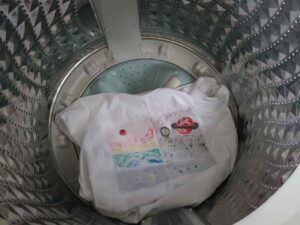 WAIT 4 to 7 days before you will wash your painted fabric. For the first time, wash it separately to make sure the paint won't contaminate other clothes.
---
How to paint fabric with acrylic paint
Without

Medium

If you don't plan to wash or wear your painted clothes or fabric art, you can paint textile without fabric medium. Follow the steps below as they're slightly different from the steps when I use the fabric medium.

Steps:
It is preferably of course to use a clean piece of fabric or clothes. But! The trick here is to actually…sand it! Yes, you heard me right. Grab a super light sandpaper and go over the fabric, it will pick up all the dust and all the loose bits and pieces.
Pick the colors of your acrylic paint. Even 1$ Apple Barrel paint will work for your hanging wall art. We don't use medium in this tutorial, but you may notice sometimes that the paint is too thick (for ex., if you are using a heavy body professional acrylic paint). Then use a little bit of water or acrylic medium to thin it.
Protect the surface you are working on with some cardboard or plastic and wear clothes you can get dirty. Stretch and fix the piece of fabric over a cardboard. If it is a T-shirt, short or anything that has a few layers of fabric, put something in between in case the colors bleed.
Fill a spray bottle with water and wet the fabric. It will improve paint adhesion.
Paint on fabric using your ideas or get some stencils. You can also use printing blocks, stamps or acrylic markers for outlines and patterns.
Air dry painted area for minimum 24 hours.
Then you can seal it or heat set for washability.
WAIT 4 to 7 days before you will wash your painted fabric. For the first time, wash it separately to make sure the paint won't contaminate other clothes. However, remember that we DIDN'T use any fabric medium which means you don't have to wash the piece. I'll tell you more – washing can ruin it!
How to turn acrylic paint in Fabric paint without medium
The easiest way to turn regular acrylic paint into fabric paint is to add a DIY mix of glycerin and water (1:5), or shaving cream and glue.
However, acrylic paint can perform decently even without medium – it will just feel stiffer and may not cover as well as special fabric paint.
---
How to seal acrylic paint on fabric
To make acrylic paint stay permanently on the fabric we need to seal using either a special sealing medium or a more traditional way – heat-set when we seal the painted surface on fabric with some heat. If you used fabric medium you don't really need any additional sealer, simple heat will be enough!
The best and easiest way to seal acrylic paint on fabric is heat-setting. You can also use mod podge to seal acrylic on fabric for display only.
7 ways to seal acrylic paint on fabric:
Use a special clear sealing medium as a topcoat to protect your painted area, but this method is not really popular and needs some extra money. You can use Angelus sealer for leather if you painted on leather, or
Use an iron for 3-5 minutes on low setting – this is called heat-setting acrylic paint on fabric, or
The same heat-setting but with a dryer: set it for about an hour.
Baking in the oven at 250C degrees (risky, I would not recommend!)
Use the hovering method: hold your warm iron next to the painted area, but don't touch it.
You can try to use a hairdryer to dry and seal the painted area.
You can even use a heat press if you own one (otherwise they are quite pricey to buy)
---
How to seal acrylic paint on fabric without medium
The easiest way to seal acrylic paint on fabric without a medium is to use heat: iron is the best choice, but you can also use a dryer or even a hairdryer.
Finish your painting, and let it dry for 24 hours.
Turn on the iron on medium or high heat, let it heat up, and start moving it across our painted fabric for 3-5 minutes – this is called heat-setting acrylic paint on fabric. Do not use steam!

Insider tip: if you're scared that paint will peel off, put some fabric between the iron and the painted area or turn the clothes inside out.

Turn off the iron, the painted area should be dry, hang it and leave for another 4 to 7 days before washing it.
WARNING: Please turn off the steam setting on your iron!
---
How to seal acrylic paint on denim
Working with acrylic paint or acrylic paint pens on denim you can seal it with regular Mod Podge or special fabric Mod Podge. It will make painted area more durable, and the denim won't lose the flexibility.
I let the painted area dry for 3 days and then used satin Mod Podge to seal Artistro acrylic paint pens on denim and it worked perfectly.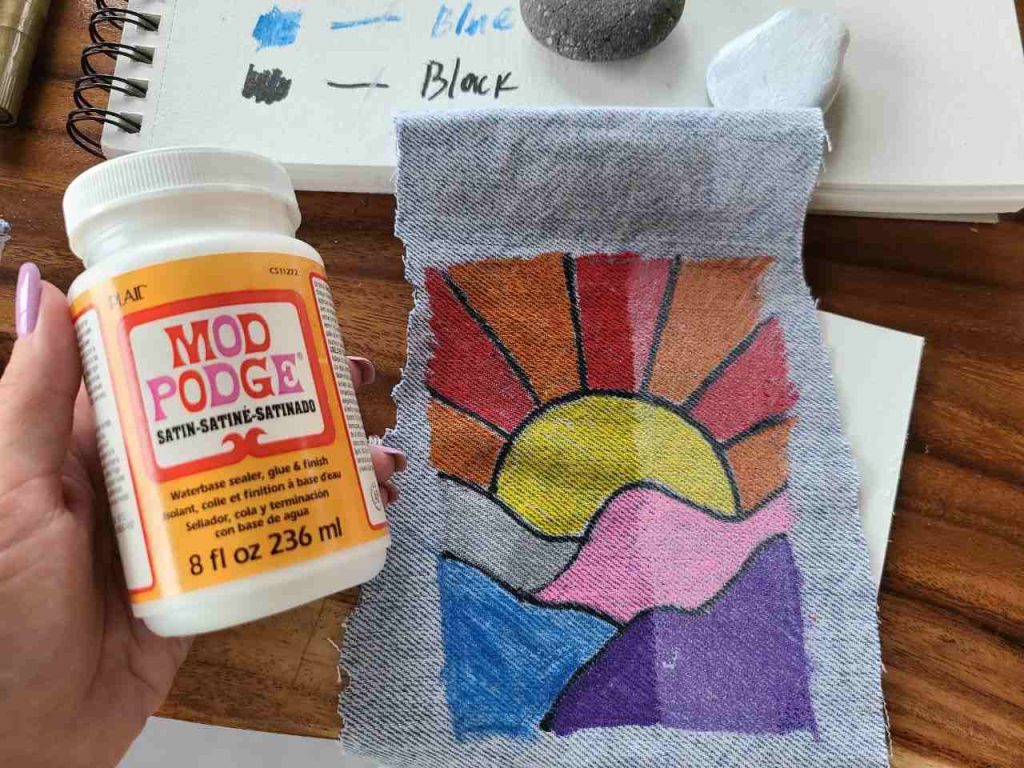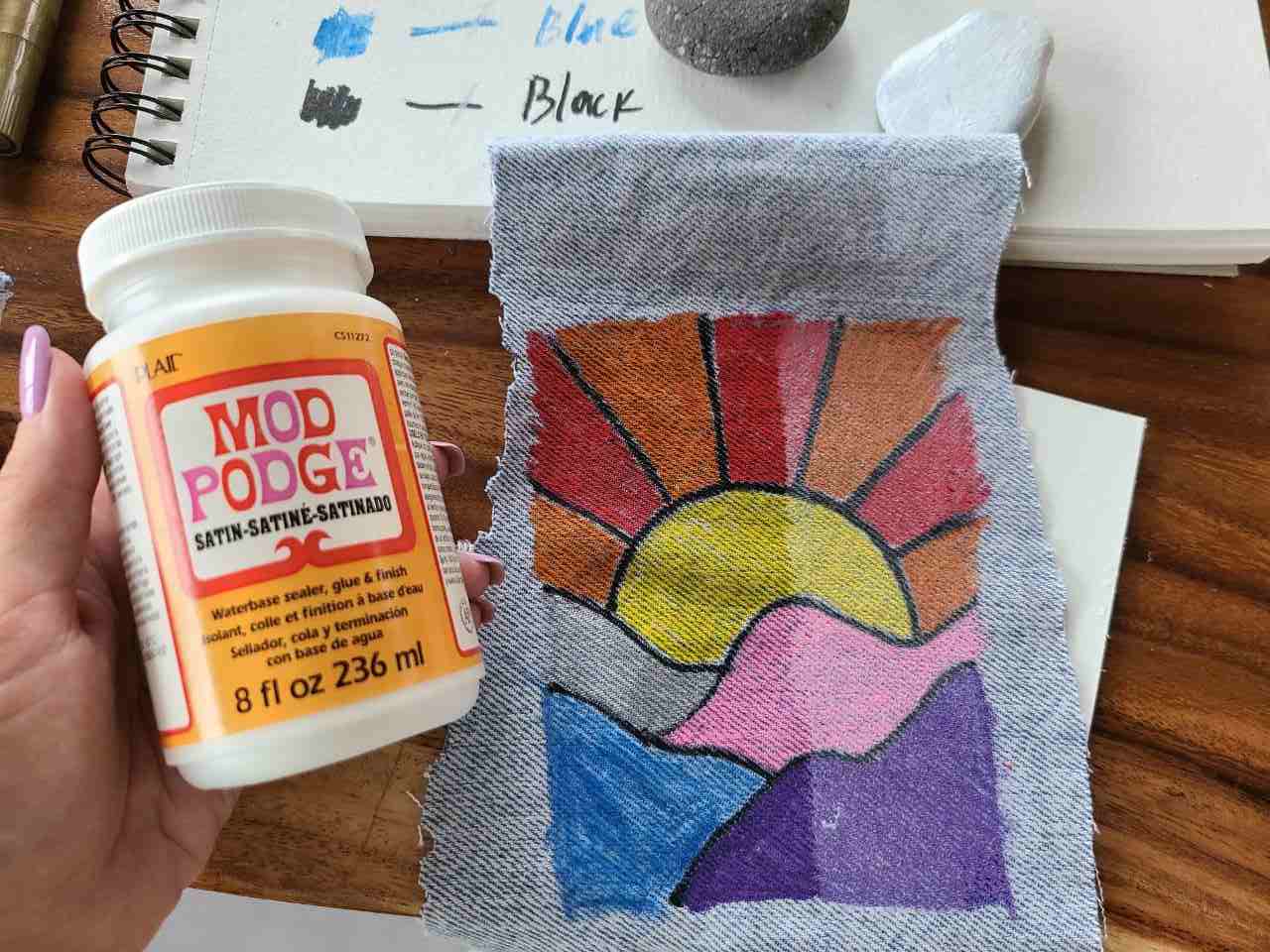 Don't freak out that when you apply the liquid is white, Mod Podge is glue based (thus it's super cheap) and it will become clear once dry.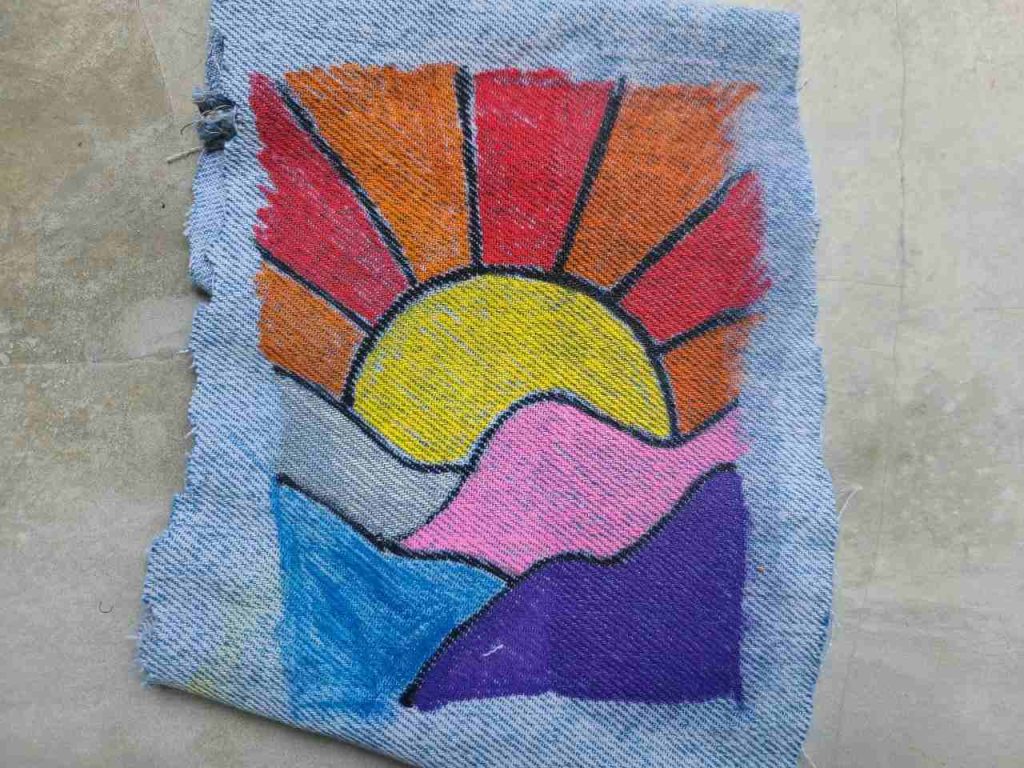 However, I feel like Mod podge still makes the fabric a bit stiff, I think it's due to its glue base.
How do I heat treat shoes?
Well, you will be right to point out that it's easy to iron a T-shirt but not so much with your newly customized sneakers. You are right! But don't get discouraged.
You can still heat set paint on shoes with a hairdryer or clothes dryer with a 30 min to 1 hr setting.
---
BEST ACRYLIC PAINT FOR FABRIC
Acrylic paint for fabric and fabric paint are not the same. Acrylic paint for fabric is regular acrylic paint adapted to stick permanently on the fabric without peeling. In contrast, fabric paint was created specifically for fabric and most fabric paints can only be used on natural fibers. Here I suggest some wallet-friendly acrylic paints that will work great on fabric and can be reused on other projects too!
You can use any acrylic paint you like or have mixed with fabric medium as a "fabric paint". But sometimes, it's better to go for professional paint made for a specific surface.
Best acrylic paint to use on fabric (with or without medium):
Best acrylic fabric paint (no need for fabric medium)
To check a few more options:
Acrylic paint for fabric
Note
Price range
🏆 Arteza Permanent Fabric Paint
Reputable brand, and super popular. Set of 24 colors. Arteza Fabric Paint is the clothing paint that won't wash off your clothes!
Under $30
Apple Barrel Acrylic Craft Paint
This regular acrylic paint will need a fabric medium.
This is THE bestseller among acrylic craft paints.
Set of 18 colors.
Under $25
Folk Art Fabric Acrylic Paint
A beginner set of 8 colors.
A super popular brand for crafts.
Under $20
MagicFly Acrylic Fabric Paint
Ultimate set of 40 colors, 3 brushes, and a stencil set.
There are some fluorescent colors in the set. Great gift!
$25
US Art Supply Acrylic Fabric Paint
Permanent acrylic fabric paint for clothes, shoes, denim, and bags.
Washer and dryer safe.
Not a popular choice. Set of 24 colors + set of 7 brushes
Under $25
Jacquard Textile Paint
The only non-acrylic fabric paint on my list.
Popular and very durable choice, mostly used for furniture.
Can be purchased individually or in simple sets.
$5-$53
Hippie Crafter Fabric Paint
One of my favorite paints overall – amazing quality, value for money, and customer service.
Set of 24 colors
around $30
Tip: Search online or on Amazon not only for fabric paint but also for textile paint!
---
What paint can be used on fabric?
Even though acrylic paint is truly one of the best fabric-friendly paints that anyone can use, there are some alternatives that you can consider for your next textile project.
Fabric paint – specially formulated, It can be, in fact, acrylic based, but it will have some special additives.
Spray paint – spray paint in cans perfect to combine with some stencils! It can be enamel based paint or even acrylic paint thinned for a sprayer.
Fabric dye – they come in different forms from sticks to liquid and normally have an instructions to follow. Liquid paint and dyes are great for sil screening andblock printing techniques, as well as regular brush application. (Here is my Pentel sticks review.)
Alcohol-Based Pigments in markers or paints.
Markers or pens – they can also be permanent or water-based. Markers are great, offer vibrant colors. Work best for outlines and writing, but if they are permanent, you have no room for mistakes.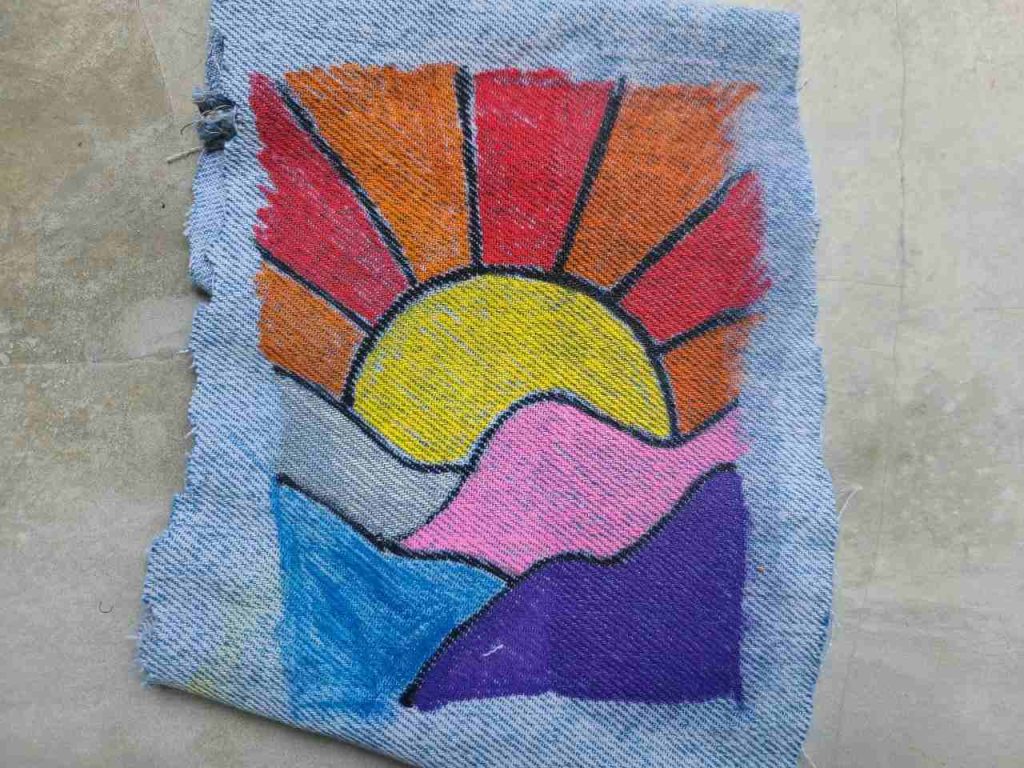 Dye vs Paint- which is better for fabric?
You can ultimately use both, it will work.
Dye is different from paint. In acrylic paint pigments are "suspended" in polymer solution. In dyes pigments are soluble. That's why dyes are better for fabric – they soak in better.
And that's why we need a fabric medium – it makes regular paint soak in better as well 🙂
---
How to take care of painted fabric?
Even if you did use fabric paint or fabric medium, our painted clothes need special attention now. The main care advice is to wash it rarely and gently wash it! But let's go for the full list of aftercare tips:
Wash the painted fabric inside out.
If you didn't use a fabric medium (professional) you shouldn't really wash your fabricor clothes in the washing machine. I recommend spot cleaning.
If you used a fabric medium – Choose a gentle cycle for washing machine or even better hand wash painted clothes and shoes, at least for a few first washes.
Add fabric softener while washing.
Always use cold water.
Never pre-soak.
In general, do not wash painted clothes often.
Hang painted clothes to dry or use dry cleaning machines at room temperature.
Don't use spot cleaning solutions on painted areas.
To iron, use low heat settings and
If you need to iron in the future, use the low synthetic heat and cloth in between the iron and fabric, or turn it inside out.
Acrylic paint by itself doesn't have UV resistance so please, keep in mind that harsh sun can fade colors.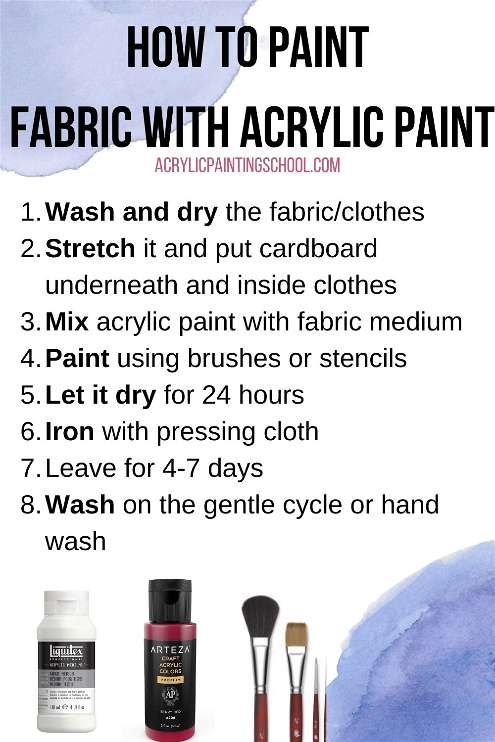 ---
Fixing Issues When Painting Fabric
Issue No 1 – Stiff fabric
This is most likely if you didn't use any special fabric mediums. Overall, this is one of the main disadvantages of using acrylic paint directly on the fabric without a medium – stiffness.
Another reason is applying thick layers of paint – they will be first stiff and then will eventually crack.
Fix:
Heat setting normally makes fabric softer
Hand washing can make the fabric softer (and wash off some paint)
Hang the piece in the bathroom – it is naturally a humid area and it can help soften the painted fabric.
Next time use fabric medium 🙂
Issue No 2 – Dull Colors
You can get duller colors if you chose fabric paints, but acrylic paints normally is much more brighter. It is also worth noticing that paint on fabric may dry lighter that it is while still wet.
Another reason for pale colors is when there is too much fabric medium. Use no more than 1:2 ratio.
Fix:
If you already sealed the surface there is not much we can do.
If not yet, you can apply another thin layer of paint with less fabric medium and heat set it after to make it permanent.
If you are working on a white clothes or piece of fabric, bleach will be handy to correct some mistakes.
For dark colored fabric bleach can act as paint itself – just make sure not to add too much bleach as it will tear apart the fabric.
---
FAQ Fabric Painting With Acrylic Paints
Can I just apply the fabric medium on top of my acrylics?
Undortunately, you can't apply fabric medium over acrylic paint and expect the same results. To turn acrylic paint into fabric paint, we have to thoroughly mix fabric medium with the paint.
Applying the medium only as a top layer will not protect the underlying layer of acrylic paint from washing off or cracking.
How to Turn Acrylic Paint into Fabric Paint with Shaving Cream And Glue?
You can mix 2-3 parts shaving foam + 1 part white glue + 1 part of acrylic paint to make a fabric painting paste that you can apply directly on the fabric.
How to make acrylic paint on fabric washable?
Use acrylic paint mixed with fabric medium while painting and heat set the painted area once dry to guarantee washability.
I did this even without fabric medium and the t-shirt was washable.
Can fabric paint be used on paper?
Unlike acrylic paint, fabric paint is not versatile and cannot be used on paper, only on a variety of natural fabrics.
Is fabric paint waterproof?
Yes, fabric paint is permanent due to its special formula and it is waterproof once dry and sealedor heat set.
However, even if the fabric paint is waterproof you should not wash it often.
Is Acrylic Paint Permanent on Fabric?
By itself acrylic paint will permanently stick to fabric but it will eventually fade and can be washed off if not sealed properly!
To make acrylic paint stick permanently on fabric, use fabric medium and heat set your painted area.
Will acrylic paint stay on fabric?
Yes, thin acrylic paint layers will stay on fabric. To make it permanent and washable please use fabric medium and seal the painted area for durability.
What is the best paint for shirts?
I tried and I can recommend Mont Marte Fabric paint, Decola fabric paint and regular acrylics to work on fabric on a budget. All were washable and kept bright colors.
That was quite a load of information! I hope my ultimate guide helped you understand better why we need a fabric medium and in what cases we don't need one.
You can now make some homemade mediums and experiment with colors and different techniques.
---
If you are looking to paint not fabric, but other surfaces, please read my painting guides as the paint and direction will be quite different: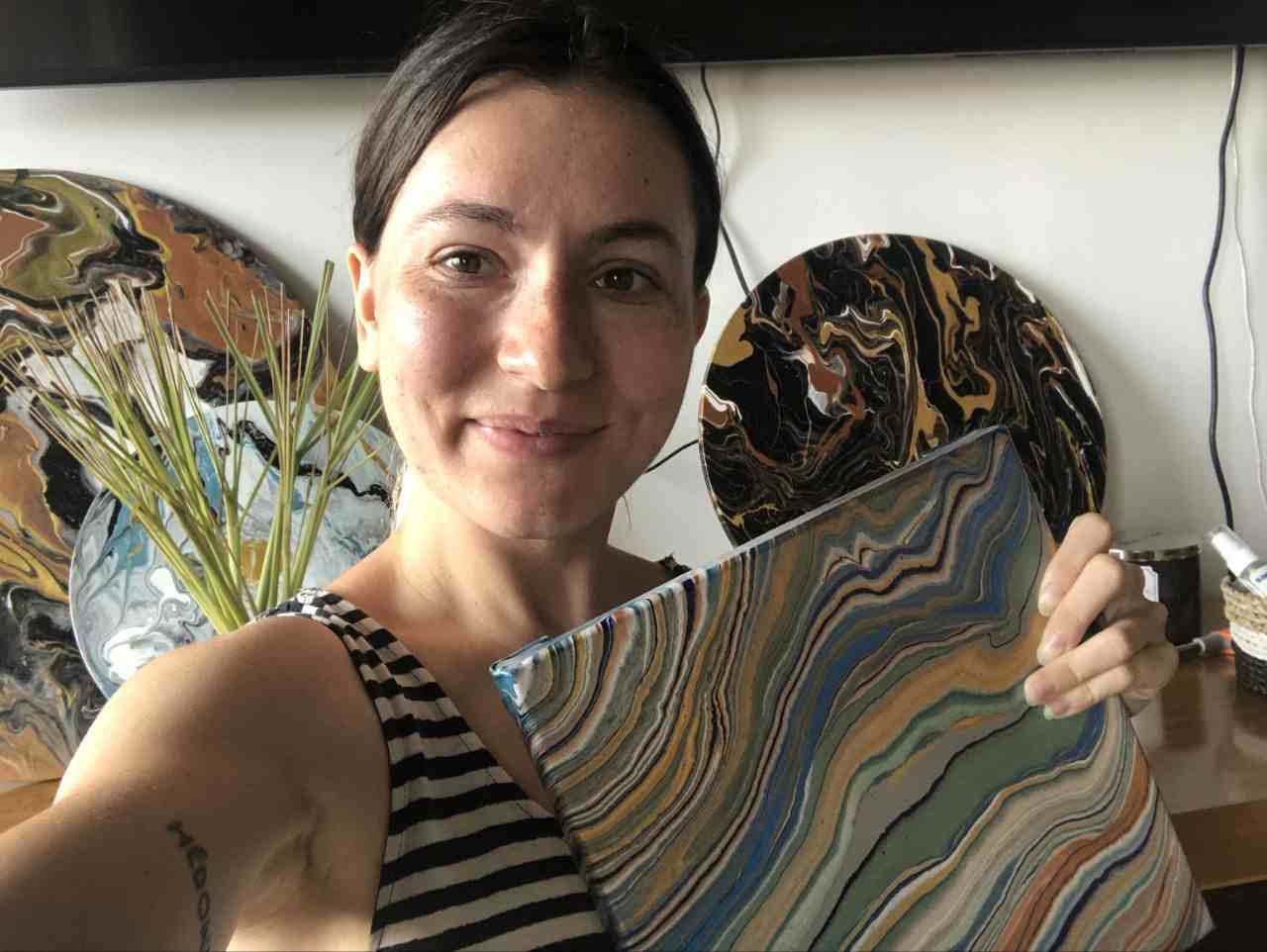 Masha Eretnova is a certified teacher. She started painting and drawing 20+ years ago and now is an international abstract artist and educator passionate about acrylic painting, gouache and crafts.
More about me.
Last update on 2023-12-04 / Affiliate links / Images from Amazon Product Advertising API