Are you curious about trying more creative projects? Like painting your leather shoes, sneakers, or even a bag? Why not! Painting leather with acrylics is absolutely fun and allows you to personalize and customize your outfit as much as you want! In fact, you can use acrylic paint on the leather without being afraid it will crack or peel off, or even ruin the leather. How? Let me guide you!
Painting leather with acrylics is absolutely possible, easy, and fun. Acrylic-based paint is one of the best for leather! You can apply acrylic paint on leather in only 3 easy steps: prepare and clean your leather surface, paint it using special recommended leather acrylic paint and seal your artwork to make it durable! The key to successful painting on leather is good paint adhesion.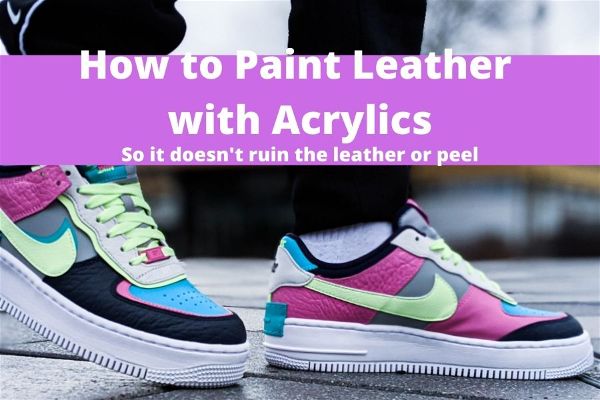 In this article I will share with you specifically what paint to use, what sealer to use, how to paint your favorite leather shoes, and even how to fix mistakes! Let's do it 🙂
Table of content:
This post contains affiliate links to products I recommend. This means no extra cost for you but tiny commission for me to support my blog.
---
Can you use acrylic paint on leather?
Yes, acrylic paint can be used on faux or real leather – it is a soft and flexible, and absorbent surface – ideal for acrylics. In fact, leather paint is mostly acrylic-based! However, the key to painting leather with acrylic is a good surface preparation – without it, your paint may crack, peel and look simply unpleasant!
Next important things is to use a good paint. Yes, acrylic paint can work, but if you are planning to wear your leather it is better to use leather paint and a protective finish to make sure the paint will stay on your shoes or jacket for a long time. Remember that painting leather is more like staining than painting.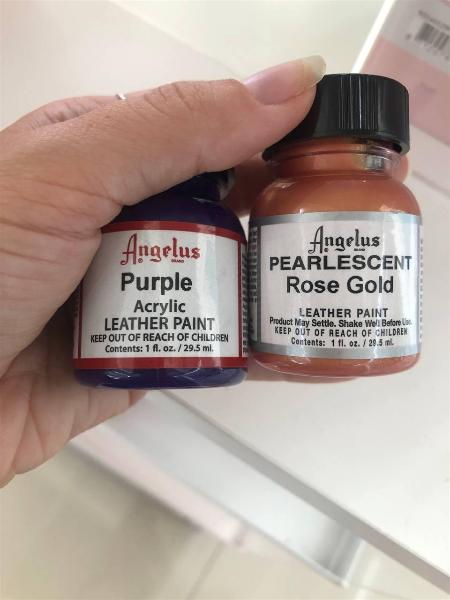 I have a separate guide for painting fabric, if you would like to upcycle your shirts or other clothes, feel free to check it!
---
TOP Best Acrylic Paint on Leather
If you want a better choice shop directly on Angelus's website in Paint collection, where they have both sets and all colors individually.
Special leather paint is affordable, durable, and will cover your needs perfectly. It was designed to stain the leather and adhere for ages. It doesn't ruin the faux or real leather, quite the opposite, even if you are not painting the leather, you can easily restore a couch or a bag with leather acrylic paint!
---
Angelus leather paint and supplies have become the leader in the industry a while ago. Beginners and pros all over the world love this paint. The brand became popular for its paint quality, but also because they sell all supplies you may need from de-greaser to protective finish or thinner.
This Angelus Leather Paint Set of 12 is the most common choice, even though you can buy all colors, or additional colors individually. I suggest you buy via the official website as then you can choose what 12 colors to get, while on Amazon the set costs slightly more and you can't change colors that go within. However, I will list both options:
Pros
All 12 colors are vibrant because they are mixed with color base, not white base.
They are truly the world's best leather care products, paint and supplies manufacturer since 1907 – you are buying from a reputable brand with a guarantee of quality
Both for leather and vinyl, denim, plastic, wood, etc – versatility for your projects from faux leather shoes to sofa.
Each bottle comes with a handy brush in the cap – easy to apply
Water-based and mixable so you can create as many colors as you wish
No cracks on your painted shoes or leather jackets – this paint is flexible, adheres well and lasts for ages. All items painted with Angelus leather paint are wearable.
Angelus paint is waterproof once dried.
Cons
a set will cost you something about $35-40 which is more expensive than simpler alternatives. However, you're paying for highest quality possible.
One set won't be enough for bulk projects. Each bottle is only 1 oz.
Check their Instagram to have some inspiration: the sneakers designs they post are WOW! A sneak peek:

---
Well, if you are looking for an alternative to Angelus leather paint, you may want to look at Smalltongue Acrylic Leather Paint Kit of 14 – Amazon bestselling and Editor's choice acrylic leather paint. Most importantly – cheap! Yay!
For under $25 dollars, you are getting 12 colors, a Leather Preparer-Deglazer, and an Acrylic Finisher – basically you are getting all you need to start painting on leather.
Pros
All colors are mixable – you get not 12 but infinite amount of colors you can create
The set includes one bottle of leather preparer and deglazer which is the crucial part for painting on leather! Angelus set is only paint.
Acrylic leather finisher is also included, once your painting is ready and dried you can easily protect it with this finisher from peeling and cracking
Smalltongue paint is very versatile: shoes, sneakers, couches, bags, car seats, even airbrushing!
Bonus: this set comes with a storage box which is perfect for organising your workspace.
Some customizers say this paint spreads better than Angelus.
Easy to use for beginners as it comes as a full set for painting on leather.
Affordability, of course. It is almost 1,5 time cheaper than Angelus.
Cons
Needs to be stored and shipped properly to make sure no paints are damaged, separated or dried out.
---
PAINTING LEATHER WITH ACRYLICS IN 3 STEPS
To paint leather with acrylic paint you don't need expensive tools or supplies, you also don't need years of experience – it is an easy process including only 3 steps:
Clean and prepare the leather
Paint in thin layers
Seal and waterproof the painted area
Preparation is the most important part. If you don't do it right, the paint will peel and crack and the whole project can be ruined. If the preparation was not proper even a good sealant won't help. I can't stress enough how important is the prep work.
Supplies you need to paint on leather with acrylics
---
Step 1 – Prepare the leather for painting
Your first step is to clean, remove all grease, gloss from the leather, and prepare it to soak some paint. If we will leave any coat or grease on our leather surface, the acrylic paint will peel and crack, no matter what we do! Don't worry, I'll guide you step by step through the preparation of your leather.
Before painting:
Is your leather real or faux? If you're painting faux leather, keep in mind that it needs extra attention – it is often coated with silicone or wax. Use degreaser carefully until you removed all coating.
Is your leather soft or hard (dried)? If we have a dried leather item, we may need to soften it with Leather conditioner.
Are you painting something or just restoring? If you're restoring, get a restoration kit! However, the process for painting and restoration is pretty much the same, except for painting you will use a lot of colors and create a pattern or an image.
Set the right environment. Acrylics drying time depends a lot on the temperature and humidity. Choose a well-aired space with no direct sunlight, not too cold or warm, just normal temperature.
How to prepare leather for acrylic paint?
Cover your workspace, clean the leather item and let it dry to make sure there is no dust or dirt on it.
Using cotton pads and Isopropyl aclohol degloss the surface – it will lose its shiness but don't worry, we will restore it once we finish painting with a special sealer. The alcohol may be not enough, in this case,
Use small amount Angelus universal Preparer and De-greaser to thoroughly wipe the surface. Move in rounds, gently. It may be the case that you will do it several times, especially with faux leather.
*If you feel like there is still some coating left, use a fine sandpaper and sand the leather very carefully – do not damage it or press to hard against the sandpaper! It is an extreme measure, normally, a degreaser will be enough.
*If the leather is hard, apply leather conditioner now, not after you paint it.
NEVER SOAK THE LEATHER! Leather is very absorbent, especially if we removed all protective coatings. A soaked leather will take forever to dry (and you should not use any heat sources, including the direct sun) and we need a fully dried and clean surface to paint.
---
Step 2 – Painting leather with acrylics – 9 Practical Tips
If you will remember only one thing from my post, remember this: always paint leather with acrylics in thin layers, letting them dry completely in between. This way the paint will have enough time to dry, will not crack, and will adhere much better to the leather.
Do a test painting. Scared to start painting? I feel you. That's why I always recommend to test paint on a small area that will be invisible. You will immediately see, how the color looks, if it sticks or peels. If the paint doesn't stick, you need to step back and degrease it better!
Only thin layers to avoid cracking. Thick layers of paint are more likely to crack and peel, as they will have uneven drying time. This rule applies to ALL surfaces and acrylics. Plus, if you're painting in a cold room, the paint layer may crack.
First layer is the most important. The first coat should also be thin, you can thin the paint with water a little bit, then let it dry completely, so the leather will soak the paint and get the stain. The general rule is to wait about 2 hours between layers. Once the first layer is dried, keep adding thin layers of undiluted acrylic paint!
Use appropriate water-based paint. I recommend using one of the Leather acrylic paint, I pre-selected above, yet, if you're using regular acrylic paint, like Golden Acrylics, the brand has done a large testing and came up with the following:

Undyed, unconditioned, untreated leather – use fluid acrylic paint mixed with fabric medium, for example, the Fluid Acrylics mixed with GAC 900 Fabric medium in 1:1 ratio. Heat set once dried.
Treated and dyed leather – use the Golden High Flow acrylics or any other high flow acrylic paint

Mark the edges of the painting. Probably, you are not painting the whole surface. If you're painting only on a piece of leather (back of the jacket, part of sneakers, front of the purse, etc), use special artist tape to marke the borders and protect the rest of the leather surface.
Paint in the direction of leather flexing. Before painting, flex the leather in your hands, to see how it is flexible, how it bends. The better you will understand it and follow this pattern, the less likely you will have a crack! This method will also allow the painted leathe to look very natural.
Bend the leather again after every layer. This way we help leather adjust, not harden with paint and prevent cracking. The paint will penetrate everywhere which means better colors. Don't let the leather sit still and become stiff.
Use brushes. To cover large areas use regular large paintbrushes. If you have details and lines, use liners or miniature, detailed, brushes. To be honest, you can also use a sponge or a foam brush painting leather with acrylics, but be careful: both sponges and foam brushes have a big paint load, so don't dip them or soak in paint, only use small amount of paint. Remember, that we need thin layers!
Keep the room well aired, not freezing cold, not humid. No direct sunlight or heat next to the painted leather.
---
What if I accidentally spill the paint? How to remove paint from leather?

Accidents and mistakes are normal and there are a lot of simple solutions to remove acrylic paint from the leather.
The easiest solutions is warm soapy water. Using a brush try to wipe the paint off the leather. Remove the excess of water and paint with a soft towel.
Rub cooking oil, olive oil or baby oil onto the painted area few times, then using a knife carefully remove the paint. Don't forget to degrease the leather once done.
Nail polish remover
Rubbing alcohol
Acetone
Mechanically – using a scraper or a knife. Be very gentle and do not damage the leather!
---
How to Seal acrylic paint on leather so it won't peel or crack
The last step of painting leather with acrylics is sealing and waterproofing. We need to make sure our sneakers, jacket or purse will last long without cracking, yellowing or fading, and will be wearable and easy to clean. To make it real we only need two products:
ANGELUS ACRYLIC LEATHER FINISHER – the best leather sealer hands down. Helps you seal the surface and give it back a shiny brand new look. This finisher protect the paint from fading or cracking, and allows you to clean the leather later with a wet cloth. Basically, if you're not planning on wear your leathe item, you can use only this finisher. It comes in 4 formats from matte to high gloss.
Pebeo Waterproofing Leather Spray to make leather moisture resistant.
Step-by-Step: How to seal acrylic paint on leather
Make sure the painted area is fully dried and clean – no dust or dirt allowed 🙂 Work only in well aired room!
Use Angelus acrylic leather finisher or any other finisher in the ratio 1 oz. of acrylic paint finisher to 1 pt. of water. Apply first thin layer using wool dauber or a brush, or a spray. Again, no soaking!
Let it settle for 5 minutes.
Apply around 20 coats of sealer to ensure high protection and color vibrancy. Let it dry.
To enhance the durability you can apply waterproofing spray – Pebeo Waterproofing Leather Spray. It will provide additional durability, protection and moist resistance. I would recommend it for anything wearable. Keep the spray 6 inches from the surface and apply in thin even layer.
Do not move the item. Let it dry for at least 24 hours. Done! Your leather painting project is looking brand new and well protected!
However, I'd like to add that according to Angelus's official guideline sealer and waterproofing is optional. Some customizers leave it like that with a matte finish. Again, if you're not planning on using or wearing this leather – you can skip the step and save some time and money on sealing 🙂
Need some alternatives? If you don't want or can't buy Angelus Finisher, you can try Leather Max Finisher or any acrylic paint spray sealer. Do not use hairspray to seal the acrylic paint on the leather!
---
How to Paint Shoes with Acrylics?
Painting leather shoes or sneakers with acrylic paint follows the same simple steps: preparation, painting, sealing. An important consideration is that we are probably will wear these sneakers, so we need to properly protect them and make them weather-resistant!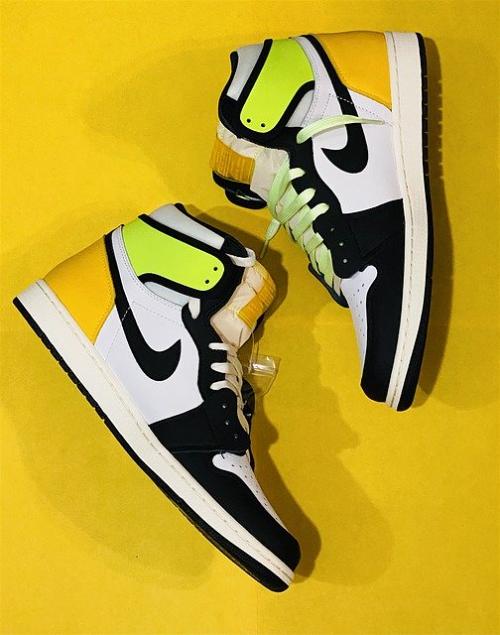 How to paint leather shoes with acrylic paint
Clean the shoes with soapy water and brush. Let them dry. Remove the shoelaces.
Degrease and degloss your shoes using leather bleach, isopropyl alcohol or special degreaser like Angelus universal Preparer and De-greaser. It works both for real and faux leather. This step is essential! Wipe the shoes thoroughly, it will help the paint stick and penetrate the leather deeper, staining it. Otherwise, your shoes will crack or the paint will just peel off. How to know if it's done? The leather is not shining anymore.
* In rare cases, your leather will still be glossy. Use a fine sandpaper (100) to gently sand the surface. Repeat step 2.
Mask with artist tape the areas you are not painting to protect them from any accidents 😉
Paint in thin layers following the direction of flexes of your shoes. The fisrt layer slightly diluted with water – no more than 30% of water. Let ir dry and apply next layers of paint undiluted. You can have even 7 layers, no worries! Apply long even strokes.

At first, the shoes color will still be visible, but keep applying thin layers, don't try to overpaint it with thick layers.

After each layer bend the shoes, to make sure the paint goes evenly inside the leather and don't get stiff. Let each layer dry for at least 20 minutes.
How to seal acrylic paint on leather shoes
Once you're happy with the color, allow your shoes to dry completely. Do not use heat to speed up the drying. Just wait (leaving them overnight is the best decision).
Apply topcoat to protect the shoes from moisture and weather and make them durable using a sponge or a brush. Angelus acrylic leather finisher will do the job: mix with water in ratio 1 oz. of finisher to 1 pt. of water. Let shoes dry for 24 hours. Don't move until it's dried!
What paint to use on leather shoes?
Leather acrylic paint is the best choice for painting leather shoes as it accounts for shoe flexibility and the characteristics of leather.
Angelus Leather Paint – best on the market. Will adhere better without peeling. Last for years.
Golden High Flow paints (the Golden brand tested it!) – high quality paint, can be used on canvas and other surface too, but quite pricey.
---
Can You Paint A Leather Jacket Using Acrylic Paint?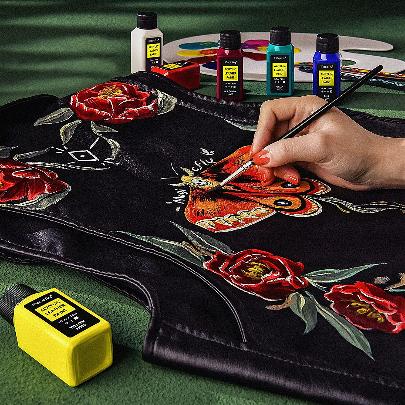 Absolutely! Custom jackets sound fun! You can easily personalize the back of your leather jacket, pocket, or sleeves using acrylic paint. In fact, acrylic-based paint is the most popular choice for custom leather clothes.
Clean off all dust and dirt with a gentle brush or cloth and soapy water. Don't soak your leather jacket. Let it fully dry.
Degrease with Isopropyl alcohol or any special degreaser. This is a very important step, make sure you go in all cracks and degloss all shiness and protective coating. Only that way the paint will stick. Otherwise you will find paint peeling off. Let the jacket dry.
Place a pillow inside the jacket to make sure it's soft, flexible and you can paint it thoroughly.
Use Angelus Leather Paint or any other leather water-based paint. Apply only in thin layers, making long strokes. Make several layers until you like the colors.
To protect your jacket and make it wearable again, apply finishing and waterproofing coating. Use Angelus acrylic leather finisher and Pebeo Waterproofing Leather Spray. It is another important step, as you are protecting the jacket from moisture, cracking, fading and save it for long years 🙂
---
Can You Use Acrylic Paint on a Leather Wallet?
Leather wallets, both faux and real leather can be easily painted with acrylic paint, precisely leather acrylic paint. The great thing about painting leather wallet is that it is small – less paint to use, faster results, and easy process.
The whole painting depends on prep work: make sure to degrease your wallet with a special degreaser or Isopropyl alcohol before you paint.
A customized leather wallet should be sealed with a special leather paint finisher as you will use it a lot and we need to protect its durability. Angelus has a universal finisher that works for wallets too.
Can You Use Acrylic Paint on a Leather Bag?
Yes, any leather purse can be painted with acrylics and it is an easy way to personalize your purse or to create a very thoughtful and unique gift. Make sure to properly clean the purse before you paint and seal the painted areas once you are done to protect it from cracking and damage.
The painting leather purse process follows the same steps I described here.
Can I Use Acrylic Paint On Leather Couch?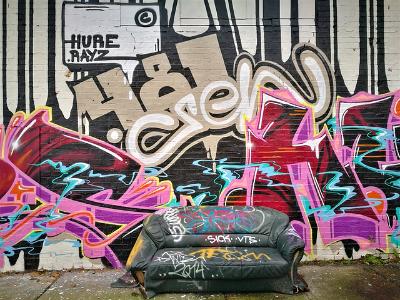 Leather acrylic paint is widely used to paint and restore furniture, including couches and armchairs. You can do it yourself following the 3-step process or buy a Furniture restoration kit that usually has all you need: from a brush to paint, sealant, and degreaser. Acrylic paint can help you make your couch brand new!
3 Most recommended Furniture restoration kits:
Can You Use Leather Paint on Car Seats?
As well as indoor furniture, you can use leather paint and leather acrylic paint on car seats. The absolute imperative is to properly clean and degreases the seats before restoring or painting over – use alcohol cleaner or special degreaser to make sure you removed all coating from all edges, cracks, and crevices.
Then use a car seat restoration kit or leather acrylic paint to repaint your car seats. You will need multiple thin layers. Once you painted or fixed the area, protect it by spraying the finishing coat. Let the car seat fully dry.
---
Painting leather with acrylics FAQ
How do you keep acrylic paint from chipping on leather?
A proper preparation, including thorough, degrease, and degloss process is the number one method to protect acrylic paint from cracking on leather. Use Isopropyl alcohol or Angelus degreaser to clean your leather item and prepare it for painting. There are a few more tricks you can use to prevent leather paint from cracks and peeling:
Use only thin layers of paint, letting them dry in between. But never use heat to dry the leather.
Always bend leather before, during and after painting to make sure it keeps its flexibility. Otherwise, the paint will dry on the leather, it will become stiff and once you move or flex it later on – the paint will crack.
Do not mix different paint brands and mediums
Protect the painted area of leather with Finisher to seal and waterproof it.
What kind of paint can be used on leather?
The most popular and indeed durable choice to use on leather is acrylic paint, specifically acrylic-based leather paint, such as Angelus leather paint, Smalltongue paint, Fiebing paint. Acrylic paint is non-toxic, sticks well to the leather, is easy to apply even for complete beginners, and acrylic painted leather is easy to take care of – just wipe it with a wet cloth.
Does acrylic paint ruin leather?
Acrylic paints or leather paint can not ruin leather, in fact, they are the paint of choice when painting leather. However, if you don't prepare and degrease your leather properly, the paint will chip and crack, or even not stick to the surface at all! But even in that case, it will paint itself cracking or peeling, not the leather.
What is the difference between leather paint and acrylic paint?
The main difference between regular acrylic paint and leather paint is that acrylics are versatile, mostly thick, fast-drying paints used on all kinds of surfaces from canvas to metal. While most leather paints are acrylic-based, they are designed specifically for faux or real leather, vinyl, furniture to adhere better without cracking. They are more fluid and thin. To achieve the best results I recommend choosing the paint according to your project.
Curious to paint other surfaces? Check my easy guides and FAQs: