Rock painting can be an enjoyable activity for people of all ages; it's also a great way to relax or play hide and seek stones with all the community
. The best part about rock painting is that you don't need any expensive equipment or supplies – just rocks, paint, water, and some paper towels!
You need to know though how to choose the best paint for rocks that will actually stick to the surface of the stone – acrylics!
In this guide, I will discuss how to choose the best paints for rocks or mandala painting as well as I will try to answer all frequent questions about rock painting that may come up during your creative journey.
Table of content
Affiliate links are included for your convenience. It means no extra costs for you but tiny commissions for me to support my blog.
---
Rock painting supplies You Need
Rock painting is a screen-free activity for kids and adults that activates fine motor skills, and boosts creativity and artistic expression.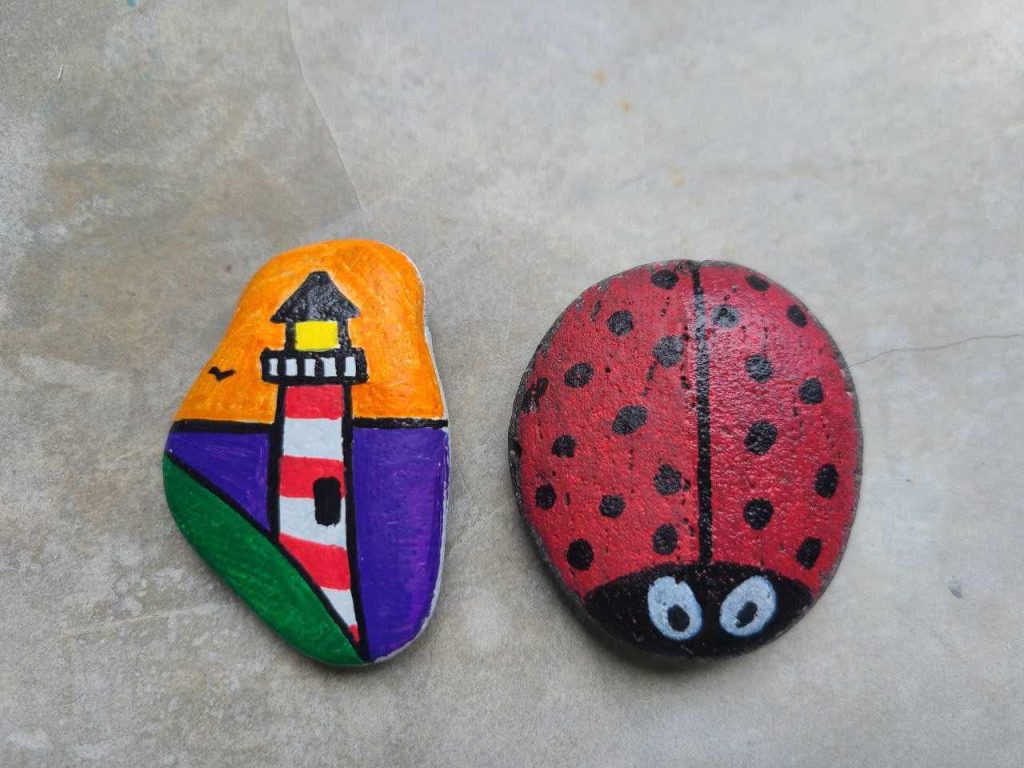 Rocks without a waxy coating- collect some river stones or buy rocks (2-3 flat rocks for painting) online (ex., this set of 20 rocks or this set of 5 pounds river rocks or this huge set of 120 rocks), you can even purchase Capcouriers Flat White stones online or perfectly round hand-picked stones. In general, there are literally tones of stones on Amazon! I am lucky to have a beach near our house so I can hunt for rocks there 🙂
Paints or markers. To choose the best rock paint you have to consider some factors I'll list below. Markers are easier to use in my personal opinion.
A plastic palette to squeeze paint you're working with and mix it.
A tape and cover for workplace, I use even cut plastic bags sometimes.
Gloves
An acrylic sealer (better spray sealer, like Aleene's, Rust-Oleum or Krylon, but if you don't like sprays, opt for Deco Art sealer) to seal rocks and protect the painting from time, dust, and paint peeling. A cheaper alternative would be Mod Podge.
Decorating Rocks Handbooks and Rock painting Guide:
---
Rock Painting Kits For Kids & Adults
If you're planning to paint rocks with kids or a cool gift for children, you should think about getting a rock painting supply kit – it has everything included, even rocks.
Most rock painting kits are for kids, but some of them can be used by adults, of course, or will be made for those, such as the Mandala rock painting kit.
Here are some bestselling rock painting kits for kids and adults:
Most of the kits offer a 100% satisfaction guarantee and refund if you didn't like the quality.
---
How to choose the Best paint for rock painting
Let's start with choosing the best paints for rocks.
The best paint list is going to vary from person to person according to their preferences and favorite techniques, but I'm sure that following my advice will help you choose the best rock painting supplies.
First of all, when it comes to selecting a type of paint several factors should be considered: time (how long do you want your masterpiece to last), desired result (glossy or matte finish), and technique used for applying the paint (brush, sponge).
Here is a short guide on the best types of paints depending on these criteria:
Type of the paint.
Acrylic and acrylic enamel paints are the best for stone painting.
This type of paint dries glossy (acrylic can dry a bit matte depending on the brand) and are best used for painting rocks using the dry and wet brushing technique.
They can be applied with either a small brush, sponge, toothpick, cotton swab, or your fingertips (just make sure you wear gloves).
Technique.
Now let's talk about different techniques that rock painters might find useful: sponging, airbrushing, pouring, etc…
As I mentioned before there are many great types of paints on the market best for rocks, so choosing the best rock painting tools is a matter of personal preference.
Sponge Painting Rocks – This technique requires using special water-based paints and sponges; you can create unique patterns by mixing colors or use one solid color as a base coat.
Dry Brushing Rocks – To achieve such an effect paint best used is dry brush acrylics which are applied very thinly with just the tip of a small brush; this method creates a textured look that's great to imitate stones found in nature.
Airbrushing Rocks – The best tool for achieving a smooth finish on your painted rocks is airbrush. Choose airbrush paints available in various finishes from matte to glossy depending on what kind of result you're looking for. Airbrush paint is fluid and can be sold in bottles or you can thin down paint you already have, using special mediums. Note, that airbrushing is more advanced technique and may seem difficult ar first and you need additional equipment.
Other techniques you can be interested in are stamping, splattering… They are all pretty much the same as 25 Must-Known Acrylic Painting Techniques for Beginners.
Grade.
There are 2 main grades of paint determining its quality: student grade and artist grade.
While it is very important while you're painting canvases or wood to get high-quality artist-grade paint, it may be too expensive and not really needed for small craft projects like stone painting.
Craft paint, cheaper acrylic paint, and enamel paint will work perfectly for rocks. Especially if you're painting with kids for fun and not planning to showcase your projects.
Rock painting kits will all include some no-name paints, usually acrylic or enamel.
Still, the major difference between grades is the amount of pigment in the paint: artist grade paint has more pigment.
Opacity.
Some paints in the kits may seem transparent and too watery, and it may be because of their quality overall, but, please note, that some pigments are more transparent by nature.
Most stones in kits are also covered with a base white coat. White paint is an easy trick to make the painting look more opaque and colors more vibrant.
---
BEST PAINT FOR ROCKS
Your other favorite rock painting supplies would be miniature brushes, crayons or micron pens and dot painting tools (for creating mandalas).
---
Arteza Outdoor acrylic paint, FolkArt for Rock designing, and Apple Barrel Acrylic craft paint are TOP-3 bestselling rock paints with high-quality vivid colors and a good number of paint tubes in sets. All three of them are affordable, easy to use, and fast-drying.
The same general rules of acrylic painting apply to rock painting: paint in thin layers, use clean and smooth surfaces – smooth rocks or sand them with sandpaper or an old toothbrush.
Use only good quality paint and protect your fun rock painting with a varnish or a sealant.
---
Easy to use and to clean, glossy acrylic paint for rocks FolkArt was specifically created for an outdoor project on stone.
The painting set includes 12 bottles of 2oz each and the following colors FolkArt Wicker White, Lemon Custard, Baby Pink, Pure Orange, Engine Red, Violet Pansy, Grass Green, Calypso Sky, Cobalt Hue, Cerulean Blue, Maple Syrup, and Licorice.
FolkArt rock paint dries to a gloss UV water-resistant finish. It will also work on versatile surfaces not only rocks.
The crafters love FolkArt and appreciate its value for money a lot. One of the best paint for any craft projects I know.
There are almost no cons, but keep in mind that if you won't seal the painting, the paint may fade over time.
---
Artiqo paint pens for rock painting come with an e-book with 25 design ideas and 2 metallic colors: gold and silver. The markers are fast-drying and water-resistant, offering great coverage and vibrancy. They are super easy to use on diverse surfaces: from rocks to glass! The main difference between these pens and others is that they are oil-based, not acrylic.
All 15 pens have a medium tip with a non-drip design. But you can also buy fine tips markers for more detailed work.
To make sure your Artiqo pens work the best:
Shake the pens for 10-15 secs.
Press the tip to release the air
Push it into the rock/paper to paint. Always check that the paint reservoir and tip are tightened up.
Crafters love how versatile and durable these pens. Artiqo pens were tested and worked great on mugs, plastic, rocks, and glass!
---
Artistro Acrylic Paint pens – best acrylic paint pens for rocks painting
I must say that I liked Artiqo but they bleed a lot and dry out quickly.
A better, more stable alternative for rock painting are Artistro paint pens, which are affordable, great quality and easy to use. I like them more than Posca due to price and amazing coverage.
I tested Artistro on so many surfaces and find out that they work equally well no matter what! I highly recommend these pens for beginners.
Read full review + youtube video review: Artistro Acrylic Paint Pens Review on Rocks, Wood, Paper, Glass etc
---
Apple Barrel is an absolute bestseller among craft paint for beginners rock painters: it is easy to use and to clean fluid paint with a matte finish.
The popular set includes 18 different colors:
White, Yellow Flame, Bright Yellow, Bright Magenta, Fuchsia, Jack-o-lantern, Flag Red, Purple Iris, Parrot Blue, Bimini Blue, Bright Blue, Too Blue, New Shamrock, Holly Branch, Nutmeg Brown, Melted Chocolate, Pewter Grey, and Black.
Apple Barrel acrylic paint works amazingly on rocks, but don't forget about sealing your painting!
---
Arteza is one of the biggest brands on the painting market offering decent student-grade acrylic paint and other supplies. Arteza paint is great for beginners.
The outdoor paint set was designed for exterior projects on wood and rock. The set has 20 colors tich in pigment, two of them are metallic: silver and gold.
As this paint is outdoor, it means it is water-resistant and self-sealing, but I would still recommend sealing as acrylic paint as the type is not self-sealing enough in general.
---
Caliart paint set with matte finish includes 24 colors:
Lemon Yellow, Medium Yellow, Yellow Ochre, Raw Sienna, Burnt Sienna, Orange, Vermilion, Crimson, Scarlet, Magenta, Purple, Phthalo Blue, Deep Cyan Blue, Cobalt Blue, Cerulean Blue, Viridian, Monastral Green, Sap Green, Phthalo Green, Raw Umber, Burnt Umber, Lamp Black, Grey, Titanium White.
As with all acrylic paint, this paint is non-toxic, water-based, and fast-drying. An affordable price makes this set a great gift for beginners and purchases for its value for money.
This is a versatile paint labeled artist-grade, however, I don't recall Caliart among the best acrylic paint brands for artists, so I would be skeptical about how rich in pigment this paint is.
It is as good as other alternatives for rock painting, but it won't be enough for canvas painting.
---
Best paint for big rocks
Airbrushing may be the answer for you if you're painting a really big rock.
If you're not familiar with airbrushing and don't want to buy extra equipment, try spraying acrylic paint over the large surfaces. Krylon and Liquitex are great to spray paint you can use for big rocks.
Both brands sell spray paint bottles individually and are hard to get on Amazon (almost all the times I check they are currently unavailable), and it may be easier and cheaper to buy it through an online art store – Blick.
---
Best paint for base coat on rocks
Any white or black acrylic paint can work as a base coat on rocks.
Make sure you covered the stone evenly, and let it dry fully before painting (24 hours). Don't make the base coat too thick as it will take longer to dry and may crack if it is too thick and not fully dried over time.
If you're buying rocks online you'll find a lot of stones already with a white base coat.
Better to use the same paint brand both for base coat and painting, at least, make sure you don't use paints of different types, ex. solvent-based and water-based.
An alternative may be a Latex primer preparing walls for painting or gesso.
---
Best glow paint for rocks
Glow in the dark or fluorescent paint allow us to make a cool design that will light up once it's dark. It is extremely fun for kids, but adults also love them! Of course, you can use glow paint for river rocks!
The classic choices will be Tulip Glow paint and FolkArt Neon Glow, but here are 2 more alternatives:
Remember that the paint should fully dry before you can test it in the dark.
It will also need to recharge as all fluorescent objects.
---
Best paint for rock mandalas
To paint rock mandalas you can use any acrylic or water-based craft paint that is not thinned too much or not too thick. Acrylic paint is the best for stones and mandala painting, ex. Deco Art acrylic paint.
Decoart Americana Acrylic paint is a professional artist-grade paint for diverse surfaces, including rocks. It is one of the best paint for decorative rocks on the market and will work great for detailed work as mandala painting.
The painting set includes 12 color bottles of 2 oz each.
Fluid paint has a nice consistency, high pigment ratio, the choice of colors: dark chocolate, slate gray, carousel pink, white, lavender, desert turquoise, lamp Ebony black, true blue, bright orange, true red, sour apple green, cadmium yellow.
To paint a beautiful mandala with a lot of precision you'll need special dotting tools. Mandala painting tools normally include acrylic rods of different diameters and rubber dot tools with balls of different diameters.
Some rock mandala painting tools kit includes also some stencils and palettes.
---
Best puffy paint for rocks – Tulip Paint
Tulip Dimensional paint is the best puffy paint for rock painting and craft projects.
Basically, puffy paint is known to be used on fabric, but you can use it directly on the rocks too to create textured designs.
Tulip puffy paint is washable, which means it will work ok with outdoor and you can hide your painted stones.
The set includes 20 colors: 10 of them are neon, 10 are regular. They are vivid and easy to apply.
---
Best Acrylic paint pens for rocks
Pens and markers can easily replace paint for rock painting – they are easy to use, and you don't need extra tools: no paintbrushes, nothing. The best paint pens for rocks are Artistro, but I'll also list 9 more alternatives.
Also, you can use black pens for outlining finished paintings.
Artistro –

the best paint pens for rocks
Artistro pens and markers are premium acrylic pens for artists creating crafts projects. They offer great and consistent flow, vibrant colors, and are fast to dry. Easy to paint with and will be a great gift for beginners.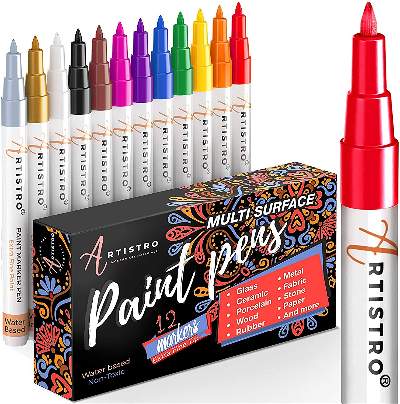 You can choose the size of the tip from extra fine to medium, and all tips are non-dripping. Artistro acrylic paint makers are water-based, opaque, and have a glossy finish.
The sets come in all varieties from 12 to 42 pens. The most popular set is a set of 12 extra-fine acrylic markers for detailed work, outlining, and rock painting with a 0.7 mm tip.
You can also buy a set of metallic gold and silver pens for painting or outlining.
Artistro paint pens are more for adults as they need gentle use and attention (can dry out quickly), so I won't recommend them for kids.
---
Uni-posca Paint Marker Pen Set is a bundle of 3 different types of markers: extra-fine, fine, and medium. It includes 42 pens total.
Great versatile bundle for all kinds of projects. These makers are lightfast, which means fade-resistant, and waterproof once dried.
Uni-Posca markers work great on stones, even for kids, as they are super easy to use and correct mistakes if you've had some.
The disadvantage of such a bundle is its price: it will cost you around $70, while a simple set of 12 by Artistro costs only $16.
---
Jr White acrylic markers set is a versatile and affordable set of 12 pens with medium tips.
They are acrylic, which means water-based, and dry to satin to gloss finish. Jr White acrylic pens are smooth to use and will cover all kinds of surfaces from paper to Halloween pumpkins.
Very durable and long-lasting pens, in fact! No surprise they are bestselling on Amazon among the best rock paint pens.
Kids under 3 should use them only with their parents, even if these pens are non-toxic and safe. Don't forget to shake them for good 15 times (10 sec) before using.
---
Imagine It Art has a set of 14 medium acrylic markers for rock painting and other crafts. They have a unique feature – a reversible tip – you can switch between the round medium tip and chisel tip.
Imagine It set is very affordable – only around $15 for 14 markers. Once you buy them, you will get an e-mail with an e-book with inspirational designs.
Good markers for kids between 6 – 14 years who want to have fun with rock painting or scrapbooking. I guess that boys will be less happy with them than girls as the handle designs are quite glittery and shiny…and pink 🙂
---
Reaeon produces permanent acrylic paint pens for stone painting. They are high quality as they are fade-resistant and waterproof, smooth and fast drying, but at the same time they are extremely cheap – the set of 14 different colors costs only $8!
All pens in the set have a medium tip and are highly pigmented. For less than $10 Reaeon acrylic pens for rocks offer fantastic value for money.
---
Niutop acrylic paint markers are one of the most popular choices for rock painting among beginners.
They are quite cheap, work with diverse surfaces, and the set comes with 24(!) colors with extra-fine tips. Moreover, they are weather-resistant, which makes them perfect for hide-and-seek stone painting.
The flow is smooth and the coverage is quite opaque, and as the tip is extra-fine, Niutop pens are great for details and outlining.
As they work for glass and other surfaces too, they are dishwasher and oven safe, so you can seal paint on glass or ceramics.
As I said, they are bestselling and the most common Pros crafters will mention value for money, of course, and easy to use and to handle (which is also important while you're working long enough for your hands to get tired).
---
If you want a versatile set of paint marker pens – Moxix made one very affordable for you. Their set includes regular and glitter colors for rock painting, and also metallic (gold and silver).
In total there are 32 vibrant wear-resistant colors.
Moxix pens have fine tips, no-dip, and no-leak cups, they are safe and, most important, waterproof.
However, the most common issue with these pens is that they don't last long.
---
Metallic marker pens are gorgeous for some projects, mostly used for mandalas, dots, shining, and glitter imitation. Boxun pen set includes 10 metallic colors: Gold, Silver, White, Pink, Olive, Green, Blue, Black, Purple, and Brown.
The ink is water-based, dries quickly rich in pigment, and is smooth to flow on paper or rocks.
The brand provides 90-day money-back guarantee. In general, customers love these pens for their simplicity and value for money. If your friends love painting, they can make a nice gift – as metallic is something fancy!
But I've heard that they are not waterproof and not dishwasher safe at all.
---
ARTIZCO paint markers set of 18 vibrant colors is amazingly versatile: it includes regular colors, metallic and glitter colors with 2 tip sizes: a medium 3 mm tip and an extra-fine 0.7 mm tip.
The pens work on most surfaces and state to have very high-quality standards: water-based Italian inks and Japanese nibs for artworks on paper or rocks. However, glitter pens won't work on some non-stick surfaces like glass and wood.
Easy and fun to use: no leaks, no streaks, no clumps! The most common issue with them is that they are quite short-lasting and can dry out fast.
---
Best paint brushes for rocks
Painting rocks you can use different techniques: you can paint using regular brushes, sponges, or even do pour painting.
Most river rocks are about 2-3 in. so it is better to choose small round synthetic brushes for detailed work or miniature paintbrushes – choose sizes from 0 to 3.
If you are a miniature painter you can use your miniature brushes for rock painting as it also has to be detailed and thin.
My advice would be to buy a set of brushes to decorate rocks, as it will be easy to use and cheaper too. You don't need fancy professional brushes for rock painting, after all.
I won't review all brushes on the market as I have a separate big buyer's guide for acrylic paint brushes, but I will list 3 paintbrushes set you can use for rock painting:
---
best sealer for painted rocks
Once you painted your rocks with paint or markers, let them dry.
If you want to keep them outside, you have to seal the painted surface.
If you will store painted rocks only indoors, you can skip the sealing but I would still recommend sealing rocks as a protective layer keeps dust and scratches away. (Acrylic paint attract dust!)
For a cheap option, for indoor use, you can apply 2-3 coats of regular Mod Podge to seal painted rocks. A 4 oz bottle costs around $3 only.
A more professional option would be any spray sealer for acrylic paint, I prefer Winsor & Newton Professional Gloss Varnish spray and use it for paper, canvas and rocks.
---
Best paint for rocks FAQ
What paint should be used when airbrushing rocks?
If you want to achieve smooth finish best paints for this purpose are enamel-based or acrylic sprays available in various finishes such as matte or glossy.
How much time does it take to paint a rock?
It all depends on the size of your project; the best idea is to start with small rocks and then scale up as you become more experienced. Rock painting can take from 5 min to as much time as you want!
What are the best paints for painting stones?
For this type of painting water-based acrylics best serve in terms of both drying time and coverage, they come in various colors too. Try FolkArt for Rock designing and Arteza Outdoor acrylic paint.
What are the best rocks to paint on?
You can paint on any rock regardless of whether they are smooth river stones or jagged lava rocks as long as you choose one that has been cleaned well and allowed plenty of drying time before starting the project.
How do you prepare rocks for painting?
Pick out your best rocks and clean them off with water and soap.
Sand down some edges if needed for better adhesion of the paint.
Lightly go over them with vinegar and water on a sponge or paper towel so there is no dust and debris on the surface before painting them.
Paint a base coat or prime a rock with a primer. And let it dry completely before painting.
What is the best paint for outdoor rock painting?
Make sure to use paints specifically meant for outdoor painting because many paints will not hold up due to weathering from rain, sun, etc. – it is called weather resistant. Most acrylic outdoor paint is durable, like Arteza Outdoor acrylic paint.
Does acrylic paint wash off rocks?
Acrylic paint is water-based and can be diluted or washed off with water when it's wet. Once it dries it becomes water-resistant. Still, it is better to apply a sealing coat to protect the painting. Read the label carefully to find out if the paint is dishwasher safe or waterproof.
What are the best paint pens for rocks?
Artistro sets of acrylic or metallic marker pens are the best paint pens for rocks on the market. You can check more alternatives here.
---
5 Rock Painting Ideas
1 – Lady Bug
One of the easiest rock painting ideas is to paint a lady bug. You only need 3 colors (red, black and white) and can use both acrylic paint or acrylic paint markers.
2 – Simple landscape
Youcan paint river or lake and mountains, forest or even a lighthouse.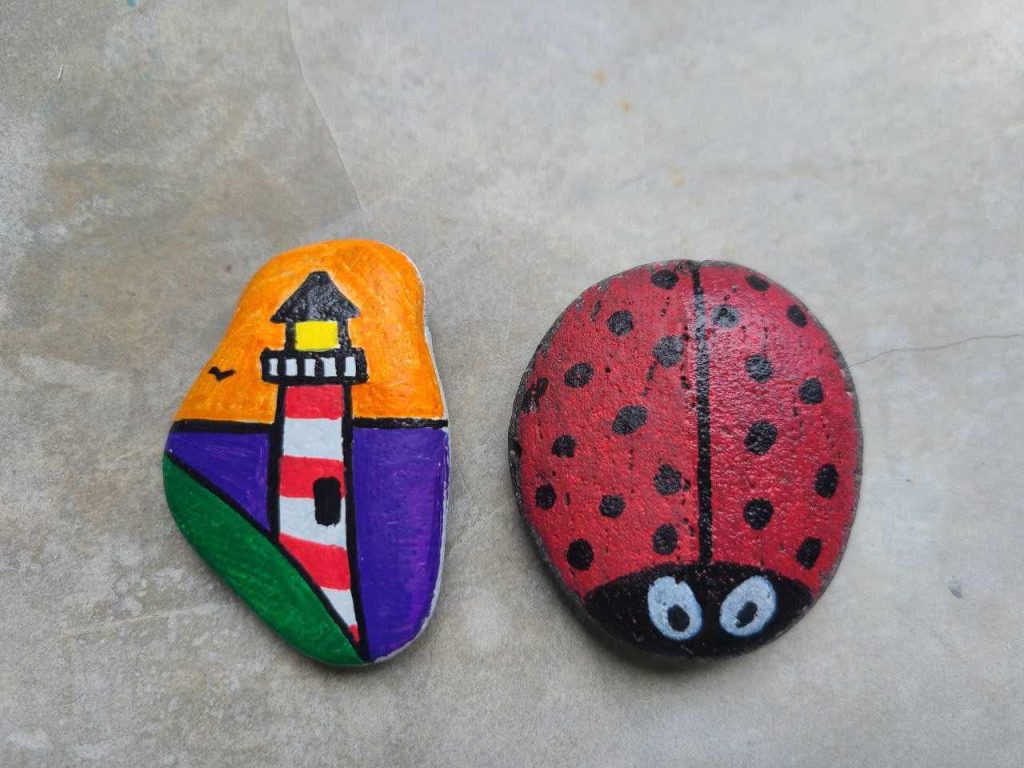 3 – Easy leaves and plants
4 – Be inspiring
We all are going through our own struggles. Scientists already proved hundreds of times that good intentions and setting up a good mood help with our mood and decisions a lot.
You can write something inspiring, positive and uplifting on some rocks.
Some people just put a meaningful word like Hope, some use a strong motivation like You are worthy. Put something that really resonates with you, even if it is a colorful rainbow.
5 – Houses and stores
Flat rocks are perfect for painting cute miniatures of a town, a house, a scene in from of the shop… You can have whole series!
There are so many Facebook communities sharing painting on rocks and so many creative ideas – imagine, they are even drawing Star Wars on rocks, this is incredible! At the same time, I feel like we are elevating a bit the legacy of our ancestors… leaving all these colorful rocks, lol!
Anyway, if you are as crazy crafter as I am, you probably want to try different things, so here we go: