Are you looking for a perfect set of paint pens that don't bleed, dry out after first use and give amazing results on diverse surfaces? Good news is you can get all of it in one set without overpaying. Then you sure have to check my first impression and Artistro acrylic paint pens review.
Artistro paint pens are great for rock painting, drawing and coloring pages. Artistro paint pens are water-based acrylic markers, absolutely non-toxic, extremely versatile and made with Italian pigments and performant Japanese tip. All colors are opaque or semi-opaque, offer amazing coverage and are easily washable or sealed to make them permanent.
I've used Artiqo, Posca and I am now testing Artistro paint pens to see which one I prefer more. After using Artistro for 2 weeks I'm pretty sold. Why? I'll share every detail just now!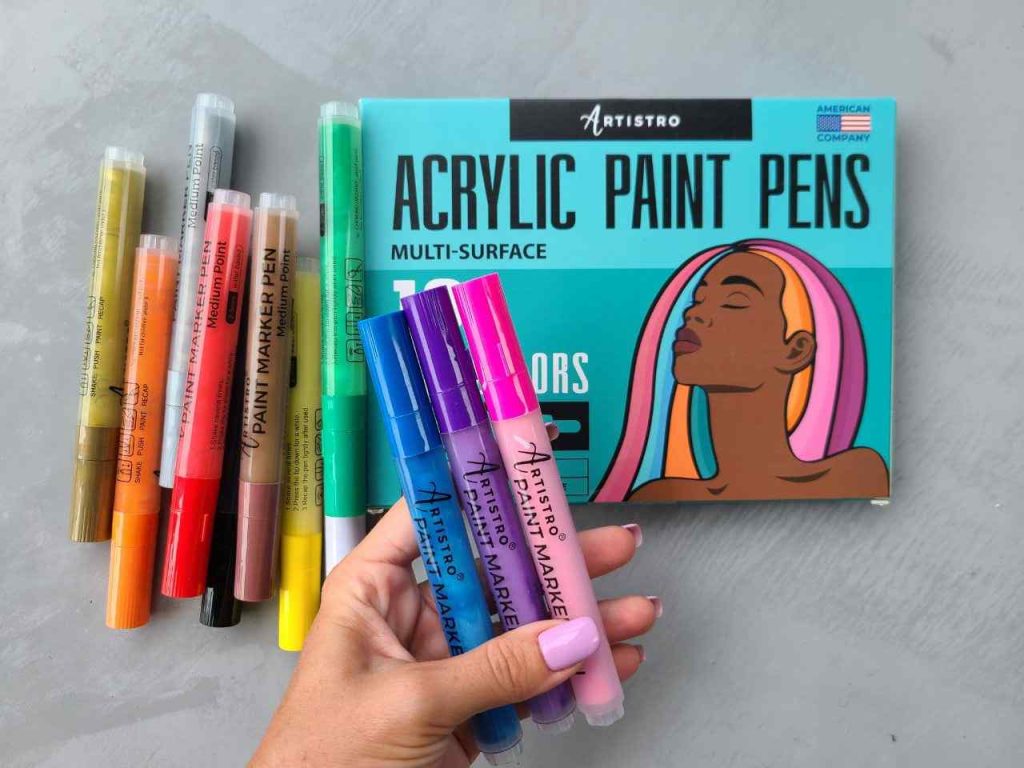 ---
About Artistro
Artistro is a growing art supplies brand encouraging artists and crafters of all levels to explore their creativity further. And they went smart about it: they produce and sell everything from paint and pens to perfectly cut wood slices for your art, as well as share free coloring pages and stencils.
The blog curated by Artistro is a true treasure for beginners in drawing and painting and they don't miss any trends with their fun tutorials. Highly recommend to check it!
Additional facts
Artistro was started in 2015 and it is a family business
Artistro team supports art by donating to creative organisations from your purchases.
They have 500,000+ followers and subscribers across various social medias. I find their Youtube channel being very useful and straightforward.
More than 20 products available today with me testing acrylic pens today.
50,000+ super positive reviews on Amazon for best selling products (more than Posca)
Shipping: US, Canada, United Kingdom, Australia, France, Germany, Italy, Japan, Netherlands, Poland, Singapore, Spain, Sweden, United Arab Emirates.
---
My Honest artistro Acrylic paint pens review
So I'm mostly working with acrylic paint, pouring paints, and sometimes I explore epoxy and other crafts, including paint pens. I have Posca pens, Artiqo oil-based pens and now I have two set of Artistro paint pens (acrylic markers and metallic outline markers).
This is my personal opinion and I will mention separately what other people say to give you a bigger picture. I also was (and am) in contact with the brand and I made sure all information is accurate in this review.
If you will decide to try any paint pens from Artistro on Amazon please use this code ACRYLICMARIA to save extra 10%.
It is my affiliate link which means no extra costs for you, but little commissions to me that help me run my blog and buy art supplies.
If you prefer video reviews, here is my lengthy and fullest review on Artistro paint pens:
---
Paint Pens Overall
Artistro paint pens have minimalist yet functional design just like I prefer, fatty pen with good simple lid (easy to close tightly) and a cool feature of all Artistro pens is their transparent body so you can see exactly how well you shaked the pen and how much ink left. Super convenient.
Easy to activate and easy to paint/draw with these pens as well, you will see later on that I've tested them on paper, canvas pad, glass and a rock and I was not disappointed at all. And that's no wonder – the paints are as pigmented as promised.
They are also easier to wash off if you made a mistake or just somehow drew or got ink on your table or floors (just with water I cleaned my table). For me it is a pro, as it means pens are more forgiving and suitable for all levels and all craft rooms 🙂
Tip
The set I've got has medium tips, which means a 2-3 mm stroke. The pens use Japanese nylon nibs, the ones I'm quite used to, they do prevent flooding, jamming, and messes.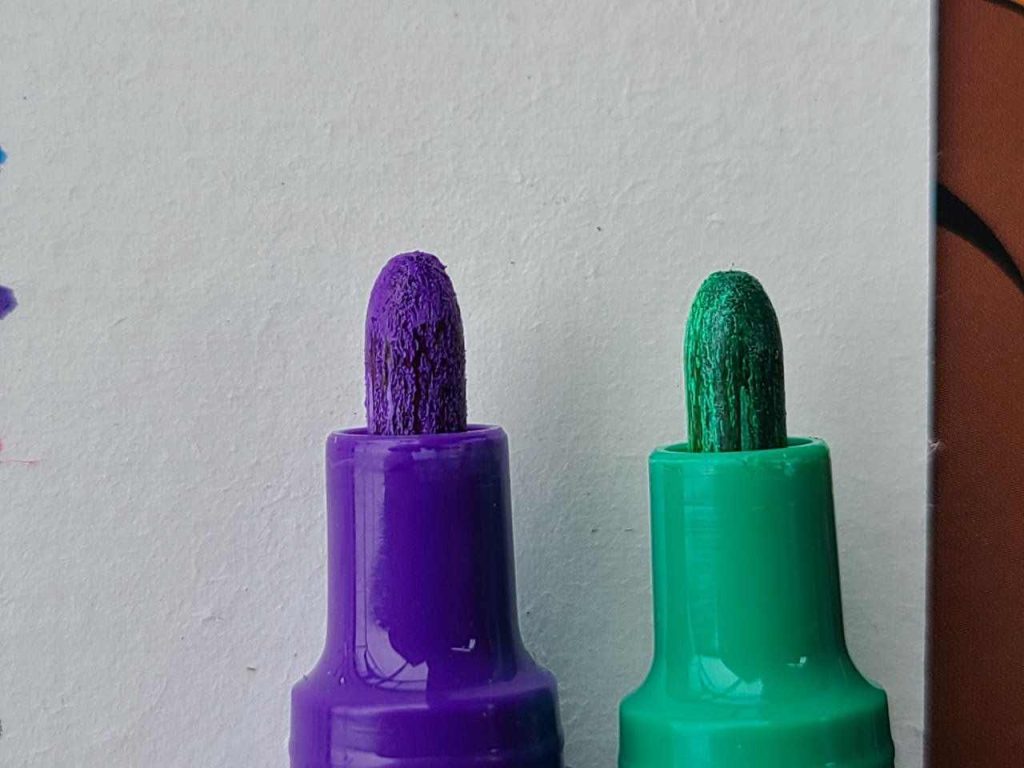 So far, none of the nibs bled or made a mess. While when I was using another brand, 4 or 5 medium tips bled after the first use already.
In total, Artistro has a few tips available:
extra fine 0.7 mm
fine 1mm
medium 2-3mm
brush 1-3mm
special tips (metallic outline markers etc)
So you can always get specific markers you need for your project, and the brand also sells black or white pens separately.
Colors
The set I have has 10 bright opaque colors: black, brown, orange, green, yellow, white, pink, red, blue, purple and 2 metallic colors: gold and silver, so 12 in total which is more than enough for beginners.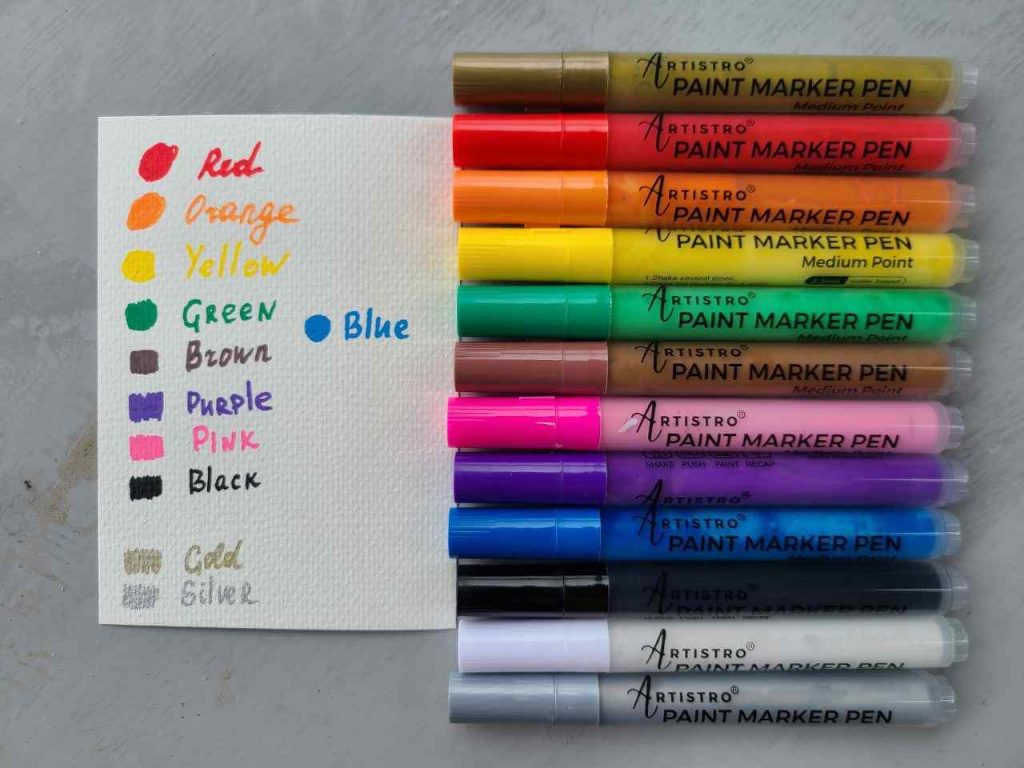 All of them are highly pigmented (Aristro use Italian acrylic ink) and vivid even on rough surfaces like wood or non polished rocks. At the same time, on non-porous surfaces like glass the ink doesn't run or spread.
Coverage and Finish
Splendid coverage with just one layer and Artistro acrylic pens dry to a quite durable matte finish.
I've tested Artistro on many surface and the coverage is great on papers, canvas, fabric, wood, primed glass. Paint pens don't cover well unprimed glass (as it is non porous and most paints and pens won't cover it anyway) and unprimed plastic.
As a side note, over gesso colors look shinier than over unprimed surfaces, but in general all color are slightly glossy while wet and matte when dry.
Opacity / Transparency
Most of the colors are super opaque, only white, pink, red and yellow are semi-opaque but with two layers it will work fine. Orange seems to be more transparent and won't cover darker colors.
White is not opaque enough to cover up and be layered over any colors with one single layer, but it will be enough to add highlights and accents. Just make sure the underneath color is dry as white can mix with it.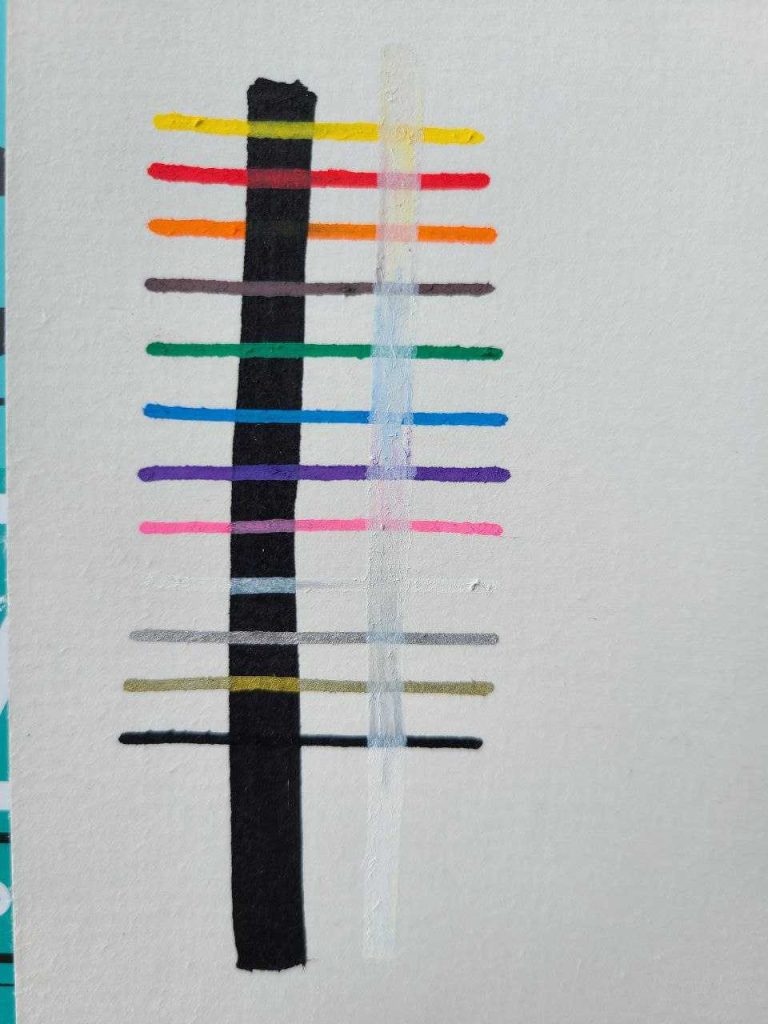 Mixing and Blending
I've heard a few ways of blending the pens so I'll try them with Artistro. Normally pens don't really blend well as they are fast-drying and quite permanent.
With regular acrylic paint we can always add water and still have at least 20 min to blend, but with pens we don't have that luxury.
Remember a few colors are semi-opaque or semi-transparent? Using these colors over more opaque ones will allow you to blend some beautiful sunsets!
Another technique that requires lots of practice and patience is wet blending:
pump a bit more ink from the pen
add second color next to it and also pump more color, so you can see it is wet.
get a regular brush, wet it and blend the colors.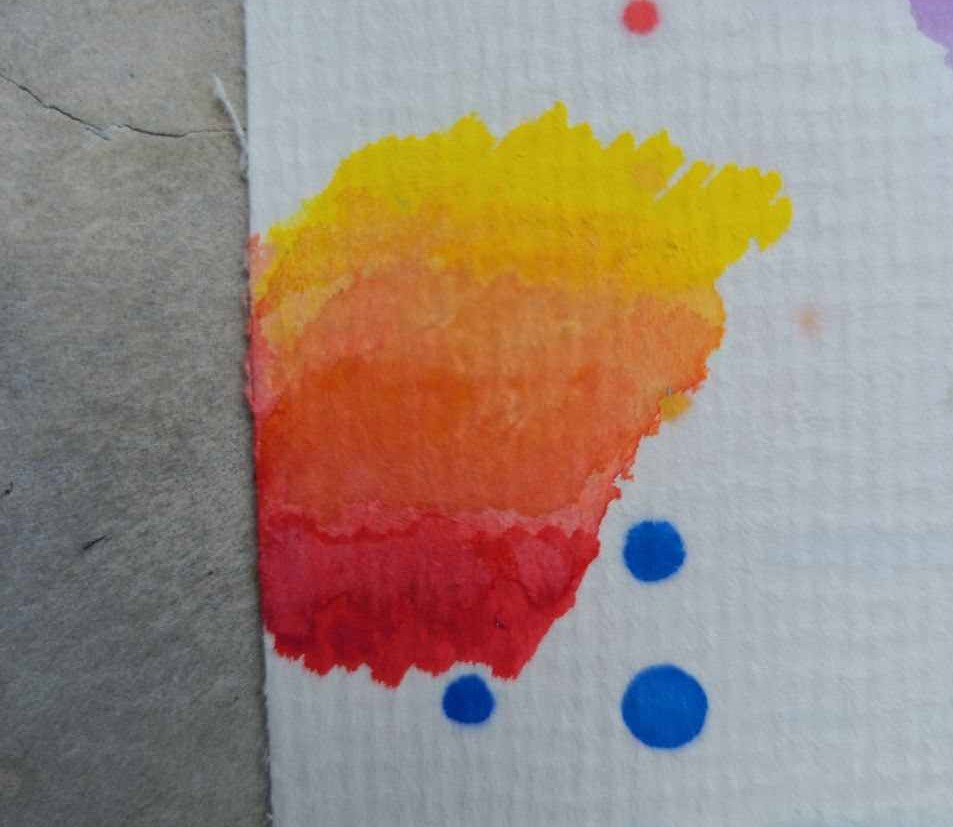 It gives a nice results both for mixing and blending, but you can even imitate watercolors like that! But of course pens are not made for this, so regular paint will perform better with blending.
Drying
Pens do not dry immediately but as all acrylics they do dry pretty fast – within 1 minute. While wet they are still semi-glossy but you can notice that they are drying as they become matter.
Surfaces
Artistro paint pens work on almost any surface: rocks, ceramic, glass, metal, plastic, vinyl, wood, fabric, canvas, paper (even glossy), postcards, scrapbook journals, cardboard, polymer clay, pumpkins, leaves, denim, and more.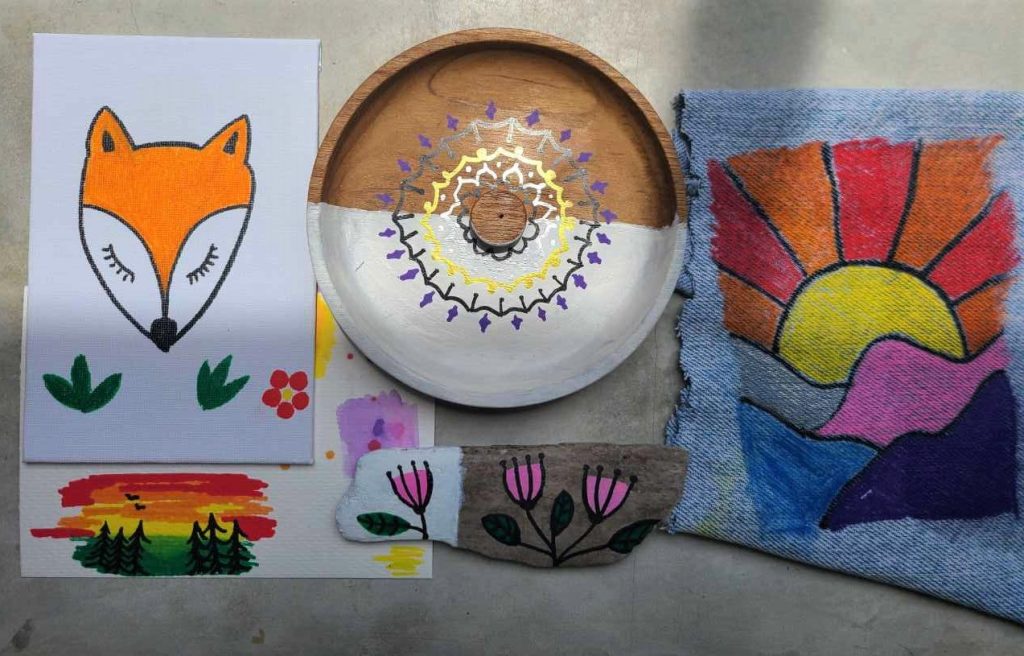 They are best suited for drawing on smooth wood, rocks, paper, canvas and glass or ceramics. On fabric and leather with smooth texture Artistro pens also works, but not as good on rough fabric or cotton. They are also more prone to fade on fabric.
I absolutely loved Artistro pens on paper, wood and rocks – very satisfying! I was impressed that on primed glass it stayed pretty water resistant and the colors were amazing. Metallic colors are so so so good on glass and wood!
Safety
Artistro love both humans and animals and the pens were never tested on animals and are safe to use for kids 3+ and for adults as they are completely non-toxic. Though not food-safe so please don't paint inside on plates or mugs with them).
I should also say that they are pretty much odorless, even metallic colors (with other brands I felt pretty strong smell from metallic pens).
Durability
Paints are sun and water resistant and they don't fade, I will update after a few months how lightfast were my colors but I've seen people having outdoor decoration painted with Artistro withstanding sun and rain with no issues.
My water test showed that on wood and rocks they are water-resistant even with no sealant!! I used satin Mod Podge (a few layers) and it makes Aritstro pens even more durable and resistant on denim, glass, rocks and other surfaces.
Support
The team is very helpful. I rarely see brands going even to Amazon questions and diligently replying to people, but they do. They have friendly email support as well.
For all main concerns they've created short instructions on their youtube channel, blog and Instagram. In the blog they share easy tutorials and you can download free coloring pages and stencils, isn't it how craft brands should be?
I'm saying this because I personally trust more a brand that is real, living and creating and sharing things. I think people trust less brands that only have a store on Amazon and are not really showing their true devotion to art through social media.
Pricing
Artistro pens are affordable and yet offer Italian made pigments and great coverage on multiple surfaces. Definitely great value for money compared to Posca or Copic.
On average a set of 12-15 paint pens will cost around $13-20 which is super budget and beginner-friendly.
The set I'm using is now $13 on Amazon and you can get extra 10% off if you will use my ACRYLICMARIA code during check out. For $13 you can't get any Posca markers sets, not even Artiqo that I tested earlier this year.
---
What other people say…
There are literally dozens of thousands happy reviwes on the Internet about how amazing Artistro pens work on rocks, cardboard, wood and other surfaces. Truly, Artistro now is the best rated paint pens on a budget on Amazon.
| Artiqo rating | Aristro rating | Posca rating | Copic rating |
| --- | --- | --- | --- |
| 4.6 out of 5 | 4.7 out of 5 | 4.8 out of 5 | 4.8 out of 5 |
| around $16-17 | around $13 | $27-60 | $70-95 |
People use them for years and stay loyal to the brand, as these pens don't dry or clog up, have beautiful color selection and are affordable.
True fans buy ALL the sets lol but they never regret it, and I'm pretty sure I will choose Artistro from now on.
Even tho Artistro is always in touch with artist and crafters and sends them out new products to test, every time I watch such a review on Youtube, I scroll down to the comments section and the people are just genuinely so supportive and sharing what Artistro sets they tried and how they love them.
---
Artistro Paint Pens vs Posca
Posca is one of the major actor on markers market and yet people are comparing and looking for cheaper and ultimately better alternative.
To give you a perspective, Posca pens are Japan-made, great quality markers, but extraordinary expensive anywhere outside Japan. Artistro pens are USA brand and the price is the same as you can ship them in most European countries.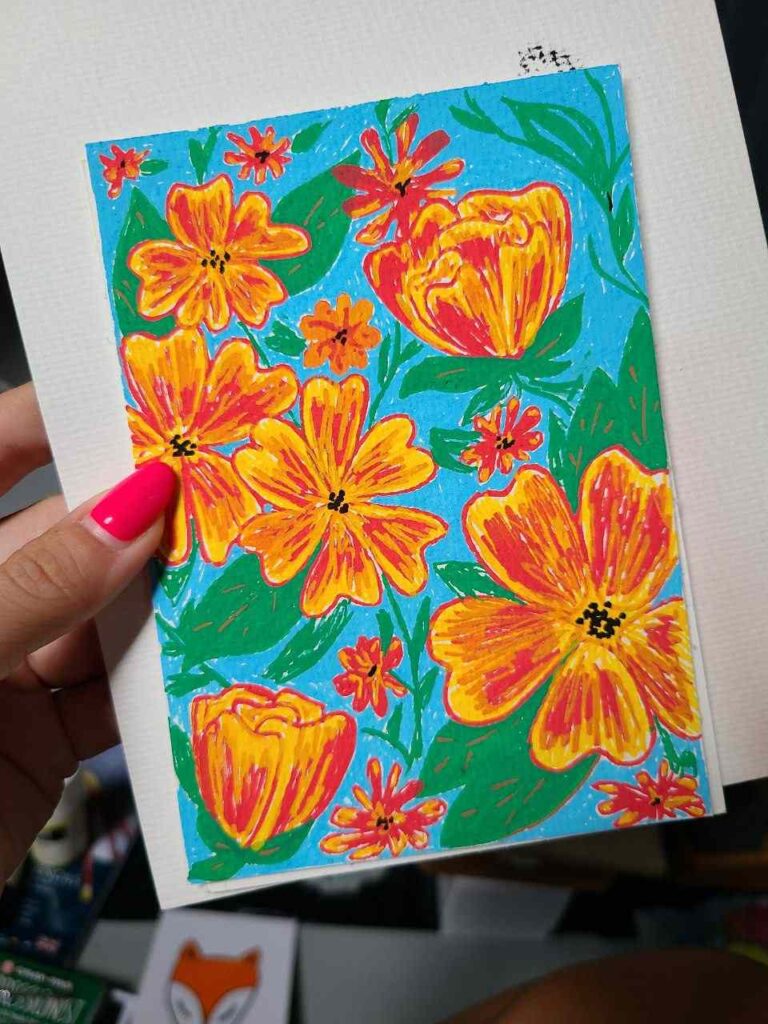 I do have both, and here are my thoughts:
Overall quality
Price – winner is def Artistro
Value for money – Artistro
Colors – for the same money you get more colors with Artistro. But overall coverage and brightness of colors are the same.
Tips- pretty much same tips Artistro use that Posca have.
Ease to use – both brands are easy to use
Durability – Artistro pens can last up to 3 years.
Well, if Artistro is as great as Posca why would I pay more? Especially if I am a beginner? I wouldn't and I only bought a few colors of posca to compare them, and I honestly don't feel like I'm missing out.
---
How To Use Artistro Paint Pens (Fabric, Rocks, Wood, etc)
What do you need (What I used to test them):
watercolor paper Canson / canvas pad / regular paper/ Cardboard / glass / rocks
---
How to activate the pens
Just as any other paint pen you need to shake well, press against paper a few times and test it on paper before drawing. It's simple as that.
Yet, I have pens to compare with. I got Artiqo pens as well as Posca. With Artiqo, each and every pen is wrapped in plastic so first of all I had to remove it, then I had to activate them and it took quite a while. With Posca it is as easy as with Artistro.
If you can't reactivate: I had this happen to me before. You can detach the tip, reattach and try activating it once more OR what I did: shake as said, press a few times and repeat until you hear the ball inside the pen.
---
How to use Artistro paint pens on paper and canvas
You can use Artistro paint pens on any paper, natural or tinted, and canvas or canvas pads.
Some people love drawing free hand, but it is ok if you want to be sure and make a sketch, just use a pencil and not press too hard on it. After the painting is fully dried you can just erase visible lines with a kneadable eraser and that's it.
Don't pump too much ink, as regular and thin paper may bleed it through.
It is easier to blend colors with water on paper on canvas.
Also keep in mind, that sometimes canvas surfaces or textured paper is a bit rough for pens and you will have to apply second layer to cover all white spots and dots evenly. I was happyto discover that Artistro leaves no strokes both on papers and canvas.
---
How to use Artistro paint pens on Rocks
Artisrto claim to be #1 rock painting markers so I was most excited to try them on rocks. While you can always buy rocks from Amazon or Artistro directly, I went to the beach and grabbed some 🙂 If you can do the same, it is fun!
I firstly washed and dried all rocks. You can let them be porous and a bit rough or you can sand them and clean again to make the surface smoother. I will try both, so one of my rocks is untreated, "natural" and the other one is sanded.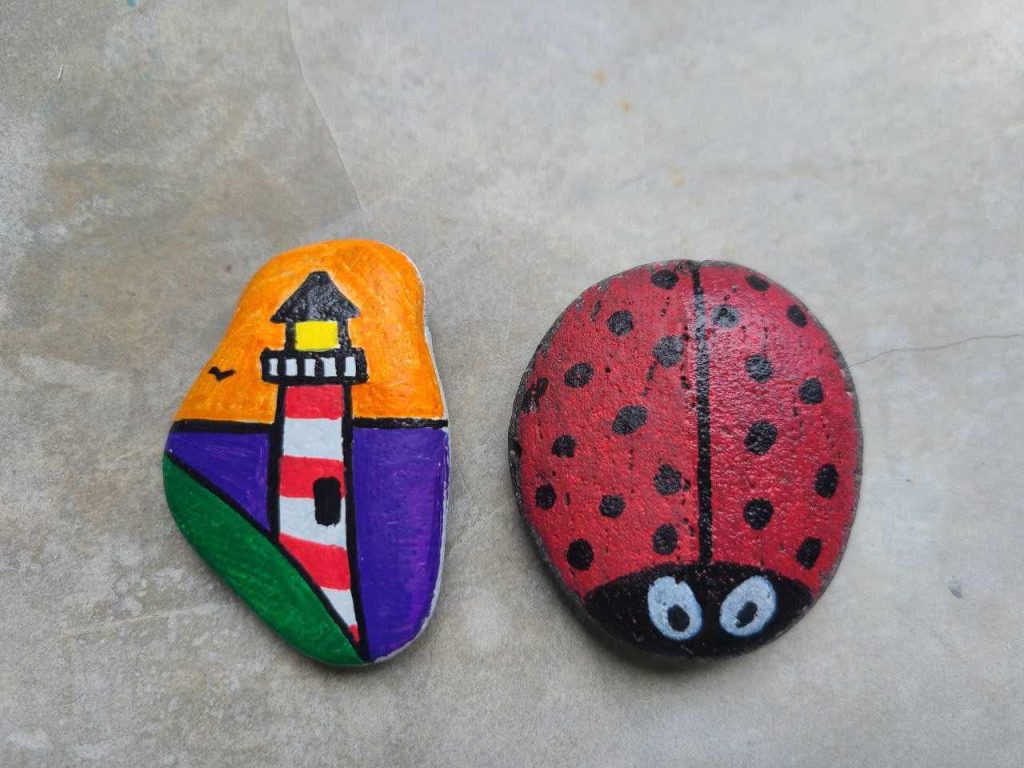 As you can see Artistro paint pens are great for rock painting, both on primed and unprimed rocks. The colors will always be more vivid on primed surfaces but with no gesso, the lady bug looks just fine! And it is on a very porous rock as well!
The coverage is smoother and you need only one layer with primed rock, but not always you want to have this bright red like on the left. I really do like the flat red of the lady bug, it looks very natural to me.
My wash-off test revealed that once dry Artistro acrylic pens are water-resistant and I couldn't remove any paint from the rocks. But for extra protection you can always apply Mod Podge, as I did. You can pick matte one, but I had a satin and I look its gloss as well.
I was so happy with these two, I put them in our garden:
---
Artistro Paint Pens on Wood
Rocks and wood are best for Artistro pens for me. I had them tested on a piece of driftwood I found on the beach (very smooth) and on a nicely prepared wooden essence holder.
As with rocks, I wanted to see how the pens will work on primed and unprimed surfaces, and I must say, you don't really need to prime wood if you have Artistro pens – they cover it great, the colors stay vivid, they stay water-resistant and dry quickly.
Even semi-opaque colors do well. But my love is metallics…The gold on wood is so beautiful!!!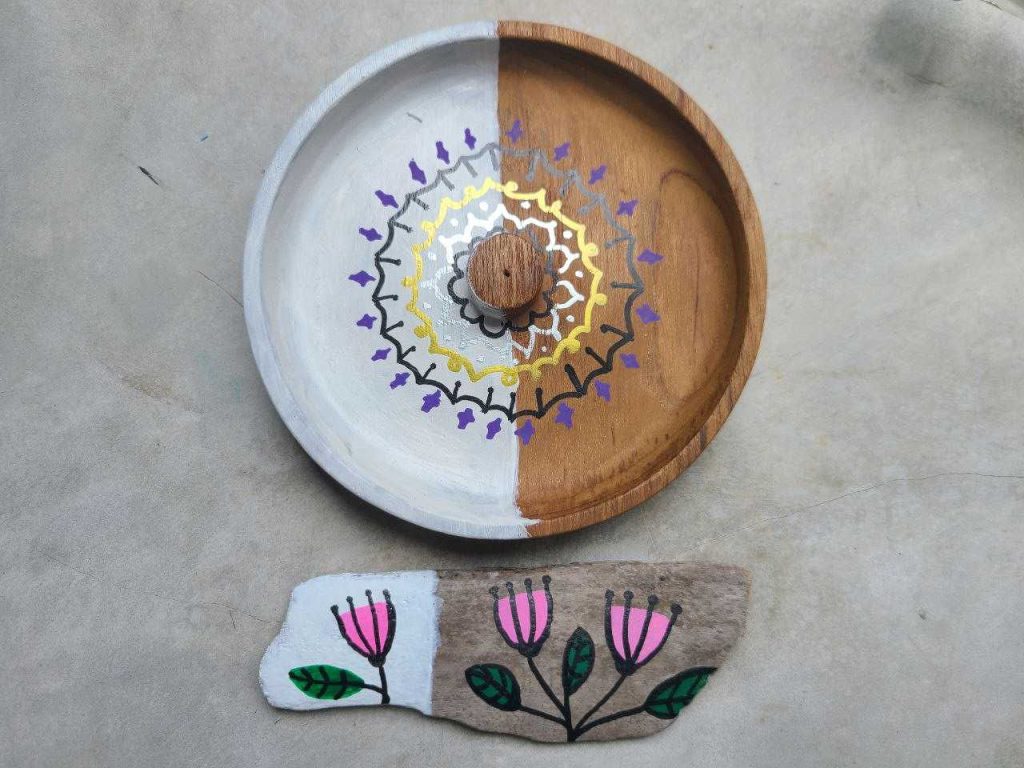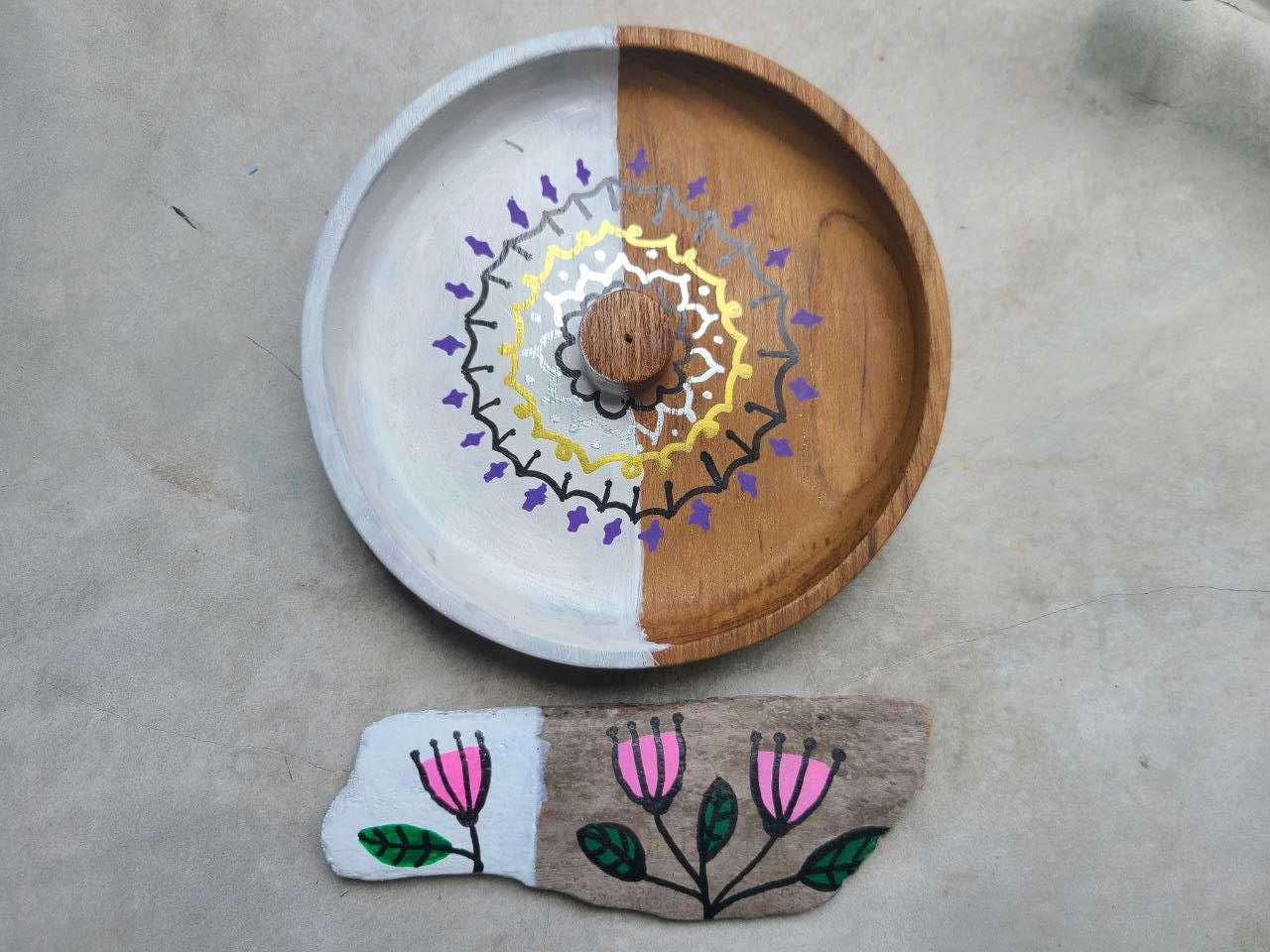 White parts were primed with gesso to compare the coverage and the application smoothness, as well as colors brightness.
---
Artistro Paint Pens on Glass
Glass and other non-porous, smooth surfaces are very tricky to paint with any kind of medium and normally nothing really sticks.
Unless you prime it! I had a clear glass bottle and I gessoed a small part to test Artistro, but I also checked how they will work on just glass surface.
So on primed part all colors look beautiful and you feel like you are just painting a canvas – that easy.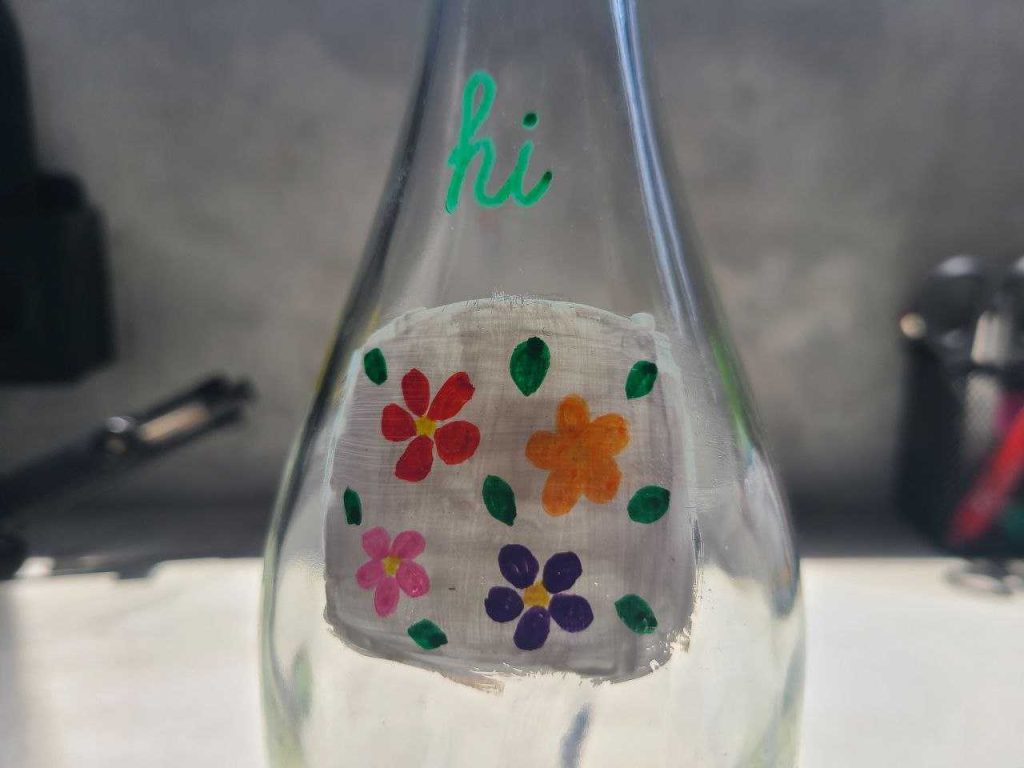 But on clear glass with no gesso, metallics work the best, and colors will need extra layers or you can use dotting technique to make the object look textured while applying only one layer.
Without sealer, even dry paint is easy to remove (with a cloth or if you will scrape it). So you can decorate your windows for holidays with no issues 🙂
How to use and heat set Artistro pens on fabric and Shoes
You can customize your T-shirts or Nikes with Artistro pens easily, using stencils or just going free hand. Make sure the item is clean and fully dried before you will draw on it.
Once you've done Artistro recommends you to heat set fabrics with an iron putting a cloth in between iron and fabric. Then you can wait 3 days, hand wash the item and it is ready to shine.
I've tested Artistro on denim and all colors performed very well, even though I had only quite a rough denim piece.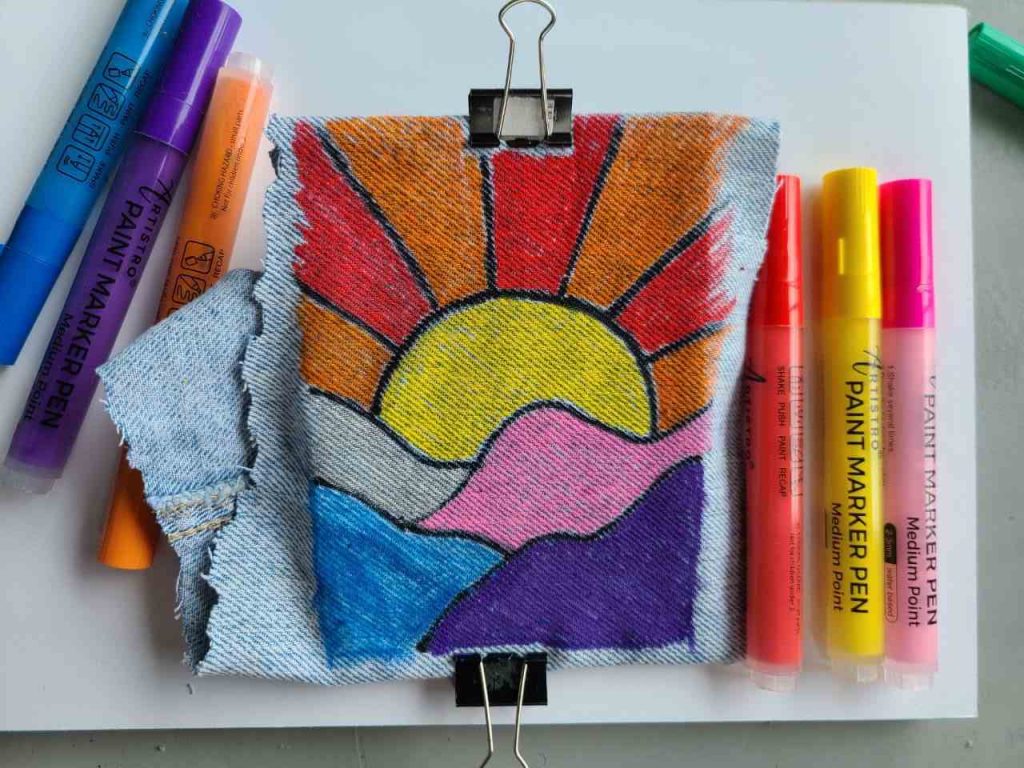 The ink is light and flexible, and doesn't make the fabric heavy. I also applied Mod Podge on half of it to make it more permanent, as without a sealant the colors will fade or loose brightness. Don't worry, the mod podge is white-ish only while wet.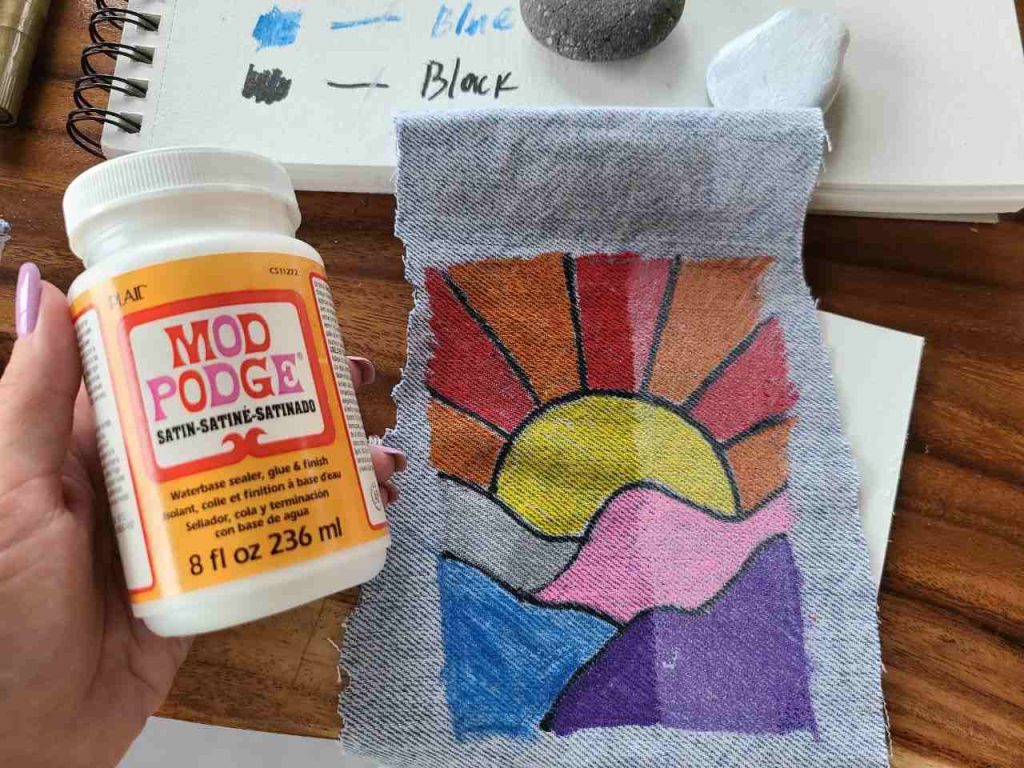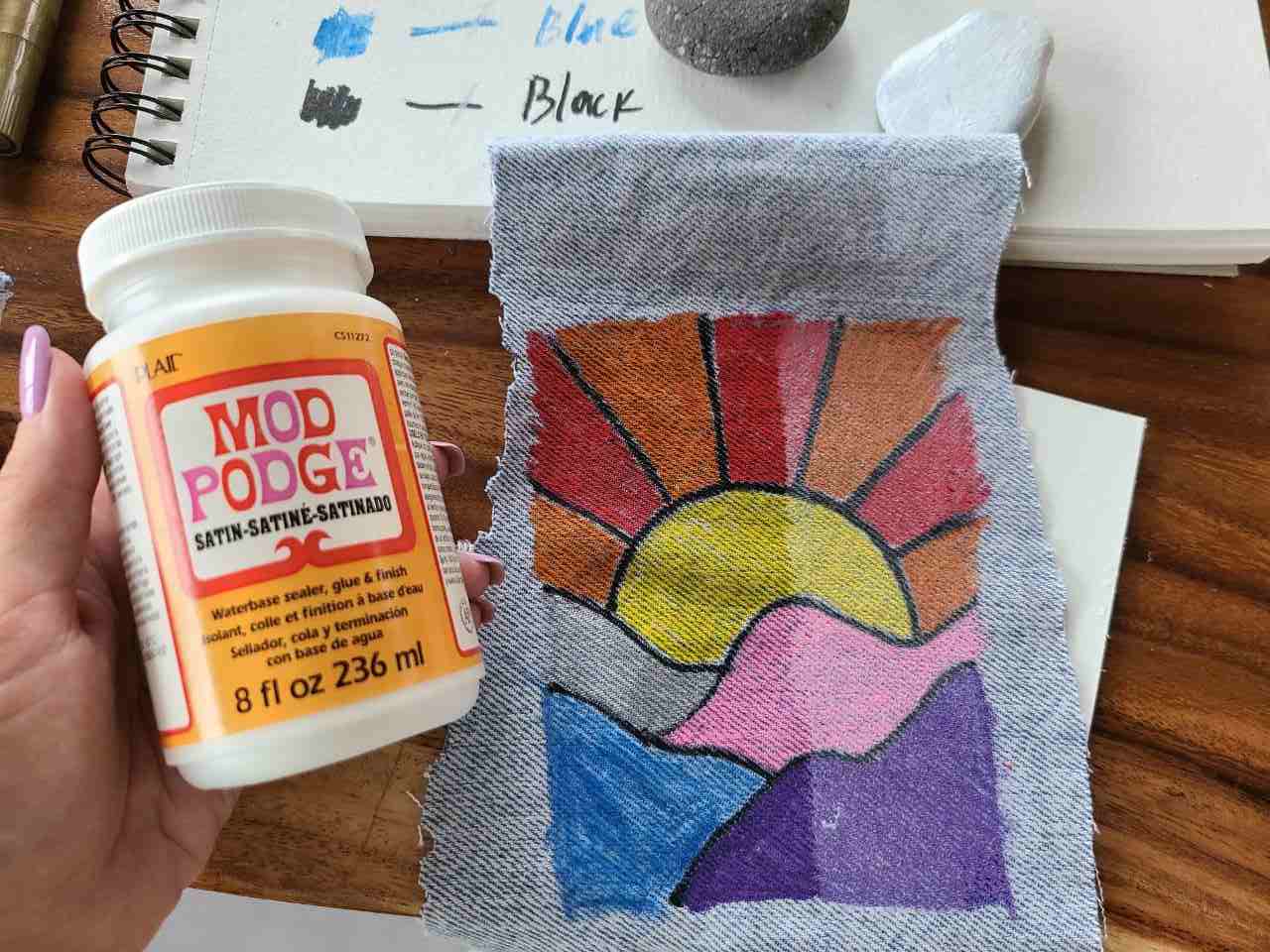 Read also: Can You Use Acrylic Paint on Shoes? Full Guide & Supplies
---
How to Seal Artistro Acrylic Paint Pens
To make Artistro pens permanent you can use Mod Podge, any spray sealer or varnish on paper or canvas. If we talking fabric – heat set it, if ceramics or glass – bake it. This way the ink will stick permanently to the surface and you can hand wash the item and even keep it outside.
If you are painting and drawing on rocks, both sealed and unsealed last pretty long, but to be extra sure, same Mod Podge will work.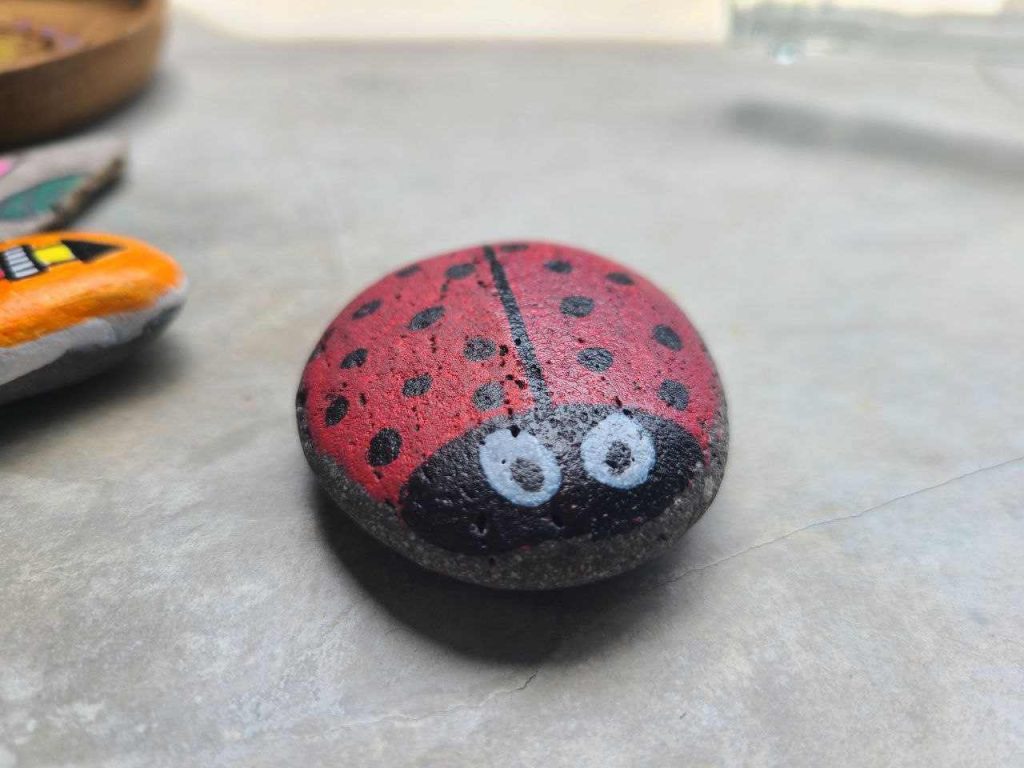 ---
How to remove Artistro Paint Pens
If you haven't yet varnished or sealed your drawing, you can easily remove the ink with just warm water from glass, plastic, or other non porous surfaces. Just use a soapy water and a sponge and gently scrub to get it off.
I've noticed that once dry just water won't be enough to remove it from denim (fabric), rocks or wood, so you will have to use removers or rub it better.
As many crafters say you can also use regular nail polish remover or Windex to soften dried paint and remove it.
From paper it will be more challenging as paper soaks in the paint well and water will just make washes with the ink and excessive use of water can warp the paper.
---
FAQ
where to buy artistro paint pens?
Two main options to buy Artistro paint pens online are Amazon and official brand's website. Shopping online via Artistro website you can subscribe to their emails and get a 15% discount as well as 6 ebooks on how to use pens in the best way.
If you shop via Amazon (US and Canada) you still can get a discount with my code: ACRYLICMARIA to get 10% off
As for now Artistro paint pens are not available at Michaels, but you can find them at Walmart.
Artistro paint pens baking instructions
Not all acrylic paints or markers are bakeable. And yet, Artistro acrylic markers are good to go in the oven when you paint porcelain, ceramics and glass.
To bake a mug or a glass painted with Artistro paint pens, you should wait at least 24 hours until it is fully dried and then follow these baking instructions provided by the brand:
Put dried item in the cold oven.
Set the temperature at 350F (180C) and bake for 1 hour.
Turn off the oven, open the door and let the item cool down inside around 24 hrs as well or at least overnight.
The item can be dishwasher safe (but not on the top shelf) but Artistro recommend only hand-washing. And some crafter did use baked mugs in microwaves as well without messing up the design.
are artistro paint pens waterproof?
Artistro paint pens are not waterproof just by themselves, but once dried you can either protect the drawing with a sealant or varnish or bake it if it is glacc or ceramic. This way the paint will become waterproof and more durable.
At the same time on rocks and wood, as well as canvas and fabric Artistro paint pens are quite water-resistant once dry, same as regular acrylics.
Are artistro paint pens permanent?
While still wet Artistro paint pens are not permanent and you can wash the ink off with wet cloth. Once dry and properly sealed they will be permanent and will last for years.
Without sealant there is still a chance that the ink won't be 100% permanent so be careful cleaning your painted item.
How long Artistro Paint Pens Last?
Crafters report that Artistro paint pens still work great even after 3 years which is extremely impressive for paint pens, as I saw my Artiqo pens dried or bleed within 2 months.
As for official statement: the Artistro warranty is 1 year, although some people from the team have Artistro sets, and those have stayed active for 2 years.
Yay, good news!
---
Final words
I hope I got you excited to try something new today and expand your favorite art supplies list with these Artistro pens.
To recap, these acrylic paint pens are non-toxic, multi-surface markers that come in sets of 12 to 30 colors, dry to smooth matte finish and last for years both indoor and outdoor!
If you are trying them, let me and Artistro know how you liked them and send us your art 🙂