Acrylic painting is a versatile, fun-to-use, and very performant medium. A beginner starts to paint with a wet brush on a dry canvas, but there is so much to explore.
Technically, I've learned what acrylic painting techniques are called after I tried them experimenting.
Be curious, be creative and you will find your own techniques.
No time for research?
I got you covered – all acrylic painting techniques for beginners are here!
I've tried to briefly describe the principle of each technique and to illustrate it with a short video.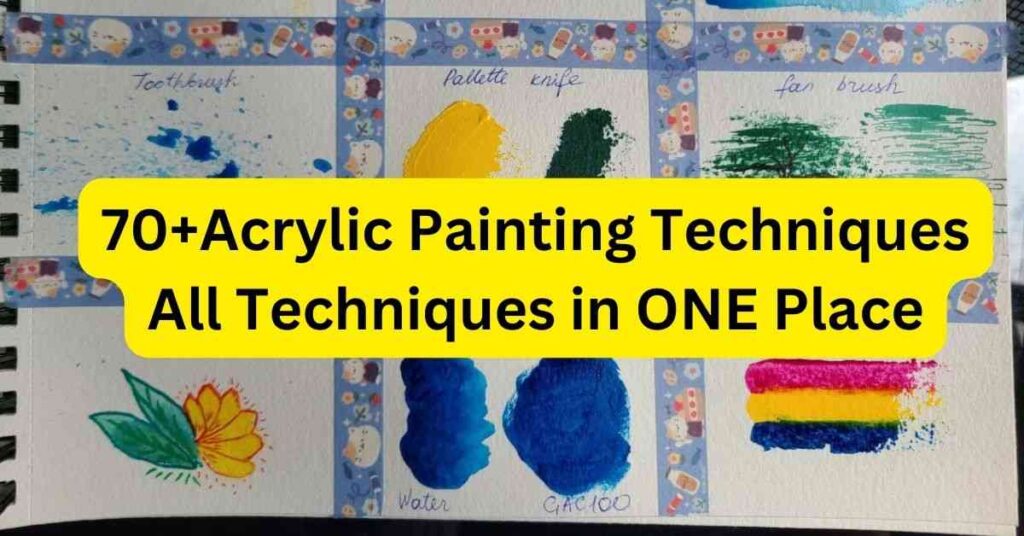 This article may contain affiliates. It means if you purchase anything using my links, it will have no extra costs for you, but I will receive a tiny commission that will support this website. Thank you!
---
ACRYLIC PAINTING TECHNIQUES FOR BEGINNERS
I love painting and the creative process can be a real therapy.
Using different tools, and mediums, using my own fingers, I like to explore art. I hope these techniques will inspire you too.
Related posts:
What is Acrylic Paint?
Acrylic paint is a water-based medium, like gouache and watercolor.
It dries very fast, and forms a water-resistant glossy film.
Unlike oils it doesn't need any smelly thinners, but unlike watercolors or gouache it is also solid film once dry – no amount of water will revive it.
Acrylics are versatile and thus – many techniques can be usedin painting on canvas or other surfaces.
What is Acrylic Paint? Ultimate Acrylics 101 – Full guide to understand the nature and main features of acrylics.
---
#1 Dry brushing
It is a very simple technique. You can load the brush and make thick strokes, or load your brush with a little bit of paint and create transparent uneven lines and shades.
To succeed try different brushes before painting, if you want more uneven coverage, use older brushes.
You can always combine this technique with regular wet brushing and layering.
---
#2 Washing or watercolor imitation
Even if we can dilute acrylic paint and use it as watercolor, please remember, that acrylics are very fast-drying, especially when applied in thin layers, and they cannot be reopen after they dry – they become water-resistant.
Comparing to watercolor, acrylic acting as watercolor is less forgiving.
To thin acrylics you can actually use not only water, as water may affect the overall quality of the paint and its permanence.
But you can use other methods to thin acrylics, such as mediums – I made a simple guide and list of best thinners, feel free to use it.
---
#3 Stippling
Stippling is similar but not the same as Pointillism. Pointillism tries to make illusion of blended colors by using dots of different colors.
---
#4 Hatching
---
#5 Flicking or Splattering
---
---
#7 Detailing
Some tips for detailing with acrylics:
apply paint with light touch.
let the painting dry completely before you paint details. Paint details last.
depending on how it is more comfortable for you: use an easel or lay your painting horizontally.
keep a paper towel to erase mistakes immediately.
---
#8 Wet-on-wet blending
Wet on wet is a basic technique for watercolor and blending technique for some oil paintings and acrylic paint, and gouache too.
As acrylics are fast-drying wet-on-wet technique is not widely used.
Basically what you do: you apply the first color and while it is still open (acrylics stay wet for 10-20 min) you directly apply second color and blend them immediately on the surface to create a gradient.
If you are using this technique you may need to slow down the drying process, use on of these 15 methods to make acrylic paint dry slower, or simply spray the paint with a little bit of water.
Please make sure you let your paint dry fully as uneven drying can lead to cracking.
---
#9 Wet brush on dry canvas
---
#10 Painting with a Palette knife
Painting with a palette knife, as form of impasto technique, is used in abstract painting, portrait and landscape painting a lot.
Usually we use a palette knife to mix colors, but it is much more fun to paint with them.
You can directly apply the paint in the surface and shape it using palette knives to create texture and thick layers.
While for abstract painting is quite easy to use palette knife, if you're aiming to paint a portrait using palette knives, you'll need some time and practice.
You can apply paint using the blade or create lines using the edge of the knife, you can also scratch paint with a palette knife or just create a smooth coverage, like a cake.
---
#11 Glazing
I will not call this technique an easy one, first – as it requires a glazing medium, second you need to know color chart and color theory to understand how the color can interact.
---
#12 Sgraffito
---
#13 Expressive brushstrokes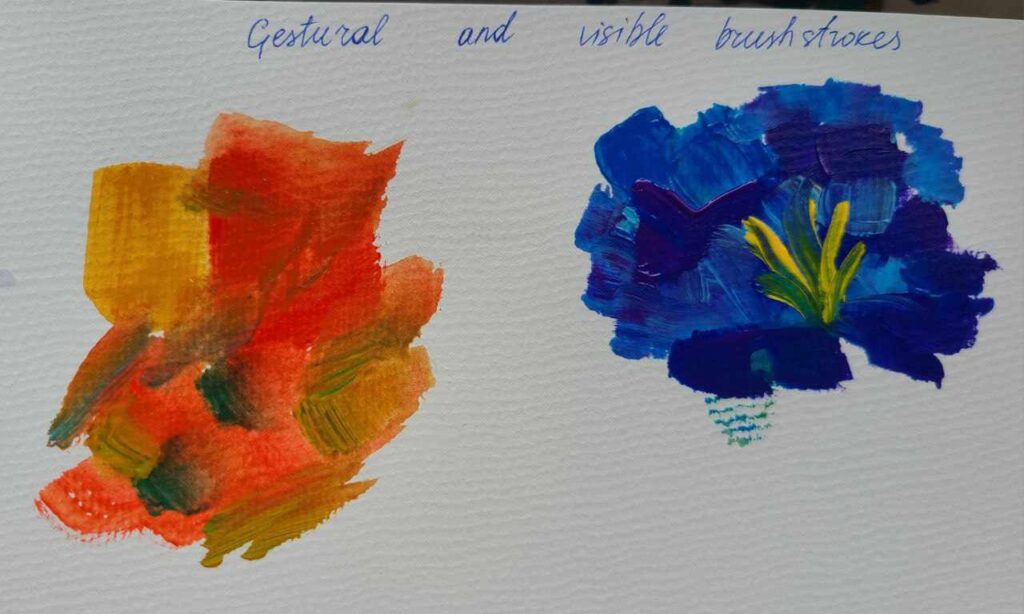 Sometimes we want to get rid of visible brushstrokes, but it is, in fact, a whole technique – expressive brushstrokes.
This technique reminds me oil painting with thick, visible, buttery brushstrokes creating volume, texture and depth.
For this technique, a good brush is the key to success. I reviewed 20+ brushes for acrylic painting here.
There is even a book about brushstroke techniques – Brushstrokes: Acrylic: Effortless painting with minimal tools and materials.
---
#14 Under-painting technique
---
#15 Layering
---
#16 Paint in blocks of color
---
#17 Only partially mixed colors
---
#18 Paint with a family of tones
This technique require a lot of time for preparation, time for making swatches, practice (to know exactly how much to mix) and patience.
---
#19 Flat color technique
---
#20 Acrylic impasto painting technique
---
#21 Stenciling
---
#22 Painting with fingers
---
---
#24 Acrylic Pouring
Acrylic pouring is a new art trend. It is quite easy and extremely free and creative process.
You need fluid paint, floetrol, a hair dryer and a canvas to start.
Acrylic pouring may be considered as abstract painting.
The main process is pouring fluid acrylic colors on the surface and move the surface to make colors interact and create dynamic pattern. You can also create effect using a straw or a hairdryer.
Try a ready-to-use acrylic pouring sets to save money.
Read my ultimate tutorials list 33 WOW Acrylic Pouring Techniques for Beginners and Advanced Artists that I'm curating, showing you the best techniques and the best pour painters around the world.
To get the best results consider picking one of the popular color palettes: 38 Stunning Paint Pouring Color Combinations
---
#25 Scumbling
---
#26 Hydro Dipping with Acrylics
---
---
---
---
---
---
---
---
---
---
---
---
---
Read also: Can you use curcuma for painting? My Turmeric Painting Experiment
---
---
---
---
---
---
---
---
---
---
---
---
---
---
---
---
---
---
---
---
---
---
---
---
---
---
---
---
---
---
---
---
---
---
---
Need inspiration? Check some of my painting ideas collection:
To Recap: All acrylic painting techniques
---
Acrylic Painting Techniques FAQ
---
No matter what acrylic painting technique you're choosing, make sure you have the right supplies and properly prepare your canvas.
Most acrylic techniques are easy to learn for beginners and can help you create diverse paintings and explore art and acrylic possibilities better. My particular love lies with impasto and palette knives.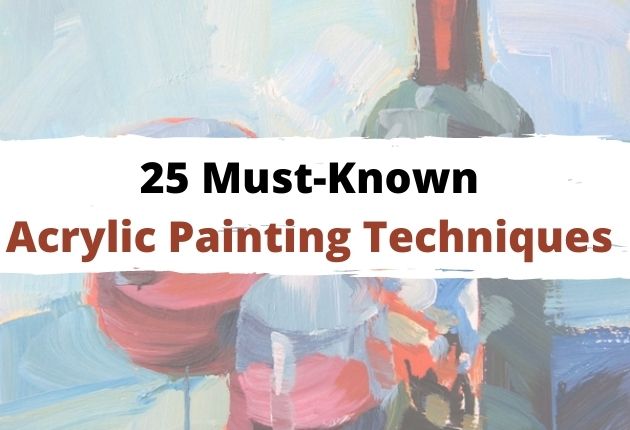 Last update on 2023-12-03 / Affiliate links / Images from Amazon Product Advertising API