What inspires you? If you're a newbie to painting and want to capture springtime's beauty, I've gathered 55+ simple spring painting ideas for you!
Spring brings unlimited inspiration. You'd want to recreate the field of flowers in full bloom underneath a clear sky or birds perched on a tree on a canvas. Animated films set in spring, like Tangled and Bambi, have scenes worth bringing to life.
Below you'll find the muse to create your spring-themed painting on canvas, paper, and more. I've also included epic spring ideas kindergarten and toddlers will love!
This article contains affiliate links. It means no extra cost for you but a little commission for me to support my hobby and blog. Thank you!
---
More ideas:
---
Essential Supplies to Paint Spring With Acrylic Paint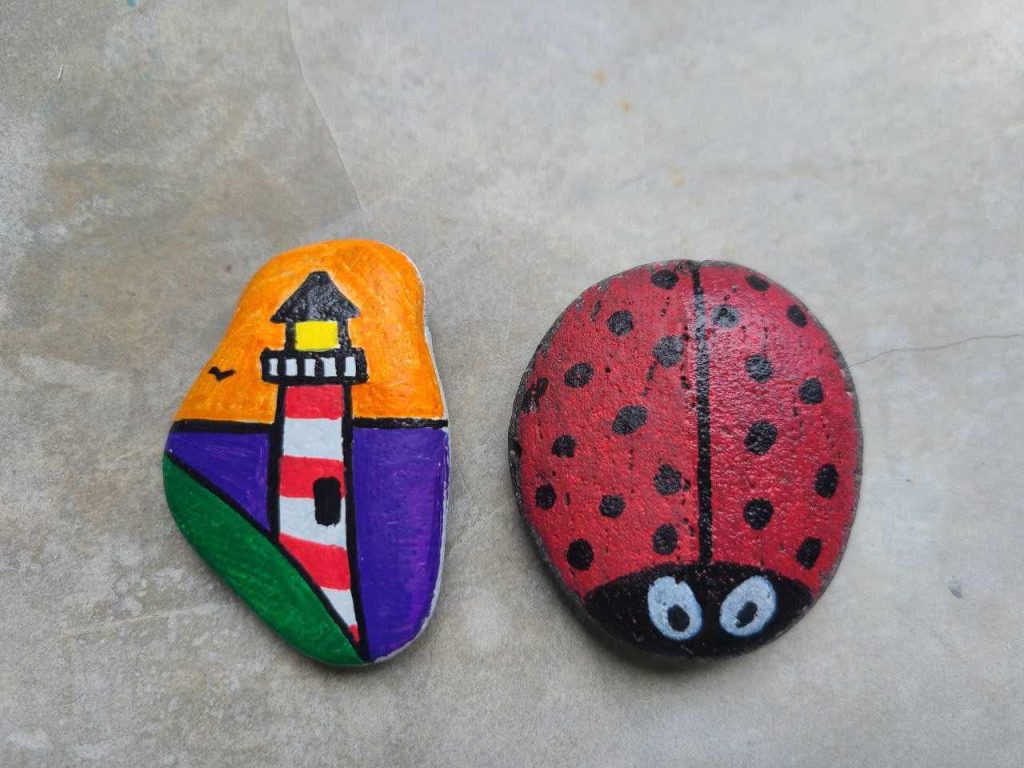 A good spring painting palette consists of primary blue and yellows. You'll also want to include pink, grass green, white, and black. And don't forget to add pastel colors!
Beginners usually buy the cheapest materials available. I suggest you get the best supplies you can afford. Cheap materials are typically hard to manage and quickly fade.
You'll also need brushes, palettes, canvas or paper, and other supplies.
---
Read also: How to Paint with Acrylics on Canvas: 3 Easy Steps [Supplies included]
---
Spring Painting Ideas for Beginners
Springtime is a flurry of activities; buzzing bees, chirping birds, and family picnics. Look outside and paint what catches your attention. Paint the landscape. Collect flowers and fallen branches. Use your camera to preserve moments like children flying kites or a couple walking.
If the outside world doesn't jazz up you enough, try to revisit spring-themed movies, including the following:
Bambi
Tangled
Charlotte's Web
A Bug's Life
Howl's Moving Castle
Bee Movie
Secret Life of Arrietty
Winnie the Pooh: Springtime with Roo
My Neighbor Totoro
Silly Symphony, the Goddess of Spring
Babe
Curious George
Bigfoot Family
Apart from a canvas, you can also use paper, rocks, mugs, or your window to practice your painting skills. Below I go into more detail about each spring painting idea.
Spring Acrylic Painting Ideas on Canvas
White Daisy with a Bright Blue Background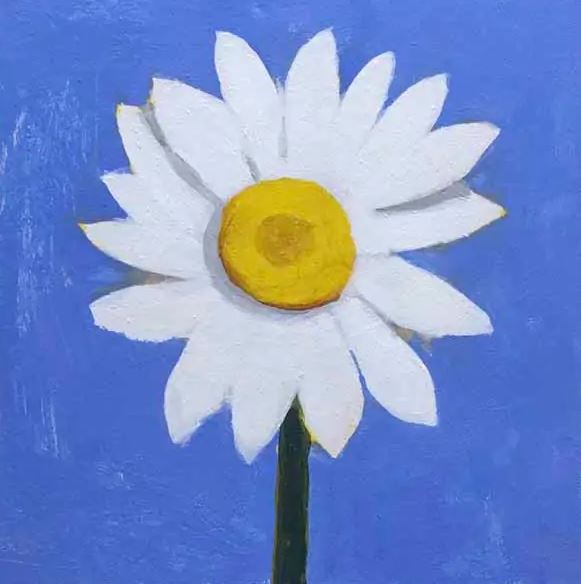 A daisy symbolizes new beginnings! So, a daisy in full bloom is the first subject on our list.
Use titanium white to draw the petals. Paint the shadows using a mixture of unbleached titanium and mars black.
---
Colorful Mountain
Creating soft and random edges takes practice and brush control. Hone your skill by painting this tranquil spring scene.
---
Landscape Painting with Hot Air Balloon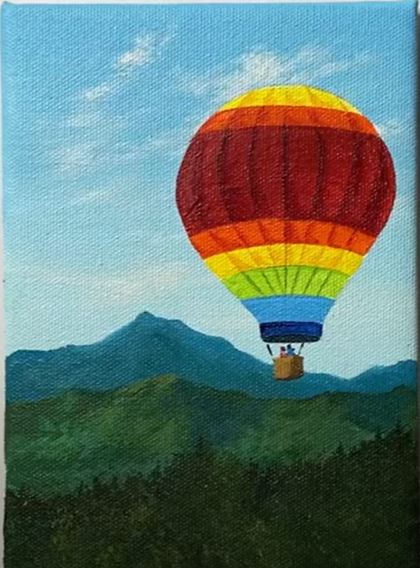 Choosing a focal point when making a painting is essential.
A hot air balloon bursting with colors is this piece's focal point.
---
Delicate Butterfly
Exercise what you know about the color wheel by painting this beginner-friendly butterfly! Explore and identify colors that enhance each other as a group.
---
Cherry Blossom on Top of a Hill
The vibrant cherry blossom illuminates this whole canvas. Painting this piece is not difficult at all! Use cotton balls for the clouds. Lastly, add the tree's details using cotton swabs.
---
Florals on Mug
Nothing signifies spring more than dazzling flowers! Make your mugs prettier by painting flowers on them. Basic painting skills will do. The key here is to choose the right colors and have fun!
Once done, coat them with a sealer for a glossy finish.
Learn more about painting on ceramics and glass by reading "Bakeable Acrylic Paint Guide for Ceramics and Glass."
---
Peaches and Flowers and Easy and Realistic Tulip on Paper
Painting on paper without a rigid surface will create warps.
What should you do then?
Mount the paper on a panel by using pH-neutral glue. A quick one-stroke tulip painting lesson:
---
Spring Seascape
Capturing a seascape during spring is somewhat challenging. And yet, this piece was able to do that. Those yellow flowers certainly help brighten it more.
Improve your blending skills by painting along with this tutorial.
Spring-inspired Animated Characters
Celebrate springtime by re-watching (or watching if you haven't seen these films) some good old films set during the spring.
Winnie the Pooh Characters on Mini Canvas
Sleeping Totoro
"I See the Light" Scene on Tangled
Howl and Sophie on a Breezy Hill
Bring your beloved characters to life through your art. Experiment. Use a mini canvas if you like.
---
A Chick on a Basket Decorated with Flowers
This piece is amusing if you're fond of fluffy baby chicks!
---
Buzzing Bumblebee Over Flowers
Buzz…buzz. Here comes the bumblebee, ready to feast on the flowers' nectar!
Vibrant Pig
Remember the movie called Babe? Make her (or him?) cartoonish. Paint her pink and surround her with flowers.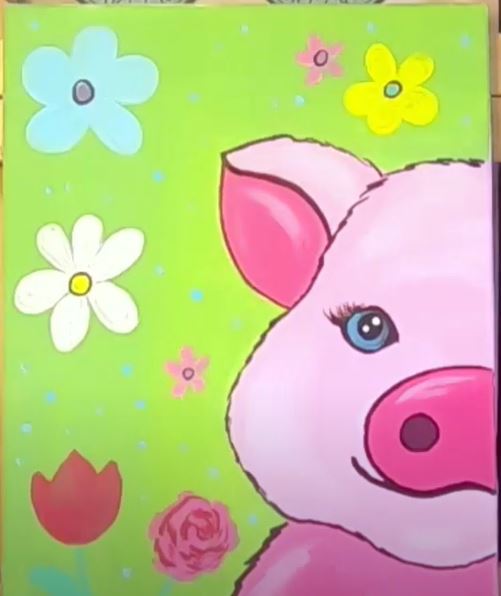 Or perhaps Peppa Pig is a better subject, as she's quite popular these days.
---
Bike with a Basket Full of Flowers and a Hovering Bee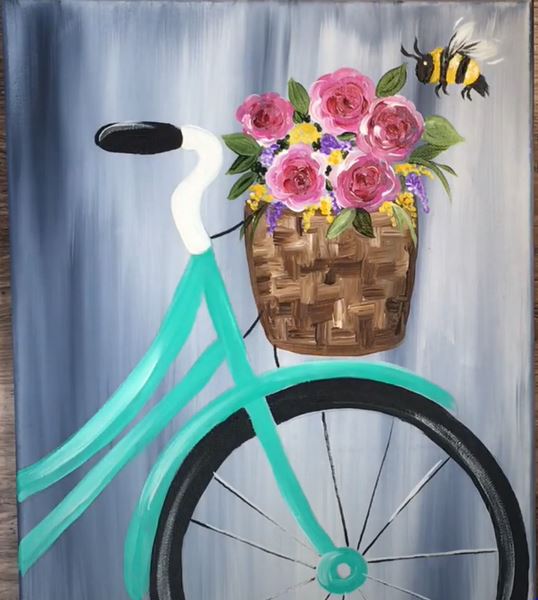 Nowadays, biking is in. And like biking, learning how to paint requires patience and lots of practice.
---
Kite Flying
Apart from summer, spring is the next best time for kite flying!
Tip: you can paint the tree leaves and flowers with cotton buds!
Hop on to this quick read on 25 acrylic painting techniques if you want to paint like a pro.
---
Woman in a Field of Springtime Flowers and a Passing Train
This piece perfectly captures what spring looks like! It is stunning yet easy to recreate.
---
Tired of Brushes? Use Paint Pens Instead!
Don't have the time to learn how to paint using acrylics yet? Paint pens are perfect for you. Like acrylics, paint pens are available in different colors.
Floral bouquet
Hare Underneath a Starry Nightsky
Here's a paint pen review I did to assist beginners like you.
---
Spring Rock Painting Ideas
Who knew you could make art using rocks? Rock painting is an easy activity you can do with your kids. Help them gather the rocks. And get your brushes, acrylics, and paint pens ready.
Ladybug-painted Rock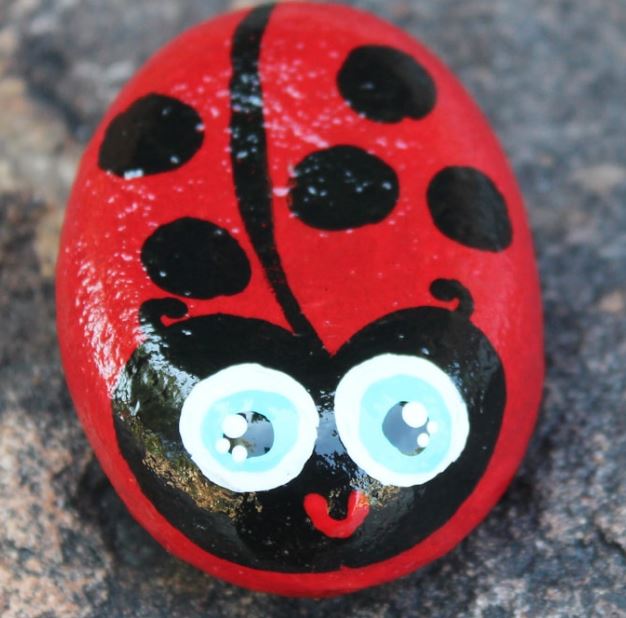 Paint the rocks with ladybugs or other insects your kids love.
---
Flowers and Butterflies on Rock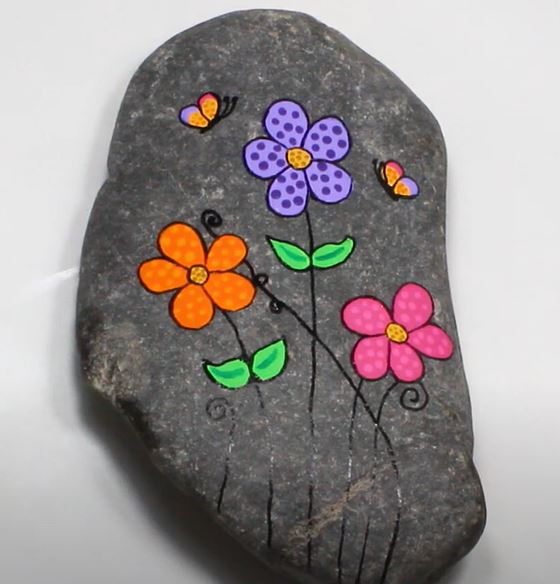 Make this rock painting more alive by adding a background.
---
Snork Maiden and Moomin Art
Help your toddler draw their fave cartoon characters! Better yet, allow them to paint their imaginary world.
---
Spring Window Painting Ideas
In this project, windows and paint are all you need to bring the spring closer to your home (or store)! You can use tempera or poster paint. They are easy to clean using liquid soap.
Feel free to recreate the paintings below. Combine them in one scene. Or create your own:
More Flowers!
Flowers are perhaps the most common spring-related painting. Use bright colors to make them pop!
Add other elements, such as an old car overgrown with plants, foliage, and butterflies: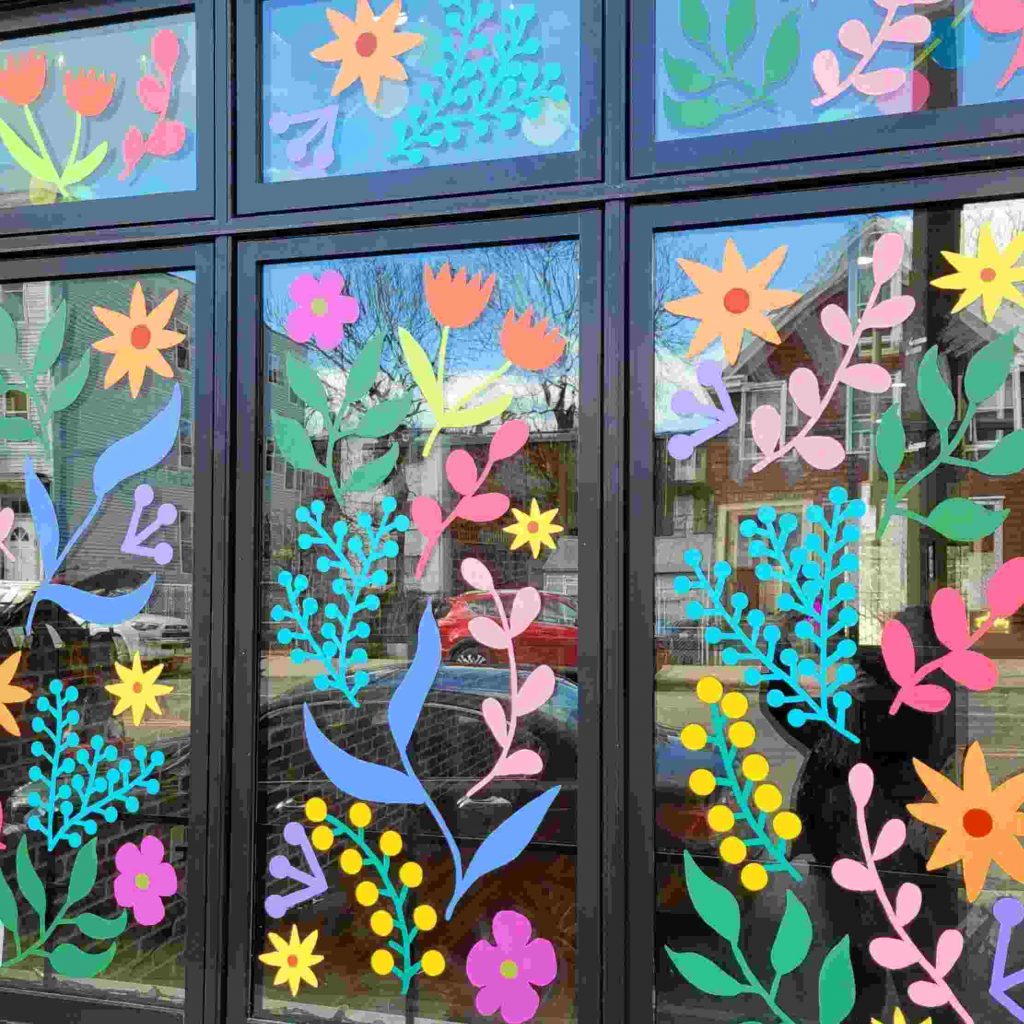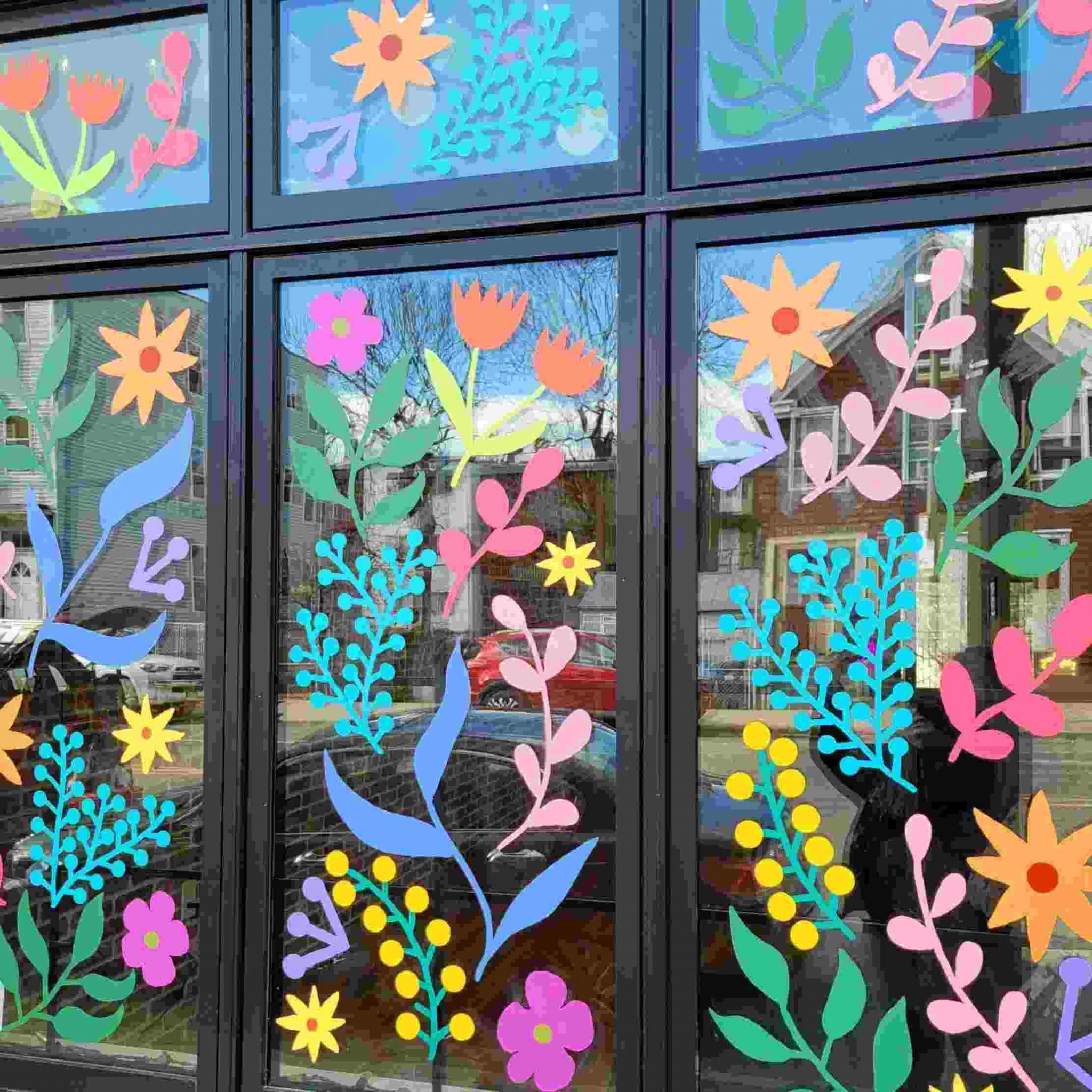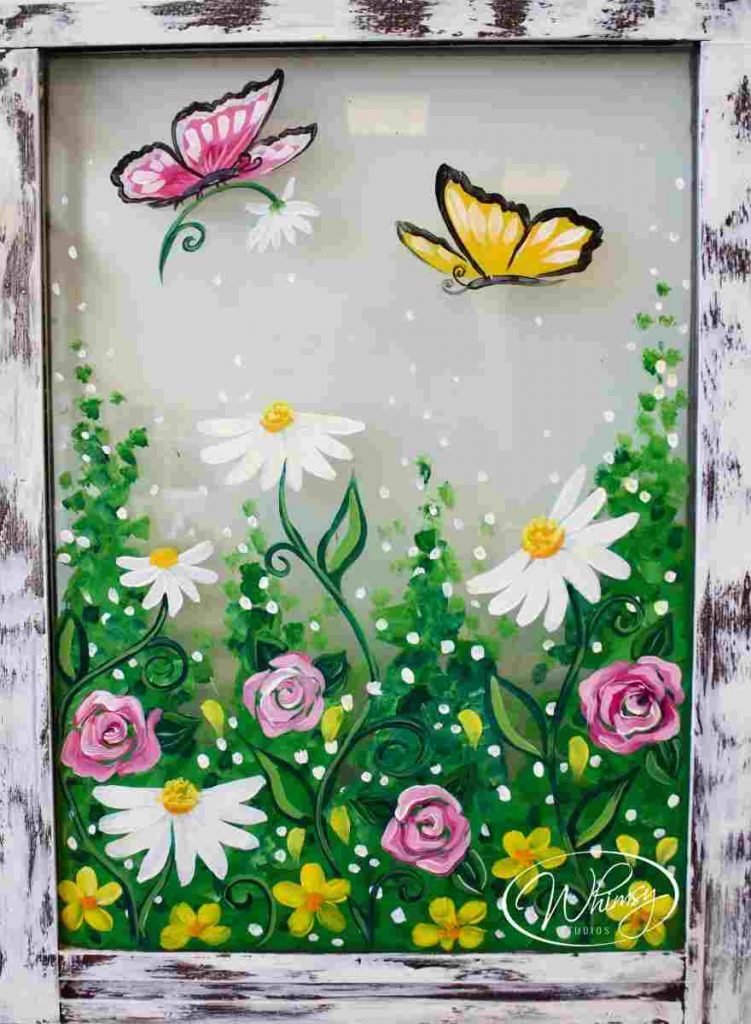 ---
Smiling Bunny Holding an Easter Egg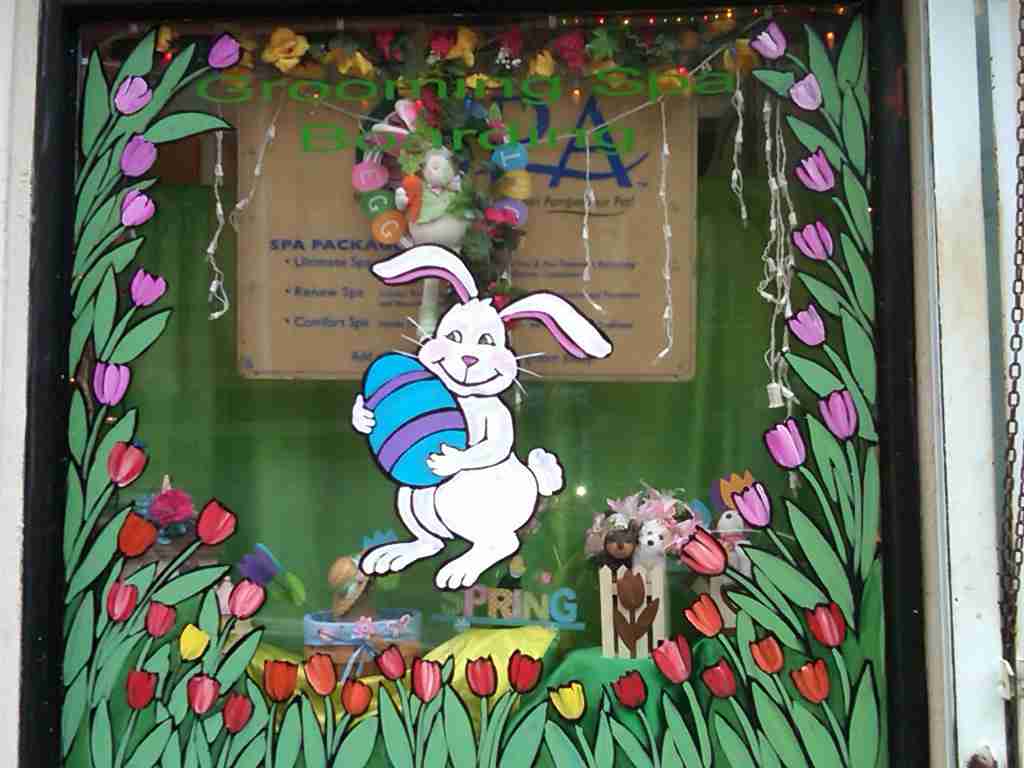 Paint bunnies and Easter eggs, as Easter (a Christian tradition), marks the start of spring!
---
Spring Face Painting Ideas
Are you having a spring-themed party? Are you worried about costumes? Face painting is a creative way to dress up, even without costumes! Get your face paint palette kit.
Read also: Can You Put Acrylic Paint On Your Face & Body? 6 Safest Body Paint Included
Tips:
Choose water-based face paints as they are easy to remove and do not clog your pores.
Use a makeup sponge or brush.
Ladybug and Daisies
Amateur face painters can easily replicate this face paint idea. Add more sparkle and colors to make it prettier!
---
Flower and Flowing Leaves
Girls of all ages looove delicate flowers. The curly lines make the flowers stand out. Finish the look with non-toxic glitters.
---
Rainbow Butterfly
Spring isn't complete without butterflies! And they are one of the easiest face paint ideas you can create. Children and adults love them, too, and for an obvious reason!
---
Magical Unicorn
Color, sparkle, and unicorn! This face paint idea has all of them. See the full tutorial here.
---
Cute Deer
If this isn't the cutest little deer, we've ever seen! Three colors-brown, white, and black-makeup this beginner-friendly look for a boy. Use a black face paint crayon for the outline.
More face painting ideas: 100 Scary Face & Body Painting For Halloween For Kids and Adults
---
Spring Watercolor Painting Ideas
You can still recreate spring, even if your medium of choice is watercolor. It lends your artwork softness which fits the spring season theme:
Basket of Strawberries
Who would have imagined that a basket of strawberries could be so pretty? And did you know that the strawberries' peak season is during spring?
---
Daffodils
Remove excess water from your brush when painting the finer details of the daffodils. A drier brush gives you more control in producing finer strokes.
---
Peony
Magical gentle flower – symbol of beauty in China and just a very spring feeling painting idea!
Check 20+ tutorials for beginners to learn to draw and paint peonies: How to Paint Peony 23 Beautiful Tutorials (Oil, Acrylic, Watercolor, Gouache)
Characters from Movies Set in Spring
What you choose to paint doesn't have to be complicated, especially if you paint to relax. Bring out your inner child and paint these charming characters.
Wilbur from Charlotte's Web
Heimlich the Caterpillar from A Bug's Life
---
Ethereal Unicorns Underneath Bright Pink Blossoms
You can make this dreamland with a bit of white, pink, brown, and blue paint.
---
Spring Forest
This artwork demonstrates the importance of value. Notice how the lighter areas appear closer, while the darker areas appear farther.
When you understand how to use a range of values, you can turn your spring forest from a 2D to a piece with more depth. Learn how easy it is to create depth in this tutorial, even though it is for gouache you can easily repeat it with watercolor or acrylics.
---
Easter Canvas Painting Ideas
Easter-inspired subjects are a fun way to get creative during spring break. Or, you know to help you get into the occasion. I've included ideas like cute bunnies in a garden, Easter eggs, and a rabbit smelling a flower:
Bunny Surrounded with Easter Eggs
Blushing Rabbit Smelling a Flower
---
Spring Painting Ideas for Kindergarten and Toddlers
Rather than use the same-old paintbrush, allow kids to start an adventure! Gather your household items they can use as brushes:
Dandelion Painting Using Toilet Paper Rolls
Don't throw away toilet paper rolls. Transform one end of the roll into a brush by cutting strips. Flatten the strips outwards. Dip them in the paint and start painting!
---
Collage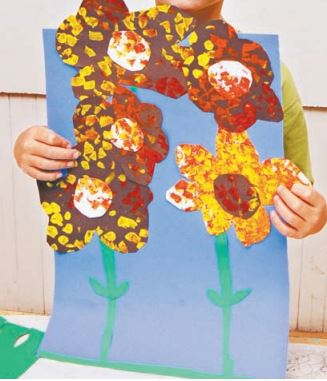 This project uses a foam bottle washer. Help the toddler dip the washer into the paint until they get used to it.
Let the paint dry. The artist made a lovely collage of flowers after the paint dried.
---
Bird on Fabric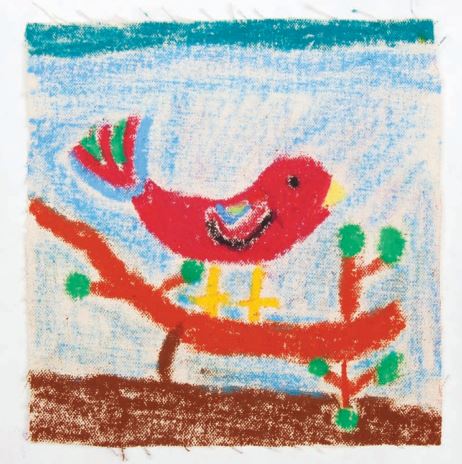 Birds as a subject matter are easy enough for toddlers and kindergarten! As you can see, the artist chose crayons to paint a bird on a fabric.
Read also: Can You Use Acrylic Paint on Fabric? How to Paint it Permanently & DIY Fabric Medium, and if something went wrong…..Is Acrylic Paint Washable on Skin, Fabric, Clothes, Walls, Wood, etc.?
---
Spring Finger Painting Ideas For Kids
Finger painting is messy, but it's a good introduction to arts for toddlers and kindergarten. Fingers are great for making stripes and dots!
Have them paint adorable bugs or lovely flowers. Bright-colored butterflies on mugs might also interest them!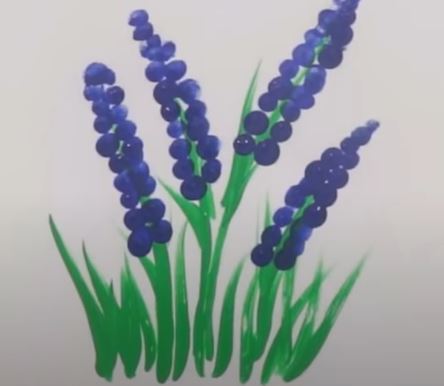 Colorful Birds on a Clothesline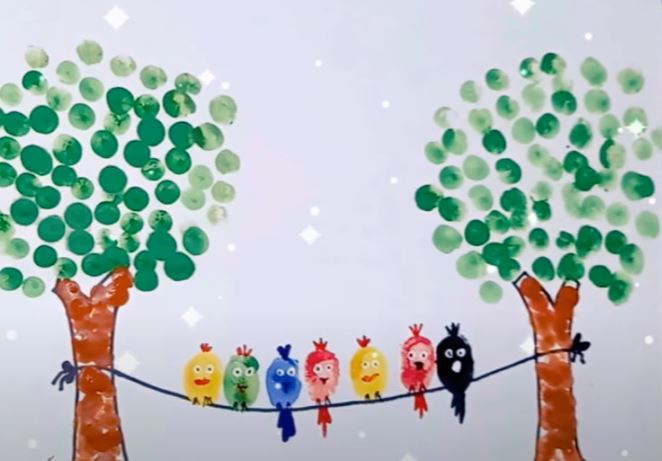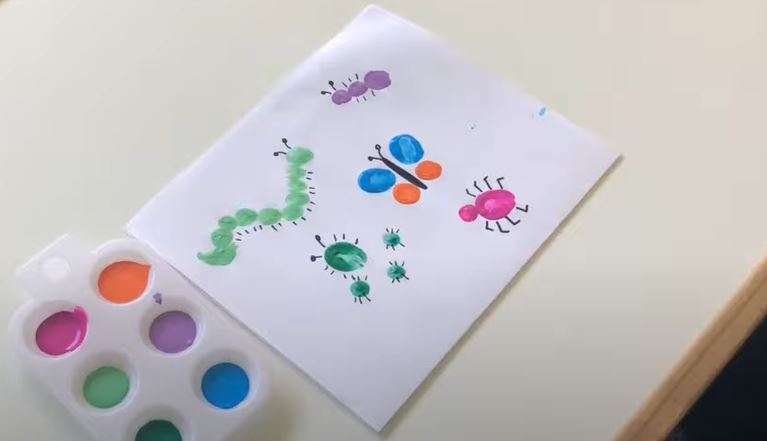 Finger-painted Butterfly on a Mug
---
How Do You Paint a Spring for Kids?
Kids love to paint! And they love it more when they use objects other than a paintbrush!
For this project, you'll need the following:
Here are the steps for this leaf printing project:
Gather leaves.
Prepare a canvas and the best paint you have.
Paint the background first. You can skip steps 3-4 if you want to use black or dark-colored paper.
Let the paint dry.
Paint one leaf green.
Stamp the leaf on the canvas.
Repeat steps 5-6. Use different colors to make the piece look more like spring!
Here's a video to guide you through this project.
If painting leaves on canvas sound boring to your child, he can add flowers with cotton swabs.
See this video (starts at 00:47) for reference.
---
Spring Painting Ideas for Seniors
Painting is a perfect activity for seniors. It's relaxing and keeps their minds sharp:
Quick-to-Paint Hydrangea
Seniors will have to learn how to load a brush with two colors to achieve this round cluster of hydrangea. Have the following colors ready for them:
---
Simple and Elegant Pink Rose
Use red, pink, and white tones to show the rose's layers. Start working from the center outward. Seniors can use templates to paint on if they're not fond of sketching.
Tip: A flat brush works well with this piece. Use the edge to make a thin line and press more firmly to make broader strokes.
---
Cute Duck with a Ribbon
Mastering the concept of the color wheel will have the seniors create paintings with various colors, like this piece. Painting is not only about what is in the center, but even the edges and frames can be nicely detailed!
---
How Do You Paint a Spring Path Step by Step?
Here's a beginner-friendly spring path on Youtube that's worth checking out. I have also listed the materials and the steps from the video:
Materials
Steps
Get your angled brush. Start painting the sky by mixing Blue harbor and the Caribbean. Add white for lighter areas.
Add contrast by putting a bit of Bahama blue.
Draw a horizontal line using lime green mixed with blue for the grass. The blue tones down the green, so you can create a shadow.
Draw lines for the spring path.
Lighten some areas with white to make them look closer.
Use burnt umber and white for the path.
Then, work on the trees using lime green. Add blue for depth.
Use mint julep and lime green to add a second layer of paint to the grass. Pull in some blue for the shadows.
Lightly drag your brush loaded with periwinkle on the grass. Next, add some purple.
Combine periwinkle and purple. Lightly brush this new color to the grass.
Throw in some hot pink to the grass.
Paint the tree trunks using a round brush.
Paint the leaves pink, starting from the bottom.
For more tips + techniques on how to paint on canvas, here's a guide I wrote.
---
How Do You Easily Paint Sunflowers?
With a few brushstroke techniques, you can easily paint a sunflower in no time:
Steps
Use a mixture of yellow and brown. Paint the flower center.
Let the paint dry.
Mix yellow with a bit of orange to create a vibrant yellow for the petals.
Begin painting the petals from the center to the tip. Repeat until you complete the circle.
Add a second layer of petals. Place a petal between the two petals in the first layer.
Let the paint dry.
Give the flower depth by adding shadows using yellow and a bit of brown. Work with the first layer of petals first.
Add shadows to the last layer of petals.
Paint tiny dots in the center of the flower.
Add highlight to the petals and the center using a brush loaded with white paint.
Paint the stem using a combination of yellow and green.
Paint the leaves.
---
Wrap-up
I hope the collection of spring painting ideas above brought you the inspiration you needed for your project!
For more painting ideas, I've also written easy Christmas and winter canvas painting ideas for beginners.
Happy painting!