Are you looking for some inspiration for your winter paintings or feel creative on Christmas Eve? In this post, you'll find 50+ winter canvas painting ideas to enjoy the holiday season by exploring your creativity while working on your painting skills. From frosty winter landscapes for beginners to whimsical Christmas scenes, and beautiful cardinal bird painting, there are some cute painting ideas for preschoolers and adults for Christmas holiday, and in my list you'll find inspiration-sparking ideas no matter your skills!
I've also included a section with easy and kid-friendly painting ideas for the little ones so everyone at home can have fun painting with acrylics this winter season.
Table of content: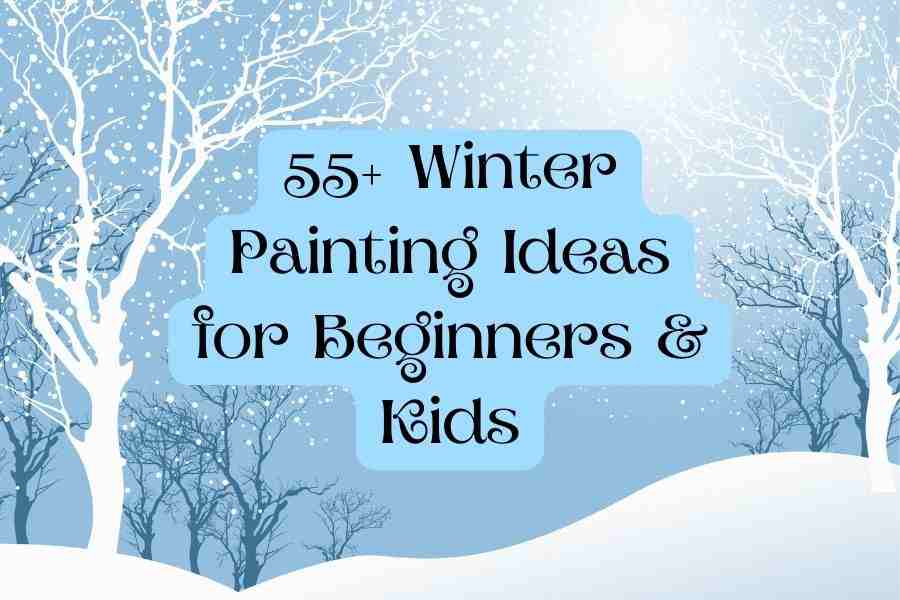 ---
Essential Winter Canvas Painting Supplies
To paint winter ideas you will most definitely need a good paint set and a canvas! *Here and there I'll be linking to one of the best acrylic paint brands for beginners – Liquitex Basics. But feel free to make your own choice from more than 20+ paint brands on the market.
Essential colors for winter scenes: black for the dark night sky, red for Christmas costumes of Santa and elves, cobalt blue, green for trees, yellow, brown, and of course – Titanium white. For sure, you will be able to mix the paint nuances you need and use any other colors. But you most definitely will need white 🙂
You can equally use markers on paper, acrylics on canvas or canvas pads, or watercolor!
---
Easy Winter Acrylic Painting Ideas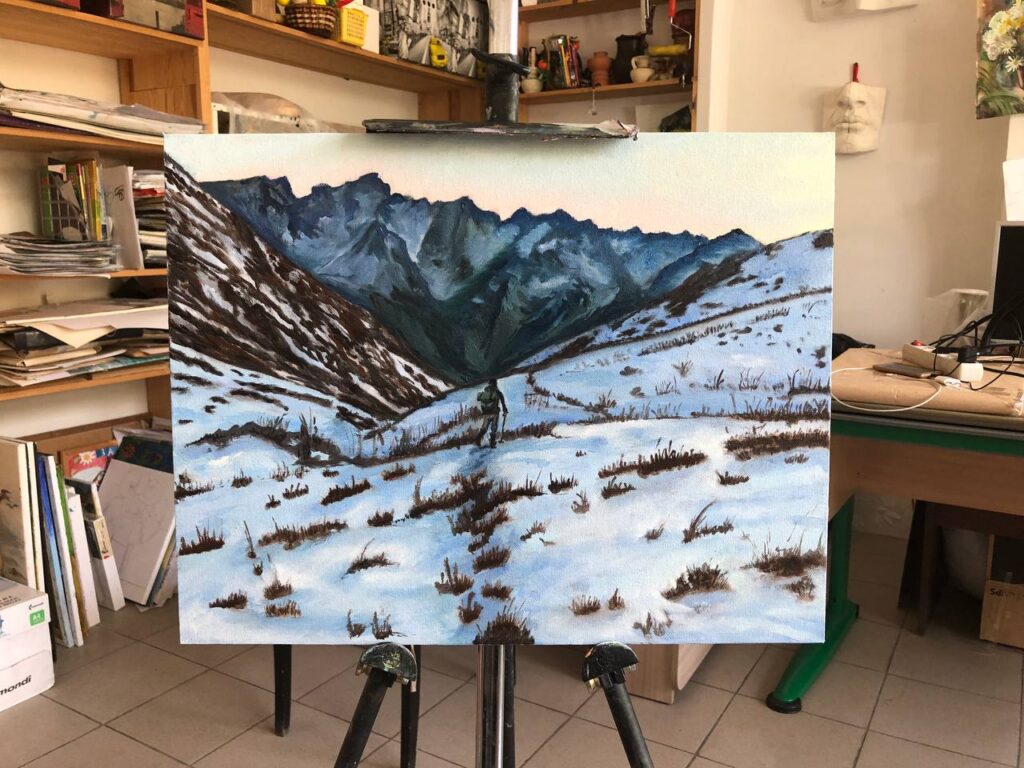 #1 Starry Night in Winter Forest Scene
This starry night scene has all the elements to make one stunning acrylic painting project! You'll only need a few acrylic colors like blue, white, and black and you're ready to start!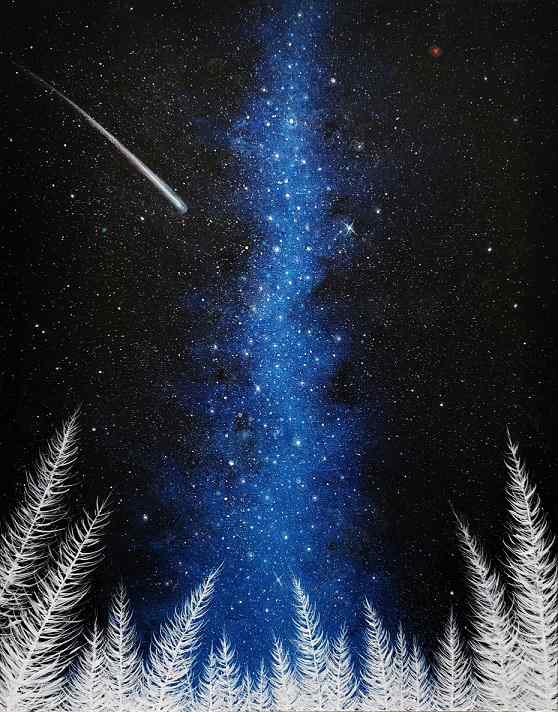 More beautiful sky tutorials – 22 Easy Night Sky Painting Tutorials (Acrylic, Watercolor, Poster Paint, Gouache) and I also selected some stormy skies step by step guides and videos that I personally like – How To Paint Stormy Sky 20 Great Tutorials For All Levels.
---
#2 Winter Wonderland
Acrylic paint is such a beginner-friendly medium, you'll be able to replicate a magical snow effect effortlessly.
For a similar frosted scene, go for acrylic colors like Titanium white and ultramarine or cobalt blue. Mix white and blue to get this soft winter sky tone.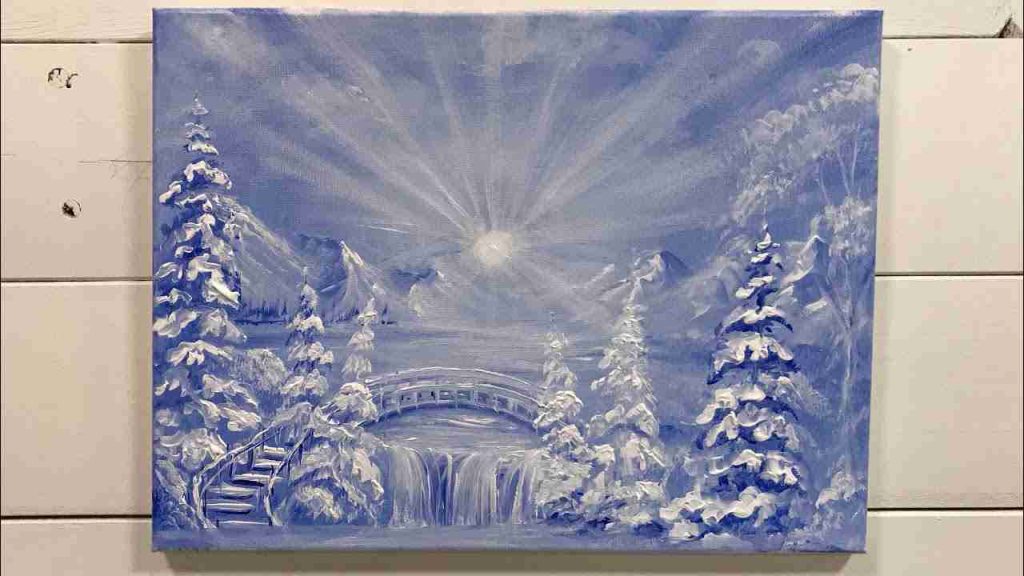 *Here and there I'll be linking to one of the best acrylic paint brands for beginners – Liquitex. But feel free to make your own choice from more than 20+ paint brands on the market.
You can jump to the tutorials section to watch how one amazing artist is creating this winter landscape.
---
#3 Northern Lights Winter Landscape
For an alluring Northern Lights landscape, you can use vibrant greens, purples, whites, and blues for the lights, and instead of trees, you can feature mountains or branches or a city's silhouette… The possibilities are endless!
Insider tip: use stripes or dry brush to create the northern lights! Make a line with a fine brush loaded with paint and then with a separate dry flat brush, moving it from the line up, create the lights shades!
StepByStepPainting has a simple tutorial on this! The best colors for the Northern lights are black for the dark night sky, magenta, cobalt blue, and green or yellow – the most natural Aurora borealis colors.
The wispy brushstrokes of this Northern Lights painting make it stunning and easy for beginners to recreate using acrylic paint.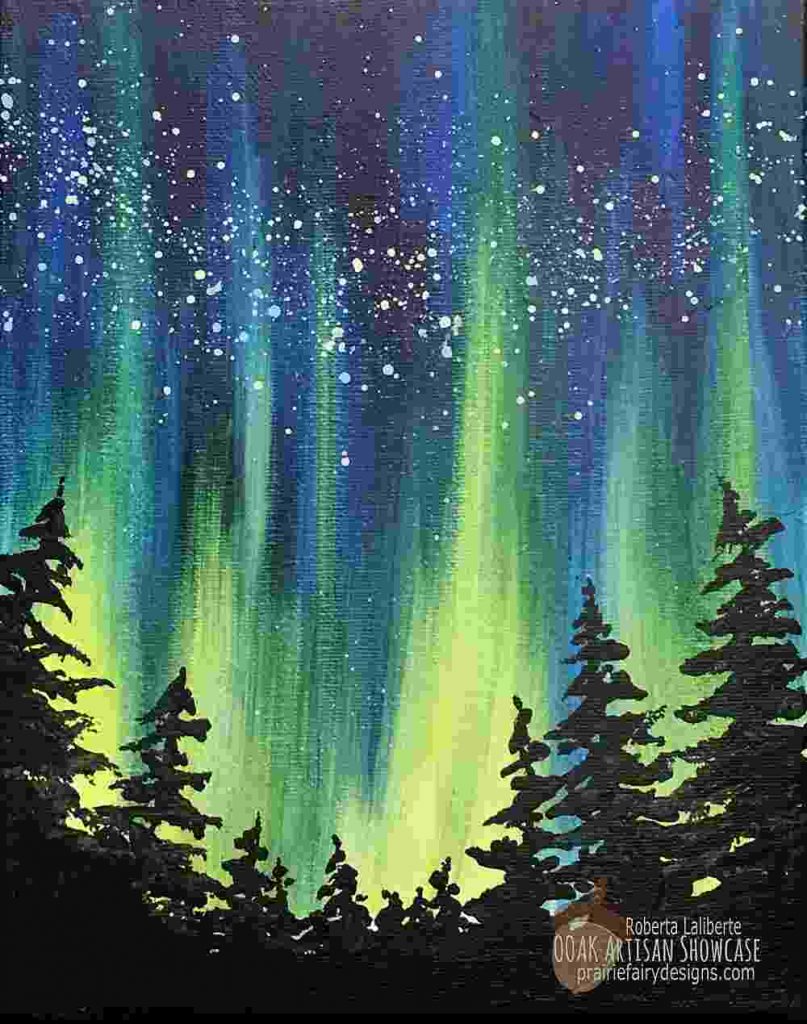 ---
#4 Misty Forest Landscape

If you're just starting to practice your acrylic blending skills, a project like a frosted scene is a great starting point.
You will need flat or mop brushes to blend the colors and a fine brush to paint trees. And only a few colors: blue, white and black. To achieve different nuances of the blue, you can premix colors on your palette. Don't forget that acrylics are drying fast and don't squeeze too much paint on the palette.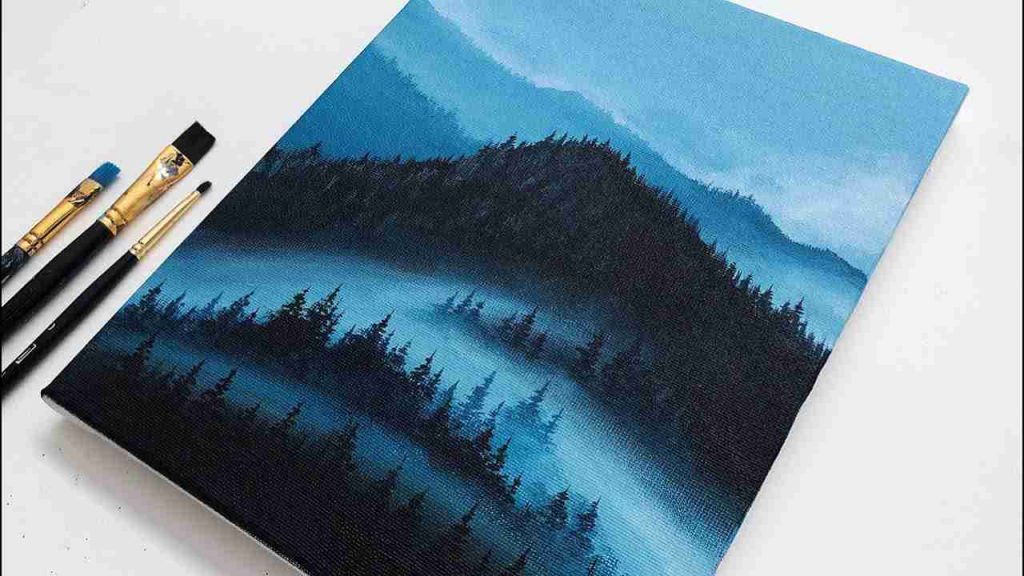 ---
#5 Starry Night With a Full Moon on a Winter Night
Adapt this classic winter landscape featuring a full moon and a starry sky on a chilly night to fit your art style. Simply change the color palettes or use an unexpected canvas shape!
Tip: you can either paint each snowflake with a round brush or take a toothbrush or a dry flat brush, dip it into the paint and just run your finger across the bristles holding the brush at an angle toward the canvas! Done!
Tip 2: It is super easy to create trees in the background with a fan brush – dip it slightly into the black paint and then tap it onto the canvas (horizontally), creating levels of pine trees from the bottom to the top!

homesthetics.net
Related: How to Draw a Crescent Moon 15 Great Tutorials for All Types of Artists
---
#6 Snowy Woods Scene
Using simple shapes and different brown shades to create texture, this everyday winter scene is just enchanting and easy for beginners. You first paint the dark background, then trees, and finish it with snow. Move from the dark part to the light areas!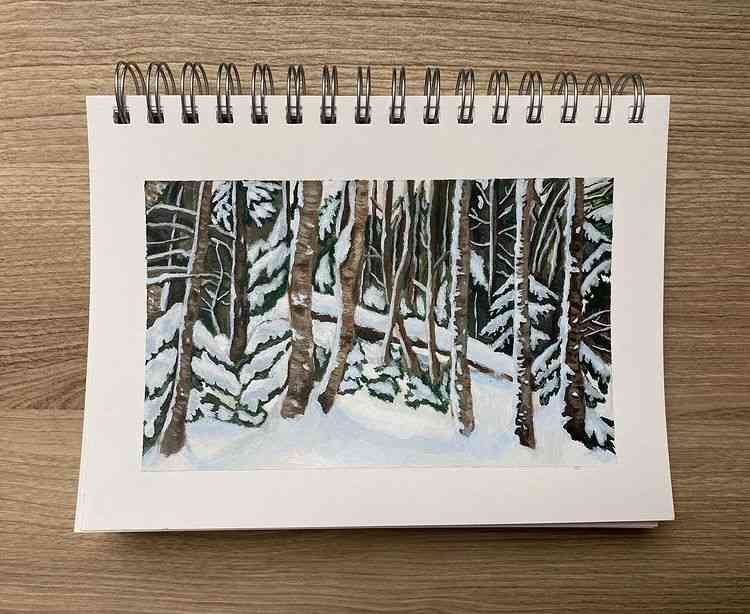 ---
#7 White and Light Blue Painting Idea
Create an easy winter composition by painting the background in a contrasting color and the trees in white. This will make the composition more eye-catching. You can add a little bit of glitter to make snow shine!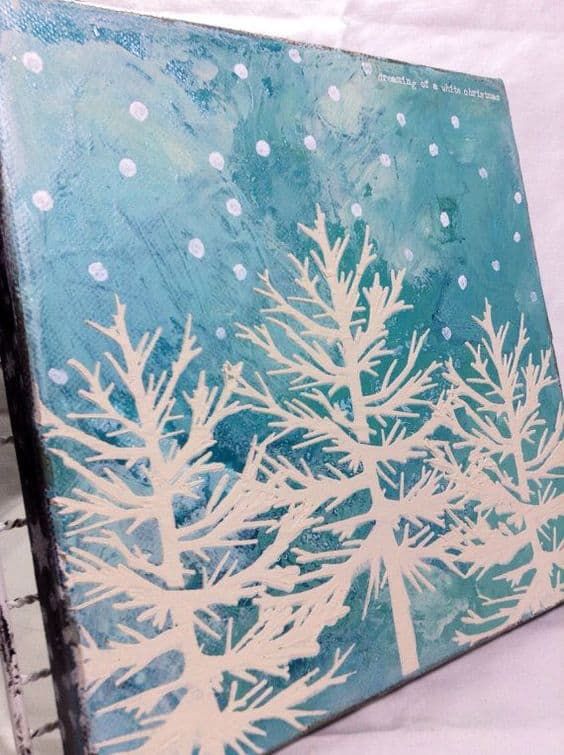 ---
#8 Simple Winter Landscape with Deer
Get inspired in this acrylic landscape painting and create a snowy woodland with some adorable deer and pines covered in snow! You can use other animals like squirrels, bears, or beavers or make it a night landscape by painting the background black and adding stars.
---
#9 Easy Winter Landscape for Hockey Fans
A scene of bright blue skies, snow-covered woods, and hockey players is the perfect painting project to celebrate the hockey season!
You can use the typical winter colors or get creative using your favorite team colors, for a fun touch.
paintpaperscissors.net
---
#10 Frozen Characters
My best friend is a huge fan of Frozen and she signs all the songs from the saga! If you are as excited about Disney's characters as my friend, you probably will be happy to know that it is very easy to paint Olaf, Elza, and Anna, and your favorite scenes from cartoons!
The level is easy for kids for most painting, but of course, once you feel more comfortable with your painting skills you can create more realistic portraits or landscapes from the Frozen Universe. Here are some cool Frozen painting ideas:
---
#11 Fox and Snowing Winter Night Acrylic Painting
A Christmas scene with a cute fox makes for a quick and easy acrylic painting idea. Play around with the star shapes and the fox's expression. Don't forget to have different brush sizes around to add details! Of course, you can replace the fox with any animal you or your kids love!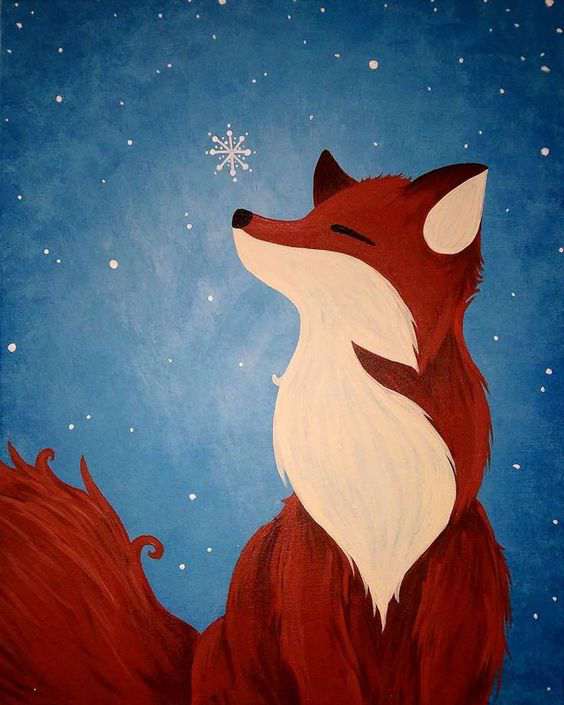 For fox lovers I got more tutorials I like: 15 Unique Ways to Paint a Fox for Any Levels
---
#12 Log Cabin Winter Canvas Painting

A quaint cabin in a snowy mountain is the ideal winter postcard to paint, capturing the essence of the chilly season. To create a moody scene, use grays and muted greenish blues.
---
#13 Enchanted Blue Winter Lake
A frozen winter lake against deep blue skies and pine trees is the ultimate winter landscape. Use this scene as inspiration and give it your unique touch.
Tip: to create reflections on the frozen lake, use a dry brush!
---
#14 Whimsical Cabin Acrylic Painting on Canvas

Need to practice your detailing skills? Paint a detailed cabin in the woods and hone your precision skills. As you can see the background is quite blurred, you can use a mop brush or a round brush to blend colors and later add white trunks with white paint.
Always start by painting the background and larger darker areas and then details and lighter accents.
---
#15 Winter Mountains and Lake Scene Painting Idea

The beautiful reflection of snow-capped mountains on a lake is ideal for painting! Mountains always look stunning but they are actually not that hard to paint! The tricky part is shades – I suggest you use a real photo of winter mountains to get an idea of how the light covers them and what color to use. Sometimes you can even find orange!
---
#16 Winter Painting on a Mini Canvas
Painting a winter landscape scene in a small format can be the best idea if you're just dipping your toes in the painting world or taking part in a daily painting challenge. It is also challenging! Painting on larger canvases is easier, while smaller surface takes more precision.
These are mini canvases you can use (to give you idea on sizes).
Tip: blend the background with a dry flat or mop brush, let it dry and then paint the trees with a detailed brush. Done!
---
#17 Bark Trees Painting Scene

A great idea for beginners is focusing on particular details of their subject, like creating the realistic bark texture of a birch tree against an icy blue background.
---
#18 Snowman Acrylic Painting Scene
Working on a small canvas is a great tip for beginners! Try your hand at a small Christmas scene with a snowman, pines, and starry night. To make the snowman more real, remember to add the dark blue or grey-ish shades on one side 🙂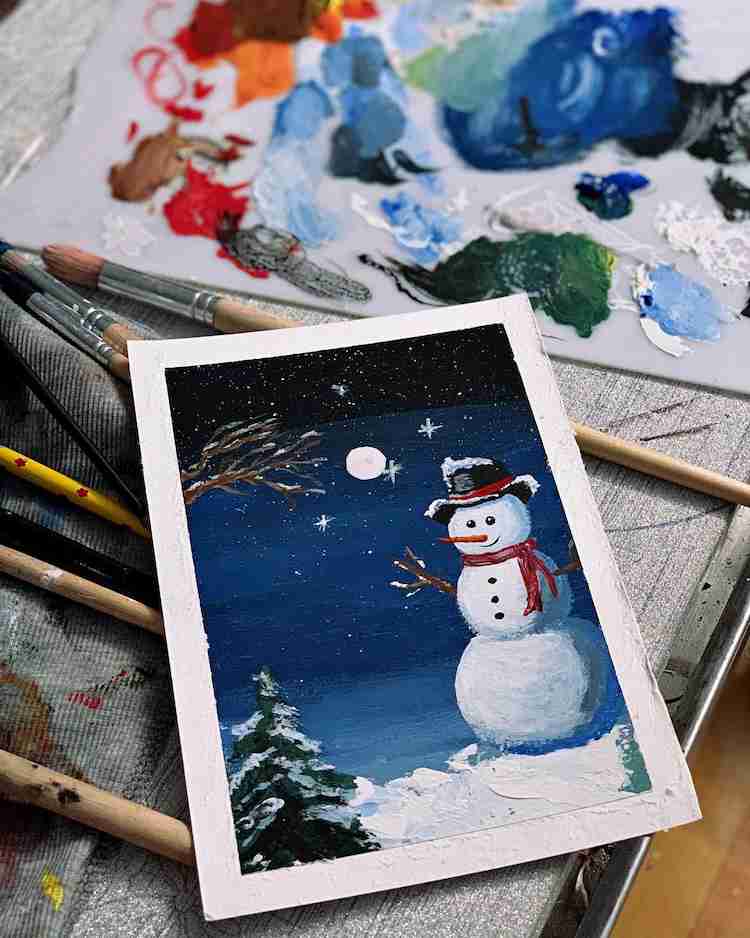 ---
#19 Christmas Eve Cabin in the Woods
For a similar effect in your Christmas cabin painting, you can use just a few different brushes to get the detail just right, such as a liner brush for snowflakes and traces on the snow, a round brush, or a flat brush to paint the background, trees, and snow.
---
#20 Easy Black And White Winter Painting Idea

When you are just starting, there's no better way than to keep things simple. Grab white acrylic paint, and a black canvas to make a simple winter painting with a few brushstrokes. Alternatively, you can buy a white canvas and just paint it black (or blue).
I love black color and black and white combination so I got two more lists full of painting inspo for you:
---
#21 Purple Snow Winter Landscape
Make a winter painting landscape where the background is the main character, like this icy landscape where the snow in purple hues takes the spotlight. It reminds me of a frosty sunrise!
Read also: Violet vs Purple: The Difference You Should Know
---
#22 A Pine Tree In Wintery Night
Create a striking acrylic painting composition of a snow-covered pine tree against a deep blue sky. For those tiny stars, use a fine-point brush. Super easy winter painting for beginners and it looks better when you place the tree on the left or right side creating a more interesting composition than just a tree in the middle.

---
#23 Melted Snow Landscape
Capture the snow melting away in an ochre-colored field, like in this landscape scene. The spring is coming yet the mornings are still cold and it snows sometimes! To create more realistic soil add brown, orange and yellowish hues to show old grass and dirt.
---
#24 People Walking Through a Snowy Forest
If you're a beginner and human shapes are too advanced, try to paint the figures in the distance. You can loosen up on finer details and get a striking painting. It can also be a great family gift, as you can add more characters!
The trick here is that you can create the forest with palette knives, as well as the snow. And then paint the family with a brush.
---
#25 Make a Snowy Van Gogh-Inspired Starry Night
Take inspiration from the famous Van Gogh Starry Night painting and make your own version! Adapt the original painting to a snow-covered theme, like the one below.
You can get inspiration from Munch, Picasso, or other famous artists!
Tip: squeeze white, grey, and light blue (better premix a very light blue with white) next to each other. Dip into all of them at once with a flat brush and start creating waves or swirls! They will turn out blending colors so satisfying and beautifully!

Flickr/ Vedder
---
#26 Cabin in the Woods Winter Painting
An enchanting cabin in the woods surrounded by trees and snow is a winter postcard worth painting! You might want to use a mini-canvas to save time.
---
#27 Log Cabin Surrounded in White Snow
The most beautiful landscape you'll see this season is a log cabin tucked away on the slopes of an icy mountain. Let this scene inspire your next winter painting project.
---
🎄Easy New Year and Christmas Painting Ideas🎄
#28 Easy Santa Painting Ideas
No Christmas can exist without Santa, especially for children waiting for the presents! In every culture, Santa has its own name and little helpers, so there are tons of ideas on how to paint the main character of the holidays. To start with we need a beard, a red hat, and a very kind face! Or maybe we caught him right when he was sliding in the chimney?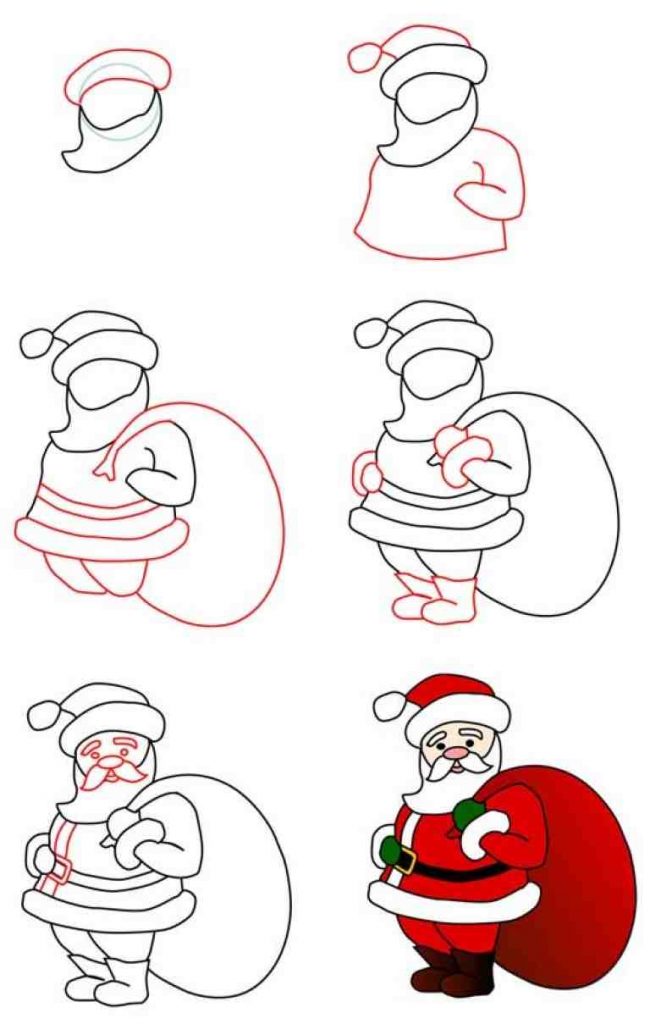 Maretta Elsalieva created an amazing Meow-smas and I'm sure it can sparkle some ideas in you! It is just such a warm, family-friendly, and full of kindness painting! Just by looking at it, I'm excited like a little girl!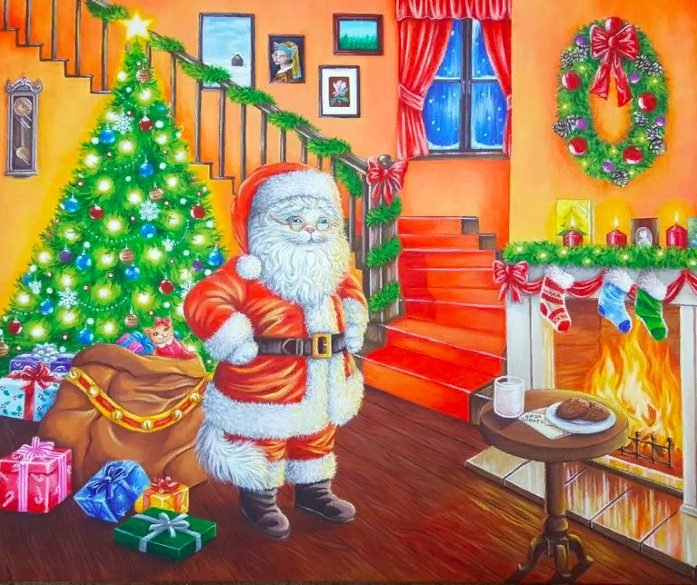 ---
#29 Grinch Painting Ideas
Oh boy! Grinch is actually one of the most popular painting ideas for Christmas. And don't we all know one of the Grinch kind around us? So relatable! Such a perfect story to watch on Christmas Eve along with Home Alone movies. And Grinch is pretty easy to paint, well, you need a lot of yellow-green paint!
---
#30 Christmas Elves Painting Ideas
Those little helpers create magic and make sure all presents are delivered right on time! Even though they are living in our imagination, we can still paint them!
---
#31 Gingerbread House painting
It is great to make a real gingerbread house for holidays, but we can also paint one with acrylics, markers, or watercolor. It is a colorful painting with lots of candies peppered around the house.
---
#32 Religious Christmas Painting Ideas – Nativity Scene
The Nativity of Jesus is probably the most important moment and scene to paint and celebrate for religious people during sacred holidays. The scene usually represents the angels and the Holy Family, the Magi, the ox and the donkey, villagers, shepherds, and other characters, so you can include some or all of them in your painting.
A realistic painting will take quite a lot of time and advanced skills, yet we can paint a very easy religious painting like one of these: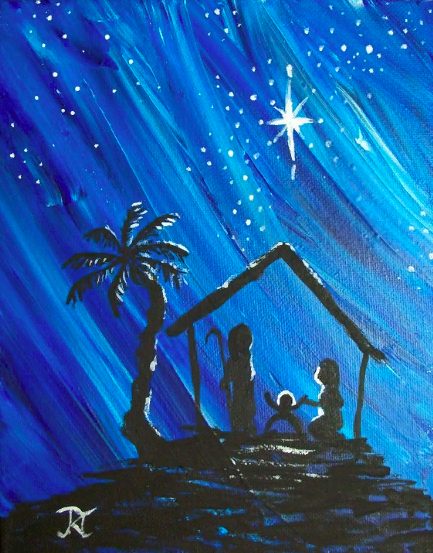 ---
#33 Christmas Eve Scenery in Acrylic
Use perspective projection to paint a quiet Christmas scene with a cabin surrounded by snow and a Christmas tree. To create a similar feel, you'll need colors like brown (Sienna), blue, green, red, white, and black.
Again, start by painting dark background and then move closer to the snow and Christmas tree.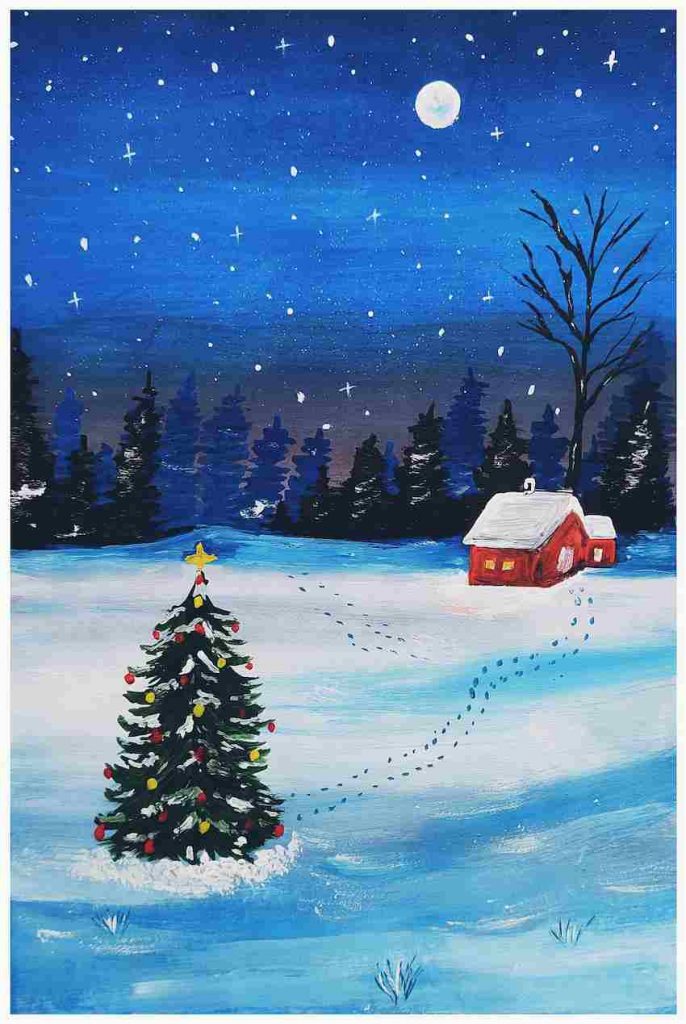 ---
#34 Christmas-themed Snow Globe Acrylic Painting
A fun and easy painting of a snow globe will put you in the Christmas spirit! Go with the traditional Christmas colors or use a fun color combo. You can put a Christmas tree inside, Santa, deer, snowman, or a cabin in the woods! In this case, the snowman family was created by talented painted at StepByStepPainting!
---
#35 Magical Christmas Tree
A magical tree with a full moon in the background is an easy composition to make with acrylics that will help you practice. You don't have to make it realistic, keep it simple and use different colors for simple round Christmas tree decorations.
As you can see, the tree looks real because there are a few green colors used: mix green with white, yellow, or dark colors to get different nuances, or just buy a few green colors and add, here and there, shades, lighter areas to create volume.
---
#36 Christmas Tree in a Pot – Cute Winter Painting idea!
A cute potted Christmas tree sporting the classic holiday colors is a simple painting idea that anyone can do! Not everyone has a tree in the house, some prefer just pine branches, and why not? If you have some you can use them as reference 🙂
Tip: You first paint the background, then the pot, then the trunk, and the branches. Only after that add green color and the decorations will come last. To finish your painting you will take white paint and add snow here and there.
---
#37 Red Lantern In Snow Christmas Scene
This beautiful composition of a red lantern surrounded by flowing snow and tree branches allows you to experiment with blending techniques in the background: white and blue blend together and create an effect of a mild snowstorm or just a snowy day!

---
#38 An Enchanting Christmas Gnome DIY Painting Project
Making a Christmas gnome painting like the one below is easy, and the results are stunning! Plus, it's great to practice stippling and dabbing and you don't have to stress about painting the face or skin tone or creating invisible brushstrokes.

---
#39 A Shiny Christmas Star

Painting a star glowing in the winter night doesn't require much precision, so it's ideal for beginners but has a pro result! For the star, go for a mix of dark oranges and yellows. For me it has an impressionism vibe, what do you think?
---
#40 Christmas wreath Acrylic Painting
This simple yet lovely Christmas wreath painting with an array of different green shades is a wonderful painting idea for a beginner to start practicing with acrylics!
Tip: Start by drawing a large and thick circle (you can even paint it brown), then add step by step dark green leaves, and finally lighter leaves and berries.

Youtube/ Createful Art with Ashley Krieger
---
#41 Decorated Christmas Trees
Is there anything more wintery than decorated Christmas trees in the middle of the snow? I don't think so! For a similar look, use blue, green, and white and blend your favorite colors for the glowing ornaments.
---
#42 Unique Christmas Tree Painting
Make a Christmas tree with curved lines and swirl snow around it for an original and fun take on the holiday scene. It is an easy trick to avoid dealing with all green shades and hues. Just use beautiful golden and silver paints!
---
Easy Winter Canvas Painting Ideas for Toddlers and Preschoolers (and Crafts 😉
#43 Snowflake Painting Idea for Preschoolers
Little ones will have a blast painting with acrylics. Make them only paint the background and then use stickers or tape to create the snowflakes for an easy project. Sprinkle glitter on top or use glittery acrylics (they are super cheap)!

---
#44 Winter Landscape Painting for Preschoolers
Pick different blue acrylics like cobalt Blue, Cerulean, and UltraMarine to help your preschoolers make a winter landscape by layering horizontal bars from light to dark. Then add trees and snowflakes!
---
#45 Cute Snowman Painting Idea
This cute snowman idea will be a hit with the little ones! For the snowflakes, kids can use cotton dibs or their fingers for extra fun.
---
#46 Fingerprint Christmas Painting Idea
A winter scene of Christmas trees on a snowy day painted only with fingerprints is great for toddlers and preschoolers alike! Prepare different paints on the palette and paper towels for kids' fingers, you can paint trees for them and let them decorate!
---
#47 Candy Cane Winter Painting for Toddlers
Kids can paint candy canes using acrylics and their fingers with just two colors! You'll need white and red acrylic paint and a brown or dark green background cardstock (or you can paint it as well). Create the boundaries of the candy so your kids can easily paint within!
---
#48 Christmas Lights Art Project for Kids
Another cool fingerprint winter painting idea is to create Christmas lights. Pick acrylic paint in colors like red, light blue, orange, yellow and green to get a colorful final result. Draw the line on which kids should add lights and let them be creative with colors.
---
#49 Fun Wispy Winter Tree Painting
For the preschoolers who are training their fine-motor skills, a snowy winter tree is perfect. Pick a flat brush for the tree, so little ones can get wispy tree branches. Alternatively, they can use their fingers!
---
#50 Easy Reindeer Winter Painting For Kids
For a simple but super-cute winter painting idea, help your kiddos paint a reindeer! For an extra pop, pick bright background colors like pink, blue, or orange!
---
#51 Easy Winter Tree Painting Idea With Q-Tips
A tree with snow against a light blue sky… only using q-tips! Paint the tree and let kids paint the snow!
---
#52 Fun & Easy Abstract Winter Painting Idea for Toddlers
An abstract painting with acrylics and sequins on top of it is a great painting project for little ones who love sparkles! You can use glitter, a brush, or a palette knife to create the background.
---
#53 Winter Tree Finger Painting Idea
Your kids could make their collection of tree paintings! Encourage them to use different brush sizes and styles to get different textures and shapes for each tree.
---
#54 Cute Polar Bears Winter Painting Idea
For a cute and quick winter-themed painting idea for toddlers, make some cute polar bears using cotton balls or sponges and dab away!
---
#55 Mittens Winter Painting Idea for Kids
I saw this original idea as a craft and printable, but why can't we paint the mittens? We can help kids draw the mitten shape around their tiny hands and then let them paint it using colors and patterns they want!
---
#56 Penguin Winter Painting Idea
Polar bears and penguins are perfect for winter paintings and easy to paint with toddlers! You can draw a cute baby penguin and add a nice hat and scarf 🙂
---
#57 Winter City Painting Idea
We have covered so many ideas for forests, landscapes, and cabins, but we sure can paint a winter city! It can be a very simple painting idea for kids or a very realistic landscape that needs a lot of practice.
---
#58 Hot Chocolate Winter Painting Idea
Can you smell this thick and delicious aroma of fresh hot chocolate spreading around the house? And the tiny marshmallows floating and melting in? That's something I can never say no to! Let's paint it with our kids!
---
Tutorials on How to Paint a Winter Scene on Canvas for Beginners
There are tons of amazing tutorials on Youtube, I share below some of the tutorials for ideas above and some more advanced tutorials in case you want to upscale your acrylic painting skills!
Winter Landscapes:
And another one, easy and stunning:
Full Tutorial: Snowscene in Acrylic Paint
For an in-depth step-by-step tutorial on how to paint a winter scene on canvas, watch this amazing tutorial that goes over everything in detail by Will Kemp.
Final Thoughts
I am 100% sure these easy winter canvas painting ideas gave you the inspiration you need to start your next winter-themed painting project! If you're craving more ideas, check out my 100+ beginner-friendly painting ideas.
After a cold winter always comes a warm and smiling spring, so get your supplies ready for these: