Do you want to switch things up with a black canvas but a bit scared of not knowing what works best on black? Experiment with a black canvas using the awesome black canvas painting ideas I listed below!
With a black canvas, you can easily make the colors pop. Painting a dramatic night sky, the moon, the stars, and the galaxy on a black canvas saves you time and paint. It is also a perfect tool for when you want to improve your contouring style and the manner you add highlights and shadows.
Below, you'll discover 50+ black canvas painting ideas and tips using acrylics, oil, and watercolor. Plus, I've also included black canvas paintings from famous artists!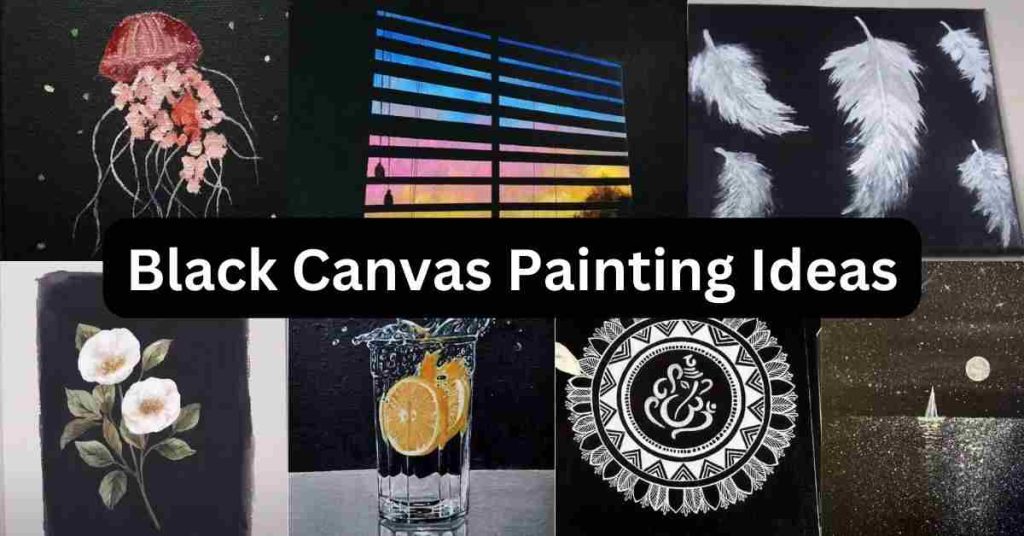 Black Canvas Painting Ideas
Smearing Paint on Canvas
Easy Abstract Circles
Abstract Watercolor Painting
Abstract Blues
Bright Abstract Painting
Cutting Into Color
Abstract Painting with Plastic Wrap and Acrylics
Sunset as Seen from a Window
Sponge Painting of Autumn
Bob Ross-Inspired Black and White Forest
Rainbow Butterfly and Tiger
Colorful Butterflies
White Cat
Christmas Candle
Dandelion
Golden Diva
White Feather
Summer Flowers
Forest
Guitar
Leaf Print Painting
Lemonade
Ganesha Mandala
Owl
Peacock
Pink Diamond
Rainbow Lips
Red Tree
Sunflower
White Flowers
Quince, Cabbage, Melon and Cucumber
Quince, Cabbage, Melon and Cucumber by Juan Sánchez Cotán
Philippe Vandenberg, No Title
Colorful Nebula by Resin Painter Bruce Riley
Iberia by Robert Motherwell
Saturn Devouring His Son by Francisco Goya
The Tenement by Norman Lewis
Zebra by Victor Vasarely
Astronaut
Aurora Landscape
Full Moon
Galaxy Moon
Galaxy
Moon River
Sponge Painting of Galaxy
Seascape Under a Starry Night
Yellow Tree
Jellyfish
Auroral Display
Dog
Bubbles
Fish
Watercolor Flower Paintings
Metallic Watercolor
---
Easy Black Canvas Painting Ideas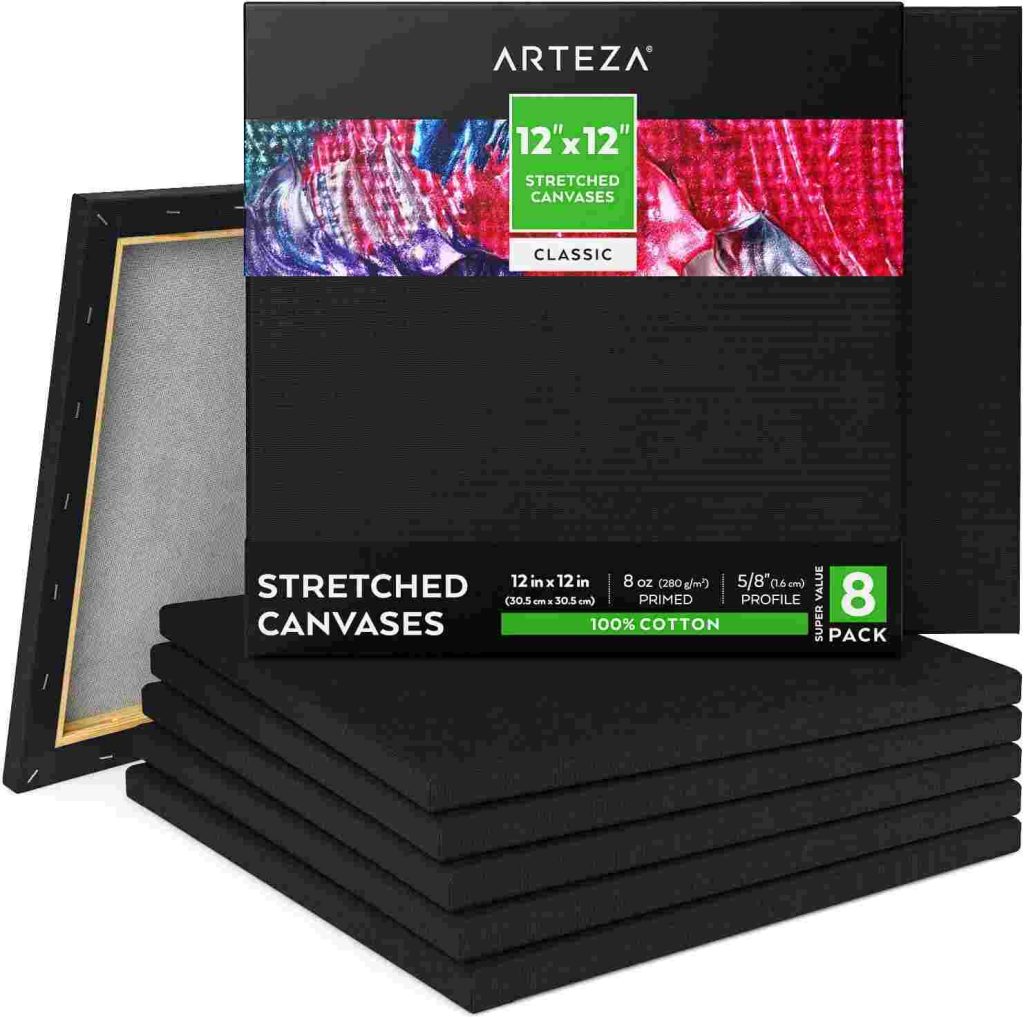 Make lighter paints and colors stick out with a black canvas. You can replicate a moody night scene or explore abstract painting using bright colors. Choose among acrylic paints, paint pens, oil, or watercolor.
I've reviewed some great canvas options here: 38 Best Canvas for Acrylic Painting for Beginners in 2023 that Professionals use.
Nightscapes are a popular black canvas painting idea since the shadows are already there. Of course, you can paint other subjects like animals, flowers, and many more.
Apart from acrylic paints, you can use oil paint and watercolor on a black canvas. Below I go into more detail about each idea you can create with a black canvas.
Abstract Painting Ideas on Black Canvas
Smearing Paint on Canvas
Do you want to try your hand at abstract painting? Go ahead and grab your acrylic paints and canvas. Smear your canvas with black paint using a palette knife, followed by your chosen colors.
Easy Abstract Circles
Abstract art lets you send a message using words, symbols, shapes, lines, color choices, and how you apply paint. Be inventive.
Abstract Watercolor Painting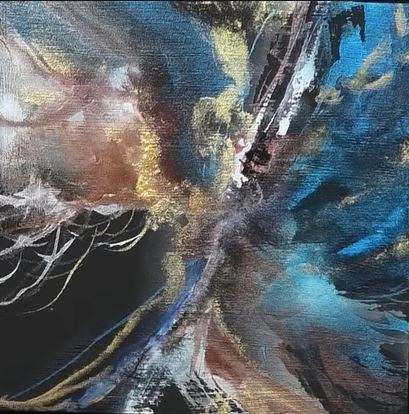 Using black watercolor ground opens up a new way to make watercolor more exciting! The artist also used iridescent paints for a shimmery abstract painting!
Abstract Blues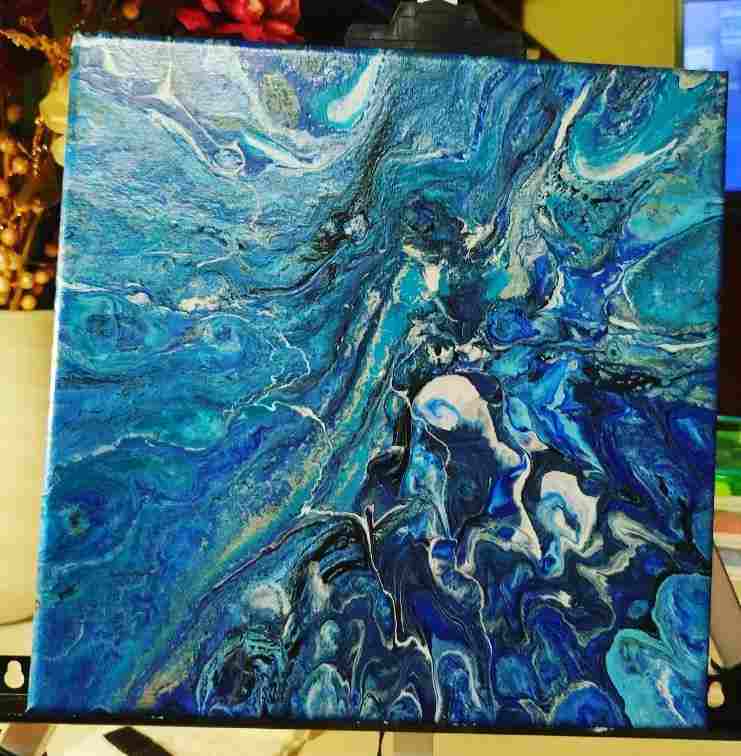 You can never go wrong with abstract acrylic pouring. You can use different colors. Or use different shades of blue, like what the artist did in this piece. Mix up any painting techniques.
Bright Abstract Painting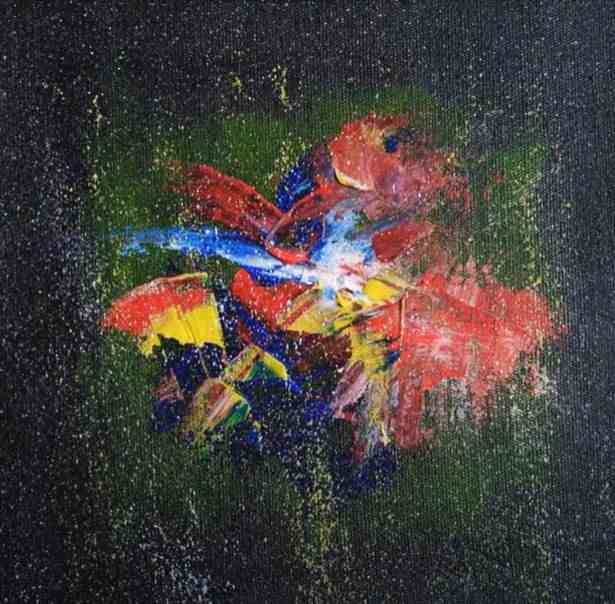 Bright colors indeed pop on a black canvas! Choose your set of colors before starting to work.
Brush a yellow layer on the canvas. Spread one color at a time using a palette knife. Splatter yellow paint to finish.
Cutting Into Color
For this piece, have the following materials ready:
Acrylic Paints: Hansa Yellow Medium (can replace with Cadmium Yellow), Naphthol Red Light, Quinacridone Magenta, Teal, Titanium White, Yellow Ochre
Brush
Palette knife
Use the palette knife to scrape the paint across the panel and mix the colors on the panel. Spread out the paint using a brush so the black canvas shows through. Lastly, use the comb to scribe into the wet paint.
Abstract Painting with Plastic Wrap and Acrylics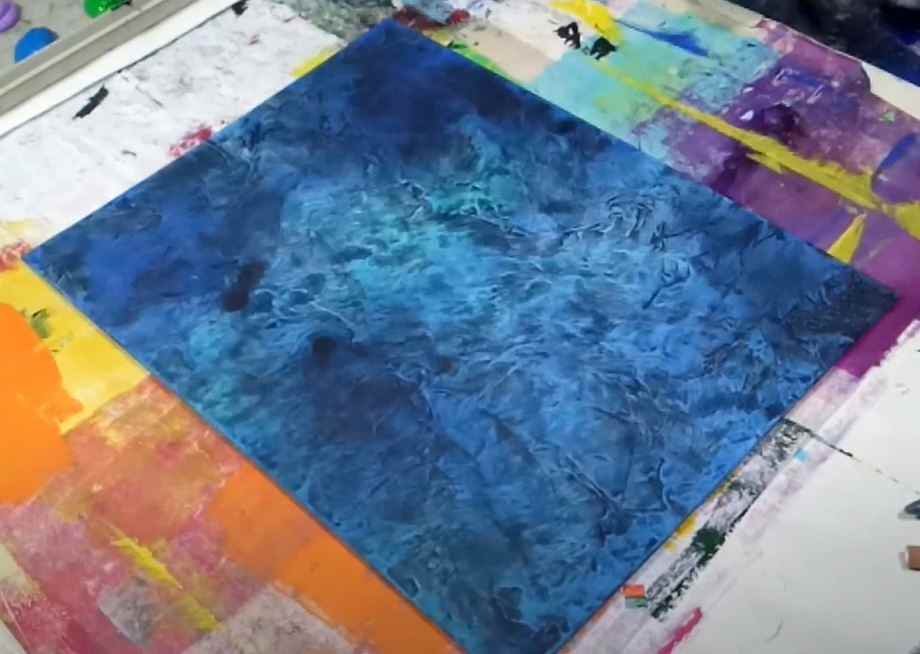 Give this idea a try! Jump over here for the tutorial.
---
Black Canvas Painting Ideas for Beginners with Acrylics
Sunset as Seen from a Window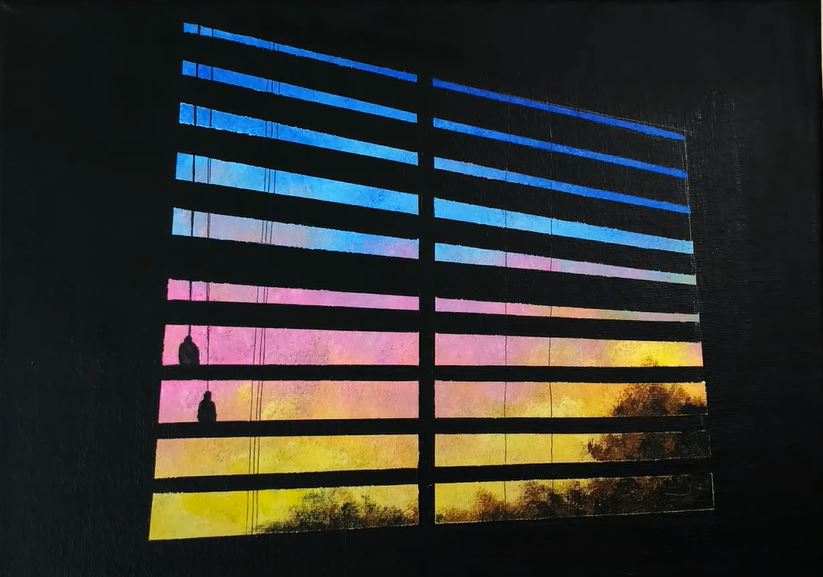 Paint the golden hour on a black canvas with a twist! Use craft tape to create the window blinds effect.
Sponge Painting of Autumn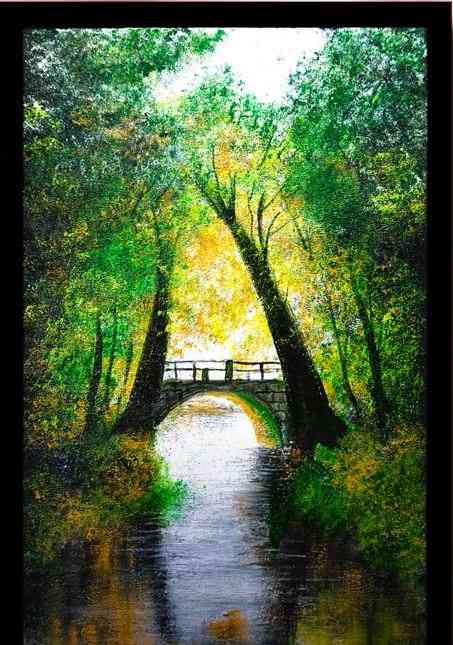 The artist used titanium white to make the sunny parts of the painting appear bright. Notice how the parts of the black canvas that show through add depth and texture to the artwork.
More Fall painting ideas: 91 Fall Canvas Painting Ideas Everyone Will Surely Love!
Bob Ross-Inspired Black and White Forest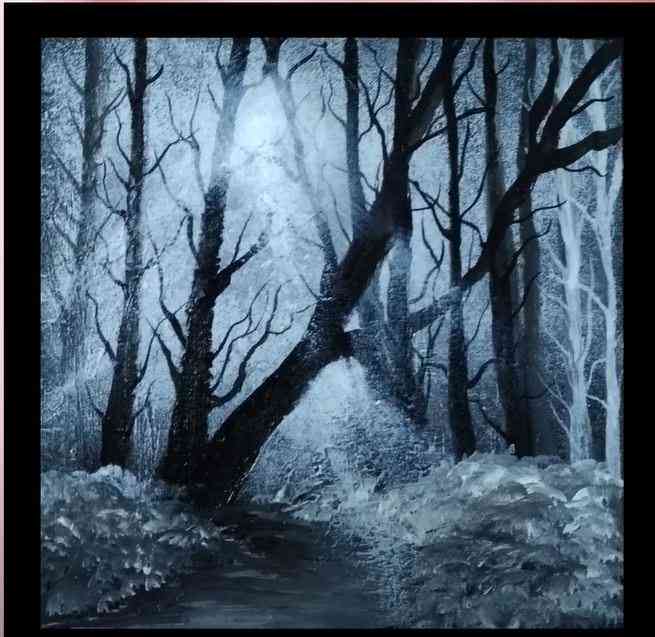 The artist used a sponge, brush, titanium white, and black to make this piece. Discover how he pulled off the sun's rays through the wood effect here.
Rainbow Butterfly and Cat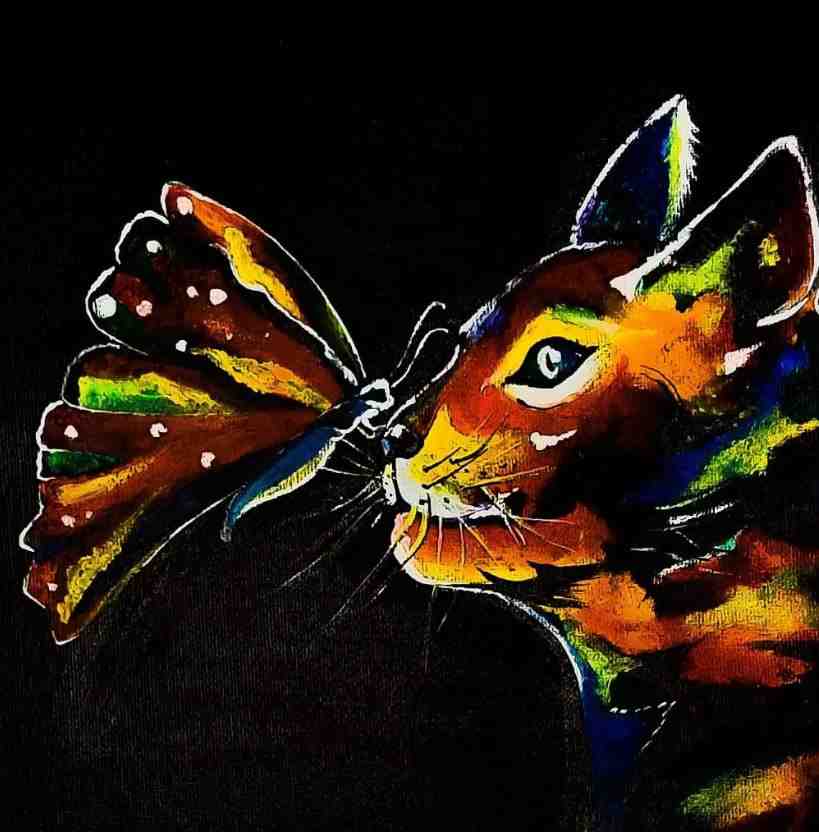 The best way to learn what you need about colors is to get out your paints. The more you mix, push, and adjust, the more you learn.
Colorful Butterflies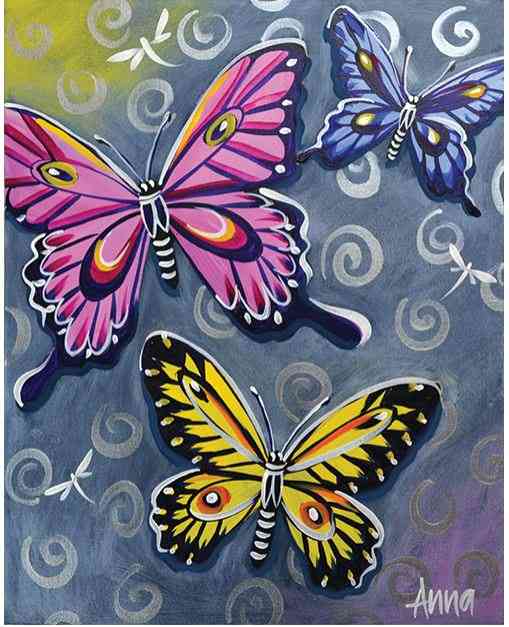 Beginners could easily mimic this colorful piece using butterfly stencils. No need to buy black canvas if you have traditional canvas. Instead, paint it with black gesso using a flat brush.
White Cat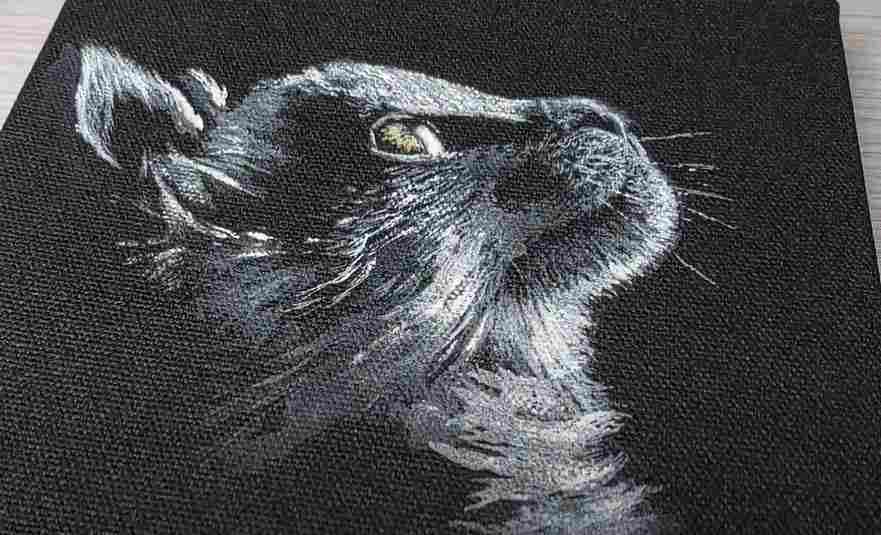 Paint a picture of your furry friend. Look how dramatic your piece is compared to when you paint it on a white canvas.
Christmas Candle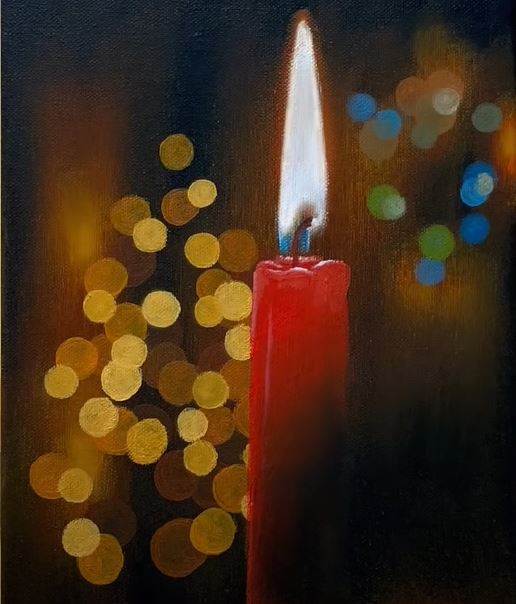 Are you tired of the usual Christmas scene ideas? Recreate this pretty Christmas candle scene. The blurred background lights make this piece extra lovely!
Check also these 55+ Easy Christmas & Winter Canvas Painting Ideas For Beginners
Dandelion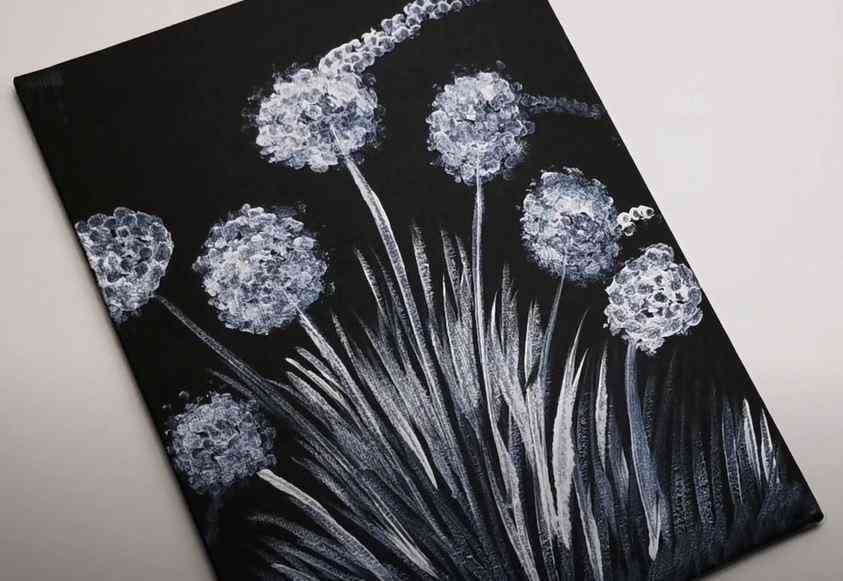 Floral paintings are incredibly popular. Do one using a brush and a bundle of cotton swabs.
Golden Diva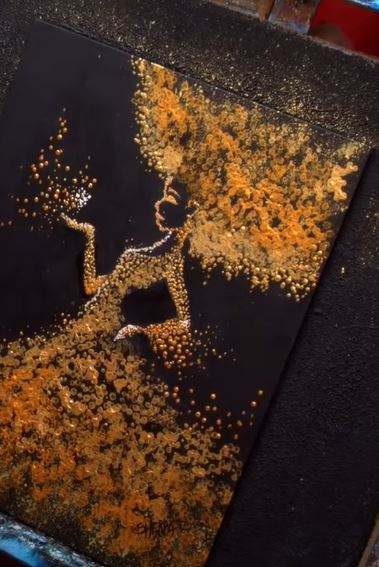 The golden diva is also a product of the q-tip painting technique!
Tip: Do not use the hot air setting if you're using a hair dryer when drying your canvas, as this will affect its color.
White Feather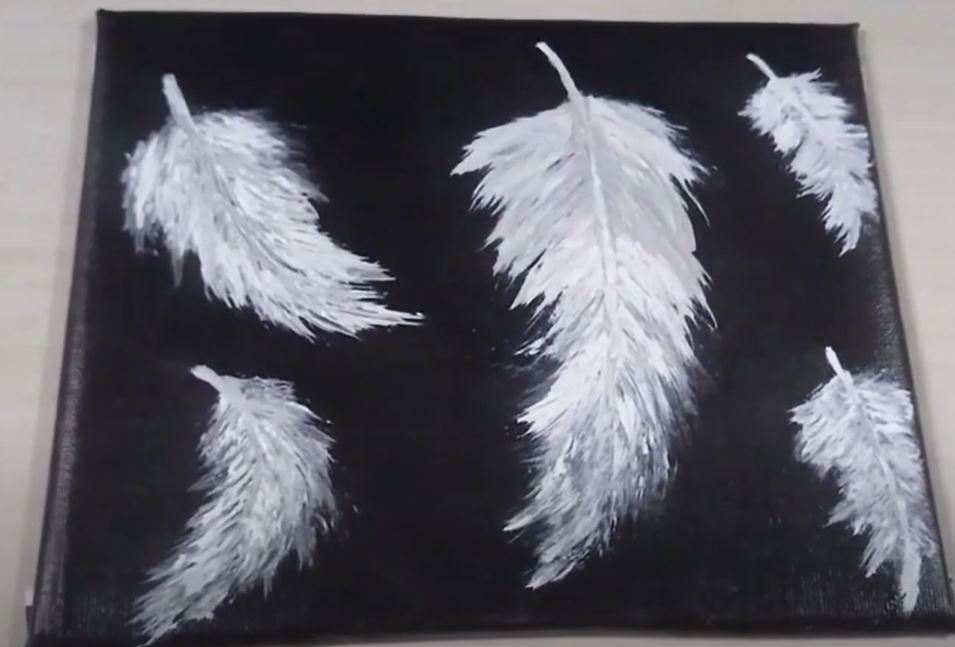 You can buy a texture brush (#10 filbert comb) designed to paint feathers and fur. Or you can also use an old toothbrush to paint this art.
Summer Flowers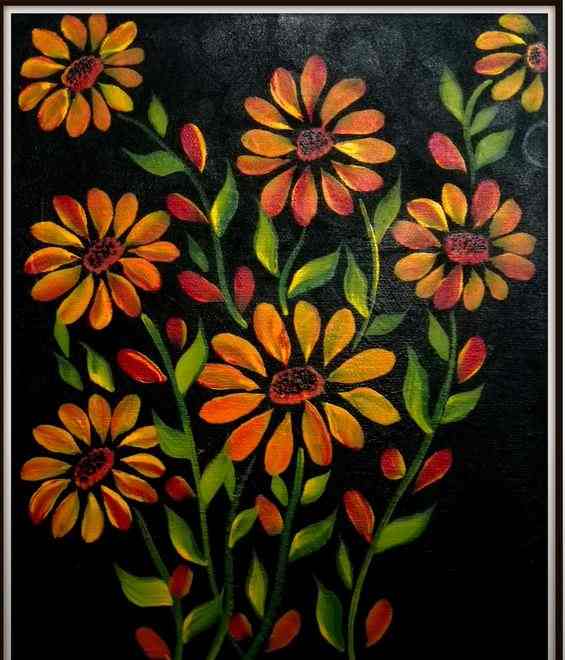 Practice your blending skills and brushstrokes by adding exquisite details to these summer flowers!
Forest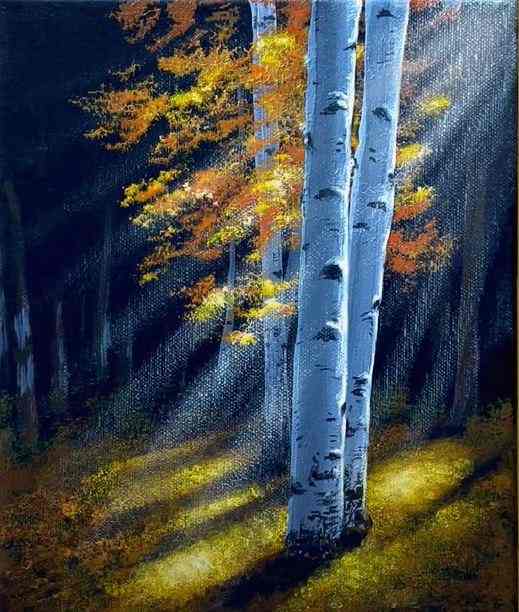 This life-like forest scene may save you from your creative block.
Tip: Painting every leaf on a tree is too much work. Simplify it by painting only the edges.
Guitar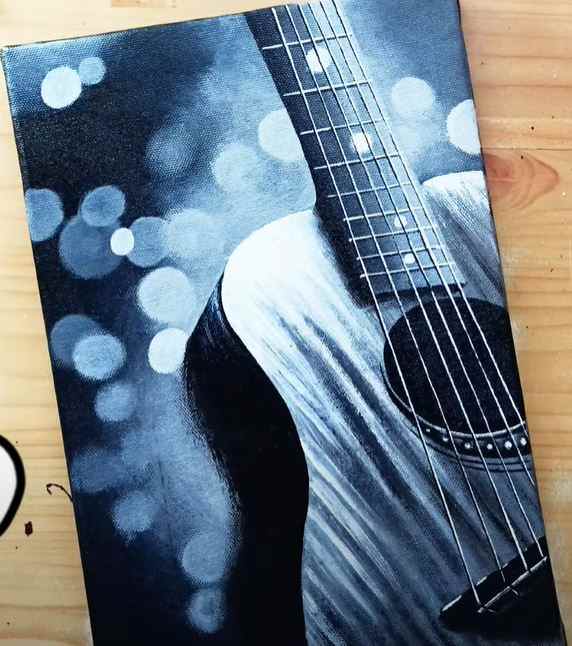 Do you love music and painting? Why not combine both? Use your instrument as your painting inspiration.
Leaf Print Painting
This stunning painting is so easy to make! You'll need a round canvas, metallic gold acrylic paint, a brush, and leaves!
Lemonade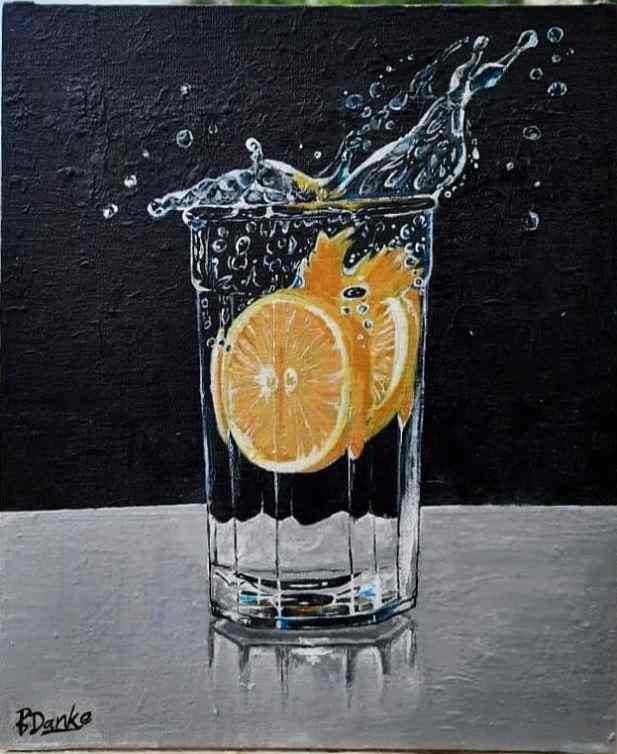 Have fun with a glass of lemonade! Either make yourself a lemonade, then start to paint. Or take a photo and work from that.
Ganesha Mandala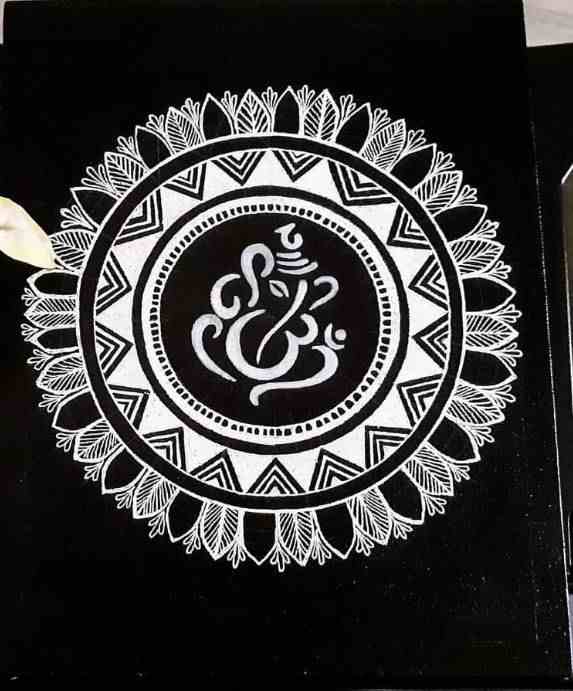 The key to painting a Ganesha mandala is to draw one shape at a time as you complete the circle.
Owl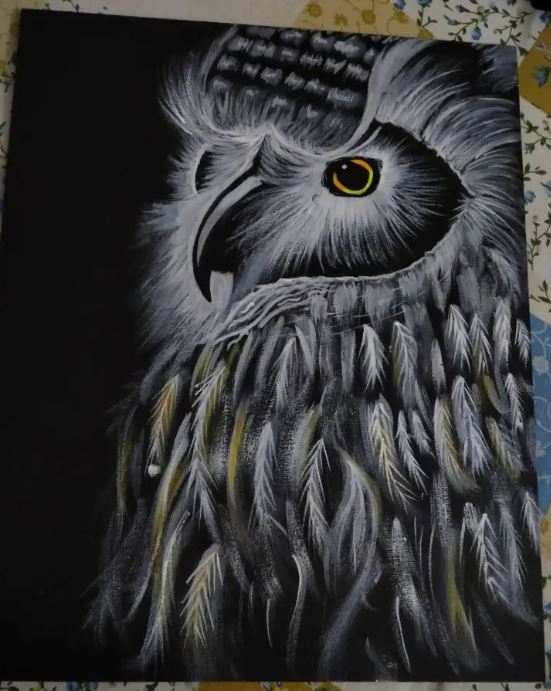 Animals are easier to paint from photographs as they move a lot in person. Get a photo of an owl ready for this piece.
Peacock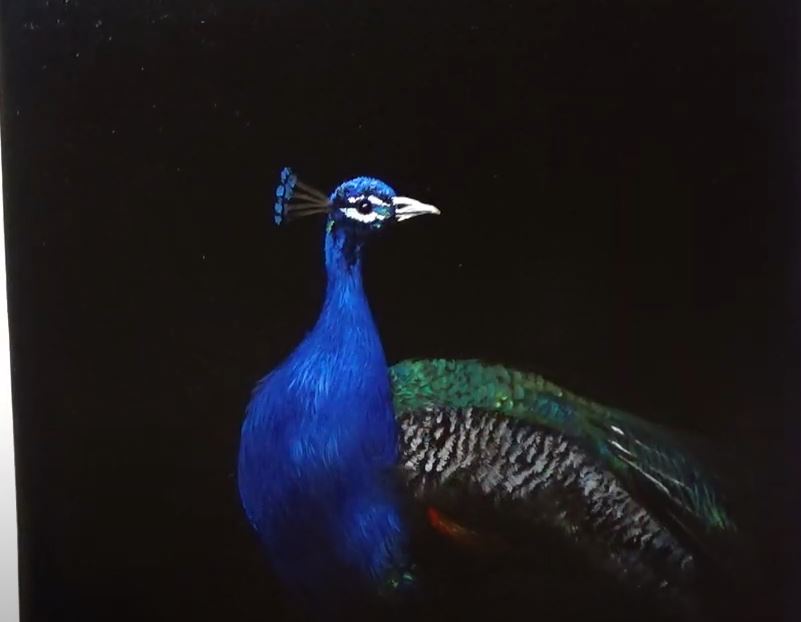 A peacock's color (blue or green) makes it a great painting subject on a black canvas!
Pink Diamond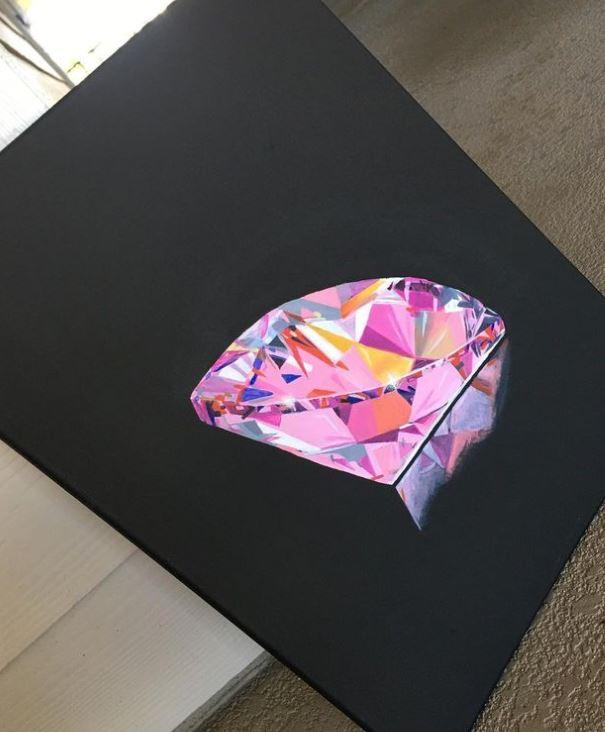 Watch how the artist draws this pink diamond on a black canvas here.
Rainbow Lips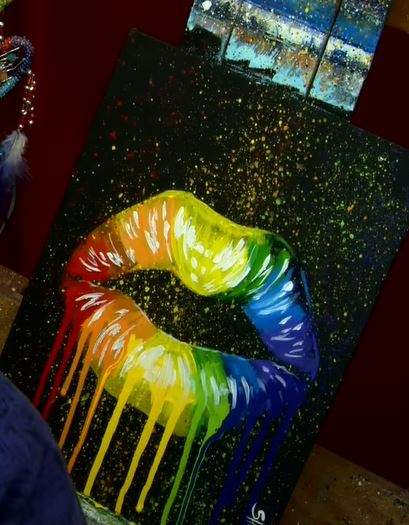 Use chalk to draw the outline of the lips. As you can see, the drip effect on a painting can be cool!
Red Tree
Look at how vivid red turned out due to the black background! The artist used black paint for the background.
Sunflower
Sunflowers are attention-grabbers even on an ordinary canvas. But they pop more on a black canvas.
More tutorials: 22 Easy Tutorials How to Paint a Sunflower (Acrylic, Watercolor, Pouring Etc)
White Flowers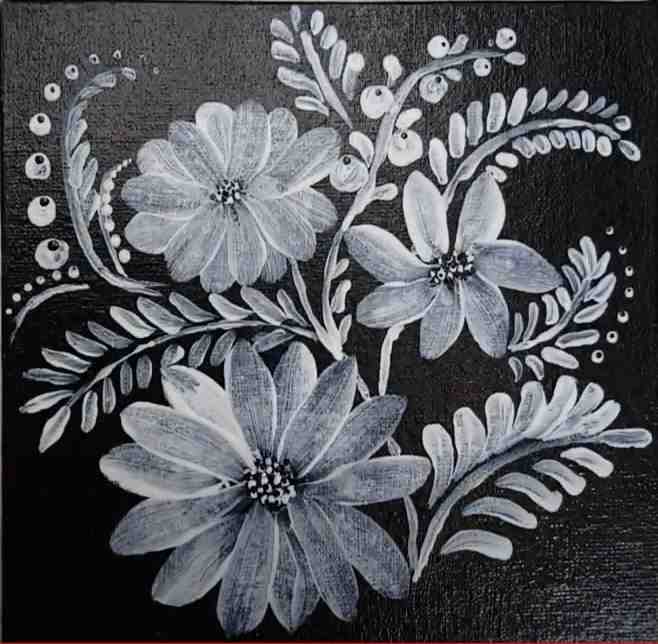 The combination of black and white is a classic one. It is a fascinating combination even if you just draw a bunch of flowers.
Want to know more about the basics of acrylic painting on canvas? Jump here-> How do you start a canvas painting with acrylics?
More painting tutorials and ideas:
---
Famous Black Canvas Painting Ideas
Are you curious about black canvas paintings made by famous artists? I've listed them below, along with their artwork!
Quince, Cabbage, Melon and Cucumber by Juan Sánchez Cotán
Philippe Vandenberg, No Title
Colourful Nebula by Resin Painter Bruce Riley
Iberia by Robert Motherwell
Saturn Devouring His Son by Francisco Goya
The Tenement by Norman Lewis
One of my favorite artists Pierre Soualges explored black color on canvas and texture. He created depth in simplicity:
---
Night Landscapes Painting
Paint splatters give night landscapes an interesting finish! You can create splatters using the following materials:
Brushes: Load a brush with paint. Tap it against another brush. The larger the brush, the more water, and the harder you tap will make a large splatter.
Old toothbrush: Use a firm brush to load an old toothbrush with paint. Hold it two inches from the area where you want to add splatter.
Speckling brush: Create a fine spray of paint using a speckling brush. Load it with paint using a brush, then turn the handle to move the wire.
Protect the area where you don't want to add splatters using paper.
Now, off to the night landscape painting ideas!
Astronaut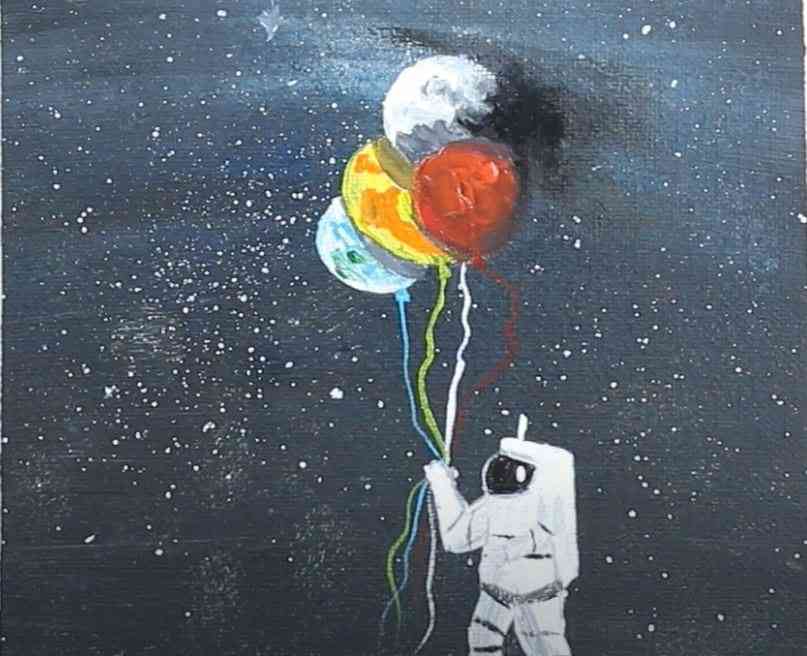 Think of a space scene before you draw. Will there be an astronaut? Stars? If yes, here's a reference you can replicate.
Aurora Landscape
Looking for an easy aurora landscape painting you can follow? Chloe Art makes it look easy to paint one!
Moon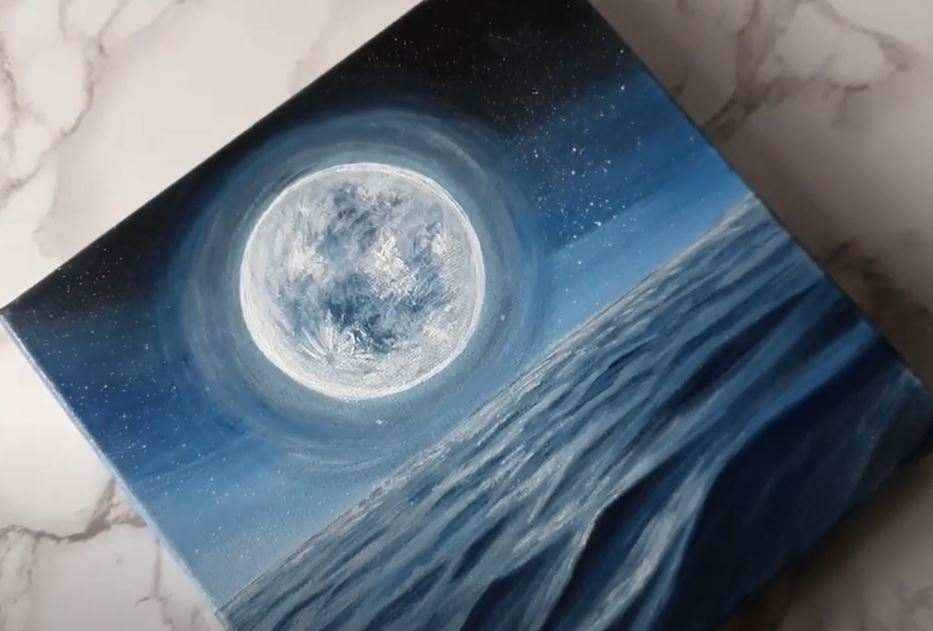 Do you need help with perfecting the shape of a full moon? There's no harm in using a glass or a bowl.
Below are some of the stunning moon painting ideas you can mimic (and improve)!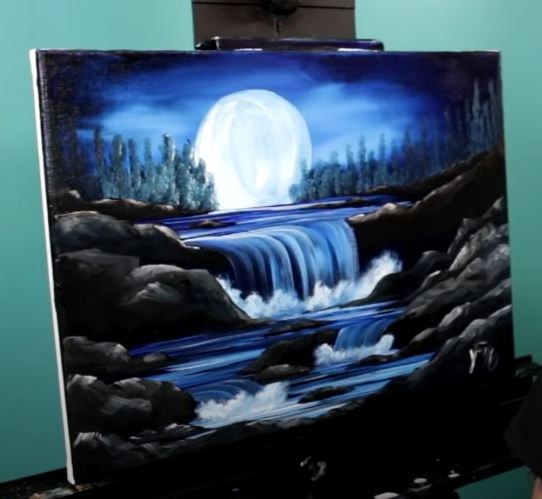 Tip: Don't forget to paint the moon's reflection!
Galaxies
Do you love looking up at the night sky and gazing at the stars? Recreate what you love using a few paints and sponges!
Adding details before the nebula paintings dry is challenging! What should you do then? Have a sketch ready.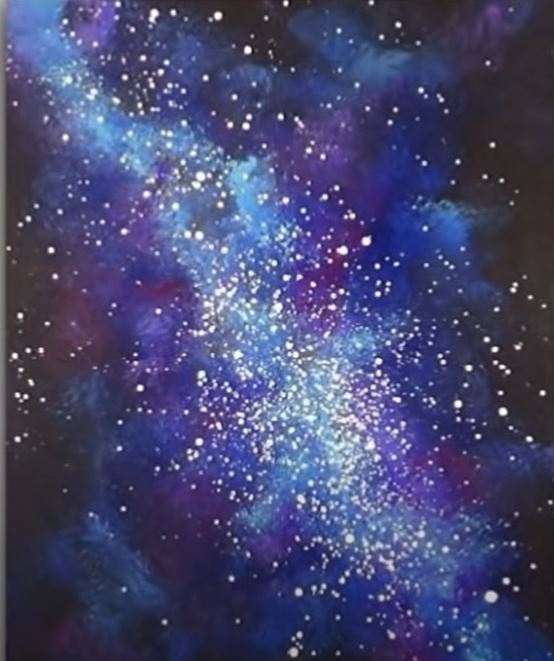 Seascape Under a Starry Night
A calm sea under a starry night sky? What a scene! If you happen to observe this in real life, snap a photo and head to this tutorial for the how-to.
---
Black Canvas Painting Ideas for Beginners with Oil
Jellyfish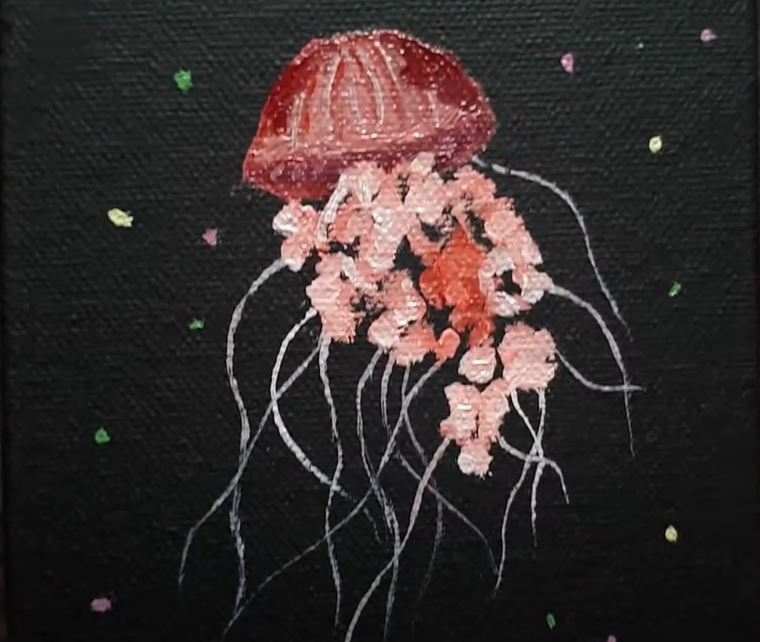 Practice your wet-on-wet painting skills with a jellyfish gently floating along the current.
Auroral Display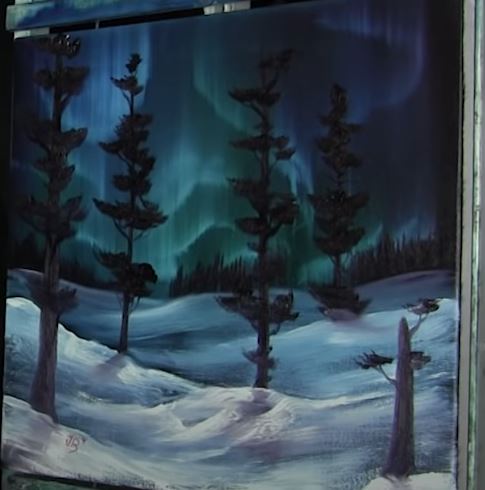 Create the shimmering auroral display in the sky! You'll need Phthalo Blue, Phthalo Green, and Alizarin Crimson for the shimmer!
Dog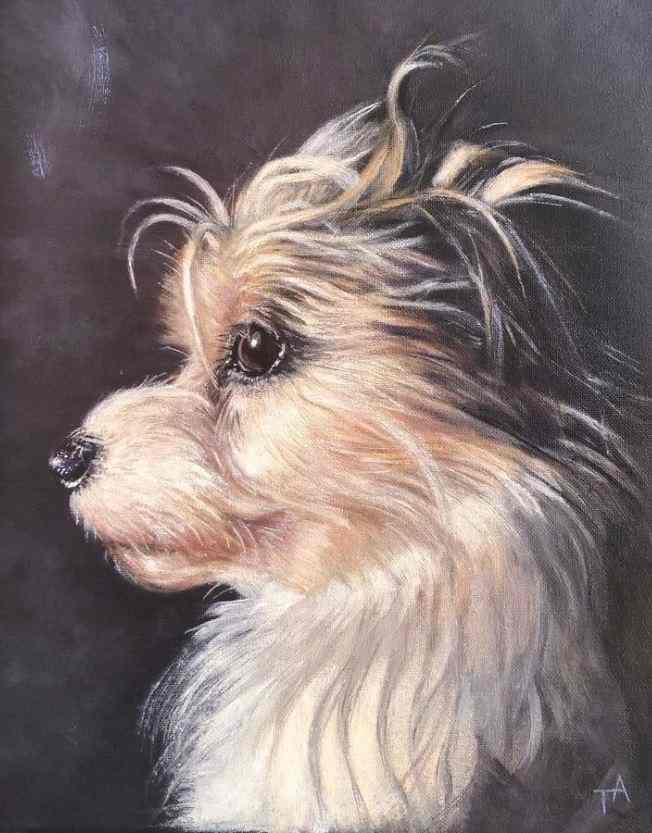 Paint your beloved fluffy creature! Don't try to paint individual strands of fur. Instead, look at the shape the fur makes.
---
Black Canvas Painting Ideas for Beginners with Watercolor
Bubbles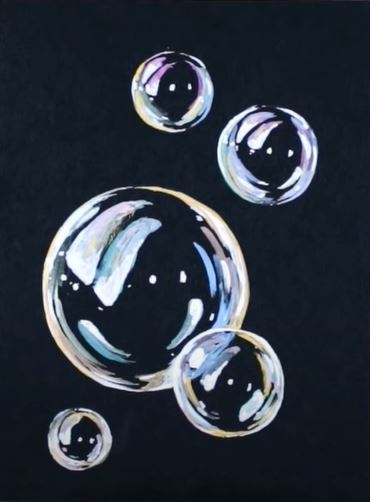 Seeing a simple yet neatly executed bubble painting makes you want to paint your own!
Go ahead and have your watercolor paint and black watercolor paper ready!
Fish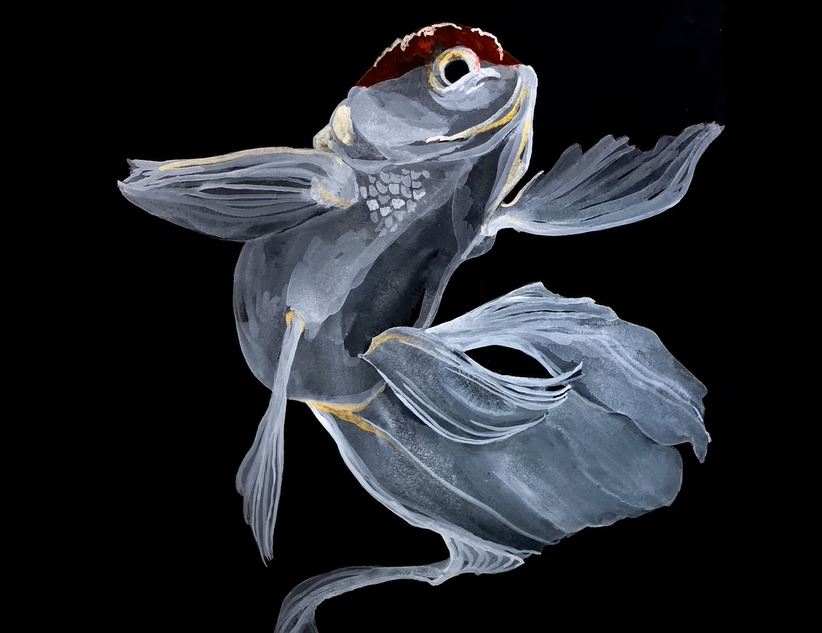 A fish is a good subject if you want an easy and quick subject to practice.
Watercolor Flower Paintings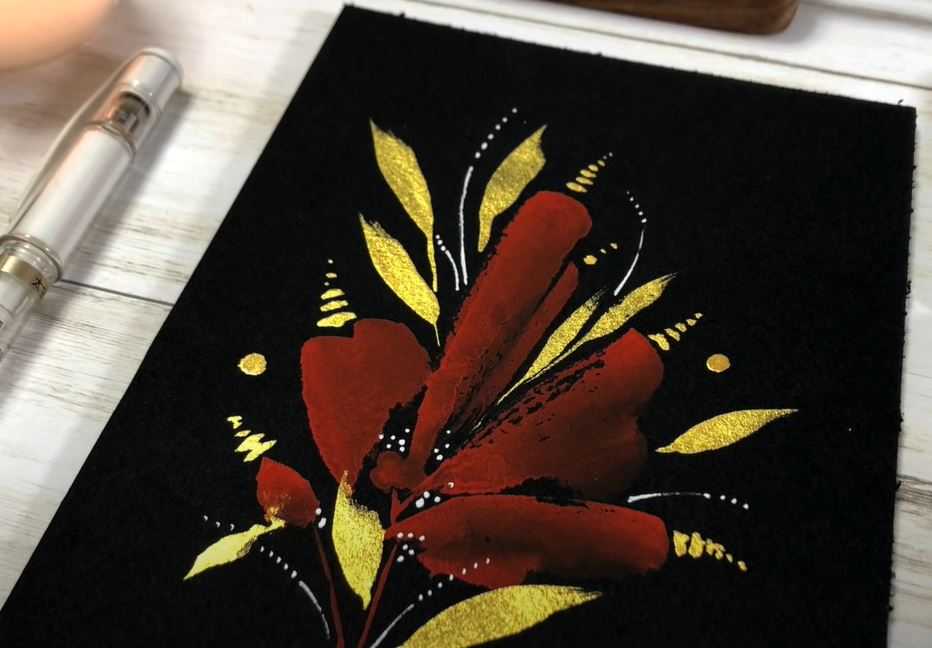 Paint these flowers for fun, or turn them into cards for family and friends!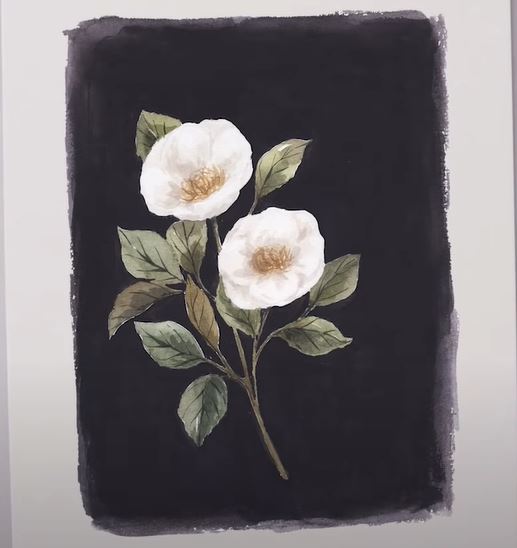 Metallic Watercolor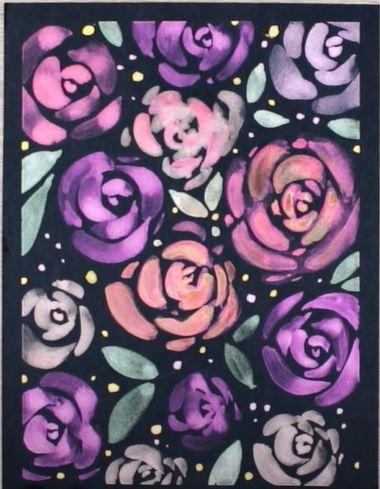 Are you thinking of trying to paint using a metallic watercolor set? Here's a demo (starts at 2:57) of how a metallic painting looks on a black canvas!
Head over here to learn how to paint a spring scene in watercolor.
---
Black and White Clown with Chalk
by peetra sasha
---
Black Canvas Acrylic Painting Tips
Here are a couple of black canvas acrylic painting tips you should take note of before creating your piece:
Prep a Black Canvas
Prime your white canvas with black gesso or matte black paint by following the steps below:
Use a paintbrush to apply the first coat of gesso vertically.
Paint the edges too
Smoothen the paint
Use a palette knife if you want a textured canvas
Check whether you covered the entire canvas with gesso
Dry the canvas using a hair dryer or let it stand for one to two hours
Sand the canvas once completely dried
Apply a second layer of gesso (horizontally)
Let the canvas dry. Sand it again.
Repeat until you're satisfied with your surface.
Begin painting.
Buy a Black Canvas
Don't have the time to turn a white canvas into black? No worries at all! Because you can now buy black canvasses and boards online:
Below are some of the black canvases and canvas boards available on the market:
Use Opaque or Semi-Opaque Paint to Make Dark Colors Show Up
Dark paint color on a black canvas won't be visible unless you first add a layer of opaque or semi-opaque paint.
Learn more about the opacity of acrylic paints —> 7 Ways How to Make Acrylics More Opaque & Full Opaque Colors List
Use Titanium White
Not sure if you're using translucent or opaque paint? Spread a layer of titanium white first.
Note that you don't need to paint the whole canvas white. Plus, allowing the black canvas to show through gives your art more depth.
Alternatively, you can double load your brush with titanium white + the color you'd want to paint with.
Black Paint on Black
Painting black on black is doable. Decide where your light source is. Then, add highlights to your subject wherever the light hits it.
Another method to make black visible on a black canvas is to use different tones of black (e.g., dark blue-black or brown-black).
---
FAQ
What Can I Do with a Black Canvas?
There are a lot of painting ideas that will look good on a black canvas. Save time and paint by making a nightscape. Try new ways of working with colors. Come up with a unique abstract painting. And lastly, discover the beauty of white and metallic paints on a black canvas.
What Should I Paint on my Black Canvas?
Choose a subject. You can paint a flower, animal, landscape, and even a portrait and abstract painting. One thing is sure, though, you'll produce a stunning and eye-catching painting when you use a black canvas.
How Do You Prep a Black Canvas?
Pre-made stretched black canvases, and canvas boards do not need to be primed. But if the acrylic paints do not stick easily on the canvas (due to silicone), apply a layer of black gesso. Let it dry using a hair dryer. Sand it a bit once dry. Repeat the process until you get your desired surface.
How Do You Paint a Whole Canvas Black?
Paint a whole canvas black using black gesso. Use brush strokes that run parallel to one another. Check if you missed the edges or a spot. Let it dry using a hair dryer (cold setting). Sand the canvas for a bit.
Conclusion
There you go! After reading this article, I hope you feel ready enough to explore black canvas painting! Go crazy, and don't forget to have fun!
Don't be afraid of black canvas. It makes your colors pop and play in a very different way and I love the depth it creates around anything you paint on it. It is almost mysterious!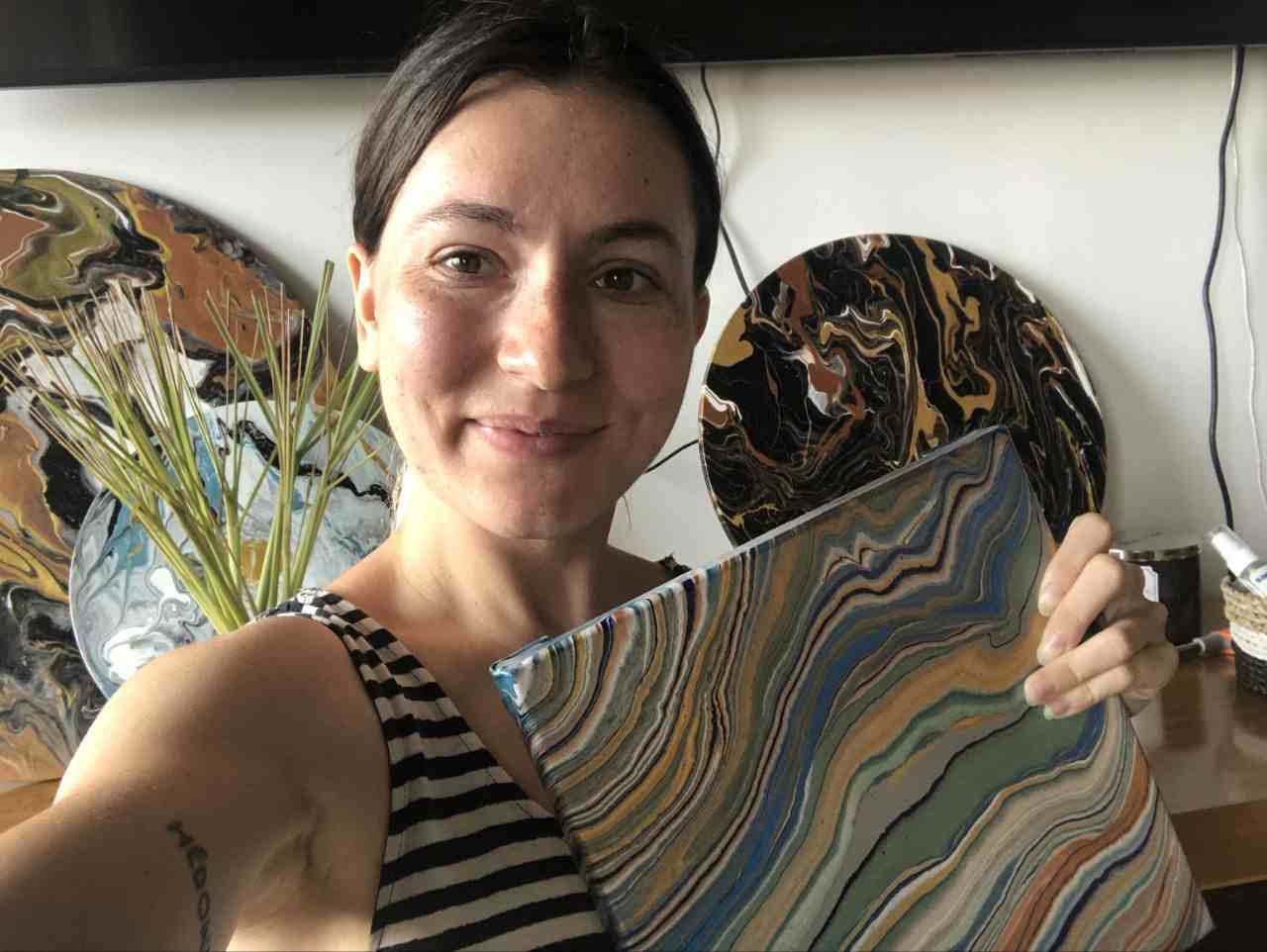 Masha Eretnova is a certified teacher. She started painting and drawing 20+ years ago and now is an international abstract artist and educator passionate about acrylic painting, gouache and crafts.
More about me.