Black and white is a classic combination but some people think it's too basic but it's my favorite.
Yet, it can produce stunning results and look even better than color. I paint mostly with only black and a few other colors, so I am absolutely obsessed with black and white contrast!
If you are looking for interesting black and white painting ideas that are really cool, check my list!
One of the striking advantages of a black-and-white painting is that you can focus on other elements like value, lighting, form, and composition. Black and white looks good on abstracts, portraits, landscapes, and nightscapes.
See below, and you'll find black-and-white abstract, acrylic, charcoal, pastels, pencils, and watercolor painting ideas.
I've also listed DIY black-and-white wall art you can hang in your room. You'll also find handy tips and tricks along the way!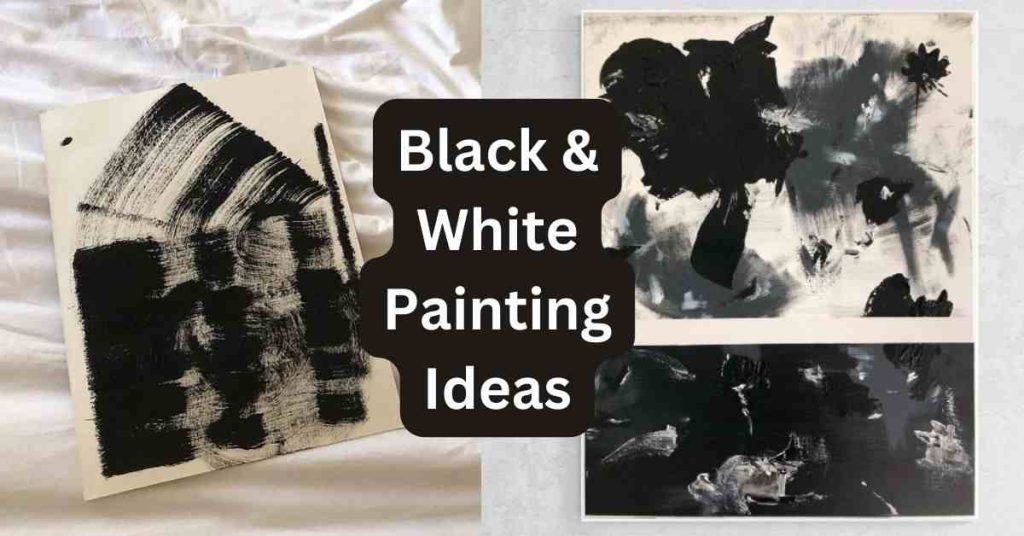 ---
Black and White Painting Supplies
What should you buy for a black and white painting? The supplies you need depend on what medium you want to use.
Note that you don't have to buy the most expensive tools. What is important is you get the tools you need to capture what you want!
Basic Acrylic Painting Supplies
To help you choose the best acrylic brand for you, I wrote an overview which you can check here → Best Acrylic Paint: 20+ Brands Reviewed for Beginners [From Cheap to Pro]
Basic Watercolor Painting Supplies
Check my reviews on Best Papers for acrylic or watercolor.
Basic Pastel Painting Supplies
Basic Charcoal Painting Supplies
---
Black and White Painting Ideas for Beginners [Full list upfront]
White Gesso on Black Paper
Isabelle Grumbach Abstract Painting
Ray Grimes Abstract Acrylic Painting
Robert Burridge Painting
Textured Abstract Painting
DIY Black and White Abstract Painting
Snow Landscape
Abstract Painting: Back in Black 1
Lost in Lines
Black and White
Monochromatic Black and White Painting
Abstract Seascape
Fur Baby
Dandelion
Full Moon
Landscape
Realistic Moon
Floral
One Stroke Flower Painting
Peregrine Falcon
Starry Night
Black and White Acrylic Pour Painting
Grayscale Trees Silhouette Painting
Lion
Dancing in the Rain
Angel
In-flight
Yin-yang Cat
Sunflower
Ballerina
Bamboo
Snowy Mountains
Simple Moon
Apple
Steaming Cup of Coffee
Glass
Bottled Water
Dark Forest
Fairy
Shadow Man
Black and White Full Moon Scenery
Couple
Black and White Scenery
Sad Boy
Butterfly
Candle
Cheetah
Beautiful Girl
Jellyfish
Girl
Easy-to-Make Flowers
Chess Queen
Foggy Forest
Leaves
Dot Art
Jellyfish
Mandala
Stone
Line Art
Quote
More painting ideas for beginners and all mediums:
---
Black and White Painting Ideas for Beginners
While you can only use black and/or white colors of your chosen medium, you aren't limited to what you can do.
You can make a black and white abstract painting! Paint your favorite landscape or scene. Make a portrait of your loved one-may it be an animal or a person.
I hope you discover these colors' beauty along the way! Have fun!
Black and White Abstract Painting Ideas
First I would like to share some of my works asI mostly do abstract black and white studies on paper or canvas:
Some of studies on watercolor paper: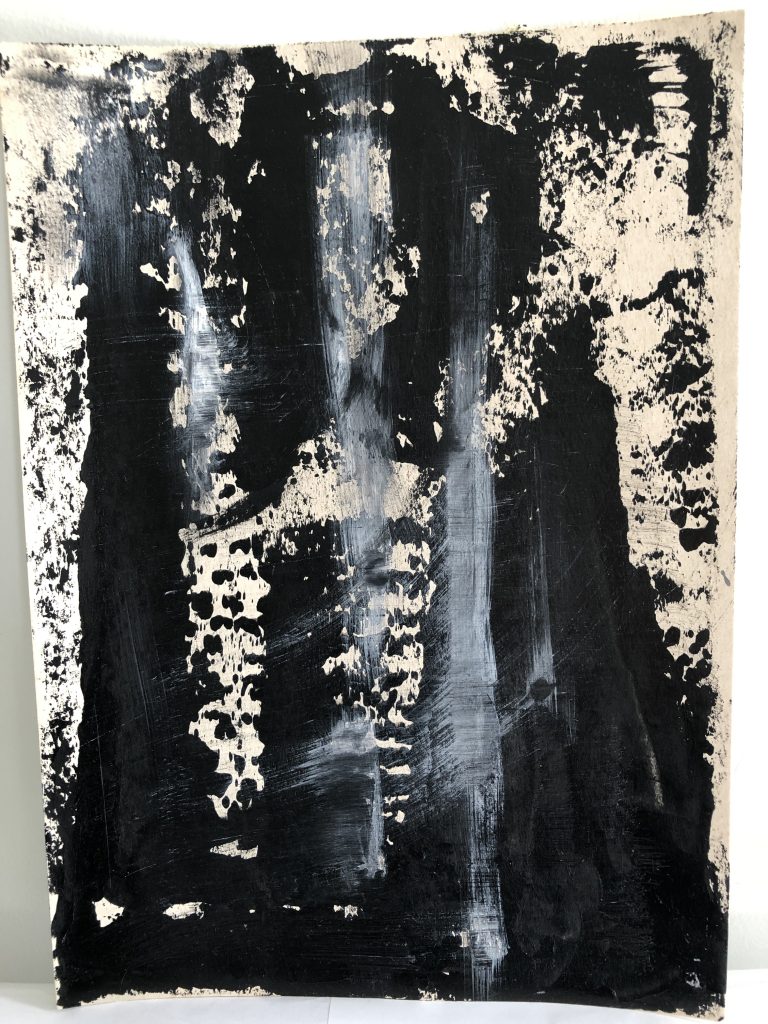 You can check some more of my works (I am bad at uploading them online in good quality, sorry) on my About Me page. Now let's explore more bw painting ideas from across the world:
Gesso on Paper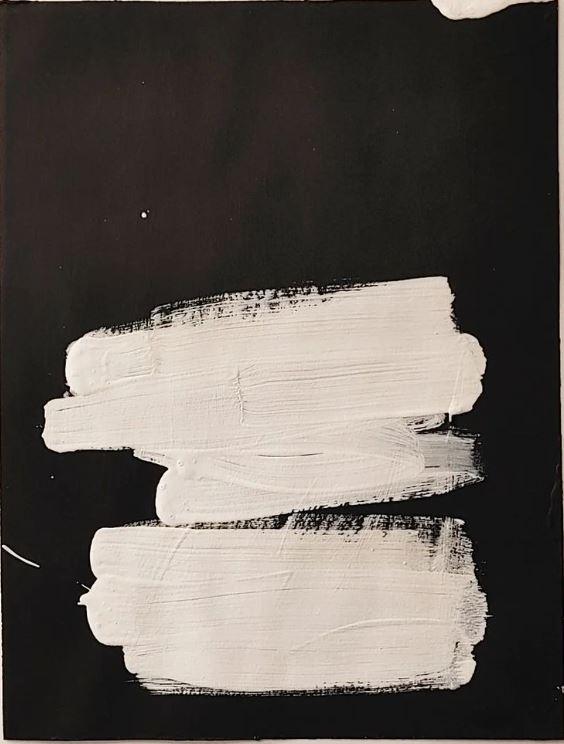 Are you interested in abstract work? Try this simple black-and-white abstract painting idea, then, you only need a gesso (white or tinted) and a black canvas (store bought or painted black).
Isabelle Grumbach Abstract Painting
With the colors taken care of, you'll only need to think of shapes you'd like to paint.
Ray Grimes Abstract Acrylic Painting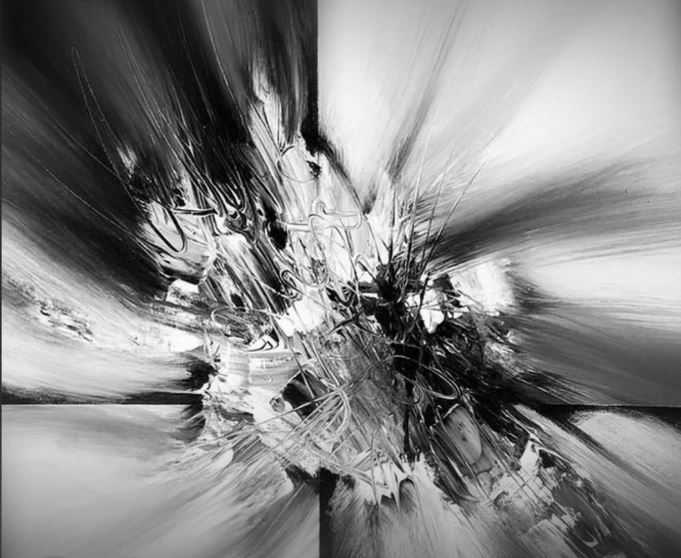 Depth and texture. This piece has both. And the dynamic drawing attention to the center.
C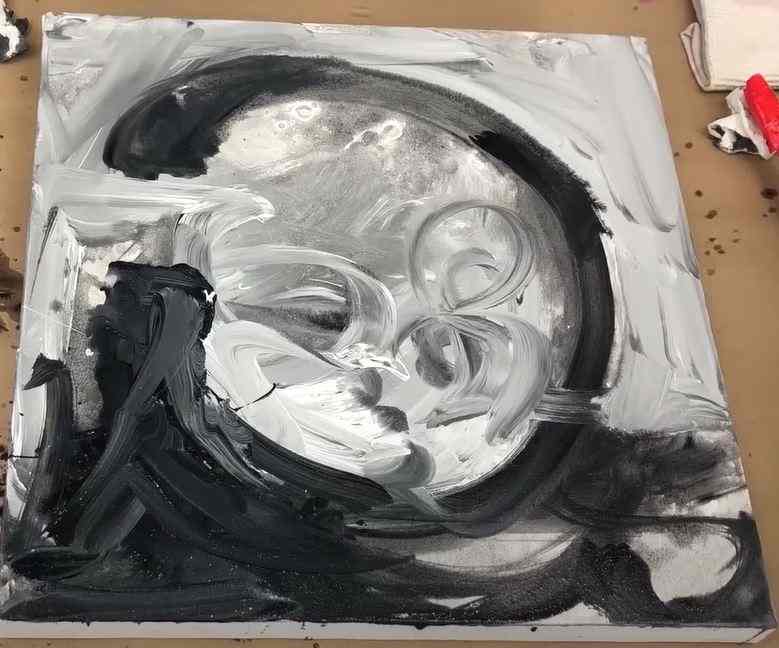 Why use only black and white, you ask? Well, you don't have to think of what colors to use!
Burridge added that there's less chance of ending up with a muddy painting.
Paint along with Burridge and learn more about contrasts in his tutorial.
I also have an interesting experiment on craft papers with letter G: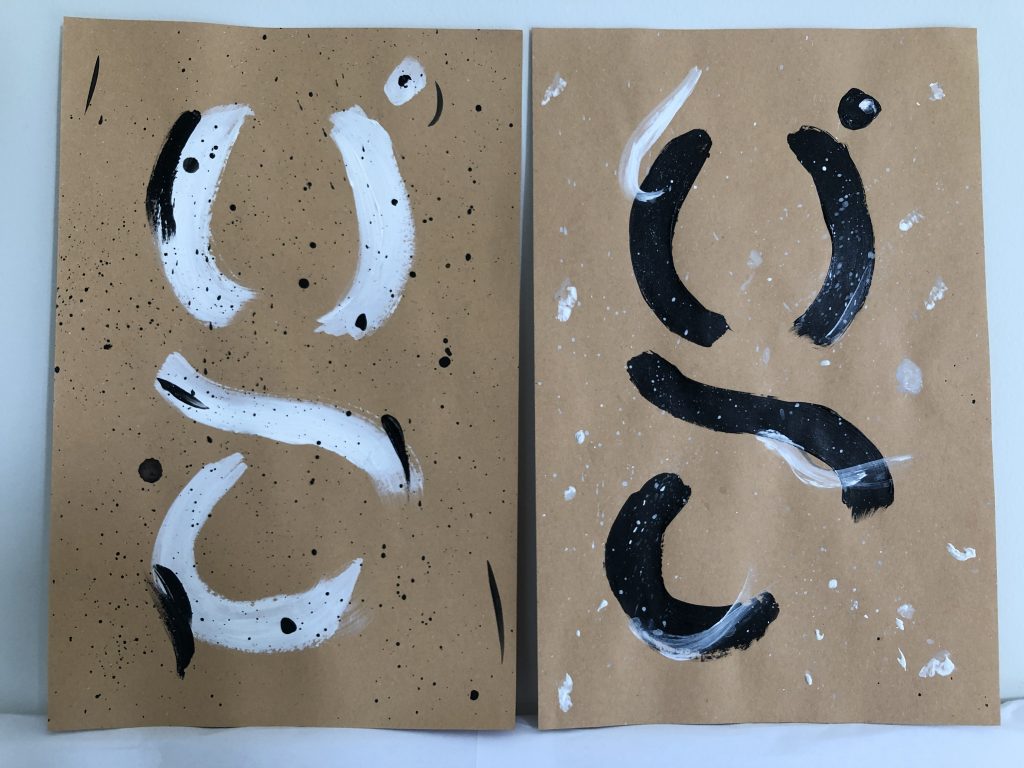 And the letter S: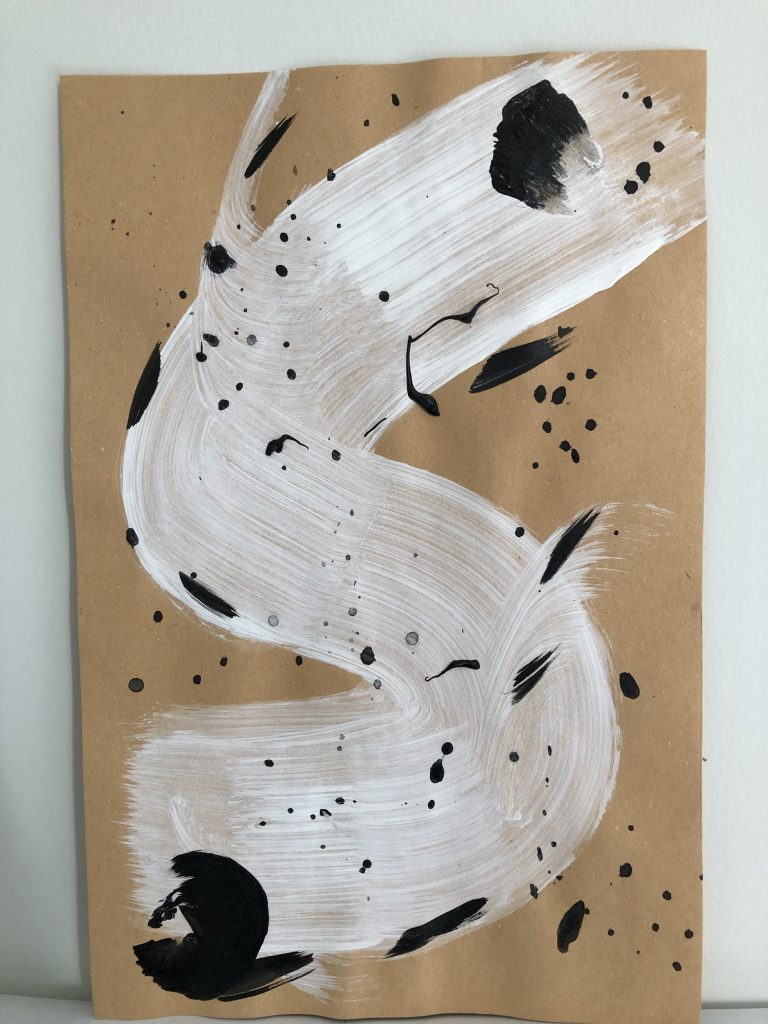 Textured Abstract Painting
There are lots of ways you can add texture to your artwork:
Sanding
Use a medium with sand or grit
Combing and carving
Use rocks, buttons, shells, etc., as a stamp
Use acrylic gel medium to make your paint thick and pourable
Make use of plastic wrap, cloth, or paper
Applying paint with a palette knife instead of a brush
Using q-tips
and many more!
Now, go and experiment!
DIY Black and White Abstract Painting – Imperfect painting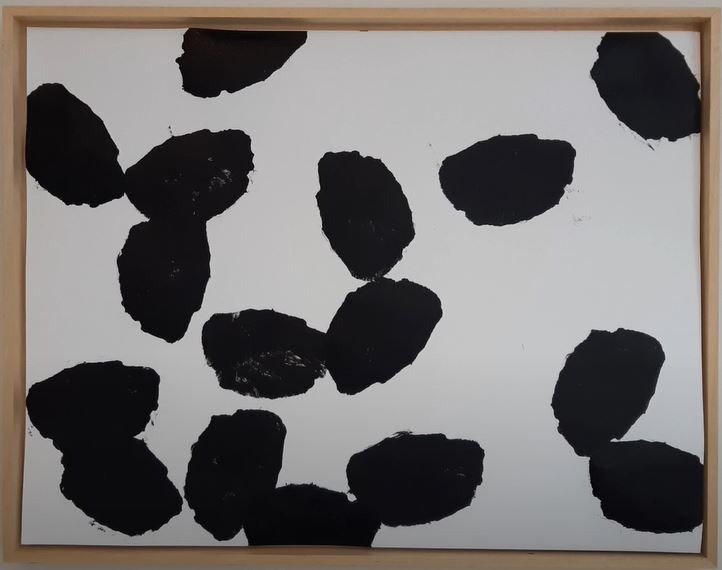 You'll need a glossy magazine page, white canvas, and black paint for this particular piece. Fold your magazine and tear it!
Now, use that magazine as a stencil to create an abstract painting!
Snow Landscape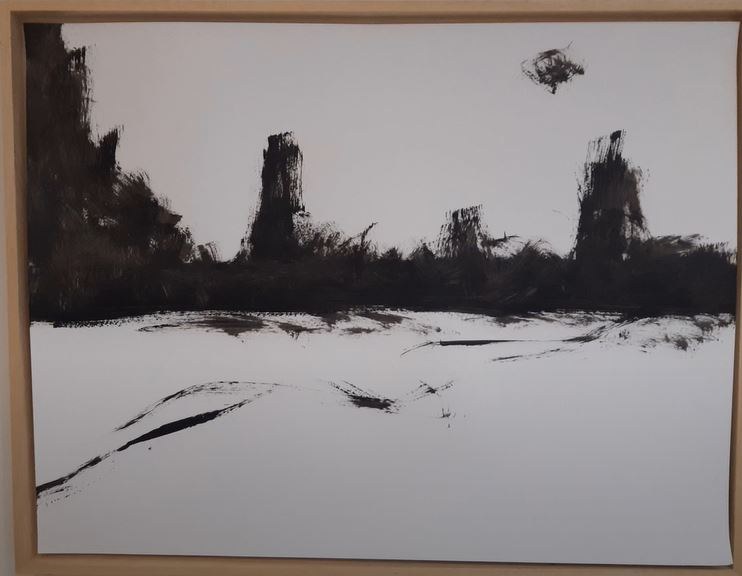 Paint a horizontal line, a circle, or any shape. Then, paint an abstract of what this shape reminds you of, just like what the artist did in this quick tutorial.
Abstract Painting: Back in Black 1
Kessler loves simplifying everything to essentials. Watch how he does this here.
Lost in Lines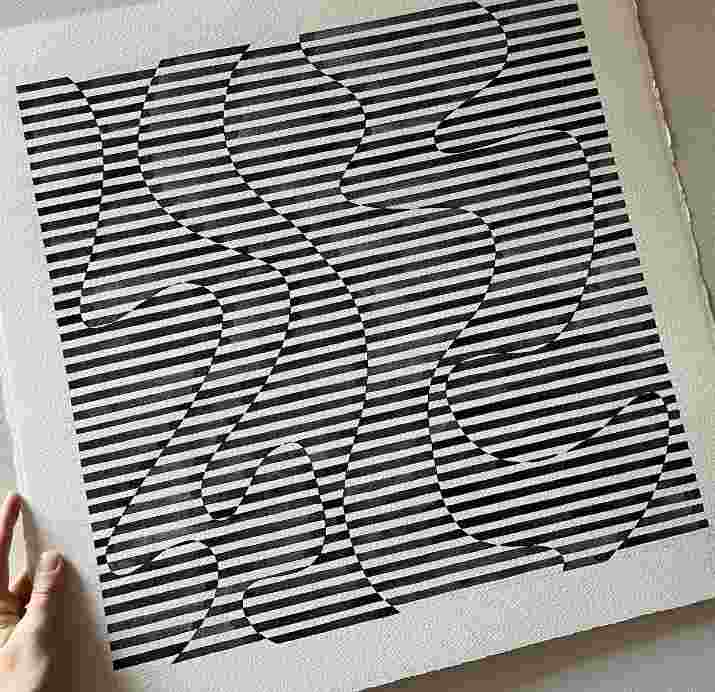 Do you still need help with how to start an abstract painting? Start with lines and create illusions, shapes, depth with them. A simple line has so much to offer!
Black and White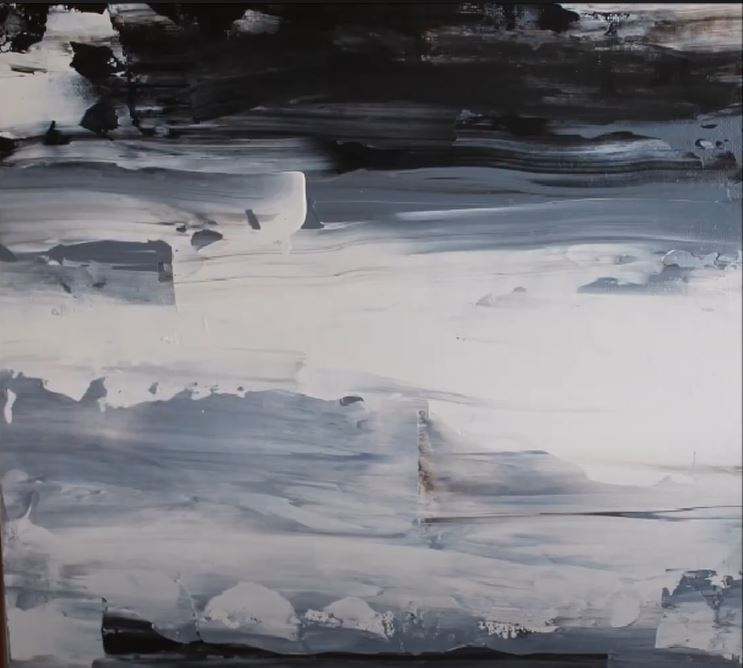 You should try listening to classical music while working as Mara did here.
Monochromatic Black and White Painting with Pouring
Do you have limited supplies? No worries! For this piece, you'll only need a mars black, a white base paint, and a white canvas.
Abstract Seascape
Who said using abstract approach we can only do abstract things? What about painting a landscape?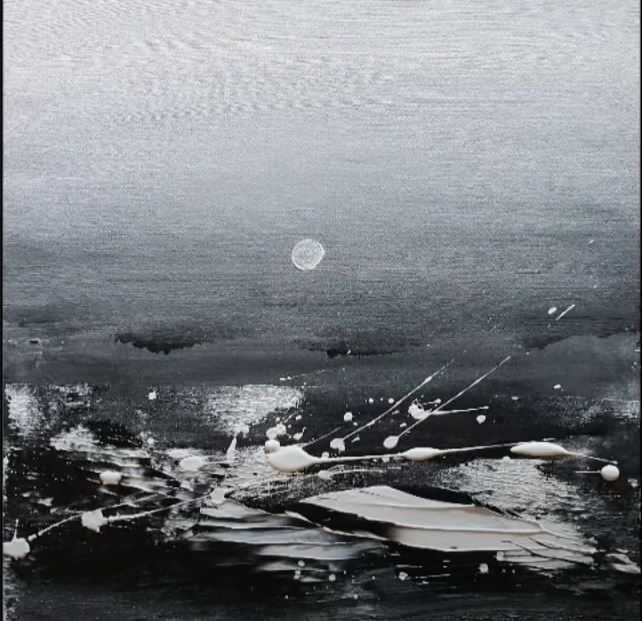 Foggy morning scene but make it abstract: This composition could pull that off! Watch the full demo here.
I got more painting ideas to use black – 54 Awesome Black Canvas Painting Ideas You'll Want to Replicate
---
Black and White Acrylic Painting Ideas
Fur Baby
Take several photos of your fur baby.
Then, choose the angle you'd like for your piece.
Painting fur is a bit challenging and time consuming but if you watch closely you can see how the artist used light paint strokes to create fur instead of painting each hair.
Dandelion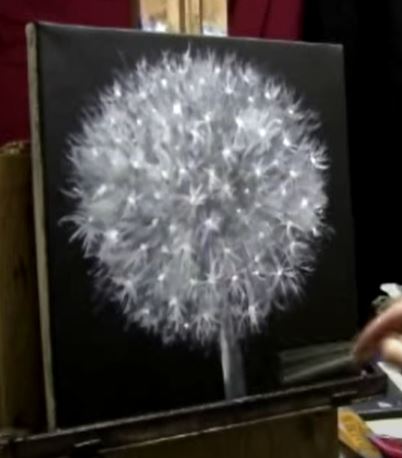 A dandelion painting would depict the fluffy white head of a dandelion, set against a black background – it will make the flower pop and add volume.
The image may show the dandelion seeds blowing in the wind, giving the painting a sense of movement and softness.
The full tutorial is here.
Easy Full Moon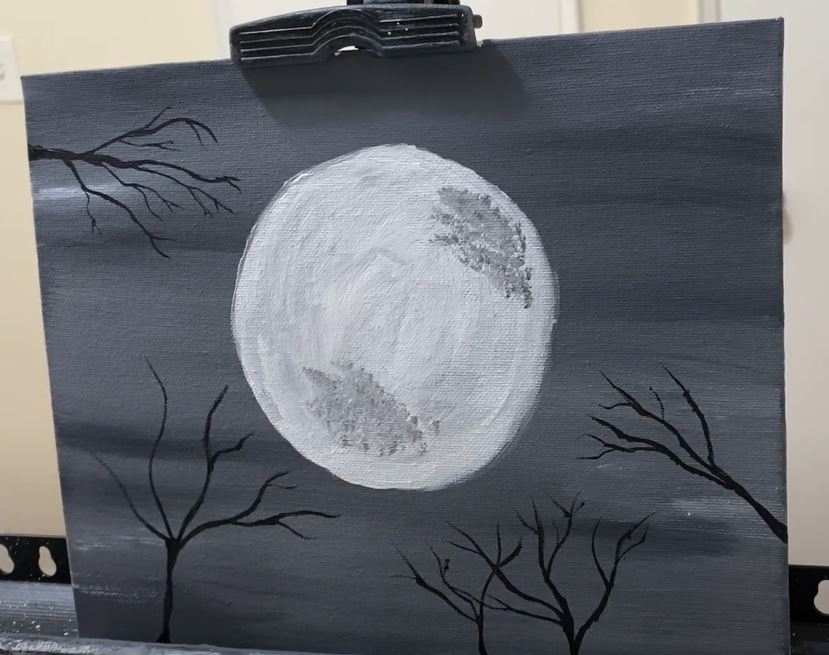 A white orb of a full moon set against a black night sky creates some sort of mystery and can be even a little bit scary.
You can paint moon's surface with craters and mountains, and the white light of the moon illuminating the surrounding darkness.
I suggest you use a mini canvas.
Why?
Working on a small canvas, you also invest a small amount of time, paint, and effort. So, there's nothing to lose. And you focus more on learning the technique.
Want to learn how to paint moon? Check How to Draw a Crescent Moon 15 Great Tutorials for All Types of Artists
Landscape
A mountain landscape always feel majestic and peaceful to me.
White-capped mountains set against a deep black night sky or foreground.
Dark silouhettes of trees, valleys, lake or river in the foreground to create a sense of depth and dimension, with the white peaks of the mountains standing out in contrast. I think we got a pretty good setup 🙂
Realistic Moon
Ready to upgrade your skills? Try to paint in a more realistic way. Pay attention to shadows, lights and layering paint. Here is a full tutorial on this black and white painting idea:
Floral
It can be a single flower, a bouquet or even a field full of flowers. You can also add some golden touches with markers or paint.
Flowers are an ideal muse for simple and close-up composition! And they look pretty, even in black and white.
One Stroke Flower Painting
Fill up your canvas with interesting shapes and delicate curves with this one-stroke flower painting! You can load your wet brush with one or two colors and once you placed it on the canvas, move it to make a flower or a stem.
More about acrylic painting techniques like double loaded brush you can learn from this article: 25 Acrylic Painting Techniques For Beginners to Paint like a Pro
Peregrine Falcon
Put your feather painting skills into practice by mimicking this powerful and fast-flying peregrine falcon. Start with darker colors and move toward lighter accents, it will make it easier. And don't give up on the ugly stage of painting, be patient!
Starry Night
Want to paint a simple starry night scene? Paint the background first using black and white paint, then the black ground.
Splatter white paint to achieve a sky dotted with stars. Add the pine trees last with a fan or flat brush.
Black and White Acrylic Pour Painting
If you find learning new tricks and techniques fun, try acrylic pour painting at once!
Grayscale Trees Silhouette Painting
Once you know the basics, you can do anything with practice! Use this tutorial as a guide in creating the piece below:
Lion
I really love this painting, it is deep and serene. The colors on photo will almost look blue, but this is just a visual effect of working with different values of white and black.
Dancing in the Rain
Pinting faces and human bodies are among most challenging things to paint. Gladly with no to little details black and white painting will still look great!! Look at this one, it is an amazing painting but you don't have to struggle painting anatomically realistic body.
Angel
When we think women in white we may think wedding, white clothing in different cultures, or angel (from the top of my head at least). And again, you don't have to paint the body realistically.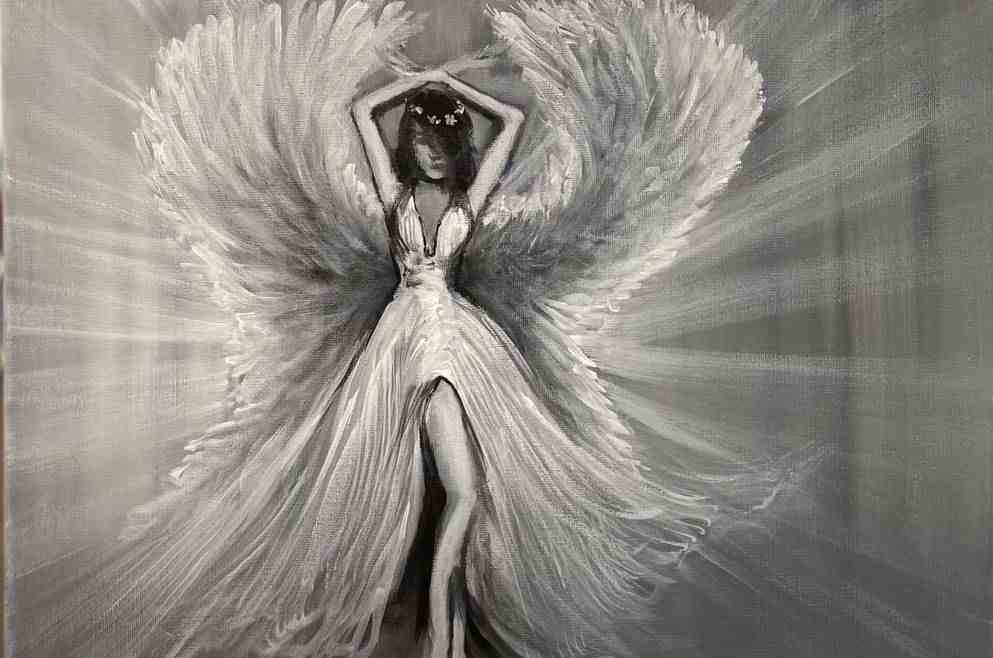 In-flight
Acrylic paint markers are great for making art that requires fine and detailed design, such as this modern abstract.
Cat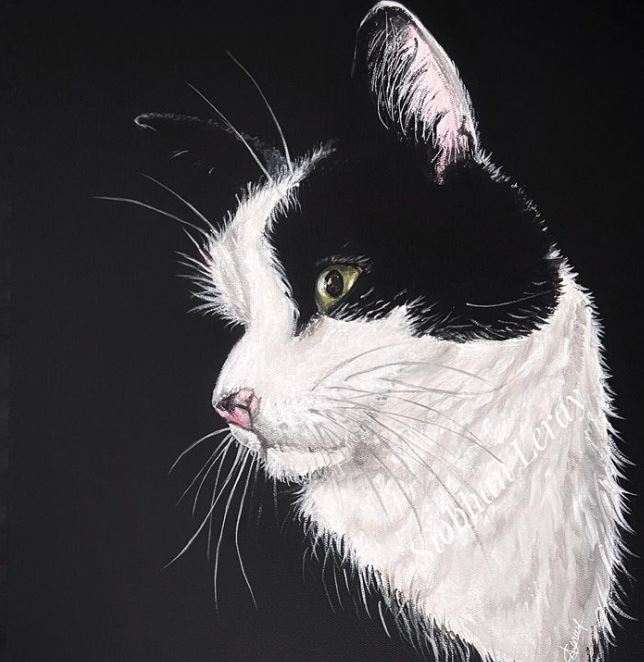 No model? Snap a photo of a cat in your neighborhood and your own furry baby! If your cat is black and white like this one, you technically only painting white parts – isn't in crazy?
Sunflower
Sunflowers have distinctive shape of petals and central part so we don't have to always paint it yellow.
I got more tutorials on painting flowers:
Ballerina Dress
In love with ballet illustrations? Why not try to paint ballerina dresses or a ballerina in the middle of a dance? Simple painting looks so much better with added texture.
Bamboo
Bamboo has long been admired due to its resilience. Having one at home brings good luck, according to Feng Shui. I'm not sure if painting of bamboo works the same way, but … maybe?
This time, the creator I think used some sort of sponge to actually paint bamboo. Super easy black and white painting idea then to try with kids.
Snowy Mountains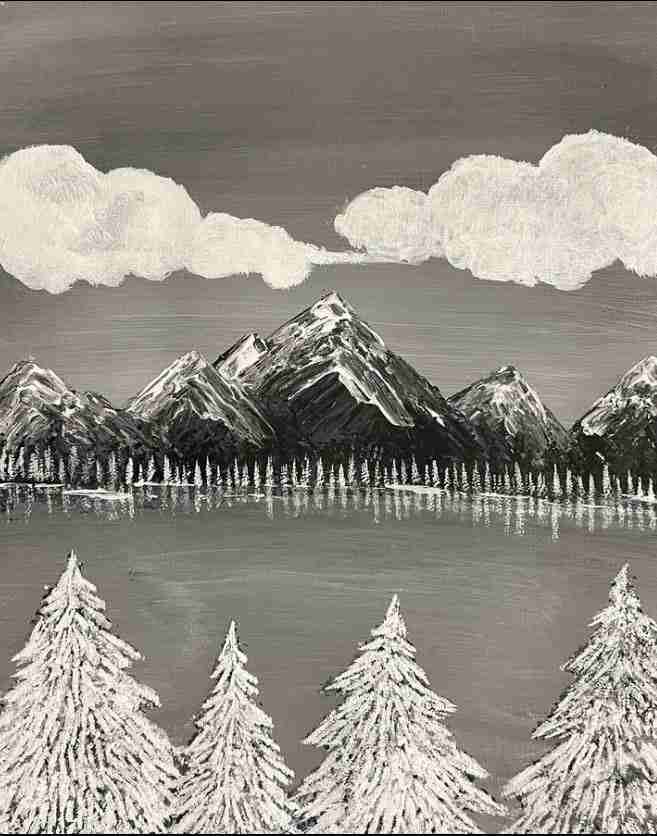 Absolutely stunning mountains! I usually have a reference to paint mountains, it is just easier for me that way.
Where you place the horizontal line in a landscape painting will determine which part of your piece will attract the eyes the most.
A low horizon guides the focus to the sky, while a high horizon draws the eye to the ground.
As for this piece, the focal point is the snowy mountains.
---
Black and White Canvas Painting Ideas Charcoal
Charcoal requires sometime to get used to it, but I like how soft it is and how easy you can create smooth transitions. Drawing with white charcoal on black paper is super easy and fun.
Simple Moon
Grab your carbon paper and charcoal for this quick sketch of the moon and a body of water underneath!
The fluid strokes of charcoal convey a calm and quiet sea or lake. Smooth the lines with your finger.
Apple
A still-life setup gives you freedom in choosing the arrangement and lighting. Plus, you can take a photo of your setup to preserve the lighting. Drawing a realistic object with charcoal you need to keep in mind shadows, proportions and highlights.
Steaming Cup of Coffee
As I said, it is quite easy to create softness with charcoal, perfect for drawing clouds, steam, smoke, blurr. Again, you can soften it even more with your finger or a piece of paper towel.
Glass
Painting transparent objects is always a challenge but it is easier to get it done right and learn the process if you start with just black and white. These wine glasses look realistic! Check how the artist did it here.
Bottled Water
Do you want to explore using charcoal further? After learning how to paint transparent objects, you can challenge yourself to paint fluids like water. This video will help you understand more about this medium.
Dark Forest
Paint along with this tutorial to create a mystical forest with trees that may or may not move anytime you look at them…
---
Black and White Canvas Painting Ideas with Pastels
Pastles are very close to charcoal in terms of creating soft shapes and how you interact with them. Water soluble pastels can be reworked with water to act more like paint.
Fairy
Paint your version of a magical evening involving this ethereal being caught flying toward the moon.
Shadow Man
Awake from a bad dream? Or you just finished watching a horror film? Shake the fear off by painting! Or, quite the opposite, paint something that scared you to remember it (you know how sometimes we wake up and we don't remember what exactly was in the dream).
Black and White Full Moon Scenery
If you plan to spend outside painting to capture the full moon, you'll need a bag for your supplies, a bottle of drinking water, insect repellent, a camera, a chair, and snacks!
Couple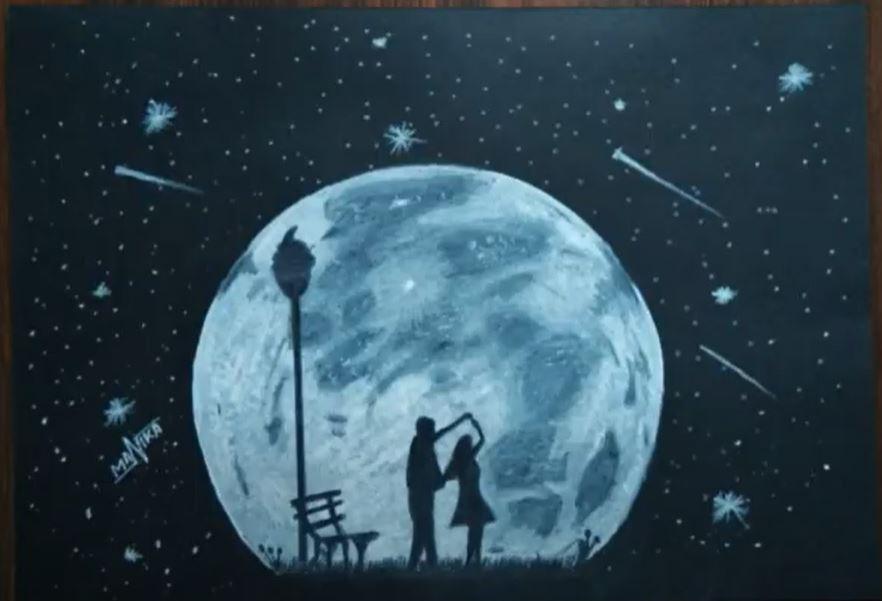 Great and easy black and white painting idea for St Valentives day or an anniversary! Doesn't have to be super realistic, again, so it is suitable for beginners and other mediums as well.
Ifyou are single, it is a good way to manifest the man/woman of your dreams by painting this sweet dancing-under-the-moonlight scene 🙂
Black and White Scenery
Paint another starry night scene. This time add the mountains you saw while on your ski trip.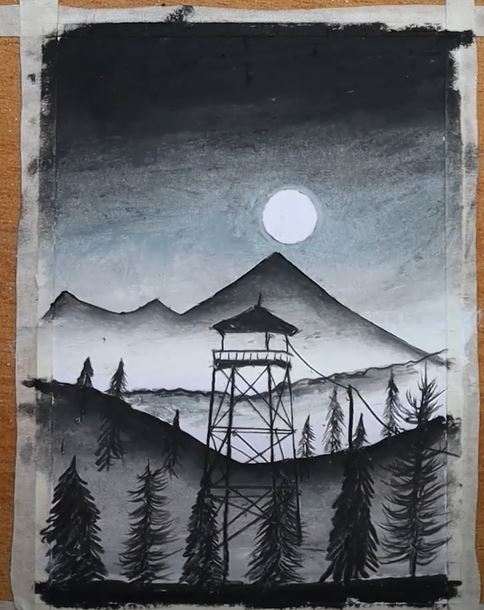 As you can see in this example taping is a good idea to make clean endges working with charcoal or pastels.
---
Black and White Canvas Painting Ideas Pens/Pencil
Sad Boy
Are you feeling a bit lonely? Let it out by painting this sad scene.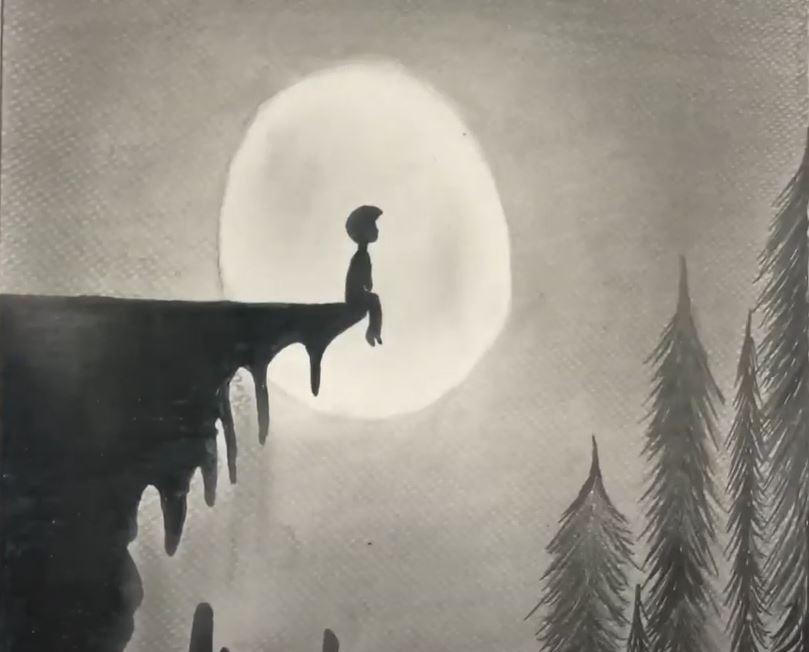 Butterfly
Butterflies are essential to our ecosystems, so celebrate these creatures by drawing one! Full tutorial:
Candle
Grab a white pencil, cotton swab, and black paper. Sketch a candle and have fun! Black background is perfect to show small candle light.
Cheetah
With a bit more patience and skills you can aim to draw very realistic animals, portraits and plants.
If you are going for something realistic, you'll need a good reference photo for this, if it is digital, the one in very high resolution so you can zoom in and out.
Beautiful Girl
You may think hair will be a challenge but you really don't have to go in too many details.
Jellyfish
Start off with a sketch of a jellyfish. Trace it with your chosen pen. Add more details. Lastly, take care of the background using a marker.
Girl
A refreshing take on a girl surrounded by plants! It's cute. Copic Multiliners are perfect for fine lines like this.
---
Black and White Canvas Painting Ideas Watercolor
Easy-to-Make Flowers
There's nothing wrong if you still prefer to return to the mystery and magic of watercolor after experimenting with other materials!
Full tutorial:
Chess Queen
Yes, you can paint on black paper using watercolor! You can also opt for gouache to make it more opaque and bold.
A white gouache is handy in this piece since it can make transparent watercolor opaque while retaining its solubility.
Foggy Forest
The secret to create deep misty forest is to gradually layer trees from the very back. Each time you are done with trees, make a white mist to soften that tree line. And proceed to the next trees, closer to us. Finally, you will end up with very close trees that you will paint black.
You can also follow Kalliopi tutorial:
---
Easy Black and White Painting Ideas for Room and on Wall
Overthinking what painting to hang on your wall leads to a bare wall! Don't let that happen.
Here are some easy black and white wall art for your room and wall: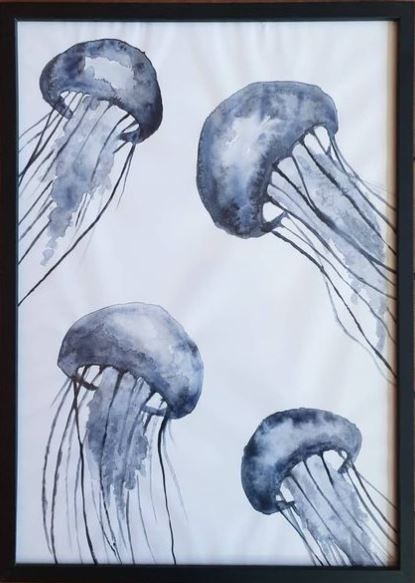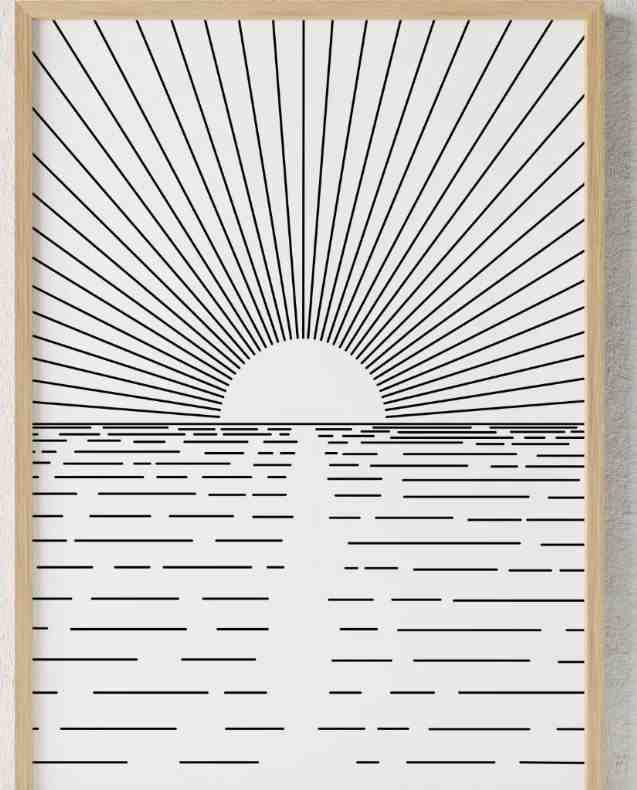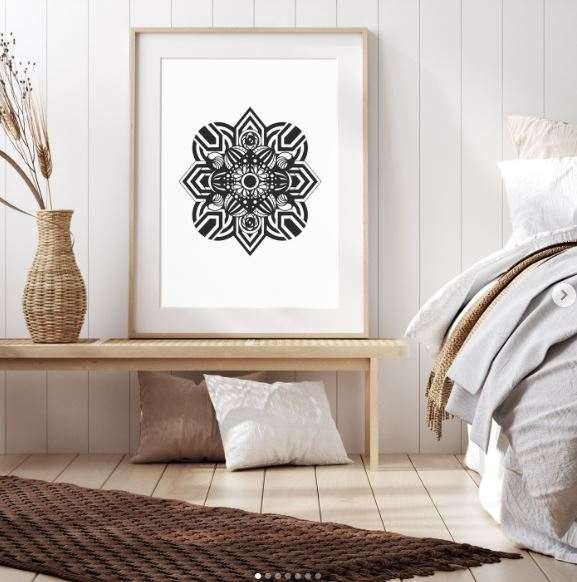 ---
FAQ
Is Black and White a Good Combination?
Black and white is a classic and versatile combination. This combination can fit into bohemian, whimsical, bold, and natural themes.
What Do Black and White Paintings Represent?
In other cultures, white and black are associated with life-and-death rituals, while in some, these colors represent good and evil.
What Is Painting in Black and White Called?
You can also refer to a black-and-white painting as a monochromatic painting.
What Artist Is Known for His Black and White Paintings?
Kazimir Malevich created Black Square in 1915. Black Square is a black-and-white abstract art of a black square on linen.
Conclusion
I hope my little list of black and white painting ideas for acrylics, watercolor, pastels, charcoals and pens gave you some confidence in working with only two colors. I am happy to share your paintings here as well if you created something in black and white and think it is a good idea!
Happy painting!