Gouache Paint is quite a hidden treasure in the world of art materials. It's not mainstream, but it does not mean it's not good enough because it is.
Many artists fell in love with this kind of paint on the first try. What more if they ever tried the best gouache paint on the market?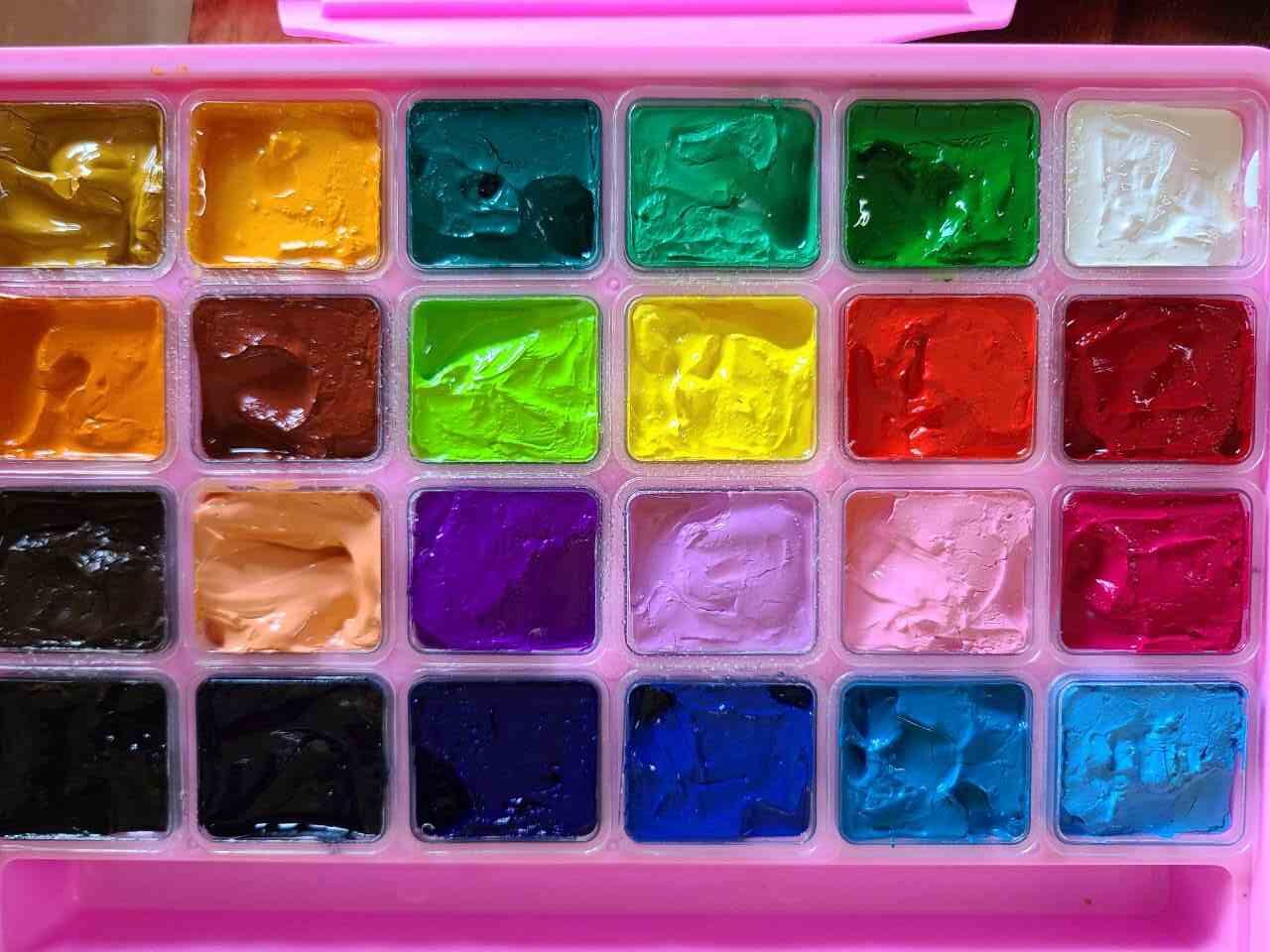 My top choice for the gouache paint set for beginners is Miya Gouache set of 24 colors. The best gouache paints are Winsor & Newton Designer's Gouache, Himi, and Holbein Gouache. Professionals use Schmincke Horadam as it is a professional-grade, high-quality gouache paint.
Browse through as we tackle more about the best gouache paints in different categories and Gouache Buyer's Guide on how to choose a perfect gouache set for your needs.
Table of Contents
What is Gouache?
Gouache paint is a water media similar to watercolor, acrylic, and poster paint but is more opaque. Gouache can be activated by water so that it can spread on your surface.
Gouache is something between acrylic (same opacity and thickness) and watercolor (how it interacts with water).
To get to know about Gouache Paint in-depth, let us look through and weigh the benefits and drawbacks of using Gouache Paint below:
Advantages
Using Gouache brings a lot of benefits and convenience to its user. To find out about the best things that Gouache may give you, browse through the list of its advantages below:
Mistakes are easy to correct.
If you are an artist that cannot help but commit mistakes while working on their piece, then Gouache is ideal for you, as it easily forgives, which means that you could easily correct the mistakes you have committed.
Because of this, as a painter, you will be more confident in painting since you're assured that you can mend them later in case you have made a mistake. If not varnished or coated, Gouache Painting can be re-wettable
Solid Color and Extremely Pigmented
Many artists love using Gouache because a single stroke can go a long way. Because Gouache is pigmented, it can give you color-rich and lively artwork since illustrators also use it as a medium.
Because of its opacity, it does not leave uneven strokes on your surface. Instead, your artwork will have a solid color and matte finish, which is one of the good things about Gouache Paintings.
Effortless to Mix
Many artists find mixing Gouache convenient as it saves time because it's easy to mix. Its consistency is not as thick as any oil paint, and artists can focus precisely on the color they wish to come up with rather than stress about how the paint will blend.
Dries Quickly
As mentioned above, Gouache saves time, and we mean it in different aspects.
Gouache dries up in a minute or so, making it an efficient art medium when the artist is on the go. Additionally, some artists work with Gouache through layering and do not have to wait long until it's ready for a second layer.
Disadvantages
While using Gouache brings many benefits, it is still subject to many drawbacks. To find out about the disadvantages of using Gouache, browse through the checklist of its disadvantages below:
Colors may tend to bleed when unintentionally reactivated
As mentioned a while ago, Gouache can be easily reactivated using water. However, it's an advantage; it could also be a drawback, especially when the artist does not intend to be reactivated.
When unintentionally reactivated, the colors may bleed, resulting in a messy and 'muddy' painting.
Neon Colors are Challenging to Achieve
Although Gouache Paint has a solid color, achieving vibrant colors like neon is difficult since Gouache needs to be mixed with white paint.
That is why if you are eying to create an extremely vibrant painting, Gouache is not exactly the medium for you, as it specializes in soft pastel-colored paintings.
Color Matching Will Stress You Out
One of the challenges of manually color matching is that it is quite hard to achieve that color when you run out of them. Especially with Gouache, as when it dries, the color may either be lighter or darker.
That is why when working with Gouache and you prefer to manually color match, create more than what you will need so you'll have a backup.
I've prepared a guide on painting with gouache: Painting with Gouache for Beginners: 7-Step Ultimate Guide
---
Why is Gouache special?
Artists love using Gouache because of its flexibility since a droplet of water is enough to paint over mistakes, something you cannot do with other water mediums such as acrylic.
It is also amazing as it is opaque and offers great coverage and versatility – you can use it just as acrylic to paint anything!
Read more: 23 Top Gouache Painting Tips & Secrets From Pros
---
What is Gouache made of?
Gouache pronounced as gwah-sh or body color in French, is an opaque water-medium paint. Additionally, this paint was inspired by the Italian Guazzo technique that has a muddy and matte finish.
Gouache is primarily made of the following materials:
natural pigment
water,
a binding agent (usually gum Arabic or yellow dextrin for cheaper brands.)
Some brands also add the following:
Chalk (Sometimes added to the formula to create an extra weight for the paint.)
Propylene glycol (This ingredient makes the traditional Gouache brittle when completely dried.)
---
Best Uses of Gouache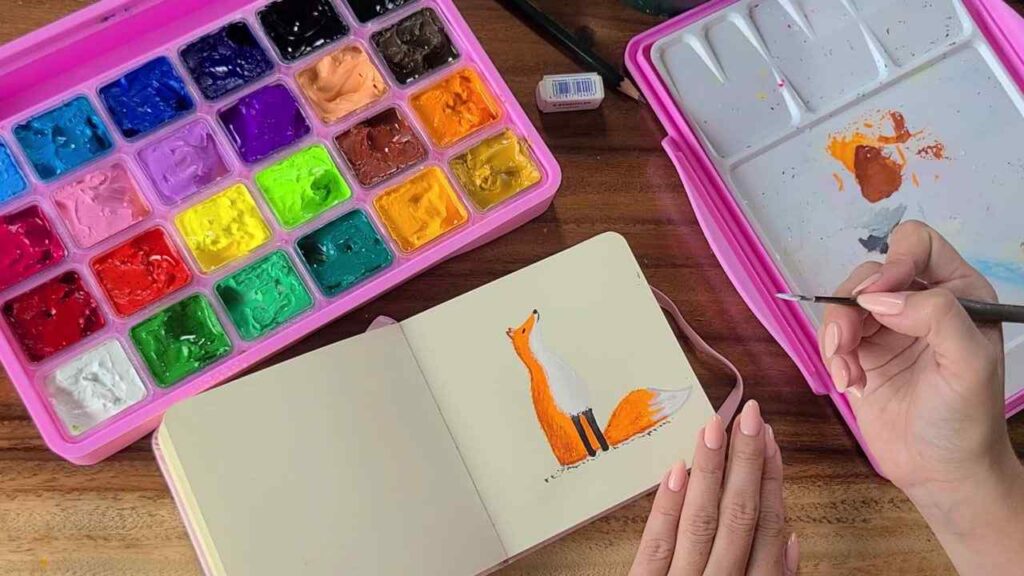 As mentioned previously, Gouache is a versatile water media that will work on paper, boards, and canvas for:
Graphic Designing
Illustration Arts
Comic arts,
Animations
As you can observe, those artists who utilize Gouache for its best use are those who create art for material consumption because Gouache has bold colors; this attracts art enthusiasts to appreciate the art more.
To prove that Gouache can be an easy marketing tool for artists, many posters on the 20th-century animation cells own Gouache Paint!
---
Which Gouache Paints are Best for Beginners?
Most popular gouache painters use are HIMI, Holbein and Winsor&Newton.
If you will followmost gouache tutorials on Skillshare, they use Winsor & Newton Gouache
---
Best Gouache Paint according to Reddit users – Schmincke Horadam
Price is around $140
This Schmincke Horadam is a professional-grade, high-quality gouache paint for professional artists.
They only use pigments and their natural opacity without adding extra white to make it look more opaque. All tubes are metal.
Even when diluted with a little water, this paint has outstanding opacity once applied to your surface. No wonder why Reddit users love them!
Yet, it has one big downside – the price. A set of 10 colors will cost around $142-150 dollars which is a bit much for beginners.
Pros
Professional-grade, High-quality Gouache paints
Solid and Pigmented colors
Effortless to mix one paint with another.
Cons
The color selection is limited
Since it is professional grade and the quality is unquestionable, Schmincke Horadam is quite pricey.
Final Verdict:
Most of Schmincke Horadam's colors are recommended by professional artists as they are warm and cool primary colors found in mixing colors.
---
Best Gouache Paints for Beginners and MY Personal Choice – Miya Gouache Paint Set
HIMI Gouache Paint Set, 24 Colors x 30ml/1oz with…
I have exactly this set (in pink box)
good amount of paint
convenient box with space for brushes and it comes WITH a good flat palette, and brushes
all paint come tightly sealed
color and consistency are very satisfying – you want to paint immediately!
Often recommended by beginners on forums, Youtube and Reddit.
Peeling off the plastic cover of Jelly Gouaches is one of the most exciting and satisfying parts as it displays a paint with a wiggly jelly-like consistency. However, be mindful of peeling them off because the workplace can get messy.
Using Miya Himi on its own may give you an acrylic paint-like consistency because it's very opaque. Since it's still Gouache paint, it dries up quickly, so you may still work between layers.
Pro tip: A small amount of paint stuck on the plastic cover may feel like a waste of Gouache paint. That is why artists use them in creating swatches of a particular color of paint.
Miya comes in sets up to 56!! colors and the price stays absolutely affordable while the quality and value for money is just great. I personally use the one with 24 colors as I can mix needed shades.
All sets come in a durable box, in which you can choose colors from pink to blue (I think it's cute I have a pink one of course), and with its own palette for mixing colors and a section for brushes!!
---
Price on Amazon is around $20 for 24 colors
Its Arteza Gouache Paint Set arrives in 60 different professional-grade paint quality that comes with resealable tubes.
You can also opt for a smaller paint set (and I do recommend it) with only 24 colors as it is more than enough for a beginner and you must learn mixing sooner or later.
Feel every brush stroke as you use the Arteza Gouache Paint set. The price is very much worth it, from the quantity to the quality of the product. The brand itself is very popular among beginners.
They also sell acrylic gouache, cheaper than Liquitex but I would still go for acryla from Holbein.
Full review: Arteza Gouache Review: Is It Worth the Hype?
---
Price on Amazon: around $15 for 24 colors
The Royal & Langnickel GOU24 comes in 24 colors and is popular for its price. If you are on a budget and looking for cheap gouache to just try – this set can work.
The paint has a medium density, meaning it's not too drippy and not too thick and because of this, painting with Royal & Langnickel is convenient.
Even though this paint is budget-friendly, it remains of very high quality.
Yet, if you are looking to get better at painting, I recommend spending extra 10-15 dollars and getting a better set like Miya, but to just start with painting and do a few easy works, the Royal set will do!
Pros
There are many options for colors.
They are packed in a tube for a convenient transfer to the palette.
Conforms to the standard of ASTM D-4236 that properly indicates whether a hazardous chemical is present in the paint's formulation.
Cons
Since it's packed in a tube, there's a tendency that it may be challenging to get the last bit of paint.
---
Price on Amazon: $9.65 – $26.99
The Reeves Gouache Paint – Color Tube Set comes in 10ml tubes with options of a set that has 12, 18, and 24 colors.
Full review: Reeves Gouache Review: Bad Rep Or Good Paint?
If you're a beginner, Reeves is a good option as it is student-grade, affordable, and pigmented. However, many professional artists dislike Reeves's paints in general for low quality.
To be fair, for beginners, the quality will work just fine. I used Reeves gouache and acrylics and yes, the tubes are too small to get all creative but it will be enough to just try yourself and have fun.
It absolutely won't be enough for anyone who is serious about painting.
Pros
The colors are lively and rich.
Cheaper than other Gouache Paints
Creates an opaque matte finish once dry
Cons
Student-grade quality. Even though this one's an advantage, it still means that this paint contains more filler and less pigment, slightly lowering its quality compared to professional-grade paints.
Final Verdict:
Many newbie artists on Reddit share their paintings using Reeves, and it's pretty beginner-friendly. Highly pigmented provides excellent coverage. Beginners can use it on paper and watercolor boards as well.
---
Price on Blick: $10.07 to $44.24
The Royal Talens Art Creation Gouache Paints Set in 24 colors, packed in individual 12ml tubes. Simple cheap gouache paint for beginners.
---
Best Acrylic Gouache Paint Set – Holbein Acryla
I would say it is the best acryla (acrylic mixed with gouache) as it comes in a variety of sets and it has very high quality. Holbein in general is one of the leading brands for watercolors and gouache.
I would recommend a 5-color set, it is a primary set, great for pros and those with a bit more experience as you can mix all needed colors and you don't need to pay extra for additional colors.
You are guaranteed to get great Japanese quality pigments with great coverage and opacity. The 5-color set is not cheap considering competitors, but considering quality and artist grade it is worth it.
Why Liquitex is not better? Liquitex acryla is also great and more popular just because the brand is more popular but price wise is much more expensive than Holbein so it doesn't make sense at least for me. But, it will be better for beginners as the set comes with more colors (if you can spend extra on paint).
---
Prices: $9.23 – $68.38
This Liquitex acrylic Gouache Paint comes in 50 shades and is thick and ideal for working with captivating paintings since they have solid pigment concentration.
Additionally, you may use it in mediums like paper and canvas because it's water-resistant.
This acryla dries to a matte finish and offers great opaque coverage.
Liquitex produces one of the best acrylic paint and I would assume they do the same with acrylic gouache but then it is quite pricey compared to other strong gouache paints.
---
Best Gouache Paint Set For Professionals – M. Graham
Price – around $50 for 5 colors
This Gouache Set comes available in only 5 colors, such as
Azo Yellow,
Naphthol Red,
Cobalt Blue,
Ivory Black,
And Titanium Yellow.
For professional artists, it is normal to get only primary colors and white and black as they already know how to mix their own colors.
Pros are looking for fine quality, vibrant pigments with minimum additives and great durability.
Thus, Graham, despite the price, is one of the top choices for advanced gouache artists. It has no opacity enhancers, and no chalk, is made with pure blackberry honey for better consistency, and dries to a good matte finish.
---
Price on Amazon: around $60.00 set of 12
Holbein Artists are packed in 15 ml tubes and come in 12, 18, 24, and 84 colors. Holbein Artists' Gouache Paints create a matte and opaque finish once dry.
The brand stands for extraordinary Japanese artist-grade paints and is one of the tops recommended gouache paints.
The downside for me though is small tubes size – only 15 ml.
Read my full review: Holbein Gouache Review [Artist's 12 Colors Set] – Top-Notch Quality
---
Price on Amazon: around $40 for a set of 12
Creating quality art materials for over 50 years, Turner captivated the trust of professional artists, and they are dubbed as having top-tier colors in the industry.
To produce high-quality pigments, Turner only uses pure ingredients like gum Arabic in making their Gouache Paints.
Using the dry brush technique, one unique thing with Turner Design Gouache is that you can easily attain a velvety finish without leaving annoying brush marks.
The Turner Design Gouache prides itself on its non-bleeding feature, allowing users to paint over colors once they have dried up easily.
Pros
Incredibly solid colors and pigmented.
Effortless to mix with other paints.
Cons
Costly to use for a beginner.
---
Price on Blick: $7.31 – $59.63
Its set comes in ten colors and is packed in 14ml tubes individually.
This Gouache paint prides itself on having high levels of pigmentation in the formulation of its colors which results in high opacity and a smooth color mixing experience.
Pros
Has ninety-one (91) vibrant colors to choose
Strong pigmentation
Cons
Winsor & Newton Gouache Paints' thickness is not the same as each other.
---
More good options
Price on Amazon: around $40 for a set of 15
The Caran d'Ache Gouache Studio's paints are unique because they are packaged in pans. In a pan, there are fourteen (14) colors arranged horizontally. It comes with one larger white tube, allowing the painter to lighten the colors, and a brush, which I find very smart and convenient.
Since it's compact, you are free to bring Caran D'Ache with you as they do not take up so much space and are very handy.
The packaging is closer to what you are used to with watercolor if you had a chance to work with it.
Overall great quality gouache from Switzerland, but not super cheap.
---
Price on Blick: $7.11 – $100.00
Maimeri Artist Gouache comes in a set of eight colors along with a gouache fixative that helps make the paint water resistant.
Artists that use Maimeri say that its colors give a smooth application and a reasonable level of opacity.
However, some colors of Maimeri are more opaque than others. That's why it's essential to check the tube or their official website so you can read information about the color properties of Maimeri Gouache.
Pricewise I don't think it is worth it getting this paint over Holvein or M Graham.
---
Price on Blick: $8.20 – $20.80
Da Vinci Gouache is packaged in 37ml tubes, significantly more than other brands pack their Gouache paints, but as pro paint it doesn't come in seta at all.
You can only purchase each color individually which may end up in a pretty big check.
They have no odor, cover paper great and people love that it comes in large tubes. But some artists feel like other brands using more gum Arabic are better.
The brand also claims that all paint is vegan.
---
Price on Blick: $6.58 – $47.73
The Utrecht Artist Gouache Set comes in 8 colors and only has a total of 24 colors available, a noticeably less range than other brands.
But since Utrecht has primary colors in the set, you can mix the colors to make different hues.
---
Are Gouache Paints Expensive?
In general, Gouache Paints are quite pricey.
However, this is only reasonable since Gouache is opaque and of high quality, and the materials used to make it are not cheap either.
But why are there brands that are significantly more expensive than others?
Every brand has its formulation and varies according to the mix of pigments, filler, binder (gum arabic or dextrin), matting agents, and preservatives.
Some brands use opacifiers in their formulation, some only add pigments, and some brands mix both opacifiers and pigments.
Here is a series of levels that differ in price to give you a more holistic view. Such as the following:
Level 1 – Paints from this level normally have less expensive pigments such as Lemon Yellow, Burnt Umber, Blacks, and Burnt Sienna.
Level 2 – Paints in this level are also called mid-priced pints, such as Magenta, Turquoise blue, and Sap green shades.
Level 3 – Gouache Paints in this level are considered high-priced pigments like Cadmium.
Is Gouache more expensive than Acrylic?
Gouache Paints cost more than Acrylic Paints because their formulation is more natural and it is more effortless to use as paint.
Unlike Acrylic, painting with Gouache will give you confidence because you may work even after it has dried. You can correct mistakes because Gouache is more forgiving than acrylic.
Read more: Gouache Vs Acrylic: What's the Difference, and Which is Best for Beginners?
---
How Many Gouache Colors Do I Need?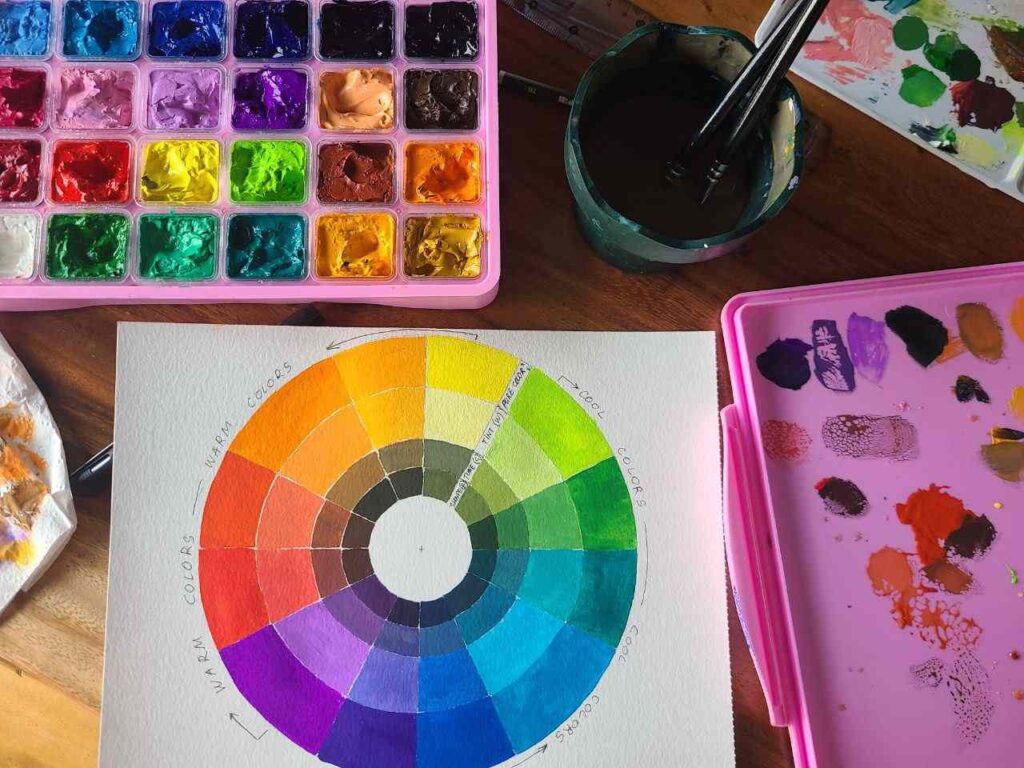 When artists get too excited, they tend to hoard an enormous number of Gouache Paint. You cannot blame them because Gouache comes in beautiful colors, and collecting them is satisfying.
However, suppose you are the artist who prefers to keep it minimal. In that case, all you need are two of each primary color, such as:
Cool Yellow: Lemon Yellow, Hansa Yellow Medium, or Cadmium Yellow Light.
Warm Yellow: Yellow Ochre.
Cool Red: Permanent Alizarin, Alizarin Crimson, or Quinacridone Crimson.
Warm Red: Quinacridone Red, Cadmium red light, Naphthol red light, or Cadmium Scarlet Red.
Cool Blue: Cyan Blue, Cerulean Blue, or Phthalo Blue.
Warm Blue: French Ultramarine Blue and Ultramarine Deep.
Burnt Sienna is an essential pigment to create black and produce gray.
Learn how to mix your own colors and save money on paints with my full guide —> How To Mix Paint? – Your Complete Color Mixing Guide
---
Buyer's Guide: How to Find the Best Gouache Paint?
In buying Gouache, there are factors that artists consider in looking for quality gouache paint, such as opacity, permanence, and whether tubes contain single pigments.
Brands like Winsor & Newton assign odes to help artists get a gist about the quality grade of their products.
With these three present in a Gouache Paint, it would mean that the Gouache Paint is of high quality and is definitely worth your money.
Opacity
To guide their users, brands label them according to their opacity. For your reference, below are the codes for opacity:
Transparent colors – T
Semi-transparent – ST
Opaque – O
Semi-opaque – S
Permanence
The permanence of Gouache Paint may also refer to its durability when used with a brush on a surface, when graded properly, and displayed in a glass frame, directly exposed to daylight, according to Winsor & Newton.
AA – Extremely Permanent
A – Permanent
B – Moderately Durable
C – Fugitive
Single pigments
In this aspect, the chemicals used in the paint are graded so the artist can figure out the important information they will need on the product.
Series
The Series number denotes the price of the color and is determined primarily by the cost of the pigment.
Series 1 – least expensive
Series 5- most expensive.
No series column – price is the same in the range.
Granulating/Staining
Granulating properties – G
Staining – St
---
How to Care for Gouache Paints
Caring for your Gouache is one of the most important things if you use them often, as Gouache's life depends on how they are maintained.
To know how to care for them, below are the tips for caring for your Gouache:
What Not To Do
Treating Gouache like it is the same as watercolor is a no-go in painting with gouache.
Artists often compare Gouache and watercolor, and beginners are often confused about interchanging them. So the tendency is that they treat Gouache as how they treat a watercolor.
How to Use Water During Painting
The distinction between Gouache and Watercolor is the opaqueness of Gouache, so it takes experience to get the right consistency and achieve a matte finish. Remember the following consistency tips:
Diluting Gouache with too much water will create a watery consistency, making it look like watercolor.
Too little diluted water may cause the paint surface to crack after it has dried.
Gouache's ideal and perfect consistency is its cream-like texture; you will know you have achieved this consistency when you have scooped your brush and the paint drips off your paintbrush perfectly, not too fast and slow.
That is why mastery of the paint's consistency is crucial and should be cream-like consistency that easily drips off from your paintbrush.
How to Protect Gouache Paints
Painters understand the significance of coating your Gouache painting, whether halfway done or finished because even a water droplet can destroy your Gouache Painting.
Keep your paint boxes tightly closed, far from the reach of pets or kids, and not under direct sunlight or in a room with freezing temperatures. Before using, add a drop of water to activate the paint.
There are various ways to seal your painting, and these are as follows:
Watercolor varnish: If you keep the artwork for a personal collection, you could use this technique. You may refer to this article about varnishing a gouache painting.
Isolation Coat: If you sell your Gouache Paintings, then a more serious way of sealing is needed, and you must use an acid-free layer of varnish to ensure a solid protective barrier.
---
How long is Gouache paint good for?
One of the easiest ways to determine whether a Gouache has gone bad is to smell the insides of its tube paints or containers because they generate a sour and decaying stink when Gouache starts to go bad.
Gouache paint's shelf life may take up to 2-5 years, depending on how the painter takes care of them.
---
What other supplies do I need when Painting with Gouache?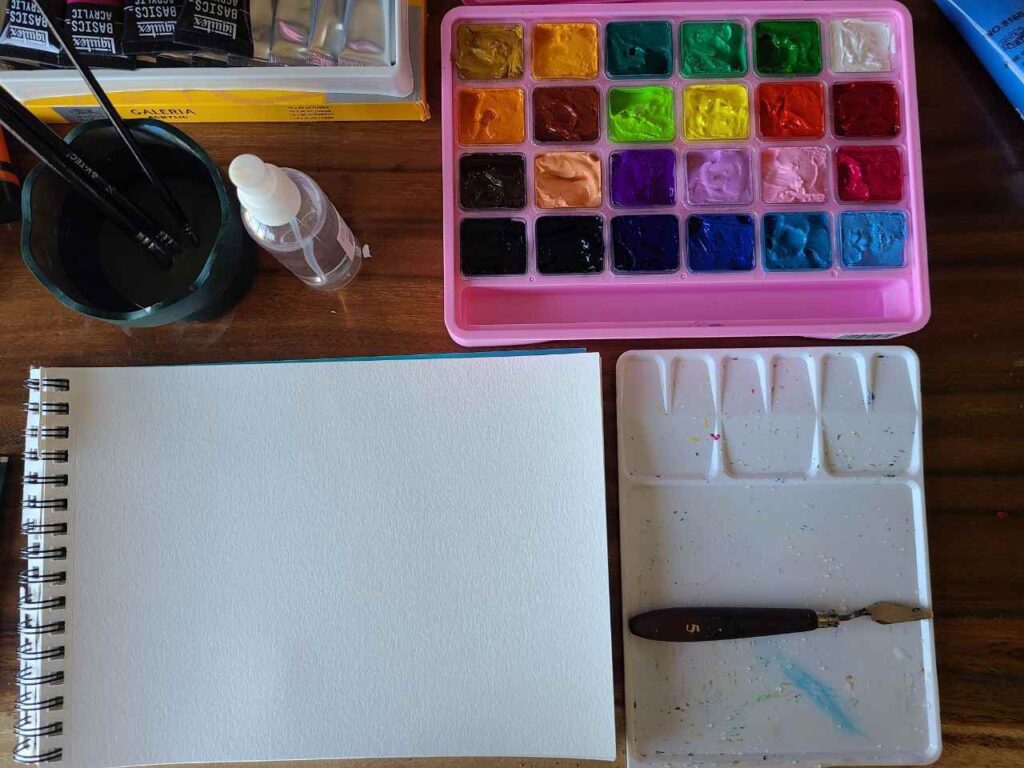 If you are a newbie to working with Gouache, you will have to prepare supplies before starting the painting itself.
To get started, you need to gather supplies, know which Gouache product works best, and different types of Gouache. To get to learn more about these, continue reading below:
Supplies
In working with any other types of art mediums, painting with Gouache will have to require you to gather supplies so that you may work with it more efficiently and, most importantly, effectively.
Brushes
There is little significance between watercolor and Gouache paints, so if you have watercolor brushes, you can use them for Gouache.
There are various choices and a wide selection, whether you prefer natural or synthetic fiber brushes, depending on how you want to use Gouache.
When painting, you may want to keep your brush wet for the paint to work best.
Learn more about good gouache brushes: 19 Best Brushes for Gouache Reviewed by Artist [Ultimate Brush Guide]
Surface
An artist can work on a few different surfaces in Gouache painting. Watercolor paper is always a good start, and while you can use a canvas, this will always work better with acrylic or oil mediums.
Water
Being formulated as water-based, it only makes sense that water is essential for Gouache.
The pigment is needed when layering your colors on your artwork, so you will need a bowl of water to achieve the best consistency.
Ceramic palette
Gouache paint would come in tubes, trays, or containers. Owning a Ceramic palette to mix your colors to have a complete spectrum of hues and shades is always recommended.
Learn more about gouache palettes: 11 Best Gouache Palette + DIY [Ultimate Gouache Palette Setup]
---
FAQ
Do professional artists use Gouache? (Did Van Gogh use gouache?)
As mentioned in this article, artists love using Gouache Paint as it is opaque, forgiving, and convenient.
Some famous artists that have used Gouache are:
Edward Hopper
Henri Matisse
Paul Klee
J. M. W. Turner
John Singer Sargent
Vincent Van Gogh
Is Himi gouache good for beginners?
Himi makes Jelly Gouache Paints very easy to use since the artist does not need to make a complicated solution to produce the paint.
Its jelly-like consistency is fun to work with and convenient and hassle-free.
Additionally, Himi is affordable, making it an ideal Gouache Paint starter pack for beginners. I personally use the Himi Miya set and I'm happy with it.
What is the Best Brand for Gouache Paint?
Many painters, artists, and bloggers recommend using Schmincke Horadam Gouache Paints as they are professional-grade, high-quality suited for professional use.
Even though its color range is a bit limited, they still offer reliable pigments that the artist could mix and come up with hundreds of colors.
Artists commend its thick consistency compared to other brands and its highly concentrated pigment that produces solid colors.
Its colors also cover well, even without the additional help of white paint, and can easily correct as it reactivates when wet. Schmincke Horadam is one of the best for your next Gouache Painting.
What is gouache paint best for?
Artists love using Gouache. Because it is forgiving and very opaque, artists mostly use them for:
Graphic Designing
Illustration Arts
Comic arts,
Animations
Is Gouache hard to learn?
Gouache can be intimidating at first due to its opacity. Still, in reality, beginners can learn using Gouache in no time as they are also resemblant to watercolor and acrylics that even non-painters use for their artwork.
---
To Sum Up
Undoubtedly, artists prefer using Gouache on their artworks as working with it makes their life convenient, bearable, and fun.
However, the sea of Gouache Paint brands can be a little overwhelming, as many companies make Gouache, and among them, we have listed fifteen.
We hope we have imparted the necessary Gouache Paint knowledge that you could apply to your life as an artist. Best of luck on your journey!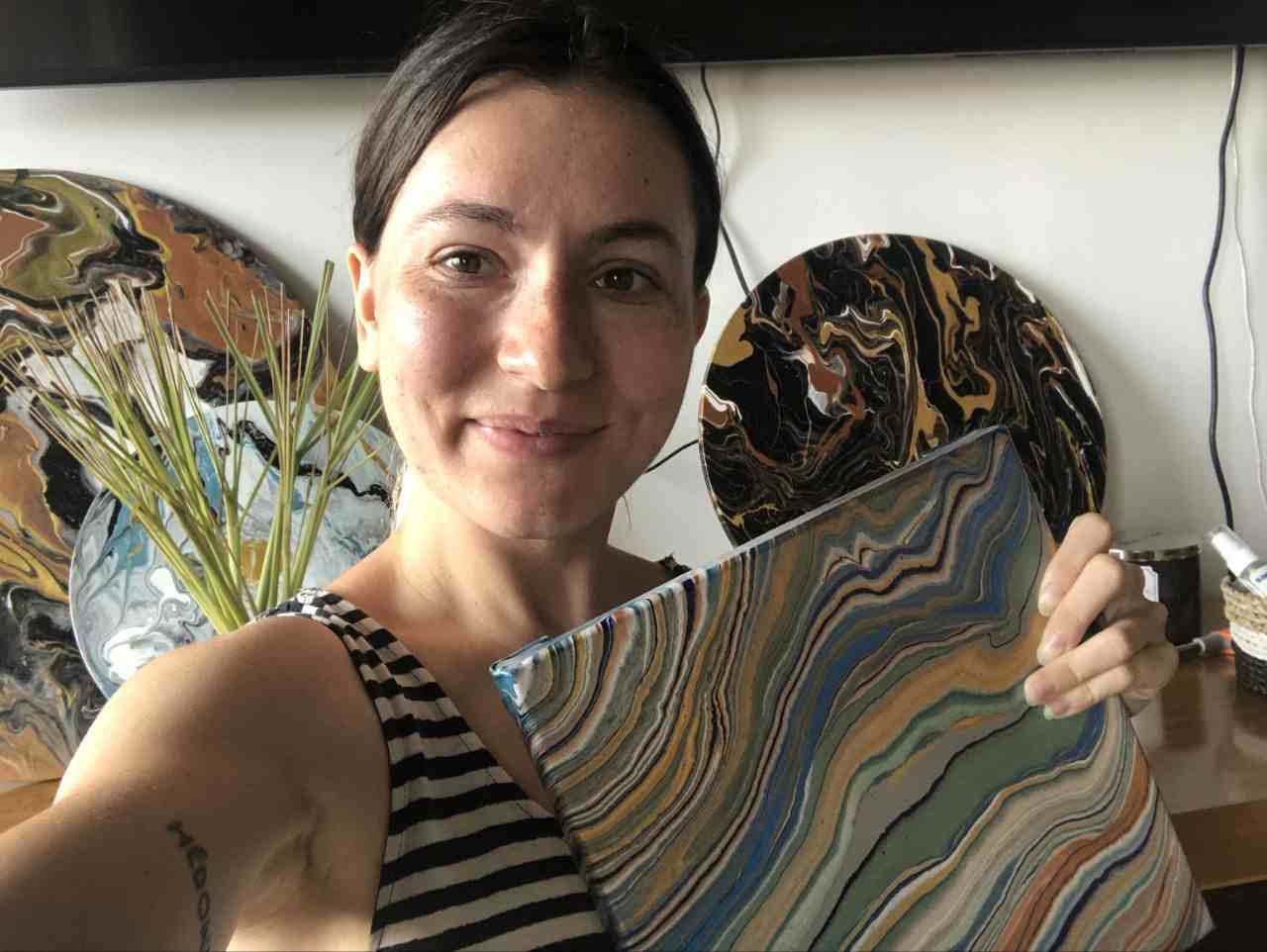 Masha Eretnova is a certified teacher. She started painting and drawing 20+ years ago and now is an international abstract artist and educator passionate about acrylic painting, gouache and crafts.
More about me.
Last update on 2023-12-03 / Affiliate links / Images from Amazon Product Advertising API