Do you love collecting memories? If the answer is yes, chances are you'd want to document your pregnancy journey. Why not try belly painting? Below I've listed 50 adorable pregnant belly painting ideas for boys and girls.
Make the most of your round belly! Turn it into a ball, snow globe, or any round object you can think of. Manifest your dreams for your child and turn them into a belly painting. Are you having a boy or a girl? Belly painting is also a fantastic way to reveal your baby's gender!
In this article, you will find many pregnant belly painting ideas, tips, and safe belly painting brands! Have fun discovering!
All Best Pregnant Belly Painting Ideas Upfront
Rise Like an Eagle
Roar Like a Lion
Go Get That Ball
Gotta Catch That Ball
Goal!
Giving Bart
Boss Baby
I Am Groot
Ohana
Pika! Pika!
Baby Batman
Super Saiyan
Spidey
Wondermom with the Superkid
Li'l Bro
Le Petit Prince
Abstract
Linework
Chirping Together
Butterflies
Ladybug
Pink Owl
Minion
Minnie-Me
Tinkerbell
A Wish Come True
Blossoming
It's a Magical Ride
Enchanting
Your Little Mermaid
Unique-orn
Brocolli
Angel
It's Baby Girl
Baby Unicorn Princess
Minnie Mouse
Butterfly with Flowers
Sunflowers
Happy Face
Peacock Art
Panda
Fashion Girl
Welcome Greetings
Sweets
Happy Family
Sleeping Baby
The Bomb
Feet
Moonscape
Kinder Joy
Musical Note
Royalty
Tree
Ultrasound
Baby Superman
Real Womb
Cool Boys
Baby Swimmer
Twins Idea
Cosmic Belly
The Lion King Painting
Bear
World
Cracking Eggs
Loading
Fishes
Watermelon
Giraffe
Ribbon
Real Boy
Puppy
Monkey
Baby Elephant
Stork Bringing Your Baby
Baby Lion
Turtle
Bail from Jail
Astronaut Boy
It's a Boy
Scary Cat
I'm Coming Out
Cookie Monster
Eyeball
Coco-inspired Belly Painting
Crawling with Spiders
Mike
Plump-kin
Evil Witch
Pregnant Belly Painting Ideas
The primary goal of pregnant belly painting is to make your preggy journey a bit lighter! So, tap into your heart's desires-whether for you or your baby, and turn that into a belly painting.
Have fun, and get your creative juices running! Think of a round object, your comfort food, animated films, and books. Any idea will do as long as you're having a good time and making memories while at it.
Below I go into more detail about each pregnant belly painting idea for boys, girls, and Halloween!
Painting your or your wife's belly can actually be an idea for your next date night, why not?
Pregnant Belly Painting Ideas for Boys
Rise Like an Eagle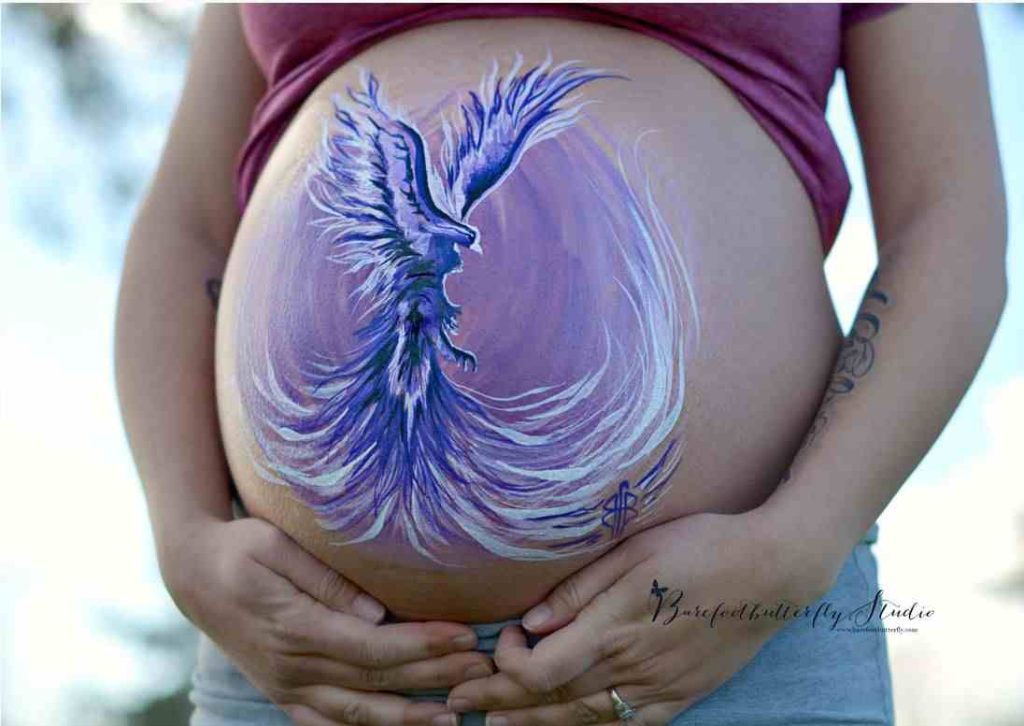 Moms-to-be would like to see their sons soar like an eagle! Manifest this dream of yours by having it painted on your belly!
Roar Like a Lion
Lions symbolize courage and strength. And every Mom hopes that her child embodies such qualities.
Get That Ball
No better way to reveal your baby's gender than by painting a ball on your belly! It doesn't matter if it's a basketball, baseball, or soccer ball.
---
Giving Bart
Remember Bart Simpson? This is a fun way to announce to the whole world that you're about to give BART (give birth to a baby boy)! Get it?
Boss Baby
Who's the boss? Your baby boy is!
I Am Groot
A marvel fan? I won't be surprised if you choose Groot to be painted on your belly! He is adorable, even if he can only say three words!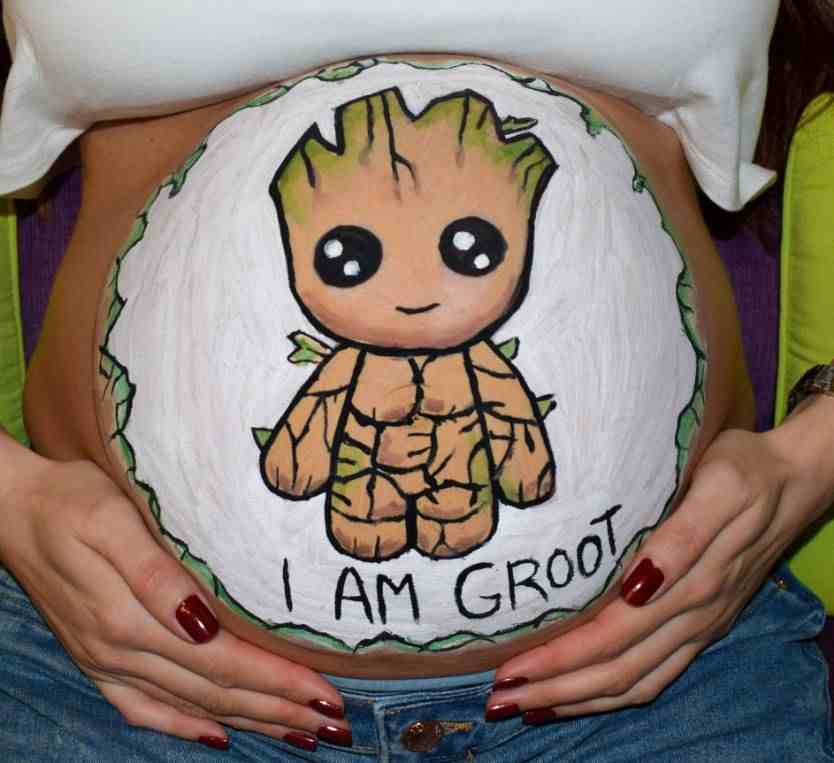 Ohana Means Family
A painting of Stitch is a silent promise to your child that he will always have a place in this world surrounded by people who love him.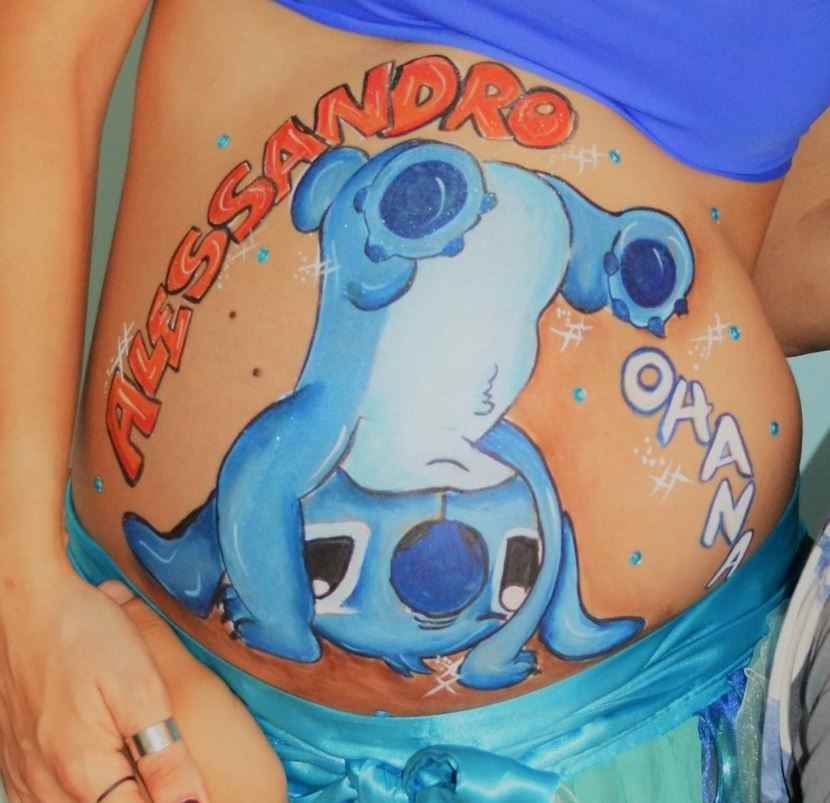 Pika! Pika!
Mama, I choose you!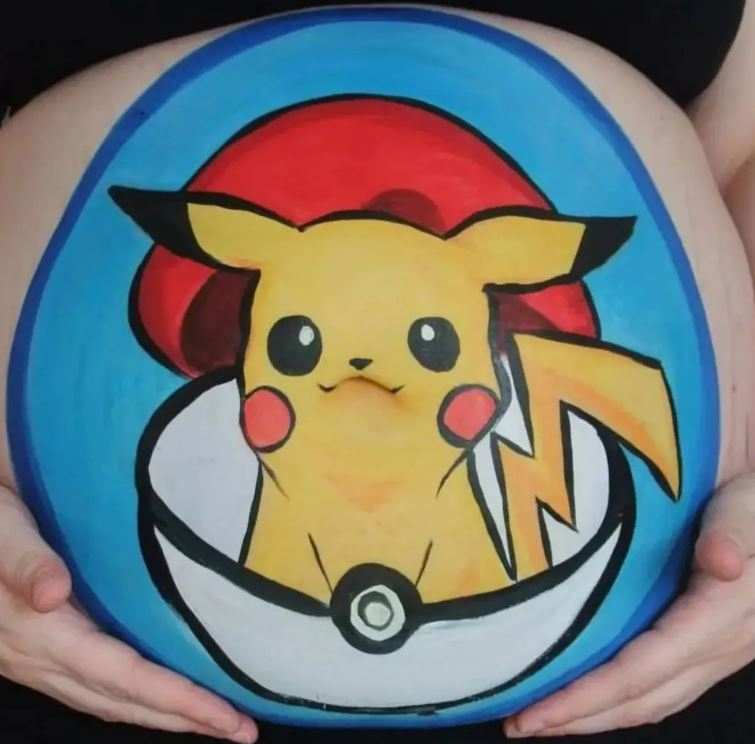 Superheroes
Boys love their superheroes! Choose a superhero that you'd love your child to emulate: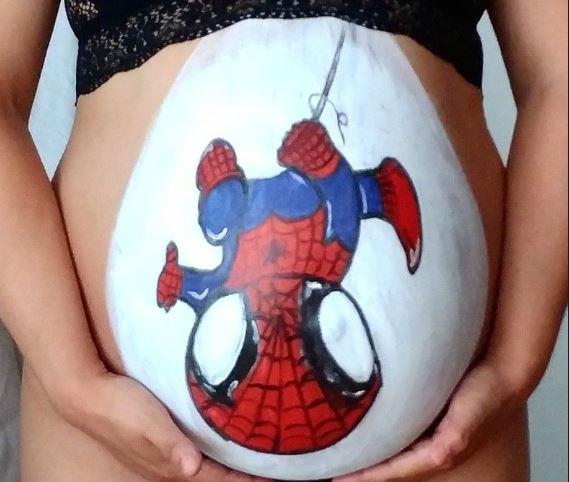 Superman
Waiting for your little hero to be born and you are a fan of DC? Superman is then your choice of pregnant belly painting!
Super Saiyan
Love your Dragon Ball Z fix? Pick a Saiyan you love. And remember, you are SUPER too.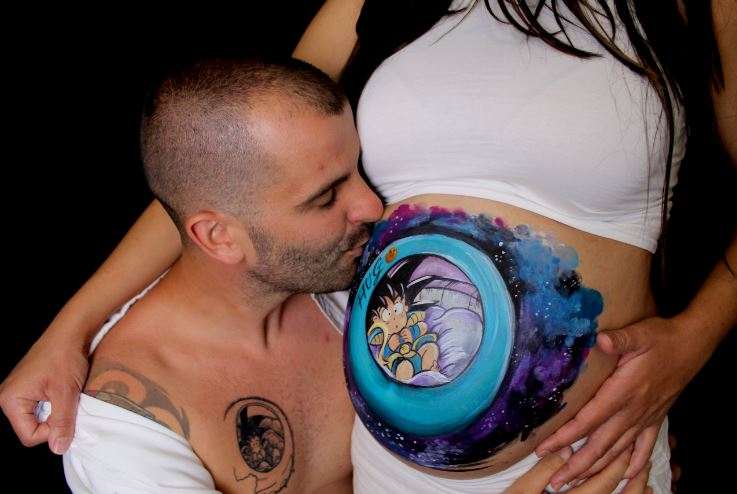 Wondermom with the Superkid
Get rid of the maternity clothes for a day and transform into a wonder-mom with a super kid in her belly!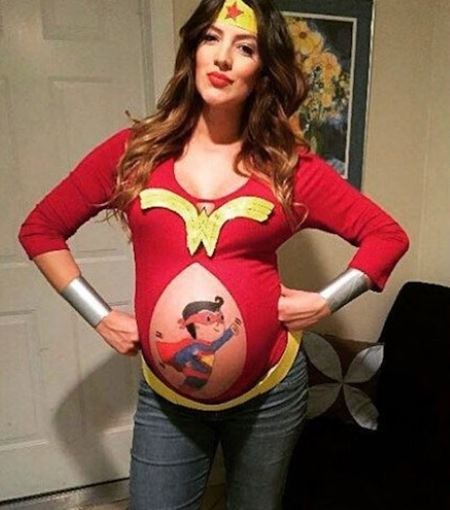 Li'l Bro
This is perfect if it is your second child and you can allow your first born to paint your belly. Apart from "Little Brother," you can actually paint your fave quote or your child's name if you already have one.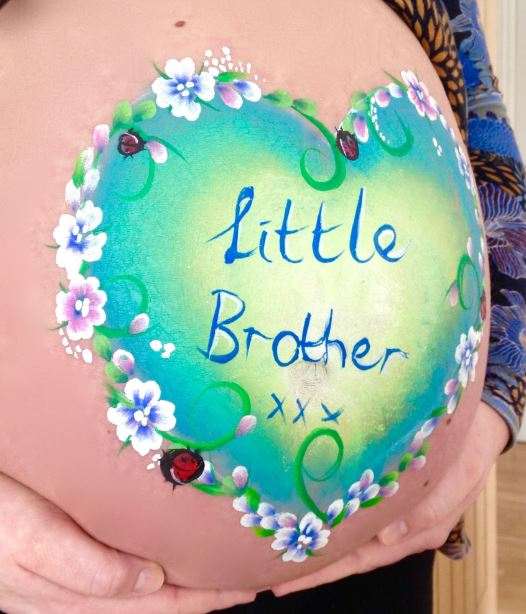 Le Petit Prince
Did reading get you through this adventure? Paint your beloved protagonist (or anti-hero) as an appreciation for his/her help.
15. It's a boy
Are you expecting a baby boy? So, this "It's a Boy" painting will fill your expectation with enormous love and happiness. Do you dream about his future, will he be a soccer player or play guitar? Add some details from your dreams, maybe they will come true?!
---
Pregnant Belly Painting Ideas for Girls
Mandala
A mandala is a nice option if you don't want your entire belly painted. It will be also perfect for moms loving spiritual journey.
Linework
Just watching the artwork come together is not enough? Why not paint your belly yourself? For this project, you'll only need white paint and a brush.
Chirping Together
A family that has fun together stays together!
Butterflies
Butterflies signify growth and new beginnings. Celebrate this new season of your life with colorful butterflies!
Ladybug
Belly painting ideas don't have to be sentimental. You have a bulbous canvas. Play with it.
Pink Owl
While you can wash off this pink owl belly paint, the memento, and the fun while doing it will last forever!
Minion
Ba-ba-ba ba-ba-na-na. Did you go bananas over minions too? If yes, you'd be giddy having this little minion painted on your belly.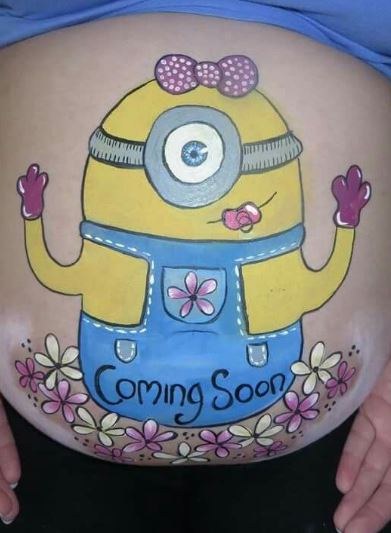 Minnie-Me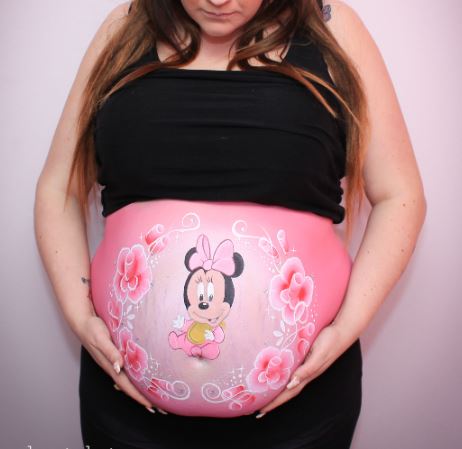 Welcome your mini you with this adorable Minnie Mouse character.
Tinker Bell
Mamas are real-life Tinker Bells; feisty, sassy, and, most importantly, loyal to their future little fairy.
A Wish Come True
Did you wish on a dandelion once and let the wind carry it? Perhaps THIS is your wish that came true.
Blossoming
No idea yet what object you'd like to paint on your belly? Look to nature for inspiration.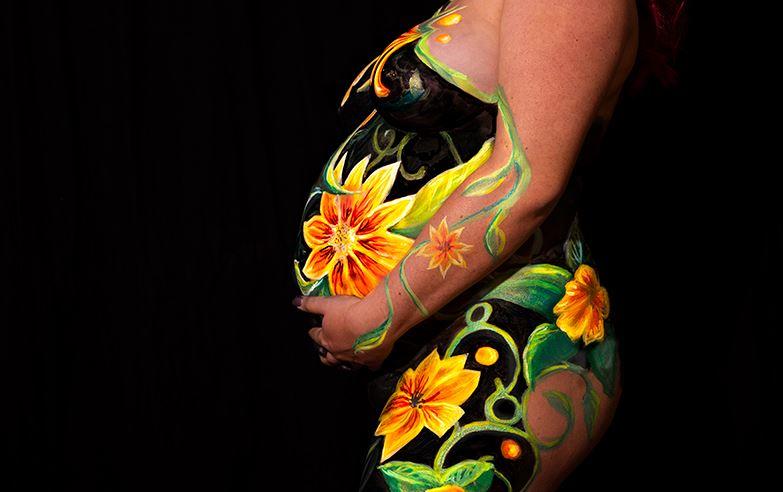 It's a Magical Ride
Let your little one know how excited you are about having her in your life! Take photos and put them in her baby book.
Enchanting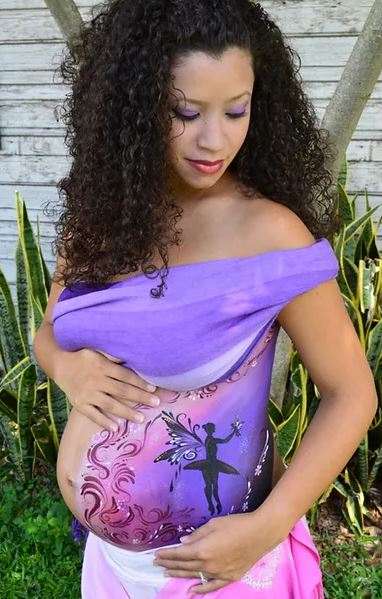 A baby girl can cast a spell on everyone around her, even before birth!
Your Little Mermaid
Before she starts crawling or walking, she is swimming inside you. And therefore, she's your little mermaid.
Unique-orn
Your child is unique, and so are you and Unicorns!
Brocolli
Have you been craving broccoli during your pregnancy? Express that love with belly painting! Of course, you can switch broccoli with your other craving!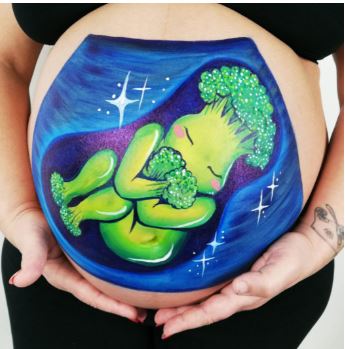 ---
Pregnant Belly Painting Ideas for Boys and Girls
Here are some gender-neutral belly painting ideas for moms and dads who don't want to know their baby's gender yet:
Probably one of my most favorite pregnant belly painting idea that works both for boys and girls is "loading" idea. I find it super fun and super easy to paint!
[Image Credit: Regilia]
[Image Credit: mon_belly_art, IG]
The Bomb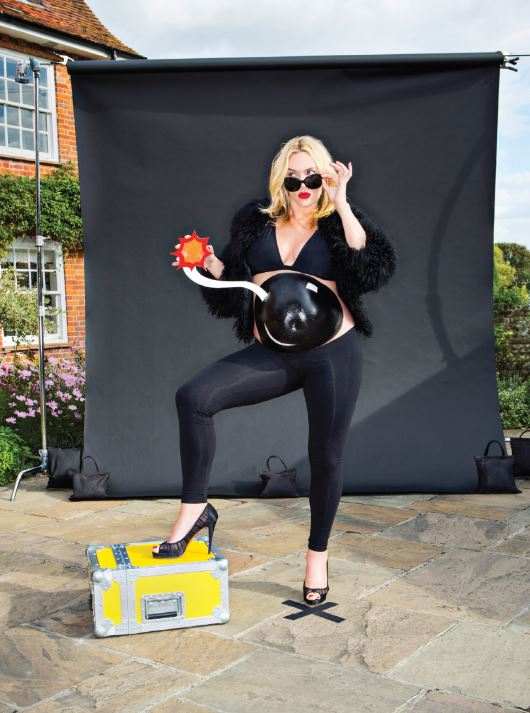 Show off your bomb before it explodes! Have fun, take photos, and give them as a gift to your husband.
Feet
Looking for a heartwarming idea to remember this journey by? The kids grow soooo fast! Take a moment to remember each moment.
You can as well paint little hands 🙂
Coco-inspired Belly Painting
One day, when your child is old enough, you can watch Coco and tell the story behind your belly painting!
Moonscape
Isn't it amazing that your child can bring so much light to your darkest nights? And it's not even born yet.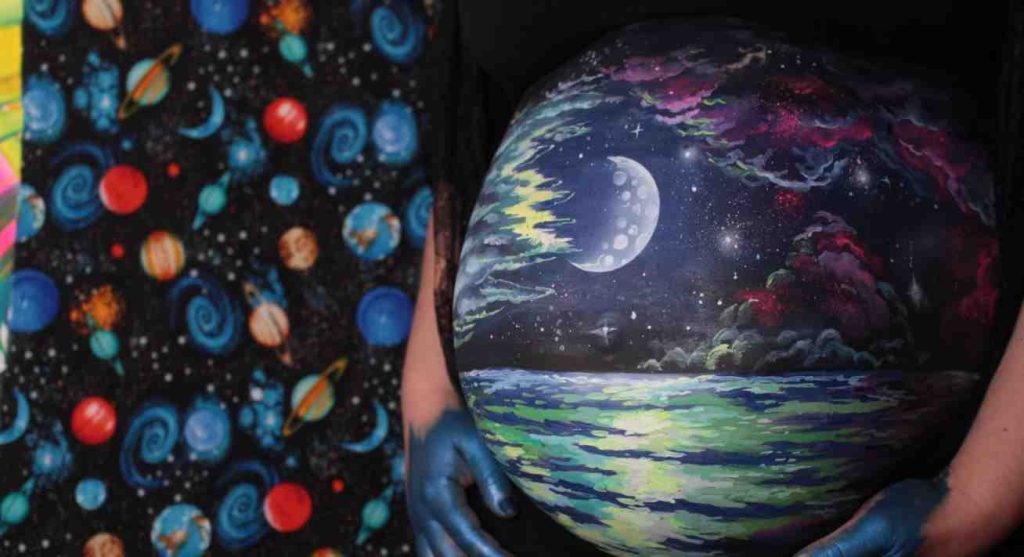 Kinder Joy
Don't you love the anticipation of not knowing what toy you'll get when you buy Kinder Joy?
And it's the same feeling as parents who don't want to know their baby's gender before the mom gives birth.
Musical Note
Is the dad a music lover? Or perhaps you both? This musical note is a quirky way of showing your passion for music.
Royalty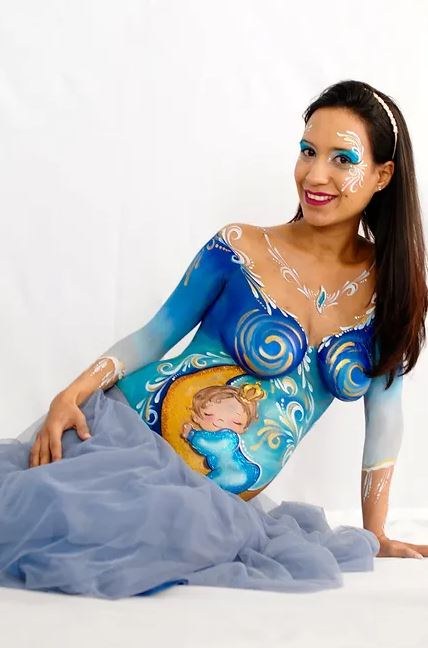 Your little prince/princess deserves royalty treatment. And maybe one day, he/she will treat you like a Queen.
Tree
Spring-themed belly painting idea? Here's a tree blooming with flowers.
Ultrasound
Need a unique idea to tell your friends that your #imhavingababy? A hyper-realistic image of your baby in the womb will do the job.
Angel
Love and care! 'Angel' painting is getting the right target to show the relationship between a pregnant woman and her baby girl.
It can be an idea for those mothers-to-be who waited very long time for their angel.
It's Baby Girl
Simple and cute idea to welcome your baby girl!
Baby Unicorn Princess
Baby Unicorn princess artwork increases the love and happiness of getting a beautiful baby. It represents that the cute one is going on to come soon.
Minnie Mouse
Baby Minnie Mouse painting will be a great way to have baby princess thinking.
It brings favourite pink color of most of the girls which can be a right sign of joy and love for the upcoming baby.
Butterfly with Flowers
Another beauty of colors and very easy pregnant belly painting! Butterflies are tiny beautiful creatures, fragile and gentle just as a baby!
Sunflowers
Sunflowers are just such joyful and summery flowers! If you are waiting for your baby during summer or early fall, and you love sunflowers, this is a perfect belly painting for you 🙂
Happy Face
Pregnant women can draw a happy face on their pregnant belly to express happiness and love. You can add some details to mark if it is a boy or girl (like in the example)
Peacock Art
Peacock is such a majestic bird! Yet it is quite challenging to paint a realistic peacock and requires some patience.
Panda
Pandas are the cutest! Have you seen all these videos of them having fun rolling around? Oh my god, they are adorable! Baby panda on your belly is a cute idea to paint.
Fashion Girl
It is hard to say No to our little fashionistas and so fun to watch them grow and explore their beauty, trying mom's shoes and lipstick 🙂 If you are waiting for a baby girl, a cute fashion girl may be a good belly painting idea!
Welcome Greetings
Welcome greeting painting can be the perfect way to indicate your last stage of pregnancy. It brings a strong feeling of the upcoming occurrence of a new one in your family. It can be painted or you can actually use a temporary tattoo or stickers for pregnant women of flowers and handwriting.
Sweets
Do you like Ice Cream and sweets? I have a sweet tooth and I can't leave without a dessert! Chocolate brings so much happiness as does pregnancy – here we go, an idea for cute belly painting!
Happy Family
Always be together! A Happy family painting encourages your family goals and brings all family members together in this beautiful moment.
Sleeping Baby
Sleeping baby paintings are a perfect match for both boys and girls. The baby sleeps inside the womb for a long time. Sleeping babies are indeed the cutest. You can go for a sleeping baby painting for a happy and bright pregnancy journey.
Real Womb
If you are not into fantasy painting, try to stay as close as reality as possible and paint the real womb and how your baby is inside it. It may bring you two closer and you can visualise your baby better.
Zipper
It would be very convenient if women can just unzip their bellies to bring new babies to life lol! While it is not that easy, you can still have fun painting your belly with a baby poking out 🙂
Baby Swimmer
You can paint your little captain on your belly! This one is perfect belly painting for those in love with sailing.
Expecting twins
Expecting twins? Let's paint them together as your favorite cartoon characters, for example Mickey Mouse and Minnie Mouse!
Cosmic Belly
Pregnancy and birth are trylu magical and some cosmic processes are happening within. You can paint a detailed and realistic Universe, or just simple moon and stars with planets.
The Lion King Painting
The lion king is an iconic animation movie. The most important thing the movies teach us is to work together as a family. You can paint the famous moment with Rafiki holding Simba on the cliff or any other moment from the cartoon.
Teddy Bear
Teddy bears were so popular and every girl wanted one! They are super cute and actually easy to paint on your belly 🙂
World
Your baby means the whole world to you and it is absolutely magical to hold him or her for the first time. Or maybe this painting idea resonates with you as you are a traveling family? Either way it is a pretty belly painting idea you can do together with your partner.
Cracking Eggs
Last few weeks? You can feel your baby coming? Have some fun and distract yourself from any worrying thoughts with this fun painting idea.
Fishes
The beautiful underwater family on your belly can be very calming. Or maybe your baby will be a Pisces?
Watermelon
Pregnant belly size is perfect for painting a big nice and juicy watermelon! And this is a super easy painting idea as well. If it happens to be your fav fruit, then it's even better!
Baby Giraffe
Draw that Baby Giraffe painting for both boys and girls! Giraffes are fun, smart and beautiful animals that always stay together!
Perfect Gift Ribbon
[Image Credit: Jennifer Alvarez]
Open your gift soon! There is a special gift for you – your baby! Easy painting idea on your belly is to just paint a cute ribbon across your belly.
Baby
This simple belly painting is a great option for a quick painting, and will work great for baby boy or baby girl if you will add some cute details.
Puppy
Puppies are cute, small, fun to watch and just little balls of happiness! Choose pink or blue depending on who are you expecting!
Monkey
Little monkey will soon be monkeying around! Are you ready?!
Baby Elephant
Stronger and capable of doing anything! This baby elephant painting can be the ultimate choice. Baby elephants are also fun to watch grow, especially how they learn to use their trunks!
Stork Bringing Your Baby
There is a cute legend that some parents used to tell their children when they ask where di they come from – storks bring babies! It turns out that storks tend to leave and come back exactly 9 monets after and this is where the legend started 🙂
You can put the name of the side.
Baby Lion
Expecting baby in August? Paint baby lion – the king of all animals!
Turtle
Wise turtles from the seas or cute turlte from a cartoon – your choice! Avery peaceful belly painting idea for ocean lovers.
Bail from Jail
For those who love a good time laughing I think it is a perfect and hilarious belly painting. Your baby can't wait to escape!
Astronaut Boy
There is nothing impossible for our babies to accomplish and as parents you will always be there to support even their crzaiest dreams.
---
Pregnant Belly Painting Ideas for Halloween
Scary Cat
Spook your husband with this scary-looking cat or maybe you are Alice in the Wonderland fan? For the best effect, have your belly painted between 7-8 months of pregnancy.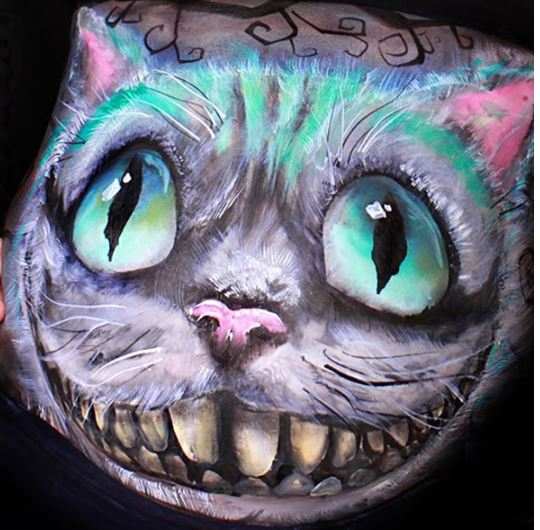 I'm Coming Out
Watch out because I'm coming! (Insert evil laugh)
Rufela
Cookie Monster
Not fond of sweets, but suddenly, you always crave them during pregnancy? Perhaps you're carrying the cookie like a the Cookie monster?!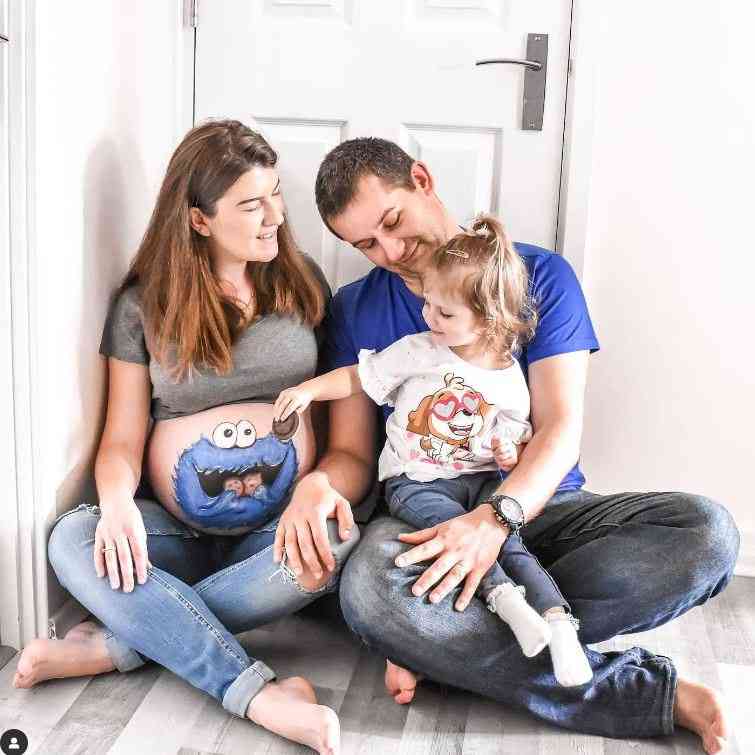 Eyeball
Pregnancy can bring people together. Pitch this idea to your preggy friend. And make beautiful memories together!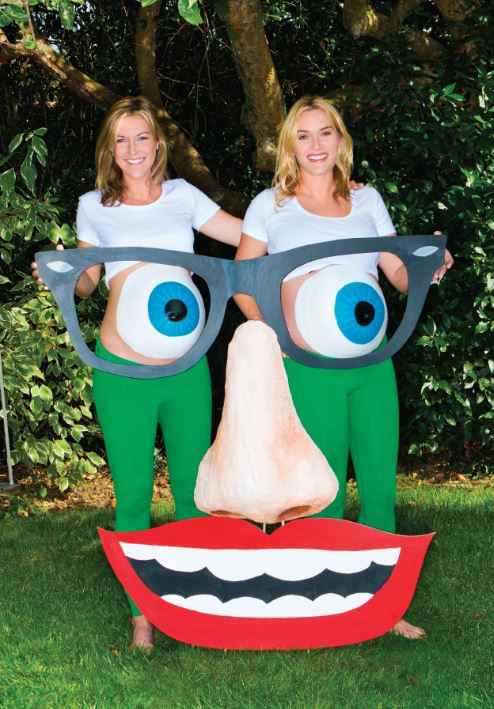 Crawling with Spiders
Does your partner gets creeped out by spiders? If yes and he just forgot to take out the trash, then this idea's perfect for you lol! I'm joking 🙂 As many people (everyone I know!) fear spiders this belly painting idea is perrrrfect for Halloween!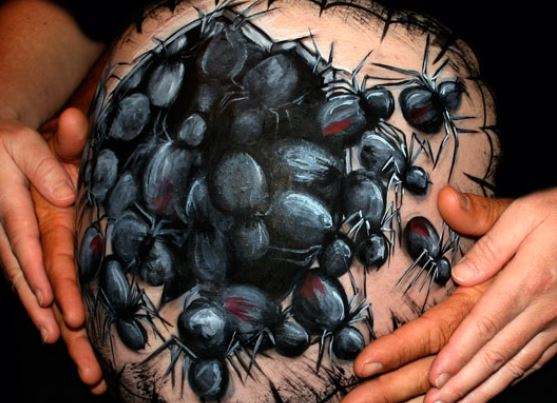 Mike
Are you looking for a playful idea to scare your family for the 31st of October? Pin this idea!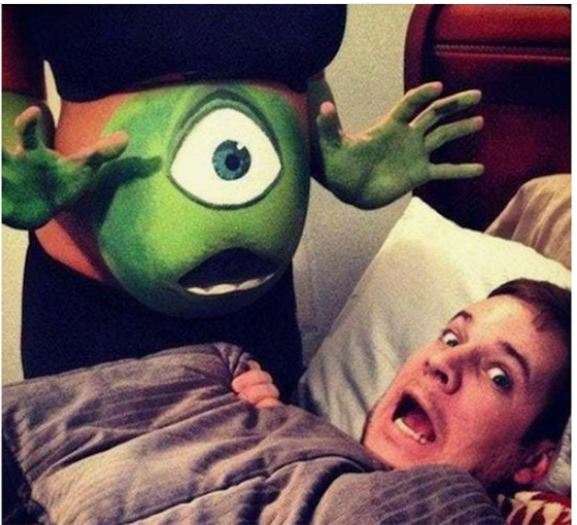 Plump-kin
Turn your plump belly into a pumpkin for Halloween! It's easy. Do it together with your older kids and partner!
Evil Witch
Are you having difficulty dressing up due to your bump? But Halloween isn't complete without the evil witch?! Problem solved!
Find more cool face and body painting ideas for Halloween in my article, "100 Scary Face & Body Painting For Halloween For Kids and Adults."
---
Best Belly Painting Kit
Your belly painting kit should include the following:
Water
Baby Wipes for erasing mistakes
Hypoallergenic and non-toxic water-based theatrical paint
Brushes
Sponges
Cotton Swabs (Cut in half): Use as disposable brushes or erasers
Here are some brands of the water-based face and body paints safe for pregnant women that are worth checking out:
Alternatively, you can use Veggie Baby Finger Paints if you have a toddler who wants to join the fun! These paints are vegan and EDIBLE! So, you don't need to worry if your kid accidentally tries to taste the paints.
---
FAQ
What Kind of Paint Can You Use on a Pregnant Belly?
Water-based paints are the safest option for pregnant belly painting. These paints usually have the least chemicals and come off easily using soap and water.
Can You Use Acrylic Paint on Baby Bump?
Experts do not recommend the use of acrylic paints on the baby bump. Acrylic paints usually contain harmful chemicals, such as:
Biocides,
Ethylene glycol, or
Ether.
Use water-based face and body paints instead.
Can Pregnant Belly Be Painted?
You can paint a pregnant belly as long as you use hypoallergenic and non-toxic water-based paints safe for use on skin in general. Test paint on a small area on your hand first to make sure you don't have any allergic reactions.
Is It Safe to Paint While Pregnant?
It is safe to paint while pregnant. But before you do, check that you're using paint without chemicals that can harm your skin. Lastly, check whether the paint releases any toxic fumes
Conclusion
Beautiful colors and affections signify love for the baby. These belly painting ideass include all your all emotions that should be towards your upcoming baby.
There are all kinds of paintings present like animals, flowers, Birds, Cartoon characters, and much more to give the perfect example of How to celebrate maternityattract people and spread happiness all around.
Some paintings Include the family feeling- Always be together.
You can consider any painting from the above list to express the feeling of an exciting pregnancy journey.
Choose safe and secure colors to give a boost to your happiness level. Always consider safe colors to insure belly care instead of having harmful paints.
Give an enormous pregnancy journey with some beautiful pictures.