You're here probably because it's your first time, and you're looking for painting supplies and DIY ideas on how to have the perfect painting date night at home. You may be overwhelmed with things like, "what products should we buy?" or "does painting go with movies or beverages"?
Whatever it is, you've come to the right place. To organise a couple date night with painting and sipping (with or without alcohol) you don't need fancy art supplies and any painting experience. Cheap date night kits are affordable and there are hundreds of easy tutorial that anyone can do! And I will share where to find everything.
Let's get started!
This article contains affiliate links. It means no extra cost for you but a little commission for me to support my hobby and blog. Thank you!
---
How To Set Up A Romantic DIY Painting Date Night
In the midst of life's many responsibilities, it's easy to overlook the simple pleasure of a romantic evening with one's significant other. From dinner to movie marathons, you have a lot of choices to choose from.
But, having unique and fresh ideas, like a romantic DIY painting date night, might be the breather you and your partner actually need.
Couples that have regular date nights are statistically 3.5 times happier! So your boo doesn't want to paint, tell him it's science! 
So, how do you set up for a romantic DIY painting date night? We'll walk you through some suggestions:
Choose a schedule.
Before anything else, you and your partner need to find a time that works for both of you for your next date night. Most of the time, this means working around your work schedule and any other clubs or activities you belong to.
You can share an online calendar with your date which will make it easy for you to decide on a day and time. You can put your work schedule on a separate calendar if you don't want to share information you'd rather keep to yourself for now.
Plan for spending around 2-2.5 hrs on sip and paint activity and about 30 min on prep and clean up. Shopping for art supplies and wine (snacks) should be under 1hr or even done online (I will share links to buy art supplies online).
If you have kids you basically have 2 options:
do a family paint night
or ask a nanny, grandparents even better, to look after your children for just 3-4 hours. As parents you deserve "me" time too and some quality time together.
Pick how you want to paint.
You can both paint the same painting to make a diptych. It is basically like a large piece of art made up of two canvases that are joined together.
Or, if you and your partner (or husband) have different styles, you can each make your own masterpiece by painting on different canvases. You don't have to paint the same thing.
There are also DIY couple painting kits available online that you can choose from. While the options are overwhelming, you don't need to worry as we'll walk you through each of them later.
Decide whether you pair up your painting date night with drinks, food, or music.
Sure, you can talk about a lot of things while doing your painting. But, would it be nice if you do something along with it?
You can either pick an activity that would be memorable for both of you. For example, enjoy a glass of champagne you both shared during your first date.
Or you can also buy and snack on your favorite chips as you brush along the canvas. And lastly, maybe it's time to get that vinyl record of your favorite singer out of the closet and play it.
---
What Materials To Buy For Painting Date Night At Home
Of course, let's start off with the basics: paintbrushes, paints, canvases, and easels. As we go along, let's add a bit of what we need aside from these items.
Tip: When buying materials, you can go together with your partner. This can already be an amazing pre-date before the highlight!
Supplies Needed:
Couples Painting Kits
You can have a fun and creative painting date night in the comfort of your own home. The canvas painting kits usually contain everything that you need for that perfect date night, including step by step instructions!
There are some couple painting kits on Amazon but they get a bad rep constantly and low star reviews., and seem to target one specific theme with not much choice.
I picked Painting To Gogh as my to-go painting kit as they do run their business hand in hand with artists and they offer an insane amount of different couple painting ideas! They INCLUDE a tutorial! Plus, you can save 10% using my special code MASHKAZAVR (I know it's weird but I like it!).
Starting from pre-drawn canvases, and acrylic color paints, to paint brushes, pallets, and disposable smocks! Each kit at Painting To Gogh is sold with full supplies so for 2 people you just buy 2 kits, and if you have a party, buy more! My personal pick is this one:
If you already have an idea and found a good tutorial with clear steps you can buy just a painting set without a guide. Those are available on Amazon and will cost around $25 – I recommend this one.
Want to buy everything separately? I got you!
Paint Brushes
The most common brush forms are either (1) a flat, rectangular brush, or (2) a round, pointed brush.
Brushes with square, flexible ends, and a large capacity are called flat or rectangle brushes. When laid flat, they allow for long, fluid strokes that are ideal for blending and covering huge sections of the canvas.
You may also use the sides and tips for finer lines and touches. Meanwhile, brushes, both round and pointed, may be distinguished by their huge bellies that narrow to a sharp tip. They may make broad, sweeping strokes and more nuanced, detailed work. You may purchase these two shapes and try to experiment with them as you go along with your painting.
Aside from its shape, make sure that the package says that the material used is synthetic or suitable for acrylics. It is common for the package to state that the brushes are suitable for use with various media. As long as the labels say "acrylic" or "all media," they're good to use.
Read also: The Best Brush for Acrylic Paint on Canvas
Paints
Because the paints you choose depend on your preferred artistic aesthetic and your chosen painting methods, it's a really individual experience.
It's quite OK to begin using student-quality paint if you're just getting started and are on a tight budget. These Caliart acrylic paints from Amazon come in different colors and are perfect for DIY painting date nights.
Related: Best Acrylic Paint: 20+ Brands Reviewed for Beginners [From Cheap to Pro]
Canvases
Painting using acrylic may be done on a variety of different types of canvas, including pricey stretched linen canvas and inexpensive canvas pads.
Stretched across a frame or attached to a panel, the canvas is often woven from natural fibers like linen or cotton. There is a wide variety in the feel and density of each fiber. You can get canvases at any arts and crafts shop or even at any bookstore nearest you.
A 16 x 20-inch canvas is the industry standard for painting studios. However, the 11″ x 14″ size can be of good use, especially when painting in the comfort of your own home. If you need something smaller pick 8×10 pre-primed cotton canvases it is closer to A4 format.
Easels
Each type of easel has its own features and uses, and it may be optional. A-frame easels, also called "Lyre easels," are triangular easels with three legs, two in front and one in back. From the front, they look like the letter "A," which is how they got their name.
If space is limited, the easel's triangle shape makes it easier to put it in a corner or even on the table as they come in tabletop size as well.
However, you can also paint without an easel. Just lay your canvas flat on the floor or on the table, and that will do the job. Don't forget to put something underneath so you don't ruin your table or floors.
Masking Tape
Sealing the edges to ensure a clean and smooth finish makes a very beautiful painting. Masking tape might come in handy during your romantic painting date nights. Also, the feeling of removing these masking tape strips after every finished painting is so satisfying!
At the same time, it is absolutely optional.
---
How To Organize A Budget-Friendly Couples Paint Night At Home
Aside from all of those tips above, you might want to add a little 'spice' to your date night by including your favorite wine on the menu. Here are some of the tips that might come in handy if you wish to organize a sip-and-paint night at home, in the most budget-friendly way:
Get the supplies you need – $35
You can go about this step in a few different ways. For example, you can buy all of the supplies yourself or give the list to your friends. If you already have some of these supplies at home, the overall cost of your sip and paint party will go down by a lot. You can go by the list we have provided above, or you can make your own.
Buying a pre-made painting kit for 2 people may be cheaper than buying each and one supply separately. Account for spending $25 to $35 dollars on supplies.
For palettes use disposable paper plates or plastic trays. Don't buy one if you are not a painter.
Watch a video tutorial on YouTube
Instead of actually going to an art class, today we can organize a paint date at home with our own twist. YouTube has a wide range of tutorials to look at. I will share some great and easy home date ideas below as well.
There's probably a video for whatever you want to paint, from the magnificent and dreamy Eiffel tower of Paris to an adorable puppy wagging its tail.
Bob Ross offers a lot of videos for you to choose from, that will surely give you that rush of joy while painting! Even though the materials used in these videos may be different, with the basic supplies we suggest, you should be able to mix and create any colors and brushstrokes you need.
While Bob Ross is quite an advanced artist, there are dozens of easy painting ideas for couples, and a few of them I'll share below.
So my advice is to watch the video at least one time before the date to make sure you can actually follow it through.
Make a playlist of your favorite songs
Compile a playlist with all your favorite songs on Spotify.
Aside from enjoying the activity, you can also take a trip down memory lane as you talk to each other about how each song resonates with you. Or even do a karaoke break 🙂
Buy your favorite bottle of wine – $15 to $33
Yep, this is already self-explanatory. You can buy a bottle or two of your favorite wine, champagne, ciders, or even beers. Whatever you prefer.
Now is the perfect time to dust off those champagne glasses you've been hiding in the cupboard!
I don't drink alcohol so I would prefer nice tea or even better – hot chocolate! With marshmallows would be just perfect.
Do a time-lapse
You might want to document this painting date night as it would become one of your most romantic memories in the future. You can do a time-lapse while you are painting and enjoying the night, or a regular video if you wish to really capture that moment.
---
5 Tutorials For Painting Dates
If you're still confused as to what you can paint, here are some suggestions to start with:
Bob Ross – Sunset Aglow – for advanced level
In Season 26 of The Joy of Painting with Bob Ross, he paints a sunset scene, which is one of the most well-loved scenes in art. The people who have tried this tutorial considered the art they made a "one, huge happy accident". With the peaceful sunset behind the mountaintop, you can really feel that sense of fulfillment when you're finished painting.
For beginners there is an easier sunset scene to paint. I did this small painting with poster paints in around 20 minutes: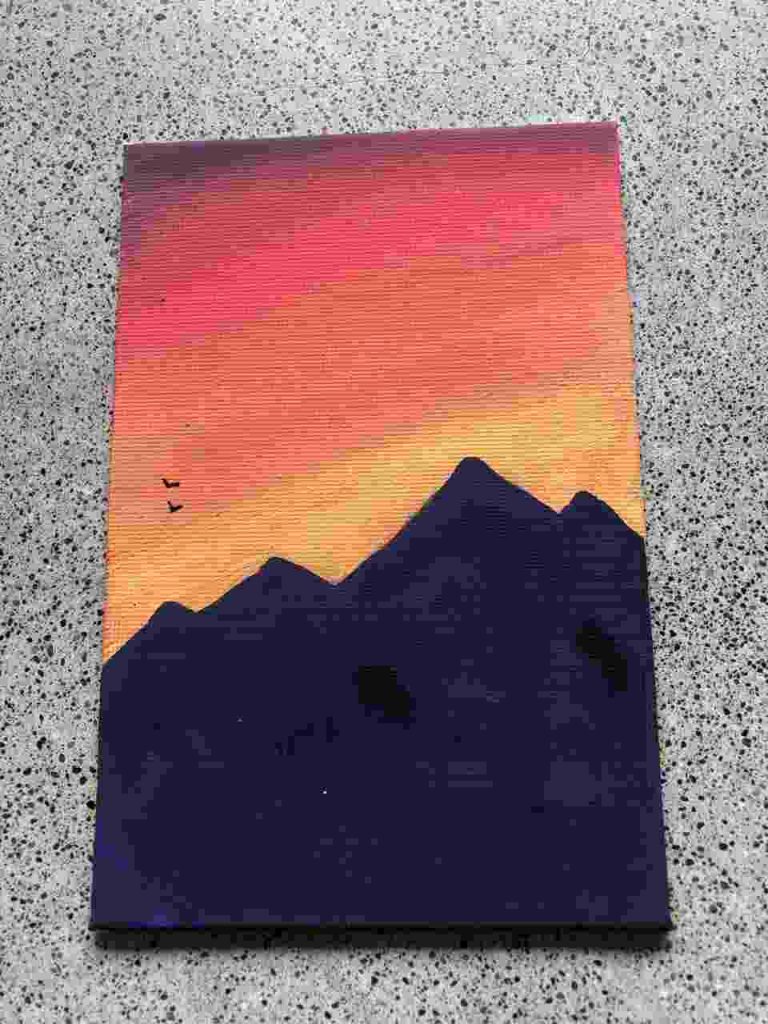 Here is a video on how I did it and I actually used only a few colors (red, yellow and blue):
---
Flowers with blue sky and clouds
How about a landscape of flowers in a blue sky? Dainty, isn't it? This 5-minute tutorial will help you get a grip on the basics to paint this view. This has very simple steps, so if you're new to painting, it's a great way to start.
---
Heart on Rainbow on 2 canvases
If you really want to work on one project together, this is a great tutorial for you. In this video, the painter uses two canvases. The picture will not be complete if you will not hang them next to each other. Lovely, isn't it?
---
Moonlight couple painting
It is always easier to paint silhouettes and night scenes. For example, you can paint a dark black night, a yellow big moon and your silhouettes over it.
While in the tutorial there is some generic couple's silhouettes, you can actually try and make it your own. If you have long hair, add them, and try to paint each other's face profiles.
---
Under the stars Diptych
As I said, you don't have to paint the same thing, but what you can do is make two paintings form a new one. Like this night landscape. So one of you will paint half with the fire and the other now will paint the camping tent.
You can even both start yours and then switch in the process.
---
11 Easy Couple Painting Ideas
Here are some suggestions and ideas for you. You may opt to copy the exact design or use it as an inspiration for your own theme.
I Love You, I Know
This painting can be done together and it would be very lovely to have this hanging on your wall where you can easily see it. These are two canvases that will create one picture when joined together.
For fun, the girl can create the boy's portrait and vice versa. You can customize it according to your own style.
---
I Love You
If you both dream of a vacation on the beach with cocktails, paint this summer idea:
---
Cheesy Reindeers Painting
This Happy Holidays-themed painting is perfect if you want a touch of personal decor during the Christmas season.
King & Queen Pre-Drawn Paintings
This King and Queen Date Night Kit comes with a pre-drawn canvas, so you will have more time to spend on the painting part. If you want a more romantic yet regal mood, this King and Queen Date Night Kit is perfect for you to start with.
You can try these couple painting kits with pre-drawn couple paintings.
---
Landscape for couples
Tracie has created this video tutorial for couples on how to paint an easy night landscape on 2 canvases:
---
Make it personal
Add your names and little words to your bae! And the painting itself can be an easy sunset, forest, flowers – anything. I found this one (unfortunately I couldn't find who and where made it)
---
Two seasons
What is your favorite season? Paint it! Or paint the season of your or your partner's birthday. In this tutorial, the artist showed it on one piece of paper, but it works on two separate canvases as well.
It can also be a day/night idea.
---
2 Swans
Very beautiful idea but may require a bit of time and more skills to create a truly beautiful bird. THe same way you can do flamingos, cardinal birds, white pigeons…
---
Glasses of wine
We paint and sip, right? Why not paint wine glasses then? Great and easy idea and will work for almost any interior if you will want to hang it. Especially will work for the kitchen.
---
Heart-shaped mountains
If you are both adventurous types and love hiking, trekking, and mountains, combine your love for each other with your passion to travel 🙂
---
Fishes
Two kissing fishes – a fun and colorful idea for couples to paint. You don't have to know a lot about fish anatomy, you can just go with the flow 🙂
---
Van Gogh Style
If you both love art, why not try to imitate Van Gogh's starry night painting (or any other famous painting) stretching it over 2 canvases each of you can make his own version of the masterpiece.
Need more ideas? I got you!
---
Paint date night FAQ Section
Is painting a good date?
Yes! A great idea for a date night is to spend the evening painting at home. Doing something together creative as this is surprisingly fun and relaxing. This is a good date idea if both of you or at least one of you is more mellow and introverted.
Adding a little alcohol is okay, as it can de-stress and maybe lighten up the atmosphere a little bit. A non-alcoholic option is better if one of you is not drinking or it's early stage of dating.
Also, this will make a great remembrance if you want to keep the memory in a more unique and creative way.
For long-term couples having an art date at home is absolutely fine, but for new relationships, it may seem awkward sometimes. In this case, you can join a group sip and paint event or book a private class.
No matter how accurate your paintings turned ou, I guarantee you will have so much fun, lots of laugh, and quality time with your better half 🙂
How do you plan an art date?
Just like any other date, planning a painting date night is pretty much the same. Start off with the basic, which is scheduling and making sure you are both available on that schedule.
Tip: Allot an additional of at least 1-2 hours as you want time to buy the things you need, such as wine, food, and painting materials.
If you are in NY, check out these date night events.
Wrap Up
A paint date night is such a fun DIY way to do something different for your loved one. I think it's a great idea for all couples, no matter how artistic they are, where they live, and how old are they.
As a reminder of your paint date, you get to hang a beautiful piece of art in your "nest." I hope you will have a great night with your partner as you get to bottle up that memory in a canvas.
If you got hooked up with painting just like I did, browse my blog to learn how to paint!