Are you craving for beginner-friendly Easter canvas painting ideas? I got you!
Easter brings many scenes you'd like to capture. Immortalize the cuteness of a bunny on a field, of kids going on Easter egg hunting, of a basket of colorful Easter eggs, spring scenes, and more.
Below you'll find the inspiration to create your Easter-themed painting on canvas or paper. I've also included kid-friendly projects using a few easy-to-find materials your kids or students would love!
Easter Canvas Painting Ideas All Upfront
Spring Rabbit Easter Painting
Easter Street Scene
Wood Welcome Sign
Little Bunny Butt Peaking Out of a Flower Pot
Koala
Bunny with a Ribbon
Easter Sign
Bunny and Tulips
Daffodils
Bunny on Grass
Golden Bunny
Golden Chick
3D Flowers
Spring Scene with Rabbits
Easter Truck Painting
Holy Cross
Empty Tomb
Easter Landscape
Easter Bunny Holding a Basket of Eggs
Basket of Easter Eggs
Easter Egg + Cherry Blossom
Cute Bunny
Fluffy Bunny and Chick
Holy Cross + Flowers
Flowers on a Mason Jar
Rabbit on a Field
Hen and a Chick
Chick and Cookies
Bunny Painting Using Coffee
Easter Egg
Cute Chick
Eggs in a Nest
Cross + Butterfly
Floral Eggs
Egg-shaped Painting
A Family of Chicks
Egg-shaped Painting on Paper
Bunny Stencil
Button Eggs on Canvas
Chick Easter Card
Bunny with Embossed Tail
Easy Bunny
Chick Painting Using Fork
Paint Splatter Easter Eggs
Shimmering Eggs
Glitter
Spring Is Here
Sponge Painting
Bunny Card
Easter Scene Using Bottle Caps
---
Below are some fun and unique Easter canvas painting ideas beginners would love! Read on!
Easter Bunny Painting Ideas for Adults
Spring Rabbit Easter Painting
Did you ever wonder how bunnies and eggs became the symbols of Easter?
Originally, they were the pagan symbols for rebirth and spring. Eventually, these two became the symbols of Easter.
Go on, then, and paint your version of a rabbit.
---
Spring Street Scene
Paint a spring street scene if that's what you associate with Easter. Here's a lovely take using the said theme: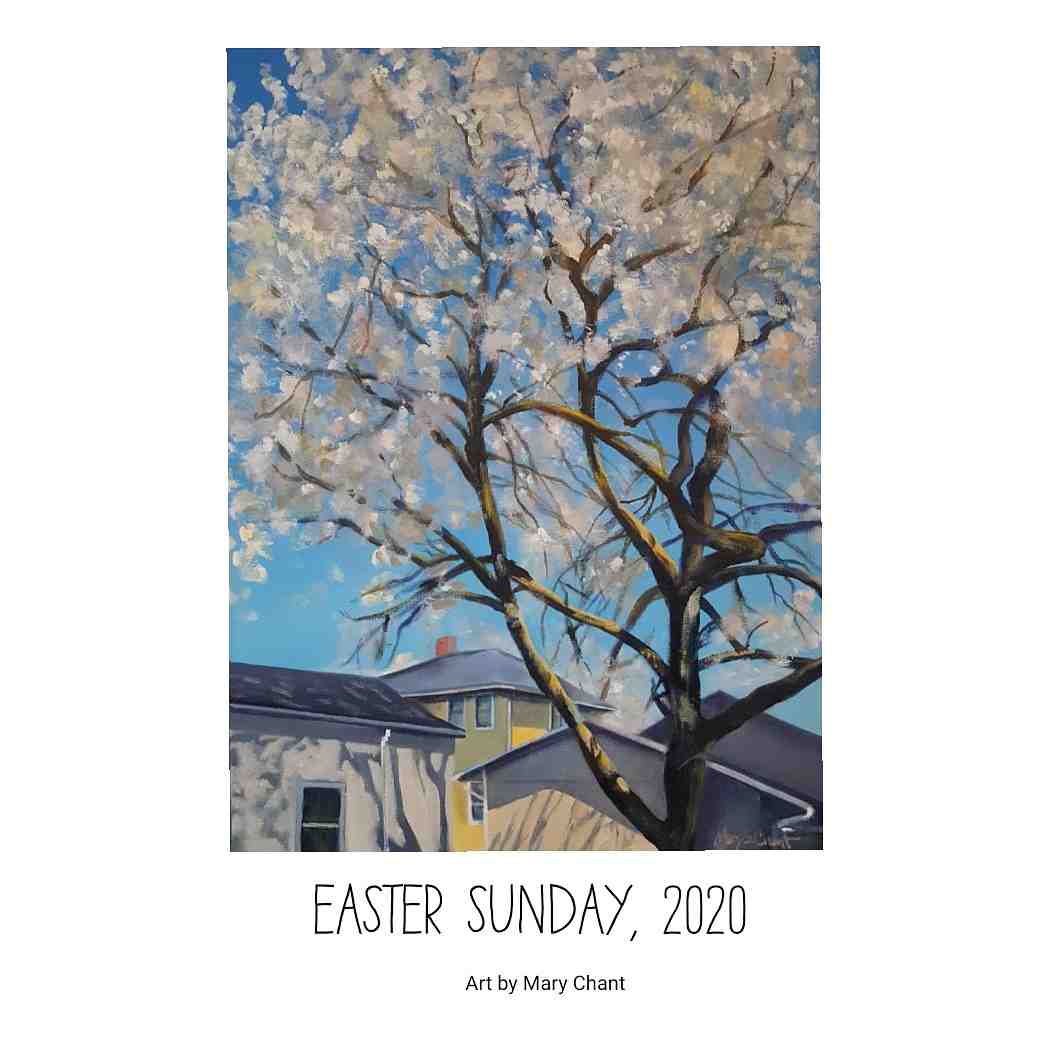 ---
Wood Welcome Sign
Say hello to Easter by making this easy-to-make welcome sign! You'll need acrylic paints, a sponge, stencils (if needed), and a brush.
---
Little Bunny Butt Peaking Out of a Flower Pot
With its butt picking out of a flower pot, this little bunny looks like it's on an Easter egg hunt! Cute and fun 🙂
---
Koala
A Koala is just as cute as bunnies (well, it depends on who you ask). The artist used watercolor as a medium, which created intriguing shapes and effects.
---
Bunny with a Ribbon
Florals, rabbit, and a ribbon- this piece will inspire you to step out of your comfort zone!
---
Easter Sign
Here's a quick DIY craft you can whip up to get into the holiday mood. Get a bunch of flowers (plastic or real), an old shoelace, round canvas/paper, a brush, and paint.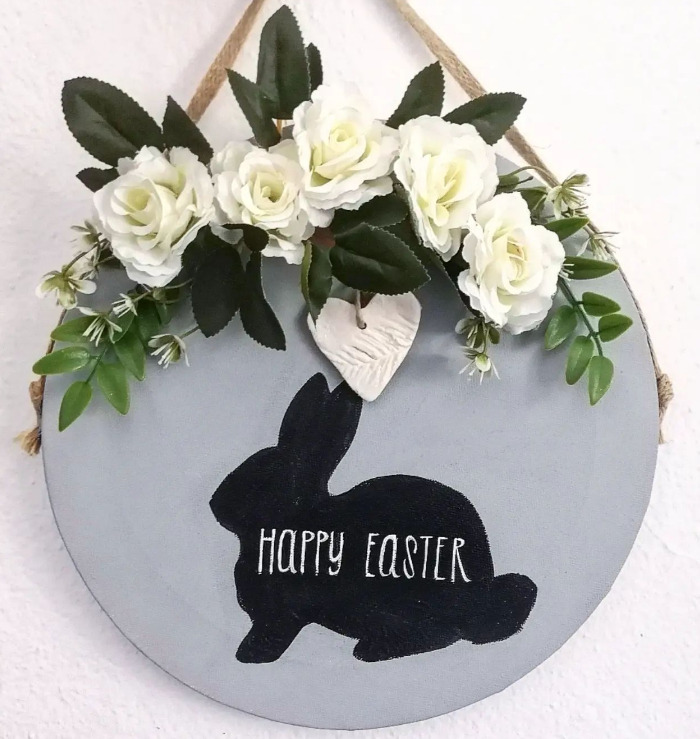 ---
Bunny and Tulips
Rediscover your flow by making this easy yet pretty rabbit amid a tulip field.
Bunny on Grass
Are you trying out acrylic painting? Here's a cute and beginner-friendly muse you can try!
She also made an easy yet beautiful Ester painting with eggs using gold:
---
Golden Paintings
Test out what your metallic paints look like on mini canvasses! Start with a simple rabbit or a chick like these pieces.
---
3D Flowers
Spice up your painting by adding some embossed flowers to it.
---
Spring Scene with Rabbits
Fall in love with painting again by recreating this serene Easter and spring scene. I love how colorful it is yet super easy to make.
Read also: How to Paint with Acrylics on Canvas: 3 Easy Steps [Supplies included]
---
Easter Truck Painting
You'll need plenty of space (+ a comfy chair!) to spread your materials while painting. You can work at your kitchen table, if you'd like. Will work for acrylics, tempera, gouache and even markers.
---
Holy Cross
Make the painting below your reference if you're up for a slightly challenging Easter scene. Yet it looks more complicated to make than it is, a beginner can do it!
---
Empty Tomb
Acrylic is an excellent medium for beginners. It is inexpensive and cleans up easily.
Plus, in case of mistakes when painting this piece, you can overpaint your canvas with white.
---
Easter Landscape with a Sheep
Choosing what colors to use when starting to paint can be quite overwhelming! Have a color wheel within your reach and start to paint this landscape!
A good beginner's palette should include warm and cool versions of the primary colors.
Below is a good beginner's palette for acrylic painting:
Check the list of Best Acrylic Paint: 20+ Brands Reviewed for Beginners [From Cheap to Pro]
---
Easter Bunny Holding a Basket of Eggs
Do you find it hard to sketch on a canvas? The easiest way to do this is to use transfer paper:
Place the transfer paper on your canvas, graphite-side down
Use artist tape to secure the sketch on top of the transfer paper
Trace over the lines using a pencil
Lift the corner of the transfer paper to ensure a successful transfer
Try this method when you paint this sweet Easter bunny.
---
Basket of Easter Eggs
How can you set the mood of your painting? Underpaint your canvas with warm colors if you want a happy and summery feel. Use cool colors for a calm, gloomy, and wintery feel.
See the difference between the two when you paint the next couple of painting ideas!
---
Easter Egg + Cherry Blossom
Follow along with this tutorial if you want to know how to paint an easter egg decorated with cherry blossoms!
---
Cute Bunny
Have you found a photo of an adorable rabbit and wanted to paint it? Head on to this tutorial for the how-to!
This tutorial requires a bit more patience as you will try to paint realistic fur.
---
Fluffy Bunny and Chick
Put your spin on this composition by choosing different colors, tweaking the subject, or painting in your own style!
---
Holy Cross + Flowers
Allow your creativity to flow when you recreate this artwork. Keep an open mind and let the paint do its thing.
---
Flowers in a Mason Jar
Because acrylic paint dries quickly, you can add many layers to your art in a short time without the fear of colors getting muddy!
If you actually want to paint some flowers ON some jars, acrylic can stick to glass too.
---
Rabbit on a Field with Watercolor
What I love about watercolor is its versatility. You can create intense and rich blends by layering your colors.
To create special effects, you can also use table salt, sponge, and more.
Oh! And don't forget the lovely accidental runs and bleeds…
---
Easy Easter Painting: Hen and a Chick
Have a sketch ready for a smooth painting session and choose the colors you'd like to use. But make room for some changes too!
---
Chick and Cookies
Try to enjoy your painting process, so even if your work didn't turn out like this charming little Easter painting, you learned something new and had fun!
---
Bunny Painting Using Coffee
Didn't know painting using coffee is possible? Now, you know. Create different shades by adding different quantities of coffee powder in mixing trays with water!
---
Easter Egg
If you still need a nudge to learn the basics of color theory, know that once you get this concept, you can choose your color palette for every project.
You can also use colors to set the spring feel on your Easter egg painting or emphasize it.
---
Cute Chick
Bring this adorbs chick into life using whatever medium you like. Try to mimic it as closely to the real one as possible. This easter painting is suitable for advanced painters working with acrylics or oil paint.
---
Eggs in a Nest
Play around with colors with these easy eggs in a nest.
---
Cross + Butterfly
Practice your blending skills using acrylic with this piece as your basis:
Stroke the two different colors onto the surface horizontally.
Leave a gap between them.
Continue to stroke horizontally towards the other color. This wayyou're pulling one color into another.
Create a smooth blend by retracing your strokes.
---
Egg Floral
New to painting? Warm up with simple projects like this Easter eggs + floral concept. This exercise is perfect for getting to know your brushes and mark-making tools.
---
Egg-shaped Painting
Get yourself an oval canvas and be weird! Paint what Easter means to you.
---
Easy Easter Canvas Painting Ideas for Babies and Toddlers
A Family of Chicks
Need some inspo for an afternoon art session with your toddler? Here's a fun and quick finger painting of a family of chicks.
A family of chicks! 🐥🐣
Great painting Martha 👌🏻🎨 #easterpainting #talented pic.twitter.com/tM2XQ4wxyE

— Garstang St Thomas School (@StThomas_school) April 9, 2019
---
Egg-shaped Painting on Paper
Got some paper? Draw a big oval. Cut it out. Grab your paints, brush, and sponge. Kids can also use their hands to prepare their Easter eggs for the hunt!
#easterpainting #easter #painting #paint #kidsart #kidspainting#kidspaint #egg #colours #🐰 #🐥 #🥚 📷 #myplaygroupphoto pic.twitter.com/mGOE1N6sNr

— aimiya (@aimiyatwit12) March 6, 2018
---
Bunny Stencil
Look its the Easter Bunny resist paintings!#easterart #eastersurprise #easterpainting #processart #ckclilartist pic.twitter.com/BiS7Y7BRMm

— CreativeKiddyCottage (@tweet_CKC) March 24, 2016
For this project, you'll need a bunny and flower stencil, paint, brush, sponge, and a canvas or paper.
---
Button Eggs on Canvas
To make a tape painting, you'll need the following:
Tape
Any paint
Paper or canvas
Once finished, draw the outline of your Easter egg. Then, glue the buttons inside the egg's outline.
---
Chick Easter Card
Here's a cute keepsake you can make with your toddler or student! It's an easy project. Plus, it's cheap!
Tip: Make sure the eggshells are washed and dried to prevent attracting insects.
---
Bunny with Embossed Tail
Save this unique Easter bun idea!
Have a bunny stencil ready
Secure it on top of a canvas or paper using a tape
Kids can use sponge or brush to paint the background.
Kids can paint the bunny any color they like
Let them decide what part/s of the bunny they'd like to emboss and what material they'll use
---
Easy Bunny
Do you need an easy rabbit painting tutorial even kids can do? Poppy's art might be the answer!
---
Chick Painting Using Fork
Have you ever tried painting with forks? If not, try it with your toddler!
---
Paint Splatter Easter Eggs
Head on to this link for a mess free craft for kids! You can also have an egg cut out ready for painting. This way, your child won't have to use scissors.
---
Shimmering Eggs
Medium: Watercolor
Have several egg cut outs ready! Decorate the eggs with watercolor, stickers, or however they want!
I love using crafts as home decor! So after decorating the eggs, make a wreath:
Get a paper plate.
Cut out the middle.
Poke a hole on top and thread a twine or ribbon through.
Glue the eggs around the paper plate and you have a wreath!
---
Glitter
Kids love to use their fingers to paint. So, instead of a brush have them use their fingers to make this fun and easy craft!
---
Sponge Painting
Make cute Easter-themed prints using some sponge. Make a bunny, carrot, and egg cutouts. Paint using the sponge. Kids will be amazed of this technique!
---
Bunny Card
Kids love making cards for their loved ones! Help out by watching this quick tutorial (starts at 4:29).
---
Easter Scene Using Bottle Caps
Get your kid to use their imagination by instructing them to create an Easter scene using bottle caps, paint, a round paper or canvas, glue, and marker.

---
Daffodils Collage
Full-bloom daffodils indicate the arrival of spring! Make a painting of daffodils with your kids.
Add a wow factor by adding a picket fence using a popsicle stick or any alternative you can find in your home.
---
Easy Easter Bunny Canvas Painting Tutorial
Materials
You'll need the following to paint a beginner-friendly Easter bunny:
Steps
Paint about ¾ of the canvas with blue and white for the sky.
Wash your flat brush.
Load your brush with green and white to paint the spring grass.
While the paint on the ground is still wet, load the brush with green to paint the grasses
Start drawing the rabbit using white paint.
Paint the rabbit's outline using gray
Add tulips, eggs, and other details to background
Take care of the rabbit's details using pink and black
For visual learners, follow this link for the tutorial!
---
FAQ
How Do You Paint a Face with Flowers?
Follow the steps below to paint a face with flowers:
Use a sponge to create pink circles.
Add red in the middle of the pink circles using sponge.
Get a #3 round brush. Use it to paint leaves and baby's breath.
Add white highlights to the roses using the round brush
Start from the center towards the flower's edge
Paint light green highlights to the leaves
Finish the look with a red shade under and around the roses.
Conclusion
There you have it! I hoped you found the inspiration (and the nudge) you need to start your Easter project/s!
For more fun and unique spring painting ideas: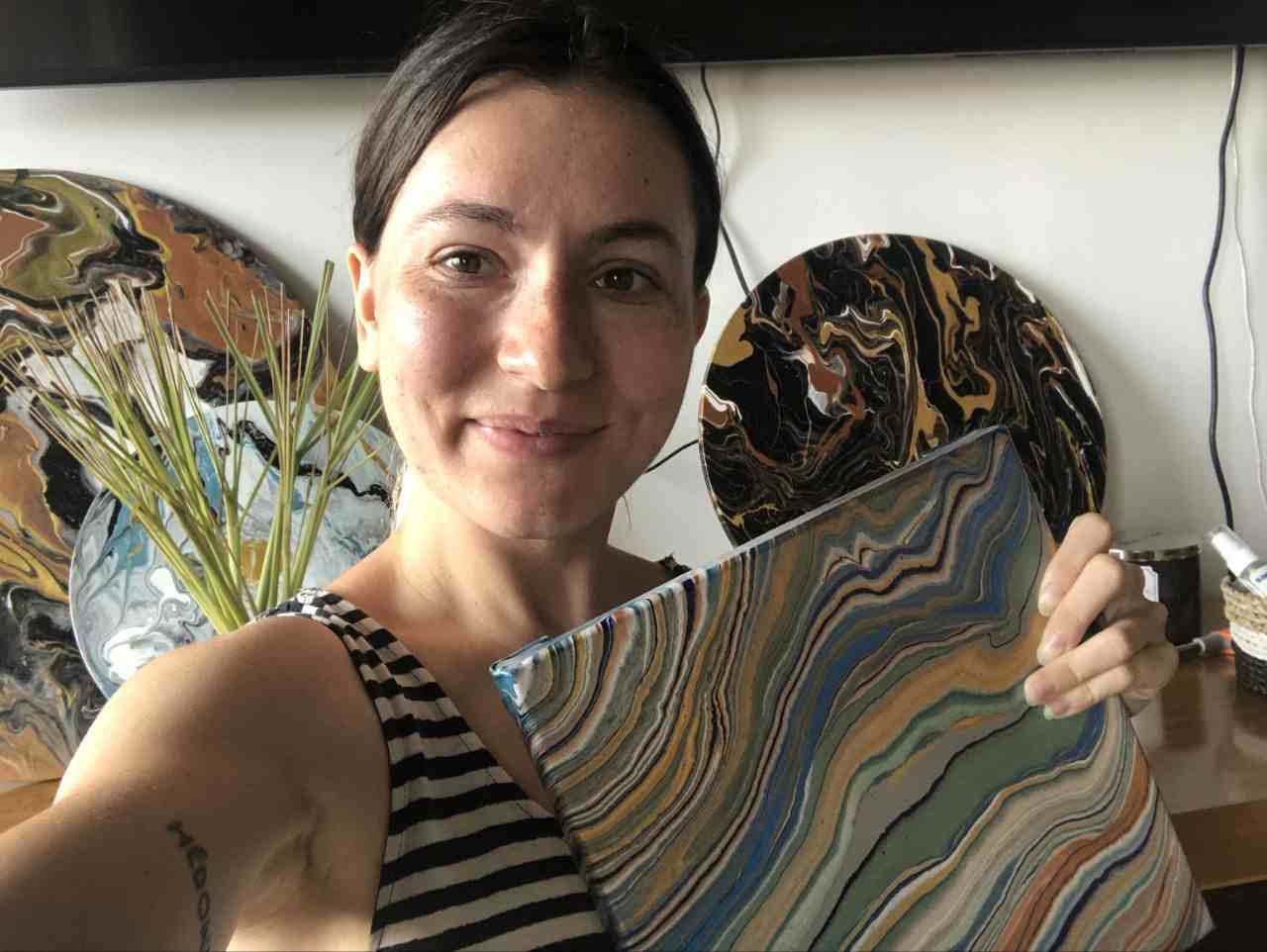 Masha Eretnova is a certified teacher. She started painting and drawing 20+ years ago and now is an international abstract artist and educator passionate about acrylic painting, gouache and crafts.
More about me.