Finding it hard to get the best gouache for an affordable price? Don't worry; you're not alone. A lot of them are out on the market, but which one is worth buying? Introducing Arteza, a rising gouache brand, or is it? To help you come up with an answer, here's an in-depth Arteza gouache review.
In general, Arteza gouache is worth the hype! It's very beginner's type—a student-grade gouache that is affordable, safe, and easily available online. However, the tubes come in sets, and some of the labels don't match the paint colors. The gouache also provides less coverage and is less opaque compared to artist-grade brands. Nevertheless, Arteza Gouache is still an impressive and cheaper alternative to other designer gouaches.
To learn more about this brand, check out this comprehensive yet concise analysis of Arteza gouache, and compare it with one of the best gouache brands, Winsor and Newton.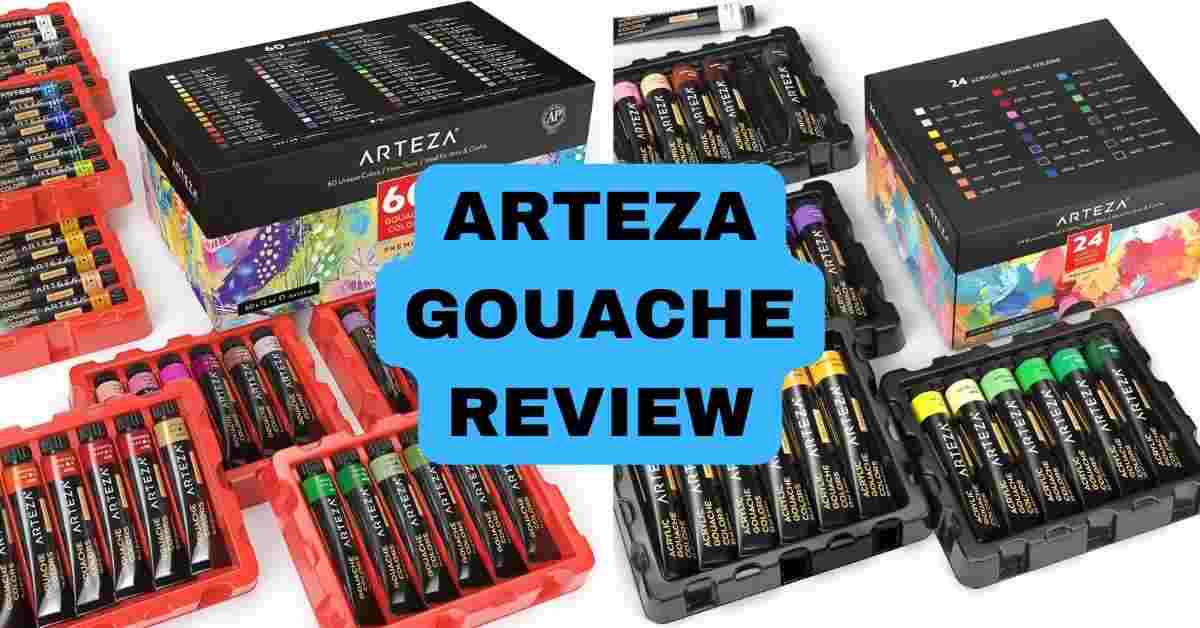 ---
Is Arteza Gouache Worth It?
Looking for a gouache set worth buying? As an aspiring artist, you should consider Arteza gouache — AP-certified nontoxic, blends well when added with water, is cheaper and provides more selection than other gouache brands.
Pros
More color selections
AP-certified nontoxic
Blends well with other colors
More opaque than regular watercolor
Cheaper than designer gouache brands
Has lightfastness ratings and pigment numbers
With 4.7 stars on Amazon out of 5,198 ratings
Cons
Arteza gouache is promising for beginners, but watch out for the following issues, especially with the application, color variation, and packaging:
Doesn't spread smoothly
Some colors are repetitive
Can only be purchased in sets, and small sets are only available in tones
Water-resistant but not waterproof
Difficult to get the paint in a 60-color box
Other colors don't match the labels.
Read also: Painting with Gouache for Beginners: 7-Step Ultimate Guide
---
Arteza Gouache Review (In Detail)
If you still can't decide yet, here's a comprehensive breakdown of all factors you should consider when choosing the perfect gouache for your hands.
Price ✭✭✭✭✭ (5/5)
Colors ✭✭✭✭☆ (4/5)
Packaging ✭✭✭✭☆ (4/5)
Brand ✭✭✭✭☆ (4/5)
Lightfastness ✭✭✭✭✭(5/5)
Opacity ✭✭✭✭☆ (4/5)
Coverage ✭✭✭✭☆(4/5)
Durability ✭✭✭1/2☆☆ (3.5/5)
Waterproof ✭✭☆☆☆(2/5)
Total rating: 3.9/5—a satisfactory rating for an inexpensive gouache brand!
Price
Arteza gouache won't definitely break your bank. Here's the breakdown of their prices in different sets based on their website:
You can buy a set of 24 12-ml gouache tubes on Amazon for only $25.99—or less than a dollar per tube. Even the metallic-colored pack is only around $20. Can you imagine how affordable this brand is? Indeed, it's budget-friendly!
There is but one drawback: you can't buy Arteza gouache tubes individually. If you only need one or two colors, you might have to buy at least a set of 12 colors, which isn't the most practical thing to do.
---
Colors
The quality of the colors exceeds the expectations of typical student-grade gouache paint.
All colors are also AP-certified and nontoxic, and the majority of the colors in a 24-color Arteza gouache set are also vibrant, opaque but lightfast. However, some colors are not as vivid and opaque as the rest.
What about adding sparkles to your painting? Guess what? Arteza also has the popular metallic gouache set. The colors have a subtle sheen—not too glittery and consistent no matter what the angle is.
List of colors in a 24-tube Arteza gouache set
Titanium white
Lemon yellow
Mid yellow
Yellow ochre
Light apricot
Scarlet red
Vermillion red
Burnt sienna
Crimson red
Rose
Peach red
Prussian blue
Ultramarine blue
Mauve pale
Sky blue
Cerulean blue
Viridian green
Deep green
Sap green
Pale green
Burnt umber
Noir
Grey
White
Learn how to use a palette and about palette setups: 11 Best Gouache Palette + DIY [Ultimate Gouache Palette Setup]
---
Packaging
Honestly, the box doesn't look sturdy but is big enough to store paint tubes in stacked plastic trays. The packaging also has a list of colors with their names, swatches, lightfastness ratings, opacity levels, and pigment numbers.
The tubes are black, so the colored labels stand out. But some don't match the color in the tube, and the tubes' lids are small and a bit hard to open.
So far, the overall packaging is acceptable, but Arteza could've done better by enlarging the box and avoiding misprints.
---
Brand
Arteza doesn't disappoint artists with its economical but premium-quality products despite being a newfound brand by Mike Koshatko and Jurgis Plikaitis in 2015.
What started as an e-commerce company that sold pencils is now providing a wide array of art and craft supplies, from gouache, paints, and pastels, to canvas surfaces, brushes, palette knives, and easels.
---
Lightfastness
Arteza gouache is very lightfast, except for the lighter ones (e.g., peach red and mauve pale).
22 out of 24 colors have high lightfastness (+++), which means they will most likely resist fading for 100 years in good conditions.
---
Opacity
Here are the following colors of a 24-tube gouache set categorized according to their opacity level.
Opaque colors
Titanium white
Yellow ochre
Light apricot
Crimson red
Vermillion red
Crimson red
Viridian green
Sky blue
Cerulean blue
Burnt sienna
Burnt umber
Mauve pale
Noir
Gray
White
Semi-opaque colors
Lemon yellow
Mid yellow
Scarlet red
Rose
Sap green
Pale green
Deep green
Transparent colors
Ultramarine blue
Peach red
Here's the catch: don't trust the information on the tubes. Though some dark colors are opaque enough to cover the black paper's surface, most colors, especially the yellows, are only semi-opaque.
The metallic colors are also pretty opaque, but the brighter ones, like the oranges, are not as opaque as the darker ones.
---
Coverage
Arteza gouache covers pretty well because it's thick and opaque, but provides less coverage compared to artist-grade gouaches. You may need to apply at least two layers to cover dark surfaces.
Read also: 18 Gouache Painting Techniques You Should Try To Paint Like Pro
---
Durability
Arteza gouache's shelf life is 2 years. Even if it has gone dry in the tube, you can still reuse it by adding water. You'll know that it has expired when it smells rancid or there's mold growth.
However, the gouache isn't permanent even when it's dry on canvas or paper. That's because the gouache is water-soluble. So, even if it has already dried on the surface, you can easily alter the painting by just wetting it with a single drop of water.
---
Waterproof
Thinking of running in the rain with your gouache art? Sadly, Arteza gouache isn't waterproof.
But why? The answer: a bigger binder-to-pigment ratio. Gum arabic, its binder, has excellent water solubility. Just a drop of water can alter the opacity and consistency of the color and damage your artwork.
---
Arteza vs Winsor and Newton Gouache: Which Should You Choose?
Arteza Gouache
Winsor and Newton Gouache
Colors
Nontoxic; most colors are vibrant and pretty opaque but have a high lightfastness
Nontoxic, more vibrant, more opaque, and very lightfast
Mixing and Blending
Colors mix well with water, but over-blending can cause muddiness
Requires little water to produce a clean multi-pigmented color
Layering
Good for 1-2 layers; not ideal for highlighting
Fast-drying and very opaque enough to add layers quickly
Coverage and Finish
Has good coverage; has a dried chalky finish but is not streaky
Better coverage; vibrant and has a matte finish
Surfaces
Good on canvas and paper, but sinks into cardboard when water is added
Toned paper, watercolor paper, canvas, and wood
Packaging
in a bigger and thicker box
uses black 12-ml tubes; with lightfastness, opacity, and pigment ratings on the tube and box
in a smaller box
comes in white 12-ml tubes with lightfastness, opacity, permanence reading, and pigment information
Durability
very lightfast but not durable on the surface due to its high water-solubility
very lightfast but not durable on the surface when reactivated with water
Beginner-friendly
Yes, especially for students and kids
Yes, but ideal for professional artists
Reviews on Amazon
4.7 (24-tube set)
4.7 (pack of 10)
Cost
$23-25 (for 24 tubes)
around $36 for a 10-tube set
Shipping from Amazon
Worldwide
Worldwide
Related: Gouache Vs Acrylic: What's the Difference, and Which is Best for Beginners?
If you need to compare Arteza to cheap gouache like Reeves, check this review: Reeves Gouache Review: Bad Rep Or Good Paint?
---
Colors
Both are nontoxic, but Winsor and Newton's gouache wins the game in brilliance and opacity.
As a whole, Winsor and Newton's gouaches have brighter and very opaque colors due to their high and premium pigmentation. Its concentrated gouache is already vibrant but becomes slightly more vivid when water is added to it.
Mixing and Blending
You just simply need to mix water with a pigment to reduce its opacity, but mixing different pigments can cause clumps, which can happen with Arteza gouache.
But with Winsor and Newton, you only need a little water for mixing and blending, and you'll still get a neat multi-pigmented mixture or blend.
Layering
Winsor and Newton's gouache is the ideal medium for applying multiple layers. Not only is it fast-drying, but also its high opacity makes it a lot easier to layer dark colors on light colors, and vice versa.
Though you can add 1-2 layers using Arteza gouache, you might not like using it for highlighting.
Coverage and Finish
If you want better coverage and a better finish, choose Winsor and Newton designer gouache.
Its high opacity and thick consistency make it easy to cover your desired surface with a single layer, even on a black surface.
When Arteza gouache dries up quickly, you can feel the chalky finish. But with Winsor and Newton, the gouache feels matte but very smooth to the touch.
Surfaces
Winsor and Newton's gouache is the better option for canvas, paper, illustration board, and wood since you need little water to achieve watercolor-like effects.
What about Arteza gouache? It also works well on canvas and paper but may sink into cardboard or thin paper when diluted in water.
Packaging
Both brands have all the necessary information on their tubes, but Arteza's packaging style is more visually pleasing and the box looks sturdier compared to Winsor and Newton.
Arteza's 12-ml tubes are also black, emphasizing the color of the gouache paint. But with Winsor and Newton, the colored labels are barely noticeable on the white tubes.
Durability
Both brands have high lightfastness ratings, and the colors won't fade for up to 100 years under good conditions.
They also have a shelf life of 2–5 years as long as you store them in cool temperatures to keep the gouache moist.
However, they are not durable and waterproof once applied on the surface because they can easily be reactivated with just a few water droplets.
Beginner-friendly
They are safe gouache brands for beginners, professionals, and people of all ages.
If you're particular about hiding your mistakes, using the white gouache from Winsor and Newton is better. To practice mixing and blending colors, you can start with Arteza gouache first.
Reviews on Amazon
Both gouache brands got 4.7 out of 5. Many customers have left positive comments about their opacity and pigmentation.
However, they also mentioned some drawbacks. Some said that Arteza's gouache would crack and peel due to a lack of moisture, while Winsor and Newton's gouache stained their brushes. Other customers also received old stocks, affecting their overall experience.
Cost
Arteza gouache sets are cheaper than Winsor and Newton, even on Amazon. It's also more affordable to buy on Amazon than on their company websites.
You can buy a 24-tube Arteza gouache set for $23–25 (the price sometimes fluctuates), but you'll have to shell out $36 for a 10-tube set from Winsor and Newton. What a big difference!
Shipping from Amazon
The good news is that Amazon ships both gouache brands worldwide. The shipping fees are also relatively cheaper than on their websites, so you can save a lot!
---
FAQ: Arteza Gouache
Is Arteza gouache artist grade?
No, Arteza gouache is a student-grade gouache due to the quality of the pigments. But you can say that Arteza is better than most student-grade brands.
Is Arteza gouache acrylic based?
No, most Arteza gouache is water-based. Instead of acrylic polymers, it uses GA (gum arabic) as its binder, making it very soluble in water. However, Arteza makes acrylic gouache, but only in a set of 24 colors.
Is arteza gouache lightfast?
Yes, it is lightfast! The majority of the colors have a high lightfastness rating (+++). The colors won't fade immediately, so they are ideal for long-term storage and exhibits.
---
Definitely Your Type, Worth the Hype!
If you're a beginner, you should consider buying Arteza gouache because it's worth the hype and money!
You can have fun playing with different colors without risking your health and the quality of your painting. Plus, it's readily available on Amazon, so you can purchase the set and start working on your artwork whenever and wherever you are.
If you are looking for more options and absolute winner among gouache paints, check my top list: 15 Best Gouache Paint Sets in 2023 For Beginners and Pros.
About The Author – Meet Masha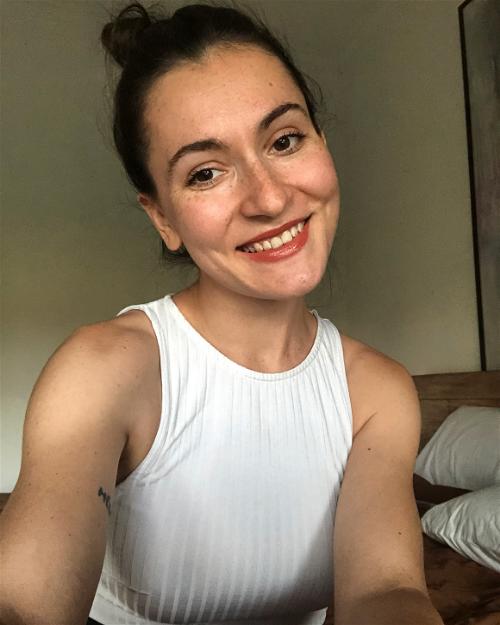 My name is Masha and I am improving my painting techniques together with you and share tips and tutorials I find cool. I started painting at the age of 6 with pencils portraits, had a long pause in art, and then tried oils, but lately switched to acrylics and gouache. I do mostly abstract art, but if I have time I play around with epoxy, markers and pouring!