Gouache works amazingly for vibrant illustrations, landscapes, postcards and art on paper. Are you curious if it is difficult to master gouache technique?
Surprise, it is not!
That's why I give you this guide on painting with gouache for beginners with budget-friendly supplies and pro tips.
Gouache is great for beginners because it resembles watercolor and acrylic paint. Gouache is opaque, forgiving medium, that is easier to re-wet, blend and clean up.
It is understandable that you can be entirely clueless about specific medium (sometimes I get asked how you actually pronounce the word gouache), styles, gouache painting techniques, options to use and mess up.
It can get overwhelming sometimes but do not worry because I am here to help you through it.
Let's jump to my Beginner's guide how to use gouache.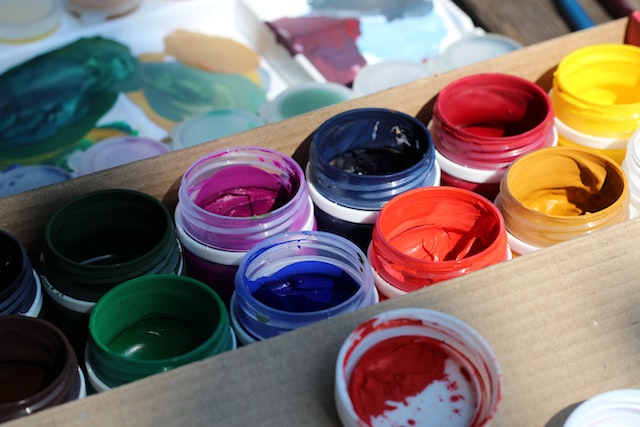 ---
Is Gouache good for beginners?
Gouache is perfect for beginners: it's easy to mix, blend, and paint but it is also a very forgiving medium. It is safer than acrylics and colors are opaque and vivid. Perfect for illustrations, sketches and landscapes.
You can say that an art medium is suitable for beginners when they are used widely by non-artists meaning not pros or commercial artists.
Because gouache paint resembles popular art mediums such as watercolor and acrylic paint, you can easily switch between them.
Yet some really good gouache sets are very expensive and can be less accessible for beginners.
It is also easier to progress with gouache and upskill yourself using some tips expert artists came up with.
This being said doesn't mean that pros don't use gouache, they do and historically did. And even today gouache art sells well, maybe not for as much money as acrylic paintings or oil, but it definitely has its market share and huge fan crowd.
---
What is Gouache Paint?
For beginners, Gouache paint may sound like an unfamiliar name but do not worry because its composition is almost the same as watercolor and acrylic paint because they are all formulated to be water-based.
Gouache paint is a water-based paint made of pigment, gum Arabic binder, and sometimes a bit of chalk for extra opacity.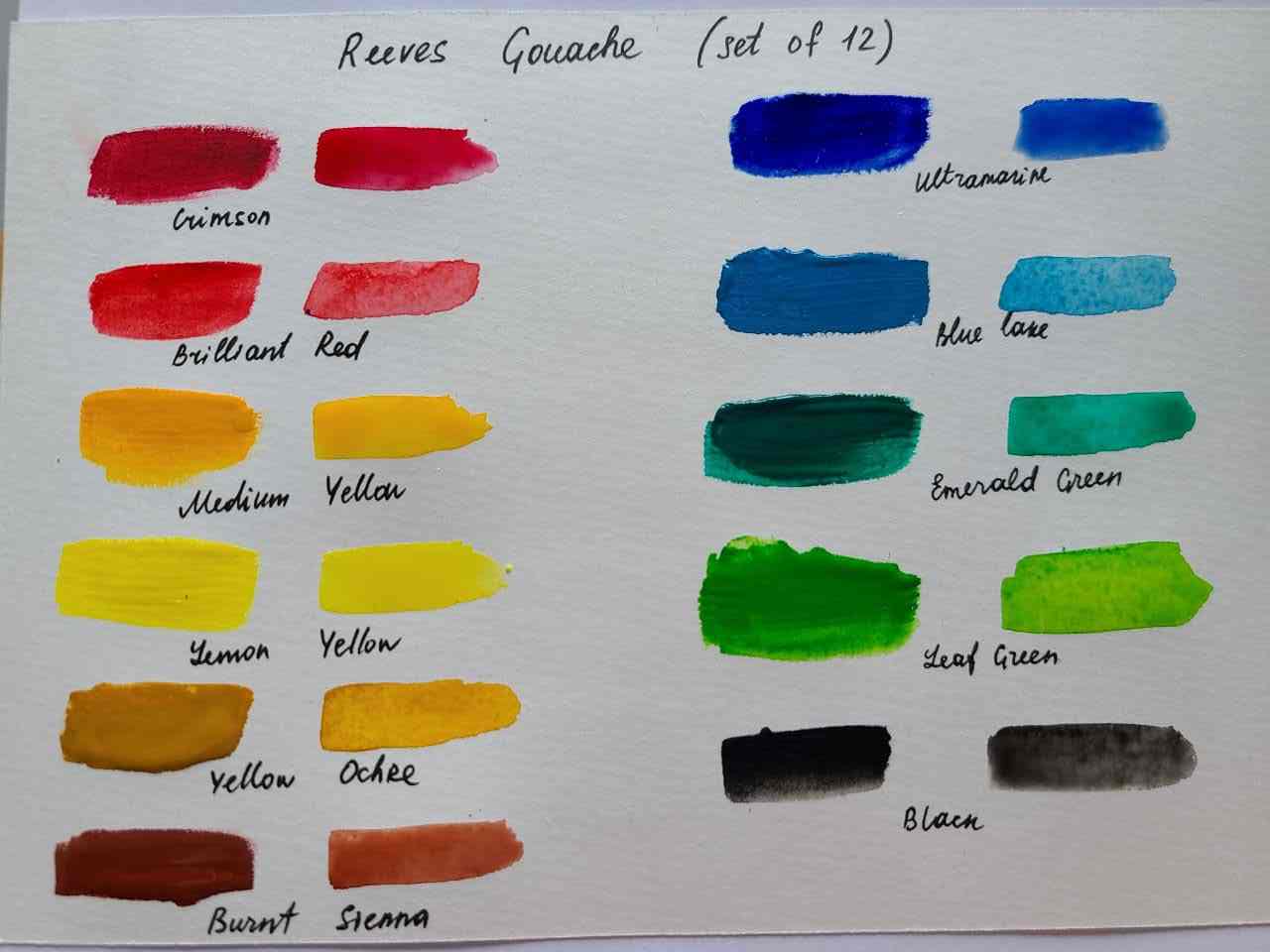 Gouache paints are as pigmented as watercolor and acrylic paint because water and gum Arabic serve as their binding agent and primary mechanism to create an opaque finish.
But safer to use as they contain fewer chemicals than acrylics. And they will appear much more opaque than traditional watercolours because we use watercolors in a very diluted way.
When explored, Gouache paint can be one of the handiest art mediums to use because you can correct a mistake with just a damp brush and paper towel.
There are a few brands of gouache that pros use like M Graham or Winsor and Newton but there are many brands suitable, and affordable, for every beginner. I made an overview and rated some best gouache paint sets, in my opinion, here: 15 Best Gouache Paint Sets in 2023 For Beginners and Pros
Technically, advanced artists only need and use a few primary colours: red, blue, and yellow, and white. You can mix dark colours and even black with only these primary paints.
When you just starting of course you can buy sets with other colours, it will save you time, but for better progress, I recommend switching to a limited palette sooner.
Pros
Layering is easy because of its quick dry time
Gouache dries matte and has an opaque velvety finish.
Working with Gouache Paint lets you have a wide array of paper options. You may paint using mixed media paper and heavy watercolor paper.
It is easy to learn basic techniques.
Not messy and easy to clean.
Gouache corrects mistakes better than watercolor.
Easy blending and color mixing
It can be reactivated and redone as many times as you need.
Gouache works on all paper types, but also on canvas.
Cons
Gouache paints can crack once they are dried if applied too thick
It is somehow challenging to make it as transparent as watercolor since they provide an opaque, dense finish.
Sometimes gets muddy during layering if you didn't let it dry fully.
Challenging to do nice glazing like with watercolor.
Harder to protect for long years than acrylics, as gouache is not normally varnished.
Read also: Gouache Vs Acrylic: What's the Difference, and Which is Best for Beginners?
---
Must-Have Gouache Painting Supplies
Like working with any other types of art mediums, painting with Gouache will have to require you to gather supplies so that will help you paint better.
Brushes
If you have watercolor brushes, you can use them for Gouache.

There are various choices and a wide selection, whether you prefer natural or synthetic brushes, but I recommend working with soft synthetic brushes (easier).
To help you choose the best one to use, I wrote this post about the best gouache brushes: 19 Best Brushes for Gouache Reviewed by Artist [Ultimate Brush Guide].
When painting, you may want to keep your brush wet for the paint to work best. Dry brush also works, for dry brushing technique, for layering, for adding texture.
Wet brush creates smoother lines and strokes.
Surface
An artist can work on a few different surfaces with Gouache.
Watercolor paper is always a good start, and while you can use a canvas, this will always work better with acrylic or oil mediums.
Canson XL Series Watercolor Pad has 30 sheets of white-colored paper with a thickness of 300 grams per square meter. It's an acid-free, cold press textured paper that may be used on both sides. The other side has a smooth surface, while the other one has a textured surface.
It is one of the affordable bestsellers and many artists use it, myself included!
Check also: Top 15 Best Gouache Paper Tested & Reviewed By Artist
I recommend doing colour swatches on paper you using the most and keep them. It will help you choose the colors and contrasts for a next painting, learn mixing and compare different paint brands.
Water
Being formulated as water-based, it makes sense thatwe can use water with gouache.
The pigment is very opaque when layering your colors on your artwork, so you will need to add some water to achieve the right consistency and the right transparency.
Water helps a lot with wet-on-wet, glazing techniques and to make gouache flow smoothly and blend easily. Unlike acrylics, water doesn't destroy gouache.
Keep a paper towel roll next to you to clean brushes from excess paint or water, or clean canvas.
Mixing palette
Gouache paint would come in tubes, trays, or containers which are great for storing paint but you need a place to mix and place paint when painting. Owning a mixing palette to mix your colors to have a complete spectrum of hues and shades is absolutely recommended.
It is the right way to set up your working space and work with paint. Some paint sets like my HIMI gouache already include a mixing tray.
Simple plastic trays are not expensive at all. With time you can invest in glass or coated palette.
Gouache Paint
The Miya Himi Gouache color painting set has dominated the internet for the last couple of years and I was among those people who bought it and I never regretted it!
My Fav
HIMI Gouache Paint Set, 24 Colors
I have exactly this set (in pink box)
good amount of paint
convenient box with space for brushes and it comes WITH a good flat palette, and brushes
all paint come tightly sealed
color and consistency are very satisfying - you want to paint immediately!
Often recommended by beginners on forums, Youtube and Reddit.
I earn a little commission if you make a purchase, at no additional cost to you. Thank you for supporting my blog!
However, I like to choose what is best for me myself, thus, I prepared a list and reviewed some of the most popular gouache paint sets on the market for beginners and professionals – 15 Best Gouache Paint Sets in 2023 For Beginners and Pros.
Different Types of Gouache
As part of being familiar with the Gouache paint, one of the things you could do is to know its variety, and how each variant differs from another, so you would know what best fits your art preference.
Technically all water-based paints are made of a binder, natural or synthetic pigments, water and maybe some additives.
There are 3 most common types of Gouache Paint:
Traditional Gouache
The Gouache is a medium, mixture of natural and synthetic pigments formulated to be a water-based paint. Once Gouache is let dry, you can still reactivate in case you want to make changes to your artwork.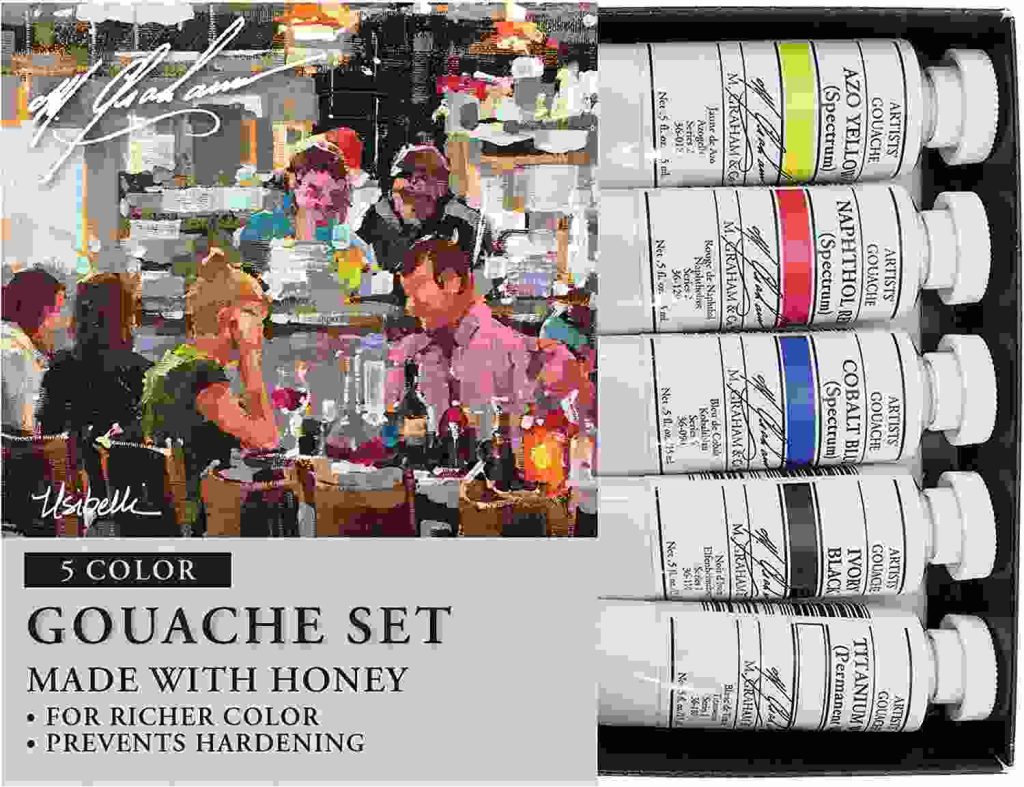 Like watercolor, you should mix traditional Gouache with water before you can utilize it and apply it to a surface or canvas.
Illustrators commonly prefer to use Gouache paint in their art, as it is opaque and easy to dry, and it creates solid hues and shades that pave the way for the illustrators to catch the attention of their readers.
Before some manufacturers added chalk to gouache to intensify the opacity, but reknown brands don't do it now.
Acrylic Gouache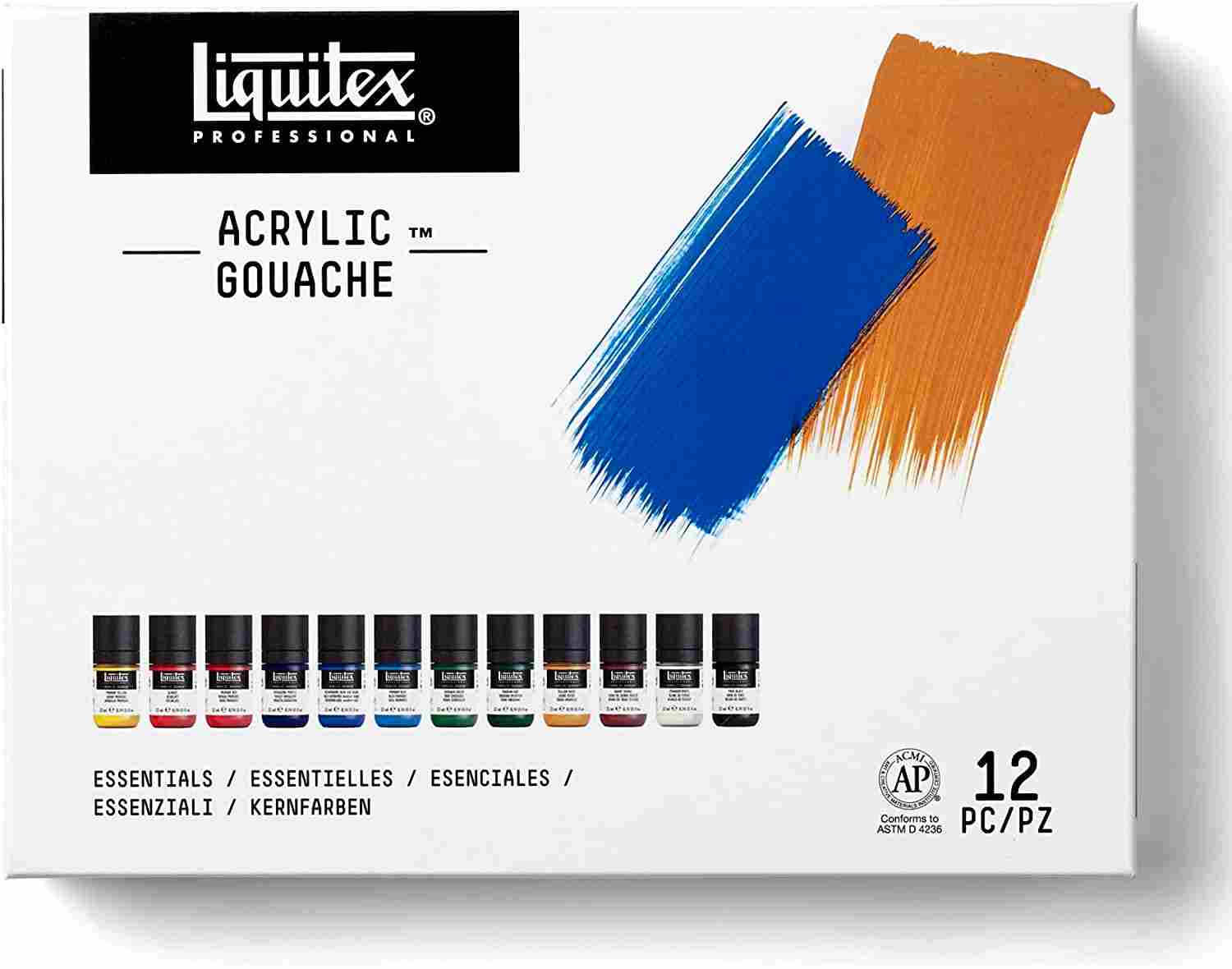 Acrylic Gouache is also called acryla gouache, is basically acrylic paint mixed with gouache! The paint combines characteristics of both mediums: it stays opaque but unlike traditional gouache it becomes water-resistant when dry.
Additionally, Acrylic Gouache does not need water to activate since artists may use them directly from its tube. You should still add water if you need to adjust the consistency.
Jelly Gouache
When we say Jelly Gouache, it mainly refers to the consistency of the paint, which resembles the jelly-like sense of the Gouache paint, dense and sticky.
It is pretty much the same traditional gouache, but it also often comes in plastic little boxes.
How to use jelly gouache?
Using jelly gouache is pretty much the same as the regular gouache painted in a tube, only that jelly gouache appears in more milky consistency.
Jelly gouache paints are moist, so a damp paintbrush could help maintain the paint's consistency. To maintain your paints wet, you can regularly mist them with a spray bottle.
You can move gouache from jelly paint boxes to an airtight containers or palettes for gouache.
---
Do you use water when painting with Gouache?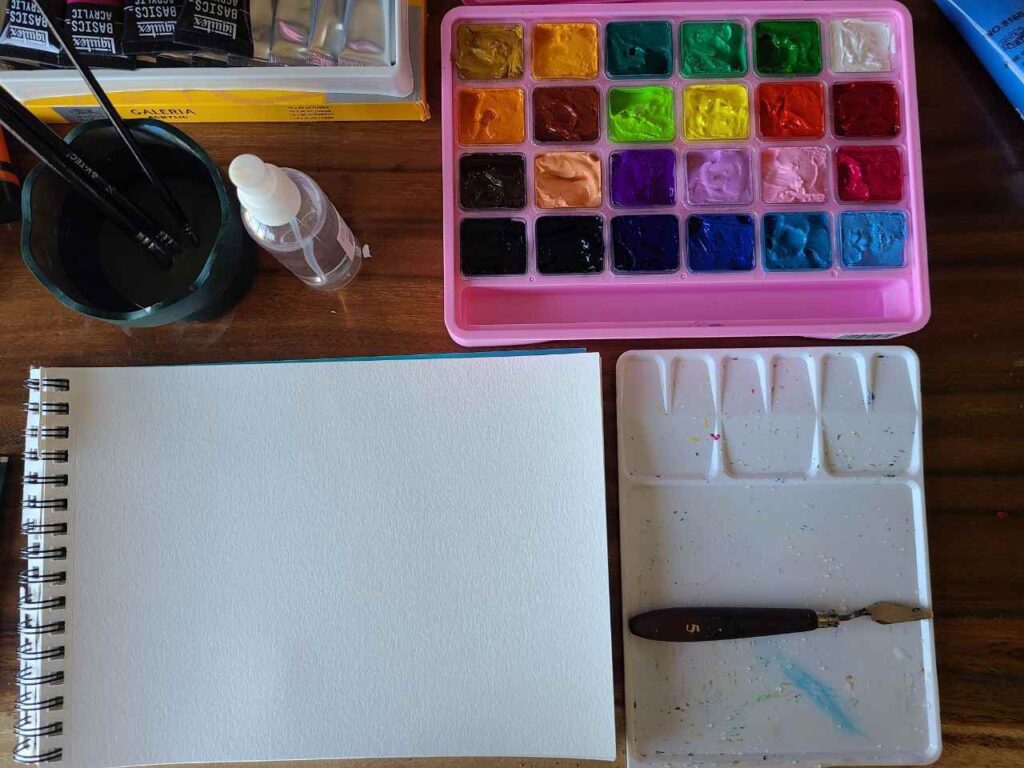 Gouache Paint is water-based paint, which makes water the perfect medium to thin or remove gouache.
You don't have to use water, but it may help to work with consistency and blending.
When painting, the pigment opacity and paint consistency is crucial, especially when layering your colors on your artwork, so you will use water to make the gouache more transparent or more fluid.
For the right amount of water, be mindful that a few drops are more than adequate for Gouache Paint so that it won't drip off the paintbrush or be too watery on your surface.
Due to its opacity, Gouache paints only need a tiny bit of water to flow nicely.
Be careful with some watercolor brushes – they hold too much water!
Always let your painting dry and do not go over with water if your finished painting is not sealed, or you will end up messing it up, like I did here: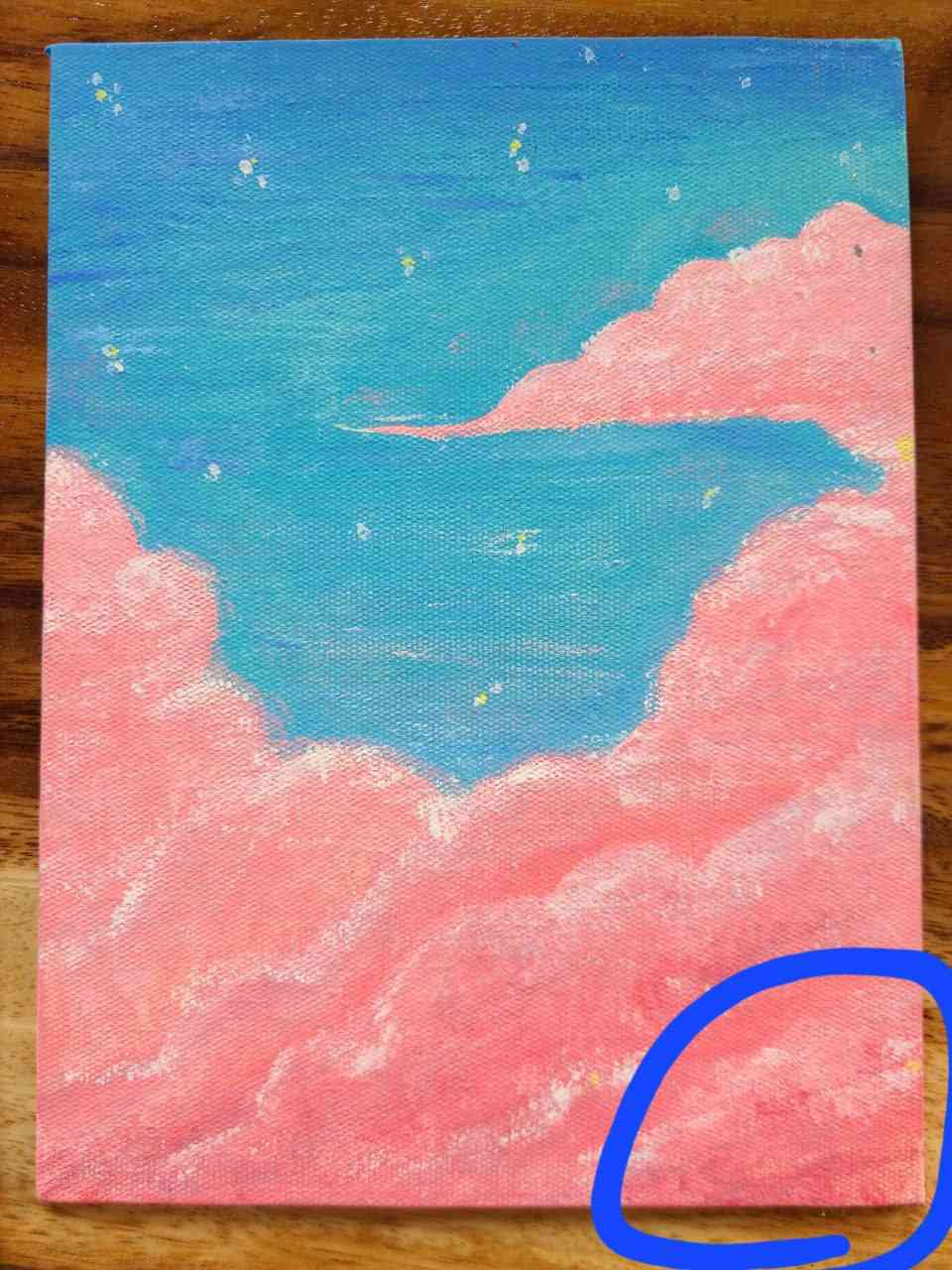 ---
How to paint with gouache? Step-by-step Guide
Understandably, being a newbie painter is a bit challenging.
With this, let me help you start painting with Gouache using these 7 easy steps:
1. Set up your workspace and art materials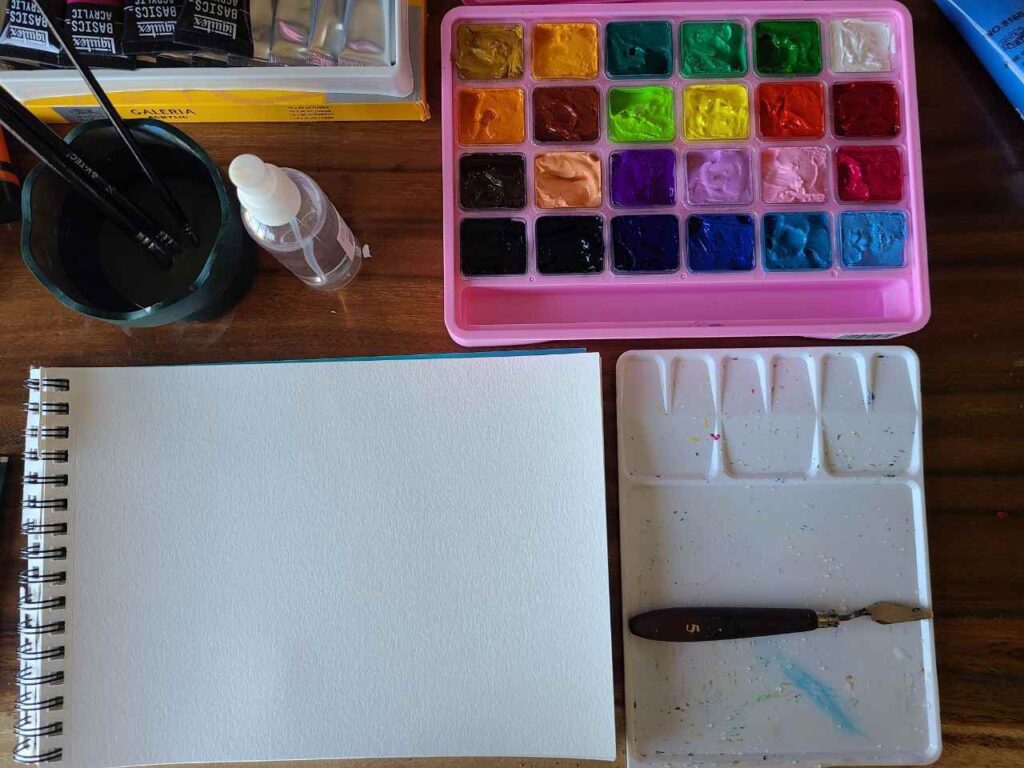 Of course, before starting, it is essential to ensure that your art materials and workspace are set up.
It may sound obvious, but yet even students in art colleges sometimes pick the wrong setup.
If you are left or right-handed, you should place a towel, palette, or water by your "leading" hand, not behind you, above or underneath the table.
Make the space work for you!
Painting with gouache will require you to have a few art supplies (some of them you may already have!):
Paintbrush/es
Surface/Medium – choose paper or canvas to start
Water, better 2 jars
Mixing Palette (a simple plastic tray or even disposable plate if you don't have a palette yet)
Ger your reference is ready, printed in good size.
---
2. Add Gouache Paint to the palette and plan your colors
Determine which colors you will use and squeeze a small amount of each paint into the mixing palette.
If you are working with primary colours only, squeeze cool and warm red, blues and yellows, and white on your palette side, leaving space in between them and a lot of space in the middle for mixing.
Mist the paint lightly to activate it.
Be mindful of squeezing out the colors you will be using, and do not add the ones not needed in your work to avoid wasting gouache paints.
---
3. Add Water/Gum Arabic if necessary
Since Gouache Paint is water-based and water-soluble paint, you may add water to colors that are needed to be light, more transparent or if you need thinner consistency.
It is better to have wells in your palette for this, but flat area will also work (if you have a big palette)
You may add a little gum Arabic to your paint to bind it well, so it won't be wiped away when the water evaporates.
We can do that to kind of balance out the amount of water we added to the paint (if we are adding a lot), if you just use a wet brush, you don't have to add more binder.
---
4. Ground and Outline your artwork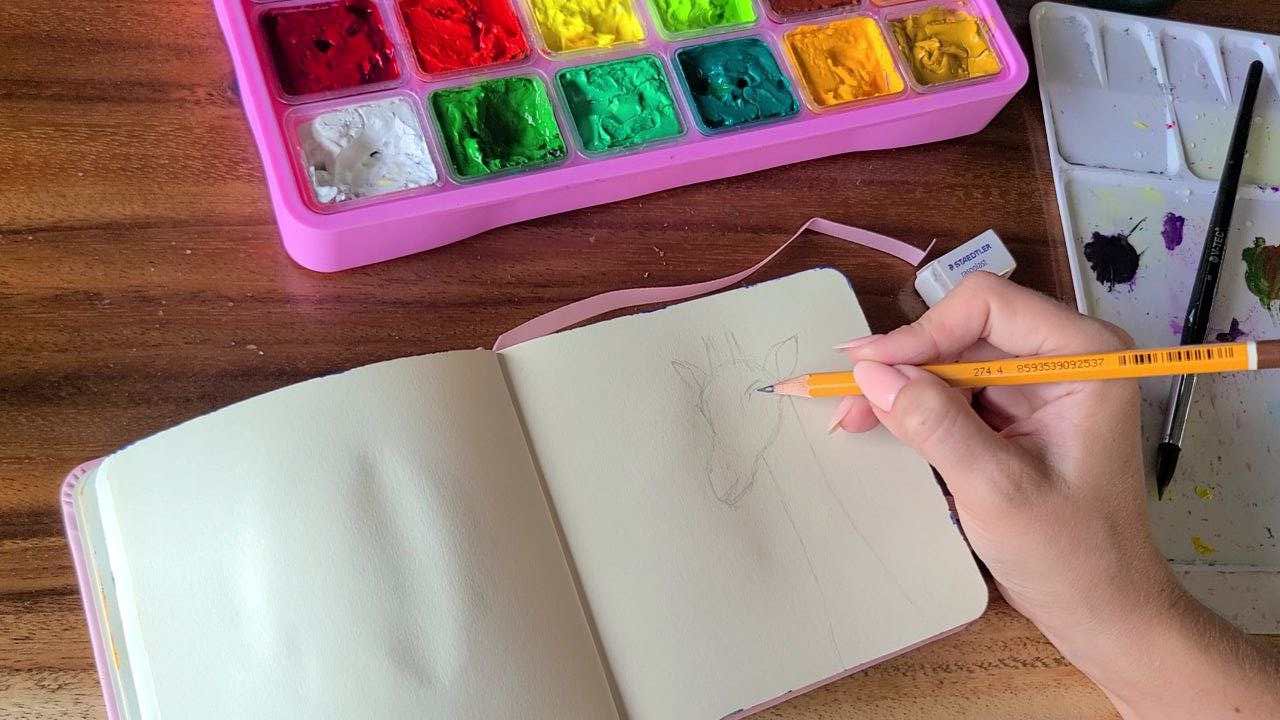 Before sketching you may consider putting a "ground" – it is a one-color background semi-transparent, that works as an underpainting.
It can be of a neutral color – grey or brown, black, or a contrasting color to your main color in painting (it will help to bring the colors forward even more).
Don't worry, this ground is not something that will be visible when your work is done unless you want it to be. Apply the ground with a well loaded wet brush, not opaque, in a thin washy layer.
You can also choose to paint over black paper or black canvas: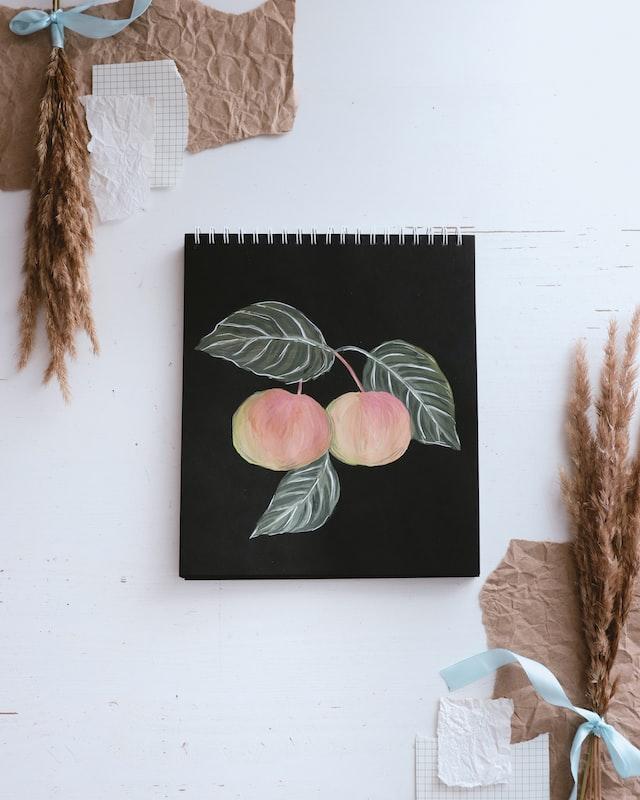 Then you may start outlining your artwork and what art you are trying to express.
In this process, you may need a pencil, but I recommend doing a sketch with a visible color paint using a pointed small brush as it is easy to remove mistakes made with gouache paint – we can simply wash it off while a pencil can stay visible.
---
4. Apply the base colors thinly
Right after conceptualizing the outline of your artwork, the next step will be adding the base color of the painting.
Since you are still applying the base colors, spread it thinly.
Pro tip: Many artists prefer to color the borders of their artwork with white pastels so the gouache paint won't go over the edge of your work since oil pastels naturally deflect water.
Some pros also recommend moving from cooler and darker colors (applied still thinly), covered in shade, to warmer colors and highlights, situated in light.
So you will move for ex., from blue colors to orange colors.
You never have to follow the colors of your reference directly.
It is more important to follow what is in the shade and what is under the light and follow it up with cool or warm colors respectively!
That's it!
This is also how modern abstract artists can paint common objects in crazy colors. They follow light/shade and not the colors.
Use larger flatter brushes first.
---
6. Apply the layers to the base
Ensure the base layer is completely dried up before applying the second layer.
It wouldn't be long anyway since Gouache Paints dry up quickly, but if you are very impatient you can use a hairdryer 🙂
Waiting for the first layer to dry up will save you from mixing two colors altogether and making them bleed and challenging to control.
For applying layers of paint, you can use grisaille or mid-tone gouache painting techniques to create realistic colors, or dry brushing to create more texture and less transparent layers.
If in step 5 we were creating more of base washes, now you can work with the application of a more opaque color.
And now it is important to do brushstrokes in line with how the object is shaped not chaotically.
---
7. Add details and refine the artwork
When the desired layer of your artwork has been made, you may start adding details and touch up.
Remember, elements are essential in painting, so channel your inner Van Gogh and do your best.
After adding details, it is also necessary to retouch your artwork and go over the mistakes you have overlooked.
Do not worry about mistakes with gouache, even though gouache dries quickly, it can be easily re-wetted with a bit of water to correct something you don't like.
You will need the finest brush to clean up edges, details, textures, etc.
White highlights the reflections, colors, and light spots of the objects.
Remember lighter background brings the object more forward.
After the finishing touches, your very first Gouache Painting is now done!
Read also: 18 Gouache Painting Techniques You Should Try To Paint Like Pro
---
Can you use gouache on gesso?
Artists also use Gouache Paint in painting with canvases as one of the most versatile art mediums.
When the canvas is gesso-primed, the gouache paint will smoothly adhere to the canvas surface. So, you can use Gouache on Gesso.
At the same time using gesso with gouache is not mandatory, especially if the canvas is already primed.
---
How do you seal a gouache painting?
The importance of sealing a painting stems from the desire of the artist to prolong its life and protect its colors from scratches that could eventually damage the artwork.
Yet, varnishing gouache illustrations or sketches is not mandatory!
There are various ways to seal your painting, and these are as follows:
Watercolor varnish: If you keep the artwork for a personal collection, you could use this technique. I prepared an article on varnishing (or not) a gouache painting.
Isolation Coat + Varnish: If you sell your Gouache Paintings, then a more serious way of sealing is needed, and you must use an acid-free layer of varnish to ensure a solid protective barrier.
---
What is the best thing to paint on with Gouache?
Since Gouache Paints are known to be a versatile art medium, an artist may use it in almost any surface medium.
Many famous artists, including Matisse and Picasso, used gouache and I gathered some nice gouache painting ideas for your future sketches and illustrations here: 29 Gouache Painting Ideas & 16 Famous Gouache Paintings You Will Love.
To start right now, express yourself through art and be inspired by these Gouache painting ideas:
Painting Landscapes with Gouache
Landscape artworks symbolize peace and serenity. If your personality fits the description, you may want to paint landscapes using Gouache.
Sunrise or sunset, valleys, or a busy city skyline – what will be your pick?
2. Food illustrations
I love food and food illustrations are alwaysso vivid, juicy, realistic and satisfying! Gouache helps your little paper sheet just burst with colors.
3. Brick wall
Oh, how pretty this beautiful project is! Easy idea to paint a brick or wooden wall or fence with … maybe flowers or a cute cat?
---
FAQ
Gouache or watercolor for beginners?
Gouache is much easier for beginners than watercolor and has more opacity – it is even called opaque watercolor.
Gouache is easier to mix and blend than watercolor and less room for mistakes.
How Gouache is pronounced?
Gouache is correctly pronounced guash [ɡuˈɑːʃ] like gooo-a-sh.
Is painting with Gouache easy?
Gouache is an accessible and easy medium to try; even beginners would get along with it.
They are also affordable, and most art shops sell Gouache paint in sets or individual tubes.
Additionally, Gouache paint goes well with traditional watercolor paint. They are most beautiful when adding highlights to your masterpiece.
Acrylic or gouache for beginners?
While I love acrylic paint, gouache is easier and more forgiving than acrylic paint for beginners.
With gouache you can correct mistakes easier, and you can blend colors better.
What is the history of Gouache?
The first known form of Gouache is used in Ancient Egypt for their painting mediums with honey or natural gum as binders.
Historians also found Gouache in European manuscripts and Persian miniatures. Although Gouache may be commonly described as watercolor, Persian miniatures are the best examples of Gouache.
Gouache came from guazzo, Italian for "mud," which was initially used in the 16th century. In 18th century France, the term gouache was applied to opaque water media.
Today, Gouache is loosely used to describe any paint or drawing made in body color.
Can you use Gouache with watercolor?
Gouache is from the same family of water-based media as watercolor, so you can use the two mediums together. You can even use watercolour brushes for your gouache paint without the fear of ruining them.
And like watercolor, Gouache needs no unique materials to clean them up. Add water and wipe the mess with a towel; your surface is clean.
Many artists love using both paints in one painting.
Can you use Gouache with acrylic paint?
One of the common ways artists use Gouache is to mix it with acrylic paint, forming the name acrylic gouache. This type of hybrid paint has a creamy consistency, dries quickly, and layers easily, providing the benefits of both colors.
However, acrylic gouache cannot be reanimated like water, so you need not worry about mixing colors when adding a new layer upon layer.
You can also use gouache and acrylic in the same painting, but remember the main difference: acrylic is water-resistant while gouache not, so be careful with layering them together.
To Sum Up
Artists like Gouache paints very much; even the most famous painters use Gouache paint to let us see their magnum opus today.
This type of paint is typically opaque and dull when dry, so they look like drawings but with a striking look.
Beginner painters would love Gouache paint thanks to its forgiving environment, opaque layers, thin consistency when mixed with water and simplicity of gouache techniques.
Gouache is compatible with other types of paint, such as watercolor and acrylic; today you have added one more medium to your collection, and diversity is now your artistic advantage!