Did you just spend hours googling for the best gouache paper to use on your next painting project?
Well, no artist would ever cheap out when it comes to their materials. If you want to paint with the best results, then don't hesitate to go for the best paper on the market.
But with so many options available, you might be confused about which one to choose.
You might be surprised to learn that there is no such thing as "gouache paper." You can use gouache on mixed media paper, watercolor paper, illustration, or bristol boards. The best paper for gouache should be non-oily, fine grain, smooth, and thick enough not to buckle as the gouache dries.
In this article, I'll help you in selecting the best gouache paper to buy as I mostly use gouache on different papers. I've compiled a list of the top papers for gouache based on their features, quality, and functionality.
Read on and let's get started.
Table of Contents
---
Can you use gouache on paper?
Yes, as long as you use the right paper, you may apply gouache on it. When we say the "right paper", we mean 200-300 gsm, which is thick and sturdy enough to bear heavier paint without buckling. Consider its smoothness and texture as well. Keep in mind that the paper you use can elevate your gouache painting to the next level.
Gouache is known for its versatility, which is why it works well not only on thick paper but also on illustration boards, bristol boards, and even watercolor paper.
In fact, watercolor papers are commonly used and are regarded to be ideal for gouache paint.
On the other hand, although gouache also works on canvas, it does not produce the same results as watercolor papers.
Gouache paint appears more lively on thick papers than on a canvas.
That's why we can say that canvas is better suited to acrylics than gouache.
Find the top recommendations on paint here: 15 Best Gouache Paint Sets in 2023 For Beginners and Pros
---
What kind of paper is best for gouache?
There are different types of papers to use with gouache. You can use either bristol board, illustration board, watercolor sketchbook, or mixed media paper; but the watercolor paper is the most common. Whatever you choose among them, remember that the choice of paper is vital as painting involves water, and water can easily ruin the low-quality, thin paper.
Furthermore, cheap paper is more difficult to work on than good paper. To avoid buckling, choose papers with a minimum weight of 200 grams per square meter. Fine-grained, smooth paper is also great for holding the paint effectively. High-quality paper, such as watercolor paper, is ideal for gouache painting.
Is hot or cold-pressed paper better for gouache?
If you're new to painting with gouache, I recommend starting with hot-pressed paper. Cold-pressed paper is fine, but the hot-pressed paper is smoother and easier to spread gouache over and doesn't soak as much water. Aside from you can apply smooth washes, it is also ideal for more detailed paintings because the paint dries more quickly.
Furthermore, the hot-pressed paper texture does not overpower the painting's texture. It does not absorb water from paints quickly. While painting, only a small portion of water is enough to be added to your paints. That's why hot-pressed papers are indeed ideal for use with gouache paint.
---
15 Best Papers for Gouache Painting
After going through meticulous research, we've come up with a list of 15 of the best papers you can use for gouache painting. Check on their pros and cons to determine which one best suits your painting needs.
The Canson XL Series Watercolor Pad has 30 sheets of white-colored paper with a thickness of 300 grams per square meter. It's an acid-free, cold-press textured paper that may be used on both sides. The other side has a smooth surface, while the other one has a textured surface.
They can also be used for a variety of painting techniques and mediums such as acrylic, charcoal, pen, ink, pastel, and many more. It comes in a variety of sizes, including 11″ x 14″, 12″ x 18″, and 18″ x 24″.
Pros
Natural white color, acid-free paper
Withstands repeated washes or erasures
Available in various sizes
Suitable for a variety of painting techniques
Cons
Tend to buckle with heavy washes.
Bottomline: This watercolor pad's surface is ideal for use with gouache, watercolor, and acrylic.
---
Strathmore Visual Watercolor Journal is filled with 44 pages of 140-pound cold-press paper. It is ideal for watercolor and gouache, as well as acrylic, pen, ink, pencil, and marker. It is acid-free, which helps to keep paintings from deteriorating.
Pros
Convenient, handy, and travel-friendly
Both sides of the pages are usable
Suitable for masking fluids techniques
Cons
May not be suitable for adding too many layers
Spirals are not always convenient for painting sketchbooks
Bottomline: Each sheet of paper is thick and of great quality, making it suitable not only for painting but also for taking notes.
---
Paul Rubens Watercolor Paper Block is made of 100% cotton and is acid-free, so it does not turn yellow over time. This paper has a smooth, hot-pressed surface and a thickness of 300 grams per square meter. They come with leather covers for extra protection and durability.
Pros
Convenient, handy, and travel-friendly,I like the little bend to keep it close
Hot-pressed paper for smoother painting (it is less textured than cold pressed paper)
Durable, acid-free paper
Suitable for many painting techniques
Cons
The pink leather cover may become dirty
As it's good for traveling, the size is mini
Bottomline: The convenience this paper brings makes it a great consideration for traveling artists. It is also ideal for painting specific details because of its smooth surface.
I actually have a very similar 12×12 pink sketchbook from Talens Art Creations and I'm happy with it. I did a few gouache paintings in it already:
The paper has a natural color, and very smooth, pretty invisible texture: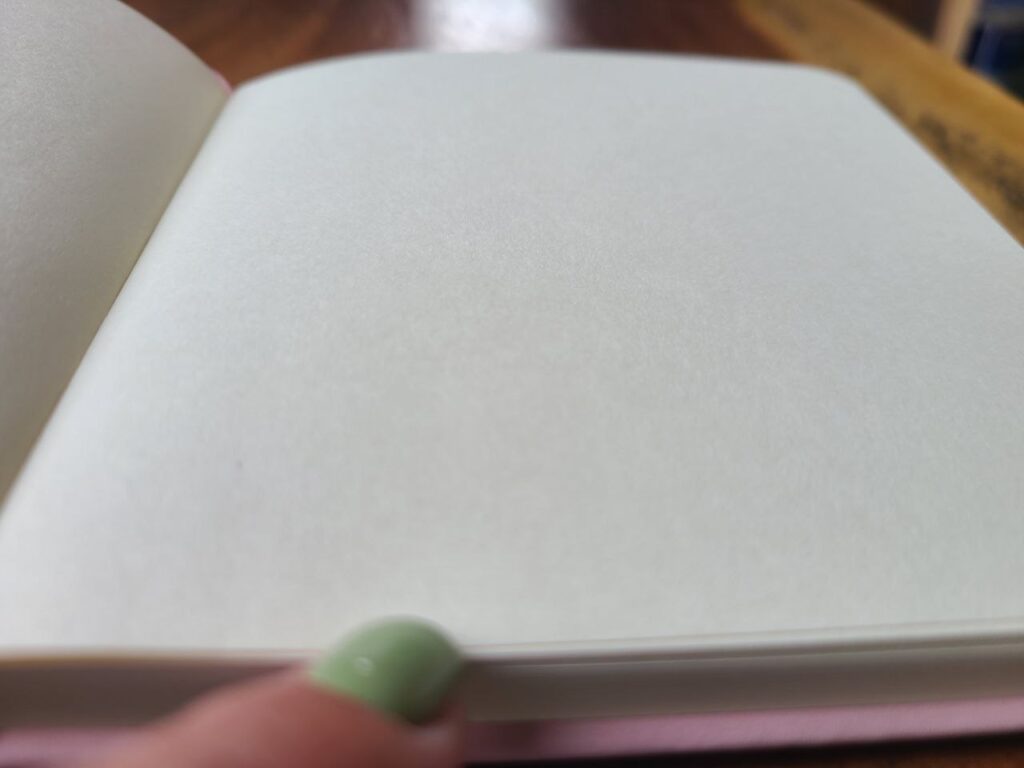 Art I made in this sketchbook: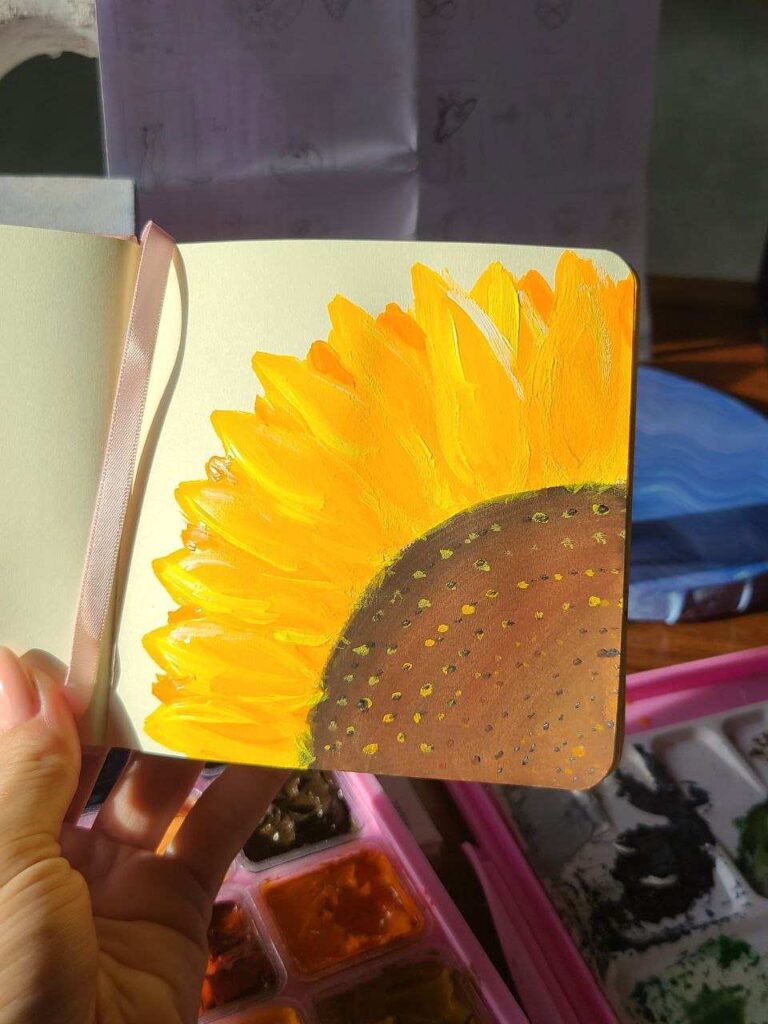 ---
Artistico Watercolor Pad by Fabriano is 12×18 inches of paper that are mold-made of 100% cotton. It contains 20 sheets of 140 lb extra-white hot press paper.
Each double-sized sheet is acid-free, chlorine-free, and has the cleanest natural white color. It is suitable for all water-based media, as well as digital printing, printmaking, and drawing.
Pros
Acid-free and chlorine-free
Made from 100% cotton
With a hot-pressed surface for a smoother finish
Cons
You may not blend colors well because of the fast drying time
Pricey for only 20 sheets
Bottomline: good hot-pressed paper but too expensive compared to some competitors.
---
Saunders Waterford Watercolor Paper is manufactured using a cylinder mold machine.
Each sheet is buffered with calcium carbonate and made of 100% cotton to help protect paintings from deterioration brought on by acids found in pollution.
Pros
Acid-free and neutral pH
Made from 100% cotton specialty paper
Each sheet is treated with calcium carbonate
Cons
Edges are not glued properly
Pricey and unpopular choice
Bottomline: This paper is highly recommended because it holds water enough without bleeding through.
---
Arches Watercolor Pad is made out of 100% cotton natural white sheets. To endure strong washes, this watercolor paper weighs 300 grams per square meter.
It is acid-free and can be preserved properly for a hundred years.
It comes in a variety of sizes and textures, including cold press, hot press, and rough.
Pros
Can resist erasures without tearing
Suitable for use with any art medium
Low possibility of paper buckling
Acid-free so it won't turn yellow
Professional artists who work with watercolor and gouache really use this brand
Cons
May have an unpleasant smell sometimes
Bottomline: This watercolor paper is one of the best paper brands for gouache, and it's great for portraits and landscapes.
---
Arteza Watercolor Pad Good Paper for Watercolor, Gouache & Mixed Media
Each sheet of this watercolor paper weighs 300 grams per square meter (gsm), making it suitable for gouache painting.
You can use not just watercolor paint, but also other wet media without buckling issues. It has a cold-pressed surface, dual-sided flexibility, and is acid-free, so it will not fade over time.
Pros
Handy and travel-friendly
Has no buckling problems
Acid-free for longer preservation
With sturdy hardcovers for added protection
Cons
Only one side of the pages has texture
Bottomline: Arteza is a good brand for beginners. The acid-free papers guarantee that the colors of your gouache paints won't fade. The pad only has 14 sheets which is rather a disadvantage, in my opinion, I need more sheets 🙂
---
This Zenacolor paper is cold-pressed paper, 300 gsm, and is great for gouache painting.
It has an easy-detachment option. It is also acid-free, so it can withstand years without fading. You can use it for a variety of artistic projects.
Pros
Suits various painting methods
Acid-free papers; no yellowing
Detachable from the sketchbook
Made from high-quality, thick papers
Amazing value for money, you are getting 60+ sheets for less than 20 dollars
Cons
Can buckle with heavy washes
Not a super famous brand of professional art supplies.
Bottomline: Great option for beginners on a budget looking for textured paper.
---
Art-n-Fly Watercolor Paper weighs 300 grams per square meter. Each sheet is manufactured of high-quality materials at a minimal cost.
It is acid-free and pH-balanced, so paintings will retain their original color. Each paper is also cold-pressed and glue-bound.
Pros
Acid-free and pH neutral, so the paint won't fade
With easy-tear-binding feature
300 gsm sheets perfect for gouache painting
a good amount of sheets (30) so you can easily make it a monthly challenge pad.
Cons
You can't use tape on it since it rips the paper
Bottomline: This watercolor paper is a good paper for gouache painting for beginners because it's sturdy and heavyweight but also inexpensive, and comes with 30 sheets.
---
Arteza Watercolor Paper is suitable for use with both watercolors and gouache. This pad contains 32 pages, allowing you to paint as much as you like.
This watercolor paper is absolutely worth the money because you receive two high-quality pads in a single purchase.
Pros
Can withstand multiple washes and erasures
Gives the gouache lasting vibrancy
Cold-pressed surface with natural texture
value pack: 2 pads of 32 sheets each, amazing for lots of hours of practice and painting.
Cons
Prone to buckling when using the wet-on-wet approach
Bottom line: If you want good quality gouache paper but are on a tight budget, this Arteza Watercolor Paper is a must-try.
---
The Bellofy Painting Paper Pad is a heavyweight paper ideal for gouache painting. Each paper is acid-free, ensuring that your artwork is protected for a long period.
Artists have tested and approved it to never bleed or fade. This painting paper is top glue bound, making it simple to peel off and share with others.
Pros
Pages are easy to tear
Made from environmental-friendly materials
Acid-free paper to preserve the colors of the paint
A5 format can be great for plein air
Cons
Each sheet reportedly has a light lavender color which may not suit your painting project
can absorb too much and acts like a non-cotton paper muting the colors
Bottomline: Smaller size, cheaper non-cotton paper. I would recommend the cotton paper for beginners.
---
Strathmore Mixed Media Pad contains acid-free heavyweight papers. This paper is ideal for finished paintings and it is versatile enough to withstand several applications of both wet and dry media.
This combination makes the perfect surface for watercolor, acrylic, graphite, pen and ink, colored pencil, and of course, gouache.
Pros
Acid-free to protect the colors from fading
Heavyweight mixed media pad
Ideal for detailed paintings
Extremely good brand
Cons
might not work well with some painting styles
Bottomline: Strathmore Mixed Media paper is a high-quality paper that is ideal for experimenting with different materials and painting methods, including gouache.
---
Scribbles That Matter Watercolor Paper contains 30 sheets of fade-resistant paper. Each features a smooth surface and fine texture, ensuring that your artwork remains brilliant and long-lasting.
It works well with acrylics, markers, graphite pencils, watercolor paints, charcoal, pastels, and a variety of other wet and dry media techniques.
Pros
Convenient and travel-friendly
Vegan-friendly hardcover for good protection
60 sheets for tons of your ideas.
Works well with multiple wet and dry media applications
Cons
May buckle with heavy washes
Have dots so more suitable for writing or if you don't mind these dots
Bottomline: This handy, convenient pad is useful not only for painting but also for journaling.
---
Fluid 100 Watercolor Paper is a cold-pressed watercolor paper composed of 100% cotton that weighs 300 grams per square meter.
Each pad contains 15 sheets of high-quality paper. Watercolor artists enjoy these watercolor paper pads, which are bound on two sides for easy tearing of sheets.
Pros
Acid-free paper to withstand color fading
Made from 100% cotton
Premium-quality paper for gouache
Affordable
Cons
Water absorbs too quickly; dries fast
Only 15 sheets
Bottomline: This watercolor paper is a low-cost, high-quality, lightly textured paper that is ideal for creating wonderful gouache paintings.
---
MozArt Premium Cold Pressed Paper comes in a 9×12 watercolor pad with 30 sheets. Each textured sheet is thick and weighs 300 grams per square meter.
It's also acid-free to avoid fading and glue-bound for simple tearing of sheets.
Pros
Works well with various painting techniques
Acid-free in nature, so the paint won't fade quickly
With easy tearing feature
Very soft texture
Cons
May not work well using the wet-on-wet approach
Bottomline: This premium watercolor paper is compatible with a wide range of art mediums, including watercolor paints, watercolor brush pens, calligraphy ink, and coloring pencils.
---
How to choose the best gouache paper?
You've discovered that watercolor papers are ideal for gouache painting. But how do you know they're the best for gouache? You can refer to the following guides for information on the factors to consider when purchasing paper for your gouache painting.
Weight of the paper
The weight of the paper is essential when painting. The best paper for gouache should be sufficiently thick to prevent buckling once the colors have dried. It must be at least 140 lb/300 grams per square meter (gsm).
Whatever you decide, be sure the paper is of high quality and suited for gouache paintings. I strongly advise staying away from craft materials, such as cardstock or thin paper. This is because when the colors dry, the paper will buckle and lose the richness of its paint.
The texture of the paper
If you wish to paint with gouache, the texture of the paper is mostly up to you. However, since gouache paint is a heavier type of paint, it must be painted on a flat surface; otherwise, the texture of the paper will be visible and the painting would appear rough.
If you want smoother paper, you can use hot-press watercolor paper, mixed media paper, or bristol board.
Amount of water you use with gouache
You'll need thicker paper like watercolor paper if you put a lot of water when working with gouache. By doing this, the paper will avoid buckling since the paper is sturdy.
On the other hand, an illustration board, bristol board, or mixed media paper will do if you use very little water only.
The way you want it to be kept
Get a sketchbook if you wish to keep your artwork in one spot. It would be best to use a watercolor sketchbook. On the other hand, sheets of paper are ideal for displaying your work.
---
Do you need to prime paper for gouache?
You don't have to prime paper for gouache. It is one of the advantages of paper because it won't cause you an additional cost to buy an expensive primer. Although some individuals use gesso to smooth out the paper and make it easier to paint on, doing so is not really necessary.
A canvas, on the other hand, requires priming as well. Priming the surface of the canvas will help to soften the texture of the canvas, making it easier to apply paint without having to apply multiple coats.
While priming is mostly recommended, varnishing gouache on canvas or paper is optional yet offers a few alternatives to classic glass and frames.
---
FAQ
Do professional artists use gouache?
Yes. Even professional artists favor using gouache because of the versatility it offers. Not only that, but professional painters enjoy working with gouache because of its solid coverage and ability to imitate the appearance and feel of acrylic, watercolor, and even oil paintings.
Furthermore, gouache is an excellent option for illustration due to the precise coverage of the page and the bright colors it produces, which may be reactivated. Renowned artists, such as Salvador Dali, have employed gouache paint as well.
Check my gouache paint reviews:
What gsm should be for gouache paper?
One of the most important factors to consider while selecting the best paper for gouache is the weight of the paper. You certainly don't want your paper to buckle as you begin painting, as this would make your artwork appear cheap. To avoid this, gouache painting should be done on thick paper of at least 300 grams per square meter (gsm).
Should gouache be done on paper or canvas?
Gouache works perfectly both on canvas and paper or illustration boards. The best paper for gouache is either watercolor paper or mixed media paper. You can use gouache on normal paper or even newspaper if you don't plan to add too much water, otherwise, the paper will warp.
Read also: Painting with Gouache for Beginners: 7-Step Ultimate Guide
---
Conclusion
Choosing the right paper for gouache is a little tricky, which is why you should assess each one carefully to avoid further damage to your artwork. Remember that the type of paper you use is very important. Always use high-quality paper because it will affect the overall appearance of your finished artwork.
I hope this review has cleared up some of your concerns and guided you in choosing the ideal paper for your next gouache painting. For best results, you may follow our advice and product suggestions to help you in your next painting task.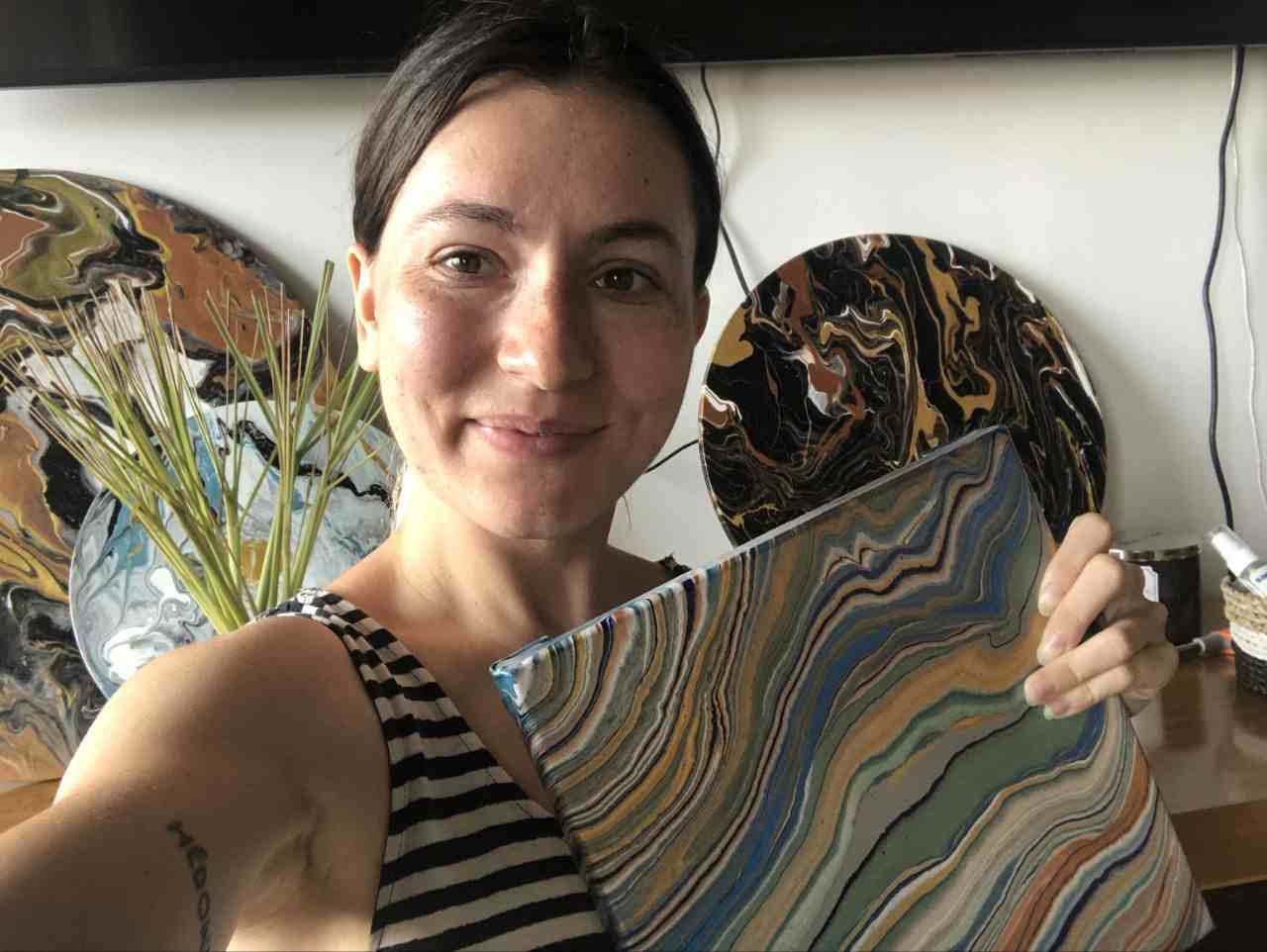 Masha Eretnova is a certified teacher. She started painting and drawing 20+ years ago and now is an international abstract artist and educator passionate about acrylic painting, gouache and crafts.
More about me.
Last update on 2023-12-03 / Affiliate links / Images from Amazon Product Advertising API