Gouache, also known as opaque watercolor, works so well on paper, yet many beginners wonder if there are other options, like canvas.
Can you use gouache on canvas? Short answer is yes, Gouache is a versatile paint that works well both on paper and canvas. Gouache painting is better on canvas primed with watercolor ground.
I tested my Miya gouache on simple gesso primed canvas and I'll share what I liked and didn't quite enjoy in the process.
This article contains affiliate links. It means no extra cost for you but a little commission for me to support my hobby and blog. Thank you!
---
Can you use gouache on canvas?
Yes, you can use gouache on canvas. Painting with gouache on canvas requires more paint and less water than you may be used to. Priming canvas for gouache is better with watercolor ground than acrylic gesso.
Gouache is a versatile water-based paint that stick to paper, canvas boards and canvas easily.
You can use gouache on both raw and primed canvas, canvas paper, and mini-canvases.
Yet, if you like to use it more like watercolor, paper would work better as you need high absorbency surface.
A linen canvas can be better – some will mention directly that they are suitable for gouache.
Read also: 38 Best Canvas for Beginners [Full Bueyrs Guide]
Keep in mind though that gouache has a slightly different texture and behavior compared to acrylic or oil paints, which are more commonly used on canvas.
Gouache can dry to a matte finish and might rehydrate when water is applied to it, which can be both an advantage and a challenge depending on your artistic intentions.
The main disadvantage and potential risk of using gouache on canvas vs acrylic is that gouache can crackle while drying.
Using acrylic on canvas is easier and more predictable than gouache.
Gouache on canvas also dries quite slow, especially if we compare it to acrylics.
I do believe that using gouache on canvas can be justified if you are looking for applying a few layers, thin of course, and will be better on small canvases.
I've researched that Winsor & Newton said about their gouache that it is better for paper and same as watercolor, gouache doesn't suit well primed canvas.
Read also: Gouache Vs Acrylic: Major Difference Between Gouache And Acrylic
---
Should I use primed canvas for gouache or not?
Some experienced painters and gouache illustrators tell us to avoid priming a canvas with gesso for gouache as it won't stick.
Instead, they suggest using 2-3 coats of watercolor ground to prep the canvas prior to painting or use gouache directly on a raw canvas so it can easily adhere.
Others say that they always only painted with gouache over a gesso-primed canvas and it worked amazingly.
Personally, I don't think that gouache, especially if you use it with generous amount of water will work well on a raw canvas.
It is extraordinary poruous and it soaks paint like a vacuum machine. So I'm not sure it is a good way to waste the paint.
But.
At the same time when I was testing gouache on primed canvas I noticed that with more water it does stick worse sometimes but water helps improve the coverage.
With just dry brush I had issues with covering the canvas surface so it is not seen through the paint.
Yet, some spots are still white (canvas) and I wonder now if it's because the canvas was primed with gesso!
I would also recommend using watercolor ground to prepare the canvas for gouache paints. Daniel Smith has a good one (Reddit approved).
3 years ago I also used cheap Reeves gouache on canvas panel and it worked amazing. I still have that painting and it didn't peel, crack or anything.
It only suffered from water but not too much (in the bottom right corner)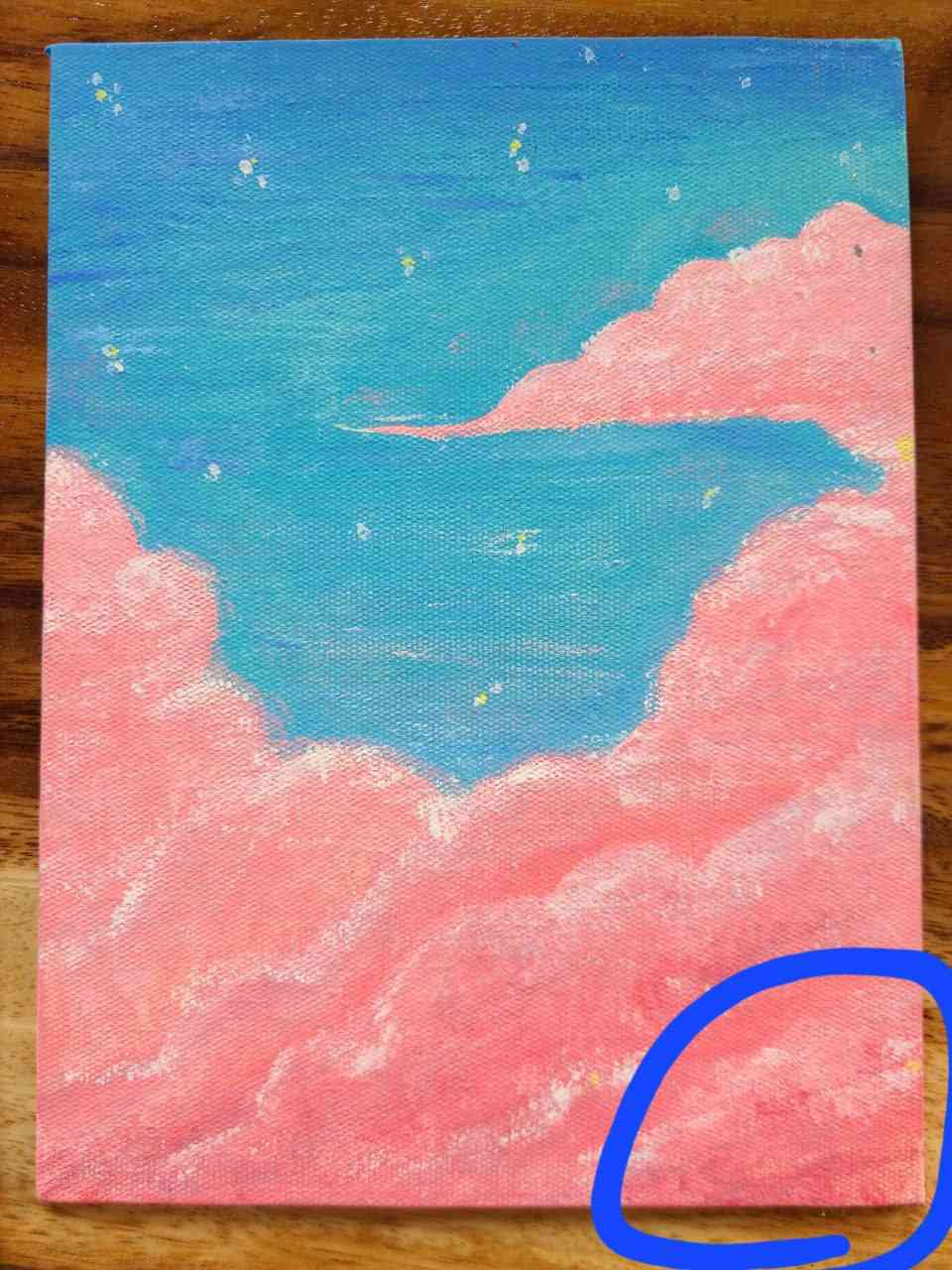 ---
Only use stretched canvas
It is important to use only stretched canvas (raw or primed doesn't matter) for gouache painting.
If you use gouache on unstretched canvas the surface will likely be manipulated somehow once you're done. You will move it, store it somewhere or even fold it.
You cannot fold or roll a canvas painted with gouache as the paint will crack or even peel in folds.
It won't be easy to stretch gouache painted canvas either, as gouache is not durable as acrylic and cannot withstand pulling, rubbing or any tossing around that might happen while you are stretching the canvas on the wooden support.
---
It may eventually crack or peel off…
The main downside of using gouache on canvas is that it is non-permanent paint.
Gouache can start cracking and flaking off the canvas immediately once it is dry, but it also can take a few days/years before it happens.
Immediately after painting and drying you can barely see any crackle net or deep cracks:
After 5 days one area has visible cracks. I think this area has thick paint applied but it wouldn't happen with acrylic paint.
My test gouache on canvas started crackling almost immediately, yet, it is almost invisible until you will get super close and inspect almost with a magnifying glass.
It can also be the problem with the paint, I used Miya set (jelly gouache) but I've used it many times before on paper and it works amazing.
I took these photos with zoom x3 on my phone:
I think working with gouache, especially traditional gouache, may limit the choice of gouache painting techniques you can use and pose a invisible threat of crackling.
Gouache paint doesn't work on canvas as well as acrylic paints or oil paint, nor it can handle the same amount of water as watercolor paint when applied on canvas.
---
How do you protect gouache on canvas? Seal your gouache painting on canvas
The only solution is to somehow seal the painting, which is quite tricky with gouache.
The varnishing gouache process is not completely advised yet there are some fixatives or watercolor varnishes/gouache varnishes you can try.
An isolation coat may also be needed to protect gouache work from varnish itself (especially if using non-removable varnish)
It will ultimately protect the painting from water, humidity and hopefully cracking.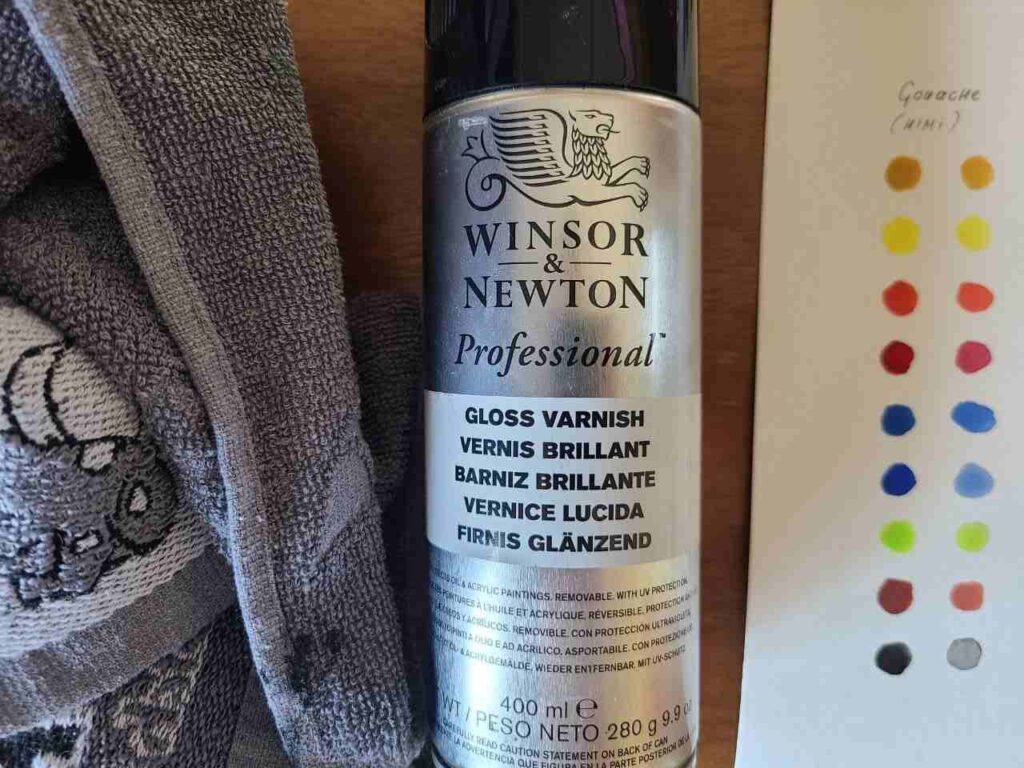 I have successfully used acrylic spray varnish but it is best to use watercolor/gouache varnish or place the painting in a frame with glass.
---
Tips for Using gouache paint on canvas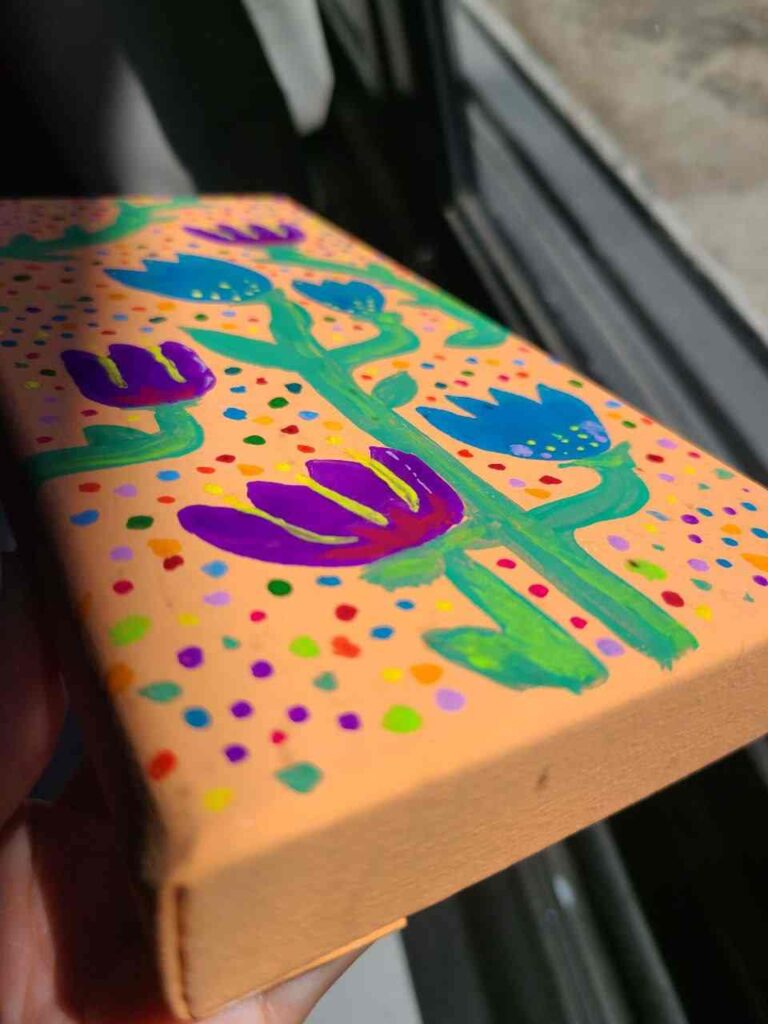 Test on little area of gessoed canvas. Wait until it dries. If it works without cracks – good. If not, buy raw canvas and prep it with watercolor ground or switch back to paper.
Do not apply thick layers of paint, it may crackle. With too much water it can also crackle.
Use a fixative in between layers and to protect finished painting.
Canvas should be well stretched, don't fold the canvas painted with gouache – the paint will crack and chip off.
Acrylic gouache maybe a better choice for canvas than regular gouache.
Be careful with water. Gouache is never permanent, so a drop of water will reactivate the layers of paint.
Gouache works best on smooth surfaces, so if the texture of the primed canvas is too coarse try sanding it lightly.
More tips on gouache art: 21 Top Gouache Painting Tips & Secrets From Pros
---
FAQ
Is gouache better on paper or canvas?
While it is ok to use gouache on raw or primed canvas, gouache paints perform better on paper vs canvas, as they can crackle on canvas.
Can you wash gouache off canvas?
If you are using traditional gouache you can easily wash it off the canvas with water and some rubbing.
Acrylic gouache is water-resistant once dry and you won't be able to remove it from canvas with water.
Can I use gouache on watercolor canvas?
Gouache works amazingly on watercolor paper and any paper in general and. Gouache will work better on watercolor canvas vs regular canvas as watercolor canvas is made for watercolors and gouache and allows using water and different techniques.
How do you prep a canvas for gouache?
To prepare a canvas for gouache painting it is best to avoid acrylic gesso and use watercolor or gouache ground or unprimed, raw, canvas.
It will help the paint to adhere better.
Final Thoughts
In conclusion, using gouache on canvas can be a creative and rewarding choice if you want to experiment.
While gouache is traditionally associated with paper, you can still use it on canvas paper, canvas board, pads and panels as well as raw or primed canvas.
I think it's good to achieve the right consistency when you use gouache on canvas : not too much water, but just enough to assure good coverage and thin layers.
Remember that proper preparation is key – applying a layer of gesso works best for acrylic paintings, but for gouache unprimed canvas, clear gesso or watercolor ground are better.
Gouache on canvas feels like chalk (if traditional or jelly) or has velvety matte finish and may be something different and refreshing from the look other paints and mediums like oils or acrylics have.