Have you ever been frustrated with how fast acrylic paint dries?
I bet!
Especially if you are like me and learned to paint with oils! My first few paintings I just wasted acrylics on palette…
It gets easier with practice but still, for plein air or just relaxed work on portraits, landscapes or still life we just need more time sometimes!
Of course we can make acrylic paint dry slower, but before you experiment, check my Golden open acrylics review – I am positively shocked in how good it worked.
This article contains affiliate links. It means no extra cost for you but a little commission for me to support my hobby and blog. Thank you!
---
What are Open acrylics?
Open acrylic paint is a slow-drying soft acrylic paint that acts like oils.
Open acrylics can stay wet for hours and days, are easy to mix, blend, clean up and apply without worrying about hardened paint.
Humectants – additive that keep Open acrylics moist and make their composition a bit more complex than regular acrylic paint.
Golden Open acrylics can be also reused and revived on the palette which means for us, artists, less wasted paint.
Open acrylics are perfect for plein air, portraits, classic paintings, glazing and fine details.
---
My Golden Open Acrylics Review and Tests
I am an abstract artist mostly, but sometimes I love to paint realistic things and I often go for gouache as acrylics dry too fast when I need to work on details, pause and think.
I also use Golden GAC100 with all acrylic paints I have to slow the drying time and thin them, but it's not it.
In my last trip (Japan) I stumbled on an Open Acrylics set of open acrylics and I got it in addition to regular Golden paints I had.
I honestly wasn't expecting them to work as well as they did.
Why?
well, simply because lots of acrylics say they dry in 30 min. But when I test them they will dry within 5…
So when I read that Open acrylics stay wet for hours, in my mind I was skeptical and dividing it by 2.
Spoiler – I was wrong!
Let's dig in.
---
Colors
The whole range of Open acrylic paints is 80 colors, including some iridescent, and a 3 special sets.
They did have, and still do for some regions, different sets as well, like the one I bought in Japan – Traditional set.
It comes with 6 colors, no black, but 4 primary colors, green and neutral – brown.
India Yellow hue
Alizarin Crimson Hue
Ultramarine Blue
Sap Green Hue
Van Dyke Brown Hue
Titanium White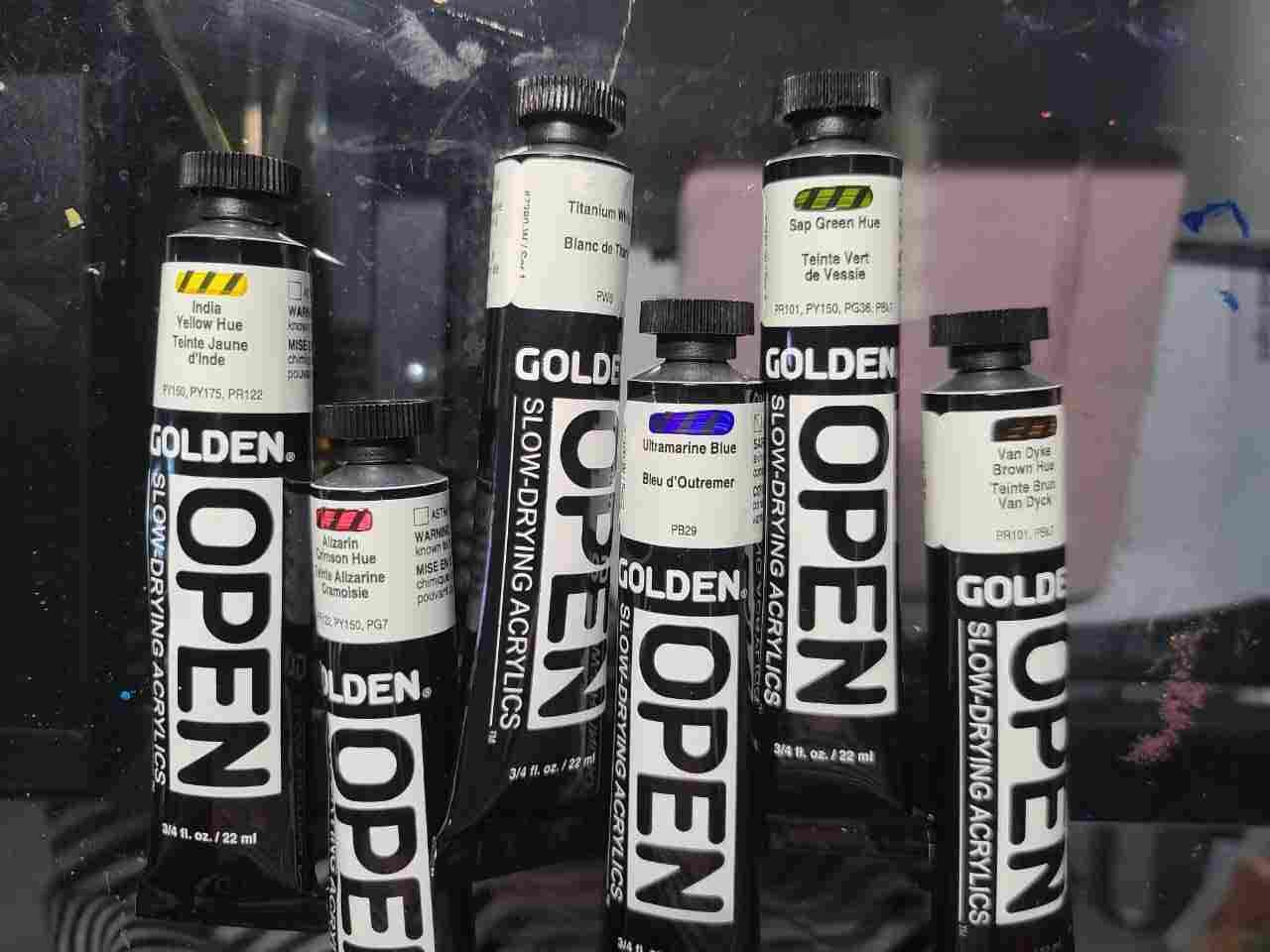 I think Traditional set is not widely available, in current 3 sets the colors are different.
Golden Open Acrylics Sets available:
Intro – 6 colors +Open Thinner. (Benzimidazolone Yellow Medium, Naphthol Red Light, Ultramarine Blue, Permanent Green Light, Carbon Black, Titanium White)
mixing – 12 colors including primary colors in warm and cool temperature + Open Thinner for mastering color theory and mixing. (Benzimidazolone Yellow Light, Benzimidazolone Yellow Medium, Naphthol Red Light, Quinacridone Magenta, Phthalo Blue (Red Shade), Phthalo Blue (Green Shade), Phthalo Green (Blue Shade), Phthalo Green (Yellow Shade), Raw Umber, Titan Buff, Carbon Black, Titanium White).
Landscape – 8 colors + Thinner. (Cadmium Yellow Primrose, Yellow Ochre, Cadmium Red Light, Alizarin Crimson Hue, Ultramarine Blue, Manganese Blue Hue, and Sap Green Hue, Titanium White).
---
Tubes
All Golden acrylics have professional tubes, including Open series.
They are very sturdy, metal, but yet, they can be deformed if you will damage them significantly.
Each tube has info on opacity/transparency, lightfastness, non-toxic label, general guidelines and, name of the color and pigments used, of course.
I love about Golden tubes how they have color swatches on each tube – very convenient and shows the color and its transparency better than words or icons 🙂
I'm not sure what happened but my white was acting out a bit:
---
Golden Open Acrylics Opacity
Unlike regular acrylics, most of open acrylics are more transparent. Even titanium white in regular form is opaque vs in open form it is one semi-opaque.
In my set only 2 colors appear to be somewhat opaque:
India Yellow hue, transparent
Alizarin Crimson Hue, transparent
Ultramarine Blue, semi-transparent
Sap Green Hue, semi-transparent
Van Dyke Brown Hue, semi-opaque
Titanium White, semi-opaque
But as I have a traditional set (which is closer to Landscape) all the colors are quite dark which visually makes them more opaque.
Read also: 7 Ways How to Make Acrylics More Opaque & Full Opaque Colors List
---
Lightfastness and durability
Most of Golden paints have excellent lightfastness and will last up to 100 years in gallery conditions.
Some colors are not recommended for outdoors. Yet, I would not use any of them for outside projects.
But you can of course use them for plein air (they are perfect for it due to slow drying time).
To determine how light fast a color is, Golden adopted their own auqlity testing and they have 2 grades:
LF 1 – excellent, 100 years.
LF 2 – good
In their detailed color chart you will also see the permanency column, to tell how durable a color is (including its lightfastness) Golden has 3-grade system:
So according to these classifications the colors I have are:
India Yellow hue, LF 1, excellent permanency
Alizarin Crimson Hue, LF 1, excellent permanency
Ultramarine Blue, LF 1, not for exteriors
Sap Green Hue, LF 1, excellent permanency
Van Dyke Brown Hue, LF 1, excellent permanency
Titanium White, LF 1, excellent permanency
As I'm mentioned you can't use Golden open outside, but for indoors they are great for all porous surfaces and even properly prepped non-porous.
You can even use them on walls and decor like sculpture.
---
Finish
To me Golden acrylics have matter and softer finish than regular acrylic paints.
They are not as glossy as regular acrylic paint and also have soft light to them.
Looks a lot like oil paints to me.
They may feel more tacky while drying just because they dry so slow.
---
Are Golden Open Acrylic Toxic?
All Golden colors are certified non-toxic paints and conform to ASTM D4236.
Yet, the pigments are often (historically and highest quality) made of some potentially harmful metals or substances.
In such cases, the amount is never dangerous to use it for painting with a brush, but it may affect what other uses are possible and how to dispose of the tube.
Some of the pigments contain safe amount of Cadmium but it means that they should be disposed as hazardous wastes.
In my set, Titanium white and Ultramarine are also not suitable for spraying.
---
Application
Golden acrylics and open acrylics are very versatile, you can use them on paper, canvas, wood, ceramics, sculpture, walls.
I was doing swatches on watercolor paper and then painting on canvas and it works amazing, just as it is supposed to be with any acrylics.
Open acrylics specifically aren't recommended for outdoors and, as the Golden recommends, require special prep if painting on wood.
Using Open acrylics on wood
Using OPEN Acrylics on Masonite®may result in Support Induced Discoloration (S.I.D.).
The brand recommends using MDO (Medium Density Overlay) or furniture grade Birch plywood when painting on wood.
To prime wood for open acrylics it is not recommended to use any shellac-based primers.
It is best to use 3 coats of GOLDEN Gloss Medium or GAC100 + one or more coats of GOLDEN Gesso.
Open Acrylics vs Oil
---
Price
Golden open series is proudly made in the USA and is available in tubes of 2 or 5 oz (59 and 148 ml) and jars of 8oz or 32 oz (237 and 946 ml).
They mostly sell all colors individually with only 3 small sets available.
Golden Open Acrylics Sets available:
Intro – 6 colors +Open Thinner.
mixing – 12 colors including primary colors in warm and cool temperature + Open Thinner for mastering color theory and mixing.
Landscape – 8 colors + Thinner.
The price depends largely on the pigments used in the particular color + the fact that Open paints is generally more expensive.
Golden Paint
Price
Individual colors, regular acrylics
2 oz – around $10
5 oz – around $16
16 oz jar – around $32
Golden Open set
Mixing – around $50 (12 colors)
Landscape – around $47 (7 colors)
Golden Acrylics set
Mixing – around $57 (12 colors)
Essential set – around $49 (6 colors)
It is cheaper to buy Golden open acrylic paint on Blick than on Amazon. Landscape set goes for under $40 on Blick, plus on first purchase you can have a discount.
---
How long do Golden Open acrylics stay wet?
Golden open acrylics stay wet 10 times longer than regular acrylic paint, and they stay workable for up to 3 hours.
However, to make sure open acrylics will dry, you can only use thin strokes.
Wet on palette/canvas
Workable/Rewet on palette – Open time
Dry to touch
Fully cured
OPEN Acrylics
up to 60 min.
1-3 hrs.
Thicker blobs can stay workable for 12+ hrs
1-2 days
14+ days for isolation coat
30 days for varnish
Just with regular acrylics you can always speed up the drying with a hair dryer.
What palette you use can affect the drying time – butcher tray and glass palette will keep the paint wet for longer (days or week), especially if you cover your palette with plastic wrap.
How long thin layers take to dry
Regular thin brush strokes with Golden open acrylics will dry in around 12 hrs to touch.
Within the first hour it will start to slowly set, but even with water you will be able to lift the paint a little bit.
I tested a swatch of brown with a wet brush after 1 hr of drying:
I used water, very little, just a wet brush with open acrylics.
But you can also use a thinner or fine mist to keep them wet longer than 1 hr on your palette, if you worry the thin layers will dry fast.
How long thick layers take to dry
I squeezed a blob of brown Golden open acrylic on my plastic palette.
One hour passed, it was unbotherd – still wet.
3 hours – same.
To be honest with you, I'm beyond impressed as 24 hrs later – yes, the whole day after – it is still sitting right there, wet, really long time to dry!!
It did start to harden lightly but you can still reactivate it with medium or water.
So I'd say definitely Golden open acrylics thick layers stay open longer than a few hours but will start to set after 24 hrs.
It is a good and bad thing 🙂
Good for palette use – as we can cover the palette with plastic wrap or don't even cover it and come back to the next painting session the next day and keep working on our painting. Easy. Almost like oils.
Bad thing is that means we can't use thick, textured application on canvas with open acrylics (granted the brand told us so) as it potentially will take forever to dry.
And it will be quite irritating especially if we have layers to go.
According to Golden if you use thick layers (thicket than 1.5 mm) some issues may arise:
drying time will be even longer (longer than 30 days for fully cured piece?!)
the paint will stay tacky
worst part – transparent colors and layers will become cloudy.
Read also: 5 Proven Ways How to Make Acrylic Paint Dry Faster
Dry time before varnishing
The brand recommends to wait at least two weeks to let open acrylics fully dry before applying an isolation coat.
If you don't use isolation coat and want to directly varnish your acrylic painting, you need to wait at least 1 month (30 days!).
Acrylics in general are terrible dust collectors.
So with open acrylics it is important to make sure there is no extra dust and hairs while they are drying for 30 days.
Continue reading: How to Varnish an Acrylic Painting? 6 Best Varnishes Included
---
Golden Open Acrylics vs Golden Acrylic Paint
Golden Open Acrylics and Golden Acrylic Paint are both products made by the same company, Golden Artist Colors, known for their high-quality, artist-grade, paints and art materials.
However, they have distinct characteristics that cater to different artistic preferences and techniques.
Golden Acrylic Paint:
Regular Golden Acrylic Paint dries relatively quickly, similar to most standard acrylic paints.
It's versatile and can be used for various techniques, from layering and glazing to impasto (thick application) and more.
The fast drying time of regular Golden Acrylic Paint can be advantageous for artists who want to work in layers and build up their artwork quickly.
Offers a wide range of colors with strong pigmentation and lightfastness.
Professional quality
heavy body acrylics
White metal tube
Golden Open Acrylics:
Golden Open Acrylics are designed to stay wet for a longer time compared to regular acrylics, giving artists more time to blend and work on their compositions.
They're great for artists who want to work more slowly and carefully, allowing for smoother transitions between colors.
The extended drying time can be beneficial for thin layers, but you cannot use Open acrylics for thick application or impasto.
Like regular Golden Acrylic Paint, Golden Open Acrylics also offer high-quality colors that are lightfast and vibrant. But they are less opaque than regular acrylic colors.
They work better with Open thinner than with water.
The brand hasn't finished testing them on all surfaces and with all mediums so there are some ongoing research programs.
It is easier to clean up after working with Open acrylics – the paint is unlikely to harden on a brush or palette or your skin, so just soapy water will easily wash it off.
Black metal tube with visible writing OPEN
Golden open paints are not heavy body acrylics, they are softer than Golden acrylic or other acrylic brands that come in heavy body form.
If you like working quickly and building up layers fast, regular acrylics might be your choice.
On the other hand, if you want more time to perfect your blends and transitions, especially if you work on plein air, Golden Open Acrylics could be a better fit.
---
Painting with Golden Open Acrylics – Performance Test
Can I say it is an absolute pleasure to paint with Open Acrylics! 😍
I picked a loose landscape idea that could work both for oils and acrylics and my palette worked beautifully for it.
mixing and application are effortless, enjoyable painting process
I suggest using an underpainting – it will be easier to get better coverage
The Open acrylics are so nicely smooth and wet – they do seem to be like oils!
Slow dry time, I had nothing to worry about and was just enjoying and focusing on the painting.
The finished painting dried to touch withing 2 days.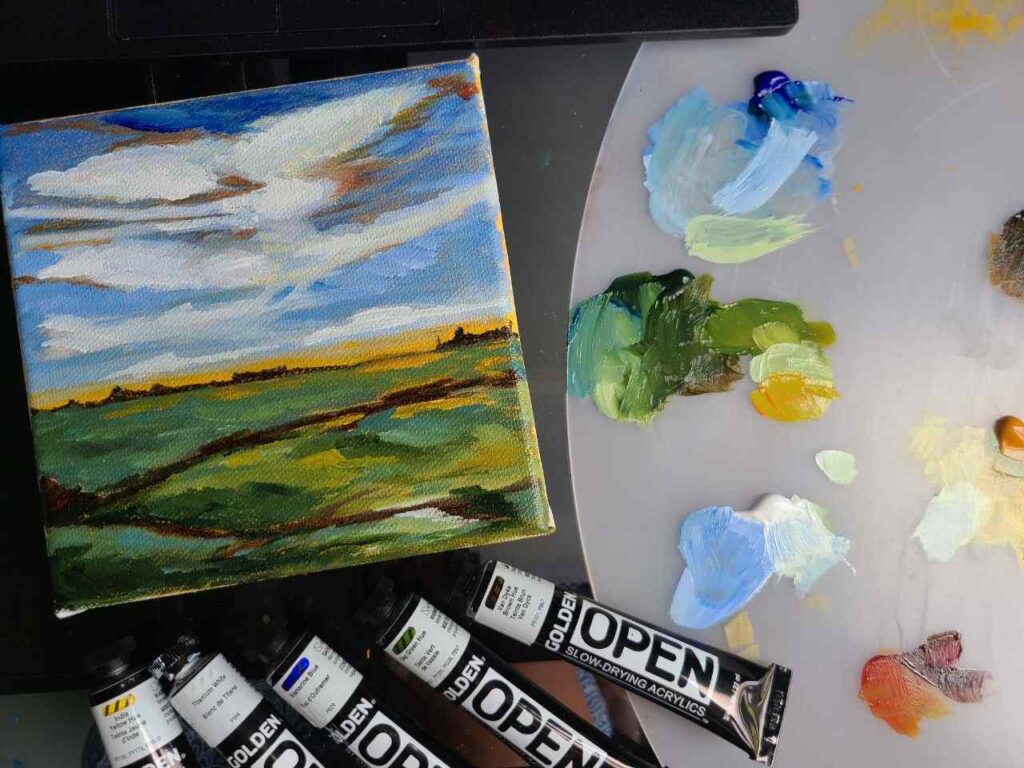 You can watch the full video here:
---
Are Golden Open acrylics like oil?
Golden Open acrylics act closest to oil as acrylic possibly can, especially Van Dyke Brown felt like oil to me. The application and drying time make you feel like you work with oil.
Both Golden Open acrylics and oils can be used with natural brushes.

But open acrylic paints aren't oil paint based on many details.

Oil paint is more buttery and silly than Golden acrylics. The application will be smoother.

Oil paint smells while acrylics don't.

Oil paint has completely different feeling when you touch it vs Golden acrylics. Oils are very soft and creamy, Golden acrylics still feel like a polymer, harder, film.

Even if Open acrylics do resemble oils, you can never mix them with oil paint.
---
FAQ
How Good Are Golden open acrylics?
Golden open acrylics are one of the best slow-drying acrylic paints on the market with very little competition (Chroma Atelier being another option).
How do you use Golden open acrylics?
You need to use Golden open acrylics strictly in thin layers and you will have to wait a few hour to a few days until the layer and the finished painting is fully dry to varnish it. It is best to use open thinner instead of water to dilute Golden open acrylics.
What is Golden open acrylic medium?
Golden Open Medium has lower viscosity than open acrylic paint. You can mix it with open acrylic to increase the flow and slow the drying time even further. It helps keep the consistency and the vibrancy of the colors vs if you would use water.
What does Golden open thinner do?
Golden Open thinner was made to better thin open acrylics without using water. As it thins Open acrylics it will also slow the drying time.
Unlike GAC100 that we often use to thin regular Golden acrylics, Open thinner is water-based and has no binder in it.
If you want it to act like binder and medium, you can mix it with Open acrylic medium in 1:3 ratio.
---
Golden Open Acrylics are like special acrylic paints that many artists really like and I recommend them.
They stay wet for a longer time than regular acrylics, which helps artists blend and mix colors more easily.
However, you might need to get used to them because they dry more slowly. It's like having more time to make your art perfect.
Just remember, every artist is different, so try them out and see if you like how they work for you!