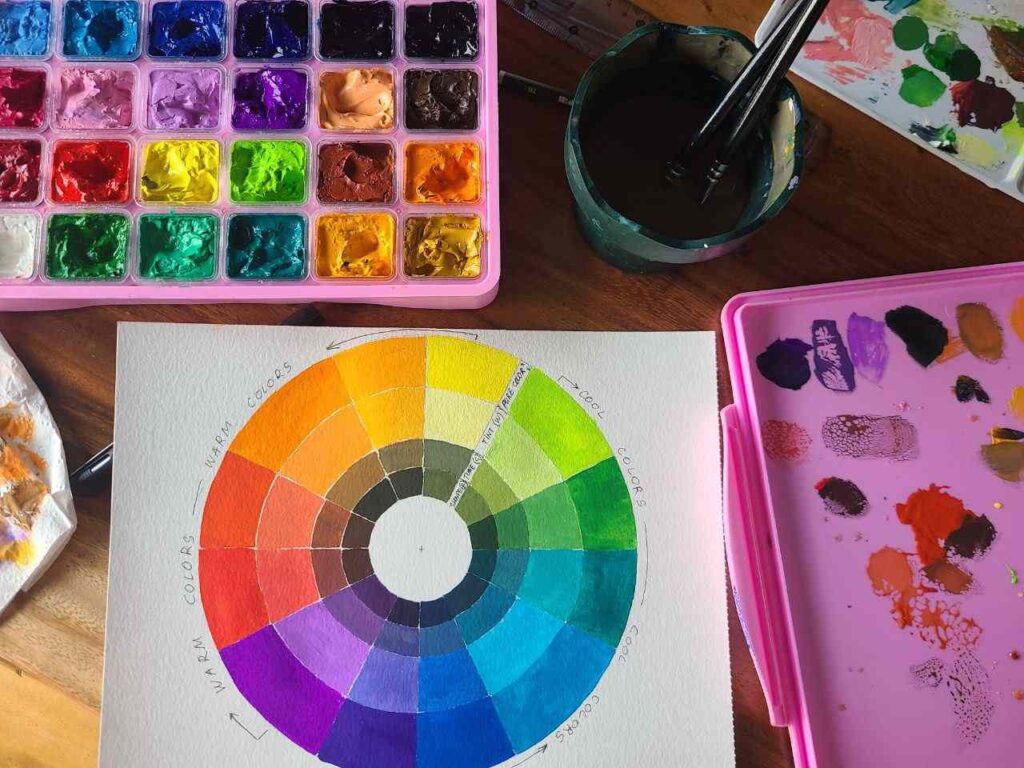 After years of playing with acrylics and writing about painting, I've decided to try something new. I started seeing so many videos on simple yet gorgeous little landscapes and food illustrations and turned out it was gouache! This is it!
I decided to jump on it. Reddit suggested I try Miya as a beginner and here we go, my firsthand, honest (excited) Himi Miya Gouache Review with more than 6 illustrations!
What is Himi Gouache Paint: specs
My Fav
HIMI Gouache Paint Set, 24 Colors
I have exactly this set (in pink box)
good amount of paint
convenient box with space for brushes and it comes WITH a good flat palette, and brushes
all paint come tightly sealed
color and consistency are very satisfying - you want to paint immediately!
Often recommended by beginners on forums, Youtube and Reddit.
I earn a little commission if you make a purchase, at no additional cost to you. Thank you for supporting my blog!
…and what is Jelly Paint?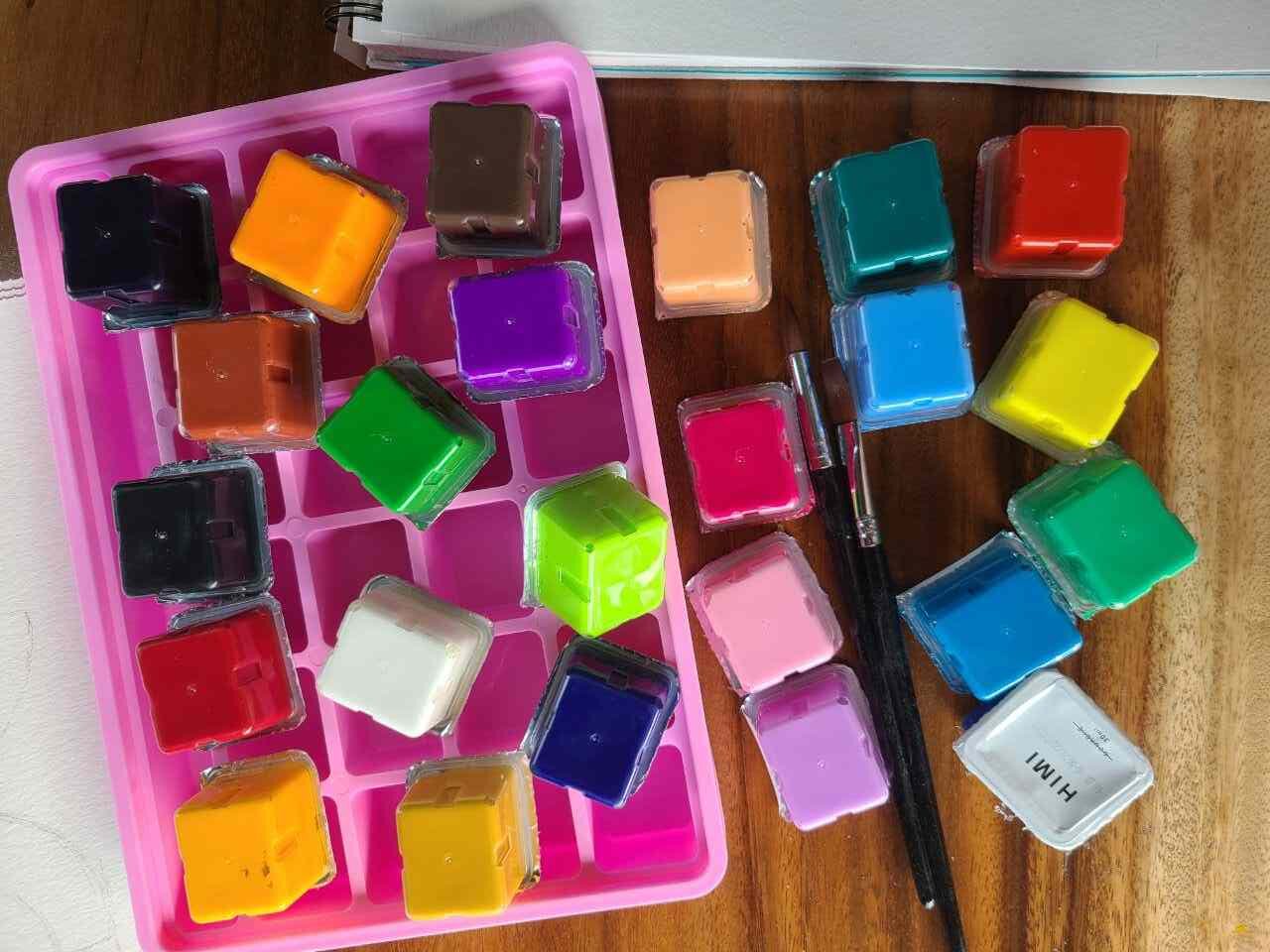 There are a few types of gouache paint, including traditional gouache and jelly.
Jelly gouache is absolutely the same water-based gouache, but it comes in this jelly cups.
It is cheaper to produce for manufacturers and it is also less loved by professionals as if left open, the paint in such jelly cups dries out pretty quickly.
The good news is that gouache unlike acrylic doesn't really care if it is dry or not, a drop of water will reactivate it and you will have no problems.
Also, there are already some airtight lids invented for such jelly cups so your paints are safe.
---
My Himi Miya Gouache Review: 10/10 Performance
Consistency 10/10
Colors 10/10
Coverage 10/10
Drying time 10/10
Paint set 9/10
Opacity 10/10
Ease to use 10/10
Mixing and blending 10/10
Himi Miya gouache Consistency
Miya gouache is so buttery, smooth, and velvety! With just a drop of water, it becomes nicely fluid, yet still thick.
The application is a pure pleasure for me, I like it much more than acrylic paint application (even though I'm making most of my art with acrylics).
It feels like…expensive lipstick if you know what I mean!
Colors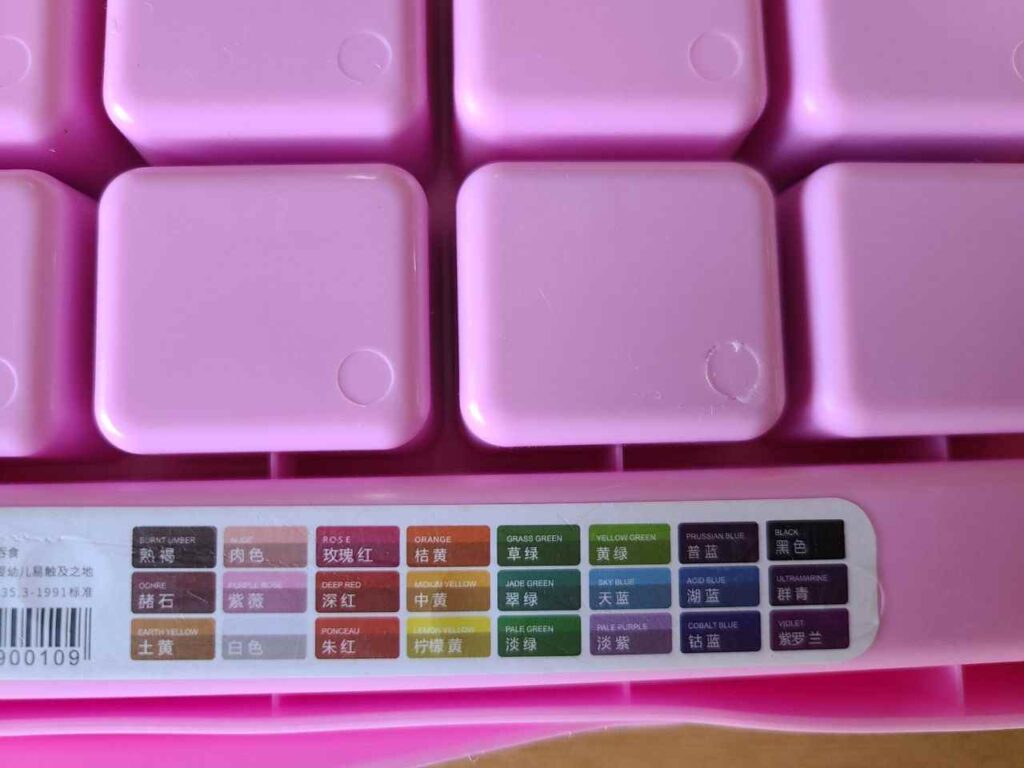 Miya gouache sets have from 18 to 56 vibrant colors. I settled for a 24-color set and I think it is more than enough for beginners, it has all primary colors in cool and warm options and some additional nice colors.
My 24 colors set includes white, black, burnt umber, ochre, earth yellow, nude, purple rose, rose, deep red, ponceau red, orange, medium yellow, lemon yellow, grass green, jade green, pale green, yellow-green, pale purple, sky blue, Prussian blue, acid blue, cobalt blue, ultramarine, and violet.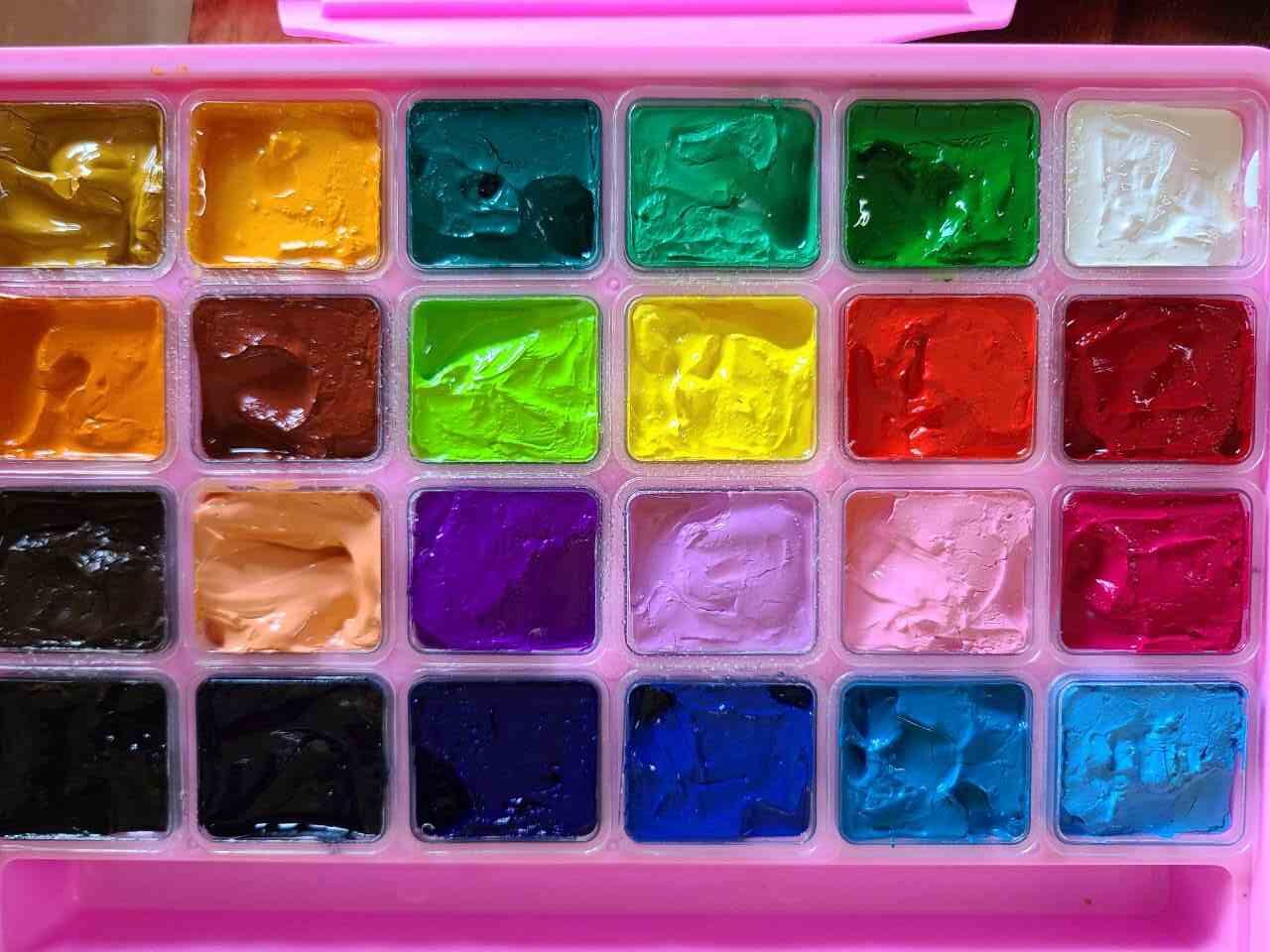 All colors are so vivid, homogenous, bright, opaque, and cover paper amazingly.
Coverage
Miya Gouache's coverage is just perfect. With good brushes, opaque and even less opaque colors leave no brush marks, and the coverage is even, smooth, and easy to control with just a drop of water.
For beginners, it will be so good to start with this set. I use acrylic paints with the same brushes and gouache has fewer visible strokes.
Once the Miya gouache is dry it looks like a velvety print:
Drying time
Miya gouache dries within a few minutes and you can keep adding layers or label it done.
While still wet, the gouache is glossy and shiny, but it dries to a matte finish.
Wet gouache
Dry gouache
Paint set
The Miya set I got includes 24 colors (more than enough for beginners), a space to store your brushes (on the picture – on the right), and a palette.
This is great value for money because I'm using this flat palette with ALL my paints, I'm serious.
And the lid itself can be an extra mixing palette if needed.
All cups come tightly closed, but once you open them, the paint will be exposed. Just make sure to spray your paint before working with paints.
Opacity
Most Miya gouache colors are 100% opaque and dense in coverage.
Beautiful results. If you are using more water, like watercolors, of course, the gouache will become more transparent.
White gouache is not as opaque as acrylic white in general.
Easy to use
I'd say it again and again, I believe gouache is better than acrylics for beginners, because they are more forgiving – washable and always reactive to water, so any mistakes can be corrected.
They are easy to blend for perfect skies, and easy to mix.
But even though gouache is a bit easier to master, it doesn't mean it is a less professional medium.
There are dozens of gouache painting techniques and tips pros are implementing in creating super-realistic food illustrations, portraits, and landscapes.
Mixing and blending
Blending with gouache is super easy.
Especially because you have a big set of 24 or more colors, you can just layer colors within your gradient on paper, dip your brush in water in blend it – it is that easy!
Mixing new colors is a rare need as all Miya sets come with so many colors, but you will definitely work with tints – adding white to a color, and shades – adding black to a color.
I suggest you take a look at color mixing theory or just get a DIY or store-bought color wheel to navigate what colors complement each other and how to mix some nice colors.
I made this color wheel with Miya gouache and it helps me see what tints, shades, and tones I can use for each color: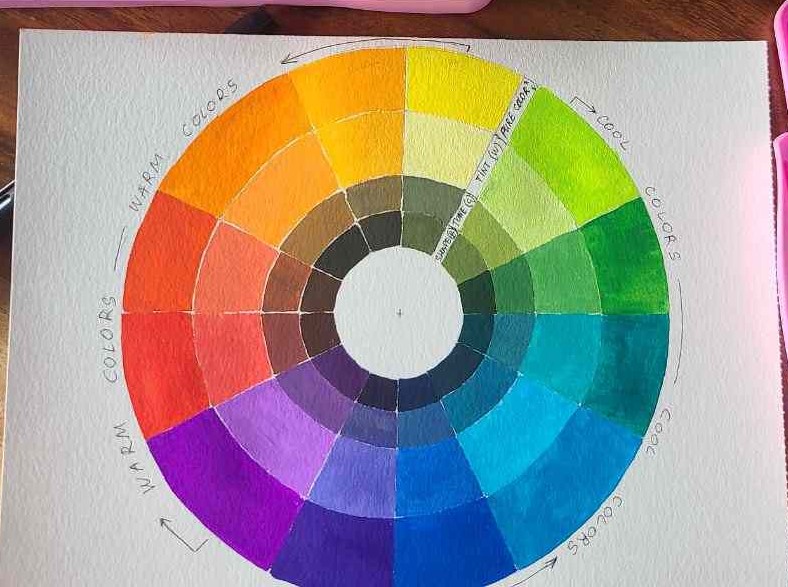 ---
How to use Himi Miya gouache set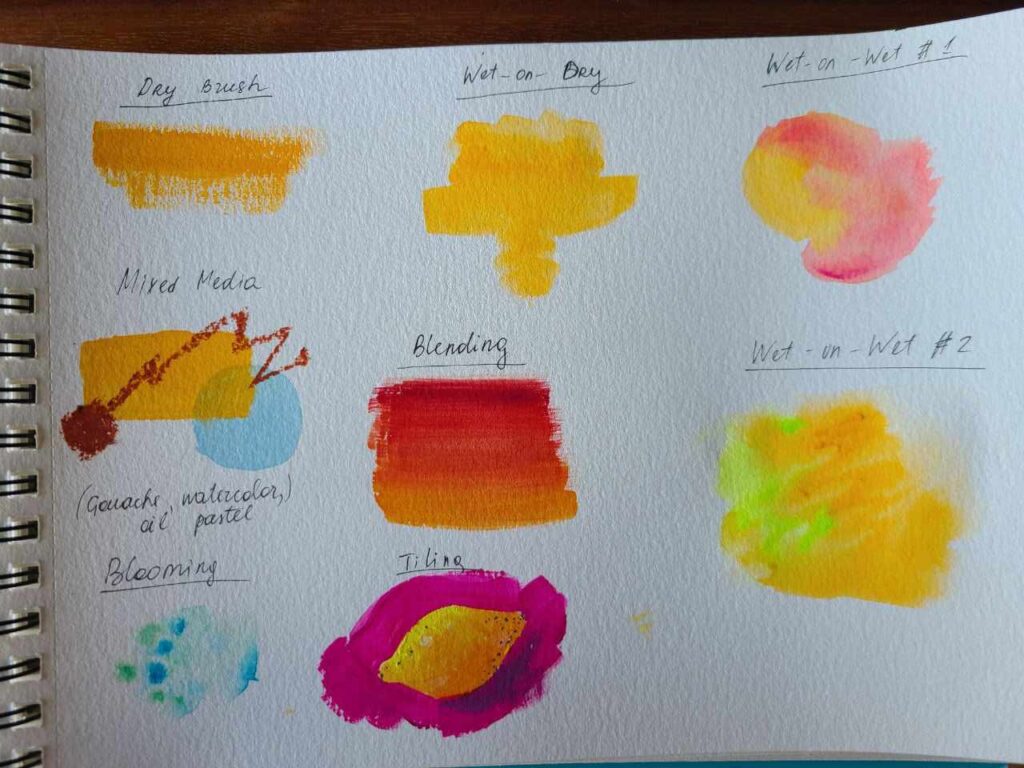 Himi Miya gouache is easy to use. Firstly because the paint set already has a gouache palette, all the needed colors (so saving time on mixing) and some sets even include brushes.
You only need to get some good paper suitable for gouache ( I use watercolor paper) and a jar with water.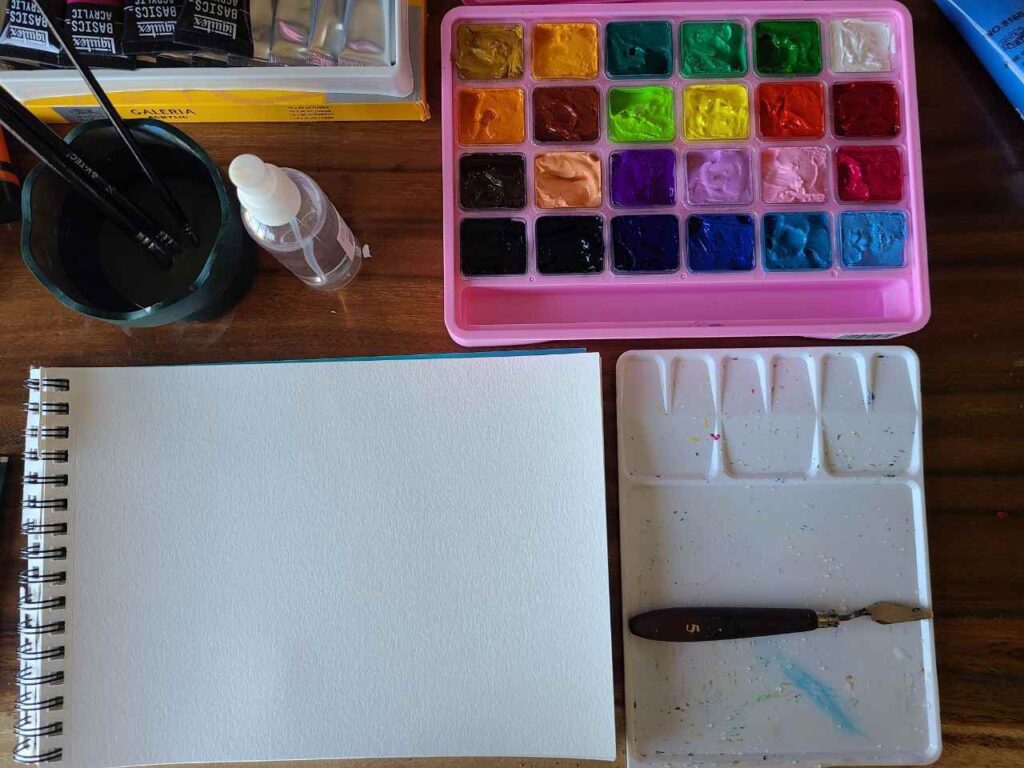 I also have a little spray bottle for all paints I use. I can spray dried paint with it, canvas, paper, and towel – it comes in handy.
I have a full guide with tips on how to properly use gouache: Painting with Gouache for Beginners: 7-Step Ultimate Guide, but here are some easy steps and some art I made with Miya gouache:
Open up all cups and place them in the box
Spray the paint, it will help with paint application
Sketching with a pencil is actually rarely needed, most of the time you can directly paint or lightly sketch with gouache.
Work with a round and flat brush, it is enough for beginners. You may need a small and big round brush, and one flat.
With Miya gouache, you can get brilliant results in less than 1 hour. This simple abstract wall art was created in literally 30 minutes. If you want to make one for your house, I made this tutorial for you Easy Abstract Gouache Wall Art in 30 min
If you don't like abstract here are some more ideas on what you can paint with this exact Miya gouache paint set within 30 to 60 minutes: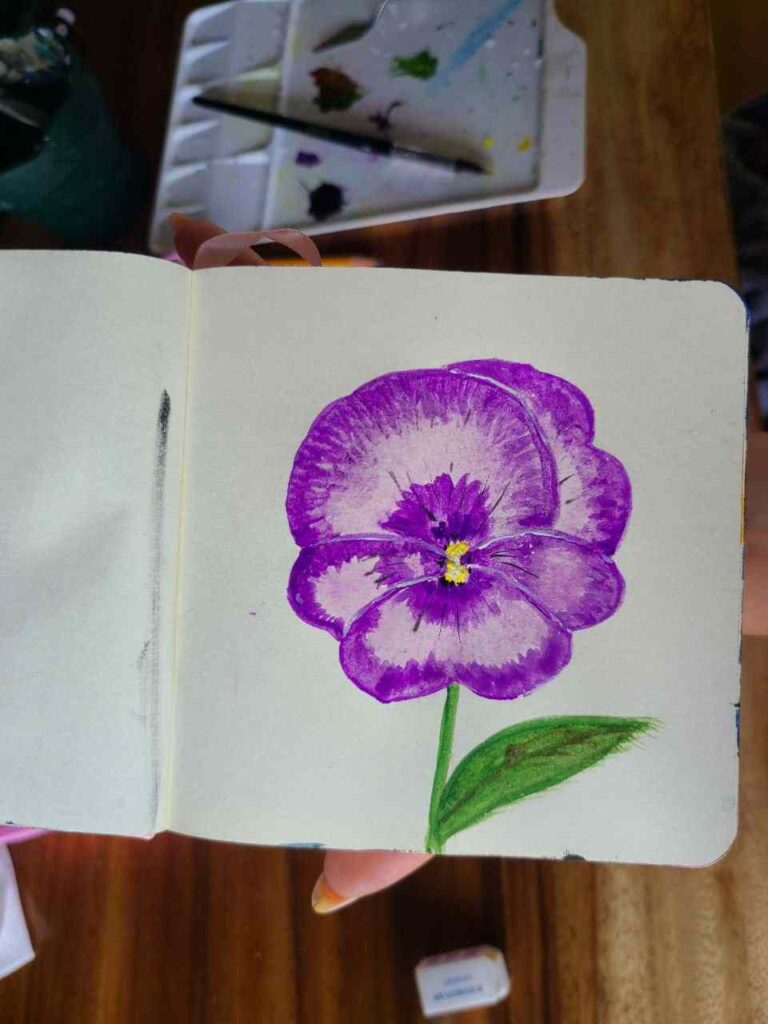 ---
Once you are ready to upgrade your gouache set, I suggest investing in professional set, like Holbein.
Here is my full review: Holbein Gouache Review [Artist's 12 Colors Set] – Top-Notch Quality
---
FAQ
Where can I find refills for Himi Gouache Set?
The good thing about the Himi gouache sets is that you can easily pop out an empty jelly cup and put in a new one. You can buy them in any local art store or online, of course, but I find it easier to buy them offline.
For white, you can buy a 100 ml refill bag and it will last for longer (for roughly 3 cup refills as each cup holds around 30 ml), and you don't have to though away plastic cups. Environmentally friendlier option.
Is Himi gouache a good brand?
HIMI produces amazing gouache for beginners, that is easy to use, mix, and blend and offers great colors and coverage. It is also affordable and the HIMI Miya gouache sets come with a palette and brushes sometimes which increases the value for money.
Are HIMI and Miya gouache the same?
HIMI is a brand producing gouache, acrylic, watercolor, and some other art supplies. Miya is the name of the jelly gouache line HIMI created. So the paint name is composed of the brand name – HIMI and the paint name – Miya.
Not all gouache paints created by HIMI are jelly (Miya) so not all Himi gouache is called Miya. The Himi gouache also comes in tubes.
Is Himi Miya gouache worth it?
If you are willing to try gouache and make it work, and enjoy the process, Himi Miya gouache is absolutely worth it. Less than $30 for 24 colors, a palette and brushes is a great deal and you will be able to create a variety of paintings!
I personally think it is also easier to learn blending and painting with gouache than with watercolor or acrylic paint.
Does Himi paint dry out?
Himi gouache paint can harden and dry out if left open, but they are easy to reactivate with a little bit of water.
To Sum Up: Is Himi gouache good for beginners?
I think Miya gouache is one of the best paints for beginners that will allow you to focus on creating beautiful paintings, and learning painting techniques without stressing about mastering the paint itself. It is much easier than watercolor, and much more forgiving than acrylics. I've never regretted buying Miya and I hope my Himi Miya gouache review helped you get an idea onhow performant this set is.
No matter what set you will buy, same as I have with 24 colors or even bigger one, I'm sure you will have a lot of fun!