Did you know that you can actually bring your ideas to life with just a few paint tubes and you don't need 20+ paints? Don't worry if you only have limited gouache paints with you.
To make your gouache more organized and convenient, you'll need a proper mixing and blending technique and, of course, a great working surface and tools, such as a gouache palette that allows you to store and mix colors effortlessly.
I recommend investing in an airtight gouache palette to keep the gouache secure and ready to use. A palette with multiple wells is great too, especially if the wells are deep enough to carry sufficient water and gouache. For mixing paint flat palettes are best.
In this article, we'll go through the best gouache palettes on the market and their benefits and drawbacks. In the final section of this post, we'll also teach you how to care for and clean your palette.
Keep reading to learn more about these topics, and be ready for your next gouache painting project.
Table of Contents
This article contains affiliate links. It means no extra cost for you but a little commission for me to support my hobby and blog. Thank you!
What can I use as a palette for gouache paint?
You can choose the same palettes for gouache as you are using for watercolor or acrylic. They are all same!
Although you have the freedom to choose the palette you want, it is still necessary to consider the type of paint you will be using before purchasing one. The following are some of the palette options for your gouache paints:
Read also: Gouache vs Watercolor: How do they differ and which is best?
Ceramic Palettes
For gouache, many painters prefer using ceramic palettes. It's an excellent choice for gouache because the paint becomes more fluid when mixed.
This kind of palette is ideal for blending watercolors, acrylics, and gouache. Also, ceramic palettes are easier to clean than plastic ones, especially once the paint has been set.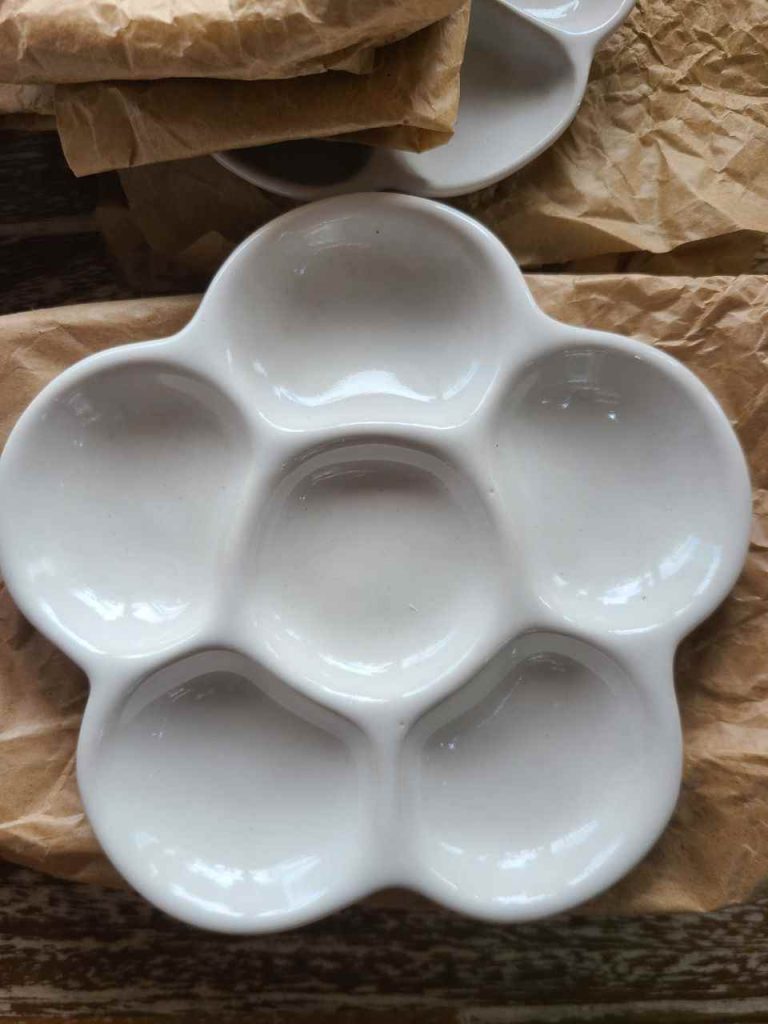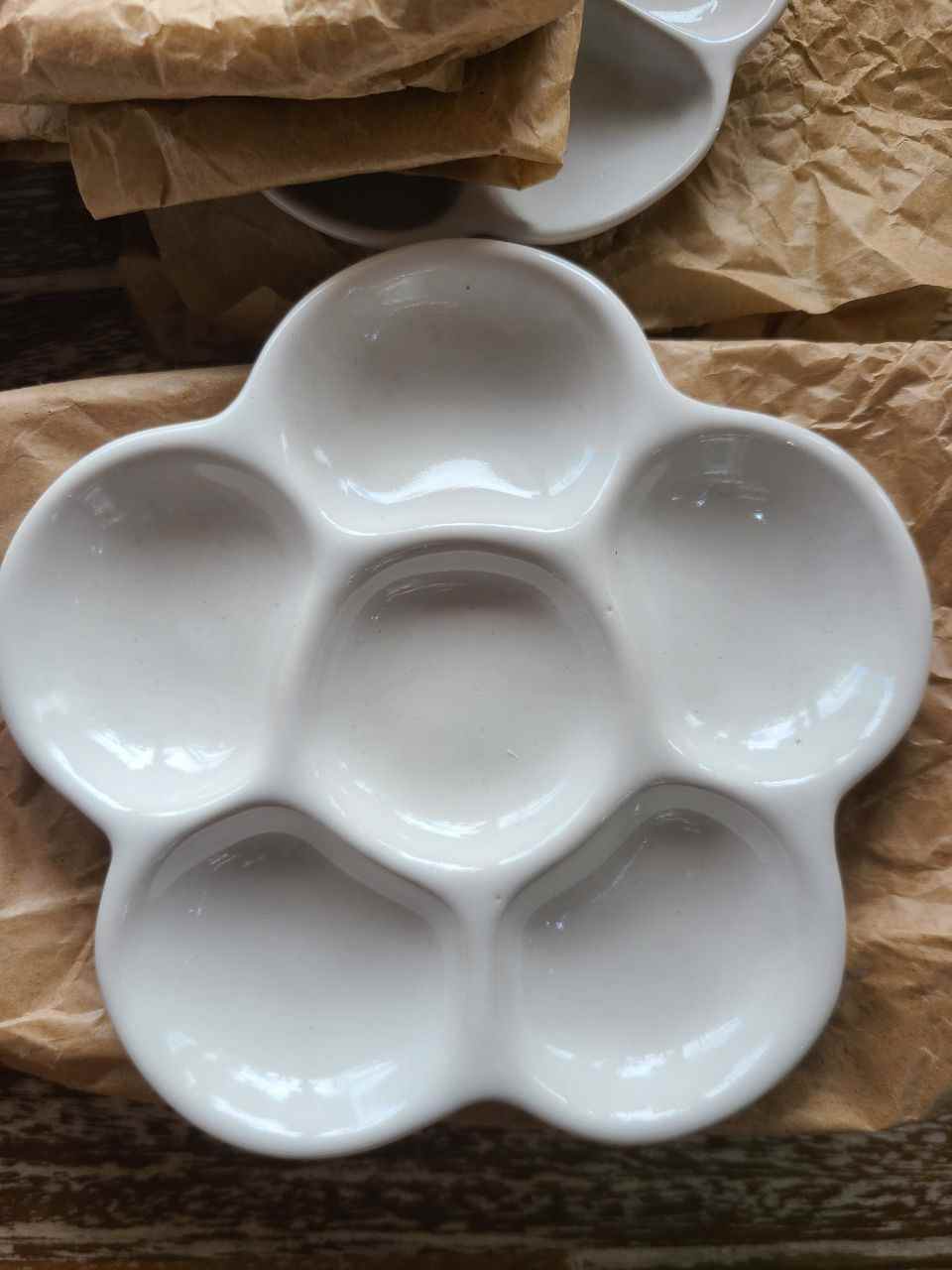 Furthermore, choose a palette with a single color, such as ivory or white, so you won't be distracted by multiple shades and it will be easier to mix colors. Palettes made of ceramic material are designed to be sturdy and durable, making them ideal for studio or field work.
The drawbacks for me are that ceramic palettes are heavier and easier to break if it falls on the floor. They also may be more expensive, especially if handmade.
Read also: 21 Top Gouache Painting Tips & Secrets From Pros
---
Plastic Palettes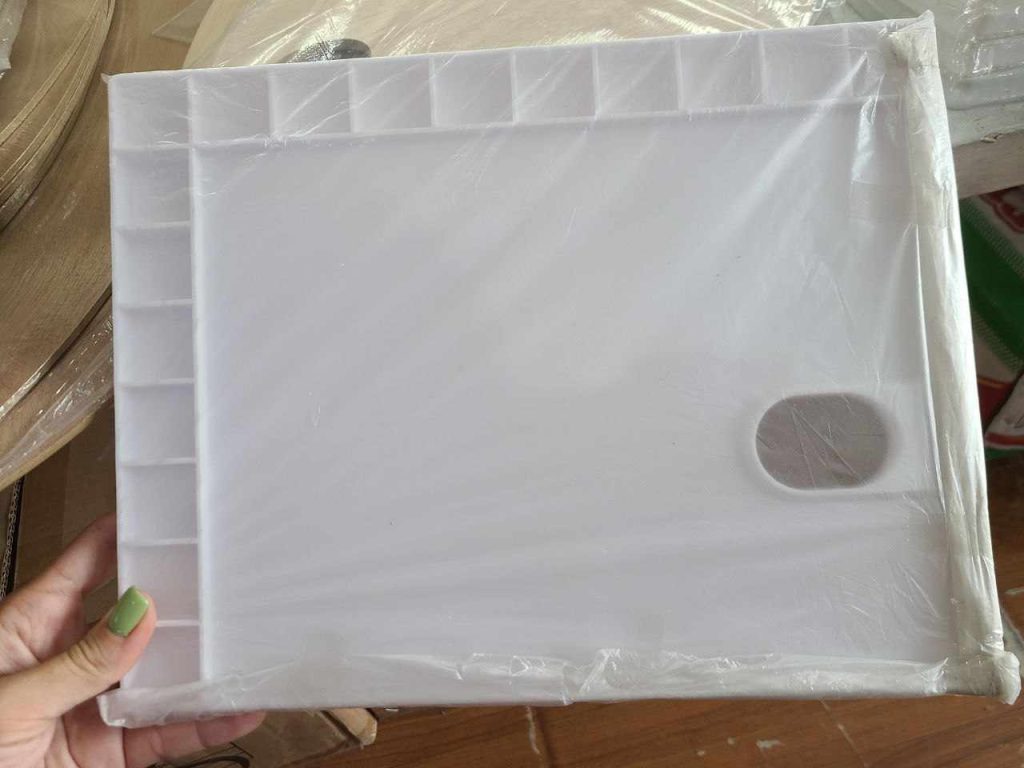 Like other palettes, plastic palettes also work well with gouache. Aside from being less expensive than other alternatives, they offer a non-absorbent and smooth surface that fits well with gouache and other paint media. They are available in various shapes and sizes and have compartments too.
However, plastic palettes are not environmentally friendly and stain over time. Compared to other materials, these palettes appear cheap and are not as durable. They are also difficult to clean, especially if the paint has stuck to the surface.
Cons: none really, but some plastic palettes stains easily.
I'm using my plastic palette from the Miya gouache set with all other paints:
For acrylics, I mostly use plastic palettes too. For more options check my separate blog post on 20 Best Palettes for Acrylic Paint For Beginners to Paint Like Pros.
---
Airtight Palettes
Airtight palettes are great as they have a lid and you can store your gouache or watercolor that is left on the palette safely and just reactivate it with water the next time you are about to paint.
Why airtight if the gouache can be reactivated with water anyway? Well, air exposure is what makes the paint dry, so if we keep it closed tightly, imitating the tube or paint box, we save our paint and avoid waste.
You can also use the internal surface of the lid as an extra space for mixing!
Cons: may be more expensive and bulkier than smaller plastic palettes.
---
Palette Paper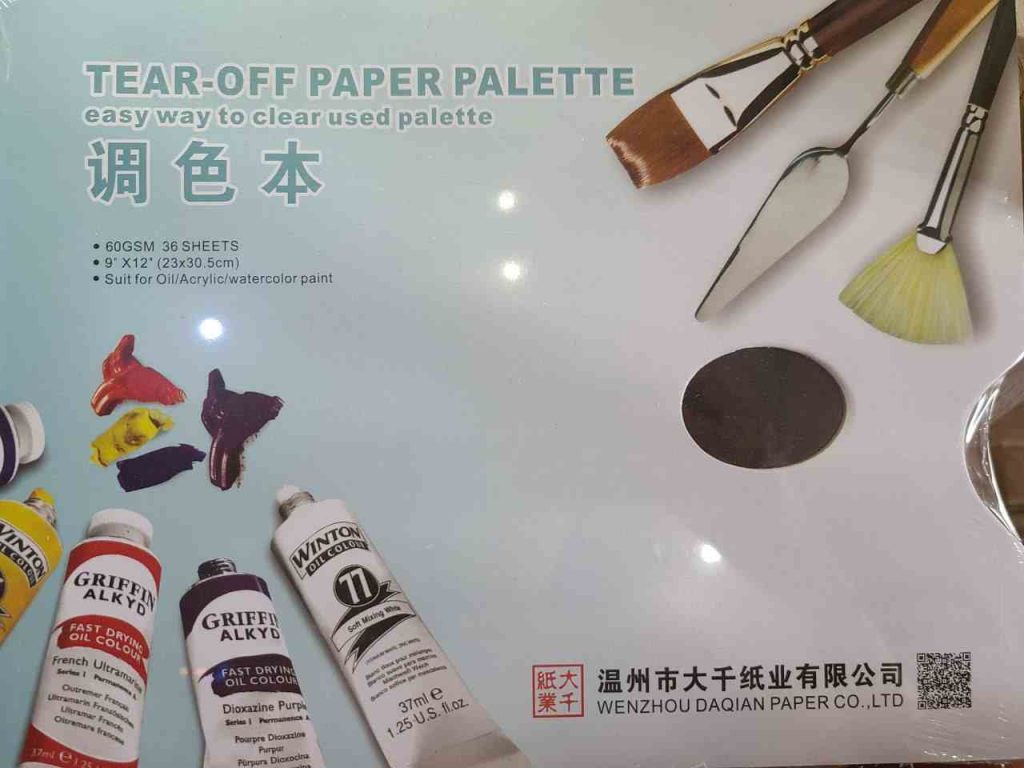 A palette made of paper is another good alternative that works with gouache, although it is not the best choice. I don't like it as the paper absorbs paint, unlike plastic or ceramic or glass which increases the waste of paint.
However, if you don't want to deal with the inconvenience of cleaning palettes with dried paints, this one's for you. The paper palette is disposable, so you can discard it immediately after usage.
Cons: disposable – creating more waste. Some paper palettes tend to soak in too much paint, if not properly coated.
Read also: Top 15 Best Gouache Paper Tested & Reviewed By Artist
---
Metal Butcher Trays
Many painters and artists also use metal palettes or porcelain butcher trays as palettes.
Along with being easier to clean than other options, its great material is ideal for color mixing. They offer a huge mixing area that helps you separate your gouache paints.
However, the only main disadvantage of this palette is that it lacks well compartments, which you may need to store different colors. Some options can also be expensive.
---
Handmade Palettes
DIY paint palettes are definitely a thing now, and they work with gouache too. Aside from being a cheaper option, handmade palettes make the most of your creativity since you may create one out of items you already have at home. They are also simple to clean and maintain.
You can use a lid from the plastic container, paper, disposable plates, and even plastic wrap.
Cons: not all DIY palettes are reusable or can meet all your needs, ex., unlikely you will make wells in your homemade palette (unless pottery is your hobby and you can make yourself a good palette!)
---
Glass Palette
Many pros like using flat glass palettes to mix paint. It gives a lot of space and the glass is super easy to clean – you just wipe it.
The weight may be a concern, some people are used to tabletop palettes, and then the glass is fine, but some need their palette right close to the eyes, in this case, the regular glass may be too heavy, you can then opt for a plexiglass sheet!
Clear glass will also be more expensive than the cheap wooden or plastic palettes.
---
To sum up, what palette do you need for gouache paint:
the one that is flat and sits on your working desk (unless you are only painting outside)
with enough mixing space and many spacious wells to store paint
with a lid! to cover your palette and leftover paint until the next painting session.
made of easy-to-clean material that doesn't break easily.
affordable.
---
11 Best Gouache Palette
With so many palette options available on the market, you may be confused about which one to choose. If you're having a hard time deciding which one to buy, let us assist you. Here are the ten best gouache palettes to try out for your next painting session.
If you didn't yet buy gouache paint, consider a paint set that already has a palette in it. It will save you time and money 🙂 Some of such gouache paint sets are HIMI Gouache Paint Set with a Palette (I'm using this one).
---
Best Gouache Palette Overall – Transon plastic palette (also great for plein air painting)
For around $9 you will get 20 wells for storing paint, 5 separate mixing spaces, and a palette that can work both just on the table and if you want to hold it (it has a hole for a thumb).
I love plastic palettes as they are lightweight and I absolutely need mixing space.
Most times a palette has one big shared mixing space, which is ok, but I like how Transon thought about separating mixing areas so you don't have to worry if some colors will contaminate each other.
Also easy to store as you can simply close it, and you can take it with you if you are working on a plein air painting as it also has 3 holes to hold brushes. The paint wells are on opposite sides so even if leave some paint and close the palette colors won't mix up.
Cons: I'm sure holes for thumb and brushes won't universally fit all thumbs and brushes in the world, but that's sort of reasonable.
---
If you have decided that you absolutely want a wooden palette, no worries, this Artlicious palette has a classic palette shape and no wells. It will be perfect for mixing and for those who like holding palettes.
Sale
This palette is also cheap – less than 5 dollars, but at the same time it has no feature, it is just a flat piece of the wood nicely shaped…
---
If you don't have a set budget or feel like you need to upgrade all your supplies and your skills grew a lot, you may want to invest in a glass palette. This New Wave palette is popular but it costs around $35 for just a flat glass sheet with corner holders.
Granted it is tempered glass 🙂
It will work best for people mixing colors on the table or any other flat surface, as you can't really hold this palette – it's 12 x 16 inches.
Many professional oil and acrylic painters use tempered glass palettes.
---
Stay-wet palettes are more popular for acrylic paint but they can help you keep gouache from drying too quickly on a palette too.
The set comes with 30 sheets that you can place inside the tray and use as palettes, but afterward, you will need to get more sheets or find a replacement.
The downsides of this palette are its price and the lack of wells.
---
Mr. Pen Airtight Watercolor Palette has 18 deep small wells and two large mixing areas inside for mixing gouache.
This mixing palette is suitable for watercolor, acrylic, and gouache. Since it is portable, you can use it for both indoor and outdoor painting. The lid can be used as spare mixing space as well.
With its airtight lid, you can ensure that the paints remain moist for your next painting session even if you leave some colors in the palette.
Pros
The palette is made from premium quality plastic material to ensure its sturdiness
airtight lid to keep the paints moist and fresh, and also all your other belongings safe from paint (in case you are traveling)
Suitable for both indoor and outdoor painting;
for beginners and professional artists
Very good price – only $10!
Cons
The plastic in general may stain easily
---
MEEDEN Porcelain Paint Palette costs around $14 and has a sturdy and durable surface perfect for gouache, acrylic, and watercolor painting.
It also has enough weight and has an anti-slip feature, so it won't quickly flip around.
It has 10 wells for storing colors and 2 central wells sort of for mixing but I would say also for paints. This palette is easy to clean, making it perfect for use in the studio or even fieldwork.
Pros
Made from eco-friendly ceramic material
Good for watercolors, acrylic, or gouache
Designed with many wells for more convenient mixing of colors, wells are deep enough to hold paint and water
Cons
Might be too small for your painting needs as there is no flat space for mixing and I find it very inconvenient mixing in a well. But it is a personal choice.
Not suitable for traveling, has no lid.
You can break it or chip it, even though it is durable.
For that price, I would prefer a larger palette with more space for mixing.
I think flat palettes are easier to clean than palettes with wells
---
Mijello Fusion Folding Palette is made of durable plastic to ensure its sturdiness.
It comes in a silicone packing to help prevent leaks of watercolor, gouache, acrylic, and oil paints.
This airtight gouache palette is portable, so you can bring it with you during travels, outdoors, and studio painting. You can also possibly remove its receiving and mixing parts for you to maximize the use of the surface area.
Pros
Ideal gouache travel palette; foldable and portable
Has an airtight closure to secure that the paint won't get dried easily
Contains 33 ergonomically slanted wells for easier painting
Cons
Slightly expensive because of the materials used, it is $16 vs Mr. Pen Airtight's palette for $10.
Yes, there are a lot of wells, but they are small and I don't think you need that many wells (33).
It is quite large, larger than you may imagine, so may be not that perfect for traveling.
There are some reports that it's leaking.
Better for watercolor
---
If there is one gouache palette recommended by Lena Rivo, it is no other than Transon Airtight Storage Palette. This is more a paint storage box than a mixing palette.
It is made of high-quality material to ensure sturdiness and durability even after years of use. It is suitable for keeping paints such as watercolor, oil, gouache, and acrylic.
Transon palette is one of the best stay-wet palettes on the market because its features secure the paints well to prevent them from drying and possibly cracking.
Pros
Airtight gouache palette that keeps the paints secured and protected – it has secure locks.
Contains 24 deep wells suitable for painting with watercolors, acrylic, and gouache. The wells are really deep as they are meant to store paint not just to use a little amount for a painting session.
Composed of a silicone latex seal and six locks to keep the paints moist and fresh.
Technically you can use the internal part of the lid to mix colors.
Perfect for storing and traveling.
Cons
Too small for its price (around $17) and considering it is more for storage than for mixing.
---
The Davi Atelier Gouache Paint Palette has 18 deep wells, two mixing sections, and one huge tray for easier color mixing.
It is sturdy, sleek, and long-lasting, making it ideal for travel.
Aside from being convenient to carry (folding size is 10 by 5 inches), this palette is also simple to clean and maintain. It is constructed of resin, which is non-toxic and safe for both children and adults. It works well with all water-based media, including gouache paints.
Pros
Handy and portable palette; great for outdoor painting
Features a durable and leak-proof gouache mixing palette
Ideal for blending and mixing watercolor, acrylic, oil, and gouache paints
Cons
The mixing area can stain after several uses
A very similar model to Mr. Pen palette but almost twice more expensive.
---
You don't need or understand all these fancy trays, wells, and big palettes and don't want to spend extra money on a palette with features you won't use?
I have a very straightforward option for you – a classic clear plastic palette with no wells.
This pack actually has 2 of those for under $7 and it will cover your needs for a while 100%.
And it is most definitely easy to clean and gives no color distortion when you mix colors 🙂
---
Another brutally simple and minimalist yet popular among pros option is a metal tray palette.
Such metal palettes are normally porcelain coated which is both good for cleaning and mixing paint and not as good as natural chipping will happen over time.
You can get a size from small (7-inch by 11-inch) to large (13 x 17 inches) depending on your needs.
These palettes are very deep so using water is no issue, but they don't have a lid, so you need to clean it up and store it. They also won't be great for traveling as they are not as light as simple plastic ones.
Also, this model is rather expensive.
---
DIY Wet Tray Palette
Here are a few simple steps for making your own wet tray palette:
Get an old tray with surrounding walls.
Arrange a few layers of paper towels evenly on the tray.
Pour enough water onto the tray with paper towels. Ensure you only put in enough water for your towels to absorb fully.
Place a piece of parchment paper on top of your damp paper towels.
Your wet tray palette is now ready. If you place your paints in this DIY palette, they will stay moist for several hours.
Pros
Helps keep the paints wet during a long painting session
No challenging cleaning up needed since you will throw away the painting surface after use
Cost-efficient since you can make one using things lying around your home
Cons
Not long-lasting
There's a possibility of forming molds
---
DIY Glass Paint Palette
Here are a few simple steps you may take to make your own glass paint palette:
Remove the glass from an old picture frame.
Cover the surface with an old newspaper.
Paint at least three layers of gray paint on one side of the glass covered with newspaper. Allow each layer to dry before adding another.
Using a scraper tool, remove any excess paint from the unpainted side of the glass.
Put a duct tape strip midway between the glass edge and the backing. Then, fold over onto the unpainted side.
Add more duct tape strips on the unpainted side of the glass. Ensure that they don't overlap.
Make sure the final duct tape strip is midway between the glass edge and the backing. Fold over again onto the glass's unpainted side.
After you've removed the excess strips from the glass sides, your palette is ready for use.
Pros
Paints glide on the glass surface smoothly, which is ideal for color mixing
Less expensive than buying a readily-made palette
Less possibility of wasting paint because you can easily scoop every color with a brush
Cons
Needs extra care when handling since the glass is fragile
---
Best Gouache Palette Setup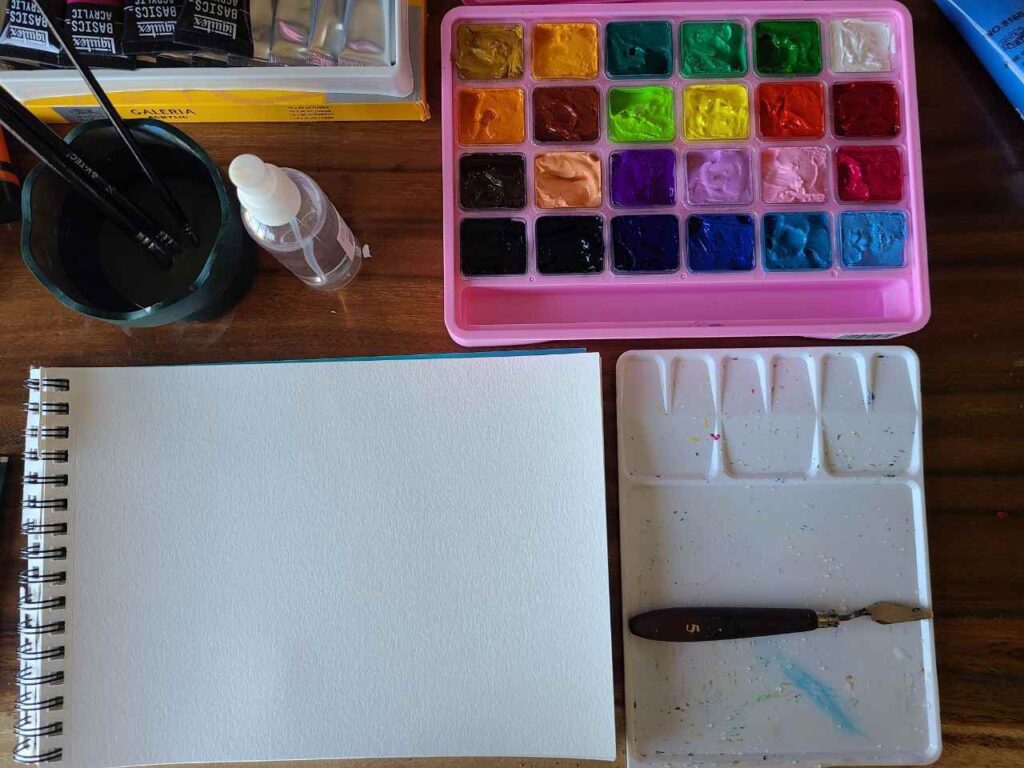 A palette setup is how you arrange the colors on your palette to use them.
If you're new to gouache and haven't yet considered a palette setup, no worries, we've got your back. You can arrange your palette any way you think will work best for you.
I often use flat palettes and squeeze a few colors I will use just a good distance in between in no specific order. But pros may say it's wrong and disorganized.
As you're new to gouache paints, I recommend beginning with a limited palette first. It will help you explore colors better, learn to mix, and realize you don't have to spend money on 30+ paint sets.
You can adapt the classic or the Zorn Palette, which is a limited palette with a wide range of possible colors. Additionally, I've also offered a more traditional alternative setup at the end of this section.
To organize your palette setup and place your paints DO consider if you are right-handed or left-handed and make sure everything is easy to access. Don't put your palette behind you it is not convenient in long term.
Zorn Palette Setup
The Zorn palette consists of 4 colors:
Yellow Ochre is a single PY42 color that has an opaque, earthy, and warm tone. Think of a brown shade if it is easier for you.
Ivory Black is a warm black with a brownish shade when blended with small amounts of white.
Vermilion/Cadmium Red – Modern painters have replaced Vermilion with Cadmium Red. Cadmium Red is an opaque, vibrant orangey-red made from a single pigment PR108.
Titanium White – Titanium White is a single color PW6 that is an opaque vivid white, which is perfect for blending light shades and colors to use for highlights and accents.
How does the Zorn palette work?
Since the Zorn palette lacks blue, Ivory black, which is a relatively cool black, can be used as a substitute for blue. All you have to do is combine it with white as it is a cool color that can appear blue next to warm colors. A cool gray is the closest color to blue.
Cadmium red is the most saturated and bright color present in a Zorn palette.
The primary purpose of black and white colors is to alter the value of a color. They are also used to create different tints and tones of a single color.
How to make a color chart for a gouache Zorn palette?
Make your own color chart on a surface similar to the one you use to paint on. The usage of a different surface might cause the paint to appear differently.
Draw a pre-drawn grid on the surface to make it easier to apply the colors and prevent duplicating color blends.
Apply and blend the paint on each square with a palette knife. A palette knife makes it simple to mix and lay color. Simply brush away any extra paint from the knife before mixing your next color.
Make a chart with five by-five squares, each measuring 2 cm and a 1 cm gap between them. To give your colored squares neat, sharp edges, you can use strips of masking tape.
Paintings with just limited colors can look great as long as all colors work perfectly together. If you've already decided to use this Zorn palette for your next painting session, you may watch this video guide on how to set up your own gouache Zorn palette.
Traditional Palette Setup
Here are the supplies needed to set up a traditional palette:
Watercolor paper – This watercolour paper from Canson works well with gouache.
Paintbrush – Princeton brushes are my favorites
Palette or an airtight paint storage box
Toothpick
The following are the steps to follow in building your own gouache setup in a palette box:
Swatch the colors on blank paper or a palette to discover which ones you'll most likely use. Add white and black to see what lighter and darker shades you can get. Keep your paper swatch with your palette to consult it every time you're painting and looking for a color.
Fill the first well with a tiny amount of the first color, then spread it into the corners of each well using a toothpick.

So what color is first? You can do it in a few ways:

randomly:)
following the color wheel: 12 colors follow each other starting from red, then red-orange, orange, yellow-orange, yellow, yellow-green, green, blue-green, cyan (blue), blue-violet, violet, and red violet.
only primaries: red, blue, and yellow. And all other colors just mix.

Fill the palette with your selected gouache colors.
Before you begin painting, add a drop of water to each color to activate it. You can use a spray bottle or an eye dropper to do this step.
Simply add additional paint from the tube when you run out of color.
Here are some of the gouache colors that you can consider buying:
for individual tubes you can go with M Graham gouache, to buy a beginner gouache paint set, I recommend Miya set or one of these 15 Best Gouache Paint Sets.
3 Primary colors + White is enough for professionals:
Primary blue and ultramarine blue
Alizarin crimson and Spectrum red / Cadmium Red
Primary yellow and Cadmium yellow
Zinc white for mixing and Titanium white for an opaque white
no black as you can mix the black. Two paints for each color as one is cooler and another one is warmer. It will help to mix.
My favorite gouache palette setup would be reds (warm and cool), blue (warm and cool), yellow (warm and cool), and white on the other side of the palette. You can also have a little well with Gum Arabic, but it is very optional. I squeeze all the colors and mist them with my spray bottle.
Tip: You can do sketch with paint as well! Not only with drawing with pencils. 
How to mix secondary colors with gouache:
Cadmium yellow (warm) + Spectrum red (warm) = Orange
Primary yellow (cool) + Cyan blue (warm) or ultramarine blue (cool) = Green
Ultramarine blue (cool) + Alizarin crimson (cool) = Violet
Beginners can extend their palette:
Ivory Black
Zinc white for mixing purposes
Titanium white for an opaque white
Lemon Yellow
Permanent Yellow Deep
Yellow Ochre
Chrome Orange
Cadmium Red Light
Cadmium Red or Purple Magenta
Ultramarine Blue
Phthalo Blue
Viridian Hue
Sap Green
May Green
Burnt Siena
Raw Umber
Burnt Umber
Prepare all of these, and you'll be good! With just a few simple steps, you can already create a gouache palette setup of your preference. A traditional palette is indeed a well-balanced palette that gives more color options.
Read also: Painting with Gouache for Beginners: 7-Step Ultimate Guide
---
FAQ
How long can paint stay on the palette?
The paint will be dried and cracked if you haven't used the palette in over a month. In this situation, you must replace the paint before using the palette again.
On the other hand, if you paint every few days or so, the paint will stay moist in the palette. In this case, you won't need to replace them. You must secure the palette, and the paint will still be fresh and usable for your next painting session.
Is it okay to let gouache dry out on the palette?
Although it is possible to let your paint dry in your palette because it can be reactivated with water, it is not advisable to do so. Since gouache has a tendency to crack when dried, I recommend investing in a stay-wet palette with an airtight closure to ensure that your paints stay moist even while not in use.
Don't let your gouache paints become damaged or dried out because gouache is best used fresh.
How to clean a gouache palette?
A simple wipe-off is a way to clean your gouache palette right after your painting session. Normally just water or soapy water is enough to clean your palette.
If you left some paint and it dried, before cleaning your gouache palette, soak it first for at least 10-30 min to soften the paint. It will be simple to remove dried paints with this method because they will just run off with water. Scrub away excess paint with gentle liquid soap and an old but clean toothbrush. After that, dry your palette with a soft cloth or a paper towel, and it will appear as good as new.
If you are using a glass palette you may as well just scrape off dried leftover paint.
To Sum Up
When selecting an amazing gouache palette for you, consider if you'll be comfortable using it and whether it will meet your painting needs. Your palette has a significant impact on the overall outcome of your painting. Thus, choose one that you believe will enhance your color mixing and painting skills.
If you haven't decided on a palette for your gouache project yet, you can choose from the ones we reviewed. These gouache palettes are made of high-quality materials. So, you may be confident that they are definitely durable and reliable.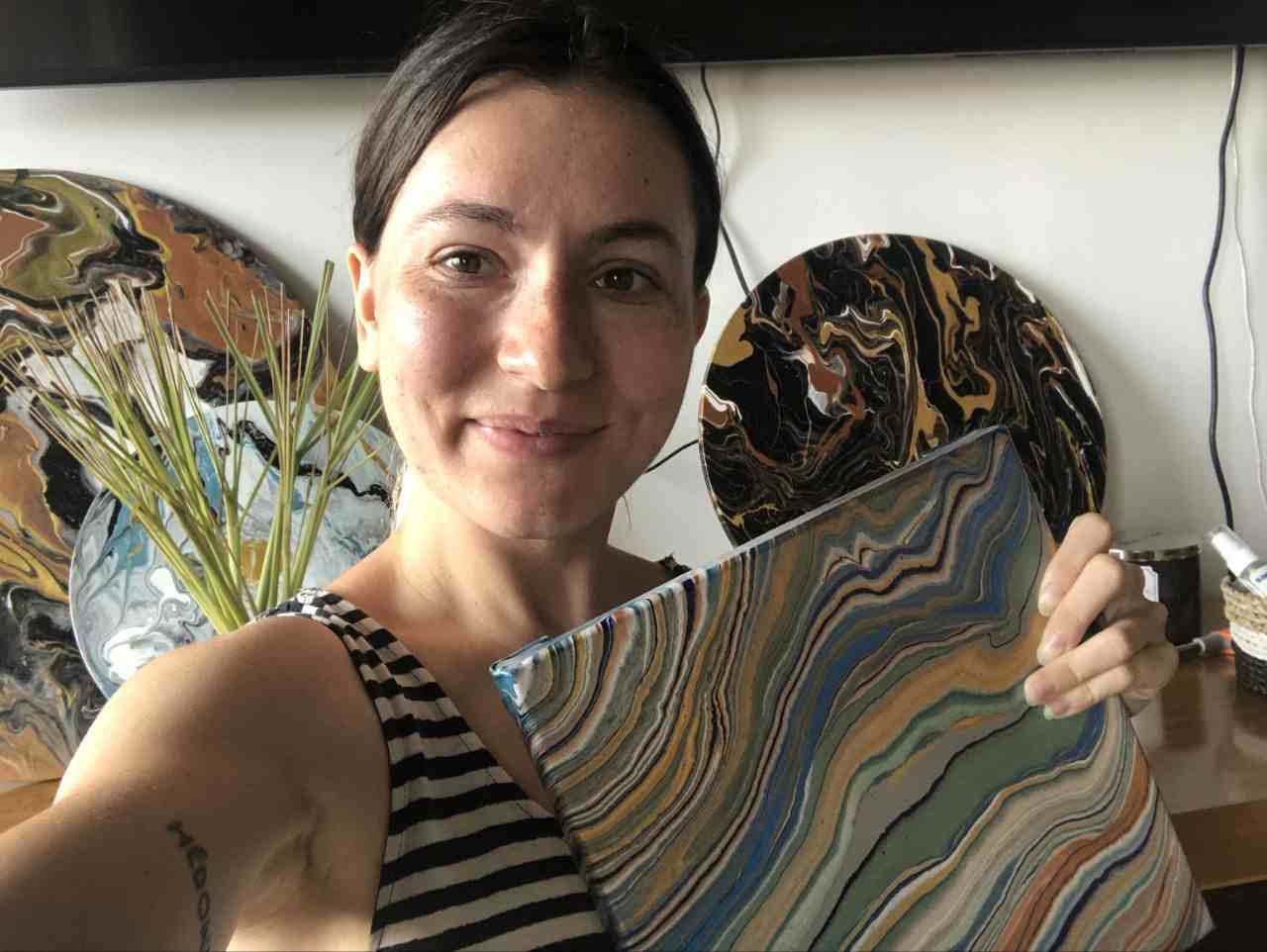 Masha Eretnova is a certified teacher. She started painting and drawing 20+ years ago and now is an international abstract artist and educator passionate about acrylic painting, gouache and crafts.
More about me.
Last update on 2023-12-03 / Affiliate links / Images from Amazon Product Advertising API