When you get to learn how to paint with Gouache, its fundamentals, and various gouache painting ideas and techniques, there is no doubt that this paint will be easy for you to use as it is beginner-friendly as well.
Some of the Gouache Painting Ideas for beginners include food illustrations, landscapes, cloudy skies, starry nights, and motivational posters. For those who are seeking advancement, you can try to copy famous Gouache Paintings such as Freshwater Pond by Ned Seidler and Marine Painting by Carl Evers or try painting portraits.
Many artists get art blocks as they go throughout their journey, so we are here to help you think of a nice and easy idea of what to paint using Gouache paint as a beginner. You could always use and look back on these Gouache paint ideas as a starting point for your future paintings.
Table of Contents
Essential Art Supplies to Paint with Gouache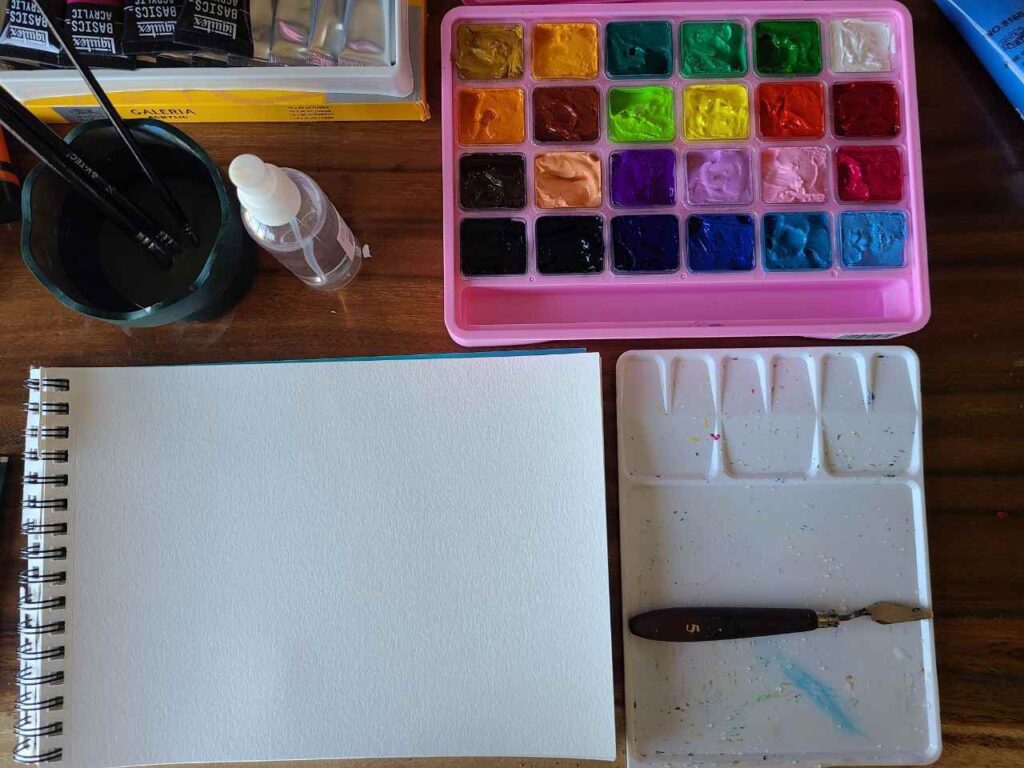 Before diving into the beautiful world of Gouache paint, make sure you have all the essential tools and supplies needed to get going. Gouache is a very forgiving medium and you can have fun creating art with just a few brushes and paints.
And because Gouache only needs minimal supplies, your tools may be different than when you use acrylic or watercolor paint as media.
gouache brush set (I recommend synthetic brushes)
water (in a jar and spray bottle)
paper towel
canvas or watercolour paper, other surfaces may work but the paper is the best for gouache
*palette knife (I use for mixing paint!)
Check also: Painting with Gouache for Beginners: 7-Step Ultimate Guide
Gouache Paints
Many artists refer to Gouache as "opaque watercolor" because it contains a pigment combined with a binding agent like watercolor. However, the medium's tint has a greater quantity and is paired with a solid pigment which feels closer to acrylic paint.
Choose your best one with my comprehensive guide: 15 Best Gouache Paint Sets in 2022 For Beginners and Pros
Brush
Beginners only need 3 brushes for painting; small, round, and broad (flat or filbert). They have total freedom over what they want to paint with different brush types.
Synthetic watercolor or acrylic brushes are highly recommended for gouache paint because of their soft texture. The fluidity gives the color a delicate stroke.
Always remember that you must clean it with water after painting with gouache. The substance that makes it opaque could potentially damage your brushes when it dries.
Pick your perfect brush set from my list of 19 Best Brushes for Gouache Reviewed by Artist [Ultimate Brush Guide]
Water
Water, dubbed the "universal solvent," could dissolve many substances, and Gouache paint is no exception. For gouache, water is essential to get the right consistency and also reactivate drying paint.
Gouache can also be cleaned easily with such little water. With just a little spray and a wipe, your mess is cleaned.
Painting surface
Gouache is so flexible you can use it on most surfaces and it works more like acrylic paint.
Artists can start with watercolor paper, an illustration board, or thick drawing paper. However, gouache doesn't work as well as acrylic on canvas in terms of creating textures or layering.
Paper Towels or Tissues
Clean towels or tissues can provide you with cleanliness in your workspace. They are used to wipe excess paint from the surface and canvas, dry your brush, or remove leftover paint.
It is distracting for some artists to have an unclean environment, so it is invaluable to have some towels or tissues on hand.
Palette
For palettes, it is recommended to use non-absorbent ones such as plastic or ceramic for easier cleaning since Gouache only needs water. People like using palettes with little wells if you will add water to paint.
I prefer flat palettes as I use very little water but I find it hard to get all paint out of the well haha 🙂
Paired with Other mediums
Gouache is independently tremendous but even better when combined with other painting mediums. Each combination shares its characteristics.
Watercolor is exceptionally compatible with Gouache, often used for highlights and eye-catching streaks in your painting. Many artists combine them for an appealing finish in their pieces.
It's not wrong to mix both mediums since only benefits will be provided for you when done.
Acrylic paint matches remarkably with Gouache, combining both characteristics into one painting. Dubbed acrylic gouache, it dries quickly and finishes with a matte touch.
However, it cannot be reanimated with water again, unlike Gouache itself.
Read also: Gouache Vs Acrylic: What's the Difference, and Which is Best for Beginners?
---
Gouache Painting Ideas for Beginners
Some artists get excited when they start to paint to the point they don't know what they want to try next, so we prepared a list for you to look at when you have no idea what to paint.
Technically gouache painting ideas are NO different from acrylic painting ideas and you can easily paint something others do with acrylics with your gouache paint.
The only exceptions would be the impasto technique, pouring, or oil imitation.
Learn more: 18 Gouache Painting Techniques You Should Try To Paint Like Pro
So for more ideas please dig in:
Each idea listed below is beginner-friendly and easy, even for inexperienced painters. If you want to know more about Gouache paint ideas, read more below:
Gouache landscapes
Artists can use Gouache paints to create striking landscapes, scenery, or skyline art.
It is recommended to use dreamy pastel colors for the sky for a more attractive look.
As you can see, you can spot the brushstrokes and you can tell that this is painted using water. Premix the colors for mountains and sky, wet you brush and do large stirdy strokes. You can later on use small round or flat brush to go over edges to make them clean and sharp.
---
Sky (Sunset or Sunrise)
This fantasy sunset or sunrise sky I painted with gouache on a small canvas pad in around 45 minutes.
Sometimes gouache dries a bit darker, so don't be afraid to test and experiment on a separate piece of paper with colors.
I only used blue, pink, yellow, and white to make this and it looks lovely! (At least I think so)
Sky paintings also introduce you to blending as you need to paint smooth transitions between colors and there are actually a few approaches to it that artists use both for acrylics and gouache, but I should say blending with gouache is much easier than with acrylic!
One of my tutorials also shows how to paint an easy night sky painting like this:
---
Bubbles
Easy to paint but good to learn more about transparent objects and how they actually hold so much colors in them and you need to work with reflections.
---
Motivational posters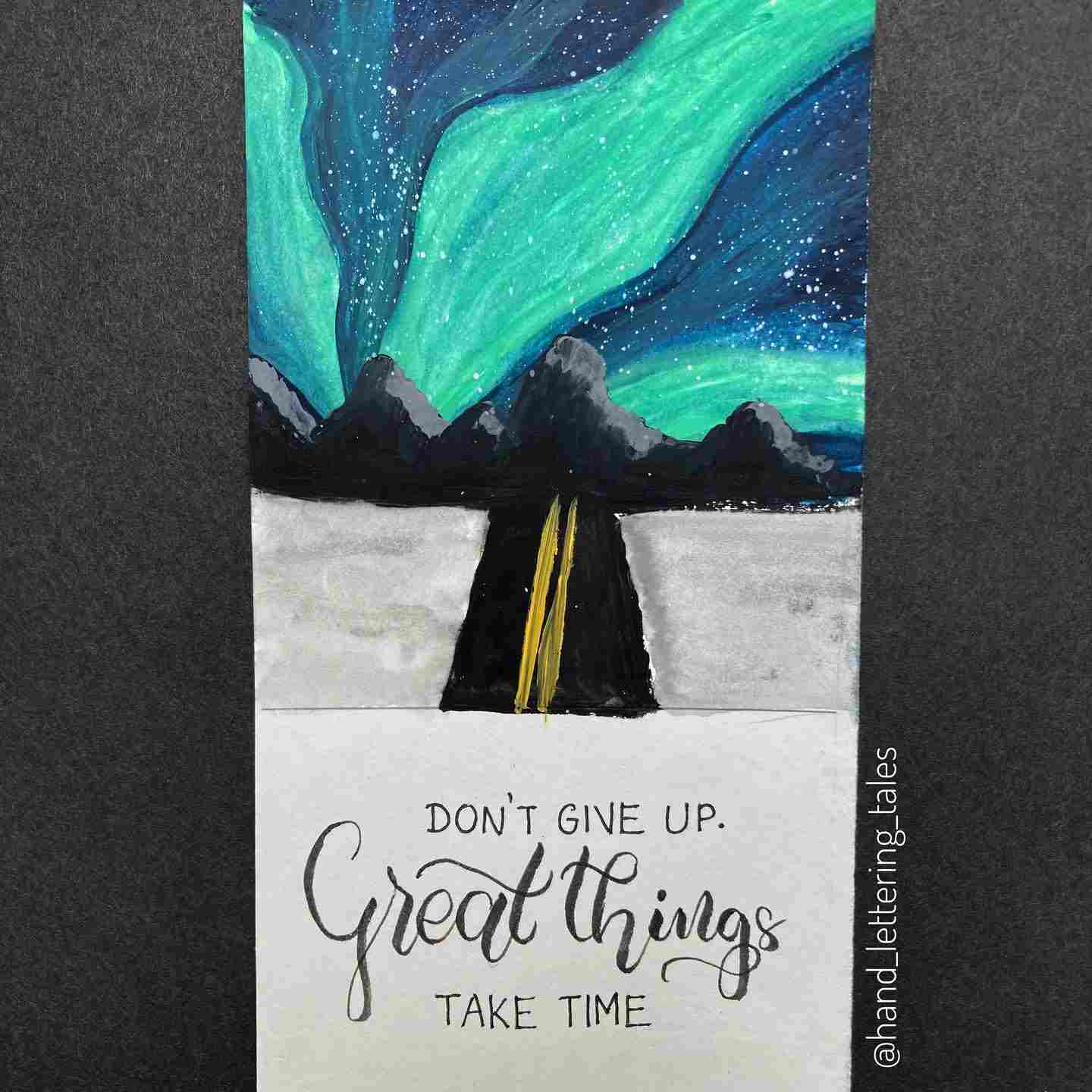 Colors tend to attract more viewers than the actual painting, so creating a motivational poster with a lovely quote would engage them to read because of the soft colors and draw your attention daily to positive reminders.
Use color wheel to decide what colors match or compliment each other or make rainbow 🙂
For letters use markers.
---
Silhouettes
Painting a silhouette is one of the easiest options to do with any medium, including gouache. It looks very creative but saves you the headache of painting details, especially if we talk portraits or drawing humans 🙂
An excellent example: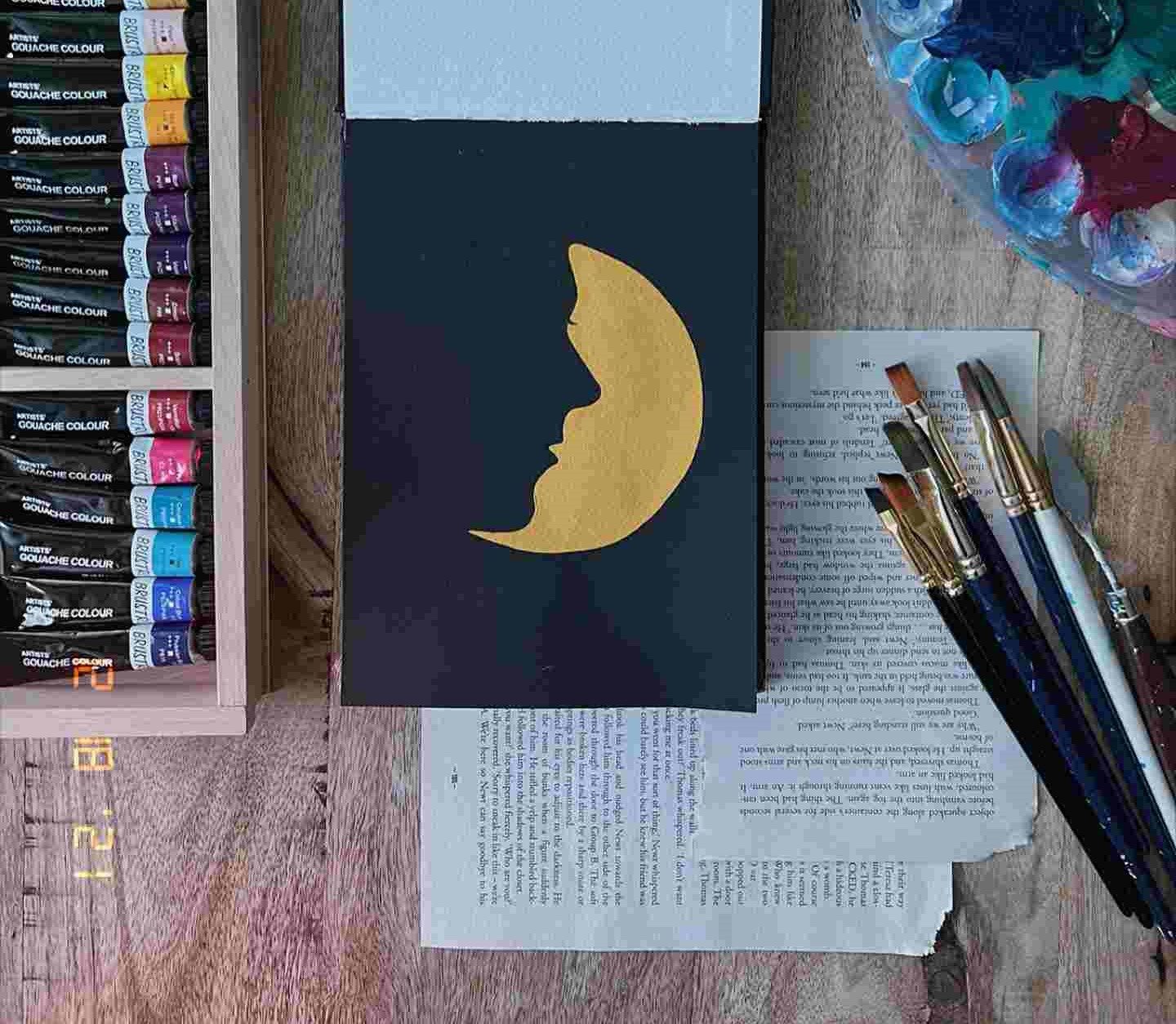 ---
Starry night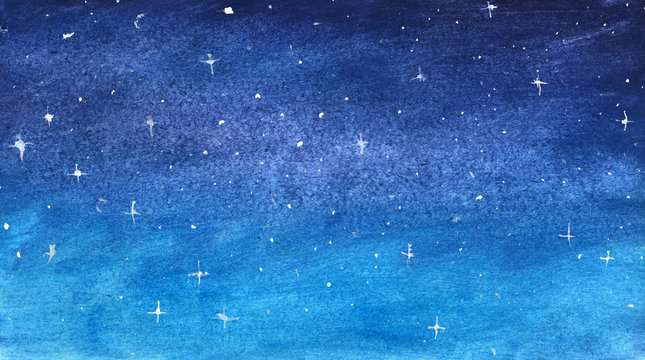 Most of us love starry night skies, and painting with Gouache would make it more dreamy and peaceful. Nothing could be more aesthetically pleasing than the dark blue skies and purple clouds.
Painting the night sky is easier than it looks but you may need some blending skills that are universal to gouache and acrylics.
Prepare blue colors and purple or violet and apply them from top to bottom of your paper. Blend in between to make nice transitions.
Add stars by using white paint on a toothbrush or paintbrush and splattering the paint or diligently paint each one of them 🙂
Looking for tutorials? Check these 22 Easy Night Sky Painting Tutorials (Acrylic, Watercolor, Poster Paint, Gouache)
---
Cloudy skies
Many people love the scenery of cloudy skies, flowers, and stars as they gaze through an artist's painting. If other people love your work, you may be able to sell some of your pieces.
Give your painting a field of depth with skies dominating most of the canvas but leave little space on the bottom for the little landscape to catch the viewer's eye.
Looking for more tutorials? Check these How To Paint Stormy Sky 20 Great Tutorials For All Levels
---
Still life paintings
Still life depicts inanimate objects, and some people prefer them over other forms of art. The peaceful and minimalistic aura it gives is enough to soothe and calm one's mind.
Experiment with color palettes and check what's best for you and your painting; no pressure. Still life paintings are best when enjoyed while creating.
---
Self-portrait
Experiment with a graphical style, and eventually, you will learn how to paint yourself; practice makes perfect.
Several illustrators from YouTube or their blogs will guide you through the process of painting your very own self-portrait. It requires more patience and skills but the results are truly rewarding.
---
Butterflies
One of the most beautiful creatures – butterflies are great painting idea as you can easily fantasize about colors of the wings and shapes. Or you can stick to real butterflies and use a photo as a reference.
A creative example: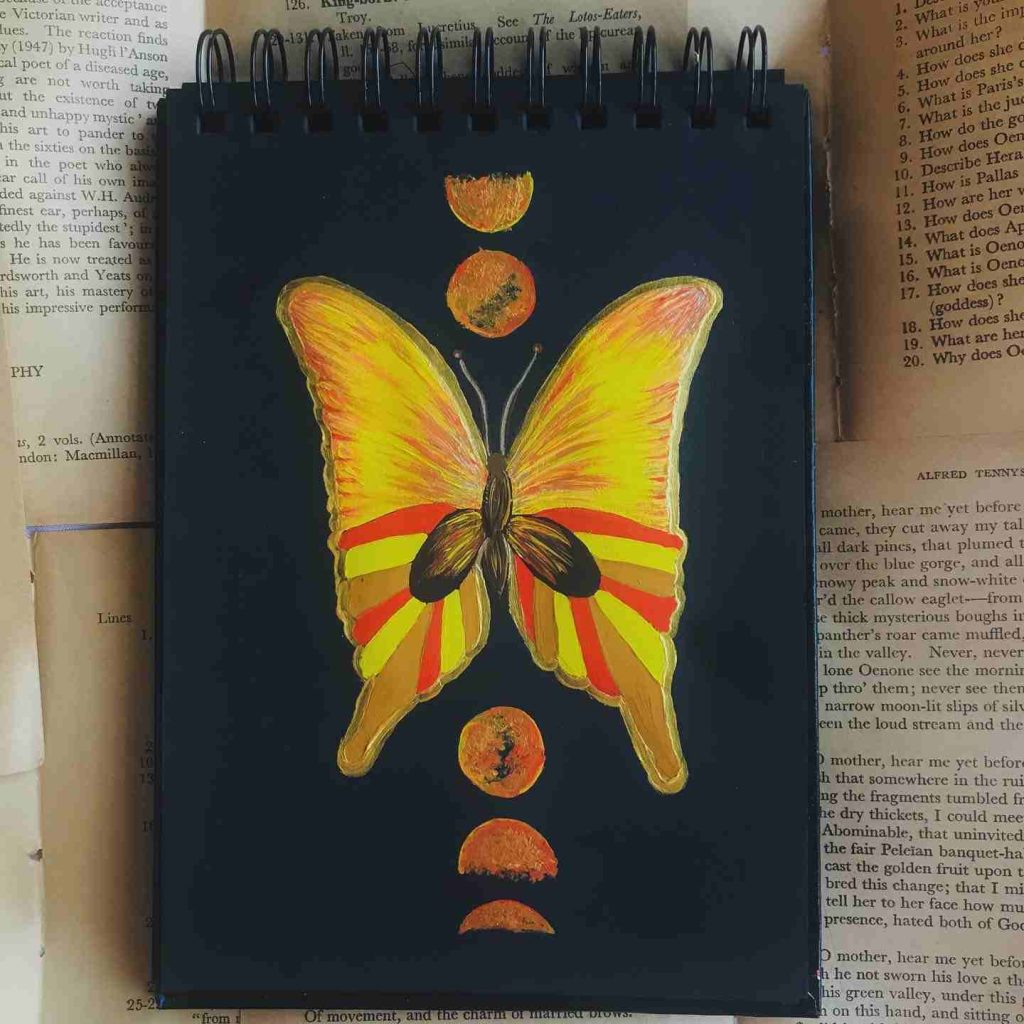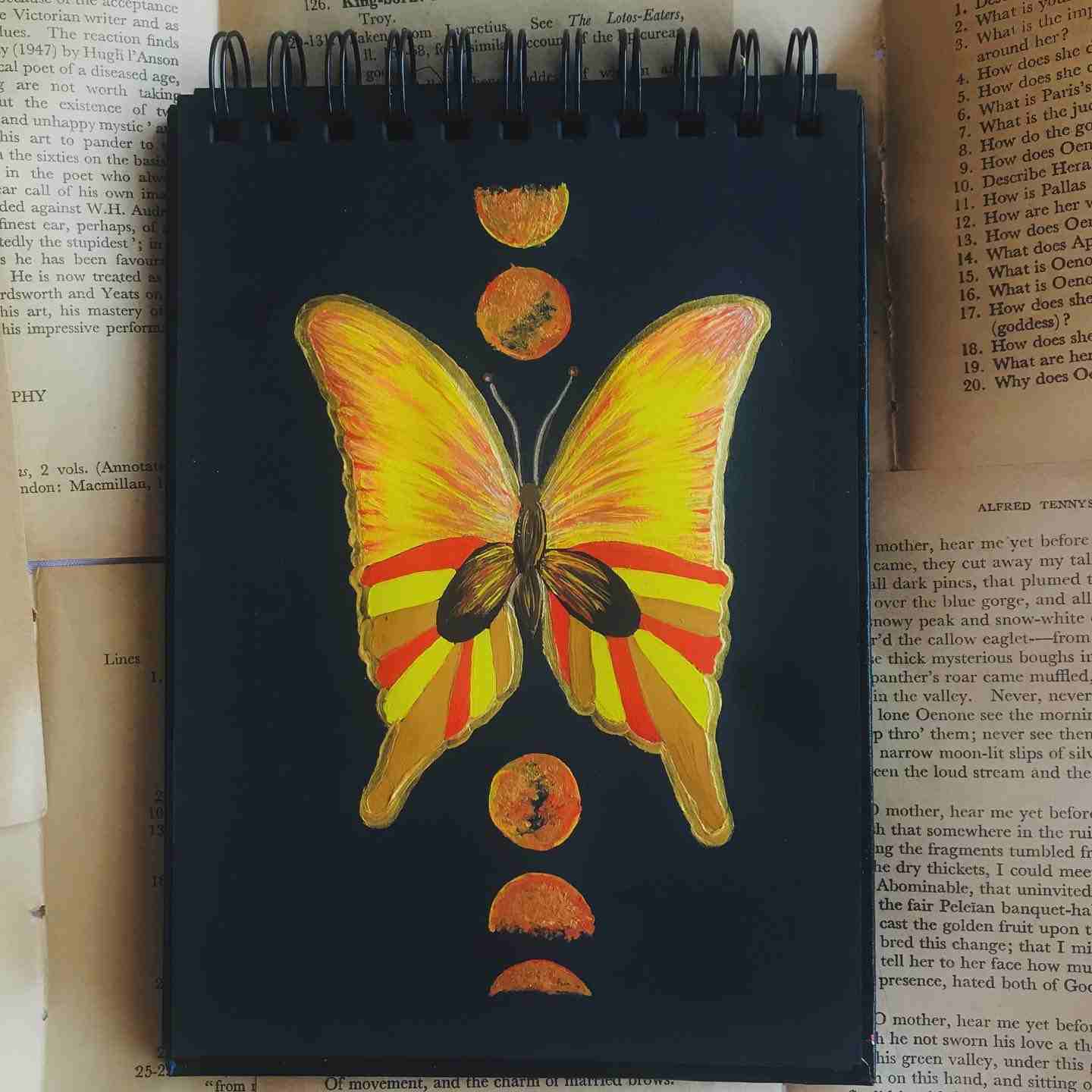 ---
Field of flowers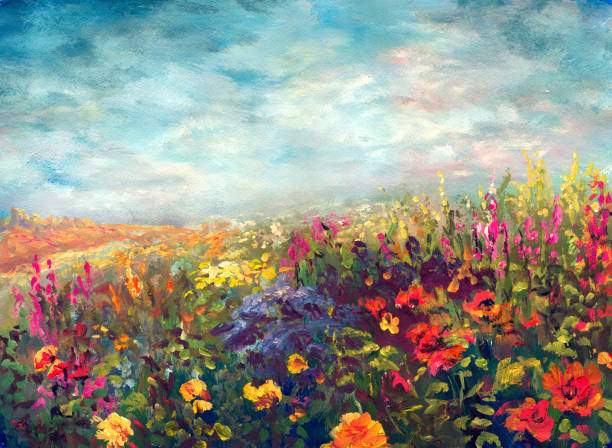 Fields of flowers are engaging for most people, imagine driving down a straight road and you pass by a lot of beautiful, colorful flowers. That's the feeling when you look at Gouache paintings.
YouTube tutorials are available throughout, and they can guide you step-by-step on how to make an easy yet striking field of flowers as a painting.
---
Plants (including potted plants)
A great and simple gouache painting idea for home decor is to paint a plant in a pot, a succulent, a flower, a small palm, a ficus – anything!
Choose a smaller canvas or pad and buy a frame – done! You have I DIY home decor or a gift 🙂
---
Gouache Foliage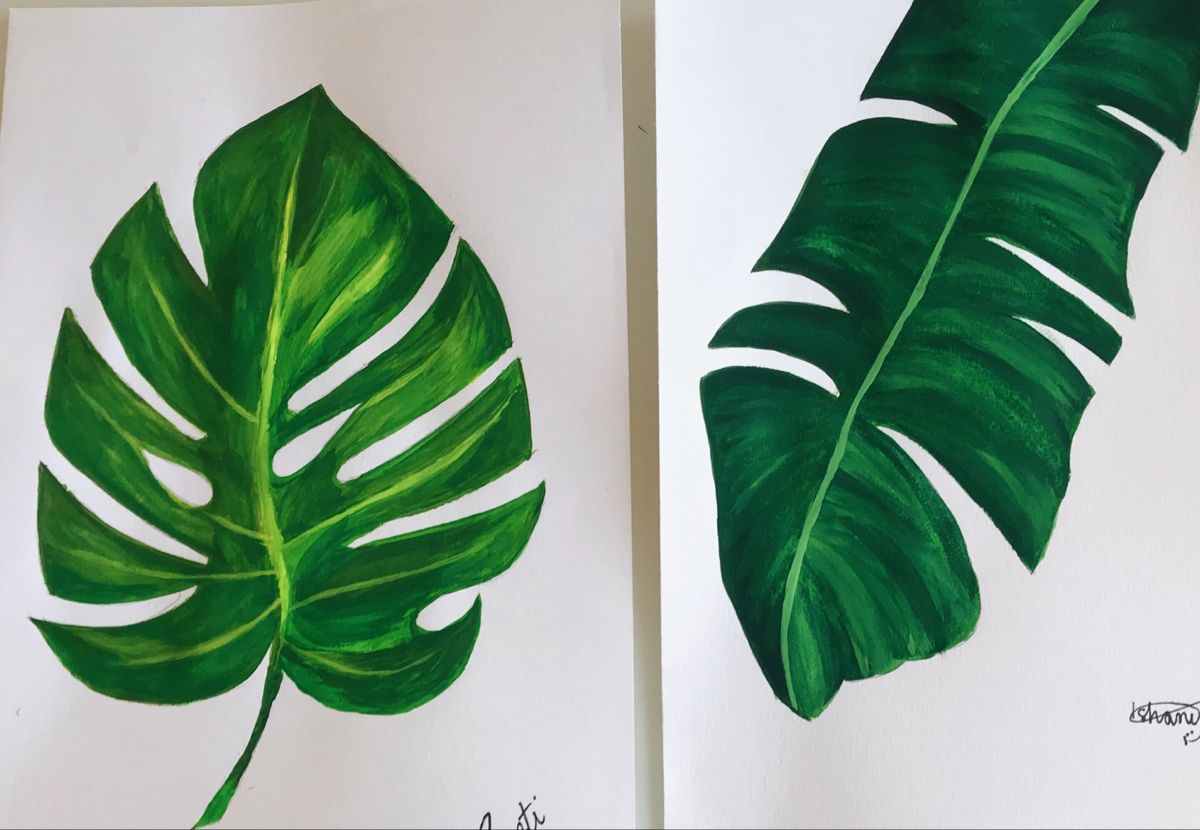 Many artists use foliage as a starting point for their painting hobby or career. Professionals can also use it in all kinds of Gouache art as a part of detail.
Googling can find tutorials and step-by-step procedures, and they will help beginners improve their art style and techniques for painting.
---
Midwinter Botanicals
The gorgeous appearance of midwinter plants such as pinecones is majestic. Seeing them already gives many people Christmas feels and even gets them excited.
Get the Christmas feels and paint midwinter botanicals, which are very friendly for beginners. If you know the basics of Gouache, it will be easy for you to paint such simple things.
---
Illustrative Landscapes
One does not have to use realistic colors when painting landscapes; you can use other fun colors in nature to depict the abstract quality of your masterpiece.
You can check out and explore different palettes to use and enjoy while painting your illustrative landscapes, skylines, or sceneries. It is up to you.
---
City
Landscapes, cities, food, and portraits can be styled as illustrations, like this:
---
Seamless Patterns with Gouache
Seamless patterns are highly flexible on any surface because they create interest in texture and flow. This method has been used for some time in fashion, product and package design, and it is swiftly gaining traction in other fields, especially graphic and online design. You can customize a postcard for your friends!
Gouache works particularly well for laying down thick, saturated washes of color and that's why more and more artists prefer it to acrylic for illustrations.
---
Flowers
Spring-themed gouache paintings often include flowers. Daisies, peonies, and violets are quite easy to paint!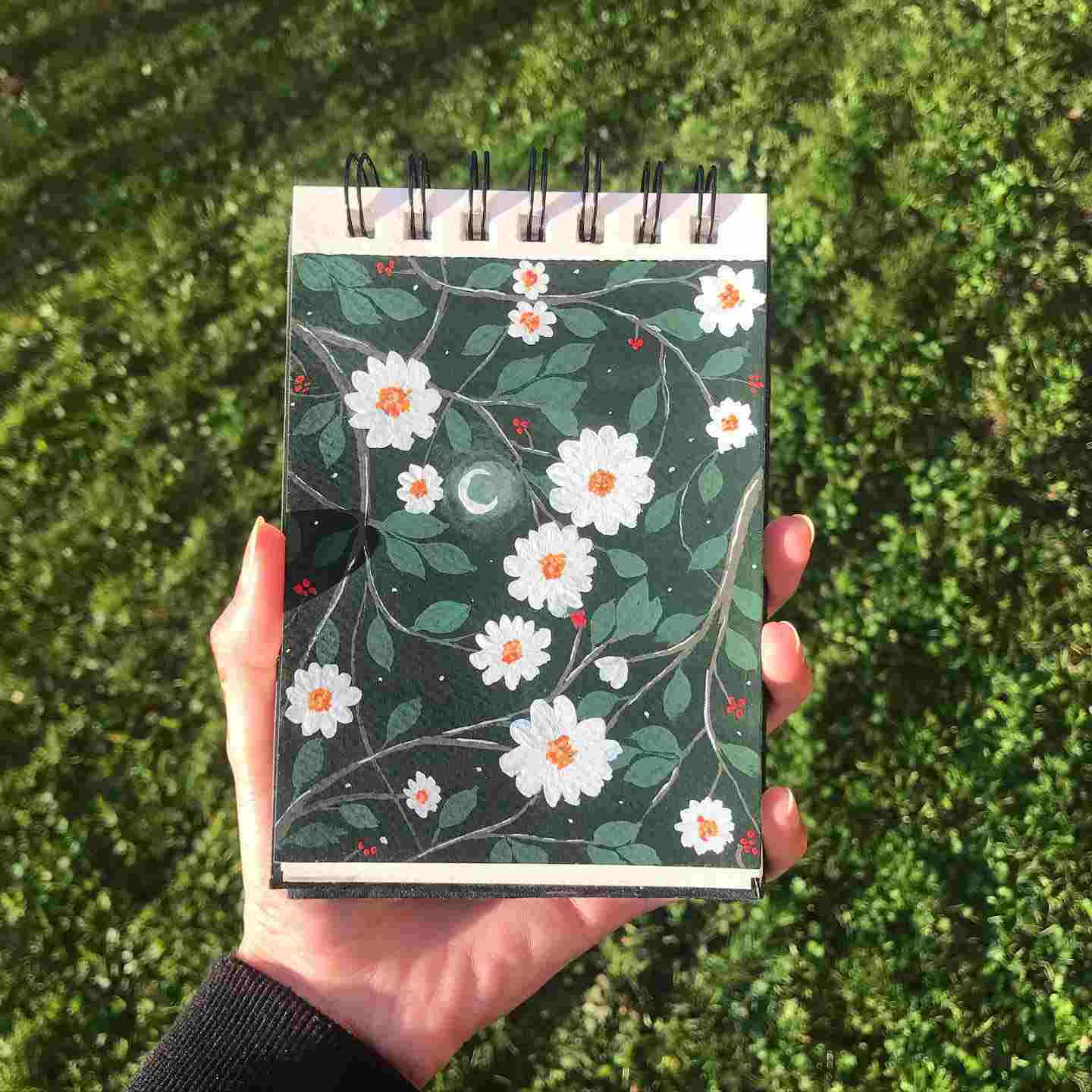 Looking for more tutorials to paint flowers? Check these How to Paint Peony 23 Beautiful Tutorials (Oil, Acrylic, Watercolor, Gouache)
---
Storefront Paintings
When you look at storefronts from an artist's perspective, they almost feel like individual "characters". If you observe them closely, storefronts have many interesting details, from the structure itself to its decorations. These nuances are what shape a storefront's identity – ideal for artwork. They often have Asian vibes but you can create Mediterranean storefronts easily!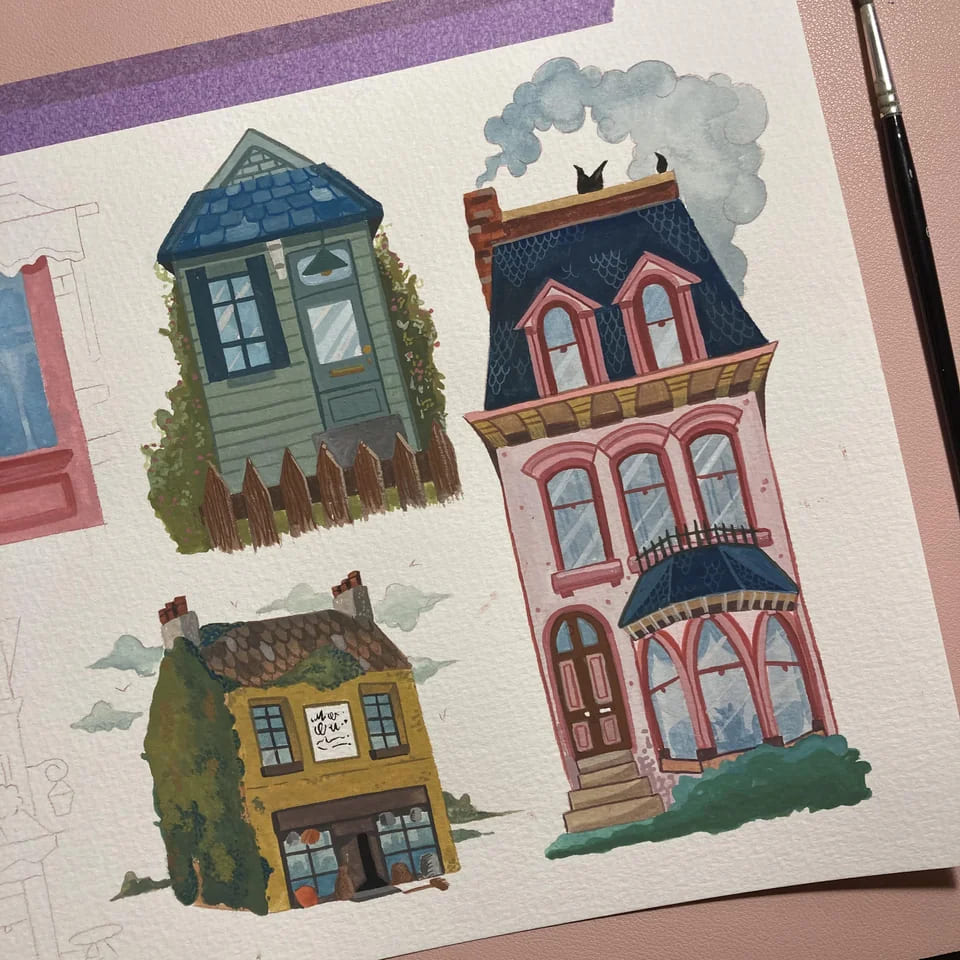 Storefronts are generally made up of flat surfaces and bold colors, with gouache, you can easily lay consistent, vibrant colors down, making it one of the perfect mediums to use for this kind of artwork.
Check out Mateusz Urbanowicz's Tokyo Storefront series on YouTube for inspiration:
---
Anime Style Portraits
If you are an anime fan this one is for you!
Gouache is an amazing medium for stylistic drawings. If you're stuck in a rut, you can try to reimagine people's portraits in the style of an anime character, or your own approach to anime.
There are many ways to paint anime-style with gouache. For beginners, you can watch Rinspirit_art's process on their anime-style portrait of Joshua from the popular now k-pop group Seventeen:
---
Fanart
Fan art provides an outlet for fans to express their love or continue their immersion in their favorite shows and characters outside the canon of the original media. Thanks to fan art, artists can establish meaningful relationships with other people within the same fandom community.
You've probably already seen a ton of fan art of animated characters if you've spent a lot of time on social media. If you want to choose a stylistic approach in your artwork, you can emulate the vibrant, cell-shaded rendering approach commonly found in digital artworks using gouache paints. Artist Sara Fabrizi on YouTube gives a great example for this approach. 🌷 Paint with me // ft. Arteza Gouache 💗
---
Anime Screenshot Redraw
I don't know about you but when I was a little girl I looooved Sailor Moon even though I understood like 30% of what I saw and my mom was completely against me watching this cartoon haha, but back to our painting lessons – you can paint your fav character with gouache!
hard to balance anime style with detail/realism but this was fun! #sailormoonredrawchallenge #sailormoonredraw pic.twitter.com/zB7cVI1ety

— yue (@yueko__) May 19, 2020
This trend took over the art community by storm in 2020, if you spent enough time on Twitter, you might remember the popular "Sailor Moon Redraw Challenge" in which artists from all over the world participated in this trend and made their own take of the chosen Sailor Moon screenshot. While this kind of art is not news, it has reached the online mainstream, giving a resurgence to other screenshot challenges in the following years.
If you're experiencing art block, you can participate in recent or old challenges to warm up. Obviously, joining isn't necessary, you can always pick your own screenshots from your favorite shows (whether it is animated or live-action), recreate them in your style, and perhaps, make your own redraw challenge from that.
---
Ghibli Scene Recreation
Level: Advanced
Following the popularity of the Sailor Moon challenge, another viral trend has sailed the art community. Twitter user Kadeart challenged artists to reimagine Studio Ghibli's iconic scenes in their own art style. Studio Ghibli is home to successful animated movies in the industry such as "My Neighbor Totoro", "Howl's Moving Castle", and "Spirited Away", becoming certified childhood classics for many because of their whimsical themes. You can view the artists' entries under the hashtag "#GhibliRedraw".
This is another fun way to practice your gouache painting skills. Artist YouTuber Jenny Xia uploaded the layering process of their redraw of a scene in Kiki's Delivery Service, and you can really see how Ghibli's vibrant scenes can be beautifully recreated with gouache.
One more gouache painting from a Ghibli movie by u/umbrella_artist on Reddit: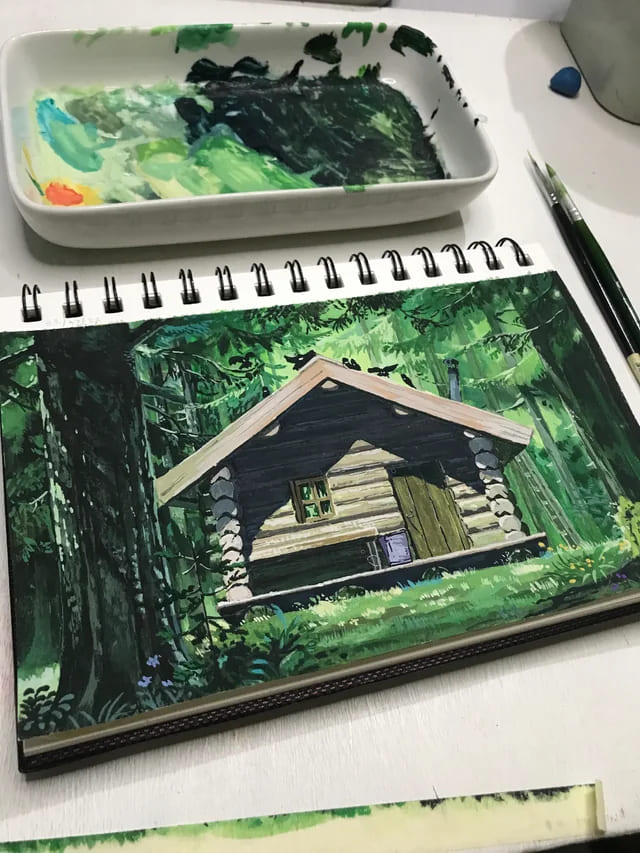 ---
Travel Journals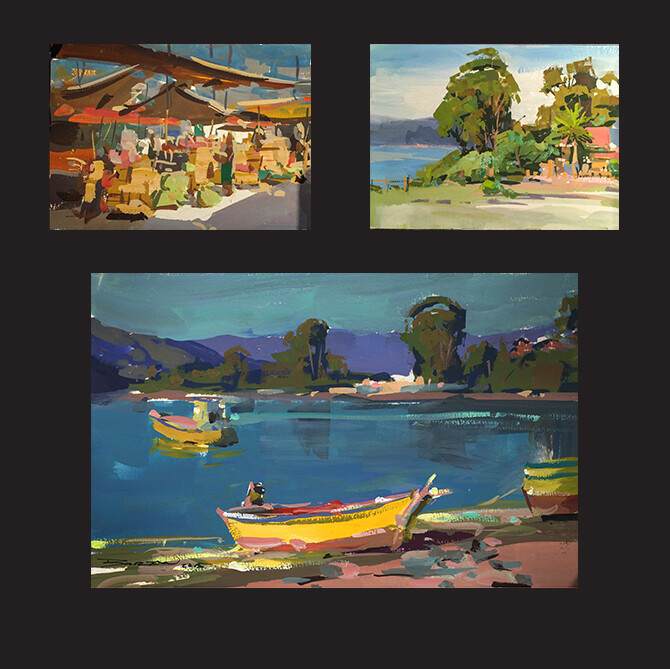 Keeping a travel journal is a way for artists to express their creativity while documenting their travel experiences. Bring your own unique aesthetic or create one as you explore various creative techniques. You will most likely need a travel gouache paint set and a travel brush that are compact.
Of course, you don't have to limit your paintings to landscapes. You can bring life to your own travel journals by illustrating food (food illustrations are, personally, my favourite gouache painting ideas), statues, ornaments, structures, etc. I really love doors in some European old cities. Here is a great example by a fellow artist: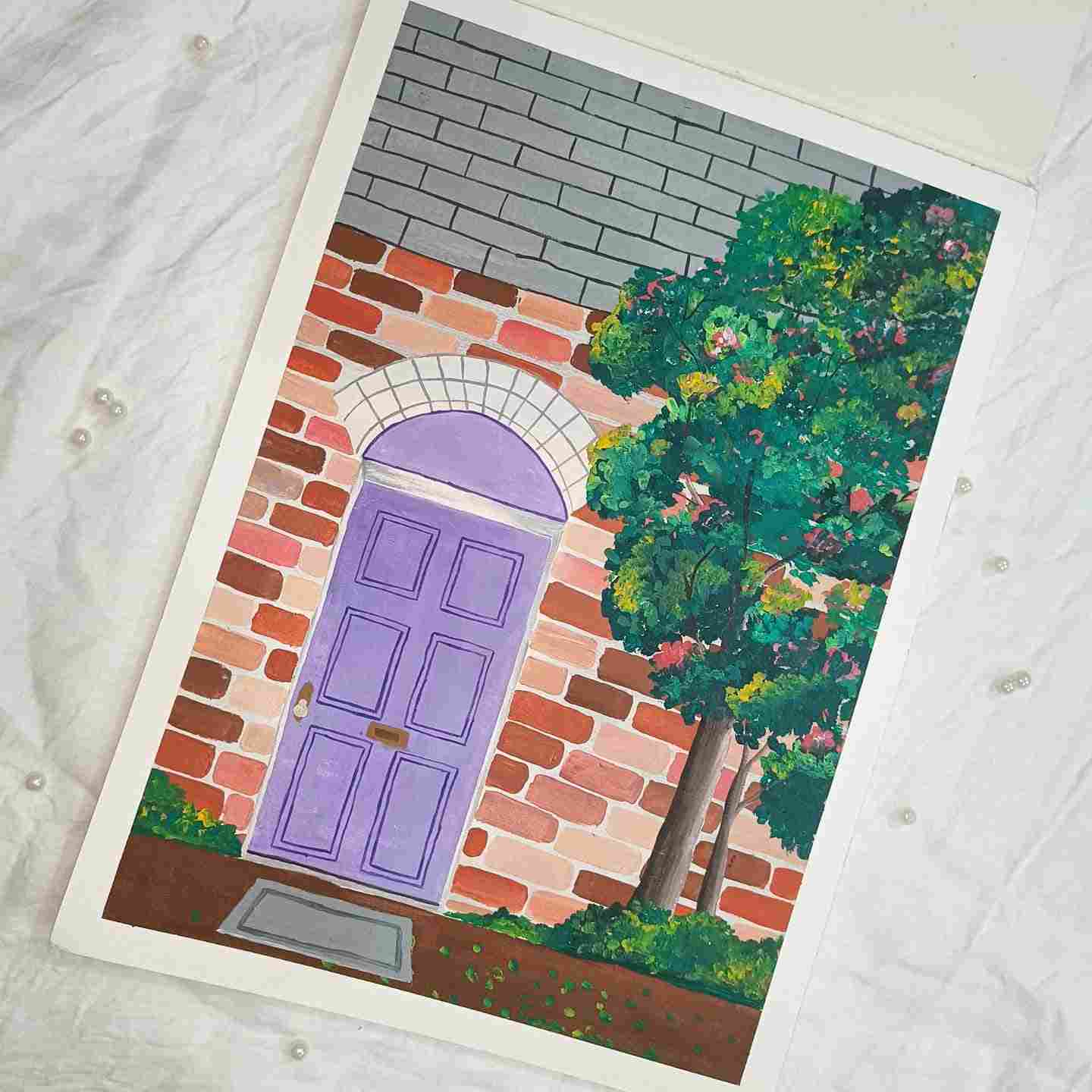 ---
Food Illustrations
Food Illustrations are an individual's creative visual interpretations of any food or drink. If you're a food enthusiast, you also give yourself exposure to learning about dishes you haven't seen before by researching other cultural dishes.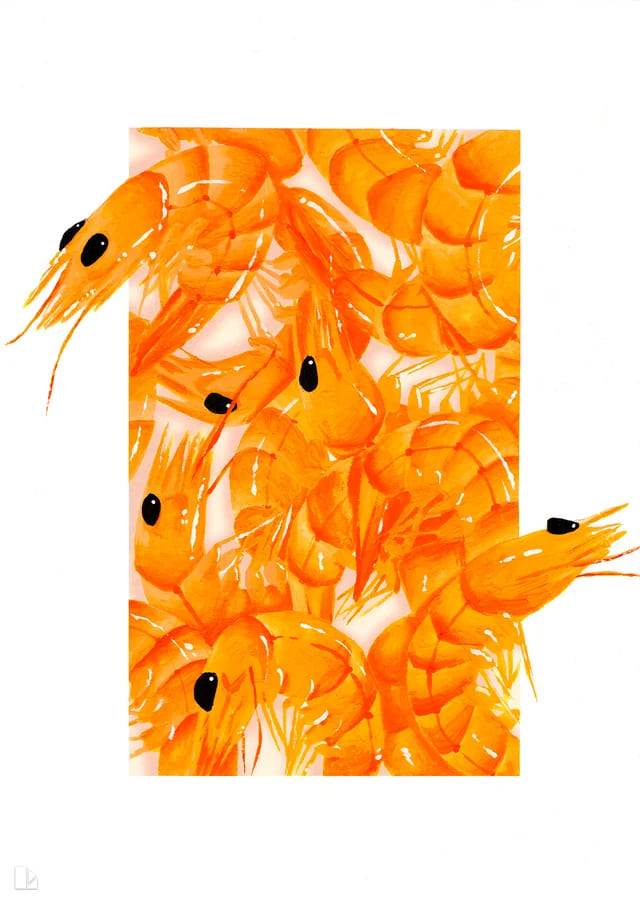 These types of illustrations make the dish more enticing to look at, by enhancing the qualities of a dish with graphically appealing elements. Gouache paints are perfect for food illustrations because you can depict dishes opaque and saturated, making them even more attractive to look at. Artists can learn a lot by drawing different types of food, the subject may be simple, but you have to play around with interesting shape languages to achieve an even more appetizing illustration.
---
Master Studies
Learning from the Master is part of an artist's journey. By recreating a painting of an experienced artist, you will learn to discern their artistic process and learn new techniques along the way.
If you're using gouache for the exercise, pay closer attention to the shape language and values of the painting. Since one of the downsides of using gouache is its interaction with water, you need to challenge yourself to recreate them with gouache techniques and layering.
---
Limited Palette Challenge
In limited palette challenges, you either make your own artwork or copy from a reference and limit your color choices between a few swatches of different values belonging to the same color harmony. The purpose of this challenge is to improve the artist's perception of values and actually explore colors and color mixing.
Since you'll be dealing with a lot of bold, flat washes of colors, you'll have an easier time doing this challenge with gouache. You just have to identify which shade is appropriate to use.
---
Animal Stickers with Gouache
Everyone's got their own favorite animal, and some would even love to have a sticker of them displayed on their journal, phone, or laptop. So here's a fun DIY project for yourself or for a business: animal stickers!
As said before, gouache paints have the qualities of being flat and opaque, which makes them ideal for scanning. If you enjoy painting traditionally and want to make stickers or prints out of them, using gouache is a great option.
---
Gouache Plein Air Painting
This is my 1st plein air painting with gouache.
It was too hard to paint for me… pic.twitter.com/zpIw3czXM6

— YoichiNishikawa/西川洋一 (@YohIchi_N) March 31, 2019
To paint "en plein air," a French word meaning "in the open air," means to paint outside, with the landscape within the artist's plain sight. It is through the use of natural light, color, and movement that plein air painters are able to capture the essence of a scene or subject.
Any medium is fine for painting outdoors, but gouache is a wonderful choice because it is water-soluble and dries quickly. You can watch some useful tutorials from James Gurney, who has made a lot of plein-air paintings using gouache.
---
The ideas listed above are some of the simplest yet most fabulous painting ideas you could try, but remember to enjoy every single bit of your Gouache painting experience so you can be motivated in the future.
When you finished your masterpiece you can protect the paint from fading and UV by simply varnishing it just like acrylic painting but this is completely optional. You can skip varnishing if you are not sure how to do it and your painting will be just fine 🙂
When an artist paints, they should cherish every stroke they make and every mix they do in the palette they hold, and it's a gift to have such a talent.
We are hoping for the best in your future art pieces, as we may have helped you think of a good idea to start your painting with. Many famous artists would also use ideas from someone else, so don't be ashamed.
Looking to upskill? Check these 23 Top Gouache Painting Tips & Secrets From Pros
---
Most Famous Gouache Paintings
Though Gouache is infamous for being similar to watercolor, reputable painters still used Gouache as their primary medium and iconic paintings were used with Gouache.
Gouache may be similar to watercolor, but some artists prefer it over others. There's no loss, and we understand because Gouache is very worth it, even for beginners.
Many artists used gouache for painting, illustration, and drawings such as Francois Boucher, Jacob Lawrence, Stuart Davis, Paul Klee, Picasso, Pissarro, Henri Matisse, Mary Cassatt, Edward Hopper, Édouard Vuillard, Coby Whitmore, and many others.
The Birth and Triumph of Venus, François Boucher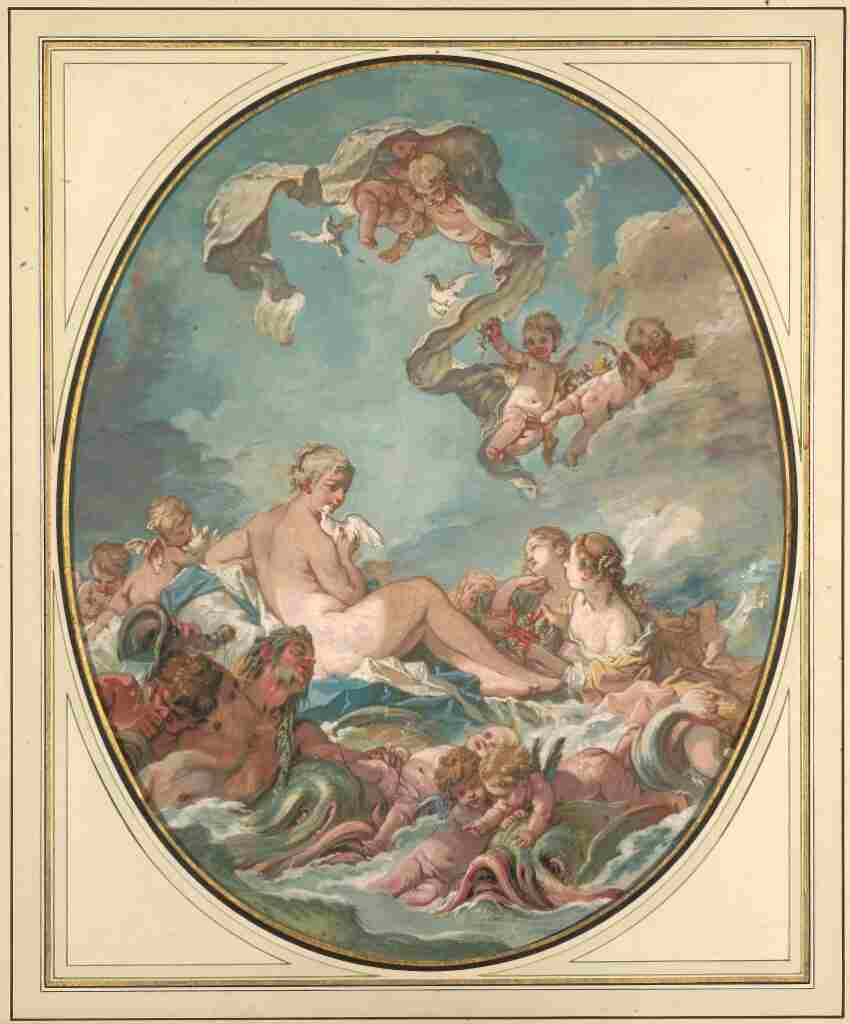 ---
Moonlit Landscape, 1892
William Trost Richards (born 1833, died 1905) is an American landscape painter who often painted small works on tone paper. He was equally competent in oil.
His masterpiece, Moonlit Landscape, which Richards painted technique in 1892, shows the majestic gouache output when finished. The night sky and the moonlit landscape offer the midnight scenery of his dreams.
The painting perceives Richards' medium and portrays his abilities in their prime as a watercolorist. He used delicate hues to capture the effects of light and mood on the landscape of this painting.
Watercolor was not only Richards' medium but also oil paint. In the late 1860s, Richards started his most prosperous period in art, specifically watercolor production.
---
Freshwater Pond Life, ca. 1970
Ned M. Seidler (died 2007) was a natural history illustrator for National Geographic and other services in the 1970s. His works typically comprised ecosystems compressed in one scenario.
Seidler is a respected staff member in National Geographic even after leaving in 1967. His graphic illustrations are of natural scientific phenomena and others that brought attention to magazines until he retired.
---
Marine Painting, ca. 1950s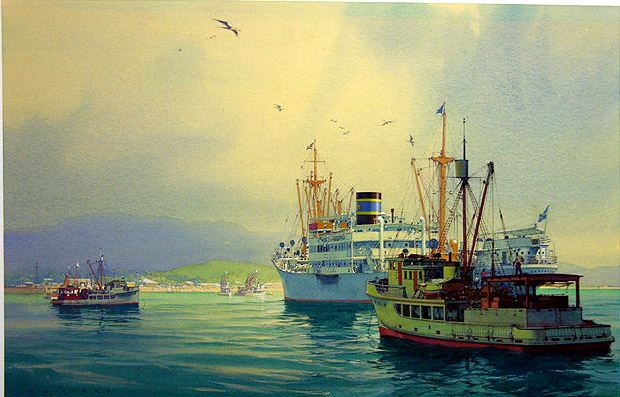 Carl Evers (born 1907, died 2000) was a contemporary painter specializing in maritime painting. He used watercolor and Gouache as his media in painting the favorite scenarios we see today.
Evers was born in Dortmund, Germany, and studied in London before migrating to the United States in 1947. He painted several Marine scenes published in many books, boosted his career, and received awards.
---
Memphis Belle, ca. 1940s
Jack Leynnwood (born 1921, died 1999) was dubbed the Rembrandt of Revell plastic model boxes. Leynnwood was a teacher that taught Gouache painting during off-campus seminars.
Leynnwood is responsible for the fantasy of aircraft and vehicles that made children lust for kit after kit. Not only it made them buy the model itself, but also for the illustration.
---
Man with Arms Crossed, 1909
Pablo Picasso (born 1881, died 1973) was an influential artist in the 20th century. Picasso's pieces inspired many artists today with his art styles, techniques, and ideas.
Picasso is responsible for many art designs we see today, such as the collage and constructed sculpture. He helped explore the art world with various designs and ideas.
Picasso's death engaged the critical community to prefigure the Neo-Expressionism era of art. Before his death, he became more daring, and his works were colorful and full of expressions.
---
The Adoration of the Shepherds, ca. 1740-70
François Boucher (born 1703, died 1770) was a French painter specializing in Rococo-style painting. The painting above is one of only three surviving Gouache paintings.
The composition is very similar to a previous piece he commissioned. Historians considered that this Gouache was a preparatory study for the commissioned work.
---
The Scarlet Sunset, ca. 1830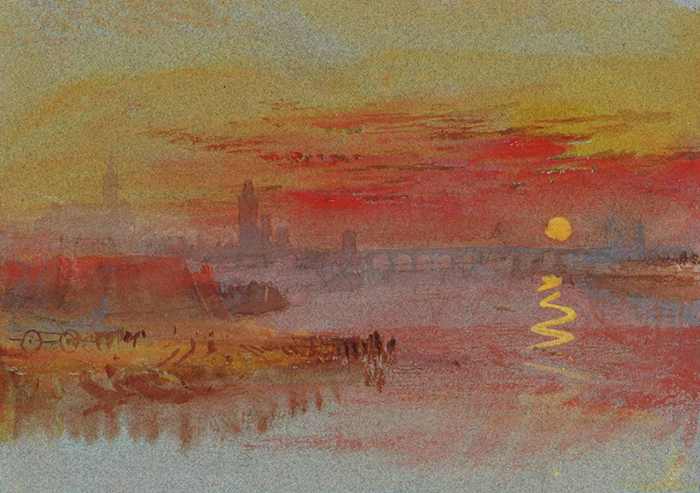 Joseph Mallord William Turner (born 1775, died 1851), known better as William Turner, was a watercolorist and other media he practiced during his lifetime.
As a child, Turner's talent was recognized by many. His financial independence allowed him to thrive freely. Writers featured his works in several books and learning materials.
---
Pissarro, Two Women in a Garden
Camille Pissarro (born 1830, died 1903) was an Impressionist and Neo-Impressionist artist starting in the 1880s. He established a collective group during his prime.
During his career, he shifted from impressionist landscape painting to compositions constructed with small, coma-like strokes that described scenarios of a peasant where his insights were doing something.
For instance, after all the years of his career, he painted many gouache pieces of female figures and cowkeepers depicted in several postures against sophisticated landscapes.
His other work – Fan Mount: The Cabbage Gatherers – is another gouache on silk painting.
---
Birds Nest in Cattails, ca. 1875
Fidelia Bridges (born 1834, died 1923) was an American painter best known for her still-life paintings depicting flowers, birds, and plants near her summer home under extreme illustration detail.
Bridges' mentor was William Trost Richards, so she would also have a background in Gouache painting. She was notably one of the only women in her time to enjoy a career.
Her works were recognized in her botanical studies, and her balanced composition accurately depicts plants and the cycle of life.
---
Henri Matisse and his Cut-outs
Matisse introduced the world to his cut-outs – paintings when he used just white paper and gouache. He would color a piece of paper, then he would pull out a pair of scissors and cut shapes that he will adjust to the white paper, thus the name of his creations.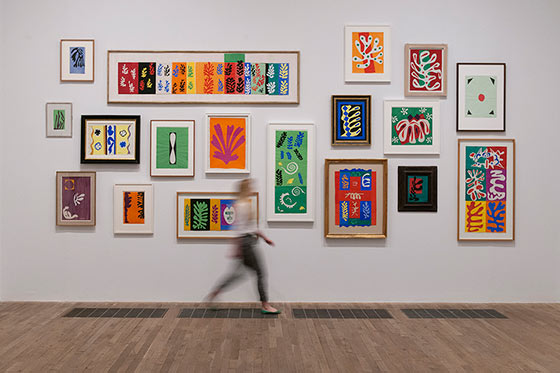 ---
Illustrations by Coby Whitmore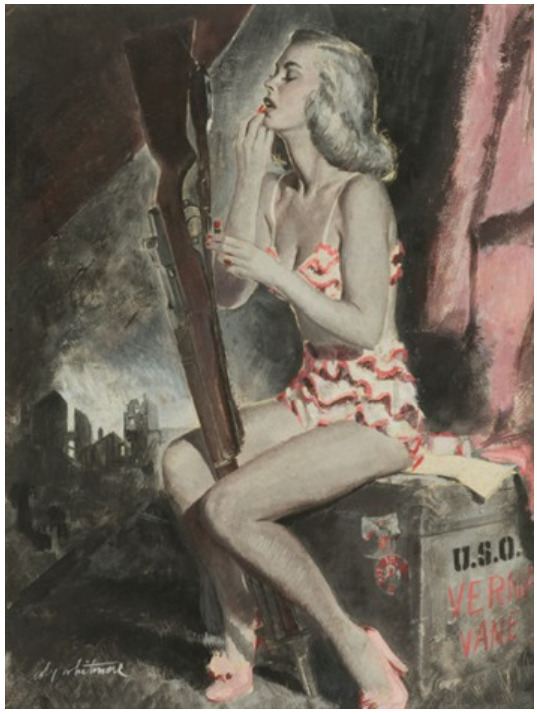 Coby Whitmore worked with mixed media on paper, canvas, and boards and mainly created illustrations of the post-WWII era and his favorite topic was man-woman relationships.
---
Edith Schiele in Striped Dress, Sitting, 1915
Egon Schiele (born 1890, died 1918) was an Expressionist that created portraits with exaggerated or distorted proportions. During the last years of his life, he was very interested in Gouache paintings and drawings.
Over the years, he practiced painting in oil, watercolor, and several Gouache paintings of his beloved wife, Edith, with several exaggerated paintings of explicit depictions.
---
Albert Beck Wenzell's Monochromatic Gouache Illustrations
Albert Beck Wenzell (born 1864, died 1917) was an illustrator best known for his female figures and landscapes. He typically painted Gouache pieces in black and white on a warm-toned board.
Wenzell not only specialized in Gouache but also in oil painting, in which he also had several masterpieces. His works are notable in the society of illustrators, and he heavily influenced many artists today.
---
Celestial Eyes, Francis Cugat, Gouache Painting, 1924
Make sure you spot that the reflection in the eyes are naked figures 🙂
---
Architectural Capriccio with a Monumental Arch, Jean Nicolas Servandoni
Do you think only illustrations are possible or portraits? Look at this majestic architectural painting of an incredible scale and detalization – it was created with gouache in the 18th century!
Servandoni was trained in Italy and you can clearly see the Italian influence.
---
Now that you've discovered some of the most famous Gouache paintings, you can realize that Gouache combines the best characteristics of each medium; that's why it's beginner-friendly and professional at the same time.
During the 17th, 18th, and 19th centuries, Gouache was frequently used worldwide to create the most elegant paintings of the time. The artists represent the beauty and mystery of the mind.
Remember to be constantly inspired, don't let yourself down, and be motivated all the time to reach your desired career in your life.
---
FAQ
After learning some essential information, you may have some questions in your mind. We provided a brief list below that boggles the mind of several aspiring Gouache artists.
Gouache is an excellent medium to practice, and artists recommend mixing it with other media, such as acrylic paint and watercolor, to create hybrid mixtures and different paints and characteristics.
If you wish to know more about Gouache paint, fundamental questions are provided, and you are encouraged to read more below:
What can you paint on with Gouache?
Gouache is a medium very similar to watercolor and acrylic, so you can paint most things with it. In some situations, you can even combine mediums such as Gouache and acrylic to create a hybrid mixture of paint.
Landscapes, portraits, easy drawings, watercolor-like washes, skies, animals, kids' paintings – everything is possible with gouache. Gouache is commonly for mini canvas and paper paintings of landscapes and illustrations, especially with limited and pastel palettes.
Is painting with Gouache easy?
If you are used to watercolor and acrylic, it is easy to paint with Gouache. Many artists started with watercolor or acrylic as their primary medium, so it is doubtful any problems would come to you when using Gouache.
Gouache is easy to get along with; it's like making friends or riding a bicycle. Once you get used to it, you can do it repetitively. Don't be afraid to use Gouache; it is beginner-friendly and easy to clean.
How to paint with Gouache?
Gouache could be a fantastic alternate medium to watercolor or acrylic if you don't have any; painting with Gouache does not require any foreplanning, unlike watercolor, and it could be reanimated just by a bit of water.
When making a mistake, a simple splash of water could fix it, and a little cover to remove the mess created by Gouache. Many artists mix two media into one to give the painting an elegant and sophisticated finish.
With this, let us help you start painting with Gouache using these seven easy steps you can paint like a pro:
1. Set up your workspace and art materials
Of course, before starting, it is essential to ensure that your art materials and workspace are set up.
As mentioned above, painting with Gouache will require you to have the following materials:
Paintbrush/es
Surface/Medium
Water
Mixing Palette
Painting with Gouache is now easy and convenient when you have already completed these materials.
2. Add Gouache Paint to the palette and plan your colors
Determine the Gouache Paint you will use and squeeze a small amount of each paint into the mixing palette.
Then, you may now mix and match the color palette of your artwork.
Be mindful of squeezing out the colors you will be using, and do not add the ones not needed in your work to avoid wasting gouache paints.
3. Add Water/Gum Arabic if necessary
Since Gouache Paint is water-based paint, you may add water to colors that are needed to be light.
Furthermore, you may add a little gum Arabic to your paint to bind it well, so it won't be wiped away when the water evaporates.
4. Outline your artwork
After preparing the colors, you may start outlining your artwork and what art you are trying to express.
In this process, you may need a pencil, so it is easy to remove mistakes while outlining.
5. Apply the base colors thinly
Right after conceptualizing the outline of your artwork, the next step will be adding the base color of the painting. Since you are still applying the base colors, spread it thinly.
Pro tip: Many artists prefer to color the borders of their artwork with white pastels so the gouache paint won't go over the edge of your work since oil pastels naturally deflect water.
6. Apply the layers to the base
Ensure the base layer is completely dried up before applying the second layer. It wouldn't be long anyway since Gouache Paints dry up quickly.
Waiting for the first layer to dry up will save you from mixing two colors together and making them bleed and challenging to control.
7. Add details and refine the artwork
When the desired layer of your artwork has been made, you may start adding details and touch up. Remember, elements are essential in painting, so channel your inner Van Gogh and do your best.
After adding details, it is also necessary to retouch your artwork and go over the mistakes you have overlooked. After the finishing touches, your very first Gouache Painting is now done!
---
Final Word
Expressing your feelings and thoughts through the means of art is a sophisticated decision, and most artists did it that way as well. Many of them let us feel their scenarios and took us back in time to enjoy their pieces.
For years, many artists practiced painting with other media, but Gouache eventually came to them and evolved their careers; the paint is beneficial for illustrations and the artist.
Whether you're a pro or a newbie, Gouache offers techniques that could widen your horizons as a painter, and with these ideas, we hope you have indeed explored your preferred painting style.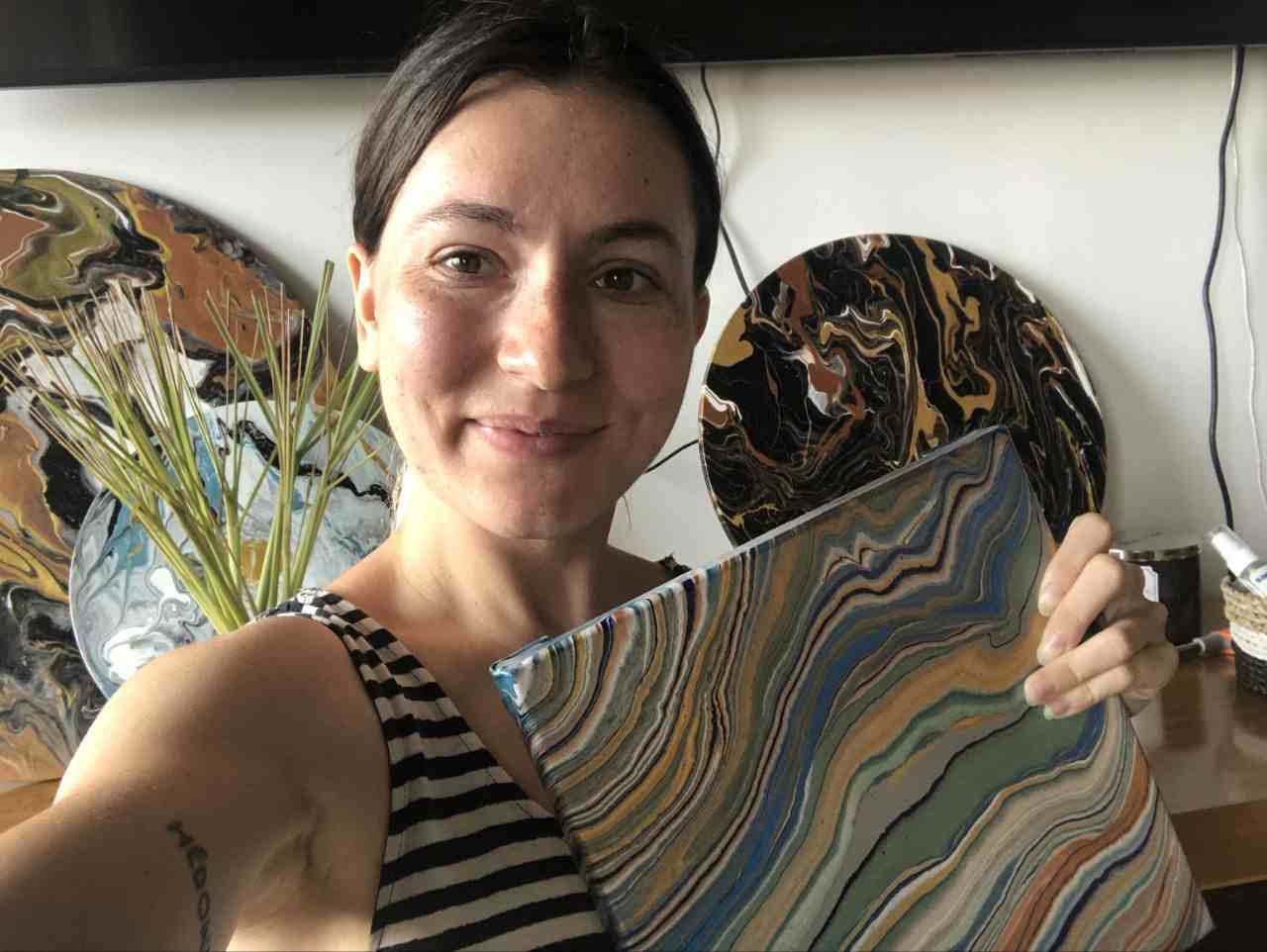 Masha Eretnova is a certified teacher. She started painting and drawing 20+ years ago and now is an international abstract artist and educator passionate about acrylic painting, gouache and crafts.
More about me.