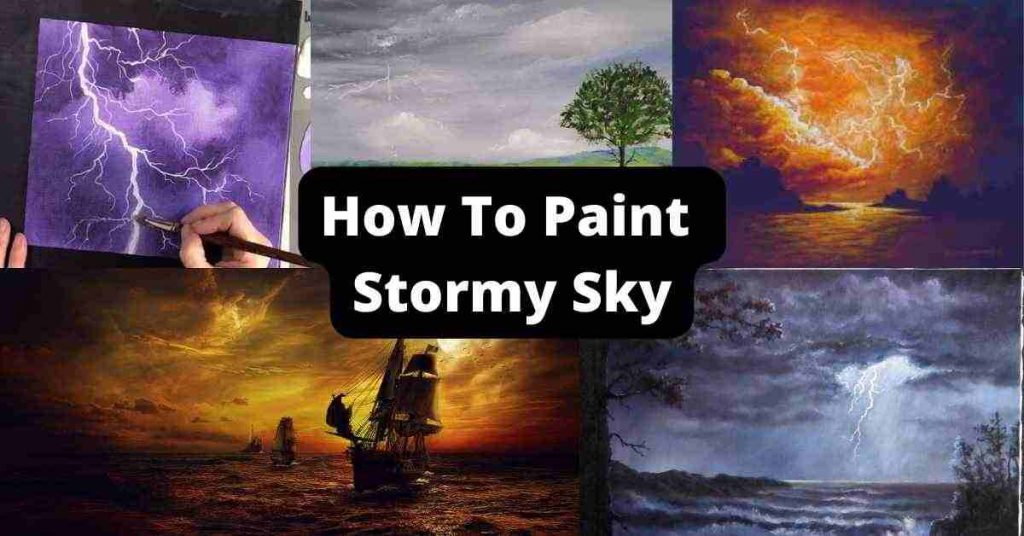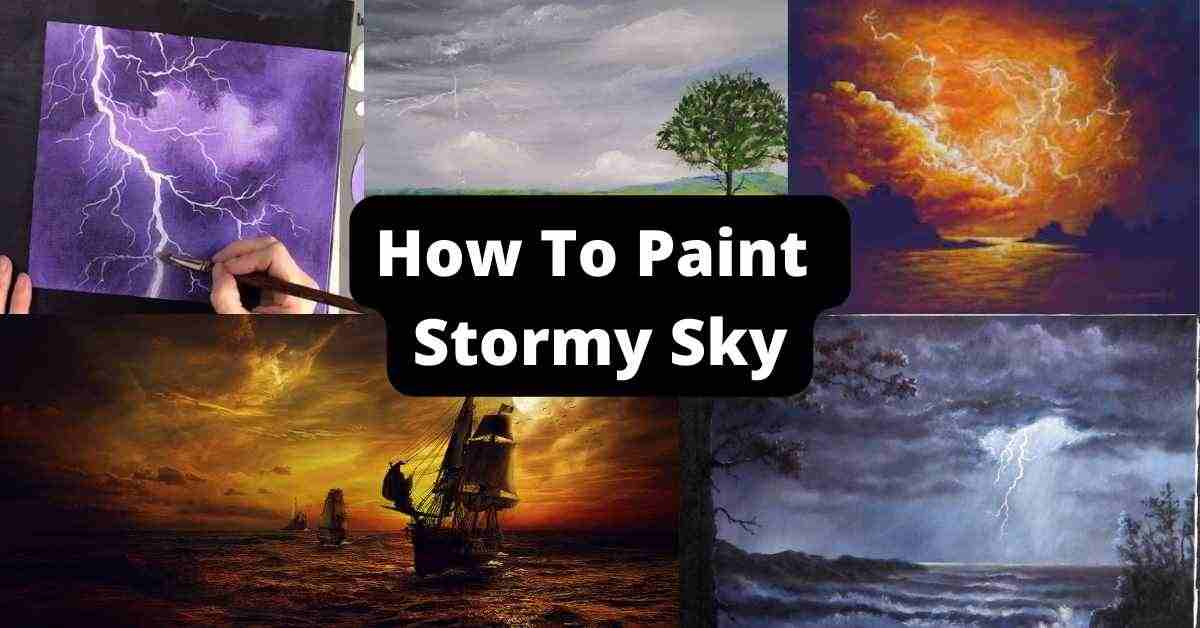 Summer night storms or heavy fall rains, what are your favorites to sit at home, do some chores, and have a cup of tea with banana bread? Perfect time to paint stormy sky and improve your painting skills. Yet, it is challenging to create the right depth and nit a messy muddy background.
You need to paint a stormy sky from dark to light. Get a few shades of blue and purple to create depth and gradient, and white and grey for clouds and highlights.
I am about to share with you 20 tutorials on how to paint a stormy sky with different mediums from markers to acrylic pouring and oils and no matter what your current level of painting skills is.
Those tutorials I selected from best artists and creators painting skies.
---
Lightning And Stormy Sky With Markers
Medium: Markers
Level: Easy
Let's start with easy stuff – markers! They are great for teens and adults to draw a variety of ideas and they will still look great. The key is to draw outlines.
If you use brush markers the colors will be more transparent and easier to create depth, if you use regular paint pens the colors will be super bright.
---
How To Paint Stormy Sky With Acrylics
Stormy sky in purple colors
It is a good idea to pick a color scheme for your stormy sky, for ex purple like in this tutorial. It means you can mix original purple with darker green/red colors to create darker shades and with white/pink to create lighter shade for the sky.
The lightning itself is white and crooked. Firts online the lightning with thinned white and then load brush better to thicken the lines.
---
Supplies for acrylic painting:
---
Grey Stromy Sky over the field with acrylic paint
Medium: Acrylic paint
Level: Easy
This tutorial by Allison has 2 parts in it and she is teaching how to create stormy clouds with just grey/black/white. At the same time, she will show how to paint the field with a tree and some bushes, which is nice as most stormy sky paintings feature just sky or sea.
She also uses a great tip of taping the horizon to create a nice sharp line between the field and the sky.
---
Easy Red Stormy Sky With Lightning
Medium: Acrylic paint
Level: Easy
Let's continue discovering the colors of storm: red now. Maybe it is a sunset storm with lightning? You will need red, black and white acrylic paint and that's it!
With red and black you will try to created a blended sky, with black you can draw the skyline, the outline of a forest or a city. And the white is for a lightning.
---
Orange Stormy Clouds With Lightning
Medium: Acrylic paint
Level: Advanced
If you'd like to elevate your painting skills, try to go more into details. With clouds it will mean more shades and tones and more natural, realistic look of a stromy night sky.
Water is always a challenging thing to paint, especially if we need to draw the reflections of the lightning and clouds. But if you follow this tutorial, it will be easier:
---
Night stormy sky over the city
Medium: Acrylic paint
Level: Intermediate to Advanced
Imagine you live on a hill, in your small house. The city goes to bed, lights out. It is finally quiet. First comes the wind. You hear it outside, maybe some car alarms went off. Then it is silent for a second. And you can see through curtains light blast.
You look out and there is exactly this picture:
This painting requires some work with blending and lots of small details but the result will be very rewarding. You need to start from the background and the sky and the move down to paint the city.
---
Mini painting Purple Stormy Sky and Lightning
Medium: Acrylic paint
Level: Easy
Progressing from flat background to curly clouds to white lightning you will be able to create an easy clouds and lighting painting with acrylic.
---
Stormy sky in the desert
Medium: Acrylic paint
Level: Easy
Tracie is a wizard in terms of easy painting and here is her take on stormy sky. And every unique one – storm in desert!
Very few colors needed, mostly ultramarine blue black, and white, but you should add purple and brown to create more details.
---
Abstract Stormy Sky with Acrylic Pouring
Medium: Acrylic paint
Level: Intermediate
Acrylic pouring is an amazing technique for creating interior art. It is quite abstract, but the right choice of colors and manipulating of the paint will give the effect.
For ex., mix of greys, white and black with some gold can create a stunning stormy sky pouring. Flip cup technique and tilting the canvas horizontally will do the trick!
---
Stormy sky with lightning over the sea
Medium: Acrylic paint
Level: Intermediate
If you adore the ocean and thunderstorm, and feel like Aivazovsky (master of marine art), you should absolutely try to paint stormy sky over the sea with out without lightning.
Lots of blue, bought or mixed, and white, as well as a canvas is all you need. As always start with background and slowly move to a more detailed look. This painting is an amazing practice for blending colors on a canvas.
---
Stormy sky on paper – How Do I Paint Storm Clouds?
Medium: Acrylic paint
Level: Easy
We don't always work on canvas and acrylics are great to work with on watercolor paper, mixed media or acrylic paper.
I consider this tutorial an easy one, as you use dry brush technique, not a detailed approach, limited palette and you work on paper with one brush.
I would pick Winsor & Newton set for this painting.
---
Stormy sky over the lighthouse
Medium: Acrylic paint
Level: Intermediate
Can you imagine being a lighthouse watcher in a thunderstorm? It is a blood cooling experience in my mind…But on a canvas – it is a beautiful multicolor sky with lighthouse lights trying to get though dark storm clouds and water crushing over the shore.
Here we have different colors mixed and used.
---
Gouache Stormy Clouds
Medium: Gouache
Level: Easy
I love gouache for such a soft edges it gives to any painting idea. Painting storm clouds with gouache to me it is more like painting after-strom clouds.
Perfect for painting on paper and mini formats. Blue and white is all you need, just add white to blue to create the whole swatch.
---
how to paint a stormy sky in watercolor
Stormy Sky Watercolor Painting
Medium: Watercolor
Level: Easy to Intermediate
Watercolor painting is great for painting stormy sky actually! The washes of paint add the effect of rain washing off the paint!
You can easily create a dark sky with pouring rain and mutated colors of a rainy day.
---
Watercolor dramatic stormy sky
Medium: Watercolor
Level: Easy to Intermediate
This stormy sky painting is either before or after a heavy thunderstorm. With very little water you should create water, sunset and wet ground.
---
Watercolor Storm clouds
Medium: Watercolor
Level: Intermediate
Using wet-on-wet technique you can paint storm clouds with watercolors. I do recommend, as most of painters, to do a simple sketch before washes. Flat brushes will help wet the paper and paint the background and the round brush is perfect for painting details.
---
how to paint stormy sky in oils
Just Before The Storm by Bob Ross
Medium: Oil
Level: Intermediate to Advanced
A classic storm painting over the sea was created by Bob Ross. He uses an oval canvas, but if you can't find one, adapt this tutorial for a round canvas.
Choose high-quality oil paints to get the best results.
You'll need:
titanium white
Prussian blue
midnight black
dark sienna
van dyke brown
alizarin crimson
sap green
cadmium yellow
oval canvas
brushes
---
Stormy sky in blue
Medium: Oil
Level: Intermediate
Choosing a standard square canvas, you can follow this tutorial and create realistic storm clouds. They are quite light and remind me the aftermath after a summer thunderstorm 🙂
---
Stormy dark sky
Medium: Oil
Level: Intermediate
To paint deep, dark, heavy stormy clouds with oil paint, I will definitely recommend this tutorial. As usual, we will start by painting and blending dark colors for the background. How you move the brush will create the realistic look of a sky – try round movements.
---
Storm over the ocean with grey sky
Medium: Oil
Level: Advanced
This oil night lightning storm over the sea and the shore is impressive because of the effect the painter creates: with the light breaking through the storm clouds. The intensity of the waves breaking out is also an subtle indication of the storm.
Beauty is in details.
---
FAQ
Who is famous for painting clouds?
Starry Night by Van Gogh is one of the most famous painting of clouds and night. Among modern painters, Thomas Cole is known for his clouds and sky art.
What is Stormy sky paint color?
There is actually quite a popular Stormy sky blue paint color that is great for home improvements. It is greyish blue and comes in a variety of finishes and is good for both exterior and interior paint jobs.