Have you also thought of framing an artwork because it's visually appealing or holds sentimental value for you? With gouache we know that it is sensitive to water, so what should we do? And what if you don't want to frame your work behind glass? Can a gouache varnish protect the painting in the same way that a glass frame does?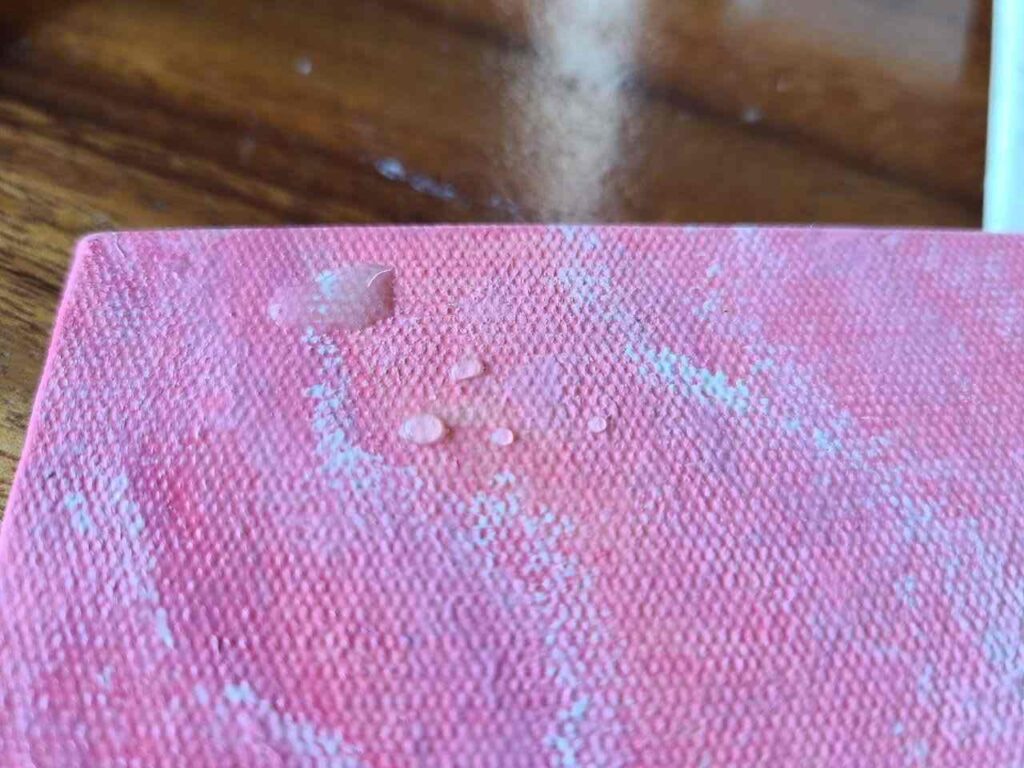 Varnishing gouache is optional, Winsor & Newton and many painters don't recommend it at all. Frame it with plexiglass or glass. If you really want you can apply an isolation coat and then use wax, a spray, or a regular varnish to protect your gouache painting. I successfully varnished gouache with Mod Podge and Winsor & Newton Spray varnish.
In the following sections of this post, we'll learn more about protecting your gouache painting by providing detailed methods and product options to try. Continue reading to discover the answers to your questions.
Table of Contents
Does gouache need varnish?
Gouache is not permanent once dry. Gouache painting normally doesn't require varnish to last many years and doesn't work well with regular varnishes.
But water can activate gouache and wash it off so ask yourself: Are you just having fun or want to keep your painting? For fun, leave it be. If it is a serious task, especially for selling, it will need protection.
Some individuals dislike varnishing gouache paintings because they alter the painted film's values and general appearance and nobody was not supposed to varnish gouache. A proper varnishing process will require an isolation coat, which means you need to buy 2 extra products and spend money.
Some people, however, would prefer not to preserve the painting with glass because it can become prone to molds or moisture over time, and feels kind of old-fashioned.
Those who do not want varnishing believe that a glass or plexiglass frame will suffice to protect the gouache painting from water and dust. For them, a varnish can also change the painting's darkness and depth and turn the film into a milky finish, which is another concern. Thus, some people think that glass and plexiglass are safer varnish substitutes.
Most varnishes are also permanent so you won't be able to rework anything once you varnish your gouache painting.
On the other hand, some people believe that a gouache painting does not need to be protected by glass, and thus they prefer varnishing their work.
For them, varnish enhances the value and can restore the painting's original colors. It is up to you whether gouache needs varnish or not as long as it is protected from water and humidity.
For ex., Lena Rivo – a popular gouache artist varnishes her paintings but she uses a complex 3-step process we'll talk about later.
Read also: Painting with Gouache for Beginners: 7-Step Ultimate Guide
---
what varnish to use for gouache
If you decided you want to varnish your gouache painting these are your options:
---
How to Varnish a Gouache Painting on Canvas
Nobody wants their painting to be ruined by water, dust or fingerprints. Thus, you might want to seal gouache paint on your canvas to avoid this from happening.
Here are the steps you can follow to protect your painting without ruining the native properties of the gouache.

How seal gouache with wax
Jacquard Dorlands Wax – 4 Ounce – Versatile Pure…
Versatile Cold Wax Medium – Dorlands wax is made from pure wax and damar resin.
Protective Topcoat – Used for sealing and finishing a variety of media from oil paintings to collage. Especially popular as a varnis for watercolor and gouache paintings.
Durable Waterproof Finish – Adds Depth to color and allowing for glassless framing and display.
Malleable Finish – Leave it rough for a matte effect or buff with a rage after drying for a uniform high gloss
All in One – Sealant, varnish, and medium all in one. It won't yellow over time, and will protect artwork for the ages.
After painting on the canvas, wait for the gouache to dry fully for a few days before applying a sealing agent. Best to wait 1 week
Note: The sealer can mist up and destroy the appearance of your painting if the gouache hasn't completely dried.
When the gouache has fully dried, apply Jacquard wax or beeswax using a cotton pad or a tissue, whatever is available to you.
Spread the wax in a circular motion until all parts of the painting are covered. It's better then brush application as there will be no brush strokes.
After applying, you will see that the painting becomes waterproof and matte; the water slides only on the paint. Also, the color on the painting is not lifting up, which means that it is sealed and protected.
A sealer that protects from UV rays is also an excellent choice. After your gouache has dried, just spray your canvas with the sealer, and then wait for it to dry to ensure that your gouache painting is sealed and protected.
This wax is removable, but it is removable with spirits or solvents, which will remove not only thewax but gouache easily, so if you will try it, you will ruin your painting.
What to do then? Well, 2 options: a) do not remove the wax b) put an isolation coat under it that will protect the painting from spirits and solvents.
Read also: 18 Gouache Painting Techniques You Should Try To Paint Like Pro
---
How to Varnish Gouache like a Pro
If you are more familiar with acrylics you know that a proper varnishing process includes 2 main steps:
a permanent isolation coat sealing and protecting the painting itself from any damage the varnish may cause
a removable watercolor or gouache varnish that is protecting the painting from any damages. It is important for this varnish to be removable as some of them tend to yellow over time.
So the same process can be applied to gouache painting:
Allow the gouache painting to dry fully, around 1 week.
Apply an isolation coat (same products work for acrylics and gouache, so you can use the same isolation coat you always use, with Golden Isolation being the best). Let it dry 24 to 72 hours.
Apply varnish. Gloss varnishes make color pop better but they also reflect more light, so matte or gloss will be your personal choice. Liquitex varnishes come in various sheens and are one of the best in terms of value for money.

You can also use a spray sealer like Krylon, if you don't like brush-on application.
Pro artists, like Lena Rivo, go even further, making it a 3 step gouache varnishing process:
Sale
Winsor & Newton Artisan Matt Varnish, 250ml (8.4-oz) bottle
Uv-Resistant varnishes provide protection for paintings achieved with artisan color and are removable with artisan varnish remover
Non-Yellowing
Painting must be completely dry (6 to 12 months) to be used
Use only as a final varnish
Shake well before use
Read also: Gouache vs Watercolor: How do they differ and which is best?
---
How I seal gouache on canvas
To experiment I tried to varnish one of my gouache works on a canvas pad with Mod Podge and Winsor & Newton spray gloss varnish.
I let it dry and then tested how waterproof the surface is.
With Mod Podge your gouache painting will NOT be waterproof, only slightly water-resistant. On the last picture you can see that when I cleaned up water, the color was damaged.
With Winsor&Newton spray varnish my gouache painting was 100% waterproof:
This is the varnish I used – Winsor & Newton Gloss Varnish from the Pro series:
---
How to seal gouache on wood
To protect the gouache on wood, seal it with either a watercolor varnish or a spray fixative. These two sealing agents are also effective on paper for sealing and protecting your artwork.
The steps for sealing gouache paint on the wood are as follows.
Use lightfast gouache paints to make sure the color will not fade over time. Winsor & Newton says that if you use lightfast gouache you can skip varnishing.
Using a watercolor varnish or fixative spray:
After painting on the wood, wait for the gouache paint to dry fully for a few days before applying the watercolor varnish. It is best to apply an isolation coat before varnishing.
Note: It's possible for the watercolor varnish to mist up and destroy the appearance of your painting if the gouache hasn't completely dried.
When the gouache has fully dried, apply a watercolor varnish or spray from Schmincke.
Spread the varnish all over the painted wood until all parts are covered.
Let it dry to get ready for the next step. 2-3 layers will be enough.
Whether you used watercolor varnish or a spray fixative, follow this next step:
Once the surface has dried, apply a glossy or matte acrylic varnish coat, whatever your choice is. Let it dry.
When the surface has dried, apply another coat of the glossy varnish for more protection.
Note: Before applying the next coat, ensure the surface is completely dry. Be careful not to smear any additional spray residue, as this can ruin your artwork.
After they have all dried, you will see that the paint has darkened a bit and looks shinier than before.
---
11 Best Varnishes for Gouache
For gouache varnish, you can use watercolor varnish, gouache varnish or wax, and acrylic removable varnishes.
The following table shows the list of the all best gouache varnishes recommended by real gouache painters you can use in sealing and protecting your artwork:
Winsor & Newton Varnish
Winsor & Newton Professional Varnish is a good option if you're looking for the best water-based varnish for gouache.
Pros
Protects from UV damage, fading, moisture, and airborne pollutants
Dries evenly
Dries to a matte finish
Cons
Not permanent; can be removed using a varnish remover
---
Krylon Kamar Varnish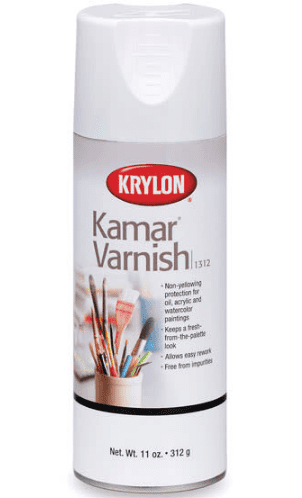 One of the best spray varnishes for gouache is Krylon Kamar Varnish. It is suitable for paints like oil, acrylic, gouache, or watercolor.
Pros
Offers non-yellowing protection
Acid-free
Resistant to discoloration
Cons
Extremely flammable, so be careful using it
---
Liquitex Professional Varnish
Liquitex Professional Varnish is one of the market's best varnishes for acrylic gouache. What's good about this varnish is that it's lightweight and non-toxic.
Pros
Permanent and non-yellowing
Water resistant when dry
Suitable for various surfaces
Cons
Can dry to a milky finish
---
If you're looking for the best water-based satin varnish for gouache, Pebeo Gouache Varnish is an excellent choice. It is an acrylic-based spray varnish with a satin finish.
Pros
Non-yellowing
Provides an even coverage
Offers protection from light and dirt
Cons
---
If you prefer a varnish with a glossy finish, Maimeri Gouache Gloss Varnish can be the best gloss gouache varnish for you.
Pros
Reduces the matte and opaque properties of colors
Protects from UV damage, moisture, and fading
Can make colors look vibrant and lively
Cons
Flammable and toxic for the skin
---
Dorland's Wax Medium is the ideal wax varnish for gouache if you prefer wax over a spray or liquid. This varnish has the advantage of being suited for all types of paintings.
Pros
Versatile; can be used on various surfaces
Makes the colors more vibrant
Provides excellent protection for paintings
Cons
---
FAQ
can I use acrylic varnish on gouache?
Technically you can use removable acrylic varnish on gouache if you applied an isolation coat.
Both acrylics and gouache are water-based paints but acrylics are somehow water-resistant once dry, while gouache isn't. So even though you can technically apply the varnish, you won't be able to remove it safely without removing the painting itself.
It is better to frame the gouache, use a fixative, or in the case of varnishing use an isolation coat first and then acrylic varnish.
how to preserve gouache paintings?
You can skip varnishing gouache and frame it with glass or plexiglass to preserve gouache paintings for long years.
Most gouache painters don't varnish their paintings and are satisfied with them. Yet you will need to keep your painting away from water and any moisture.
Fewer percentage of painters use fixative sprays, watercolor varnishes, and wax to preserve gouache.
Conclusion
Gouache is an excellent paint for several reasons. It behaves similarly to watercolor but is more opaque, and similarly to acrylics but is more matte. It may also be reactivated; simply add water to bring the hues back to life. Since gouache can be easily reactivated, it requires adequate protection from moisture and humidity.
Aside from framing it with glass, varnishing the painting is a good alternative. However, the decision will depend on your preferences. If you prefer varnishing for protection, make sure you select the appropriate type of varnish for the surface you wish to protect. Only buy from reputable brands, such as those listed in this article.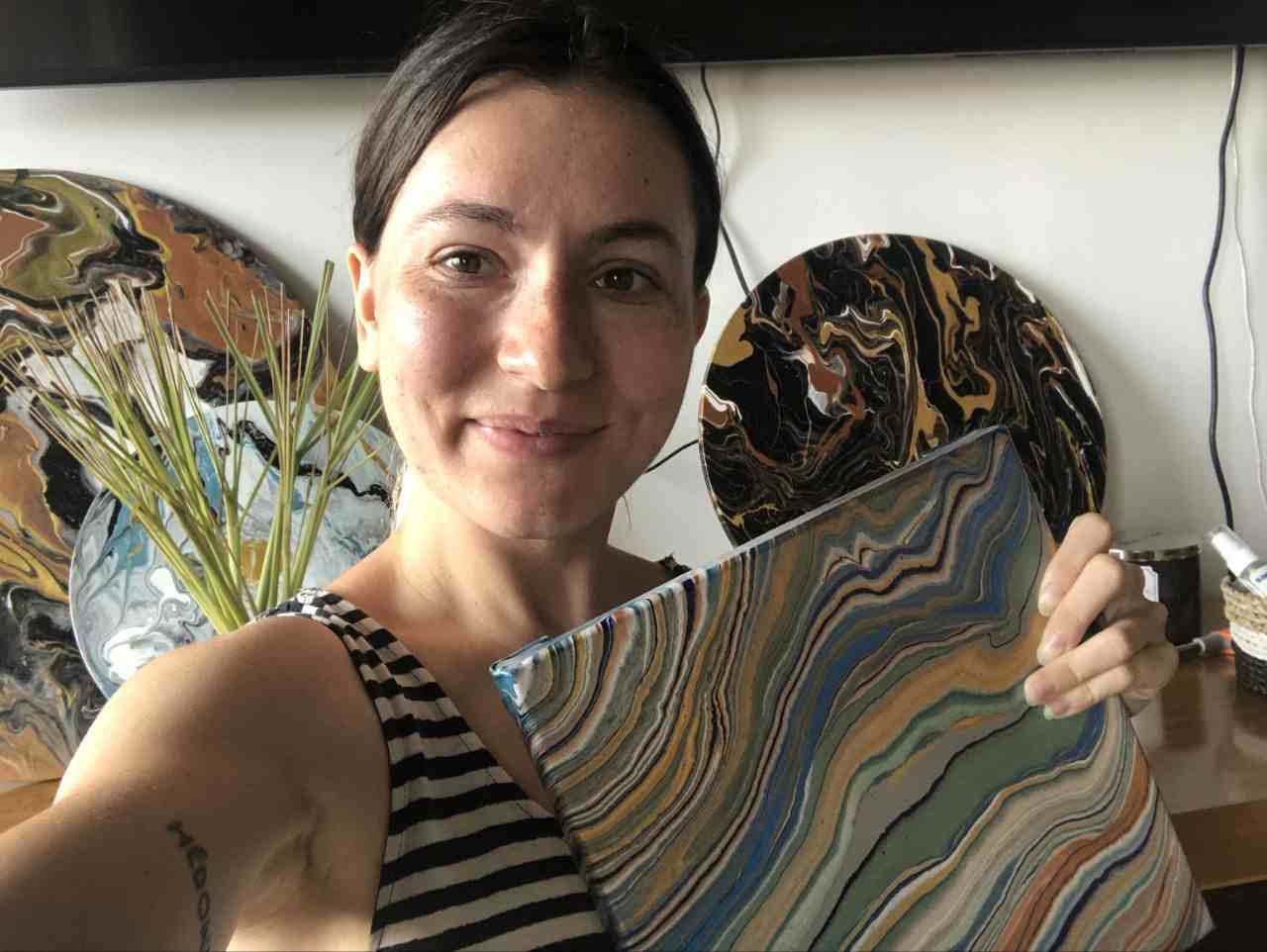 Masha Eretnova is a certified teacher. She started painting and drawing 20+ years ago and now is an international abstract artist and educator passionate about acrylic painting, gouache and crafts.
More about me.
Last update on 2023-12-03 / Affiliate links / Images from Amazon Product Advertising API