If you are looking to test what is gouache and don't want to spend a fortune, Reeves gouache is just for you. Small tubes, cheap price, decent quality. But yet, it gets a bad reputation on Reddit and among pro painters. So is Reeves's gouache any good after all?
Reeves Gouache Review from an artist: this gouache is cheap, decent quality , opaque, easy to mix, clean and reactivate. They are not super durable and the binder tends to sit on top of the tube for several colors.
Dig in my Reeves gouache review as I am anowner of a full set of their acrylic and gouache paint 🙂
Are Reeves gouache good?
If you are on a tight budget and aren't looking to be a pro painter, Reeves gouache will work for a couple of easy paintings. If you really want to get to know gouache and appreciate it, try Winsor & Newton, Holbein or M Graham gouache paints.
Pros
Very cheap
Great for absolute beginners in painting
10 to 24 colors in sets
Can be used as watercolor
Fast-drying
Washable
Eay to mix colors dry to matte finish but stay vibrant and rather opaque if not diluted with water
Non-toxic, conforms to ASTM D 4236
Will be enough to paint some easy paintings.
Cons
Only in sets, no separate tubes for sale
Colors don't always match the swatch on the tube
No info about opacity or lightfastness on the tube
Cheap tubes
Paint can separate inside the tube and the binder wil bleed out
Only for small art due to the size of the tubes
Sometimes dries darker, sometimes lighter
Some crafters say they are chalky and flake if you apply more than one layer, add too much water or white
Read also: 21 Top Gouache Painting Tips & Secrets From Pros
---
Reeves Gouache Review
I have a Reeves gouache color set of 12 tubes and I will use it to write and illustrate this review.
Price ✭✭✭✭✭
Colors ✭✭✭✭☆
Packaging ✭✭✭☆☆
Brand ✭✭✭☆☆
Lightfastness ✭✭✭☆☆
Opacity ✭✭✭✭☆
Coverage ✭✭✭✭☆
Durability ✭✭✭☆☆
Waterproof ✭✭☆☆☆
Available only in sets of 10, 12, 18, 20 and 24 colors. You don't need to buy all 24 colors as you can easily mix needed shades and hues.
Colors
Colors seem to be quite opaque if not diluted with water and watercolor-like once you add water. If the label on the tube is correct they are all monopigmented which good.
Colors do slightly change when they dry. Here are wet and dried Reeves gouache colors swatches. For each color there is a stroke with almost dry brush and well watered brush:
wet Reeves gouache: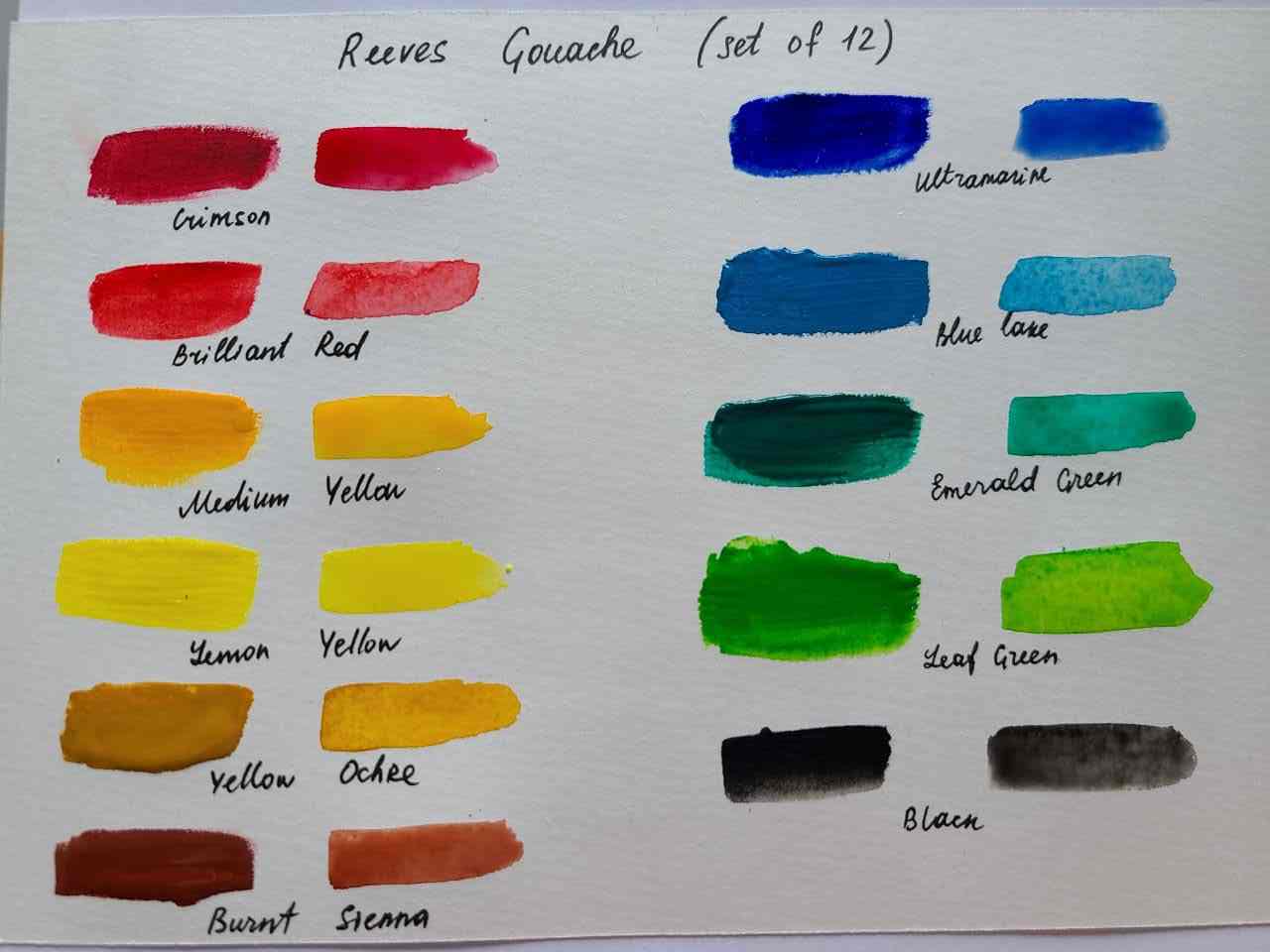 dry Reeves gouache: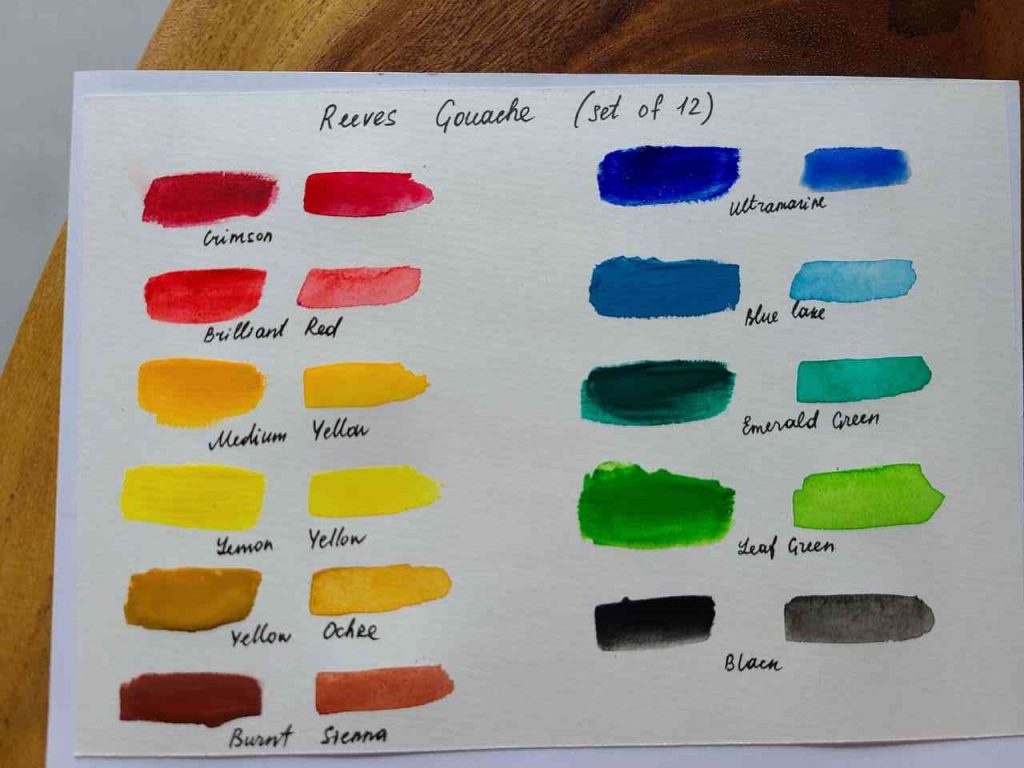 But the swatches on the tube don't always match the real color, so try before you paint. And the tube also has no indication on how lightfast or opaque are colors so you will need to test them all.
All colors in the 12-pc set:
Black
White
Leaf Green
Emerald Green
Ultramarine
Blue Lake
Burnt Sienna
Yellow Ochre
Lemon Yellow
Medium Yellow
Brilliant Red
Crimson
Read also: Gouache Paint vs Watercolor: How do they differ and which is best?
---
Opacity
For your convenience I've created opacity swatch of Reeves gouache: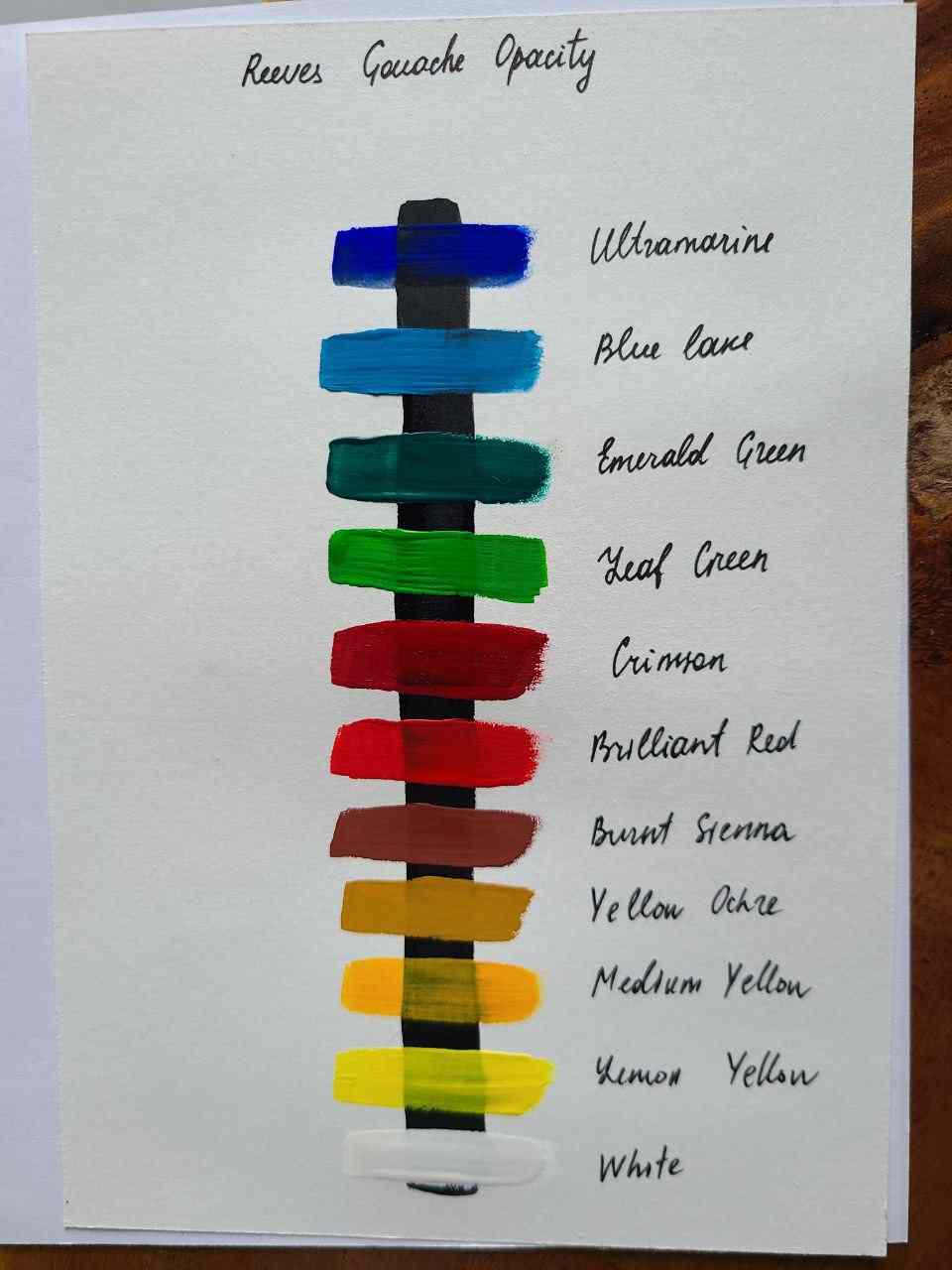 ---
Mixing and Blending
Reeves gouache is good for mixing and not really performant for blending gradients and backgrounds.
With mixin colors – no problems, you can mix 2, 3 colors, create shades of the same initial color adding white and it will all be fine. Mixing both with a brush and a palette knife works.
With blending tho, I tried wet and dry techniques and with Reeves it's just not working out. Instead of gentle blending it gets either muddy or mixes into a new color. With wet technique the difference between colors in the gradient fades and dissapears.
I'm sure it still can be done somehow, but you probably need to practice a lot (but you don't have a whole lot of paint to do so tho).
Read also: 11 Ways on How to Blend Acrylic Paint Smoothly
---
Reeves goauche and water
Reeves gouache is easy to thin with water, easy to reactivate even if it sits on the palette for 20-30 min.
Super easy to clean, just with water or with a paper towel.
The gouache is not water-resistant nor waterproof at all. No matter what surface it is on, if you will clean it with wet cloth or try to apply new layer with water, the underlying layer will most likely react. Once the underlying layer is dried, the colors are unlikely to mix again though.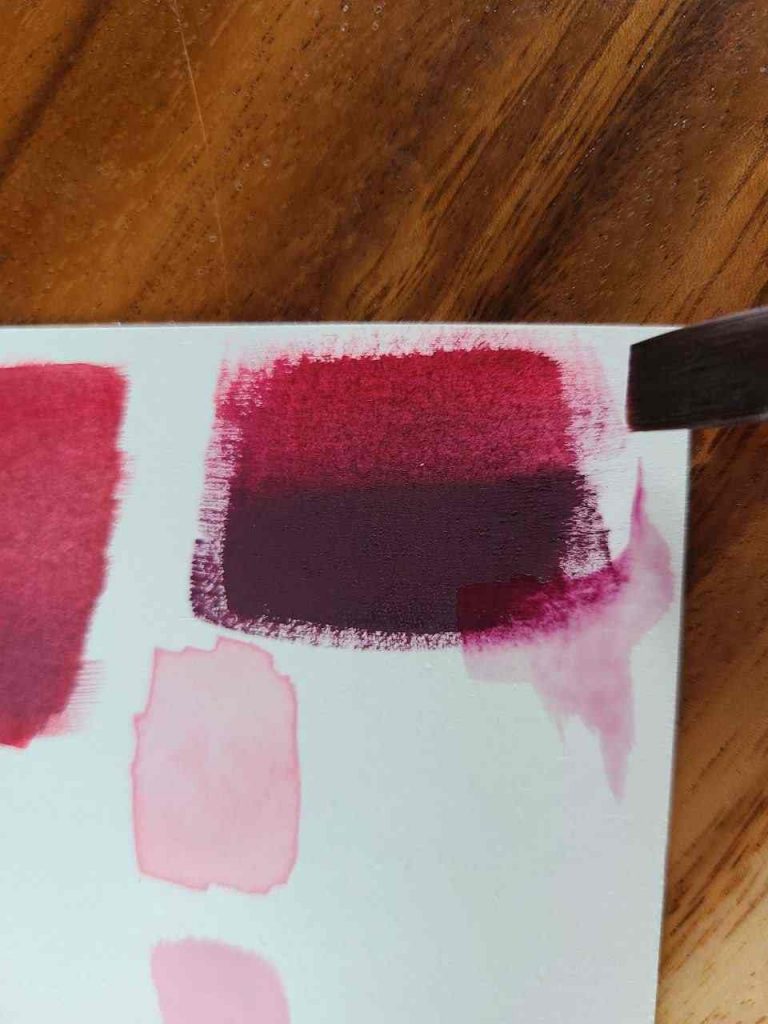 ---
Dry time and finish
Reeves gouache is generally fast-drying, but thicker application will take up to 30 min to properly dry through.
Once dry, Reeves gouache is matte, sometimes chalky, and the texture of the surface may be still visible.
If you are working of a good watercolor paper, Reeves gouache even with water doesn't buckle it. With transparent colors brush strokes can be visible.
I am more of acrylic painter and don't really work with watercolor, but it seems like if Reeves gouache applied like watercolor, with more water to create nice washes, once dry, the washes will have clear instense colored borders. Is it normal? I don't know.
There are quite a few comment saying that Reeves gouache can crack or flake, I only experiences it once with Leaf green and I am not sure if it was my mistake or poor quality.
---
Reeves Gouache Set vs Arteza Gouache
I would say that Arteza has more opaque and vibrant colors and is less streaky than Reeves. Reeves gouache tends to act more like watercolor, while Arteza gouache is closer to acrylics in my perception. Arteza gouache is silkier and is closer to WN gouache.
At the same time, so many people love Reeves exactly for this! For more matter, duller colors act like washes. Without mixing Reeves gouache with water you will still get quite opaque thick coverage which is absolutely enough for beginners.
Overall, both Arteza and Reeves fall into the same price category and are good for learning how to paint with gouache and have many of fans! Both cannot be considered professional gouache.
Arteza Gouache
Reeves Gouache
Colors
Nontoxic; vibrant semi-opaque, lightfast colors
Nontoxic, more transparent than Arteza
Closer to watercolor
Dry lighter
Mixing and Blending
Easy, less streaky
Easy, but can be streaky.
Needs practice
Layering
1-2 layers max
Some say dried slower than competitors
Coverage and Finish
good coverage, flatter and creamier than Reeves
Matte, some users say chalky
Can peel off
Surfaces
Good on canvas and watercolor paper
Mixed media paper and canvas
Some users have better results with wet on wet technique
Packaging
all black 12-ml tubes have lightfastness, opacity, and pigment ratings on the tube
Small simple box
comes in white 12-ml tubes but has NO info about opacity, lightfastness, only pigment information
Durability
lightfast, moderately durable
not really durable, easily reactivated
Beginner-friendly
Yes
Only for complete beginners or kids
Reviews on Amazon
4.7 (24-tube set)
4.6 (pack of 12)
Cost
$23-25 (for 24 tubes)
around $12-13
Shipping from Amazon
Worldwide
Worldwide
Read also: Gouache Vs Acrylic: What's the Difference, and Which is Best for Beginners?
---
Once you are ready to upgrade your gouache set, I suggest investing in professional set, like Holbein.
Here is my full review: Holbein Gouache Review [Artist's 12 Colors Set] – Top-Notch Quality
---
How do you use Reeves gouache paint?
Prepare water. (My new love is this foldable Faber-Castell water cup). You can even set up two cups, one for clean brushes and one for dirty water.
2. Set a piece of paper aside to test paint in case the binder will bleed, and just to dry the brush. I use also paper towels or a regular towel to dry the brushes.
3. Place watercolor paper or mixed media paper flat and make sure it is pretty fixed. I put something underneath in case I will spill the paint.
4. Squezze a dollop of paints you are going to use on the pallete. Pre-mix colors you miss.
5. Wet the brush before you apply the paint so the gouache flows smoothly.
To make gouache work more like acrylics, just wet the brush a bit, letting it be thick and velvety. Paint from dark parts of your painting to the light parts.
To paint with gouache like watercolor, you can do a few things:

wet the canvas or paper first with spray bottle or brush
wet brush generously
constantly work with a wet brush with less loaded paint on the brush.
if you imitate watercolor go from light color to dark.
6. You can use painter tape to mask the edges or fix the paper.
7. Once the painting is finished, let it dry completely and then you can seal it.
---
My paint looks separated, what should I do?
Here is the official answer Reeves's representatives gave me:
Gouache is an opaque watercolor with a high pigment load. Due to the high pigment load, the pigment does tend to settle and therefore the binder separates. This is very common.

Reeves
If you find this is happening, you can:
Remove the lid
Massage the tube
Try again
If it still happens, let the separated binder flow from the tube. Afterward, the paint should flow without separation.
I can add from my experience that my white was way too separated, but I just remixed it (the released binder with the paint) and it seemed to work.
---
FAQ
Is Reeves gouache water-based or acrylic?
Reeves gouache colors are water-based, water-soluble and washable. While other brands have acrylic gouache, Reeves only have water-based gouache series. The feel of Reeves's gouache is between acrylic and watercolor.
Are Reeves paints good?
Reeves brand in general produces acrylics, oil, gouache, and watercolor paints for complete beginners, students, and kids. They are of decent quality for cheap beginner paints.
Which gouache is best for beginners?
The most reliable gouache for beginners and pros are Winsor & Newton, M Graham, and Holbein, but they tend to be quite expensive. Budget-friendly options yet still good for beginners may be Miya gouache.
Final Thoughts
While Reddit users and pros give Reeves or Arteza gouache a hard time in comments, I do believe that for simple crafts and complete beginners these paints are enough. Not everyone can afford spending a lot of money just to try a new medium.
Looking for better option? I got you: 15 Best Gouache Paint Sets in 2023 For Beginners and Pros
About The Author – Meet Masha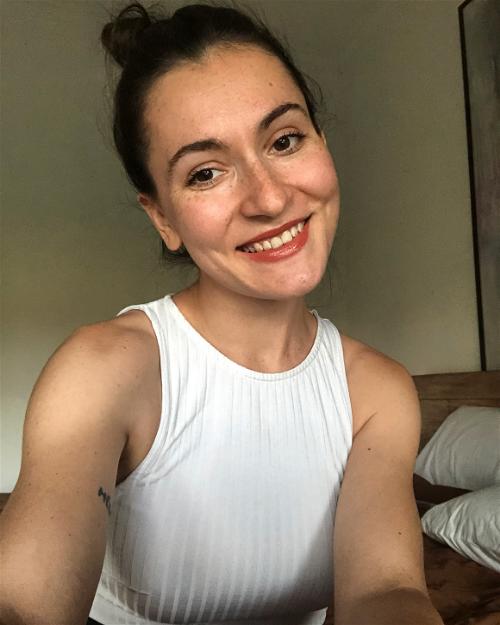 My name is Masha and I am improving my painting techniques together with you and share tips and tutorials I find cool. I started painting at the age of 6 with pencils portraits, had a long pause in art, and then tried oils, but lately switched to acrylics and gouache. I do mostly abstract art, but if I have time I play around with epoxy, markers and pouring!