An easy giraffe painting is a unique and interesting piece of art that can add a touch of personality to any room. While they may seem like complex paintings to create, with a little bit of practice anyone can learn how to make an easy giraffe painting.
Giraffes are one of the most popular animals to paint because they're so darn cute, and their paintings always bring a smile to people's faces. So why not add one of these cheerful creatures to your art collection? Let's get started!
To paint a giraffe, you need to outline its body first. Begin by drawing an oval shape as the head. Then, draw two circles for the eyes and a curved line between them to form the nose. Don't forget to draw the ears, too.
Next, draw a long, curving line for the body and neck. Make sure to add the humps on the back of a giraffe's neck and its legs at the bottom. Then, paint and add details like the spots, mane, and tail.
Table of Contents
My Easy Giraffe Painting Tutorial (Gouache)
To paint a giraffe starts with a simple sketch and then coloring it with gouache or acrylic.
Level – easy,
Medium: gouache
Total Time: 30 minutes
Step 1 – Sketch the head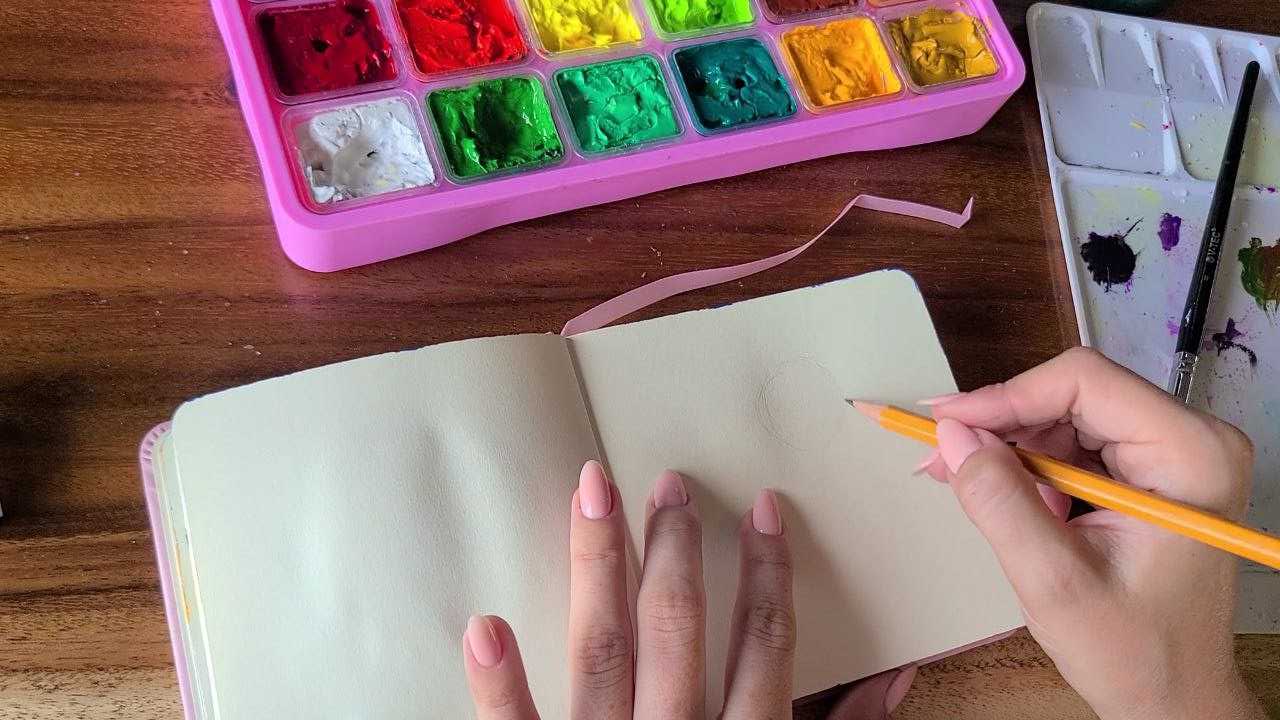 Draw a small circle that will be the head
Step 2 – Add ossicones (giraffes' horns)
Add two ossicones with little "hairs" on the ends.
Step 3 – Add big ears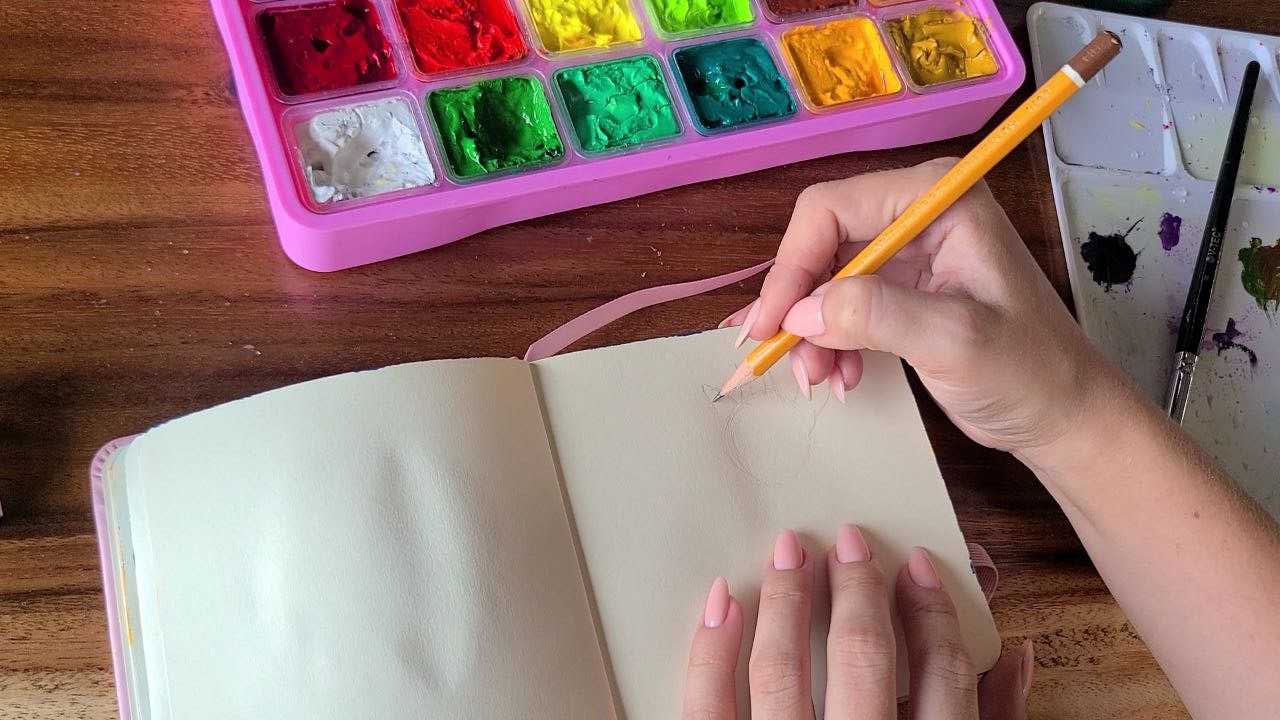 Giraffes have big ears, the shape is quite open, and they have a large base where the ears are connected to the head.
Step 4 – Add nose and mouth shapes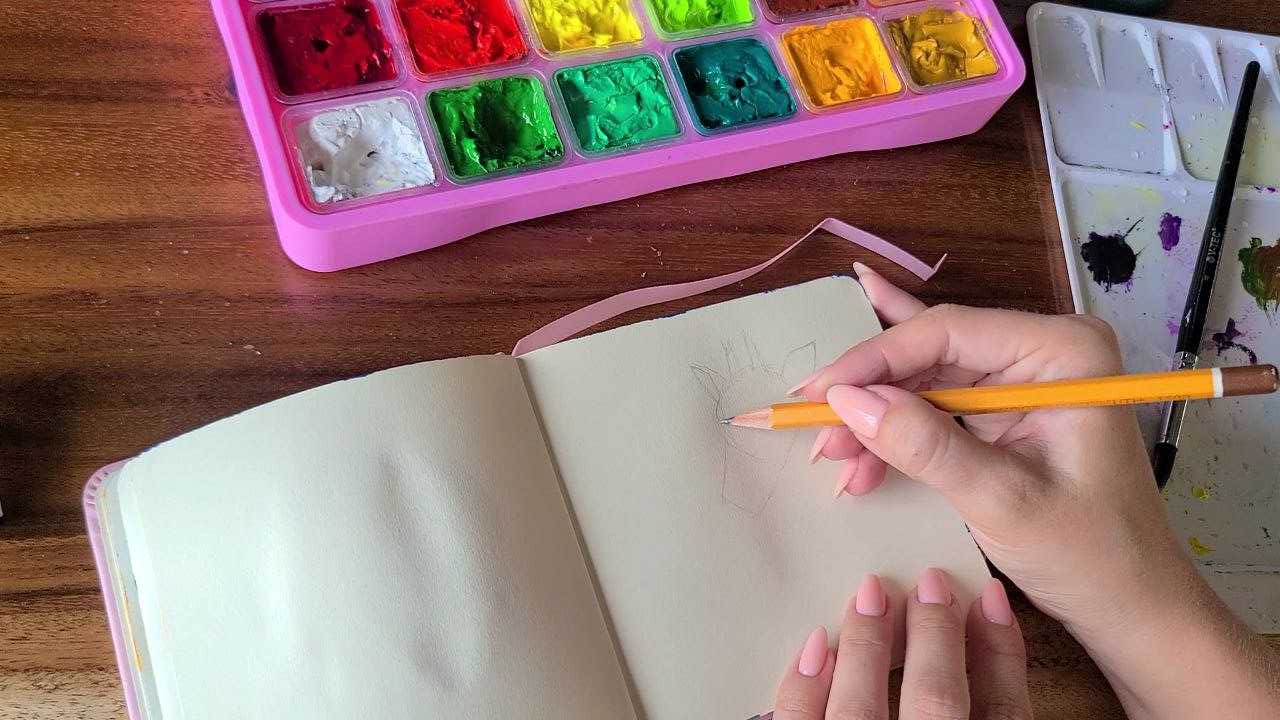 Giraffes' noses and mouths are elongated. We have our circle for the head, add to it rectangle-alike shape.
Step 5 – Define the face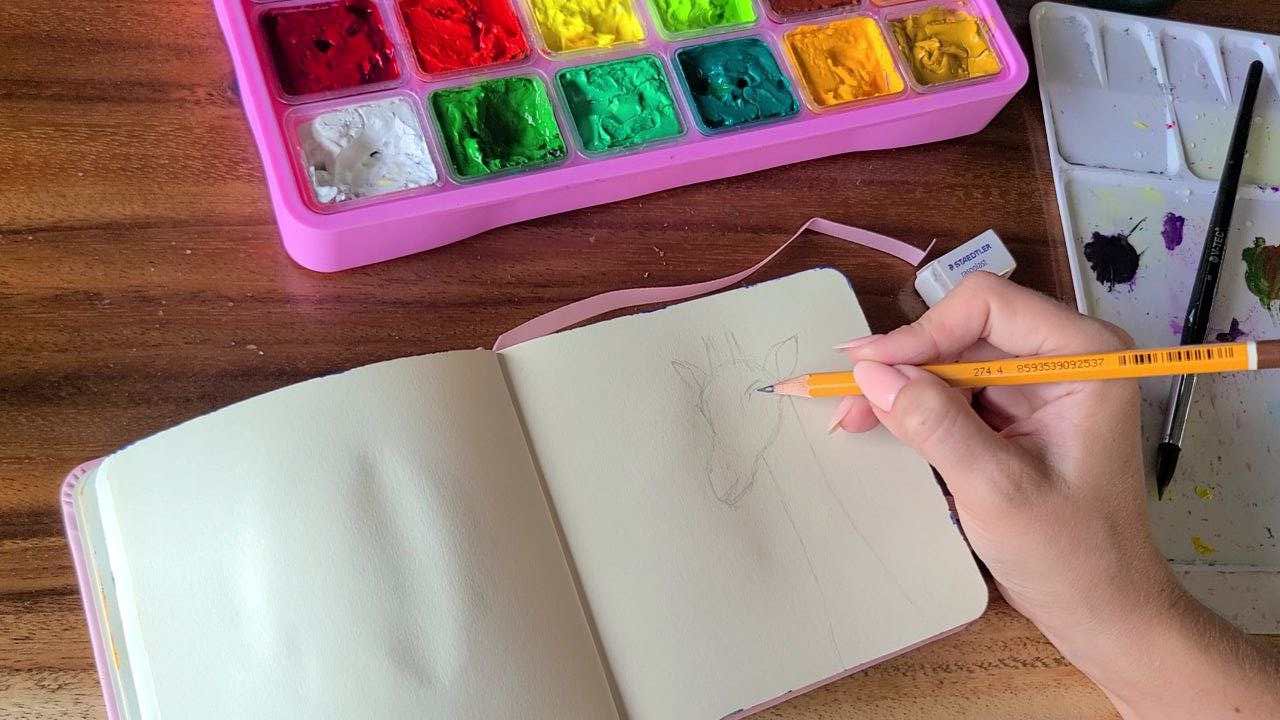 Add nostrils, mouthline, eyebrows lines, and big eyes.
Step 6 – Sketch the pattern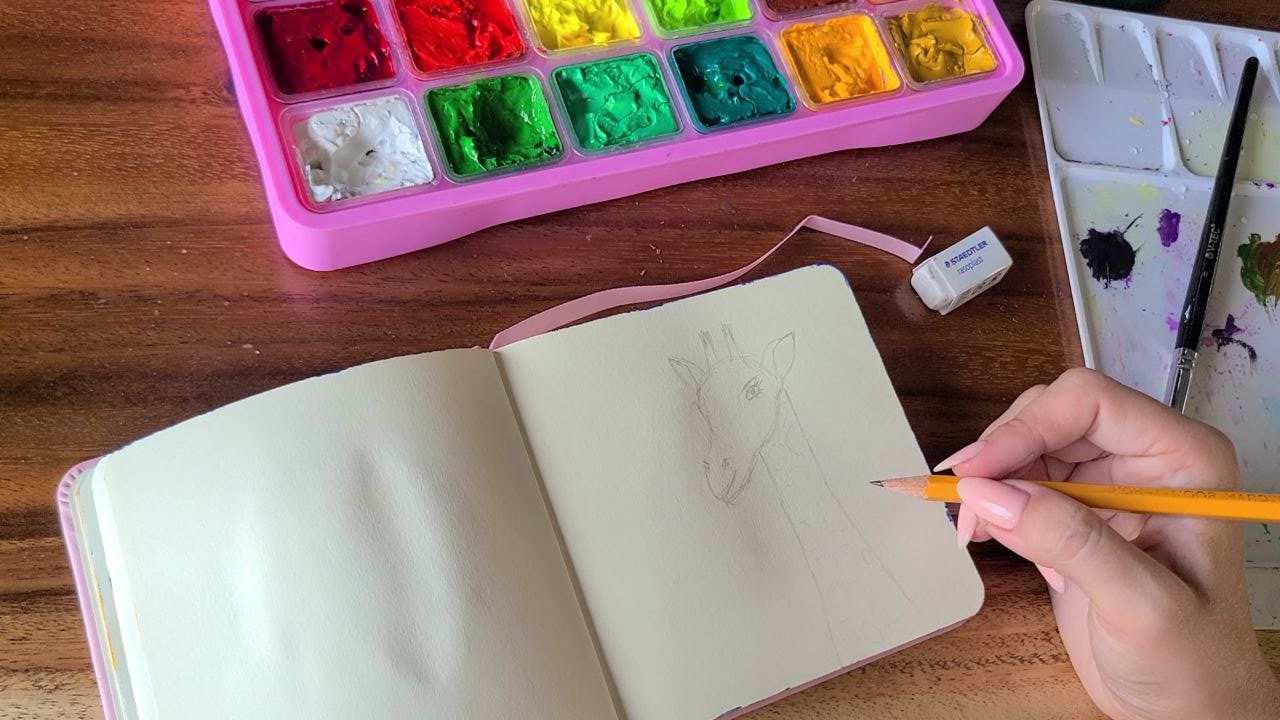 You can sketch the pattern if you are not comfortable painting it free-hand. Mark where you will add larger spots, and remember that spots on giraffe's faces are much smaller.
Step 7 – Paint Giraffe with the main color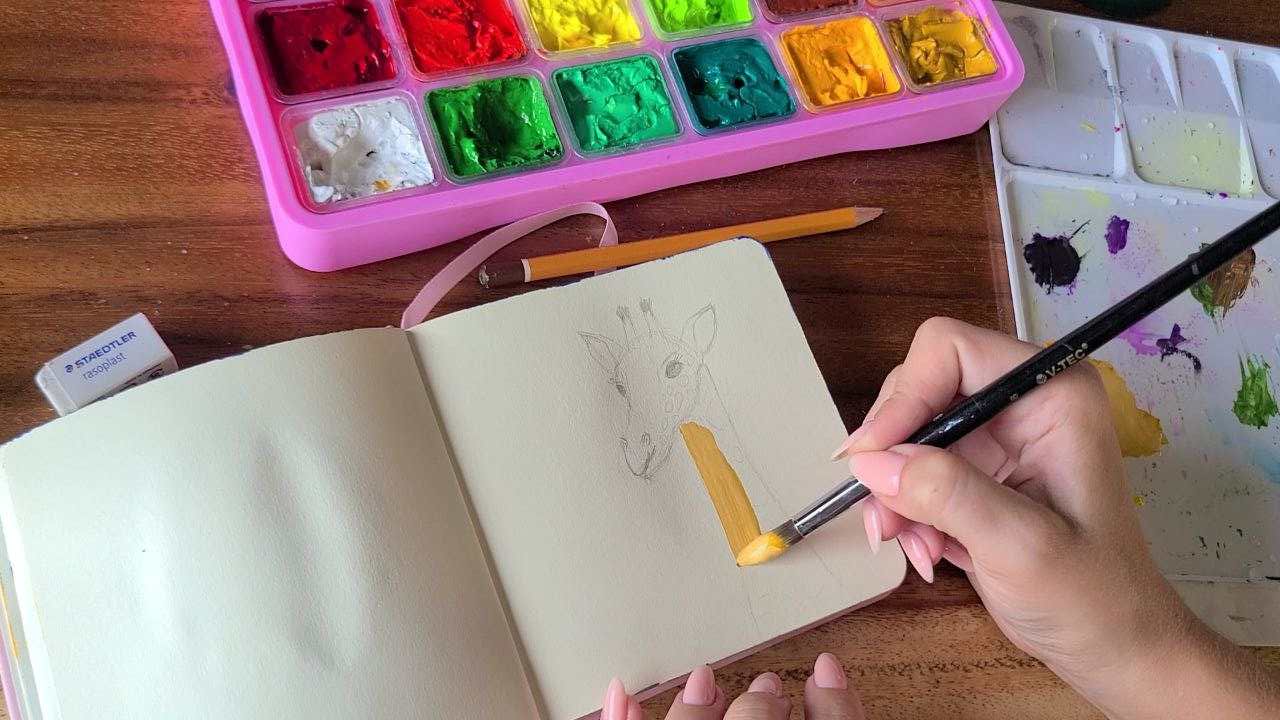 The main color is something in between orange and yellow ochre. The neck and sides of the head will have that color.
Step 8 – Add pattern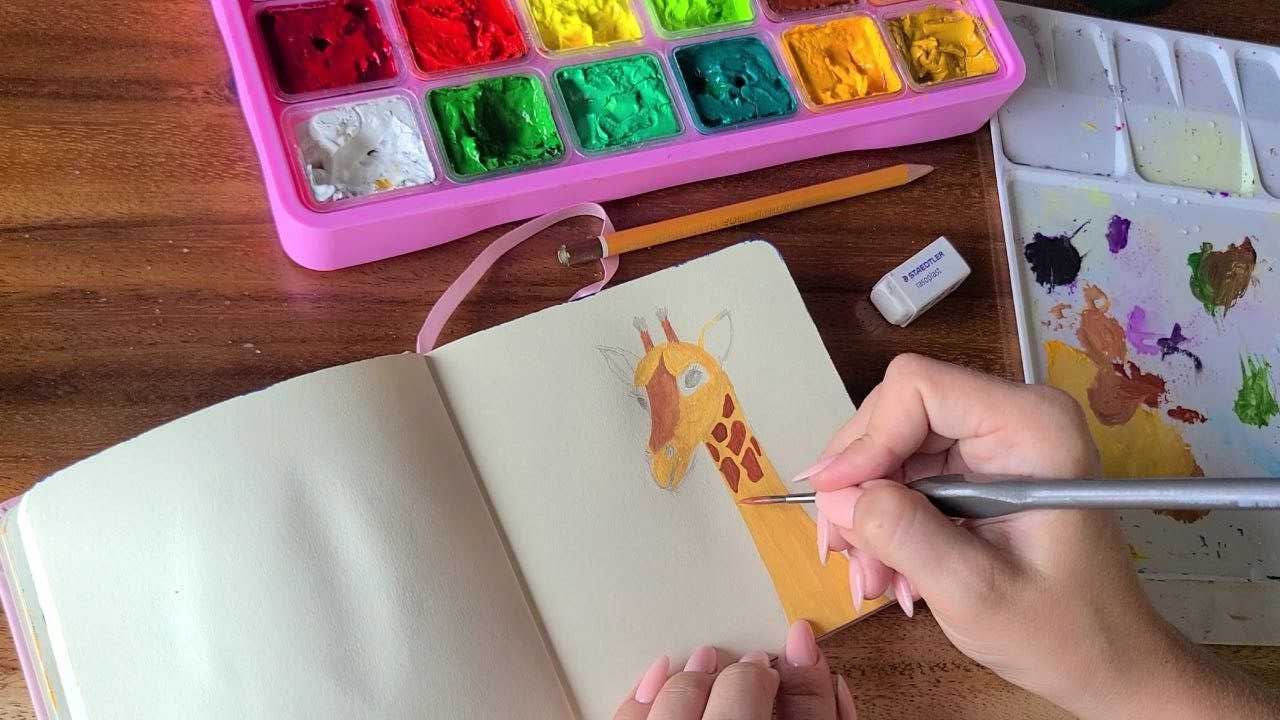 Add pattern spots on the neck and head, and paint darker areas on the forehead and cones
Step 9 – Add details with black
Underline the chin (slightly), paint the eyes and eyelashes, nostrils, cones' hairs, and mouth lines with black. Use a detailed round brush.
Step 10 – Paint ears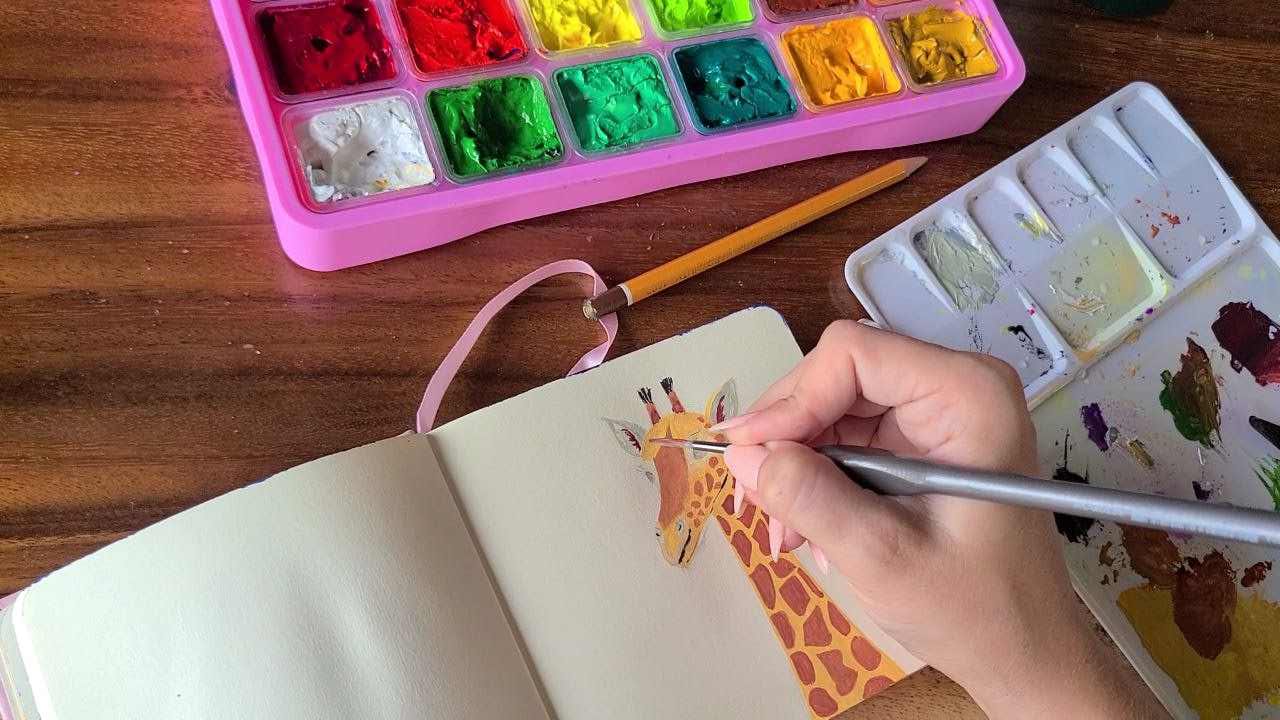 The base color for ears is greyish beige. In the inner center add some dark red or purple and some light beige on the outside part of the ears.
Step 11 – Finishing touches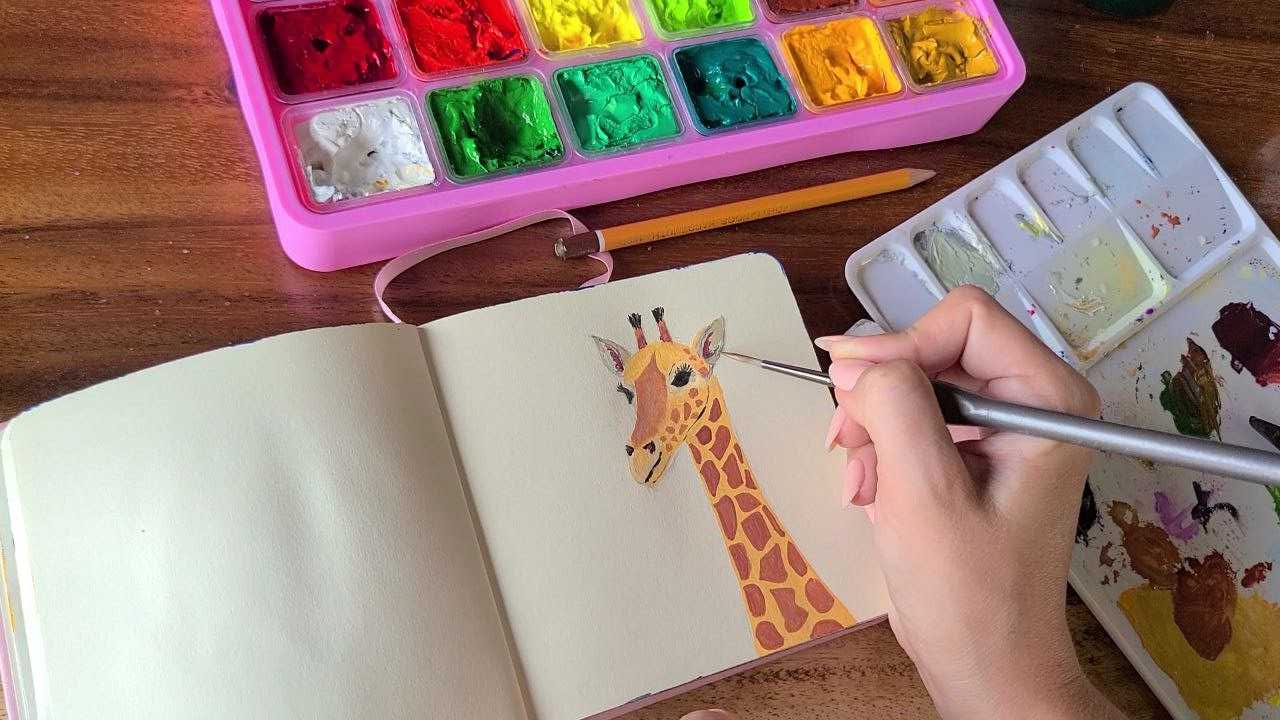 Just make sure you like how it looks, add details, more beige or grey in ears, or correct mistakes if any.
Step 12 – Background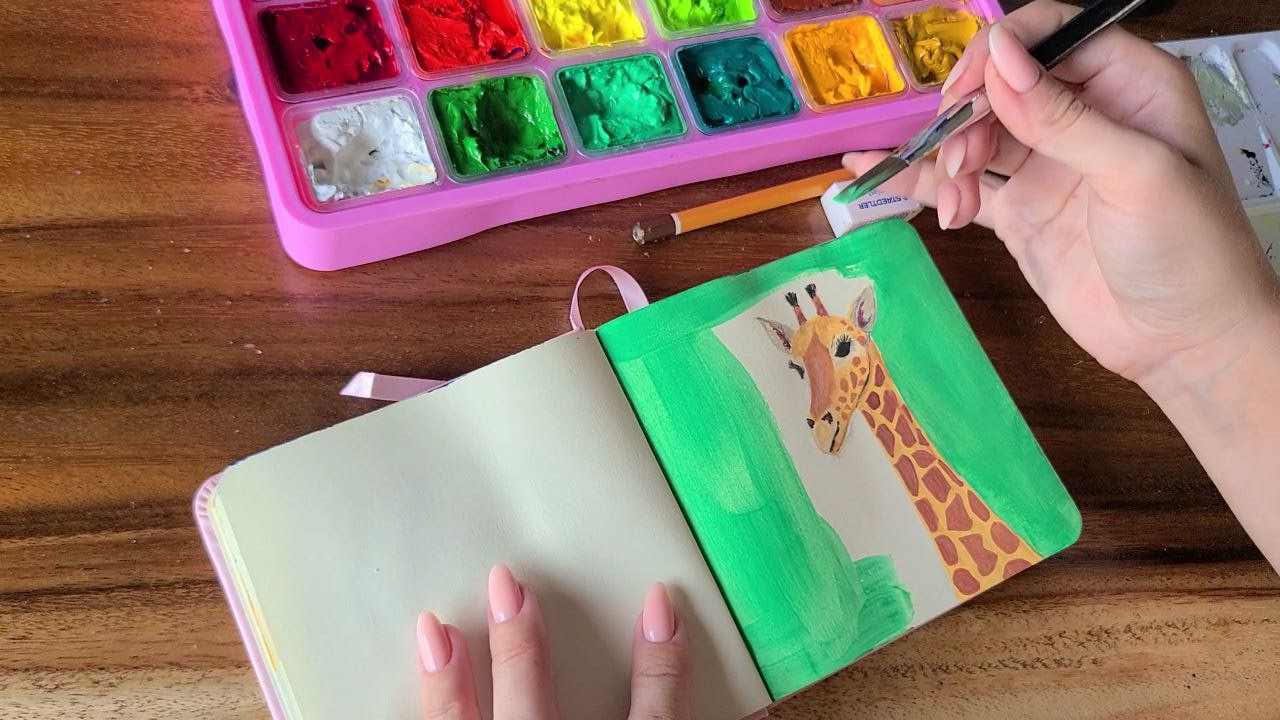 Add background color to make the giraffe pop out and stand out. It will make the sketch look complete.
Done!
---
How to Paint Giraffe in Acrylic

Medium: Acrylic
Level: Easy
After painting the sky and the ground, it's time to move on to the main attraction: a giraffe! There's nothing quite like painting one of these majestic creatures. Follow the steps below to create your very own easy giraffe painting.
Main supplies:
Read also: How to Paint with Acrylics on Canvas: 3 Easy Steps [Supplies included]
How to Paint Giraffe Head in Acrylic
Medium: Acrylic
Level: Easy
This simple giraffe painting begins with a sketch of the giraffe's head. Then, the artist painted the ​background ​ ​warm ​shades ​of ​brown, ​with ​the ​head ​as ​the ​focus. ​Using ​acrylic ​paint ​with ​a ​brush, ​the ​artist ​added ​detail ​around ​the ​head, ​creating ​an ​impression ​of ​fur ​and ​a ​textured ​mane.
Main supplies:
---
Abstract Giraffe Painting
Medium: Acrylic
Level: Easy
In this abstract giraffe painting, it's best to sketch the design ​of ​the ​painting ​before ​beginning. ​This ​will ​help ​you ​to ​have a better understanding of ​what ​your ​end ​result ​will ​look ​like.
Then, color the giraffe with your chosen color palette. Don't worry about making your painting look perfect as small ​imperfections ​will ​add ​to ​the ​effect ​of ​the ​abstract. Create a gradient of colors, incorporating ​different ​tones ​and ​hues ​to ​give ​depth ​to ​your painting.
Main supplies:
Easy Giraffe Drawing
Medium: Pencil
Level: Easy
Drawing a giraffe starts by creating basic shapes to outline where its head, body, legs, and tail will be. Start by drawing a circle for the head and an oval for the body. Add two long, curved lines for the neck and two short, curved lines for the legs. Finally, add a long, curved line with a pointy tip for the tail.
Once the outline is done, it's time to put the shapes together to create the giraffe's form. Then, add details like the ears, eyes, nose, and spots on the giraffe's body. Sketch lightly at first so it is easy to erase mistakes or make changes.
To add depth and texture to the drawing, shade in the giraffe's spots and shadow around its body. Also, use darker lines to add hair to the giraffe's face, neck, and legs.
Main supplies:
---
Funky Giraffe Painting
Take a break from the usual colors and make a fun and easy giraffe painting with this watercolor tutorial. Painting doesn't have to be boring and mundane, and this funky giraffe will prove it.
Here, the artist used neon yellow, green, and pink colors to make a vibrant giraffe painting.
Medium: Watercolor
Level: Easy to Intermediate
Main supplies:
Read also: Can You Use Acrylic Paint on Watercolor Paper? 5 Steps to Do It & Best Papers
Sunset Giraffe Painting
Add warm color to your walls with an ​easy giraffe painting featuring the setting sun. This simple yet stunning piece of art is easy to recreate and perfect for adding a subtle yet beautiful touch to any interior.
Plus, you only need to capture the silhouette of the giraffe and add a few landscapes to the background.
Medium: Acrylic
Level: Easy
Main supplies:
Giraffe in Starry Night Background
Medium: Acrylic
Level: Intermediate to Advanced
Have you ever thought of combining the famous Starry Night ​painting ​by Vincent Van Gogh with a​ ​beautiful giraffe? Luckily, this tutorial ​will ​show ​you ​how ​to ​create ​an ​easy giraffe painting in the ​style ​of ​Starry Night.
​It's not as difficult ​as ​you ​might ​think ​– ​just follow these easy steps ​for creating your masterpiece.
Main supplies:
Colorful Giraffe Painting
Medium: Acrylic
Level: Intermediate to Advanced
This stunning giraffe painting uses unconventional colors to make it stand out. A sunset-colored palette paints the background, creating an eye-catching scene. The giraffe is a delicate mix of orange and pink, perfect for a vibrant piece of art.
Main supplies:
Read also: The Best Brush for Acrylic Paint on Canvas
How to Paint Giraffe in Watercolor
Medium: Watercolor
Level: Easy
To recreate this watercolor painting, it's best to know how to draw a giraffe first. You can also use a reference photo, just like in this tutorial.
Use a pencil to draw the basic outlines of the giraffe, and then you can go in with your watercolors.
Choose the classic yellow, brown, and white combination or brighter colors. Then, fill in your giraffe's outline with the chosen colors. Start with a light tone, and then add darker tones to add depth.
Main supplies:
---
Rainbow Giraffe Painting Watercolor
Medium: Watercolor
Level: Easy
Using different colors of paint, you can easily create a bright and cheerful rainbow giraffe painting. The artist gently dabbed the colors onto the paper, blending them together to create a unique and beautiful piece of art.
While the body and face are colorful, you can focus on the eyes, which are the focal point of this painting. To create this effect, you will need to use black, yellow, and white.
Main supplies:
Giraffe Painting for Nursery
Medium: Acrylic or any kind of wall paint
Level: Easy
If you want to add some pizzazz to the nursery, why not make an ​easy ​giraffe painting? This fun project to add to your nursery walls is ​quick ​and ​simple.
The drawing of the giraffe is cute and ​easy ​to ​recreate. After the outline is painted, you just need to paint ​it and add fun shapes for its spots.
Main supplies:
---
Cute Giraffe Painting Easy
Medium: Acrylic or poster paint
Level: Easy
A cartoon version of a giraffe can be transformed into an easy and fun painting. It's a great project for kids or for adults who want to relax and take a break from painting realistic pieces.
This tutorial paints a giraffe eating from a tree, but if you'd like, you can edit the design to make your work unique.
Main supplies:
---
Giraffe Face Painting
Medium: Face paint
Level: Easy
Read also: Can You Put Acrylic Paint On Your Face & Body? 6 Safest Body Paint Included
For a Hallowe'en costume, a ​birthday party activity, or just for ​fun, ​an ​easy giraffe face painting is a great ​way ​to ​spice ​up ​the ​occasion. The key here is to use the correct colors and draw the spots ​in ​the ​right ​places.
Main supplies:
How Do You Paint a Giraffe for Kids?
Medium: Mixed media
Level: Easy
If you have a little artist in the family, why not encourage their creative side and give them something to do with their free time? This simple giraffe drawing uses basic materials and a few simple steps to create an easy giraffe painting that anyone can do.
After drawing the giraffe, you may start to color it. To give it more dimension, you can even use oil pastels or watercolors to add to draw a long yellow and brown mane.
Main supplies:
My tip: I love using Artistro acrylic markers on paper, wood. fabric and canvas, and Artiqo on plastic or metal.
How Do You Draw a Giraffe Head?
Medium: Ink
Level: Easy
This step-by-step tutorial will show you how to ​draw ​an ​easy giraffe head. Although it skips outlining basic shapes using a pencil, it uses ​simple ​lines ​and ​shapes so that you can finish a realistic-looking giraffe drawing.
Main supplies:
---
Easy Giraffe Painting FAQ
What are traditional giraffe colors?
Most giraffe paintings feature brown, black, white, and yellow colors. However, you can mix other shades for a more creative look.
What other animals can I paint like this?
You can use the same technique to create paintings of other animals, such as zebras, elephants, and lions.
What is the most famous giraffe painting?
One of the most iconic giraffe paintings is "The Burning Giraffe" by Salvador Dalí. It was painted in 1937. This serves as a perfect example of his surrealism flair.
Giraffe Avignon is another name for Burning Giraffes in Brown. The Giraffe serves as a totem animal for Dali, and the image of a flaming Giraffe is read by many as a portent of impending conflict. Meanwhile, fire stands in for a perilous and symbolic end to life.
Many people thought that without the patriarchal system, women would be useless, and the crutches in The Burning Giraffe are unmistakably male in origin, symbolizing this idea. In essence, they are phallic, symbolizing male superiority over female bodies.
Wrap Up
Now that you know how to paint a giraffe, it's time to get practicing! Giraffes are amazing animals, and their beauty should be shared with the world.
With a little practice, you'll be able to paint your stunning masterpiece in no time.
So grab your supplies, roll up your sleeves, and get creative! Happy painting!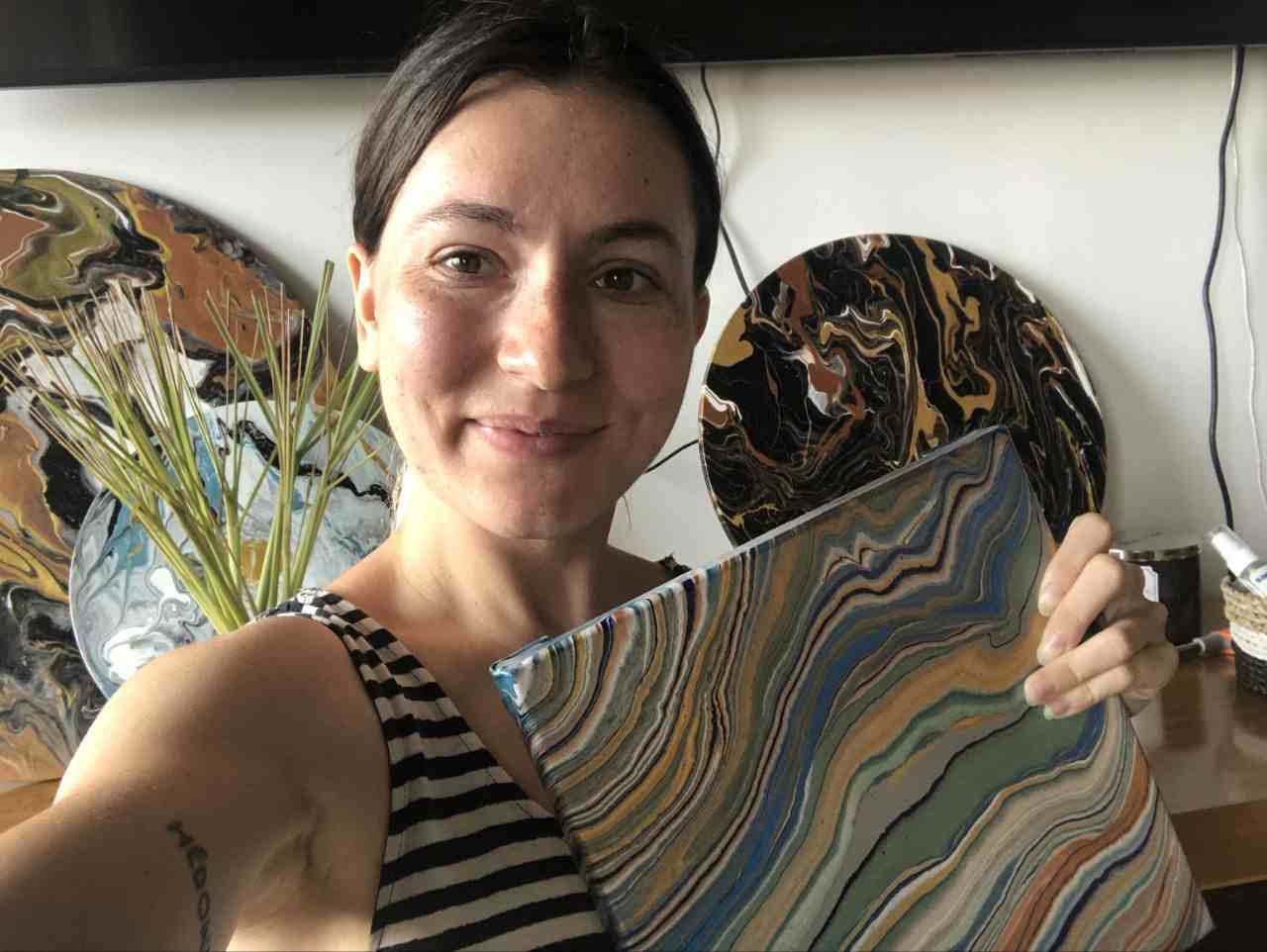 Masha Eretnova is a certified teacher. She started painting and drawing 20+ years ago and now is an international abstract artist and educator passionate about acrylic painting, gouache and crafts.
More about me.