After years of practice, we finally come to the point of "Oohhh that's how I was supposed to do it, why I didn't know it before?"
Why did nobody share it with me to save my time and sometimes even passion for the painting?
How many of us abandon painting just because we think this is not an art, I'm not an artist?
How many of us still learning trying to copy someone because we are afraid of letting our creativity go and bloom?
Yes, I've learned a lot by reading and attending Pro classes, but I know for sure, that these tips will motivate and boost the productivity of every beginner, even if You still think that you are not an artist yet – many painters had that feeling!
I suggest you split all painting tips into groups, as it could be easier for you to follow and pick the area you need advice from right now.
You can start painting with acrylics today: How to Paint with Acrylics on Canvas: 3 Easy Steps [Supplies included]
---
All acrylic painting tips and tricks at once before we start talking about each of them:
Experiment first and more than follow instructions
Be yourself and love what you are doing
Show your paintings
Choose a reference
Start with an easel
Try different acrylic painting techniques
Paint over mistakes or reuse the canvas
Make notes
Ask questions
Practice makes perfect
Use online galleries
Ger ready for lack of inspiration
Paint in the right environment
Use trash bags
What to wear
Do a sketch
Ugly stage
Paint dark to light
Paint larger areas to details
Work quickly
Step back
Sign and date
Take photos at the right time
Always wait until it dries
Paint in layers
Protect your painting
Use pre-stretched pre-primed canvases
Use canvas panels and pads for practicing
Don't be afraid of paper
Experiment with surfaces
Don't buy cheap brushes
Start with a simple brush set
Clean brushes immediately
Store brushes properly
Use large paintbrush
To paint a tree easily, use a fan brush
Buy artist-grade paint
Don't buy all colors
Buy a color wheel
Use stay-wet palette
Paint should be always clean
Use palette knives
Be careful with water
Use these tips to make the paint dry slower
Use these tricks to make the paint more opaque
You can make the paint dry faster
Play with texture
Use this to make the paint more fluid
Don't press on brushes
Use contrast colors
Learn how to blend
Learn color mixing (must!)
Use white misting spray
Use rule of the thirds to help you with composition
Mix varnish with paint
Use epoxy instead of varnish
Use paper pins to elevate your canvas
Parchment paper helps storing paintings
Leave a cute message under the painting
Cloth roller helps prepare painting for varnishing
---
What is acrylic paint?
Acrylics are water-based paint made of pigments and polymer binder combined. It helps acrylic paints to be opaque, bright, shiny and water-resistant when dry.
Acrylic paint is used for a variety of painting surfaces from paper to glass, but also for home improvement (acrylic latex paint) and outdoor paint jobs.
It is absolutely beginner-friendly, but as any medium requirestime to practice 🙂
A full breakdown on acrylic paint composition and FAQ: What is Acrylic Paint? Ultimate Acrylics 101
To learn acrylic painting and start it at home, you only need a beginner starter kit:
acrylic paints (you can start with this)
canvas or watercolor paper (here is a guide on how to choose your canvas)
2-4 paint brushes (round and flat, I explain why you need only these in my Brushes guide)
some paper towels to dry paint brushes and remove excess paint
spacious palette with wells and flat space for mixing colors
jar with water
You can even start without an easel or fancy extra tools.
---
Acrylic Painting Tips
1 – Experiment first and more than follow instructions
I'm part of many groups on Facebook for acrylic painting.
And the most often question and recommendation a beginner acrylic painter is looking for are "Advise me some good tutorial on how to paint …".
I have nothing against it, we need to have an idea about anatomy if we're working in realism and other not abstract movements, shades, color mixing, etc.
But believe me, techniques will never replace your creativity.
What I suggest is when you want to paint a dog, try to paint it as you feel first, experiment as you have no guidance and limits to your art, and feel this freedom.
And then, after trying and experimenting, watch some tutorials or read some step-by-step guides.
Here is the thing. The more our brain sees and learns something the stronger this neural connection will be.
I spent 7 years in music school but by the end of it I could not compose AT ALL. But well I could easily read notes.
The same is with painting.
Even if you're painting with your canvas upside down, like dab painting or using dots instead of lines – why not? Maybe you are up to something new?
So my very first hint will be: Feel yourself and your creative cravings first, then polish them.
And unique art selss very well too!
---
2 – Be yourself and love what you are doing!
To continue with being your first reference – art is the scene where you can be yourself and at the same time whoever you want – a magician in some sense.
You create, you deliver or message or you heal your traumas – it doesn't matter, painting is great for all purposes.
It is a proven method for art therapy, but it is also one of the most popular hobbies in the world – art was in the TOP-10 hobbies and interests in the USA in 2020 (30% of people mention it as favorite activity).
Why it is so important to love what you are doing?
Psychological studies have proven that loving what you do boosts overall productivity and enhances performance and creativity. People who enjoy what are they doing in life are more likely to be optimistic, motivated, learn faster, and make fewer mistakes.
Can you imagine?
It is not only mental health that is important, loving what you create means don't judge yourself, don't compare too much with other artists, and don't evaluate yourself based on their success stories or paintings.
There is no "right" art and you are your toughest critic.
Art is unquestionably one of the purest and highest elements in human happiness. It trains the mind through the eye and the eye through the mind. As the sun colors flowers, so does art color life.

― John Lubbock
---
3 – Show your paintings
Another way to learn and have feedback in a healthy atmosphere is to join some Facebook groups for absolute beginners.
Don't be afraid of sharing your art! The feedback and support of others will motivate you to keep going and boost your self-esteem as an artist.
Be generous in return and you are very likely to meet some new friends there!
These groups are also a great platform to ask questions and see what people recommend.
Share your painting on your social media too, to your friends and family. I'm sure they will be happy to have some of your works as a gift.
Showing your painting is a key to your progress. If you will hide your paintings you will never see the progress and be conscious of real feedback or things to improve.
---
4 – To start, choose a reference
For some beginners the most difficult part is to start, it seems like we have lots of ideas, and videos on Youtube but still struggling with the choice.
What I did with my first paintings when I was a kid or when I started a new medium, I just pick my favorite photo from travel, or I searched on Pinterest for a good reference for the idea I have in mind.
The static image is better to start painting. If you will print a photo, you can choose in what size you will print it. To have a printed reference in front of you is a real-time-saver.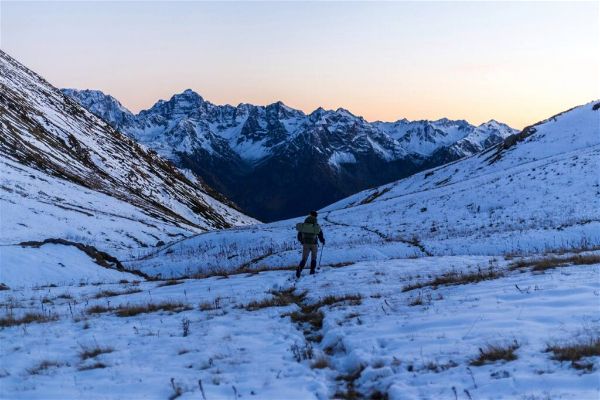 ---
5 – Start painting with an easel
If you are a beginner, it may be useful for you and easier to start acrylic painting with an easel.
At the same time, it is possible to paint without it, on the ground or the wall, especially if you have a large canvas. I don't use one at all and I'm fine.
If you have a reference and it is your first time painting, don't place the canvas horizontally on the table, it will slightly alter all proportions. Use an easel and place a reference close to you.
---
6 – Try different unique techniques
Related posts:
Learning means not only learning how to paint but also discovering which technique and style are yours.
Think about artists you like, why you like them?
I adore Pierre Soulage for his textured paintings and choice of colors, for how powerful his expositions are. What do I take from it? He was my inspiration for abstract acrylic painting.
Think about other crafty activities you like – sewing, handmade, photography, pottery? How you can combine them or what techniques you can borrow?
For example, a great artist nowadays, Rebecca Stern uses fabric collages on paper with acrylics and it looks gorgeous:
---
7 – Paint over mistakes or scrap the painting you don't like and reuse the canvas
Mistakes are vital for learning.
"Anyone who has never made a mistake has never tried anything new." – is an absolute truth.
Mistakes are markers for progress. Today you make a mistake and in one month you know exactly that you are doing better because you don't have the same mistakes anymore.
Be grateful and use mistakes. First of all, you can paint over mistakes with acrylics easily. They are more forgiving than oil paint.
To paint over a mistake, apply 1-2 layers of gesso, sand it and paint again!
Related post: How To Fix Cracked Acrylic Painting
Second, you always have an option to scrap the painting (here is an easy step-by-step guide, be patient, it takes some time), and reuse the canvas for a new painting.
And, finally, sometimes, if you leave this painting for a while and come back to it later, you can find it beautiful.
I've heard a "legend" about pottery, that the first piece you make could be the most beautiful piece you will ever make, but you will appreciate it only over time.
---
8 – Make notes
Making notes will save your time and money many times throughout your artistic life.
Notes will help you to identify a paint brand that cracks, a canvas that warps, the best brushes, or mistakes in varnishing and drying process.
It is also important because you can not remember everything.
However, paintings are supposed to last centuries, and sometimes you need to maintain them by replacing varnish, for example.
Are you sure that in 50 years you will remember exactly how much and what brand varnish you used to be sure this time your painting will not become milky or yellow?
Just buy a simple notebook and write down the materials, techniques, and experiments you had.
---
9 – Ask questions or read blogs
I already shared the idea of joining other groups, so don't be afraid to ask like-minded people what they think.
One of the typical posts in these groups is when a beginner shares a painting and says what he/she is struggling with and ask for advice.
Great option!
Another way is to simply google.
My blog and many others try to help you find the answer and Google will help you to find the most relevant blog.
I also often get questions on Pinterest and I am happy to answer them.
---
10 – Practice makes perfect
The best thing you can do to learn and paint is to be consistent.
Painting periodically is crucial for beginning painters.
Have some inspiration folders on your phone or boards on Pinterest, try something new or work on something that you want to improve, but be consistent.
Yes, we all know about the 10 000 hrs rule, but you don't have to spend 4 or 5 years to master 10 000 hours of painting and to become an artist, you need to do it on regular basis and with love to stay creative.
---
11 – Use Artfinder or Saatchi Art to sell your art
Related post: Art Selling Websites Successful Artists Love to Easily Make Money
When you will have at least 15 works, sign up and create a profile on Artfinder and Saatchi Art.
They are popular online galleries where artists of all styles and levels can sell their art safely.
The process of application is not complicated, but you need to have good photos and a motivational letter.
---
12 – Be ready for lack of inspiration
Sometimes we feel like we are not creative at all.
It is normal and inspiration depends on our stress level and many other factors. And sometimes we are just tired of what we are doing, not only art.
You can either push yourself and get nothing because it will only lead you to irritation. Or you can admit it and let it be without stressing yourself even more.
As I said stress blocks creativity.
We all have friends, loved ones, family, jobs, and something is always happening. Sometimes we feel like it is not the right moment for art. It could be it.
Stuck and need ideas? Check 101 Easy Acrylic Painting Ideas for Beginners on Canvas
---
Tips about the painting process
13 – Paint in the right environment
Paint, canvas, and finished painting are sensitive to environmental factors like temperature, humidity, and airflow.
High humidity (50%+), and low temperature ( below 65F (18C)) will slow down the drying process of acrylics.
Dry and hot air will make acrylic paints dry faster or even too fast which can lead to cracks. Don't forget that most acrylics have a quick drying time anyway – 10 to 30 min!
Related post: How Long Does Acrylic Paint Take to Dry?
The air should never blow directly on the painting. It will affect the drying process or even ruin the painting..
The ideal environment for painting is 65-75 degrees Fahrenheit (18 – 24 C), with 50% humidity and a well-aired room.
---
14 – Use trash bags to protect the floor
A cost-effective way to protect the floor or walls and other surfaces is just to cut big trash bags and fix them with duck tape.
You can easily organize the workplace in a few minutes and then fold the plastic and reuse it later.
If you have tiles on the floor, it can be fine, you can clean it right after you finish painting and it will be pretty easy because acrylic paint doesn't adhere to the tile.
But if you have a wooden floor and you will let the paint drip on it, you will be unable to save the floor after, because wood soaks paint.
Acrylics are quite hard to wash off from clothes and fabric, so you can protect them with trash bags even on your couch.
---
15 – Wear something to paint
Acrylic paint is pretty hard to wash off from clothes so try to wear something that you will not regret and you feel comfortable moving and painting.
Don't be afraid of paint on your skin.
Modern formulas are non-toxic and easy to wash off. Still better not to use acrylic on the skin, it is not supposed to be used this way and still contains agents and chemicals.
---
16 – Do a sketch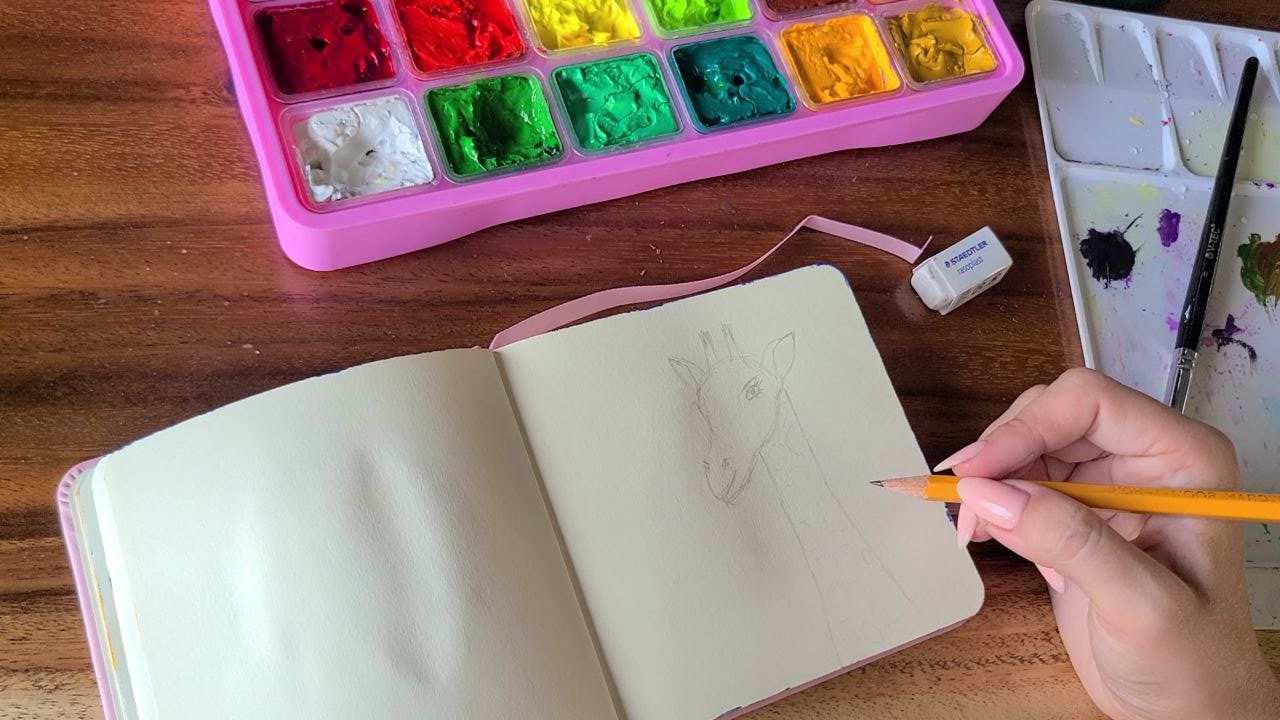 For beginning in painting better to do a sketch, especially if you paint landscape, portraits or nature more.
It is a key part to take the right perspective while painting landscapes, or cities. If you do abstract art you can also, surprisingly, need a sketch, if you have a specific idea – to "try" it.
You can slightly do it with a pencil, trying to place objects on the canvas. Don't go deep into details, just the overall composition.
To seal your pencil sketch you can always use a glaze.
---
17 – Ugly stage
Painting teaches you patience.
A sketch and first large strokes of darker color easily demotivate some beginners. You are right, it will look nice sometime soon.
Turn on your imagination and be focused on final painting, you don't judge a cake by the appearance of the dough.
---
18 – Paint dark to light
Related post: Do You Paint Acrylic Light to Dark or Dark to Light?
The golden rule of painting is to paint from dark areas and colors to light details.
It means that you start with a main darker color, you do the background and then you move to the mid-tones and in the end, you add shapes and highlights with light colors.
It allows you to create depth, but also it has a practical reason – it would be hard to shape light objects with dark paint colors and control the thickness of each layer.
It is also what can differentiate beginners from pros. How they create shapes and shades.
---
19 – Paint from larger areas to details
Pairing with the previous tip – it is easier and smarter to paint from larger areas and objects to smaller ones.
Create a background, then move to a lighter and more detailed image and create smaller objects and shapes.
Larger areas are usually darker and acrylics darken sometimes when dry.
But details can also make accents with light or very dark colors.
---
20 – Paint quickly and be decisive
Acrylics are quick-drying and you will get used to them over time.
Based on it, you need to move your brush quickly enough and be very sure about what you are doing. The first time, just think less and do, it after you can analyze your strokes.
Sketching will help you navigate.
---
21 – Step back to look at the painting
Like a real artist from movies, you need to step back.
It is important to have an overall view, to see the whole composition from time to time.
---
22 – Sign and date
Yes, even if you don't still believe in yourself, you are already an artist, sign your work. And put a date on the back, plus, mention mediums (acrylics on canvas, e.i.).
You can sign your painting on the back or in the corner of the painting itself. You can even have a simple stamp with your name.
Choose your signature wisely, it should be something permanent, that you will use for years. Plus, it should be something to help people identify your work.
A first name or initial and last name usually works.
---
23 -Take photos before applying isolation coat or varnish
A great photo can be not a case if you want to take a photo of a finished and varnished painting, simply because the protective finish usually has gloss.
What you need to do is to remember that you take photos when the finished acrylic painting is fully dried, BEFORE isolation coats or a protective finish.
---
24 – Always wait until it dries
The drying process is extremely important to follow.
Acrylic paint is fast-drying and still, it is fully dried, normally, in 24 hrs., except if you thin it, use retarders or open acrylics. If so, you need to wait longer.
And not only when it is done, but, ideally between all layers:
between gesso layers you need to wait as much as the manufacturer asks you (read the label),
between paint layers (thin layers dry faster),
before applying isolation coat and
before the protective finish.
Be patient, changes in dry time and shifts in dry time between layers will result in paint cracking or even peeling off.
Remember that thick layers of paint, paint with retarders will dry slower, and thin layers will dry faster. In general, acrylic paint dries in 10-20 minutes to touch.
If you are impatient you can make your paint dry faster, ex. using a hairdryer. If you're learning and feel a lack of time, use one of these 15 ways to make the paint dry slower.
---
25 – Paint in layers
We like acrylic painting because acrylics are fast-drying and you can paint over faster. This is why acrylic painting is a painting of layers: we are moving from underpainting, from background layers to top, detailed ones.
Acrylic painting is like a cake: we prime a canvas, then we put the first layer, second, third, and so on. As we discussed, usually we go from darker to lighter colors and from larger objects to small details.
---
26 – Protect the painting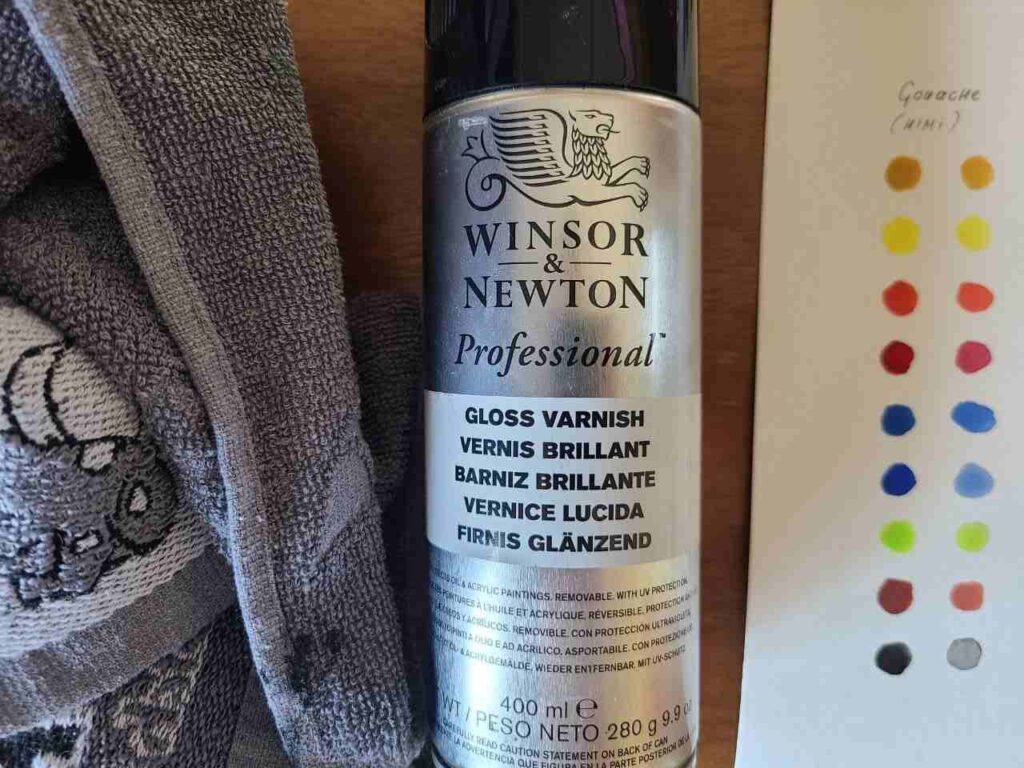 Acrylic painting can last centuries and it all depends on how well it was protected and maintained.
The full protection process needs knowledge and attention, but you will get used to it:
Prime your canvas or use pre-primed canvas
Once your painting is done and fully dried, apply an isolation coat to seal the surface and protect it from damage
Once the isolation coat is dried, apply varnish or protective finish to protect and seal your painting for the next 50-100 years,
If you want, place your painting under glass or UV-protected sheet with framing to protect it from fading and dust
Maintain properly: store in well-aired not too cold or warm areas, with 50% humidity; clean regularly, avoid touching it.
The full protection guide is here with a detailed explanation, links, and how-to guides.
---
Tips about canvases and other surfaces
27 – Use pre-primed pre-stretched canvas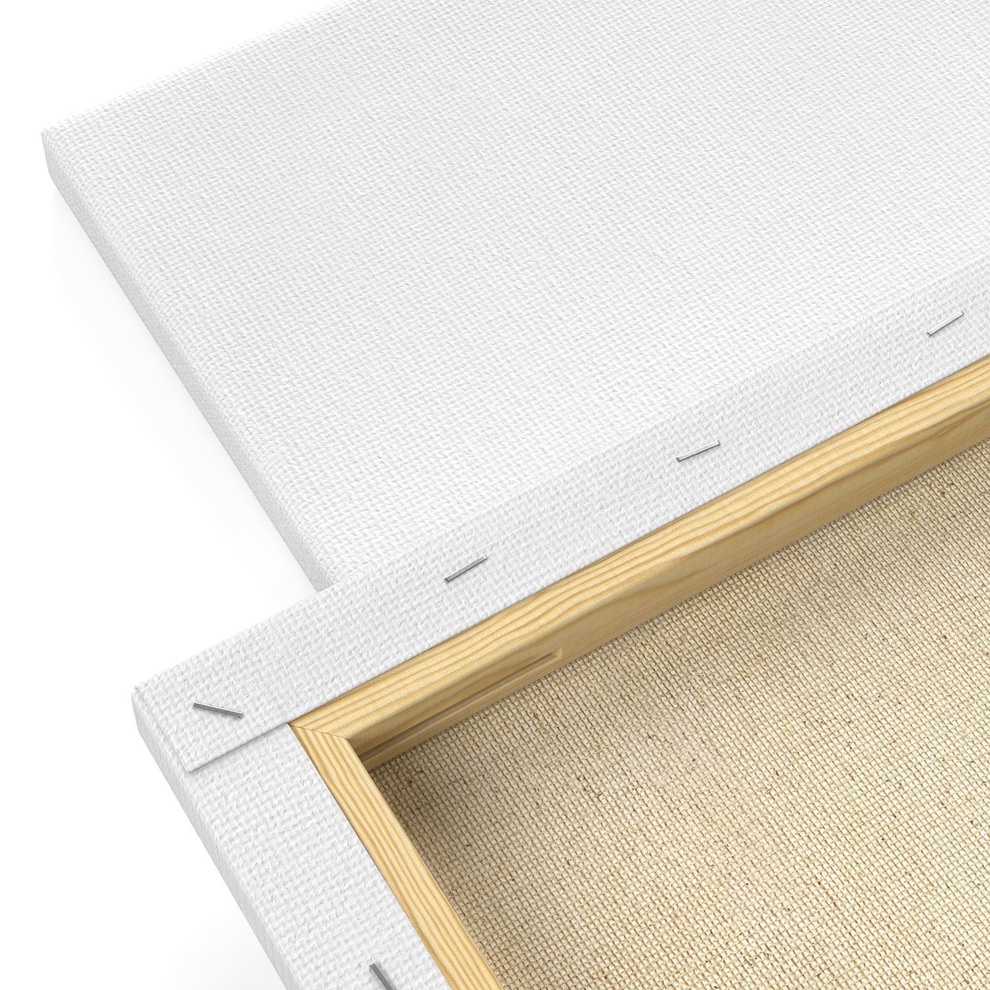 There are 2 main fabrics for canvas: cotton and linen. Basically, they come raw in rolls and artists stretch them and prime them in the studios.
Like oil painting, acrylic paints work great on canvas.
That is how it was before, and this is the way how almost all professional artists do it now.
However, the best way to start for a beginner is to buy online or in an art supplies store a pre-stretched and pre-primed (triple primed is the best option) cotton canvas.
Linen canvases will be more expensive and a beginner (and some pros, to be honest) won't be able to tell the difference sometimes.
Stretching a canvas is a separate skill, you will master it, but don't start with it. Saggy canvas will ruin all joy.
Priming a canvas is crucial because a primer prepares a canvas to paint, increases paint adhesion, and makes the surface smooth and easy to paint onto. The most common primer is a gesso.
An affordable option with 3 layers of gesso, good stretching, and nice reviews is Blick Premiere Cotton Canvas.
Recently, I reviewed about 38 good canvases for beginners and made the TOP shortlist, you can read about it here.
---
28 – Use canvas pads or panels for practice
Sometimes we are too scared to paint directly on the canvas.
Well, nothing wrong with it, you can use acrylics on canvas panels and paper or canvas pads. It is a cheaper option for practicing.
Panels are cotton or linen fabric glued to a board and are quite hard to hang.
Pads include usually 10-20 paper sheets which are very easy to frame if you want.
Mont Martre Canvas Panels and Canson XL Paper Pad are great, I personally use Canson.
For more details about what is it and what are other alternatives feel free to read in a related article.
---
29 – Don't be afraid of paper
There are special paper and paper pads for acrylic paint.
This paper is thicker and rougher than a normal one and has a canvas-like texture.
You should be careful with water because paper soaks water easily and will warp. But still paper is a great surface to practice and create smaller sketches for larger paintings.
It is also a portable option and extremely cheap. Canson XL Paper Pad costs 9 dollars for 24 sheets, which means 0,40 cents per sheet. Very affordable.
---
30 – Paint on diverse surfaces
Anything that acrylic paint can stick to: canvas, paper, wood, fabric, plastic, metal, glass, etc.
All surfaces need special preparation and sometimes specific paint.
But you definitely have a lot of places to be creative. From newspaper to shoes.
---
Tips about acrylic paint brushes
31 – Don't buy cheap brushes
Related post: The Best Brush for Acrylic Paint on Canvas
First of all, you don't need all paint brushes in the world to start painting. But also, don't be teased by the cheapest option. The higher quality of all materials is very important.
A cheap and low-quality paintbrush will leave brush strokes and bristles everywhere.
For acrylic, we use synthetic brushes. I am mainly using a flat brush for my abstract paintings.
---
32 – Start with a brush set
The best way to start is to buy a set of synthetic basic brushes, get one really large, one for detailed work (a thin brush with long bristles), one round brush, one flat brush.
Of course, you can have as many as you want, but these will help you with any kind of painting idea.
Filbert brush (flat with an oval top) is good to start with too.
You can buy different sizes: small, medium and large.
Good brush sets are Princeton brushes and Blick Wonder White Set – Assorted Handle, Set of 6. The cost per set for beginners will be from $20 to $50.
You can find many cheap sets on Amazon, I would question their qualities and overall durability, but they also work, myself, I've used cheap brushes in the beginning.
Over time you will understand better what kind of brush you need.
---
33 – Clean brushes right after your painting session
Related post: How to Clean Acrylic Paint Brushes [The Ultimate Cleaning Guide]
Pretty obvious but still very true.
If you forget to clean brushes right after you've done painting, you will lose a lot of brushes and their quality will degrade.
Use 2 jars with water during painting to keep brushes clean and a special towel to dry them quickly. I use an old piece of towel.
How to clean brushes after acrylic painting:
Use mild soap and water to clean brushes.
Lay your brushes flat to dry. We don't let water destroy the glue in the ferrule and loosen the glue.
Store them bristles up.
Never leave your brushes sitting in water for a long time.
---
34 – Store brushes properly
Use a separate jar or glass and store all brushes only bristles up, otherwise, the bristles can be bent.
Store brushes only when they are clean and dried.
Store brushes for varnish separately and sign them.
---
35 – Use large brushes and wide strokes
With a larger brush, it is easier and faster to cover any area (size 10+)
It saves time and creates fewer brushstrokes on the canvas (if your brush leaves them).
Wider strokes are perfect for backgrounds, and thin strokes – are for details. Professional artists can create all kinds of shades and details with wide strokes.
---
Tips about acrylic paints
36 – Buy artist-grade paint, don't go for cheap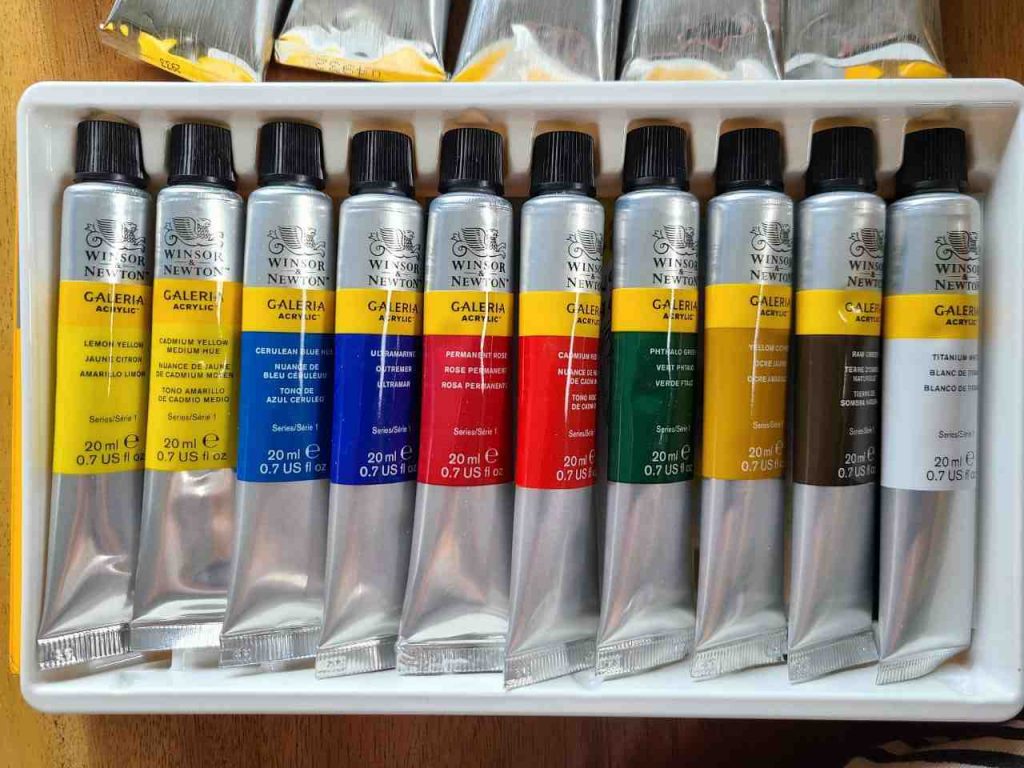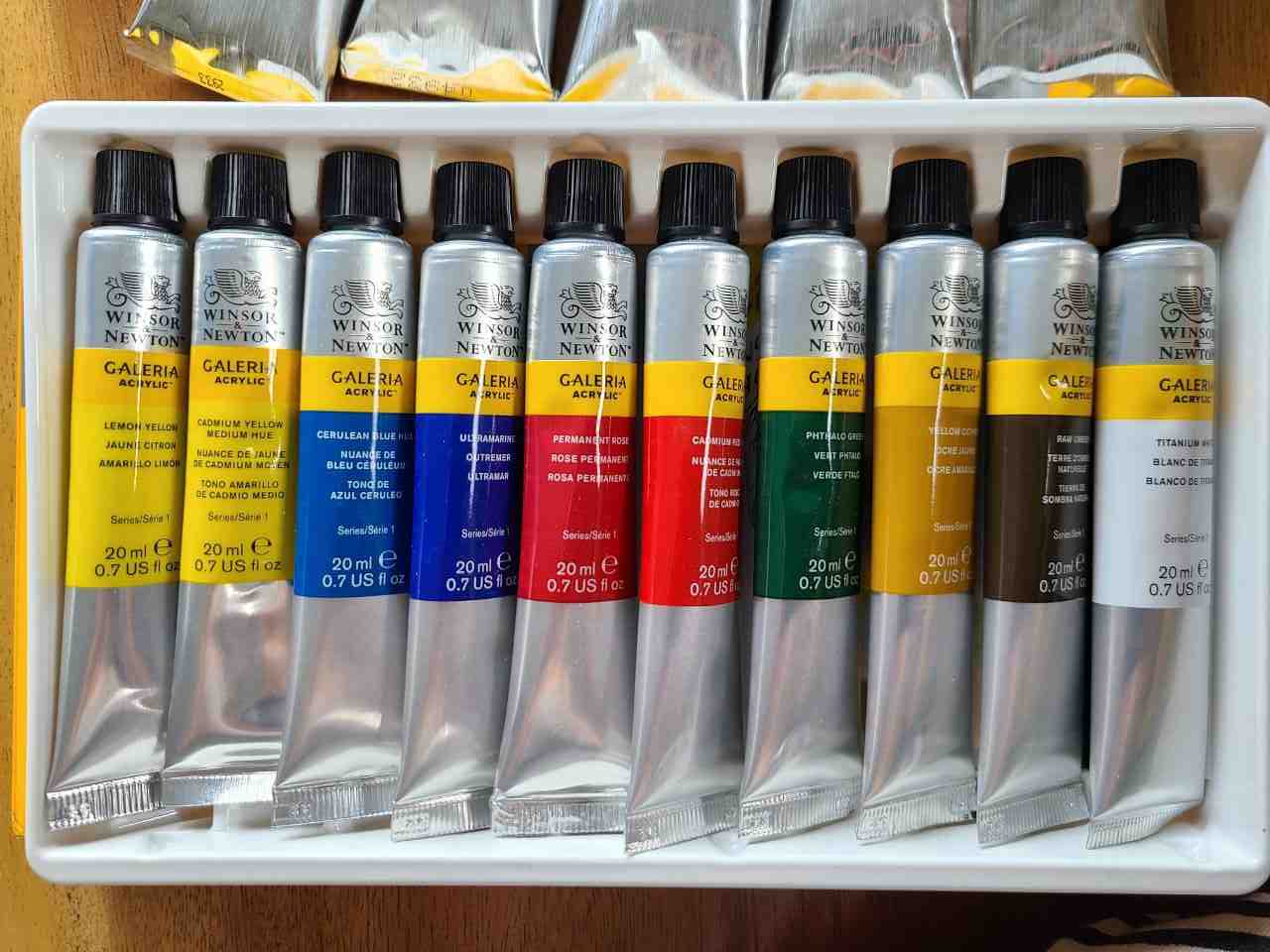 Related post: 21 Best Acrylic Paint Brands for Beginners and Professional Artists
Same as for brushes and other materials – don't go with the cheapest. Try to find the best price-quality option.
There are 2 grades of acrylic paint: student quality and artist quality.
They differ by quality and composition. Artist grade is better, contains more pigments, and can be more expensive, but it is the real paint artist will use for painting that will last centuries.
Normally, you can tell by brand, price, and name if the paint is artist-grade. For ex., Artist's paint or Studio paint.
On Amazon they sell tons of craft paints – nothing wrong with it, they are extremely affordable and always come in a big paint set which comes in handy to a beginner.
They are probably not good for artwork you would like to sell.
It is better to use tubes rather than jars of paint because acrylic paint stays cleaner in a tube.
To make the most out of your tube always squeeze from the bottom of the tube.
---
37 – Don't buy all paint colors
You don't have to buy big jars and lots of paint to start. First of all, it is expensive. Second, you can learn to mix colors.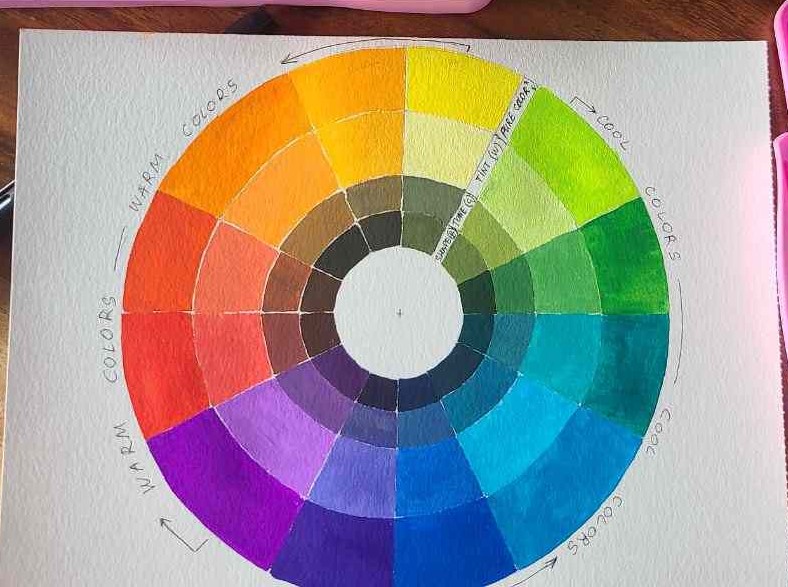 Red, blue, yellow, black, white, and burnt umber or yellow ochre – are good paints to start painting.
All good brands have basic sets of paint.
Good paint brands are Golden, Liquitex, Winsor&Newton, Pebeo, Utrecht, Amsterdam, etc.
Golden has an amazing artist-grade set of 6 colors: Benzimidazolone Yellow Medium, Carbon Black, Phthalo Blue (Green Shade), Phthalo Green (Blue Shade), Quinacridone Magenta, and Titanium White.
---
38 – Get a color wheel
A color wheel is basically a circle with colored sections representing the relationships between colors. Main colors and the color spectrum change.
By the way, did you know that Newton invented the color wheel?
Why you should use it?
first of all, you can learn how to mix colors
you will also learn how the same color will look like if you mix it with white or black
you can also buy a black-and-white color wheel to learn color mixing
to learn what colors contrast with each other
A color wheel is normally easy to find and purchase in every art shop or online.
---
39 – Use a stay-wet palette
Acrylics are fast-drying unlike oil paints, and when you squeeze more paint than you will use on the palette, it will dry and you won't be able to reactivate it again.
You will learn with experience how much paint you need, meanwhile, use stay-wet palettes.
A Stay-wet palette is a palette for paint that keeps them wet and slows down the drying process.
You can easily make one of these plastic palettes at home: get a container and paper towel, soak them in water, and Voila!
You have more time to work with paint, you have less ruined dried paint – save time and money!
---
40 – Paint should be always clean
When you're painting, you dip a brush into water and into a palette or directly in paint (do not recommend this).
To keep the paint clean, use one container with water only to wet brushes and another one to clean them.
After you are done painting clean the head of the paint tube and the lid so the paint doesn't build up and drt there.
---
41 – Use palette knives for mixing and texture
Palette knives have different shapes and sizes, but the most common one looks like this:
I adore them and to be honest use them more often than brushes.
In general, you will use a palette knife for mixing colors on the palette, because a brush can mud colors while a palette knife is easy to clean and mix paint better.
You can also use a palette knife to create an interesting texture – this is how I create my painting.
You can apply thick layers with sharp movements, create gentle flower petals, paint landscapes and portraits or you can scrap with a palette knife or you can create an even and smooth surface. Experiment!
I saw plastic knife for sale the other day, but I would always prefer the classic one – metal head and wooden handle.
---
42 – Be careful with water!
Avoid tap water and especially use too much water.
Water destroys paint, to be more specific, water dissolves paint composition, and agents in paint, and binder, can't stick to each other.
This means the paint will not last as long as it could and can eventually peel off.
If you use water, try to avoid tap water and use distilled water instead.
Or, to not get complicated with distilled water, always have a little jar with Golden GAC100 and dip wet brush in it – this medium is a binder polymer like medium that helps acrylic keep the strong bond between pigment and binder and doesn't allow water to break it.
If you don't have any other acrylic mediums to thin the paint, do not add more than 30% of water. Acrylics don't work as watercolor.
I need to mention, that there is one way to use more water – it is when you want to create a wash – adding water to the color we create a semi-transparent layer of this color and it can be a background.
Beginners should be very careful with water. Never use solvents or mineral spirits to thin acrylic paint.
Related post: How to Thin Acrylic Paint
---
43 – Make your paint dry slower if you need more time
Related post: 15 Proven Ways How to Make Acrylic Paint Dry Slower & Homemade Acrylic Paint Retarder Recipe
For a beginner fast-drying properties of the acrylics can not be fun, you have 10-20 minutes to finish the layer.
The good news is that we have a lot of ways to slow down the process and have more open time – more time to work with paint.
The drying process of acrylics is simple evaporation.
To make them dry slower, we need to slow down the evaporation, keep water in the paint, or use special paint, with longer workability.
Finally, we can use special mediums that were created to make acrylic paint dry slower.
use a retarder like Golden Acrylic Retarder or Liquitex Slow-Dry Medium, to check more alternatives, read the full article about slowing down the drying process
paint in higher humidity or in a dark cool room or even basement
use Golden Open Acrylics – this paint stays wet for up to 1 hour!
mist the back of the canvas
use a stay-wet palette or spray your normal palette with water ( I use an old spray bottle)
One of these tips will absolutely be enough to help you keep your paint wet longer and make acrylics dry slower.
---
44 – Tips to make the paint more opaque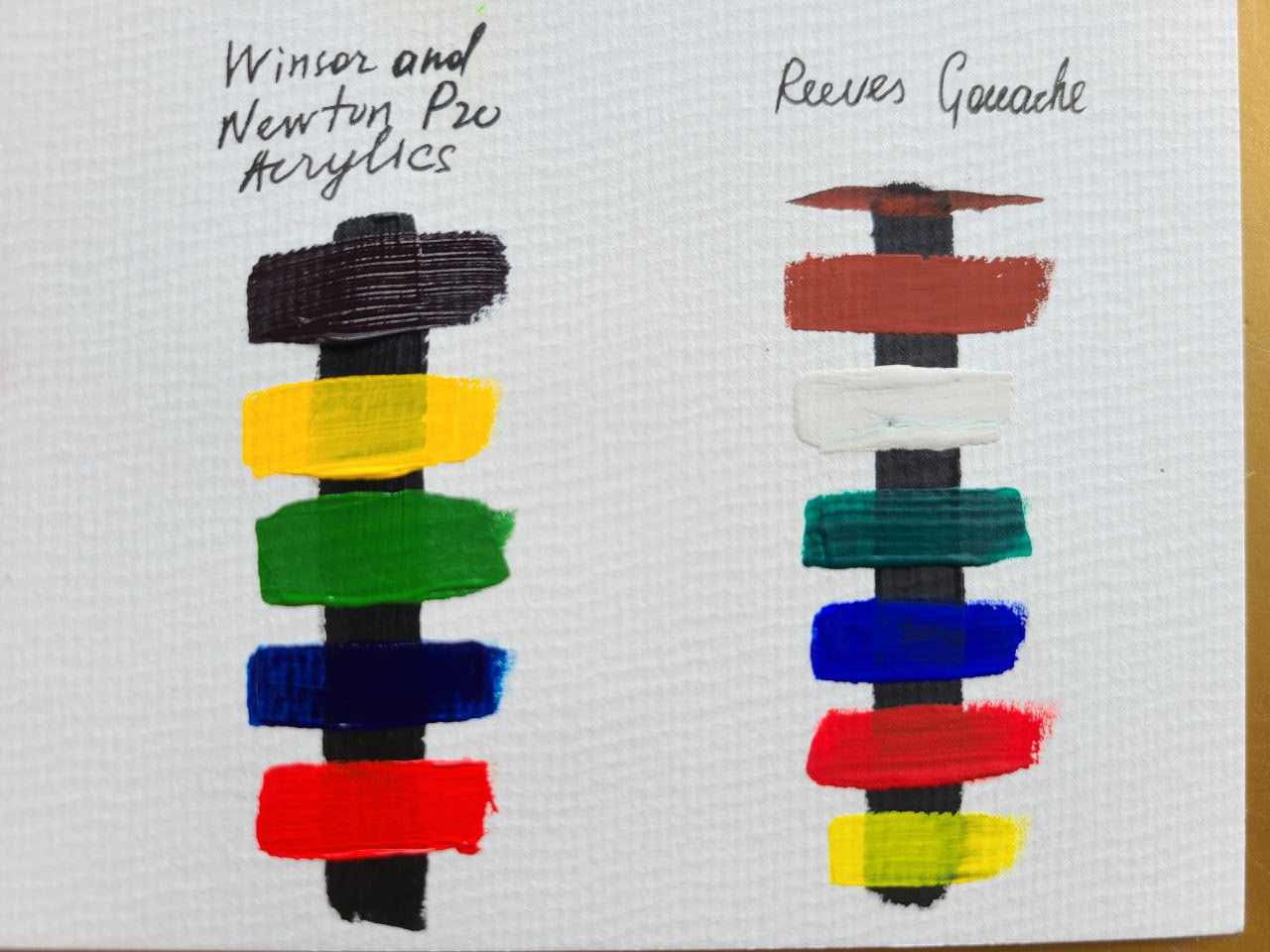 Related post: 7 Ways to Make Acrylics More Opaque
Student-grade paint is less opaque than artist paint.
Opacity means how much light goes through this color.
To add opacity to the paint, you can:
Add Titanium white, as it is the most opaque color, but note that it will affect the tint too.
Apply an underlayer of titanium white
Mix colors, e.i. orange is more opaque when you mix it than when you use an orange color from the tube.
Choose another, artist-grade, paint
If you need more understanding of the opacity/transparency and an explanation of 7 ways to make the paint more open, check this post.
---
45 – Learn to make the paint dry faster
Related post: How to Make Acrylic Paint Dry Faster
Some of you may be too impatient or may put much effort to make acrylics dry slower than now it is annoying.
If you really think that you need to speed up the drying process, the easiest way is to use a hair dryer.
Don't direct it straight on the painting, don't turn on the max power, and avoid using the hairdryer too long.
First of all, remember that any shifts in dry time between layers or areas on the painting can lead to cracks.
There are no special fast-drying mediums because acrylic paint itself is very fast-drying.
If you don't want to use a hair dryer or a heater, you can also place the painting in the dry room.
---
46 – How to make the paint more fluid
The process of thinning acrylic paint makes it more fluid and easy to work with.
The easiest and most effective way is to buy a flow improver, like Liquitex.
The process is simple, adding the medium to check the consistency of the paint. If it is thin and fluid enough, start painting. If not, add a bit more.
Please, don't add too much water, water is not only thinning the paint but destabilizing its composition.
The thinning process itself is an important step in learning, please read this article to understand what is the composition of the paint and why water is not the best option.
---
47 – How to create texture
Acrylic paint can be applied thin and thick.
Thicker application and using palette knives or sponges, or even other materials and mediums can create textures and fantastic effects.
First, don't add water at all – the paint will be very thick and you can use a palette knife to apply it directly on the canvas.
Another way is to use your fingers – you can create strokes, lines, prints.
Read also: 18 Easy Ways How to Make Acrylic Paint Thicker: A Comprehensive Guide
---
48 – Don't press too hard
Never put too much pressure on brushes or canvas, the canvas is stretched and the shifts in stretching can lead to sagging, which means your painting is damaged.
Painting details try to be as light as possible, but still very decisive!
---
49 – Use contrasts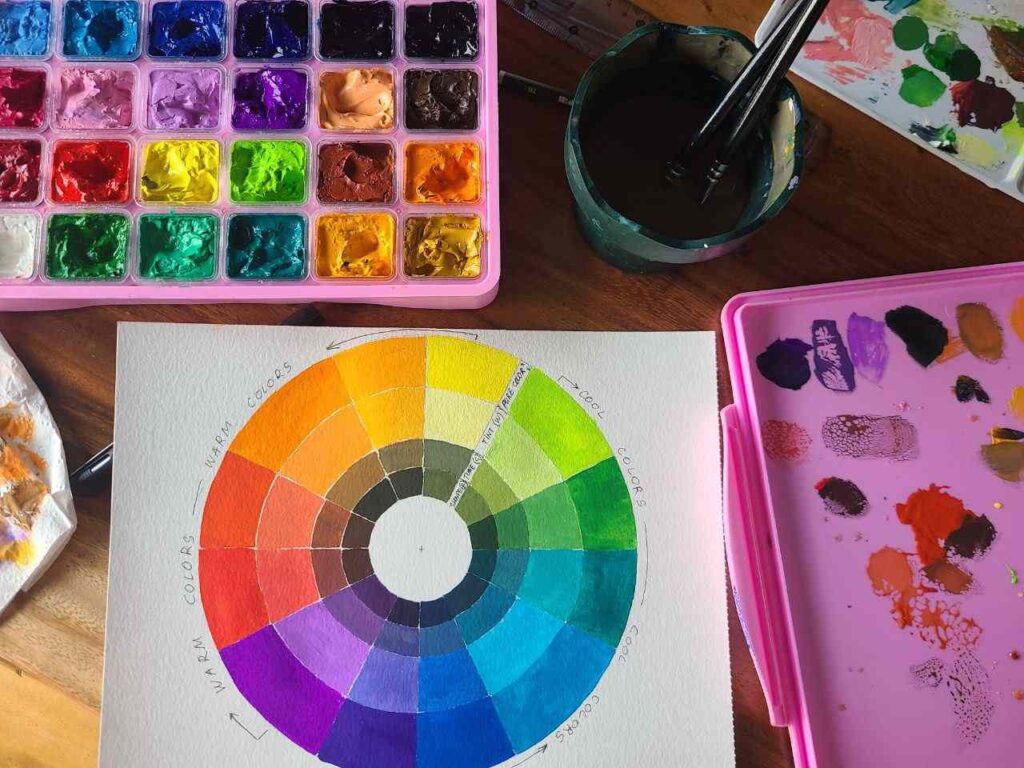 Using the color wheel you can discover what colors contrast with each other.
Warm pigments like red, orange, and yellow will create a contrast with cool pigments – blue, green, and purple.
Bright accents and contrasts attract people and make your painting something to remember.
Contrast is the best way to make your paintings visually interesting and add a realistic look.
You can do this by using warm colors (reds, yellows, oranges) next to cool shades (blues, purples, greens).
---
50 – Learn & Practice blending
Related post: 11 Easy Techniques on How to Blend Acrylic Paint Smoothly
Blending is "mixing" colors directly on the painting to create a gradual and smooth transition.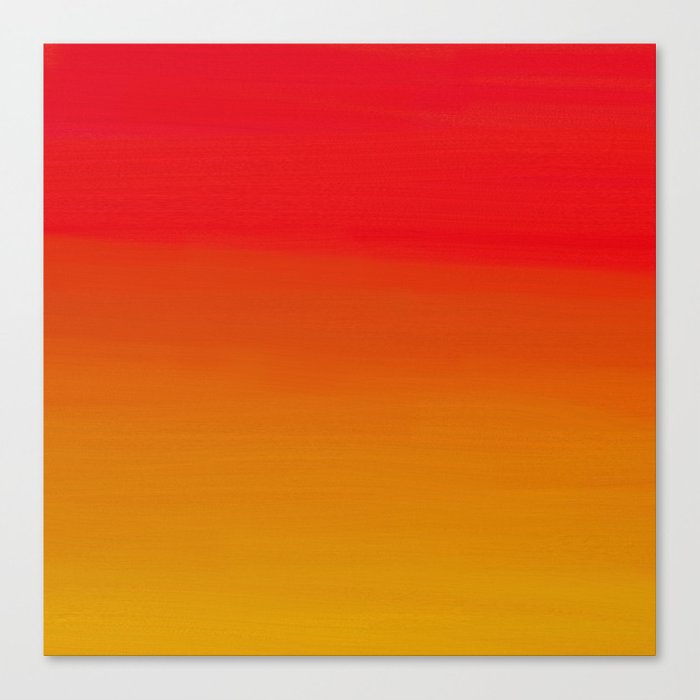 It will take some time, but you will definitely get it. Once you know how to blend, your backgrounds will be perfect!
You can use the wet-into-wet technique – blend the colors together while they are still wet or mesh the colors right on the canvas.
---
51 – Learn to mix colors
Guide: How To Mix Acrylic Paint? – Your Complete Color Mixing Guide
This is probably one of the most important tips you should know.
Mixing colors and being able to understand them and mix them by yourself – is a kind of creative freedom.
It is also the question of saving money, quality – as we discussed some colors are more opaque when you're mixing them by yourself, and variety – now you can create so many tints!
Professional artists are more likely to mix all colors they need by themselves.
You can learn to mix any color from the 3 basic colors: red, blue, and yellow. They are primary colors, which means you can not create them by mixing other colors.
There are also secondary colors – the colors you create by mixing 2 primary colors: orange, purple, green
If you mix 1 primary color with an equal amount of 1 secondary color, you create a tertiary color:
By mixing colors again and again you will create other tints. Make swatches to keep results and take notes to know exactly what to mix next time!
You should also know how to combine colors on the painting, each color has a complimentary one (the color on the opposite side), e.i. for yellow purple is complimentary.
Swatches will also help you to discover that some acrylics dry darker.
Usually, the cheaper paint is, the bigger can be that difference and "surprise".
---
More tips for painting with acrylic paint
I got some more painting tips for beginners up my sleeve and I will adding more and more as I always keep my eyes open on how to save money and effort, and upskill!
52 – To paint a tree easily, use a fan brush
I don't really use a fan brush, but one time they come in handy it is painting trees, especially pine trees for a nice skyline.
---
53 – Use white misting spray
It is a DIY trick I've seen pro abstract artists using and I think it's a genius idea which I implemented right away.
You fill a misting bottle with water and a tiny bit of white paint, shake it well, let it sit.
When you struggle with blending, when you need more white, or to create mist (for landscapes) you can use this bottle!
I suggest mixing white not only with water but with a little bit of GAC100 as too much water can eventually ruin the acrylic paint and the GAC helps maintain the paint stability.
---
54 – Use cloth roller before varnishing
Smart, huh?!
To make your finished dry painting absolutely clean and ready to be varnished, you can use the regular cloth roller so all hairs and small dust you don't even see and know about will stick to it!
---
55 – For extra durability and sheen use epoxy instead of varnish
Have you seen painting that look like a smooth glass surface and the colors are so bright?! Probably the artist applied epoxy over this painting.
This process is tricky but as epoxy is self-leveling it will guarantee a 100% smooth even shiny surface. It also will be the most durable protection for your painting or pouring.
I've talked more about it here: 5 Pro Steps to Protect Acrylic Paintings on Canvas
You can also apply epoxy at he back of the canvas for extra durability. It makes the canvas very sturdy and will prevent sagging.
---
56 – Leave secret messages!
If you are selling your work or your art is a part of a therapy for you, you can always leave a message on the canvas before you paint on it. You can write it down with paint (better with paint as pencil will show marks).
I saw many artist doing this, and even for pouring I saw Olga Soby leaving nice inspirational and emotional words on her canvas before she pours over it.
---
57 – Use paper pins to elevate your canvas
On Amazon there are tons of special triangles to elevate your canvas. But you can actually use simple paper pins for small and medium canvases!
Why you need to elevate your canvas? It helps you access easily the edges and paint it and it helps poured paint drip on the table and prevents your canvas being stuck to it when the paint dries.
---
58 – Parchment paper helps storing
If you have a few painting finished and not varnished and you just piled them up…you may find them stuck together after a while! Sometimes you can remove each one of them safely, but sometimes….it pulls the paint away *scream*.
To prevent it firstly, don't pile them up or let painted surfaces touch each other.
Secondly, varnish it.
For the time you are waiting for varnishing (or in case you skipped it for now), you can use parchment paper, NOT regular paper as acrylic sticks to it, to lay in between paintings.
Anything that acrylic paint doesn't stick to will work, but acrylics truly are super versatile and can adhere to pretty much any surface.
---
59 – Mix varnish with paint
It is a risky one but worth experimenting. Mixing acrylic paint with water-based acrylic varnishes will make paint dry significantly slower, increase its flow, and will be paint and protection 2 in 1!
Some artists also say it will make it shinier (it applies only if you use gloss varnish though, won't work with matte).
---
60 – Use rule of the thirds to help you with composition
If you studied photography you may have heard of this rule. If not the rule of the thirds basically tells us how to place objects on our painting.
You will first draw a rectangle divided in 3 even columns. Then add 2 horizontal lines to create total of 9 equal rectangles.
This creates for us 4 intersections or focal points if we apply it for painting. One of these 4 focal points are where we should place the main accents and contract areas if we are painting abstract or main objects if we are painting landscape or anything else. You don't have to use all 4 in one painting!
---
I will keep adding more tips as I am painting myself and take classes and experiment and it results in cool tips and tricks I am excited to share with you!
Acrylic Painting Tips FAQ
What should I paint with acrylics?
Acrylic paint is extremely versatile, has a fast drying time, and you can paint just about anything you want: from landscape to abstract. Acrylics are also often used for painting with mixed media, to create texture, or for pouring techniques. TONS of ideas and formats: on wood, rocks, glass, leather, and fabric, your favorite mug, or just paper and canvas.
Tips when painting with acrylic?
If you will need to summarize, the best tips when painting with acrylic paint are: try to not use a lot of water, always paint in thin layers, let the painting dry fully before applying the next coat or protective finish, and use good quality supplies, and get creative! To learn 50+ tips read my extreme list of Acrylic painting tips.
What do you need to paint with acrylics?
Acrylics are very affordable and you only need a couple of brushes (start with round brushes and flat ones), good yet affordable acrylic paint, and a painting surface – canvas or paper! Once painting becomes a bigger part of your life, you will start experimenting with acrylic mediums, different surfaces, and techniques. To see the full list of essential and extra supplies, check my simple guide.
Do you wet the brush before using acrylic paint?
You can use acrylics wet and dry. If you wet your brush you will have smoother brush strokes. But do not load too much paint neither too much water on your brush – it may make acrylic paints transparent and the consistency will be too watery.
Do you paint dark or light first acrylic?
With acrylic paints you paint dark first and then gradually move towards lighter areas in your painting. For landscape paintings it means starting with dark mountains, dark skies, or dark ground colors first.
Do you let acrylic paint dry between layers?
Painting with acrylics you should always let previous layers dry before you add the next layer. It applies to gesso and varnish as well. Wait at least 30 min, until the acrylic is dry to touch. If you are working with thick layers, palette knife application or texture, wait 24 hours.
What do you put on canvas before acrylic painting?
Before you start acrylic painting, you need to prepare the canvas. Apply 2 coats of gesso. Gesso is a white paint mixture made of a binder (usually acrylic) and a white pigment (such as chalk or titanium dioxide) that is used to prepare a surface for painting.
It helps to create a smooth and even surface, improves the adhesion of the paint, and prevents the paint from soaking into the canvas fibers, which could cause the colors to appear dull or faded.
To apply gesso, you can use a brush or a roller and apply it in thin layers, allowing each layer to dry completely before adding another. Once the gesso is dry, you can sand the surface to create a smoother texture, if desired.
Some artists prefer to tint the gesso with a small amount of acrylic paint to create a colored ground that will influence the overall tone of the painting.
---
Final thoughts
Painting with acrylics is one of my favorite things to do in life.
Painting in general is a great hobby, profession or therapy tool. And you don't have to be a senior artist to have your own painting tips.
You absolutely should learn about nature of acrylic paint and color theory, but other than that, you are free to experiment.
If you think you came up with a great idea, share it with me! I'm happy to hear. I'm happy to hear and add to my list a few pointers.
If you need some guidance, I'm here to help you with my blog and tutorials.
Fun and Happy Painting!