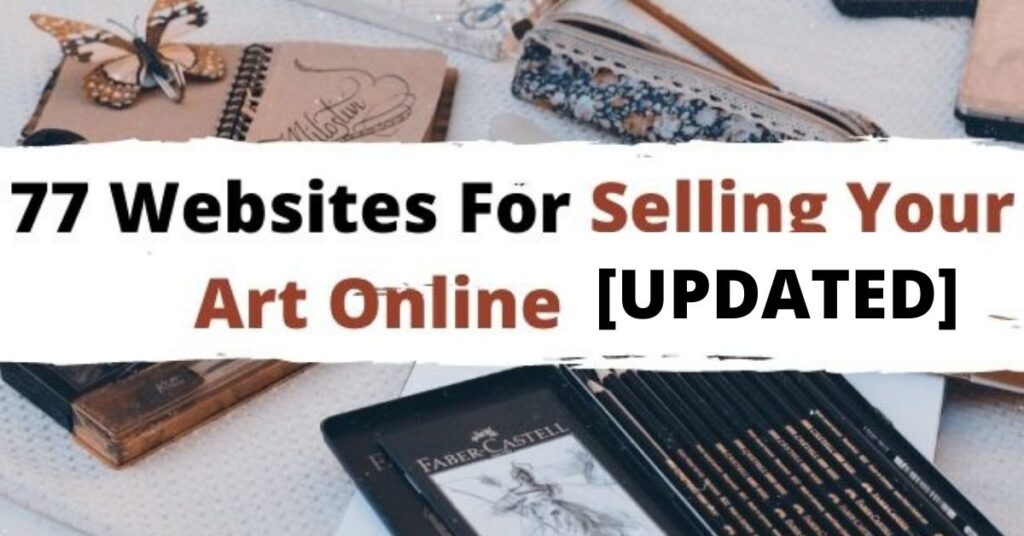 Being an artist is challenging, especially trying to sell your art. Before, and still, now, artists' goals are to join an open call, museum collections, create their own studios and become well-known, and finally, sell the art. Today, you don't have to compete with masters to be accepted in a gallery or exposition, you can easily sell your works online using art selling websites.
Where Can I Sell My Acrylic Paintings? You can join multiple art selling websites (so-called online galleries) with hundreds of thousands of like-minded artists of all levels, launch your own website and social media, sell your paintings or any other art on marketplaces, and sell prints of your works, or even create a crowdfunding campaign.
Art is selling, it is worth it. Yes, we do love it without making money, we will still do it, but you can really make it your source of income. Check my list of 77+ websites to sell art that will help you make some money.
This post is about:
---
Best Websites to Sell acrylic paintings
An artist can not only sell a painting once but sell its prints multiple times, which is very profitable too. Print is much cheaper than artwork, adjustable in terms of size, and easy to ship. You can sell 1 painting per month, but numerous prints.
There are several places where to sell you art online:
You can sell paintings, drawings, prints, sculpture, photography, jewelry, furniture, apparel and everything that is your original art.
WHERE TO SELL YOUR ART:

If you want to join online gallery, the best place to sell art are Artfinder and Saatchi Art, best comission FREE online gallery is Artpal and social media platform for artists - Artmo. For abstract artist may also work IdeelArt. If you sell unique craft decor or items, try SableAndOx.

If you want your own online exhibition - Artris.

If you'd rather sell prints of your work multiple times than 1 work, try print-on-demand services, the biggest one Redbubble. 

And definitely build your own simple website and social medias. For unique crafts try Etsy and Teedoo. 
Online galleries:
Artfinder
SaatchiArt
Artmajeur
Artboost
Absolute Arts
AbstractArtGallery
ArtAlleys
Artbaazar
Arte booking
Artful Home
Artfuly
Artist.com
Prophetics Gallery
Rise Art
SableAndOx
StateOfTheArtGallery
Tappan Collective
Yessy
Artlimes
Artistbe
Artmarket direct
Art muse
Artris
Artsleuth
ArtsyHome
Artzine
BrushStrokesOnlineGallery
Cargoh
Diva art
FineArtDirectOnline
Gallery today
Ideel Art
IndianArtZone
NewBloodArt
Artmo
Zet Gallery
Artpal
Artnet
Artplode
OnlineGallery.art
Singulart
Azucar Gallery
Artsper
Art please
Jose Art Gallery
Degree Art
UGallery
Artsy
Art Storefronts
Artist stop bein poor CLUB
ShairArt
Artquid
Artspan
Zatista
Print-on-demand:
Society6
Redbubble
Vsual
Design by humans
CASETiFY
Zazzle
Printful
Pictorem
Drool
Verus Art
Fine Art America
Marketplaces:
Amazon
Shopify
Etsy
eBay
Artfire
Folksy
Not on The High Street
Storenvy
Crowdfunding:
Kickstarter
Indigogo
GofundMe
Your own media:
Website
Instagram + Shopping tags
Facebook + Marketplace
Pinterest (use rich pins with prices)
Offline:
art fairs
stores and art galleries
cafes and restaurants (display and sell)
flea markets
garage sale
your small exhibition
artist residencies that offer public exhibitions
Free art selling websites
Here are some free art selling websites to sell your paintings and craft without any commission:
Artmo (free plan)
Artpal
Artebooking
Absolute Arts
You social media – Instagram, TikTok.
Your website
---
How to sell acrylic canvas paintings?
I always wanted to sell my art to prove myself I can actually call myself an artist (hi, imposter syndrome!) but funny enough I was procrastinating the whoooole same time.
Why?
I was scared. No! I was terrified to open an account at a popular online gallery….because then people will actually see my work! I wasn't ready to face This is not art comments from homemade experts.
And if you feel the same, I got you. Our brain fights the Unknown as much as it can and we are very prone to fix on negative feedback or even potential negative words. It is normal.
But you know what happened when I did post my art online and opened up my very first account with a prestigious online gallery?
Nothing. Zero. Nada.
I was laughing at myself so hard! Little girl was scared when in actuality nobody cared. Yet!
Because to sell your art is not enough to just throw your paintings photos out there. You need a basic strategy.
Not all websites are equally good and you don't need to be present everywhere. It is an easy way to get overwhelmed. The only reason why I'm listing 77+ websites and ways to sell your art is to show you the choice, the options and that there is enough space for beginners and emerging artists as well as well established but yet unknown.
Decide if you want to pay commission fees. Major online galleries have a great audience ready to buy, as well as amazing tools for artists to pubslih their works. But they can charge up to 35-40% commission. When you are selling unique art costing $2000+ and you have a name, it makes sense. But if you only have works on paper A5 for now and would charge $25 for each, it doesn't make financial and effort-wise sense.
Price your work. I will share a common approach below on how to price your acrylic paintings (or other works).
Don't forget the offline. I often see artists revenue reports stating that fairs bring waaaaay more money (thousands of dollars) than online platforms. And it makes sense – fewer people, they actually can see and touch work and talk to you – and your personality sells, trust me.
Stop avoiding social media. I am with you if you think TikTok is horrible. But to be fair, people manage to sell even books on TikTok. And art sells as well both on Instagram and TikTok. Yet, it is not guaranteed as the market is overcrowded, but if you like making art and can create short videos of it – do it. You don't even have to ask anyone to buy – just showing the process and details of works sells your art.
Get this book and start calling yourself a professional artist. If you live in US, Canada, Europe and Australia the book and the community have proven to help dozens of artists (myself included).
Take professional photos of your work and upload them on your own website (make one!) to have a portfolio and a page about you.
---
Online galleries To Sell Art Online Hassle-Free
Why online galleries are good for selling art? If you will think from the point of view of a buyer or collector, you will think of safety, billing, and quality. Buying on Instagram is not as safe as buying via a well-known art gallery.
For you it means that online art websites already have an audience ready to buy, it also means that your deal is secure for you too (you will get your money), and you don't have to actively promote yourself.
The downside is that you'll need to pay a commission fee which is quite reasonable if the gallery does a lot for you.
---
Artfinder
Artfinder is one of the most popular and reputable art-selling websites all over the world. On Artfinder you can sell paintings, sculptures, drawings, prints, photos, and digital art.
it is a huge audience exposure – around 450,000 people
support independent artists
the shipping and the deal is risk-free
you have a chance to become "Editor's choice" or Best of the month and get a lot of traffic for your gallery.
they are easy to navigate for buyers: categories by price, medium, subject.
min price for your artwork should be £20 / €25 / $30, max price is £50,000 / €55,000 / $65,000.
Commission fees: based on your seller plan from 33% to 40% + taxes.
Apply to sell here.
---
Another well-known online gallery is Saatchi Art, created in 2006. Saatchi Art accepts paintings, photography, sculpture, drawings, collage, installation, and prints.
Easy to use for buyers: there are categories, featured collections, new collections, and collections by price.
They offer a 7-days money-back guarantee. The deal is secure.
Their website has about 12 Million Monthly Page Views and they operate in 80+ countries, which means you can cover the biggest countries with the largest market.
They handle shipping, but you are responsible for packing.
The police are non-exclusive, which means you can sell your art on other platforms too.
You can get exposure on their social media accounts with 1.1M followers.
Commission fees: 35%
Apply here.
---
Artmo
Artmo is a very special art selling website and one of the best for beginners to sell your art. It is not just an art gallery, it is a real social media for artists and art lovers! The registration and basic plan are completely free, the platform won't charge you huge commissions as larger art galleries do. The free plan allows you to upload up to 5 of your best works and sell them directly – it is that simple!
As an artist you will have a profile, you can post news and updates the same as you do on your Facebook feed. People and other artists can browse your art, buy it, or follow your account, so one day they purchase an artwork you publish. You can build your network here as well and connect with artists from all over the world.
You can price your art as you wish and find it accurate. I've seen paintings from 300 to 180,000 euros. I find it cool, that you can Like or comment on each artwork! The community is very supportive!
Sign up for free: Artmo registration.
---
Artmajeur
Artmajeur is an online gallery and art magazine. They accept painting, sculpture, photography, collages, textile art, prints, digital art, and drawing.
Artmajeur is the #1 Art Marketplace in Europe
They offer different collections: for interiors, by countries, by price, by theme – that makes the website attractive for buyers.
They encourage independent artists with reduced commission fees.
They promise to promote artists on search engines, "Google Products", "Instagram Shopping", "Facebook Marketplace" and Pinterest!
Commission fees: 10% + taxes for galleries, 15%-20% + taxes for individuals.
Read all terms and Apply here.
---
Artboost
Artboost is an art platform for original contemporary art. The website is simple and stylish, all collections are handpicked.
Artboost accepts paintings, prints, digital art, drawings, collages, sculpture, and photography. The website lets customers choose the style: abstract, realism, street art, and others.
Commission fees: 15%.
---
Absolute Arts
Absolute Arts exist since 1995 and sell painting, prints, sculpture, and photography.
In my personal opinion, the website doesn't look modern, but I hope it doesn't stop people from buying, as AbsoluteArts still has a lot of original categories and great artworks.
They offer 3 seller plans: free plan (only 20 artworks), midlevel, and premiere. Depending on the plan you will have access to educational material on How to sell your art and commission.
Commission fees: 20% – 35%.
Learn more about seller plans and sign up here.
---
AbstractArtGallery
Abstract Art Gallery is another online art gallery for selling your art. They are not as popular as bigger ones, but still offer you social media exposure and secure deals with customers all over the world.
Commission fees: 20-30% and you pay for shipping. (not very profitable for you).
To learn more, read the gallery's Artist's book.
---
ArtAlleys
ArtAlleys sell paintings, drawings, prints, and digital art all over the world. It is easy to get started with ArtAlleys, just follow the registration form here.
Commission fees: 30%
---
Artbaazar
ArtBaazar sells paintings, mixed media works, and prints. You need to have at least 6 works to join this platform.
The submission process is very easy, do it here.
Commission fees: 30% + taxes. Packaging is on you.
---
Arte booking
Artebooking is an art network where you can "open" your gallery without commission fees. They accept a variety of art: painting, drawing, photography, sculpture, graphics, design, installation, collage, Street art, mixed media, video, performance, lithography, and paper.
I don't like that they hide prices sometimes by saying "Price on demand" and it is more of an art network really as sometimes you will see "not for sale" too.
Join for free here.
---
Artful Home
Artful Home is an online gallery of contemporary art, blown glass, fine furniture, art jewelry and apparel, and many other styles and mediums. For me, it is less for artists and more for all kinds of decoration, hand-made and craft art.
They already existed for 30 years, which means they know how to sell your pieces and help you promote your art (they have strong email campaigns, a real catalog, and some extra tools).
The application process is quite slow and will take up to 14 weeks, as all your artworks will be manually evaluated and juried by the jury panel. You should also consider these payments:
Application fee: $35
Membership fee: $300 / year
Commission fee: 50%
It may be not a good option for an artist who just started the journey, but if you have a large product line, the costs may be acceptable.
For details and applications, click here.
---
Artfuly
Artfuly seems to no longer have its website artfuly.com and is mainly present on Instagram. To showcase your pieces you can simply email them: [email protected].
In addition to the website and social media, they publish artists in their magazines.
I was checking the information in April 2021 and it seems like they slowed down during 2021, but normally they charge a yearly membership fee (52 euros) and a 25% commission fee.
---
Artist.com
Artist.com is a simple online gallery for all kinds of art and prints. The application process is easy: sign up, upload your work and that's all.
Commission fee: 25%
Apply here.
---
Artlimes
Artlimes presents itself as the most innovative and highly curated marketplace for artists, galleries, and luxury brand retailers all around the world.
their prints are eco-friendly
they offer art filtered by collections and price: paintings, art on paper, photography, sculpture, jewelry, and interior design.
they actively promote artists and art movements, such as neo-art, for example.
you will also have a chance to sell your services to businesses, like hotels, or for private projects.
The application is free. Banking is supported in 28 countries. Commission fee is based on your country, for US it is: 7% + transaction fee 4% + $2.5. When a buyer pays in another currency than your shop's, you will also pay a conversion fee (about 2.5%).
You can read the details, check your country, and apply here.
---
Artistbe
What I like about Artistbe, they put artists first and you can browse through the top 24 artists and most popular artists from the home page. They mostly sell paintings, digital art, mixed media, photos, and drawings. You can sell original art and reproductions.
To create an account, click here.
Commission fee: 30% for original art, 85% for prints.
---
Artmarket direct
Art market direct are created by humans, one in particular, Lloyd Hobbard-Mitchell, and you will clearly see it, you just need to read theirs About us section. I like this paragraph:
If you are an artist and if you are reading this, I want to share that model with you.

You can make money. You can represent yourself. You can live off your art. You can make it without selling out

Using our tools, I want to help you live the life you want as an artist. You CAN get there!

Brett Neal
They charge a membership fee or you can join for free with some limits. Join here.
Commission fee: 3% on paid plans, 10% on free plans.
---
Art muse is a handpicked collection of artworks. To join you need to send your work and wait for evaluation. They mainly look for Painters, Watercolorists, Photographers, Designers, and Illustrators, but can accept any kind of art.
Fees: a one-time fee of $15.00 per image for prints, free for original art. Min price for a print is $25.
Commission fee: 20% for original art.
Apply by sending 5 of your works with description, bio, and statement, and also link to your full portfolio to [email protected]. More details here.
---
Artris
Artris works more like a collection of online exhibitions with themes. You still can browse artists and artworks individually too. Artris works both for selling original art and prints.
If you are dreaming about having your exhibition this is a great choice! The exhibition setup is realistic and I think it is so cool that we now have it online!
Commission fee: 8%.
Read the terms and join here.
---
Artsleuth
Artsleuth is another online art platform to sell paintings from Hong Kong. They promote you on the website, by email,l and on social media.
The thing I do not like about their home page is that it doesn't directly display artworks and artists, you need to choose the category to see works or artists.
Commission fee: 35%. The application process is quick and easy, check it here.
---
ArtsyHome
Artsy Home accept a variety of artworks: paintings, sculpture, furniture, metal workings, photography, pottery, glass, woodworking, and jewelry – anything people can be interested in to decorate their home or office.
The commission fee is 25%. Join here.
---
Artzine
Artzine displays the work of international contemporary artists. You can create your profile, and your gallery if you are selected by the jury. They accept painting, collage, drawing, mixed media, limited edition prints and sculpture, and less digital art and photography.
The commission fee is 20-30%. Sign up here.
---
Artpal
Artpal is a very simple and user-friendly online gallery with NO membership fees or commission – The best place to sell art and pay no one, I think it's perfect for beginners or someone who just want to try the online market out without any obligations.
You can easily sign up, upload your works and sell them. You will receive 100% from selling your art and prints.
Create your free gallery here. Uploading and describing your works will take time but it is worth it!
---
Artsy is All-in-one: online gallery, auction, fairs, shows, and museum. They also have a data-driven algorithm to price your work. Artsy sells Banksy and young artists at the same time.
Not everyone is accepted, every application is reviewed and evaluated. To submit your pieces, click here.
I like the fact they offer some useful articles on the blog and statistics that will help you understand the market.
Commission: based on the total value of works
---
Art Storefronts
Art Storefronts is an online gallery for artists, sculptors, crafters, and photographers. What I do not like – they hide prices and offer you a demo call to talk about your strategy.
They offer cutting-edge technologies for selling prints, workshops, and a year marketing plan..but all of this only after a demo call. You can book it here.
---
It is an online club, gallery, and exhibition opportunity for artists to help them sell their art without any commissions. The club takes care of promotion, production, packing, and shipping.
If you're selling prints, they will deduct the production price before paying you.
The club will charge you membership though: from $7 per month with only 2 artworks to showcase. If you can prove that your work was affected by corona, you can apply for a free slot.
More details and sign up here.
---
Artnet
Artnet is an online art gallery and auctions for all types of original artworks since 1989. The unique feature they offer is the price database since 1985 that will help you understand the market and price your work. The database isn't free, plans start from $32.
To sell your art you need to be selected in one of the galleries, but Artnet is clear about one moment: it is quite rare when galleries are accepting additional artists. To apply, you need to contact any member of the gallery jury panel via email. All emails are listed here.
---
Art, please
Art please is an art gallery, and they present itself as a collector-to-collector discovery platform. They accept painting, photography, works on paper, sculpture, miniatures, and other artworks.
To create a listing of your works, click here. The Art please team will review your pieces and admit you or not.
The commission depends on your net price and market price and will be evaluated individually for you.
---
Artsper is a big online gallery (more than 390,000 unique visitors each month) to sells painting, photography, sculpture, prints, and drawing. They are partnered with the best galleries from around the world.
They accept only galleries that they pre-selected.
---
Artplode
Artplode is another huge online ecosystem for artists, collectors, and galleries. They sell paintings, prints, sculptures, drawings, photos, and digital art.
No commission fee, but you pay a low one-off fee of $60 to list an artwork for sale. Some artists say that the min price for your listed work should be $1000.
To register, click here.
---
Artquid is an innovative online gallery where you can not only sell your original art and prints but also create a 3D online gallery. The free plan allows you to list 10 artworks.
Commission fee: 10%. If you want to showcase more than 10 works, you need to switch to a Premium account which is $29.95 / year.
Create your own gallery with Artquid here.
---
Artspan
Artspan is an art marketplace and your gallery online. They allow you to create your personal website to show and sell your works and prints with a unique feature: buyers can see how your work will look in the interiors.
Here are some examples of artists' sites. You have a free trial, but after plans start from $11/month (billed yearly). There is no extra commission.
You can read more details and register here.
---
Azucar Gallery
Azucar is an art magazine and online gallery for emerging artists. They offer useful resources for artists, exhibitions, and open calls. Right now (April 2021) the gallery application is closed, but you can still apply for the open call.
For supporting artists, they created Artist Stop Being Poor Club that we've already mentioned.
---
BrushStrokesOnlineGallery
Brush Strokes Online Gallery allows you to sell original artworks and prints for free but with one limitation: you can upload only 25 works and you must receive approval.
Register via this link.
The commission fee is 20% + service charge of $1.35 for all wire transactions.
---
Cargoh
Cargoh is a curated gallery marketplace created for independent artists and designers (more for jewelry, fashion, and home decor designers, as for me). They sell accessories, clothes, home decor, prints, etc.
You create your shop for free, but you still need to be accepted by curators.
Commission fee: 10%. To become a seller, apply here.
---
Diva art
Diva art is another curated online art gallery since 1995. The featured artists will be displayed on the home page and they are very good at promoting art and building awareness of their buyers.
They do not list works that you've already put on eBay or Craiglist.
Commission fee: $300 min. From 10% to 30% based on price. Learn more and contact the Diva group here.
---

FineArtDirectOnline
Fine Art Direct Online is an original curated gallery. It seems to me like they have a very spiritual topic selection (higher vision, neoteric, etc) and a limited number of slots, but they are still open to accepting paintings, sculpture, pottery, mixed media, and digital art.
The submission form is here. You can submit up to 10 works.
---
Gallery today
Gallery today is an online art gallery for artists all over the world since 2003. It is focused only on paintings and artists. They do not sell prints or any digital art and reproductions, only original art.
The information about selling your art with Gallery today is quite hard to find on their website, so I just leave it here. All works will be reviewed before you can sell them.
Commission fee: 40%
---
Ideel Art
IdeelArt is an online gallery for abstract art from all over the world. This is a real paradise for abstract art lovers and artists.
Basically, they only invite mid-career artists who have already had exhibitions or audiences, but they are still open to reviewing your art and helping you. Contact them directly.
They do apply commission but it will be discussed once you're accepted.
---
IndianArtZone
This online gallery is from India and they encourage a lot of Indian artists, but all styles and origins are welcome to join.
You just need to register and upload your work, the team will approve it and showcase it on the website.
Commission fee: based on price.
---
NewBloodArt
New Blood Art is a curated online gallery for emerging artists. They accept painting, photos, prints, drawings, collages, and sculptures. NewBloodArt has wide coverage in the press.
The submission form is here. They do a selection and discuss the commission individually.
---
Prophetics Gallery
Prophetics Gallery is focused only on prophetic Christian art of all kinds: paintings, jewelry, photography, sculpture, etc.
Every application should be reviewed and only then you can upload your works and sell them.
Commission fee: 30% for art, 50% for hand-crafted pieces. First read all the details and apply here.
---
Rise Art
Rise art is an online gallery for contemporary art: paintings, drawings, prints, photos, and sculptures. They encourage collectors and buyers and even have a funny test to learn your art personality and they will offer you art for sale based on the results. Rise art was widely featured in the press.
You can submit your art for free and create your own gallery. The unique thing is Rise Art Prize – a global art competition. The next one hasn't been announced yet, but you can keep an eye out here.
Commission: 40% + 3% payment charge + VAT for sellers from UK.
---
SableAndOx
Sable and Ox is a gallery about style and unusual designs. They accept furniture, sculpture, jewelry, tableware, photos, paintings, illustration, ceramics, glass, textile, musical instruments, and commissions.
The whole selection looks gorgeous and unique. If you create something exceptional, join SableAndOx by submitting this form.
Commission fee: individual.
---
StateOfTheArtGallery
State of the Art gallery was created to encourage emerging and mid-career artists from Australia. They do a selection and they accept only artists living in Australia. They do not accept fantasy Painting, Sunday Painting, glamour art, manga, amateur Art, or commercial Art.
Commission: 30%. Apply here.
---
Tappan Collective
Tappan Collective is a curated online gallery with artists from all over the world. They sell painting, photography, and prints.
To submit your art you need to send a bio, artist statement, CV, link to your website and/or social media channels, and a PDF of your available works to [email protected]. The process of approval can take up to 1 month.
---
Yessy
Yessy is a simply designed online gallery that has been operated for 17 years already. They accept painting, photography, prints, drawing and illustrations, digital art, carving, sculpture, pottery, ceramics, jewelry, glass, furniture, textile, crafts, collectibles, and many other art forms.
No commission. Membership fee: $59 / year with a 14-day free trial.
---
Zet Gallery
Zet Gallery is an online art gallery combined with effective marketing strategies. They have a real gallery and exhibitions too, which means you can sell or exhibit your art.
You can apply here. The commission fee is 50%.
---
Online Gallery Art is a gallery and auctions at once. They accept a variety of art: painting, photography, digital art, design, sculpture, jewelry, prints, etc.
Membership fee: from $2.99 per month to display your work and participate in auctions. No commissions. Register here.
---
Singulart
Singulart is a popular and well-known online gallery for artists of any level. They sell paintings, sculptures, photography, and other media to a huge audience of almost 500 000 visitors per month.
Singulart may fit more full-time artists with national recognition and global potential.
The team reviews your application within 1 month. The application form is here.
The commission is individual.
---
Jose Art Gallery
Jose gallery it's an art store and gallery selling painting, sculpture, photography, graphics, and prints. Artists of the week, new artists, new art, and prints for sale – all are featured on the home page.
To apply, click here and fill out the form. All applications are reviewed.
Commission fee: 35%.
---
Degree Art
UK art gallery with a real gallery in London. They accept artists of all levels (after reviewing), and sell painting, sculpture, drawing, photography, and prints. This gallery asks for exclusivity, be careful.
To apply use this Google form. By joining Degree Art you are actually joining the Artellite group, which is 4 platforms for selling art.
Commission fee: 20%-50% + VAT. The full terms PDF I attach here.
---
UGallery
UGallery is an online gallery only for artists of all mediums. They promote new artists, and new art and send a weekly update to all their email subscribers. They ask you for exclusivity.
The application process starts here with a $5 application fee (non-refundable in case of rejection).
The commission is 50% with packing and shipping covered.
---
Zatista
Zatista sells original paintings, limited edition photos, sculptures, drawings, and mixed media artworks all over the world. Like other online art websites, they use SEO, email marketing, and direct contact with retailers to promote and sell your art.
You need to register, complete your profile, contact [email protected] and wait for approval (up to 3 months).
The commission fee is 45%.
---
Selling Art Online With Prints – Best Print-on-demand platforms
Looking for more websites to sell art?
To make less money but easier and faster, consider selling prints of your artworks. Prints are much easier to ship and produce, they are scalable and don't require extra supplies every time.
Here is the list of the best online art websites selling prints.
VerusArt
Verus Art is an art gallery for contemporary artists who create textured works. They work with retailers and sell art for individuals too, selling only prints produced with unique Géomatique™ print technology.
The lowest price for a print I saw on their website was USD 620 for 24″ x 30″ (Framed: 25″ x 31″).
The commission fee is individual, you can submit your application here.
---
Drool
Drool's main focus is selling prints created by emerging artists, but they also sell photography, paintings, and graphic design. They also position itself as an affordable marketplace.
They have a lot of applications, so if you are not chosen you may not receive any response. Try to submit your application here.
Commission fee: 10-40%.
---
Society6
Society6 is one of the biggest print-on-demand platforms and the best place to sell art prints. They can adjust selected prints to anything, even an iPhone case!
As an artist, you can earn money selling prints of your works. It is easier, faster, and finally, maybe more lucrative.
The commission fee is 10%. Apply here.
---
Redbubble
Redbubble is another huge (29 mil visitors per month!) print-making service: stickers, masks, T-shirts, wall art, stationery – everything can be customized. It means your artwork can appear on 70 different surfaces and all of them can be sold not only once.
Sign up here. You receive the margin that you set, but the final price of the item will include production fees and taxes.
---
Vsual
Vsual offer customer high-quality prints from painting, photos, illustration, collages, etc.
You can create and customize your own shop for free, upload your works and show different options to potential buyers. People can follow your shop and get updates.
I found no information about commissions, it seems like you will set a price and they will add an extra to it, or it's all free. Application is very easy and there is no reviewing process. Apply here.
---
Design by humans
Design by Humans exists to make art wearable. If you want to sell your custom t-shirts, hoodies, art prints, mugs, and more, join their program here.
Royalties start from $0.5 for stickers, $3 for T-shirts, and $6 for art prints. When you sign up you will double your royalties for 90 days.
---
CASETiFY
Casetify sells mainly phone cases and tech accessories with prints. Here you can sell your prints and designs, or your own crafted cases and accessories.
You can join for free, how much they will pay you wasn't transparent to me.
---
Zazzle
Zazzle is a platform for designers who want to sell their prints and designs for customized products. The website is big but easy to navigate – a lot of ideas for gifts, weddings, homes, including social media content.
Creating your own designs works a little bit like Canva, then you save it and sell. The price is determined by Zazzle. The royalty rate is too broad: from 5% to 99%. Consider reading the Agreement before applying.
---
Printful
Printful is a print-on-demand drop shipping service integrated with more than 16 marketplaces like Etsy, Shopify, etc, and more than 300K+ customers. They help you to create your own print-on-demand business.
As we talk about the sort of business here, the questions of taxes and differences between other countries' policies should be considered. Printful has a blog and marketing workshops to help you figure it out.
---
Pictorem
Pictorem is an online gallery for selling prints of your painting, photo, and artwork reproductions.
They are free, ask for no commission or exclusivity, and only add printing costs (they print on a variety of surfaces and ship worldwide).
All you need to do is register, upload and price your work and wait for sales.
---
FineArtAmerica
Fine Art America is a widely popular print-on-demand service, the largest, fastest-growing art and photography community.
They have their own Shopify shop and app, but also they are partnered with some offline stores.
It is a print service, but you still can sell original here too, but be aware that it is not the main purpose of the platform and especially for buyers.
No commission, but they will add extra to the price you set. Join here.
---
Marketplaces
Here I mean regular marketplaces that sell all kinds of products, not exclusively artwork. Selling on big marketplaces like Amazon involves taxes, and membership fees, it is like having your real e-commerce project.
In my personal opinion, it doesn't really work for an artist but can be great for crafters, jewelry makers, and other physical products.
Here are 8 marketplaces I can think of:
Marketplace
Fees
Amazon (Amazon Handmade)
$39.99 a month + selling fees.
Shopify
14-day free trial.
Pricing starts from $9 / month for Lite, $29 for Basic Plan + 2.4%-2.9% per transaction + 0.5-2% transaction fee if you use other provider than Shopify.
eBay
up to a 14.35% final value fee and $0.30 per order.
Etsy
$0.20 listing fee + 5% Transaction fee + (3% + 0,25 $) payment processing fee
If you accept offsite ads + 15% Offsite Ads Fee.
Storenvy
free product listing (up to 1000)
Artfire
Marketplace for handmade goods. 0.23 euro listing fee per piece + membership plans from $4.95 / month + 4.5% – 12.75% final valuation fee.
Folksy
Handmade gifts. The basic plan allows you to list 3 pieces for £0.15 + VAT per item + 6% commission + VAT. If you need to list more: £5 a month + 6% commission + VAT
Not on The High Street
Unique gifts. Only for the UK now. Application fee (no info on amount).
They are all easy to join, but managing your own shop will take time. If you're an artist, photographer, or designer I would recommend online galleries and print services.
For handmade, jewelry, apparel, furniture, ceramics marketplaces can also work.
---
Crowdfunding
There are 3 main crowdfunding platforms you may be interested in Kickstarter, Indigogo, and GofundMe.
Crowdfunding works like this: you pitch your idea or your project and you encourage people to donate just because they like what you're doing or in exchange for your products or features.
A lot of filmmakers start Kickstarter campaigns. But artists also can find sponsors to fund new project.
A crowdfunding platform will charge a commission fee and you still need to promote your campaign too on social media or elsewhere.
---
Your own platforms
Your social media: Instagram and Pinterest, Facebook
Your own website – it's easier than you think!
Some online art websites will not admit you without your personal website or social media where you showcase all your artworks. To create your own website you don't need a lot of money or time.
Your own website – is:
your domain which builds authority with Google and with a due amount of optimization you will be visible by search engines and rank higher than your competitors.
your place to create and post works and posts.
You can use any website builder, like Wix, but I do not recommend it, as Wix is extremely slow in terms of page speed, and is not optimization friendly at al. l Some upcoming Google updates will rank only fast and optimized websites.
If you want to put a little bit of effort in, you need:
buy a domain, ex. abstractartbykelsey.com or something more general, like watercolorlovers.net. This is your website address, make it nice and easy to remember. Buy a domain with Namecheap (from $0.99) or Godaddy – the most popular domain marketplace.
buy a hosting provider – your domain and some technical files need to "live" somewhere. Their home is a hosting place. The best, the most secure, and stable is Bluehost (only $3.95 per month). Don't go with no-name hosting companies, as hosting providers also affect the page speed of your site. You can even buy a domain directly on Bluehost.
once you have your domain, you can either use any of the website builders, better Squarespace as it is the most proven platform or WordPress (if you know and want to dig into it) to showcase your art and tell your story.
Invest in it for 2 hours and you will create for yourself a platform that has no commission fees! Don't forget to put your contact and prices there, as some collectors can just contact you directly.
Social Media
You probably know that social media require a lot of time. Content making is tiring, but you can easily use Pinterest and Instagram as sale platforms.
If you have your website, you can even have special Pins with prices!
For Instagram browse similar artists to get ideas, fill the bio, and use hashtags and location tags!
Using hashtags try to combine highly competitive (+1-2mln posts) with low competition tags (1000 – 100 000 posts). Make sure all your photos are high-quality.
Using social media you can use Facebook Ads (one exception: if you paint nudity or something similar you are not eligible for advertising on Facebook).
---
Where Can I Sell My Acrylic Paintings Offline?
Fairs (really easy to make money)
Art galleries (you can meet seasoned art collectors and curios art buyers)
Collaborations with cafes and restaurants (for both display and potential commissions)
Flea markets
On the street/ garage sale (for low priced art)
---
How to price your acrylic paintings?
To calculate how to price your art, consider how much time and effort you put into it, the cost of supplies, and shipping or framing. Also, be aware of commissions and make the price interesting for you.
Artfinder suggests implementing a Basic pricing strategy:
Set an acceptable hourly rate
Multiply this by the hours spent creating an artwork
Add costs for supplies
For example, if you decided on an hourly rate of $16 and spent 20 hours creating your piece, the materials for which cost $120, your calculation would look like this:
20 hours x $16 hourly rate = $320
Material costs = $120
Artwork price = $320 + $120 = $440
You should also always consider the market and sizes of your piece.
---
Are acrylic paintings worth money?
Acrylic paintings sell as well as oil paintings, textured art and abstract art. They are one of the top bestselling artworks across social media and online galleries.
Today more and more artists are switching or start working with acrylic paint rather than oil (oil paintings are still stunning and have great value).
Acrylic paintings sell better than watercolor or gouache paintings.
---
Sell Your Art FAQ
What is the best site to sell artwork?
The best site to sell artwork and make money from your creative hobby or profession is a trusted online gallery with a big audience like Art Finder or Saatchi Art, or their free alternative ArtPal. Well-known marketplaces such as Etsy and Amazon are among the best online art websites too – they drive a crazy amount of people to shop!
Keep in mind, that most sites will take a commission, but, in fact, the average prices for selling artwork online are quite high so you'll be fine.
---
What art sells the most?
Consider this: the online art market was expected to reach 10 Billion Dollars (US) by the year 2020. And it means all kinds of art – preferences, and occasions to buy art is soo diverse.
Popular art: abstract paintings, landscape paintings and photographs, inspirational quotes, stock photography and graphics, comics and pop art, and limited-edition prints.
The only question remaining is where to sell your art and I hope I helped you cover this one 🙂
If you're looking for more opportunities, have you heard of Artist-in-residency programs? You can travel the world, collaborate with other practitioners and focus on your work with one of these 50+ open programs: Artist Residencies List.
---
Can I hire someone to sell my art?
If you are an established artist you can hire an agent or consultant who will manage your exhibitions and sales, but honestly, it is cheaper and more effective nowadays to "hire" one or several online galleries to promote your art over millions of their visitors and sell it for you.
Applying for a gallery may be quite a tedious task, but it is absolutely worth it.
Check the list of all galleries above and choose one for you – the biggest with the highest commissions (30-40%) are Art Finder and Saatchi Art, the free one which is also popular but has less audience is ArtPal.
If you don't want to pay anyone, just sell your art yourself using your own social media as they give a nice opportunity to reach people all over the world or build your own website to sell art.
How much do acrylic paintings sell for?
According to online galleries portfolio (Saatchi Art or Artfinder), acrylic paintings can sell for anywhere from $30 to $65,000 depending on the size, supplies used and how famous you are. Works on paper will be cheaper than on canvas.
However, don't think that realism is more expensive than abstract. All painting genres equally can have high checks – around $1700 to $7000 per large acrylic painting on canvas.
Cheapest acrylic painting on paper I saw was around $135, acrylic pouring can cost from $350 for quite large size or $25-50 for coasters and small projects.
Artists I follow sell abstract art, acrylic or mixed media, for $1700 to $6000.
---
To Sum Up: Can you make money selling acrylic paintings?
Selling art is not easy but possible and many artists, even beginners, make money selling acrylic painting and pouring through their social media (selling original art and getting commissions), reputable online galleries, Etsy, and fairs.
Yes, this combination works and require some patience and time/effort investment from your side, but it will bring you money and as a side bonus – recognition.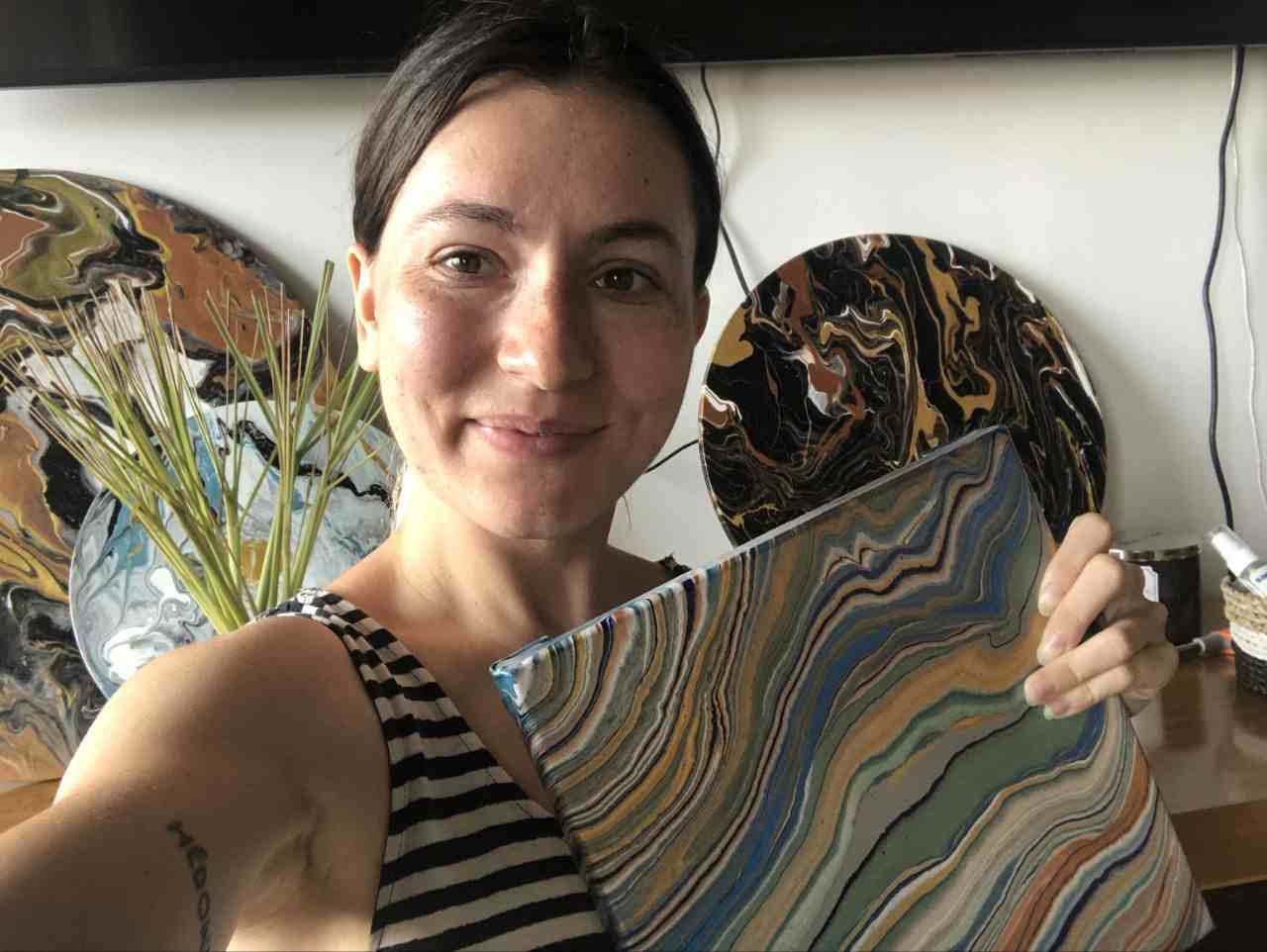 Masha Eretnova is a certified teacher. She started painting and drawing 20+ years ago and now is an international abstract artist and educator passionate about acrylic painting, gouache and crafts.
More about me.