Sharpie is a well-known brand, but surprisingly I've never considered buying a whole colored set of their markers.
Yet, I was using a golden Sharpie for 2 years already for my pourings. And today I decided to test the basic set of 12 colors of Sharpie permanent markers and I'm sharing this Sharpie markers review with real swatches with you.
Table of Contents
This article contains affiliate links. It means no extra cost for you but a little commission for me to support my hobby and blog. Thank you!
---
Sharpie Markers Characteristics
I got the fine-point Sharpie markers set of 12 colors. They are available in single or dual-tip options:
Sale
SHARPIE Brush Twin Permanent Markers, Brush Tip…
Permanent marker with dual-ended tips: one side brush tip marker, one side ultra fine tip marker
Flexible brush tip creates lines that vary from thick to thin in one stroke
Ultra fine tip provides precise control for fine details
Permanent ink marks on paper, plastic, metal, and most other surfaces
Intensely brilliant colors create eye-popping, vibrant impressions
I got this set, which cost around $11-15 on Amazon and is the most popular choice: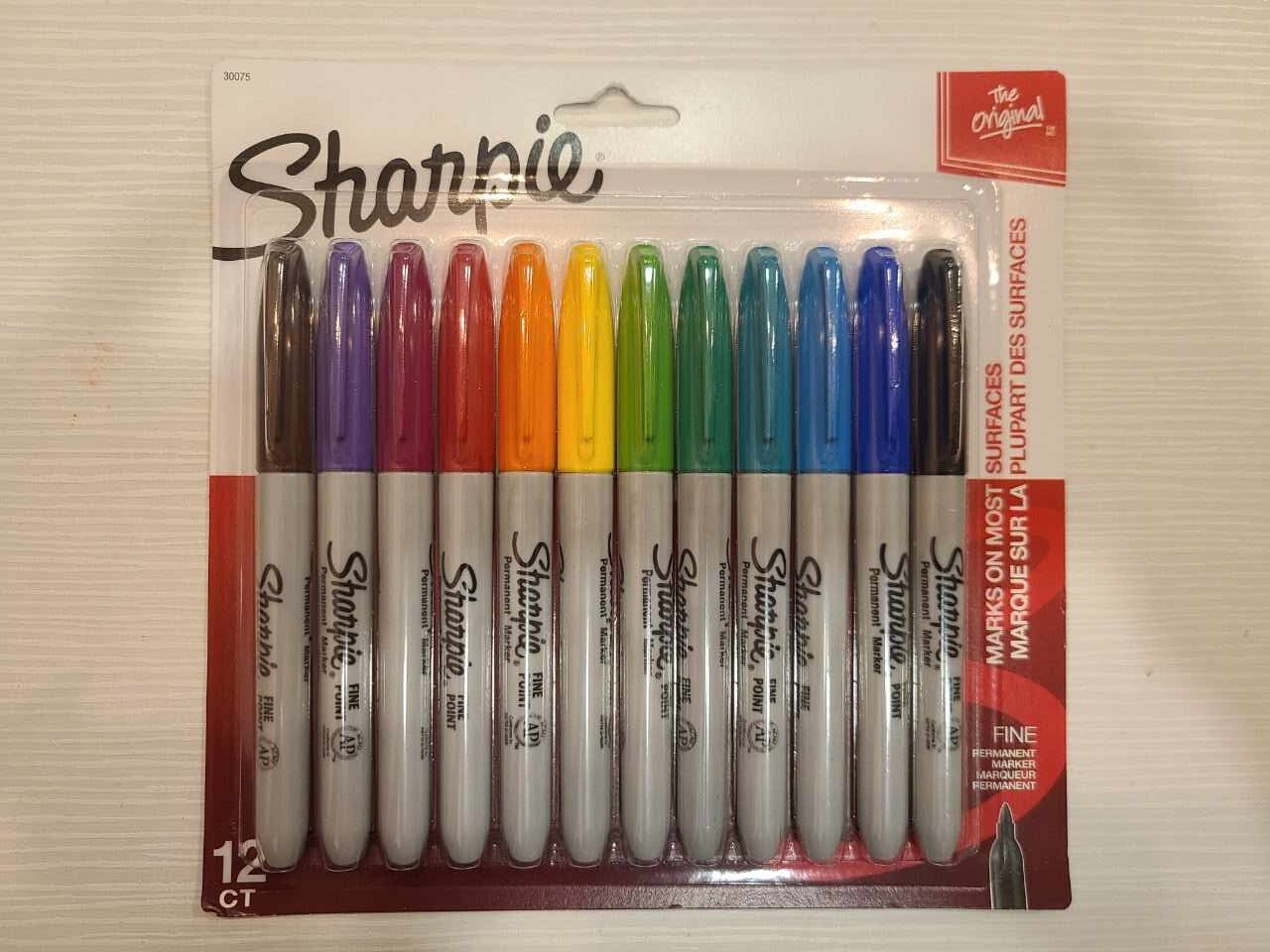 Types of Sharpies
In fact, there are different types of Sharpie markers depending on ink and tip.
Classic (simple alcohol-based permanent markers)
Specialty (mystic gems, cosmic colors, metallic, neon)
S-Note (so cold mildliners, created for writing and highlighting)
Art Line (different ink types: water-based, oil-based, fabric markers, chalk markers, brush twin markers)
Pro-Line (for industrial use on rough surfaces)
---
My First-Hand Sharpie Markers Review
I have a very limited experience with Sharpie – only with one golden marker, which I use on dried pouring to add accents. So this is my legit first-time experience and impression of Sharpie markers.
The main disadvantage I must point out is the odor. They have a strong odor because they are permanent alcohol-based markers. So it is a big no for long drawing session.
General use considerations
As they are pretty archival and permanent they can be used on practically any surface from paper or fabric, wood, plastic, and glass, to even metal or concrete.
They are really permanent. I made a mark by mistake on our concrete wall, 2 years in, it is still there, unbothered…
Technically they can be used for industries, office work, journaling, and in classroom. And also said to be great for art and illustrations, however, due to the smell, I doubt I can use it for drawing. I'm not very sensitive to smells person, but it will most definitely give me a headache.
Packaging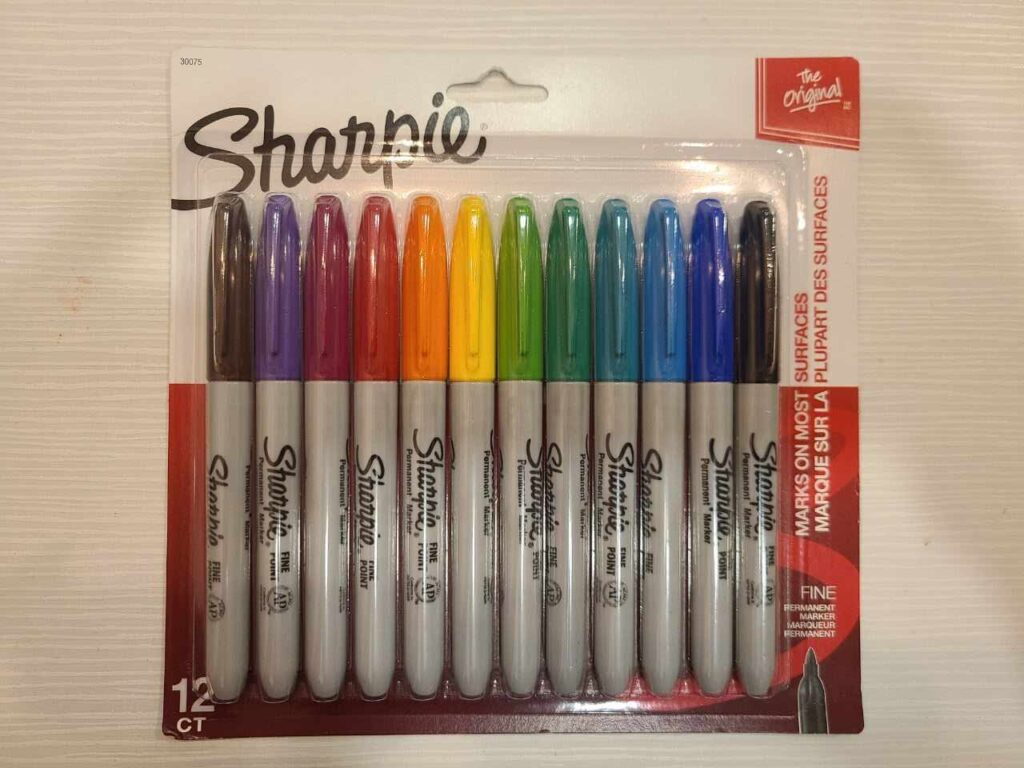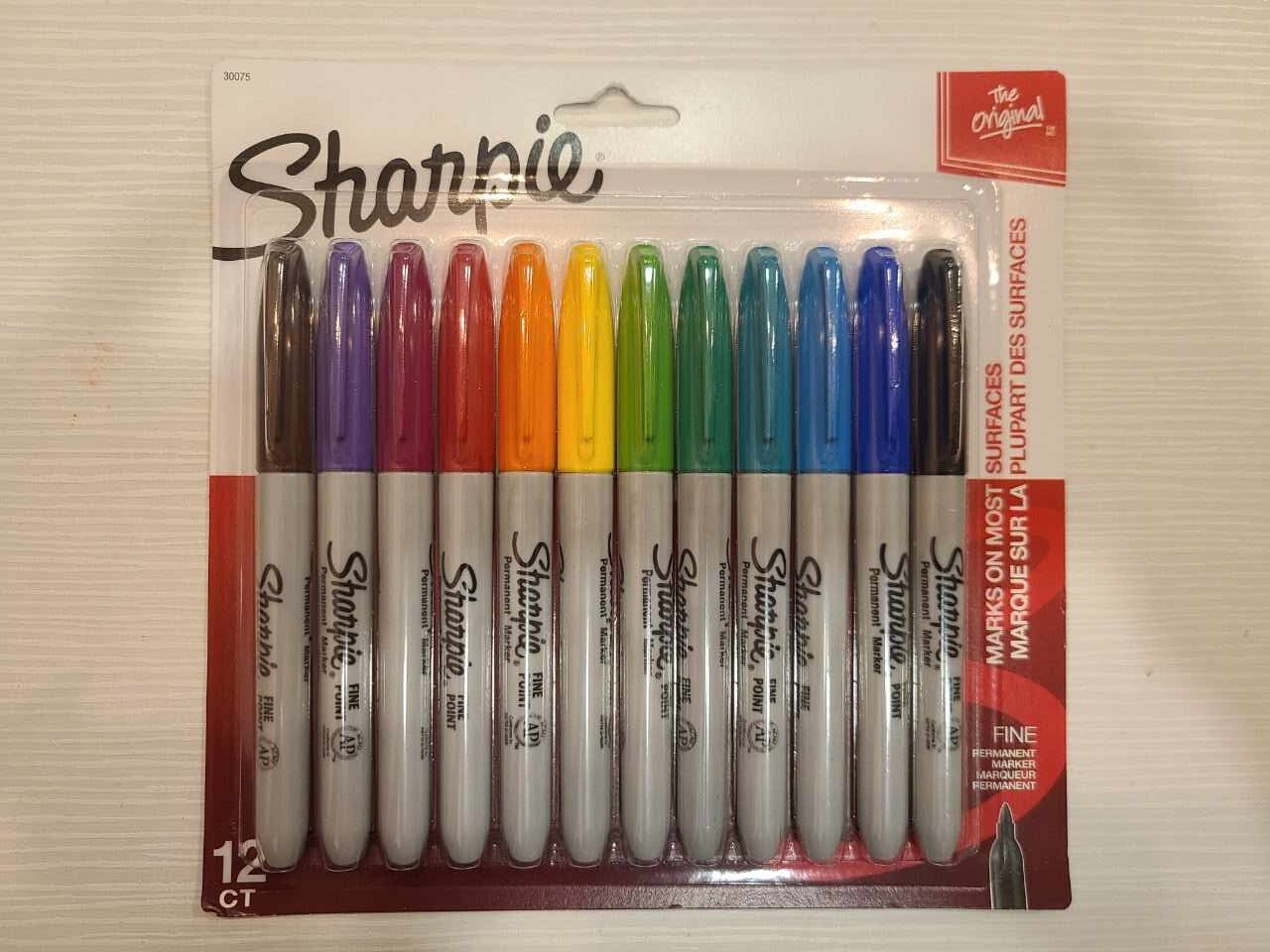 First I want to say that compared to other markers that I bought for art like Artistro, Artiqo, or Posca, the Sharpie markers' packaging is probably the cheapest, and bulkiest, and basically, you cannot store them in it, unlike other brands I mentioned that send markers in compact boxes.
It is true that this is how they can keep the price low, but that is something that caught my attention compared to other brands, and even Copic, another super popular alcohol-based markers brand.
---
Marker Tips
There are several tip sizes available with Sharpie:
fine point (2mm to 3-4mm)
ultra fine (1mm)
twin tip
retractable
chisel tip (the one with a slanted end)
My set has fine point tips:
---
Colors
My 12-color set of Sharpie permanent markers includes these colors: Aqua, berry, Black, blue, brown, green, lime, orange, purple, red, turquoise, and yellow. All colors are bright, there are no pastel colors in this set though.
The colors aren't labeled on the marker or on the box though.
All colors have very opaque and smooth coverage, very bright colors:
Sharpie Classic
Zebra Mildliners
---
Permanent Marker Opacity / Transparency
Those are permanent markers created to make bold lines and marks. They are not quite created for art where we do talk about each pigment's opacity or transparency.
None of the colors is opaque enough to cover black:
---
Blending colors and Mixing
Sharpie's colors are not blendable or mixable. They can be layered, but the edges will be visible. This makes them better probably for writing, office tasks, and maybe kids coloring than for serious artwork.
They are also very quick drying, so you don't have enough time to blend even if you can. I assume with Art Line there is more bendability than with classic markers made for writing
Price
As there are so many varieties of Sharpie markers the prices also vary. However, the most popular basic set of 12 colors I have will cost around $11 to $15 on Amazon.
Sharpie 75846 Permanent Markers, Fine Point, Assorted Colors, 24-Count
Proudly permanent ink marks on paper, plastic, metal, and most other surfaces
Intensely brilliant colors create eye-popping, vibrant impressions
Remarkably resilient ink dries quickly and resists fading and water; AP certified
Endlessly versatile fine tip makes impressively bold, detailed marks
Includes 24 Assorted Sharpie permanent markers
The dual-tup markers from Art Line, also in 12 colors cost around $21-22, while bigger sets may cost for up to $65 for 72 markers.
S-note mildliners come in a popular set of 24 colors which will cost just under $20.
---
Sharpie Permanent Markers FAQ
Are Sharpies Permanent Markers?
Classic alcohol-based Sharpie markers are permanent, fade and water resistant on any surfaces you apply them. You won't be able to wash it off unless you use harsh solvents and the ink isn't soaked in the surface yet.
Are Sharpies Markers Safe?
Most classic Sharpie markers are alcohol-based which adds a very distinctive smell. Such fumes can actually cause headaches, upset stomach, and even dizziness if you are sensitive to it or are exposed to it for a long time.
Does Sharpie make a white marker?
There is no white Sharpie marker in the classic series, however, in the Art line, you can find white oil-based or water-based markers.
Is sharpie the best permanent marker?
For office tasks, works on rough surfaces, and writing, Sharpies are one of the best permanent markers on the market with high-quality archival ink.
Can you use sharpie on acrylic paint?
Sharpies are permanent and will work on acrylic paint as long as you are not using transparent Sharpie over a dark acrylic color (it will be not visible).
Sharpie classic markers are great for writing, coloring, and adding bold accents or permanent marks on any type of surface. They are smooth and easy to use and have vibrant colors. High quality writing experience is something you can expect with the Sharpie brand.
Yet that comes with alcohol odor and zero blending opportunities that make them for me personally not a very good art supply, only an office or school art projects supply.
Let me know what you think and if you ever tried the Art Line, I'm curious how performant for painting and drawing it is.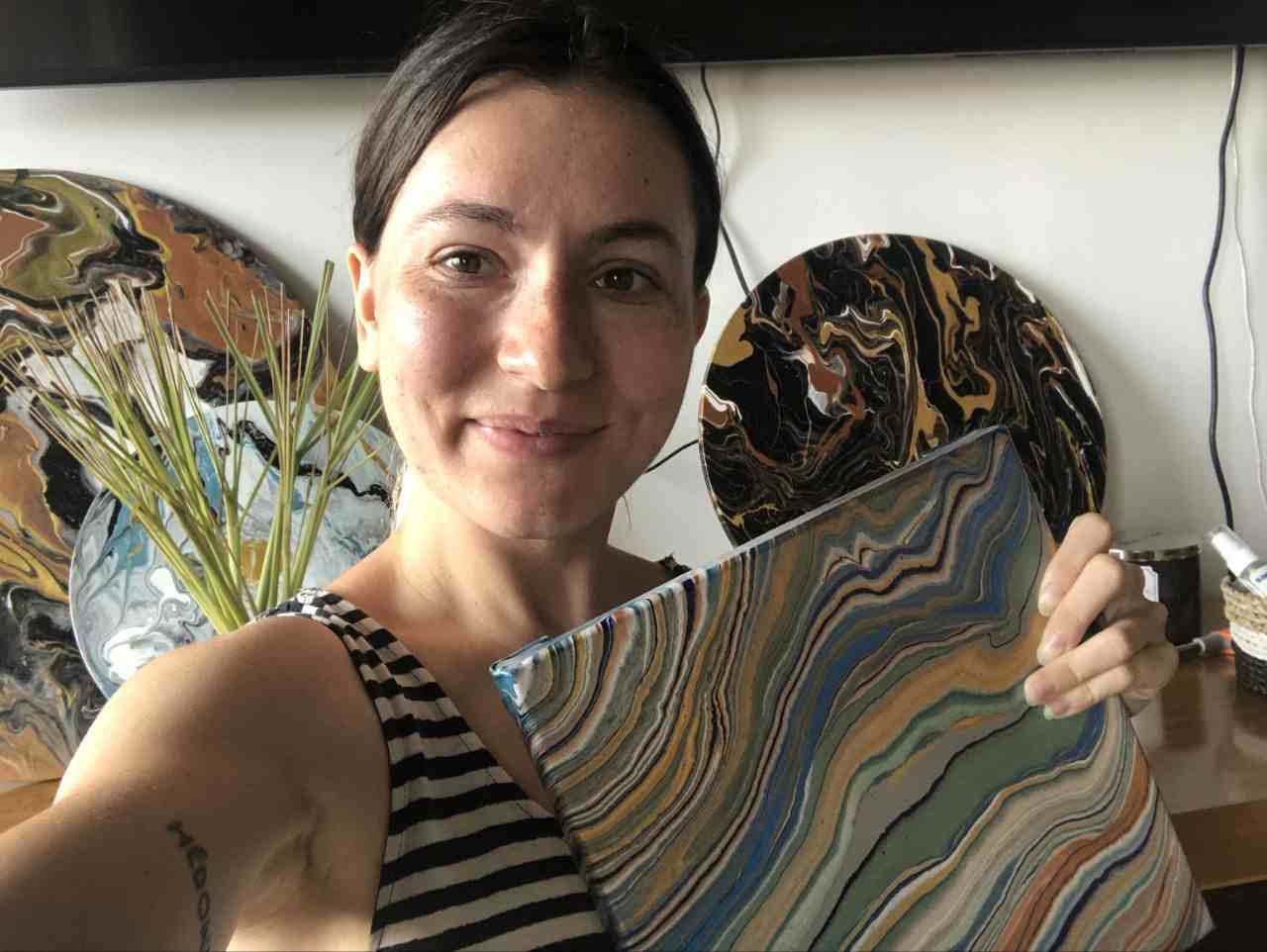 Masha Eretnova is a certified teacher. She started painting and drawing 20+ years ago and now is an international abstract artist and educator passionate about acrylic painting, gouache and crafts.
More about me.
Last update on 2023-12-04 / Affiliate links / Images from Amazon Product Advertising API