I've never used mildliner pens, but I got curious about Zebra pens as I often see them.
They also seem to have very interesting pastel colors and neon palettes so today I will share my swatches, some doodles, and my feedback in this in-depth Zebra Mildliner Review.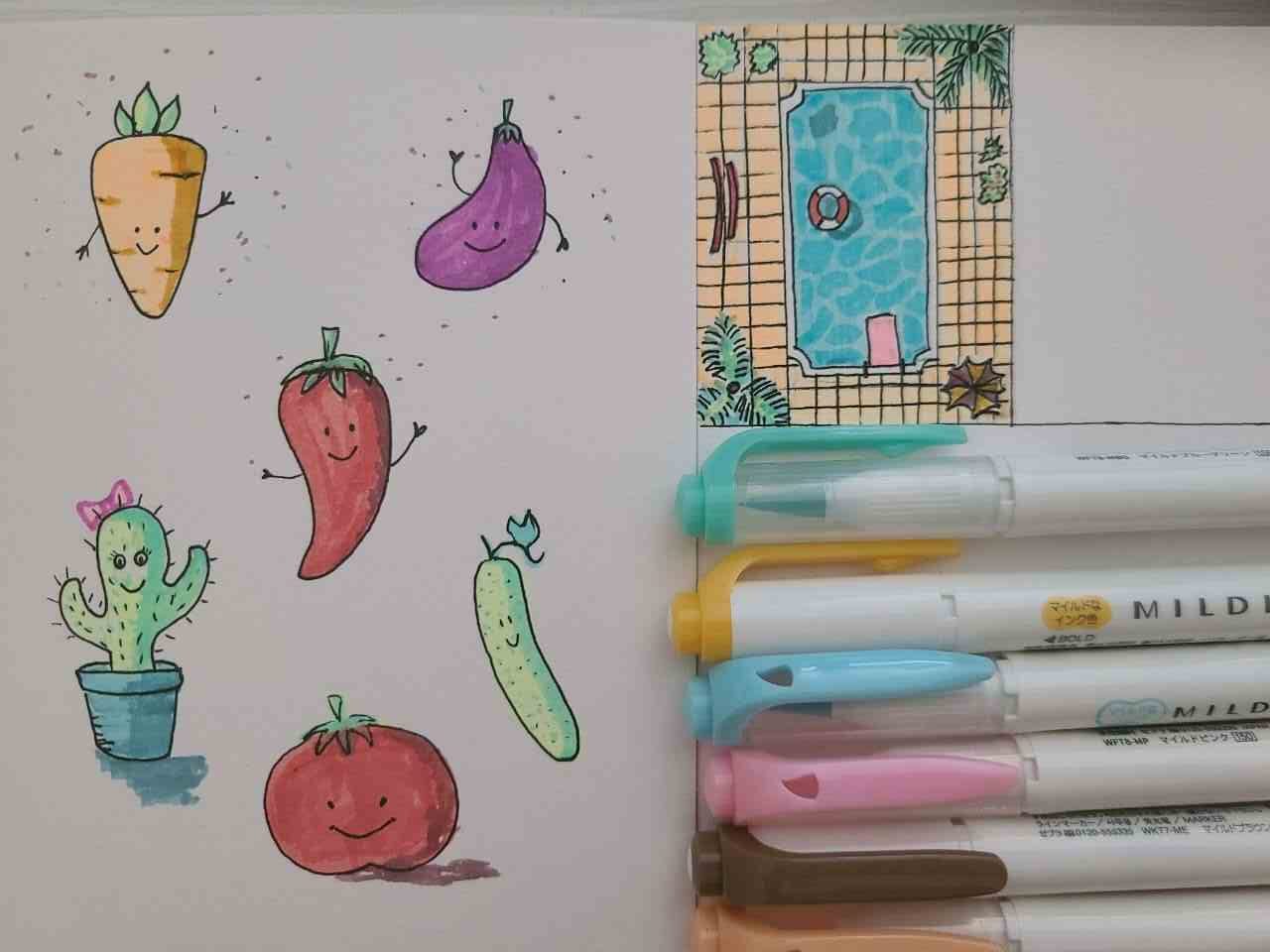 This article contains affiliate links. It means no extra cost for you but a little commission for me to support my hobby and blog. Thank you!
Zebra Mildliner Characteristics
I have purchased 2 sets: one with brush tips and one with chisel tips. They have similar colors which I will show later. Both have 5 pens in them. However, Zebra has multiple sets variations up to 35-pens pack.
The main purpose of a mildliner is to be a highlighter but with milder color intensity. Zebra Mildliners are most used and loved for journaling.
Both price range is 7-8 dollars.
I was so naive I was staring at my pens for 2 weeks until I realized they are double ended pens 😀 The packaging was in Japanese and little English…
The brand itself is a good-quality Japanese brand.
Zebra Mildliner BRUSH
5 pale colors
DUAL tip: averagely flexible brush tip and super fine point
Softly highlight
Good for journaling and doodles, pastel drawings
I earn a little commission if you make a purchase, at no additional cost to you. Thank you for supporting my blog!
Japan Import
Zebra Mildliner MARKER
I have this exact set but I bought it so much cheaper than on Amazon. The same palette is also available in brush tips.
5 pale colors (but they are brighter than brush set colors)
DUAL tip (chisel bold + fine point)
water-based pigment
great for doodling and journaling
I earn a little commission if you make a purchase, at no additional cost to you. Thank you for supporting my blog!
Zebra Mildliner Review: I'm using them for the 1st time!
I looooved these pens so much! They are great, water-based, easy-to-use brush pens and markers. I think the color palette is amazing with these "mild" pale colors. They work great both on watercolor paper and in your daily planner.
If you want to use them more for drawing, then I suggest buying big sets with 25 to 35 colors, as small 5-pc sets are better for bullet journaling, even though I did some small art with them too, the palette is still limited.
Packaging and Overall Pen Quality
All Zebra mildliners come in simple plastic package (very thick durable plastic). The pen itself is white, feels sturdy, the caps are closing very tight with a click (very satisfying). Mine have nothing in English on the pen itself except for the labeling which tip is what thickness and type.
The caps are different for brushes and markers tips. For brush tip the cap is clear but for the markers it's not:
---
Colors
My first set – A brush set with dual tips (brush + super fine point) has 5 beautiful colors: Mild Coral Pink, Mild Yellow, Mild Orange, Mild Blue Green, and Mild Blue.
My second set – Pens, also has 5 colors: Mild Brown, Mild Vermilion, Mild Gold, Mild Smoke Blue, Mild Magenta
---
Brush tip and strokes
Both sets I got have dual tips:
Line width:
For markers: Broad chisel tip: 0.16 inches (4.0 mm) / Fine tip: 0.04 – 0.06 inches (1.0 – 1.4 mm)
Brush pen version: brush – 4-5 mm, super fine tip – 1/2mm
You can use both thick or thin strokes, and with brush pen you technically have 3 strokes: wide with brush's side, fine with brush tip and super fine with the second pointed tip.
---
Opacity / Transparency
All the colors are transluscent as these pens' main purpose is highlighting in writing.
However, brushes are more transparent and pale in my opinion. Markers are a bit darker and colors are a bit more intense:
Blending, mixing, layering
Both brush pens and markers are not supposed to be blended or mixed, however, they allow layering and sometimes layering can result in some sort of mixing. For ex., yellow-orange over blue gave something similar to a beige or greenish tone. Pink over blue made purple.
The fact that they are all pale and quite transparent allows adding shades to your small drawings.
---
Brush lettering, journaling, and drawing
I absolutely liked drawing with them more than with Sakura Koi brushes, it felt much easier and I was happy with the results.
I am not good with handwriting and calligraphy but I still liked the result and how easy and flexible the brush is with Zebra mildliner brush pens more than with Sakura. IT felt smoother.
Zebra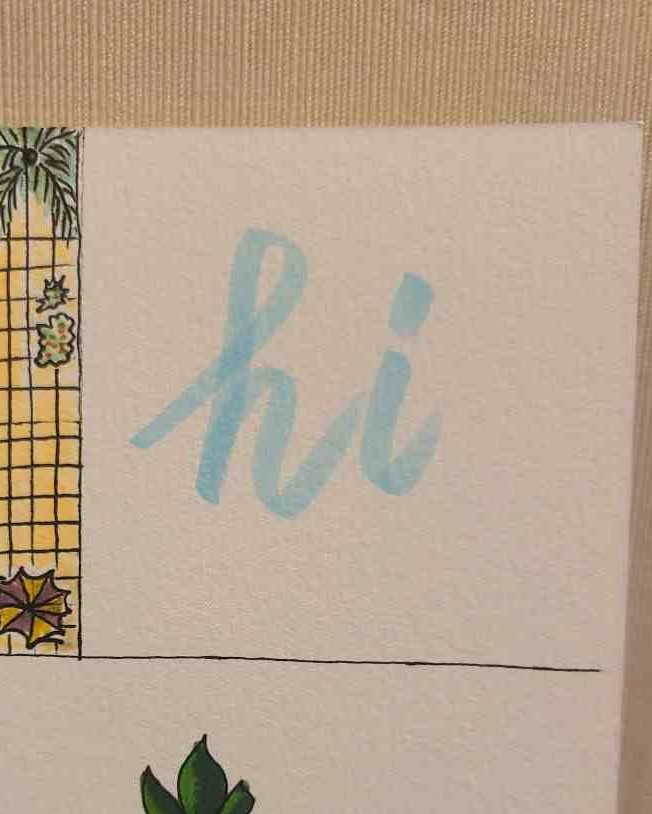 Sakura
I have 2 notebooks I carry with me, one is for daily journaling and one is a pocket-size notebook for daily to-do lists and small notes to keep me on track.
As the Zebra pens are created to be mildliners, for bullet journal and notebook, I tested them in my small notebook as well. The paper is thinner than watercolor paper and it has a different tint, while watercolor paper is natural white, the notebook pages seem closer to yellow.
All colors look nice, so I decided to test it for highlighting (finally!). Make sure either to wait until the pen ink is fully dry on the paper or highlight the area first and then write over the marker. I didn't wait for my pen's ink to dry and the brush or marker lifted up some color. But if the pen ink is dry – no issues.
Pen over mildliner on the left, mildliner over pen on the right.
Vegetables and cactus I drew with Zebra pens: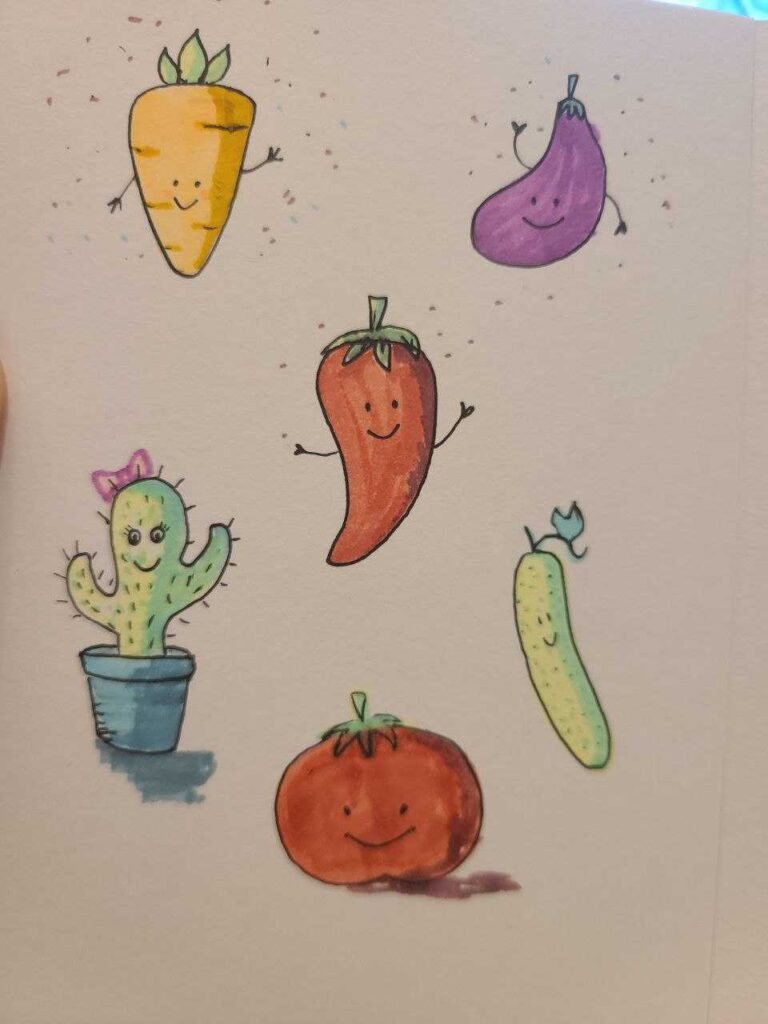 Pool drawing I've done with Zebra pens, You can even create shades!
The most fun I had was with small fun drawings and surprisingly even some realistic effects, like water. This made me think that Zebra mildliners will actually be super cool for architectural drawings and some interior design drawings, or landscaping projects!
For such projects I would suggest buying a bigger set though as with 5 colors your palette will be pretty limited.
For Design Sketches
Zebra Mildliner 25 Colors
beautiful pale colors
a full-color range (25)

best highlighters for notes and pens for doodles and sketches

wide and fine lines
I earn a little commission if you make a purchase, at no additional cost to you. Thank you for supporting my blog!
---
Zebra vs Sakura Brush Pen vs Sharpie Markers
I bought all three brands last time I was in the art store, so I want to quickly show the difference in color vibrancy, color range, blending, and overall experience. Here is a simple cute carrot:
Zebra Mildliners
I need to mention that even though Zebra pens are water-based, they are not water-soluble and you can not use a wet brush to "paint" with them or to blend the colors. In fact, they are slightly water resistant. Unlike Sakura where you can use water to make brush pens drawings look like watercolor paintings.
I think compared to Tombow dual brush pens, Zebra pens may have shorter brush tip and much fewer colors, but Zebra are twice cheaper than Tombow.
---
Zebra Brush Pens FAQ
Are Zebra Mildliners worth it?
Zebra mildliners are absolutely worth every penny for journaling, lettering, designs sketches, and simple drawings. The brush tips are flexible enough, line width can vary and the pens come with dual-tip.
Why are Zebra Mildliners so good?
Zebra mildliners are exceptional due to high-standard Japanese quality, unique mild or pale color palette, good pen, nib and cap design and affordable price. They offer up to 35 colors in different tips from chisel to brush tip.
Are Zebra Mildliners good for calligraphy?
Zebra mildliners are great for beginners in calligraphy as the tip is flexible enough, the stroke is streardy and the movement is smooth and easy.
Does Zebra Mildliner smudge?
If you use Zebra mildlners over still wet gel pens they can lightly smudge the ink. However, Zebra pens do not smudge over dry pens' ink and are great for notes.
Do Zebra Mildliners bleed through Bible pages?
You can use Zebra mildliners for notes and highlighting in journals, notebooks and books. Even in important books, like Bible. Mildliner do not bleed through paper.
Why are Zebra mildliners so expensive?
In fact Zebra mildliners are affordable and not expensive compared to other brands and types of pens. A set of 5 colors of Zebra mildliners costs around $7-8 dollars, and other mildliners cost around the same, or mayne $1 cheaper. However, value for money with Zebra pens are great.
For comparison, 6 colors of Sakura brush pens cost up to $28, so $7 for Zebra pens is not that expensive.
How many total Zebra mildliners are there?
Zebra Mildliners have a total of 35 colors in the palette and sets available in 5, 15 or 25 colors. They also sell value packs when there are 10+ packs of 5-color sets in your order. Available sets are neutral, brush set, fluorescent pens, "friendly", war colors set, cool colors set, gray shades, "gentle" set, and "refresh" set.
---
To Sum Up My zebra mildliner brush pen review
I really have to say that I expected the least from Zebra mildliners compared to Sakura brush pens mostly due to the choice of palette. But as soon as I tested both I realised how different they are.
I believe Zebra pens are great for their purpose – highlighers, but they also feel to me as a great tool for interior design and landscaping sketches, small illustrations, drawings, hand lettering. They are absolutely flexible, beginner-friendly, cheaper than other dual-tip brushes like Tombow, and easier to use than Sakura.
Compact packaging and light weight is great for freelancers and people who needs to carry them around for their bullet journals or notebooks.
I highly recommend trying those!