I'm terrible at lettering and calligraphy but I love painting and drawing. I decided to try something new and I was always curious about brush pens – to me, it sounds like a mix of a brush and a marker!
So I've bought 2 sets of Sakura brush pens and I will test them today to write this Sakura Koi Brush Pen Review so you can find some details and real swatches.
This article contains affiliate links. It means no extra cost for you but a little commission for me to support my hobby and blog. Thank you!
---
Sakura Koi Brush Pen Characteristics
I have two sets of Sakura coloring brush pens: A basic set of 6 colors and a Portrait set of 6 colors.
I wanted to buy a 24 or 48-color pack that has all nuances but the store simply didn't have it and I was impatient to wait for online order 🙁
I also separately bought a black, and light cool gray color for testing. So total I have 14 colors of Sakura coloring brush pens.
Sakura Koi Coloring Brush Pen, 24 Colors
$37.99
$28.99 ($1.21 / Count)
sets from 6 to 48 colors available
water-based and

odorless brush pens

flexible nylon tip, the tightly closed lid

from skin colors to vibrant primary colors - all are dye based
1 to 6 mm wide stroke
water-soluble, not waterproof
easy to blend, lightly mix
layering intensifies colors, good for shading
Non-toxic
not

lightfast
I earn a little commission if you make a purchase, at no additional cost to you. Thank you for supporting my blog!
---
My Honest Sakura Koi Brush Pen Review
Sakura Koi coloring brush pens are indeed amazing for coloring as they have bright, vivid colors in a range of 48 from different shades of gray and skin colors to bold primary colors.
They are safe to use, non-toxic, easy to wash off, have no smell, and are great for students, and beginners.
The Sakura Koi brush pens are popular for coloring, journaling, handwriting, and drawing.
Brush tip
Brush tips are synthetic, rather flexible but not too much.
Sakura Koi brush pen Color chart
I have 14 colors and these are my swatches. One layer of color, two layers of color, and some attempt for hand lettering (I'm more of a drawing person so forgive me for my calligraphy, this is solely for color testing purposes).
I like how you adjust the intensity and darkness with the second layer. But be careful, if you will go over and over one spot the paper will start losing fibers.
The colors appear darker to me than I expect them to be based on the lid color. They dry quite dark as well.
Durability
Sakura Koi brush pens are not lightfast at all, they fade pretty fast if exposed to natural light. They're also not water-resistant or waterproof.
You can make them work as watercolors if you will use a wet brush over the color:
Blending colors and mixing
Sakura brush pens are stated to be easy to blend but I'm not sure I agree with this. They are quite transparent and I feel like all the edges between blended colors are still visible. But as they are water-soluble, I think we can try to blend them better using a wet brush.
Some colors are transparent and if you are using them to color something they will leave marks and it is impossible to make the finished drawing look cute, I had those with all browns. Yellow seems fine.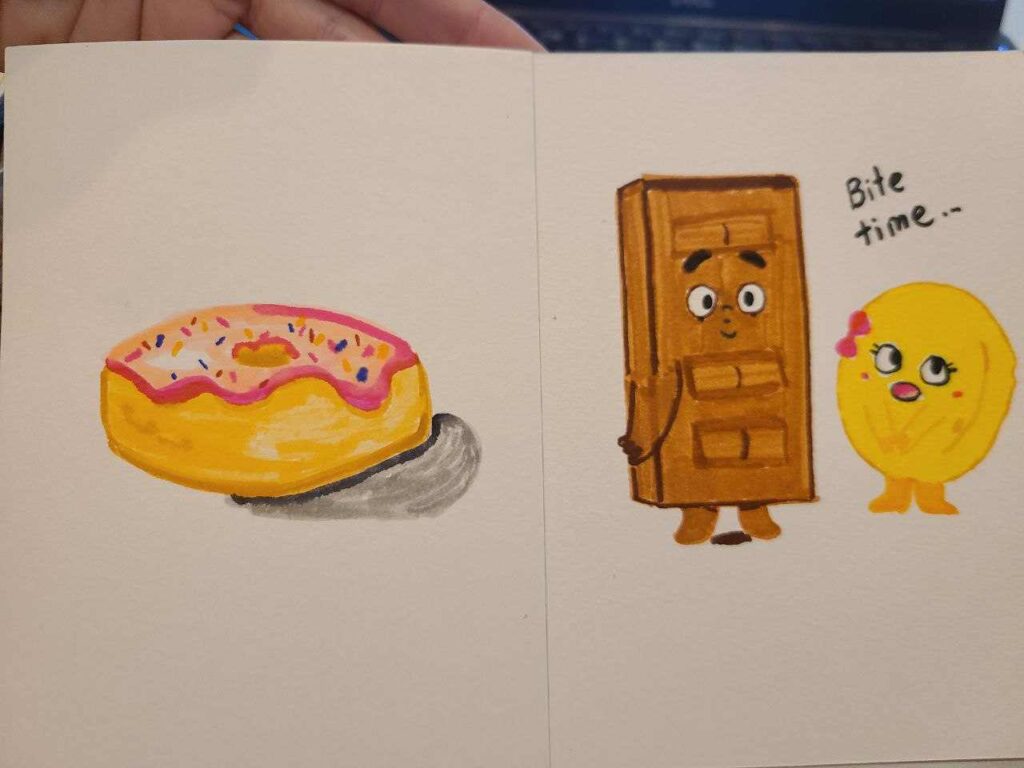 I think with Sakura watercolor the results would be better. I'm not getting these pastel shades I hoped for or the light subtle colors I grabbed Portrait set for…The portrait set colors seem too dark when dry for drawing skin.
Read also: Honest Pentel Watercolor Review [12 Colors Set]
Transparency / Opacity
All colors are absolutely transparent. No matter how many layers you will apply over a darker color, the new layer won't be visible. So only work from light to dark and draw in blocks, placing colors next to each other.
Normally we test opacity over black color:
But I also wanted to share that even though indeed all colors are transparent, darker pigments will overpower more transparent pigments:
Thin and thick lines
Yes, Sakura can make thinner lines but they are not as thin as you would expect, so detailed works are probably not the best.
---
How to use Sakura Koi Brush Pens
From what I feel using these coloring brush pens, you are best to use them for:
Writing, Hand lettering, only larger scale as Sakura brush pens don't do nice thin lines
Journaling
Drawing some small-scaled things like animals, flowers, small illustrations, and food.
They work on watercolor, and mixed media paper, but are best on smooth papers with no texture. They don't bleed through watercolor paper (I used Canson)
Use them without pressure, the strokes are nice.
The coverage is probably not as good as Sharpie markers but very good. When wet Sakura brushes show all strokes you make and it looks bad, but when it's dry it looks better.
---
Sakura Koi coloring brush pens vs Tombow dual brush pens
Sakura and Tombow are very similar to each other, both water-based, dye-based coloring brush pens. Durability wise is also the same – both hate direct sunlight and water and are not permanent, unlike many alcohol-based markers. But there are a few differences:
The total color range is almost twice bigger with Tombow (the biggest sets are Tombow 96 blender pen colors vs Sakura 48 colors)
Tombow brush pens' nibs seem to be more flexible, as they are a little bit longer than
The biggest difference is that Tombow is a dual-tip brush pen, while Sakura only has one.
Tombow is more expensive than Sakura.
I'm often traveling and lately, I've been mostly in Asia, here I see Sakura brand more often than Tombow. It is practically impossible to secure all color ranges of Tombow. So that would be also a difference but a very specific one as it is not related to the US market 🙂
---
FAQ
Is Sakura brush pen refillable?
Sakura coloring brush pens were not made to be refilled. They are made of dye ink, so technically you can somehow inject more ink but it is not worth it, buy a new pen!
Are Sakura Koi brush pens good?
Sakura Koi brush pens are good for drawing and large hand lettering. They are not particularly good with fine lines and they fade fast under direct sunlight.
How many colors are in Sakura Koi brush pen?
The biggest Sakura Koi brush pen set has 48 colors. There are smaller sets of 6 colors designed for specific goals, like a Portrait set or Sketching set, or just 6 basic colors set.
I think Sakura brush pens in sets of 12 or 14 have the potential for journaling and simplistic drawings, but I think the colors are too bright and dry too dark, or leave marks that aren't good for coloring or detailed realistic drawings. They work more as water-based markers with a brush tip for me. Fun to play around but I wouldn't consider them to be a serious art supply on their own.
However, They do work fantastically paired with a wet brush for watercolor-like paintings! The bigger sets have more value in such case.