I was traveling and walked into a local art store. I saw a lot of paints and colored pencils from Pentel and thought to myself that I'd never heard of this brand.
When I was about to walk by, I kept thinking, how often do we overlook some art supplies because they seem cheap, unknown, or less promoted? So I decided to test the paint and I'll share my findings in this Pentel Watercolor review.
This article contains affiliate links. It means no extra cost for you but a little commission for me to support my hobby and blog. Thank you!
Pentel Watercolors Characteristics
Pentel paints are extremely affordable yet are great for complete beginners, kids, and watercolor as a hobby.
Once a Japanese brand, they are now produced in Taiwan and mostly distributed and popular in South East Asia.
I've tried to google the two websites mentioned on the paint box, but both expired 🙁
It is worth mentioning that the watercolors by Pentel Arts also come in a 24-color set and the brand also has a travel watercolor brush which is super convenient.
Pentel Arts Water Colors 12 Colors
I've tried this exact 12-color watercolor set
12 colors come in 5 ml tubes
Non-toxic, compliant with ISO 8124-3 on heavy metals
Quick drying
Dry to smooth matte finish
Easy to re-wet
Easy to blend and mix
Made in Taiwan, each tube has color name in English and Japanese
I earn a little commission if you make a purchase, at no additional cost to you. Thank you for supporting my blog!
---
My Pentel Watercolor Review
Coverage 8/10
Consistency 8/10
Colors 6/10
Opacity 10/10
The dry time and finish are 6/10
Tubes 5/10
Price 10/10
A quick note on the packaging. There are two packages with quite different tubes and from my research, these two packages differ in colors a bit and may differ in quality.
I have this package with simple tubes with color names: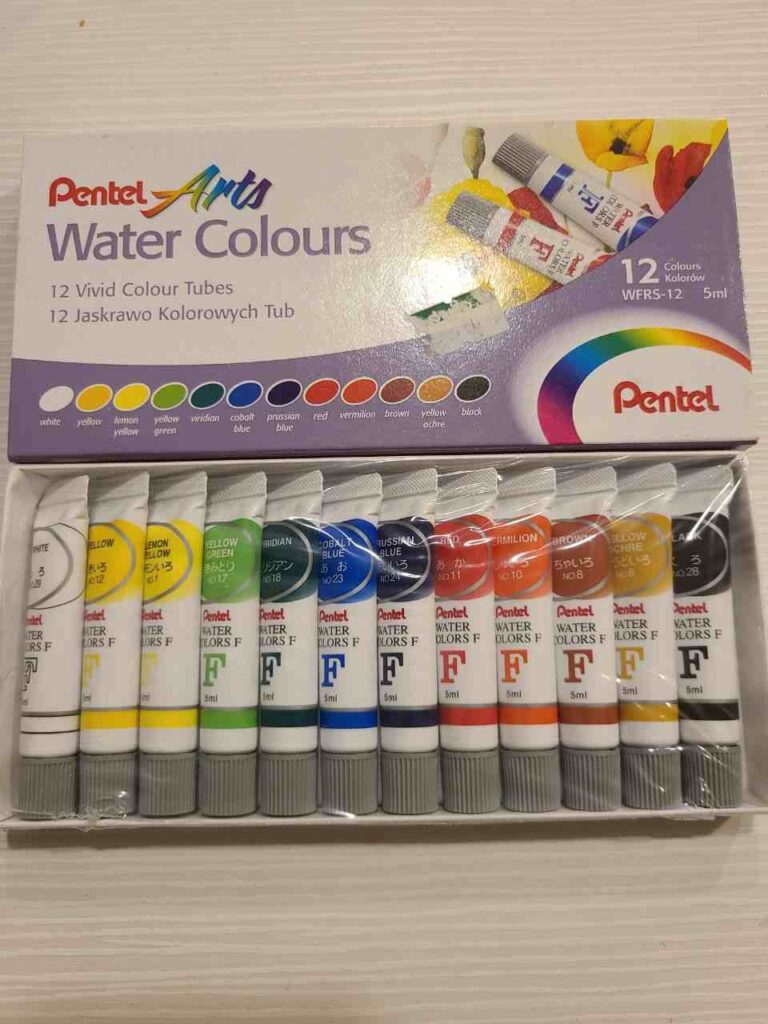 There is also this packaging. It comes with tubes with nothing on them, different tubes design, and also purple instead of warm yellow
---
Read also: Pentel Oil Pastels Review [12 Colors Set] Great Travel Oil Pastels
---
Colors
Pentel Watercolor 12 colors set comes with the following colors:
White
Yellow
Lemon Yellow
Yellow Green
Viridian
Cobalt Blue
Prussian Blue
Red
Vermillion
Brown
Yellow Ochre
Black
I'm not sure if I like all colors. For my personal preferences, Vermilion is too orange, and both blues are quite dark. I would prefer a lighter blue. All colors seemed a bit dull to me.
I saw someone mention that the Pentel watercolors are hard to rewet, I cannot agree with this.
I left some paints on paper sitting for 5 days and I retweeted them just with a touch of a wet brush. So definitely, easy to rewet.
Consistency
I've read some reviews online and I saw people mentioning that binder and pigment were divided in the tube and binder was leaking out first.
I saw it being mentioned for another type of packaging also. I had no issues with separated or runny paint.
The paint seems to be creamy and soft.
Coverage
Coverage is good, smooth, and easy.
However, when the painting is dried I think the coverage seems less even
Finish and drying time
Drying time depends on home much water you used.
Wet-on-wet dry up to a few minutes. Wet-on-dry application dries almost immediately.
Colors dry to a duller, slightly darker, matte, smooth finish.
Opacity/Transparency
As watercolors in general Pentel watercolor is more transparent. However Prussian blue if applied with less water can be quite opaque, as well as white.
The colors for the opacity swatch didn't lift each other which means you can layer Pentel watercolor without creating mud.
Tubes
All colors come in 5 ml plastic tubes with a screw-on lid with a bit of ventilation.
After a rebranding, the tubes were downgraded from metal tubes to plastic ones. Metal tubes are often used for professional paints and certainly are more expensive to produce, so I think the brand decided to cut costs.
Another thing is that there is no membrane. When you buy the paint in tubes, often your first use starts with ripping off the membrane that was keeping the tube airtight. Maybe Pentel has a special lid design, but there is no such protective membrane.
Lastly, 5 ml is good for kids, students, and occasional hobby painting but it wouldn't be a good size for the long run.
Pentel Watercolor Price
The Pentel watercolor is very affordable, on Amazon it costs only around $11, but as I said the paint is popular in SEA, where it costs much cheaper. I bought it in Thailand for only 186 baht (roughly $5.4), I saw the prices for pentel watercolor in Sri Lanka being closer to American – around 7 to 10 dollars. In the Philippines, you could get the paint for as low as $3.5.
It is indeed a cheap watercolor paint.
---
how to use pentel watercolor
I think Pentel watercolors can be somehow a travel paint set. I bought them while traveling and I'm going to use them miles away from all my art supplies. I only have my Sakura brush pen with me and I bought some small-sized Canson watercolor papers.
You need to get some paper towels or a regular old towel, and a separate jar with water if you are working with regular brushes.
My Sakura watercolor paintbrush holds water inside 🙂
Step 1 (Optional) – Sketch
With watercolors, you don't have to sketch. Especially if you are painting loose flowers or loose landscapes. Any pencil will be visible through watercolor. But it may be your intention. For ex., for portraits painters often leave pencil lines.
Step 2 – Paint light areas
Working with watercolors we move from light to dark, unlike acrylics or gouache, meaning we first paint everything that is transparent and has very light colors.
Step 3 – Paint dark areas
Only when light areas are dry we are adding accents, shades, and everything that is dark.
Step 4 (Optional) – Adding mixed media
When the painting is done, we can add accents and highlights, for example, stars, with pastels, acrylic paint, markers, or brush pens. You can add small details nicely without interfering with watercolors.
Done!
Painting with Pentel watercolors is overall easy, I think they are a bit blocky, the water control is not perfect, and the colors dry duller than they are wet. The colours seem bright when wet. But overall, decent easy paints for beginners.
I also have to test them again as this time I noticed that blend, and mixing colors is a problem. Maybe it was just my mistake and my first time using the Pentel brand.
---
FAQ
Is Pentel watercolor good?
Pentel watercolor is good only for kids, students, and complete beginners adults from the very start with watercolor. It is not a good choice for professional artists or someone who already masters different watercolor techniques and wants to progress. You will see a big difference between professional watercolors and Pentel.
Is Pentel watercolor non-toxic?
Yes, Pentel watercolor paints are non-toxic as most watercolors. They are also compliant with regulations regarding heavy metals. However, the paint tubes are small as well as their lids and these paints are not recommended for children under 3 y.o. so they don't swallow small parts.
How do you use Pentel watercolor tubes?
Open the tube, and squeeze a little bit of paint into a palette with wells. Add water to the squeezed paint color. Then tightly close the lid of the Pentel watercolor tube and put it back in the box. You don't need a lot of paint to work with watercolor as you are constantly thinning it with water.
I hope your kids or even you can enjoy watercolor painting using Pentel watercolors if you buy 12 or 18 or 24 colors set. Happy painting!