You have probably been passionate lately about your art journey. Perhaps that leads you to make your shoe as unique as you are.
Then suddenly, you wondered and considered; how about putting fancy art to my plain, ordinary-looking shoe?' "But wait? Can I use acrylic paint on my shoes?
Now, you've been searching through the web and, fortunately, found this article.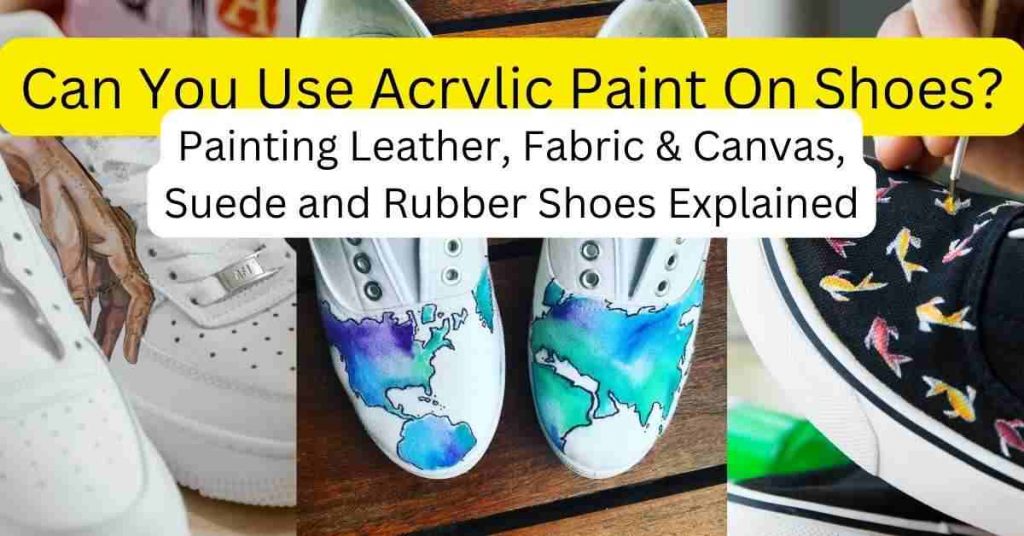 Acrylic is one of has been the most suitable and versatile choices for painting fabric and leather shoes. You can use it on Fabric and leather types of shoes.
If properly prepared and sealed, you can use your painted shoes regularly without any cracks or peel even when bent.
But, do you know how to seal or make your painted shoes waterproof and more durable?
Also, shoes come from a different materials so how do you know what kind of Acrylic paint will work on your shoes?
Well, I will share with you all the facts, secrets, tips, and tricks so if you desire to know,
Then Stay Tune!
Can you use Acrylic paint on shoes?
Positively, Yes!
Acrylic paint was known for its versatility, so when it comes to painting shoes, acrylic paint is the best-suited selection.
Acrylic paint was popular for its ability to dry quickly.
Plus? It sticks very well on shoes.
If you seal it properly, your shoes will become waterproof and you can use it frequently without cracking and peeling even when bent.
Despite that facts, we have to consider that every shoe was made from different sorts of materials: denim, leather, canvas, fabric, and vinyl.
So how do you know if what kind of Acrylic paint will work on the materials mentioned above?
To summarize, Check this table out!
Can you use normal acrylic paint on shoes?
Yes, you can use normal acrylic paint on fabric and canvas shoes, if you're not planning to wear your shoes. Fabric paint or regular acrylic paint is not ideal for leather or vinyl shoes.
But if you're planning to wear it, you can't use normal acrylic paint on your shoes. Unless you turn your acrylics into fabric paint.
You can use normal acrylic paint but you must ensure to mix it with fabric medium to make it into Fabric paint.
Also, without fabric medium, you can't use normal acrylics.
2 parts Normal Acrylic paint + 1 part Fabric Medium = Fabric Paint
Note: Vinegar is NOT a fabric medium. So don't use it as a substitute.
Read also: Can You Use Acrylic Paint on Fabric? How to Paint it Permanently & DIY Fabric Medium
---
What paint to use on shoes?
Flexibility is very important because the shoes on our feet constantly move when we walk or run. And the paint should follow such moves.
The more your shoe bends the more it will likely crack and peel.
Normal Acrylic paint was purposefully made for Canvas, Paper, and Wood, it is not made for painting on different shoes.
Also, Acrylic paint is fast drying. Yet, it isn't waterproof.
However, Both Special Fabric (Textile paint) And Leather Acrylic paints, are formulated especially for Leather, Vinyl, Fabric/cloth, and Canvas Shoes.
But do you know what kind of paint to use based on the material of your shoes?
You can use acrylic paint as well as leather and fabric paint on shoes depending on the material.
Don't worry, leather and fabric paint are not that expensive! And below I will recommend 15 great brands to use at affordable prices.
---
How to paint leather shoes with acrylic paint?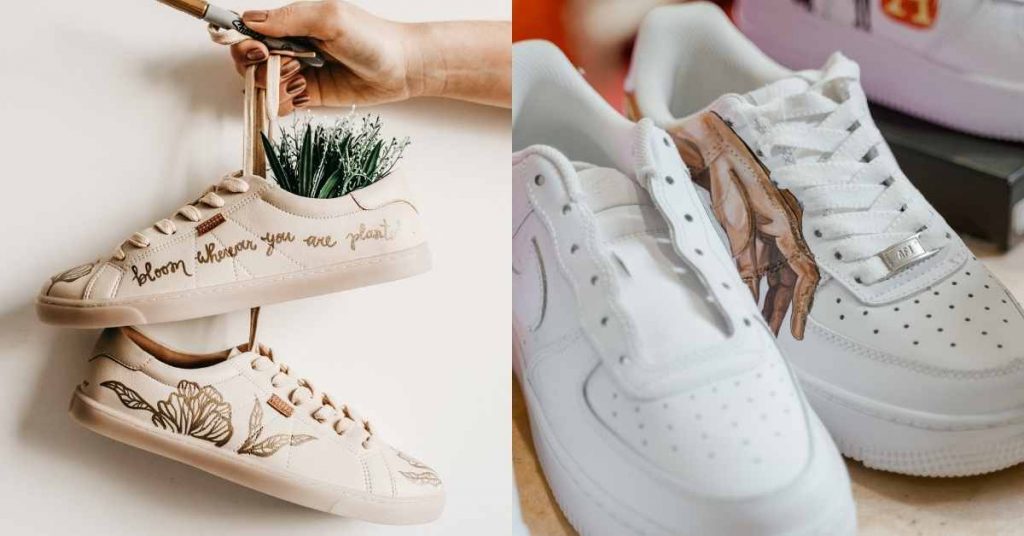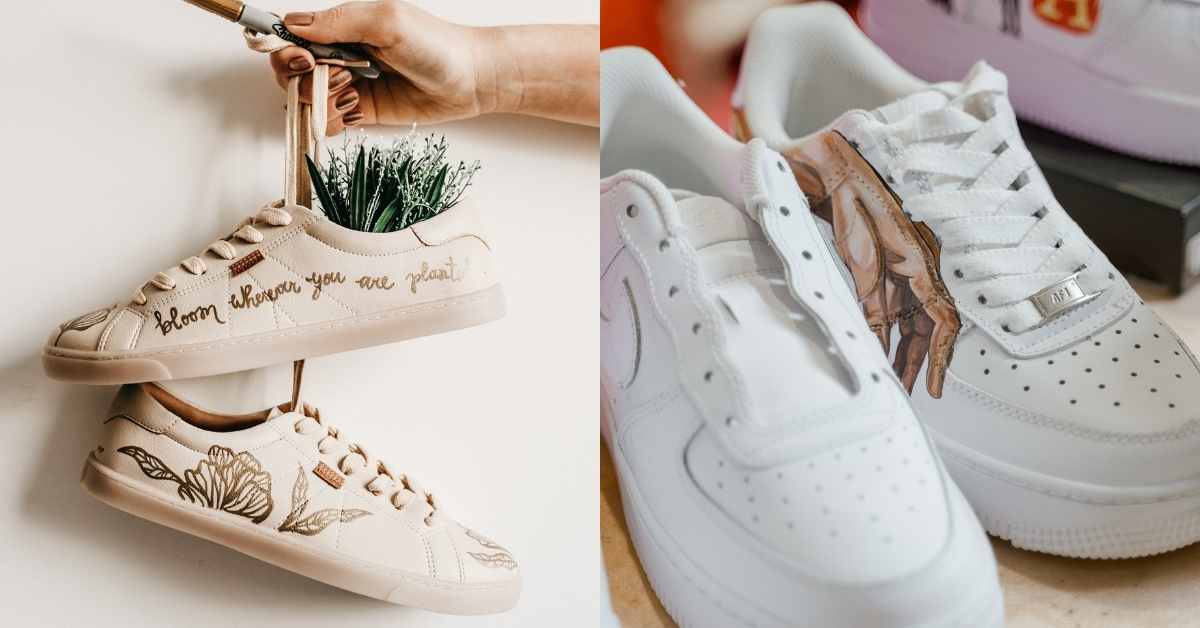 Supplies to use
Step-by-step guide:
Clean the leather thoroughly.
You can use Isopropyl alcohol to clean and remove any waxes, and to remove any waxes, oils, and coatings. You can also use acetone or even nail polish remover as an alternative. And let it sit for a minute.
Tip: If there is a side of your shoe that you don't want to paint on, you can use tape to avoid that side.
2. Remove the laces
To avoid painting on the laces, you should remove it.
3. Prepare the surface
I highly recommend Angelus Surface preparer deglazer to remove any silicone coating or any dirt that was left.
You can also purchase some acrylic sets with deglazer on it. Next, allow it to dry for at least 15 minutes.
4. Paint.
After cleaning your shoes meticulously, you can now apply your leather paint on the outside surface of the leather to serve as your single coat.
You can also use stencils to help you apply your desired design onto your shoe flawlessly.
You can add further coats as needed, but remember to avoid thick coats but thin, light coats on your first layer. Allow your fancy art to dry for at least 1-2 hours before putting another layer.
Why? The thicker the coat, the more likely it will peel and crack when bent.
Tips: use #1 (or smaller) round brushes for details, #8 is perfect for edges, flat or filbert brush for spreading paint on the flat side of the shoe surface.
You can also use airbrush or spray paint for easier and smoother application of paint or sealer.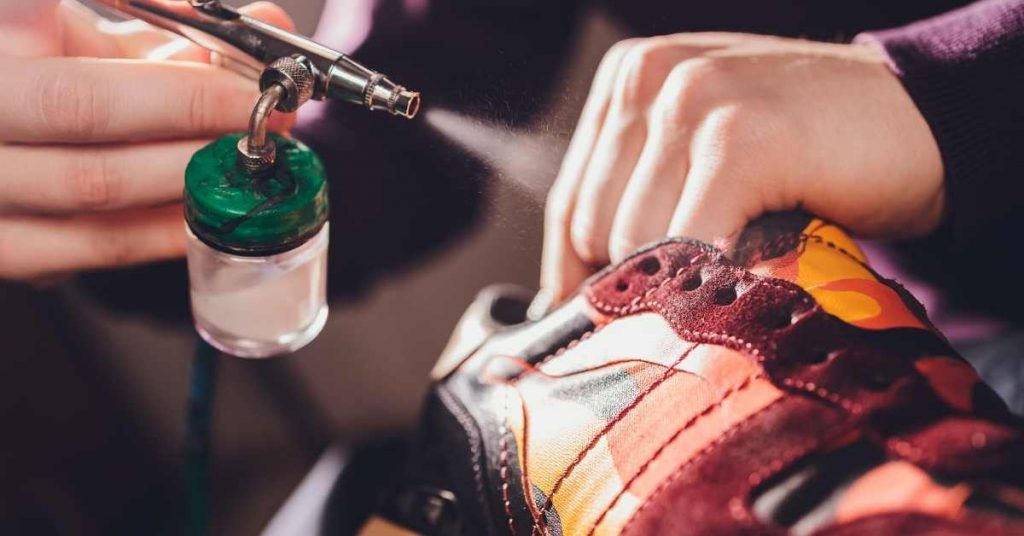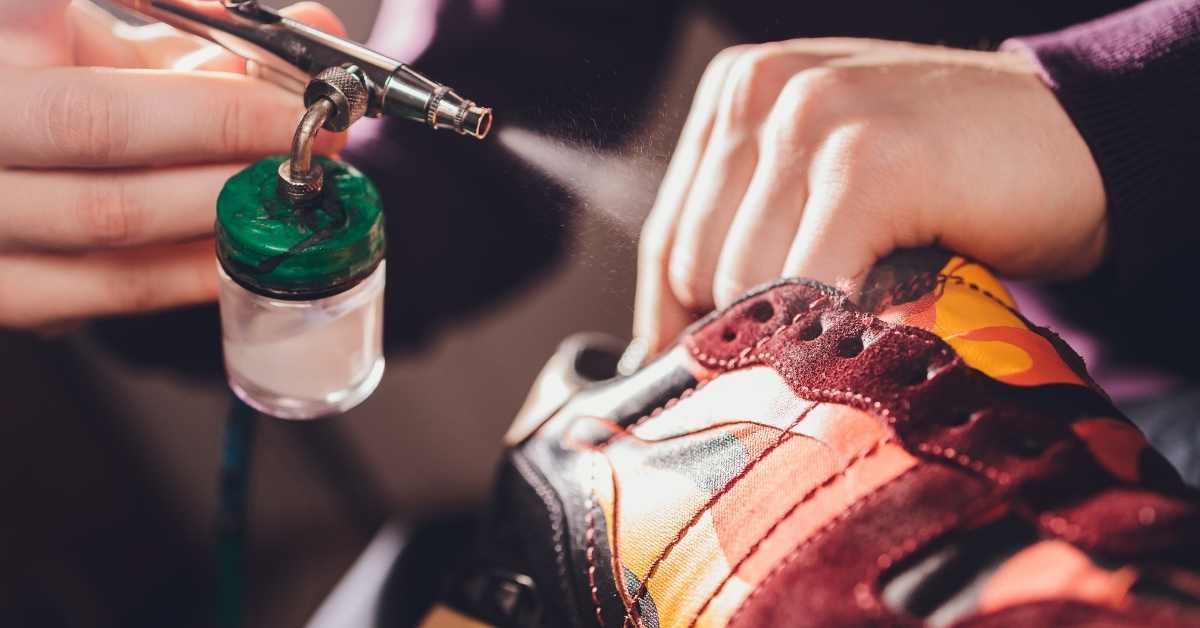 5. Time for Sealing.
After you painted your shoes, and after it dries perfectly, you can now seal it to avoid cracks and peeling in future and also make shoes washable.
Note: Don't place your shoes in direct sunlight or in a cold place while the paint is drying, it will affect the drying time and paint adhesion.
How to seal paint on leather shoes?
The special leather paint finisher comes in high gloss, satin or matte sheen with gloss being the most durable but matte being better at hiding imperfections. But this finisher won't work on suede! It will make the shoes water-resistant so you can walk and clean them easily.
Apply thin layer without rubbing or soaking the shoes in the finisher. Let it properly dry.
But te finisher alone won't make the shoes completely waterproof. To ensure water can't go inside and prevent stains, use this special repellent – this one is universal by the way and works on clothes too.
For suede shoes there is a special Mink Oil that acts as repellent and waterproofing coat.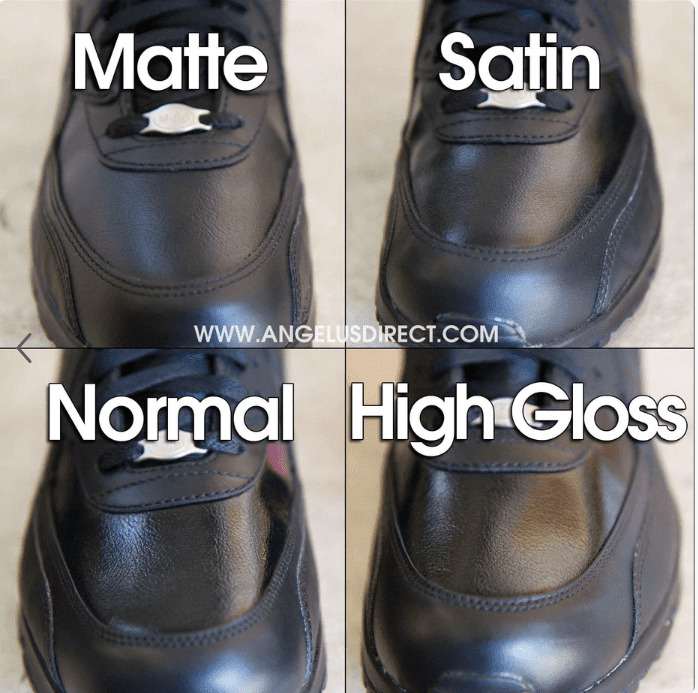 ---
How to paint fabric or canvas shoes with acrylic paint?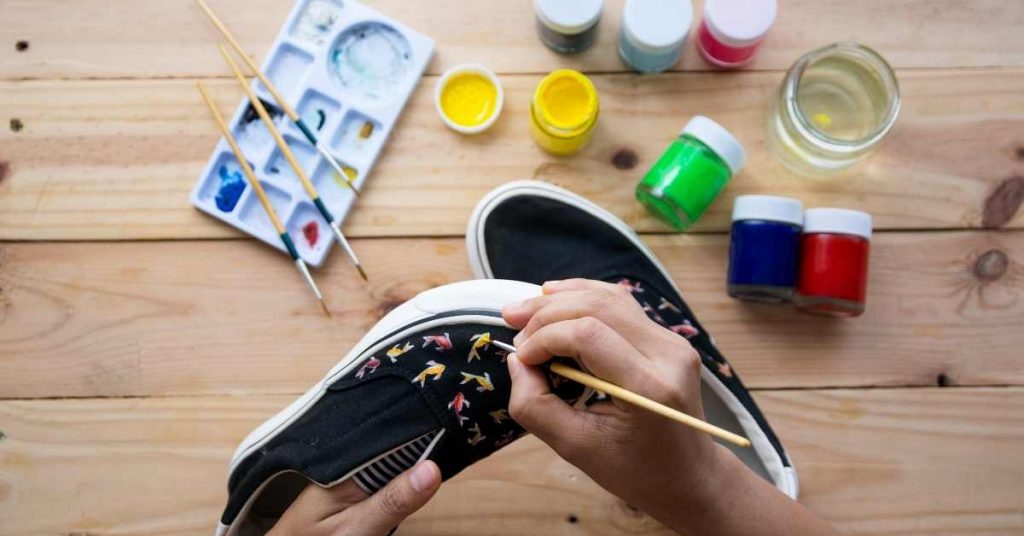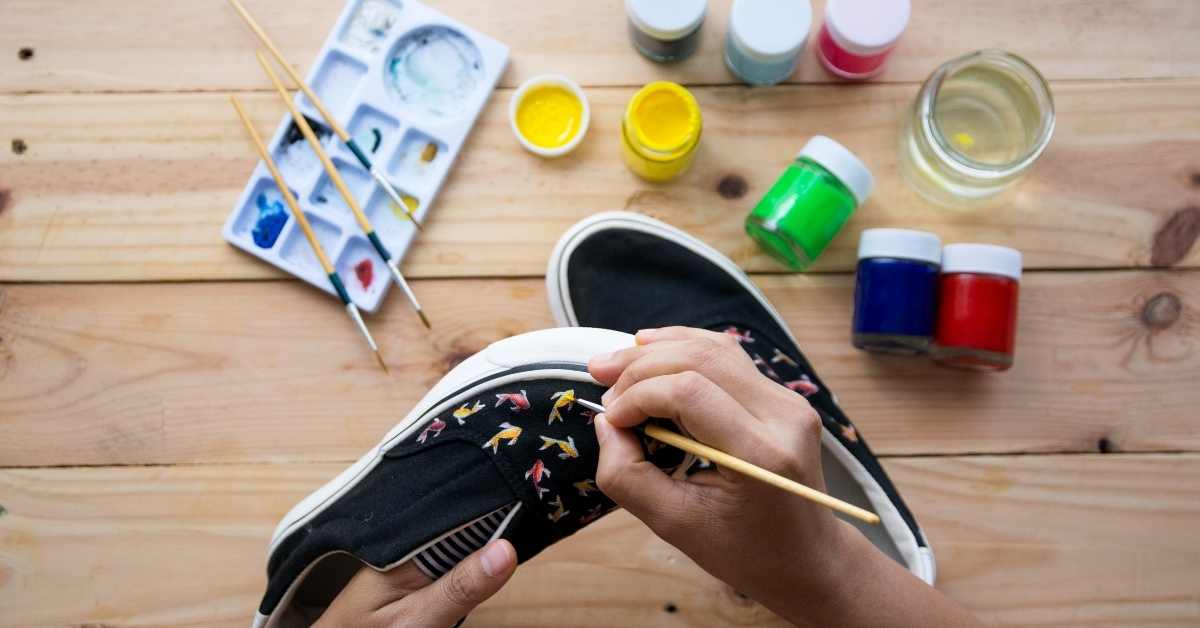 Supplies to use
1. Check the material of your shoe.
Make sure it is fabric or canvas and not leather, otherwise you will need a different primer and paint.
2. Clean the leather thoroughly.
You must thoroughly clean your leather shoes. Isopropyl alcohol, acetone or even nail polish will help to clean and remove any waxes, oils, and protective coatings that may not allow the paint to stick.
Use tape to cover the parts you don't want to paint, ex sole.
3. Remove the laces
4. Draw the outline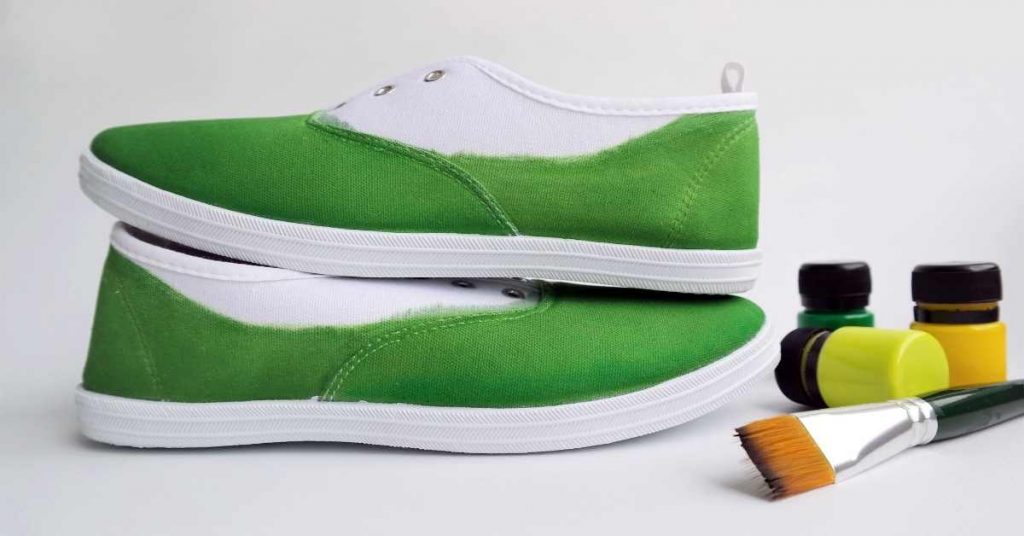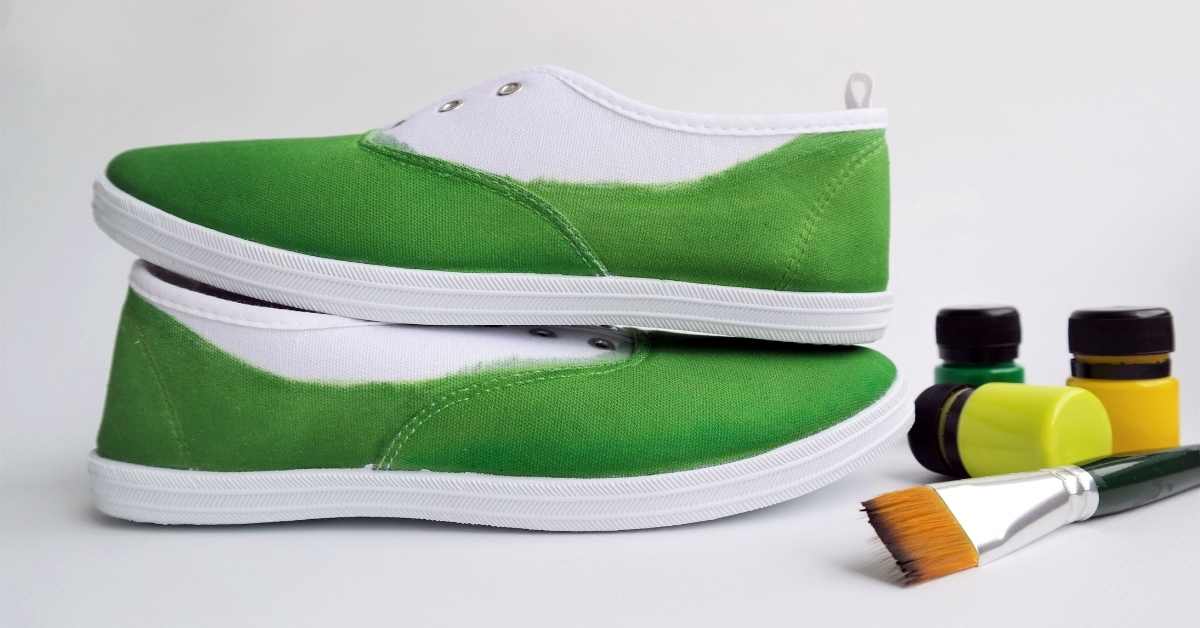 Draw a thin and light outline for your desired art to be on your shoe
Make sure to think about how your desired art will look from all various angles, namely, the back and from an above view.
You can also use stencils to help you apply your desired design to the shoes .
5. Paint the shoes
After all, is set, you can now use fabric acrylic paint to brush on every surface without creating a thick coat for it is your first layer.
Tip: use flat brush or sponge if you want to cover the whole shoe in one color. Sponge will also help a ton in blending and making gradients.
Between coats, you must let the paint on the shoes dry for about 25-30 mins to avoid cracks and peeling.
6. Time for sealing.
Time for sealing it and letting it set for about 24 hours to fully set your piece of art. Mod Podge has outdoor sealer and fabric sealer for protecting painted shoes.
Don't you ever use hair spray to seal acrylic paint!
Why? Since hairspray has a chemical that can damage a lot of your unique work.
---
How to paint rubber shoes & Soles with acrylic paint
It is easy to paint rubber surface with acrylic as the paint will stick to rubber.
Supplies to use
Alcohol/acetone/nail polish
rubber primer (optional)
Tape
Set of Paint brushes
Acrylic paint and Mod Podge
1. Cleaning
It is important to thoroughly clean the soles or rubber shoes completely to make sure the paint will stick. Use cotton ball dipped in acetone or alcohol.
If you are painting the whole rubber shoes and nit just soles, remove the laces.
2. Tape the shoes
Make sure the tape sticks so the paint from soles won't flow to the shoes fabric as it will be hard to remove acrylic paint from it.
3. Prime the rubber
Either use a special primer for rubber (there are non for crafts so you will need the outdoor primer for rubber) or apply a layer of white paint or gesso.
4. Paint
Mix acrylic paint with Mod Podge to make sure they paint will stick to rubber without peeling. Paint using a flat brush and let the coats fry for at least 1 hour before applying new one.
For opaque colors 1-2 coats will be enough, for more transparent colors you will have to apply 3-4 coats.
5. Sealing
Leave your shoes to dry over night or up to 24 hours. Once dry, you can apply the sealent: Mod Podge, spray sealent or professional rubber sealent.
Choose clear glossy sealent as they offer the maximum protection and durability.
You will have to apply 2 coats, letting the rubber shoes or soles dry for around 20 minutes in between.
Let the rubber dry overnight. Once fully cured, remove the painter's tape and try the shoes!
---
How to seal acrylic paint on shoes to make it waterproof?
You'll need
Due to various washes, and frequently used, painted shoes without a sealer will crack and peel off.
That's why sealing your shoes properly, will make your painted shoes maintain their fancy and vivid design without various cracking and peeling. Apply up to 3 coats, letting them fully dry in between.
However, some sealers will make the shoes only water-resistant so you can clean them with wet cloth but not fully waterproof.To waterproof your shoes or renew the waterproofing of your shoes, you can apply special repellent over them.
Allow the sealent to dry for 24-48 hours before waterproofing your shoes with a different product.
Can you use mod podge to seal acrylic paint on shoes?
Positively, Yes!
And yes, many artists use Mod Podge to seal crafts of fabric, canvas, ceramics, rocks and many other surfaces. Mod Podge has a glue base and comes in different finishes like matte or gloss. You will need to apply at least 2 or 3 coats of Mod Podge.
In this video MintHillBilly seals painted shoes with Mod Podge:
---
Top 15 Best acrylic paints for shoes
Material of Shoes
Description
Best Paint
Price Level
Leather Shoes
Angelus paint is the top rated and the best Leather paint known for its durability and power to fight against several uses without cracking and peeling. Plus, In one purchase you can have 12 colors in a set!
🏆Angelus Leather Paint
Around $35
Leather Shoes
Smalltoungue works amazingly! Plus, 14 colors in one Set-12 Vibrant Colors+1 Leather preparer and deglazer+1 Acrylic finisher so you get the whole set of supplies you need, no extra costs.
Smalltongue
Acrylic Leather paint
Around $21
Leather Shoes
Acro Acrylic Leather paint is formulated specifically for shoes and any other leather items.18 Colors with 5 paint brushes+deglazer and finisher
Acro Acrylic Leather paint
Around $24
Leather Shoes
Magicfly Acrylic Leather paint comes with 11 Vibrant Colors and 1 Gloss Acrylic Finisher Plus, 3 Brushes. Plus, it include one glow in the dark color! This surely will add uniqueness to your leather shoes. However don't forget that it is cheap craft paint.
Magicfly Acrylic Leather paint
Around $20
Leather Shoes and Sneakers
Tarrago sneakers paint is known for its flexibility and Quick drying time and its matte finish. It works pretty well on a leather surface.
The downside is that you need to buy each color individually and it will end up being very expensive.
Tarrago Sneakers Paint
Around $11 per color
Leather Shoes and Sneakers
Creative Nation is known for its ability to set and adhere pretty well plus, and it is waterproof and non-toxic! So it is super safe and strong! Comes in 12 colors.
Creative Nation Leather paint
Around $26
Leather Shoes
Sevenwell is waterproof and durable plus it comes with 14 Vibrant Colors and a 2pcs gloss Acrylic Finisher. Works on all leather surfaces.
The brand also has a special finisher.
SEVENWELL Acrylic Leather Paint
Around $20
Suede Shoes
Suede needs special attention. These dyes are gentle yet durable for suede. The pigments penetrate deep without hardening suede.
Comes in individual colors and a set of 12.
🏆Angelus Suede Dye Kit
Around $50
Fabric Shoes
Arteza Permanent fabric paint was top-rated. Has 24 Unique Shades: 2 metallic, 4 neon, and 18 classic fabric paint colors. Semi-transparent and keeps your fabric soft.
🏆 Arteza Permanent Fabric Paint
Around $42
Fabric Shoes
Apple Barrel is known for its versatility for crafts. The set includes 18 – 2 oz bottles of colorful craft paint.
Apple Barrel Acrylic Craft Paint
Around $20
Fabric Shoes
Versatile Texture Paint that works on multiple surfaces Plus, Quick-drying 3D paint without cracking.
MagicFly Acrylic Fabric Paint
Around $27
Fabric Shoes
Folk Art was known for its easy and smooth application. This multi-surface acrylic paint set includes 8 – 2 oz bottles of craft paint.
Folk Art Fabric Acrylic Paint
Around $12
Fabric Shoes
US Art Supply has 24 High-Quality Vivid Permanent Acrylic Fabric Paint Colors in Extra Large 2 Fluid Ounce. Prob the most versatile color choice among competitors.
US Art Supply Acrylic Fabric Paint
Around $40
Fabric and Canvas Shoes
Jacquard Fabric Paint leaves fabric soft. The colors are permanent and lightfast. Professional quality made in the USA – holds up exceptionally well to Washing. One of the reknown textile pro paints.
Will prob work even on leather shoes
Jacquard Textile Paint
Around $36
Fabric Shoes
Hippie Crafter has a premium quality paint for fabric set that includes 24 vivid and rich colors (even metallic) that create professional-grade wearable art and handmade crafts.
Hippie Crafter Fabric Paint
Around $34
Fabric Shoes
DecoArt Sosoft was a non–toxic formula. Also, it dries soft and permanent. Plus, it has amazing coverage. The bif downside that the paint comes only in individual bottles and often unavailable on Amazon.
DecoArt Sosoft Fabric Acrylic
Around $8 per bottle
Fabric Shoes
Tulip produces affordable craft paints for fabric and denim and it will work on canvas and fabric shoes. Comes in sets of minimum 5 paints.
Tulip Paint
Around $20
Fabric and Canvas Shoes
Mont Marte is a reputable craft brand producing very affordable supplies for any ideas. The fabric paint comes in sets of min 8 colors. Easy to heat set.
Mont Marte Fabric Paint
Around $11
---
FAQ
What paint to use on shoes Air Force 1?
Air force 1 was made from Leather. So you need to use Special Leather Paint, regular acrylic paint won't stick to air force and will eventually crack and peel, it won't be waterproof neither.
Will acrylic paint peel off or wash off the shoes?
Yes, acrylic paint could be washed off if soaked thoroughly in the water on vinyl or leather shoes. Yet, it'll turn waterproof if you seal it with acrylic finisher and will become hard to peel off. Without proper protection acrylic paint on shoes can crack as well.
Can you use craft smart acrylic paint on shoes?
Craft smart acrylic paint is not made for shoe painting, so it is not recommendable. But if you mix it with fabric medium you can use it on shoes and sneakers.
Can I use acrylic paint to repair shoes?
Acrylic paint is known for its versatility, so if you're planning to give your plain, old shoe a touch of new art, Acrylic paint might be a big help for you! But if you are looking to cover cracks or bending lines, they will come through paint again eventually.
Can you use acrylic paint on vans?
You may use Fabric Paint for painting vans. Vans mainly use fabric, leather and suede for their slip-ons and shoes, so fabric or Angelus leather paints and dye will be a perfect match. For better results prime the shoes with acrylic primer or mix of 1:1 fabric medium and paint.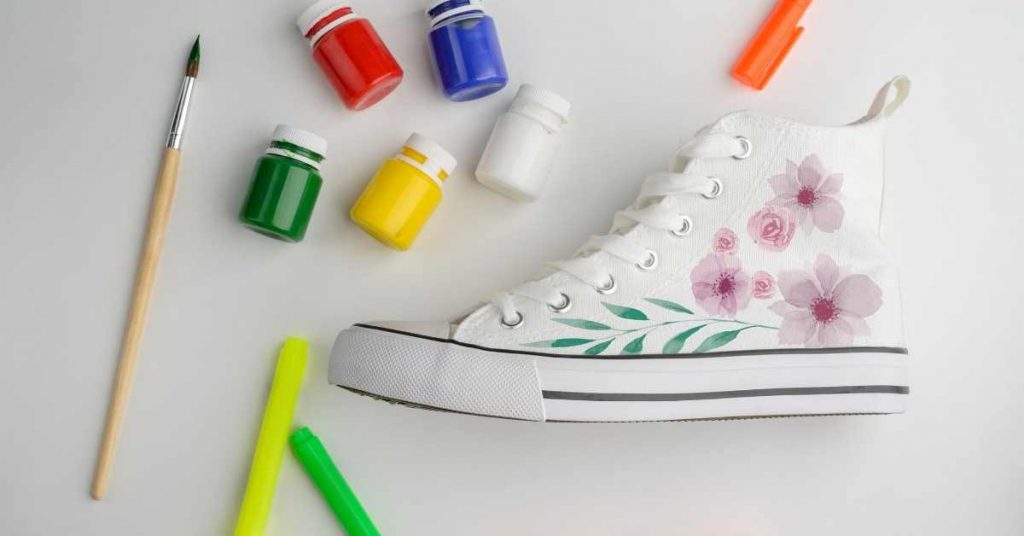 Can you use acrylic paint on converse?
Since converse was mostly made from fabric and canvas you need to use Fabric Paint, or acrylic paint mixed with fabric medium to stick to Converse.
Can you use acrylic paint on Nike shoes?
You can use leather paint on Nike sneakers. You can even paint the sole and finally protect the paint with a special finisher and repellent.
My Letter To You!
Paintings speak, on behalf of ourselves.
That's why painting your shoes is a special way to show how unique and Depth you are as an individual.
Therefore, we cannot make a perfect touch of exquisite art if we choose the wrong kind of Paint.
So? When it comes to choosing Paint and materials?
Choose Wisely! how? By simply following all the instructions and recommendations I posted above.
You'll never know unless you try! so you should try it yourself!
Let yourself speak, let your uniqueness be found by everyone!