Looking for some inspiration or to show off your artistic side? There is nothing more moving and elegant than to add painting captions to your Instagram pictures, either to display your original art or to transmit a subtle message through a metaphor.
Artists of all times expressed themselves both through words and painting and today we are lucky to have this heritage to back up our vision and ideas.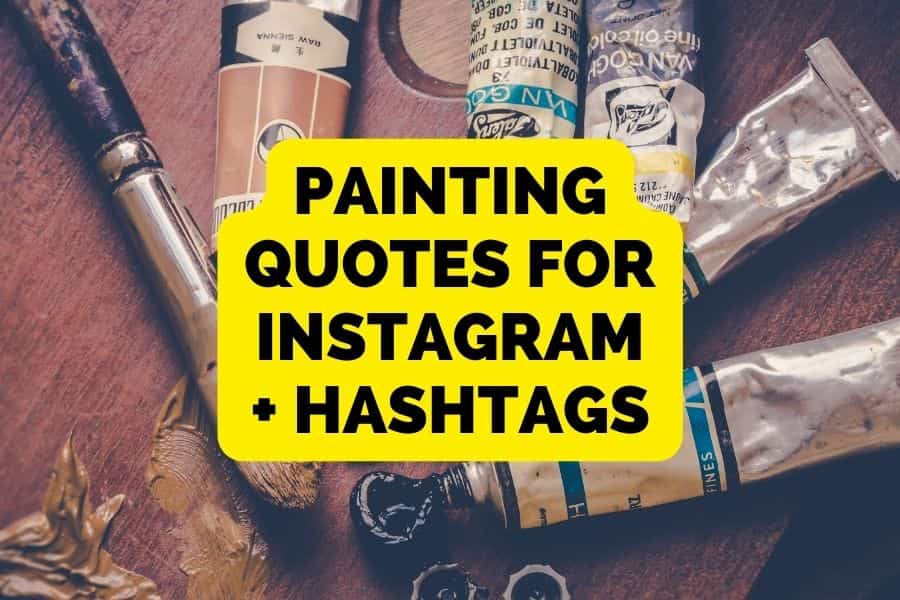 MORE QUOTES: 240 Best Quotes About Crafters & DIY Crafting (You can Use as Captions for Instagram) – you will laugh badly as you will recognize yourself in some 🙂
Feel free to use any post templates I have here, BUT only with link to this post or mention me on social media. Let's keep blogging world fair.
---
Best Inspiring Painting Quotes for Instagram
"Every child is an artist. The problem is how to remain an artist once we grow up."

— Pablo Picasso
---
More Pablo Picasso Painting Quotes for Instagram
"Art washes away from the soul the dust of everyday life."

"Every child is an artist. The problem is how to remain an artist once we grow up"

"Inspiration exists, but it has to find you working."

"Learn the rules like a pro, so you can break them like an artist."

– Pablo Picasso
To quickly generate captions on ANY given topic I use this magic tool (has free trial) and to create simple art, I use Canva (paid membership and it is worth it for me and with paid account I can quickly adjust my generated captions for ALL platforms).
"Painting is just another way of keeping a diary."

"There are painters who transform the sun to a yellow spot, but there are others who, with the help of their art and their intelligence, transform a yellow spot into sun".

"Everything you can imagine is real."

"It took me four years to paint like Raphael, but a lifetime to paint like a child."

"The chief enemy of creativity is 'good' sense."

– Pablo Picasso
---
Painting Quotes For Captions For Artists & Beginners
How to tell people how it feels to be an artist? How to describe what you stand for and what is art for you?
Many people don't understand creative professions and many people don't see art as we, artists, see it. To help people understand our art and our journey we can use the help of the greatest minds and painters ever lived.
"Whoever wants to know something about me, they should look attentively at my pictures and there seek to recognise what I am and what I want."

― Gustav Klimt
On the other hand, some beginners are anxious about being accepted into the big art world and don't feel themselves worth it. Don't be discouraged, as Ralph Waldo Emerson perfectly stated "Every artist was first an amateur".
"Every artist was first an amateur" – Ralph Waldo Emerson

"Stay firmly in your path and dare. Be wild two hours a day!"― Paul Gauguin

"Creativity takes courage" – Henri Matisse.

"Art enables us to find ourselves and lose ourselves at the same time." – Thomas Merton.

"There are two things in the painter, the eye and the mind; each of them should aid the other." – Paul Cezanne

"I started painting as a hobby when I was little. I didn't know I had any talent. I believe talent is just a pursued interest. Anybody can do what I do." – Bob Ross

"If people only knew how hard I work to gain my mastery. It wouldn't seem so wonderful at all."― Michelangelo
---
"Success is a worn down pencil."― Robert Rauschenberg

"The Achilles heel of an artist lies in the hope that his art is good."― Kapil Gupta

"When I paint, I never think of selling. People fail to understand that we paint in order to experiment and to develop ourselves as we strive for greater heights."― Edvard Munch

"My idea of heaven is to wake up, have a good breakfast, and spend the rest of the day drawing."― Peter Falk

---

"Inspiration is for amateurs. The rest of us just show up and get the work done. If you wait around for the clouds to part and a bolt of lightning to strike you in the brain, you're not going to make an awful lot of work." ― Chuck Close

"One learns about painting by looking at and imitating other painters." – Frank Stella

"A true artist is not one who is inspired, but one who inspires others."― Salvador Dali

"As I work at my drawings, day after day, what seemed unattainable before is now gradually becoming possible. Slowly, I'm learning to observe and measure. I don't stand quite so helpless before nature any longer."― Vincent van Gogh in 'Lust for Life'

"Artists are just children who refuse to put down their crayons."― Al Hirschfeld

"Whoever wants to know something about me, they should look attentively at my pictures and there seek to recognize what I am and what I want."― Gustav Klimt

---

"The artist must train not only his eye but also his soul."― Wassily Kandinsky

"He who works with his hands is a labourer. He who works with his hands and his head is a craftsman. He who works with his hands and his head and his heart is an artist."― Saint Francis of Assisi

"The artist is not a different kind of person, but every person is a different kind of artist."― Eric Gill

"The artist sees what others only catch a glimpse of."― Leonardo da Vinci

"If you hear a voice within you saying, "You are not a painter," then by all means paint… and that voice will be silenced."― Vincent van Gogh

"The secret to so many artists living so long is that every painting is a new adventure. So, you see, they're always looking ahead to something new and exciting. The secret is not to look back." – Norman Rockwell

"Painting is easy when you don't know how, but very difficult when you do."― Edgar Degas

"Be willing to be a beginner every single morning." — Meister Johann Eckhart

"Those who do not want to imitate anything produce nothing."― Salvador Dali
"Surrealism is destructive, but it destroys only what it considers to be shackles limiting our vision." ― Salvador Dali

"Being an artist is the same as being a wizard… only instead of a wand you use a pencil for your magic."- The Picsees

"Drawing is giving a performance; an artist is an actor who is not limited by the body, only by his ability and, perhaps, experience."― Marc Davis

"Have no fear of perfection – you'll never reach it."― Salvador Dali

"I would like to paint as the bird sings."- Claude Monet

"To the artist there is never anything ugly in nature." – Auguste Rodin

"A good artist has less time than ideas." – Martin Kippenberger

"No great artist ever sees things as they really are. If he did, he would cease to be an artist." – Oscar Wilde

"Anybody who perceives colors can become a painter. It's simply a question of whether or not one has felt anything and whether one has the courage to recount the things one has felt." — Edvard Munch
---
Painting Captions About Art
"Painting is a source of endless pleasure, but also of great anguish." – Balthus

"If you could say it in words, there would be no reason to paint." – Edward Hopper

"There is no must in art because art is free" – Wassily Kandinsky.

"Art is unquestionably one of the purest and highest elements in human happiness. It trains the mind through the eye and the eye through the mind. As the sun colours flowers, so does art colour life." John Lubbock

"A drawing is simply a line going for a walk."- Paul Klee

"A work of art which did not begin in emotion is not art."― Paul Cezanne

"Art is never finished, only abandoned."― Leonardo da Vinci

"Art is a collaboration between God and the artist, and the less the artist does the better." – Andre Gide

"Drawing is putting a line around an idea." – Henri Matisse
---
A true masterpiece does not tell everything.― Albert Camus

"Art is power. It can influence perception, opinion and values. And the artist who creates uses his paintbrush to focus on a moment in time…recording those things that touch the heart." – Nina Baldwin

To my mind a picture should be something pleasant, cheerful and pretty. There are too many unpleasant things in life as it is, without creating still more of them.― Pierre-Auguste Renoir

The aim of art is to represent not the outward appearance of things, but their inward significance.― Aristotle

Art is not a handicraft, it is the transmission of feeling the artist has experienced.― Leo Tolstoy

Art is longing. You never arrive, but you keep going in the hope that you will.― Anselm Kiefer

Where the spirit does not work with the hand, there is no art.― Leonardo da Vinci

"Painting is concerned with all the 10 attributes of sight; which are: Darkness, Light, Solidity and Colour, Form and Position, Distance and Propinquity, Motion and Rest." ― Leonardo da Vinci
---
"A painter should begin every canvas with a wash of black, because all things in nature are dark except where exposed by the light." ― Leonardo da Vinci

Art evokes the mystery without which the world would not exist." – René Magritte

"Art is the queen of all sciences communicating knowledge to all the generations of the world." ― Leonardo da Vinci

An empty canvas is full.― Robert Rauschenberg
---
"Bus stops are far more interesting and useful places to have art than in museums,

— Banksy
---
More important than a work of art itself is what it will sow. Art can die, a painting can disappear. What counts is the seed.― Joan Miro

"Painting is an illusion, a piece of magic, so what you see is not what you see." – Philip Guston

"If you understand a painting beforehand, you might as well not paint it."- Salvador Dalí

I paint flowers so they will not die.― Frida Kahlo

"I leave you my portrait so that you will have my presence all the days and nights that I am away from you." ― Frida Kahlo

Art is a lie that makes us realise the truth.― Pablo Picasso

"A work of art doesn't have to be explained."- Louis Bourgeois
Sketching is almost everything. It is the painter's identity, his style, his conviction, and then colour is just a gift to the drawing.― Fernando Botero

Never worry about being obsessive. I like obsessive people. Obsessive people make great art.― Susan Sontag

A beautiful body perishes, but a work of art dies not.― Leonardo da Vinci

"Drawing is the honesty of the art. There is no possibility of cheating. It is either good or bad."-Salvador Dalí

"Painting is the grandchild of nature. It is related to God." – Rembrandt

The principle of true art is not to portray but to evoke.― Jerzy Kosinski

I saw the angel in the marble and carved until I set him free.― Michelangelo

Painting becomes interesting when it becomes timeless. – Peter Doig

"I could certainly never mirror nature. I would more like to paint what it leaves with me."- Joan Mitchell

Good painting is like good cooking; it can be tasted, but not explained. – Maurice de Vlaminck

Art completes what nature cannot bring to finish. – Aristotle
---
Painting Quotes About Therapeutical Power of Art
---
"I am seeking. I am striving. I am in it with all my heart."

— Vincent van Gogh
---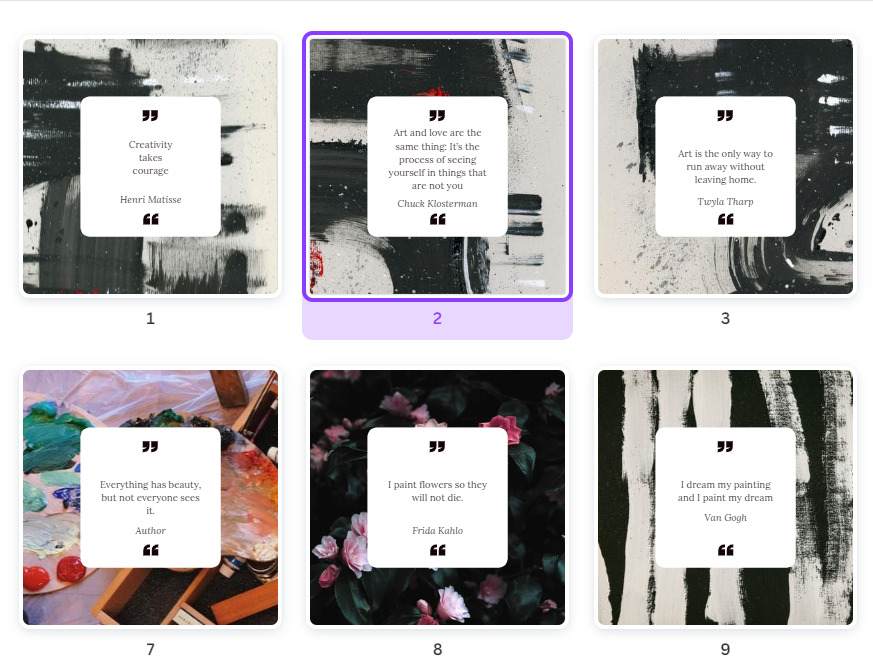 "I want to touch people with my art. I want them to say, 'he feels deeply, he feels tenderly." – Vincent Van Gogh

"Creativity comes from a conflict of ideas." – Donatella Versace

While drawing I discover what I really want to say.― Dario Fo

Painting is self-discovery. Every good artist paints what he is.― Jackson Pollock

"I paint myself because I am alone. I paint myself because I am the subject I know best."- Frida Kahlo

Art is a line around your thoughts.― Gustav Klimt

In drawing, one must look for or suspect that there is more than is casually seen.― George Bridgman

It's not what you look at that matters, it's what you see.― Henry David Thoreau

"In art, the hand can never execute anything higher than the heart can imagine." – Ralph Waldo Emerson

Art is unquestionably one of the purest and highest elements in human happiness. It trains the mind through the eye, and the eye through the mind. As the sun colours flowers, so does art colour life.― John Lubbock

"Painting is a means of self-enlightenment." – John Olsen

The way one sees is also dependent upon one's emotional state of mind. This is why a motif can be looked at in so many ways, and this is what makes art so interesting.— Edvard Munch
"I found I could say things with color and shapes that I couldn't say any other way – things I had no words for." – Georgia O'Keeffe

"In order to awaken the world to the light, we must never be afraid to shine." – Gabrielle Bernstein

It is only when we are no longer fearful that we begin to create.― J. M. W. Turner

If I create from the heart, nearly everything works; if from the head, almost nothing.― Marc Chagall

Something is always born of excess: great art was born of great terrors, great loneliness, great inhibitions, instabilities, and it always balances them.― Anais Nin

Painting calmed the chaos that shook my soul. – Niki de St. Phalle

Drawing at its best is not what your eyes see but what our mind understands.― Millard Sheets

Life is sometimes hard. Things go wrong, in life and in love and in business and in friendship and in health and in all other ways that life can go wrong. And when things get tough, this is what you should do. Make good art.― Neil Gaiman

For me drawing is an attempt to understand what I feel about the world I live in.― Brian Froud
"Drawing is exercise for a restless imagination."- Tim Burton

Paintings have a life of their own that derives from the painter's soul.― Vincent van Gogh

Painting from nature is not copying the object, it's realizing one's sensations.― Paul Cezanne

Life beats down and crushes the soul and art reminds you that you have one.― Stella Adler

You can look at a picture for a week and never think of it again. You can also look at the picture for a second and think of it all your life.― Joan Miro

The great artists of the past were aware that human life is full of chaos and suffering. But they had a remedy for this. And the name of that remedy was 'beauty'. The beautiful work of art brings consolation in sorrow and affirmation in joy. It shows human life to be worthwhile.― Roger Scruton

Drawing things makes them seem more real and makes me feel more alive. It also makes me pin down and remember things landscapes, season, weather, occasions, incidents, people that would otherwise have melted from my memory.― David Gentleman

What keeps my heart awake is colourful silence.― Claude Monet

Every artist dips his brush in his own soul, and paints his own nature into his pictures.― Henry Ward Beecher

Art is the only way to run away without leaving home." – Twyla Tharp
Drawing is still basically the same as it has been since prehistoric times. It brings together man and the world. It lives through magic.― Keith Haring

"The one thing that you have that nobody else has is you. Your voice, your mind, your story, your vision. So write and draw and build and play and dance and live only as you can." – Neil Gaiman

The world always seems brighter when you've just made something that wasn't there before.― Neil Gaiman

"Art and love are the same thing: It's the process of seeing yourself in things that are not you."― Chuck Klosterman

"I think of art as the highest level of creativity. To me, it is one of the greatest sources of enjoyment." – David Rockefeller

Art is a kind of confession, more or less oblique. All artists, if they are to survive, are forced, at last, to tell the whole story; to vomit the anguish up. – James Baldwin

"I am not sick. I am broken. But I am happy to be alive as long as I can paint." – Frida Kahlo

"For me, painting is a way to forget life. It is a cry in the night, a strangled laugh." – Georges Rouault
Read also: Painting Date Night Complete Guide +12 Ideas For Sip & Paint Date DIY
---
Painting Quotes About Creativity and Imagination
"Creativity takes courage"

– Henri Matisse.
"Creativity is just connecting things. When you ask creative people how they did something, they feel a little guilty because they didn't really do it, they just saw something. It seemed obvious to them after a while." – Steve Jobs

Creativity is intelligence having fun.― Albert Einstein

"Creativity is contagious, pass it on." – Albert Einstein

"Another word for creativity is courage."- Henri Matisse.

"Creativity takes courage" – Henri Matisse.

"The world of reality has its limits; the world of imagination is boundless." – Jean-Jacques Rousseau

"Logic will get you from A to B. Imagination will take you everywhere." – Albert Einstein
---
Don't think. Thinking is the enemy of creativity. It's self-conscious, and anything self-conscious is lousy. You can't try to do things. You simply must do things.― Ray Bradbury

"Routine kills creative thought." — Scarlett Thomas

"You can't wait for inspiration, you have to go after it with a club." – Jack London

"Everybody born comes from the Creator trailing wisps of glory. We come from the Creator with creativity. I think that each one of us is born with creativity." – Maya Angelou

"The idea of divine inspiration and an aha moment is largely a fantasy. Anything of value comes from hard work and unwavering dedication. If you want to be a good artist you need to look at other artists, make a lot of crappy art, and just keep working." — Sydney Pink

Creativity is taking the best skills and techniques from experts around you and improving upon them.

It's so fine and yet so terrible to stand in front of a blank canvas.― Paul Cezanne

It is not enough to know your craft, you have to have feeling. Science is all very well, but for us imagination is worth far more.― Edouard Manet
---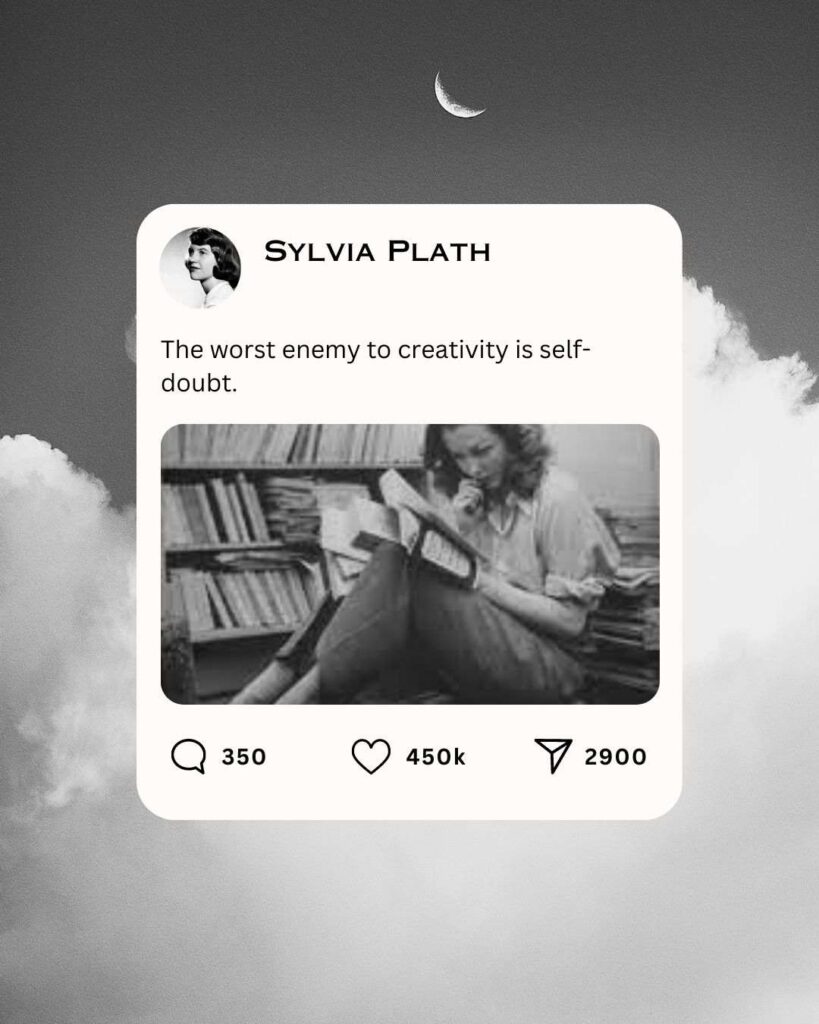 "Imagination is the beginning of creation. You imagine what you desire, you will what you imagine, and at last, you create what you will." – George Bernard Shaw

"I think creative blocks come from people's life journeys. If you don't know who you are or what you're about or what you believe in it's really pretty impossible to be creative." — Rainn Wilson

"I have a flood of ideas in my mind. I just follow my vision." – Yayoi Kusama

"The worst enemy to creativity is self-doubt." – Sylvia Plath

"Creativity is allowing yourself to make mistakes. Art is knowing which ones to keep." – Scott Adams

There is no 'right' way to make art. The only wrong is in not trying, not doing. Don't put barriers up that aren't there — just get to work and make something." — Lisa Golightly

You can't use up creativity. The more you use, the more you have." — Maya Angelou

"All profound distraction opens certain doors. You have to allow yourself to be distracted when you are unable to concentrate." — Julio Cortázar

Art should comfort the disturbed and disturb the comfortable. – Banksy
Read also: 101 Easy Acrylic Painting Ideas for Beginners on Canvas
"I dream my painting and I paint my dream." – Van Gogh

"I don't paint dreams or nightmares, I paint my own reality." Frida Kahlo

"I want to make paintings that look as if they were made by a child." – Jean-Michel Basquiat

"When I have a creative block, I take walks. I like to see what shapes stick out – so many legs rushing by at once, it can seem abstract. I don't need to see great art to get stirred up. Music does that for me more easily." — Caio Fonseca

"Creativity is more than just being different. Anybody can plan weird; that's easy. What's hard is to be as simple as Bach. Making the simple, awesomely simple, that's creativity." – Charles Mingus

"Originality is nothing but judicious imitation." – Voltaire

"Creativity is allowing yourself to make mistakes. Art is knowing which ones to keep." – Scott Adams
---
Best Painting Captions for Instagram
Most of these captions belong to somebody, of course, but the author became unknown over time. They are still a great way to express your feelings and creativity:
Art excludes, like love, any competition and devours the whole person.
Don't paint the object, paint its effect.
Life is too short to paint something you don't have feelings for.
If I knew what the picture was going to be like, I wouldn't make it.
I draw better than I talk.
"See feel draw: One verb." – Jandy Nelson, I'll Give You the Sun
Art is to console those who are broken by life.
Art is standing with one hand extended into the universe and one hand extended into the world, and letting ourselves be a conduit for passing energy. – Albert Einstein
"The art world is the biggest joke going. It's a rest home for the overprivileged, the pretentious, and the weak. And modern art is a disgrace – never have so many people used so much stuff and taken so long to say so little." – Banksy
The idea is not to live forever, but to create something that will. – Andy Warhol
AI-generated Eye-catching Painting Captions for Instagram
I tested my favorite AI writing tool to help me generate some free Painting captions for social media and that's what I got ( SPOILER: They are SO good!)
I love turning a blank canvas into a work of art 🎨
I think, therefore I am #creative
I've been feeling so creative lately and I just had to start painting! It's been so therapeutic #exploringmyartistictalents
I'm really feeling my artistic side lately
Just like Bob Ross said, "There are no mistakes, just happy accidents!"
Got my hands dirty and ended up with a beautiful masterpiece👩‍🎨
I'm not a morning person, but I'll make an exception for painting sunrise. With a cup of coffee in one hand and a paintbrush in the other, I feel most alive when I'm surrounded by color.
Life is like a blank canvas. It's up to you to make it into something beautiful.
Grabbing life by the brush and painting my way to a better tomorrow!
Trying out a new painting technique and getting lost in the process 🎨
A pencil is sometimes sharper than a sword. – I LOVE this one! Courageous art 🙂
Art is bleeding your heart onto a canvas.
If Picasso had Instagram…
Just because I'm an artist doesn't mean I'm not dangerous. 😈
Every artist's view of the world is different, but we all see the same colors
Art isn't about what's aesthetically pleasing, it's about challenging norms and provoking thought.
I'm not saying that art is easy, but it's worth it.
Colors clash. Forms collide. Lines intersect. This is #art.
What society sees as art and what I see as art are two very different things.
I'm not necessarily inspired by art, but I am motivated by the act of creating it. 🎨
The creative process is a bit like insanity: one minute you're inspired, and the next you're questioning everything. But ultimately, it's worth it.
The creativity of artists moves the world. #nashville
The world will try to tell you that you're not creative. But don't listen. You are a creative force, and you have something important to contribute. So make your mark and don't be afraid to be different.
The moment you give up on being creative is the moment you die a little inside.
Change the way you see things and the things you see will change. #creativity
Art is passion and hunger mixed into one.
Some people see the world in black and white. I see it in color.
I'm not an artist, I'm a primal screamer who paints his feelings
I'm an artist because there's no other way to be 🎨
I'm not here to make art, I'm here to trigger some feelings.
I drip, pour, and splash my worlds onto canvases. Some may say my work is messy, but to me, it's wild and free.
Beauty is skin deep. Art is what's underneath. #artist
I don't just paint pictures, I paint my soul.
Art is about pushing boundaries and expressing yourself without apology.
Sometimes the prescribed way of doing things is just too boring for me.
Some people think art is just a hobby. I think of it as a necessary form of rebellion.
Don't be afraid to be different, to stand out from the rest. Provoke change, invoke inspiration.
My favorite kind of art is the kind that makes you think. #abstractart
If Picasso was alive today, he would be flipping tables #modernart
Would like to make AI write captions for you too? No problem, try to make FREE Painting captions for Instagram using Jasper. Pro tip: try a provocative tone of voice to get very thoughts provoking captions!
---
If you're posting your art on Instagram I'm guessing you would like your post or reels to get a great reach of users and hit the top. The best FREE way to do so is to use the right painting hashtags in the right place. The hashtags only work in posts and reels, they no longer work in stories so please don't stuff your stories with tags.
Add up to 30 relevant low-competition hashtags to your posts to get the maximum reach and experiment with hashtags. What is a low-competition hashtag? Is the artwork hashtag that was used less than 50,000 times by other users. This way you get amazing exposure for free, attracting new followers and maybe buyers for your art.
The same rule applies for reel's music and reel hashtags.
#artquotesoftheday #artquoteoftheday #paintingquotes #paintingquote #quotespainting #artquotesonistagram
#abstractpaintingart #abstractpaintingsforsale #abstractpaintingartist #abstractpaintingnow #abstractpaintingsoncanvas #abstractacrylicpaintings #abstractartlover #abstractartoninstagram #abstractartistoninstagram #abstractartdaily #abstractartoftheday
#fluidartdaily #fluidartpainting #fluidartists #fluidartworks #fluidarts #fluidartvideo #fluidartpour #pouringartist #pouringpainting #pouringartwork #pouringacrylics #pouringpaintings 
You can create Instagram posts like these in Canva, and even use some of my free templates: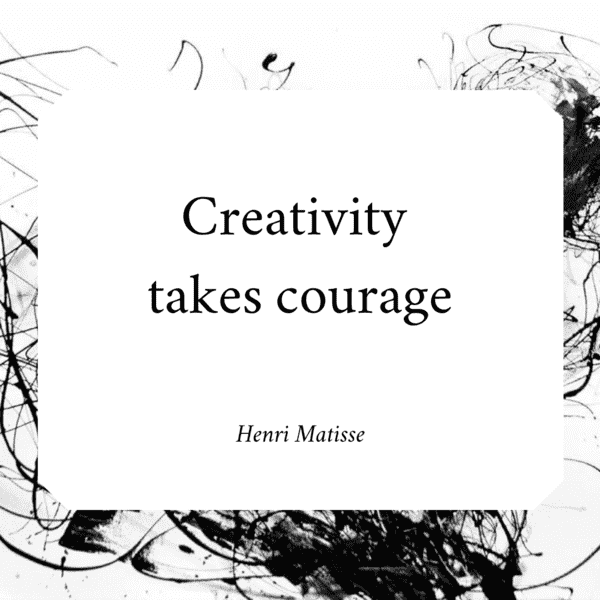 ---