I wanted to test acrlic paint vs fabric paint on a simple white T-shirt I had and I've picked a set of 20 colors Mont Marte fabric paint and Decola for the test.
This Mont Marte textile paint was super cheap and I wasn't expecting anything, but I do love their pouring paint, so I was pretty confident it should work.
And it did!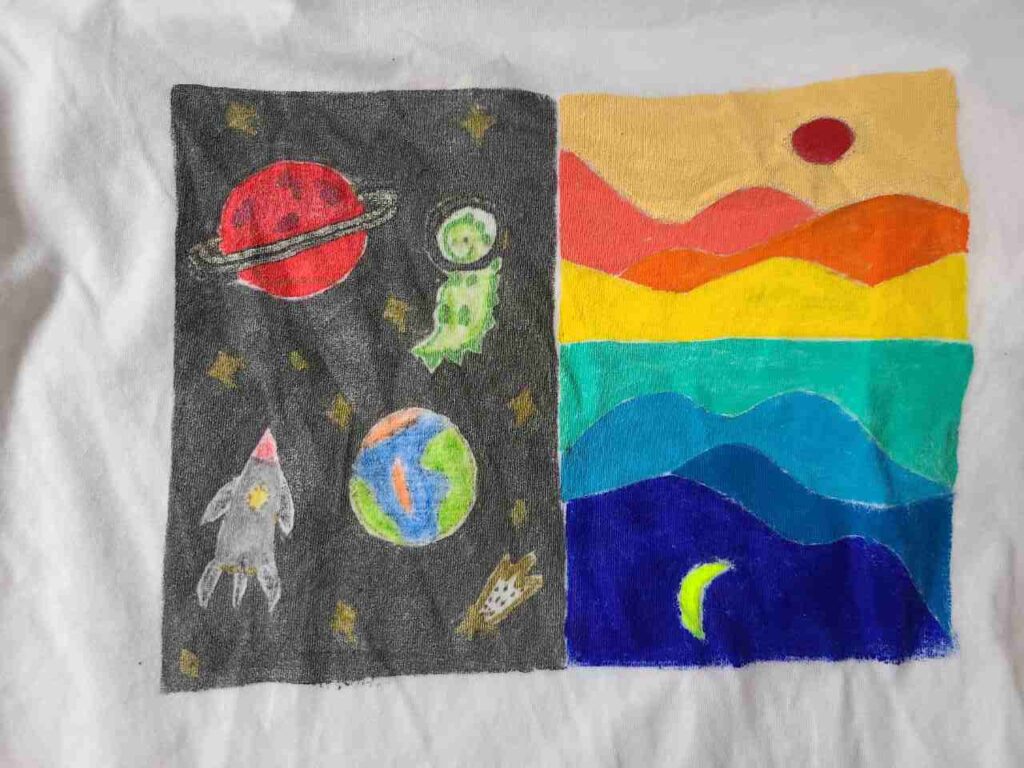 I'm very satisfied with results I'll share in this review.
I have this exact set (I bought it on sale so it was around $10 for 20 colors):
Mont Marte Signature Fabric Paint, 20pc x 0.7oz…
Suitable for all fabrics
Ideal for DIY fashion and homewares including clothes, canvas shoes, cushions and upholstery
20 different colors included: Lemon Yellow, Cadmium Yellow, Brilliant Red, Pink, Light Purple, Cerulean Blue, Light Green, Sap Green, Burnt Sienna, Lamp Black, Gold
Mixable: Mix these fabric paints together to create your own colors!
Washable: Mont Marte fabric paints are machine washable which makes them perfect for DIY clothing designs (before washing you will need to place a cloth over your dry design and iron for 3-5 minutes at 100oC to 'fix' your artwork.)
Table of Contents
---
Performance – My Mont Marte Fabric Paint Review
What I like about Mont Marte Fabric Paint:
in 20 colors I think the variety of colors is amazing – there are 2 metallic colors (gold, silver) and even 2 neon colors (yellow and pink), and all the colors from the color wheel. Plus, all paints are mixable so you can have even more colors!
super easy application with a brush
washable and doesn't crack, peel, flake after the very first wash
flexible, the cotton stayed absolutely foldable with paint on (unlike when you do it with regular acrylic paint)
works amazing not only on cotton but also on denim
perfect load – due to optimal consistency, no paint is dripping, the brush loads with enough paint and it leads to almost no waste.
price – super affordable (as all Mont Marte products) for beginners
What I didn't quite like:
I don't have something I didn't like about these paints, but for larger projects (dozen of t-shirts for ex) 20 ml bottle of each color won't be enough, especially if you will be mixing colors as well.
these paints are probably not considered professional textile paints, but likely student paints. It means there are better for beginners.
Note Colors & Consistency
Amazing colors in this Mont Marte fabric paint set – fluid, vibrant, opaque, creamy.
Truly satisfying and easy to work with.
Metallic colors have great opacity and coverage even on denim.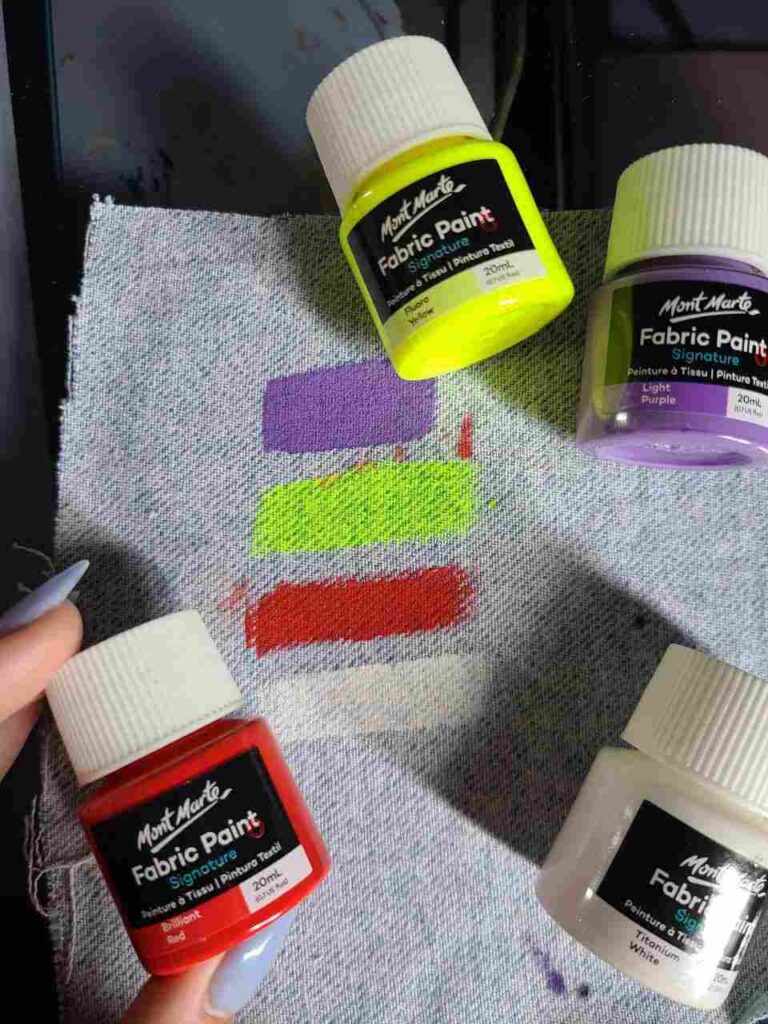 The fluidity for fabric paint is more important than even for regular acrylic paint as painting on rough fabric like cotton or denim is more challenging than on flat paper.
A few colors are naturally more transparent – yellow, neon colors, light green, purple.
It is more visible if painting on denim as denim has a color on its own (blue/grey/dark blue/black). To fix it you can first layer white coat and then a transparent color.
If you don't want to buy a set of 20 colors, there are sets of 8, 12, 24, 36 colors. Also, Mont Marte have fabric paint pens which is also convenient if you are not comfortable with brush application.
---
Is Mont Marte fabric paint permanent?
Mont Marte fabric paint is permanent and washable if you will follow the instructions and heat set it with the iron for 5 minutes.
Once you do that the painted fabric is safe to wash and wear and will not wash off or be ruined.
However, while still wet on brush or on fabric, Mont Marte fabric paints are super easy to wash off!
How do you set Mont Marte fabric paint?
It is very easy to set Mont Marte fabric paint with an iron.
Once the paint is dry, you can put paper or cloth over the painted area and using the iron heat set it for around 5 minutes.
After that, you should let it seat overnight and it is safe to wash 🙂
---
What are the steps for fabric painting?
According to Mont Marte official instructions, to paint on fabric with MM paints you should:
Directions
Wash and dry fabric. Iron it as well! So it is all smooth, clean and fully dry.
Put a cardboard or parchment/wax paper between the two sides of the T-shirt of jeans to prevent bleeding through.
Shake the bottles.
Paint (you can use sponge or brush with Mont Marte fabric paint)
Let it dry overnight.
Once dry, heat set the painted area with an iron for 3-5 minutes at 100C.
Turn the piece of clothing inside-out and wash on a cold cycle or hand wash.
I followed these exact steps (they are also written on the box in case you're worried) and I had zero issues.
Plus, I also before painting made a sketch with a regular pencil. And I also fixed the T shirt with paper clips to make sure it doesn't move when I paint.
Read also: Can You Use Acrylic Paint on Fabric? How to Guide & DIY Fabric Medium Recipe
It also means after heat setting you don't need to apply any other sealents.
---
Overall I highly recommend Mont Marte fabric permanent paint for beginners to try on cotton and denim because it is very easy and satisfying to use – the results are permanent and bright!
Other Mont Marte products reviews I have: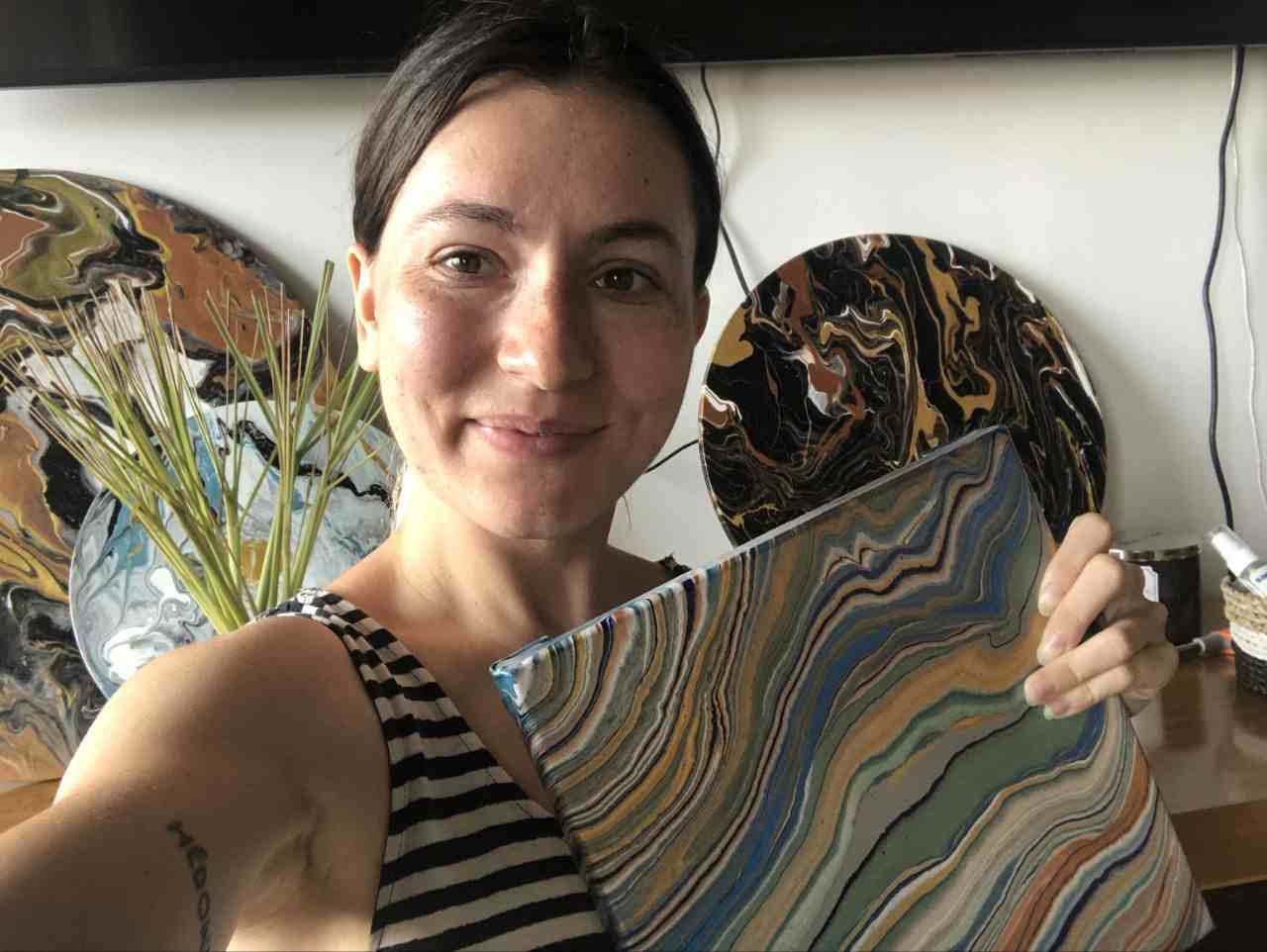 Masha Eretnova is a certified teacher. She started painting and drawing 20+ years ago and now is an international abstract artist and educator passionate about acrylic painting, gouache and crafts.
More about me.
Last update on 2023-12-03 / Affiliate links / Images from Amazon Product Advertising API