I was contemplating the purchase of Holbein acryla for a while – it is quite pricey after all and what if it isn't worth it?
I did it finally when I was in Japan – it felt right to buy Japan-made paint there and it felt very special. So I bought their regular gouche and acryla along with Turner acrylic gouache to compare.
I've been painting since 2018 with oils, acrylics and gouache and I truly enjoy reviewing art supplies I buy 🙂
Let's see if that was really worth it!
Table of Contents
Holbein Acryla Gouache Lesson Set Of 12 20Ml
Holbein Acryla Gouache Artists acrylic polymer paint
Dries to a velvet matte finish with no shifting in color tone
Uniform color from wet to dry- what you see is what you get
Lesson set of twelve 20ml tubes
Made in Japan
My Holbein Acrylic Gouache Review
My general takeaways for Holbein Acryla Gouache:
Good Takeaways:
Color Vibrancy: I love the vibrant and rich colors offered by Holbein Acryla Gouache. The pigments are often described as intense and long-lasting. The color vibrancy and opacity are closer to those of good gouache. The color range is also outstanding – 100+ colors are available.
Opacity: Nice high opacity, allowing for excellent coverage. Easy to achieve solid, flat layers for building up a painting or for flat colors.
Relatively reactivatable: Even though once completely dry you won't be able to rework acryla but while it is still drying, you have a chance.
Consistency: The paint is smooth and easy to work with!
Something you and me may not like:
Cost: quite obvious, this paint is quite expensive which is not beginner-friendly.
Tube Design: Sometimes the large hole in the lid makes it challenging to dispense the exact amount of paint needed, leading to potential waste.
Availability: Depending on your location, availability might be a concern.
Let's address some details.
Tubes
The set comes with 12 tubes (20 ml each), they are sturdy but plasticy. Easy to use, good airtight lids.
---
Colors
In my set I have 12 colors, however Holbein acryla has a total color range of whooping 109 colors!
Carmine
Scarlet
Deep Yellow
Lemon Yellow
Viridian
Light Green
Ultramarine Blue
Sky Blue
Violet
Burnt Sienna
Jet Black
Titanium White
All colors are very opaque and velvety and easy to work with a brush. Here is my swatch for Holbein acrylic gouache:
---
Lightfastness and Permanency
According to Holbein, acrylic gouache with rate 1 and 2 is only for indoor use, and rate 3 or 4 can also be used outdoors.
Lightfastness is how paint colors are resistant to fading over time
The 4th grade is the maximum and yet the most permanency grade for acryla is "almost permanent" which is this grade 4.
If there is 0 it means the color is fugitive and not permanent at all.
Carmine, 2/4
Scarlet, 2/4
Deep Yellow, 2/4
Lemon Yellow, 2/4
Viridian, 3/4
Light Green, 2/4
Ultramarine Blue, 3/4
Sky Blue, 3/4
Violet, 0
Burnt Sienna, 4/4
Jet Black, 2/4
Titanium White, 4/4
---
Finish and coverage
Water-resistant once dry and cannot be reworked unlike traditional gouache.
Unlike semi-gloss acrylics, acrylic gouache dries to a matte finish like traditional gouache.
Drying time is said to be 5 to 20 min, I felt like they are quick-drying but not as fast as regular acrylic.
Covers well any surface except for oily surfaces, including fabric and rock painting.
But if you compare to acrylic or oil paint, acryla has less adhesion to the surface so make sure the canvas is well prepared with gesso.
To protect the painting made with Holbein acryla, the brand recommends using regular varnish like for acrylic paint.
Toxicity
Non toxic for hobby use, but if you are using it as a professional, make sure you don't inhale or swallow paint accidentally because pigments use raw materials and some of them are safe to paint with but not safe to ingest.
Jet black has copper however, but it is in tiny amount – it is still 100% safe to use.
These paints are not recommended for children. Use safer alternatives for kids painting sessions.
---
Holbein Acryla vs Holbein traditional gouache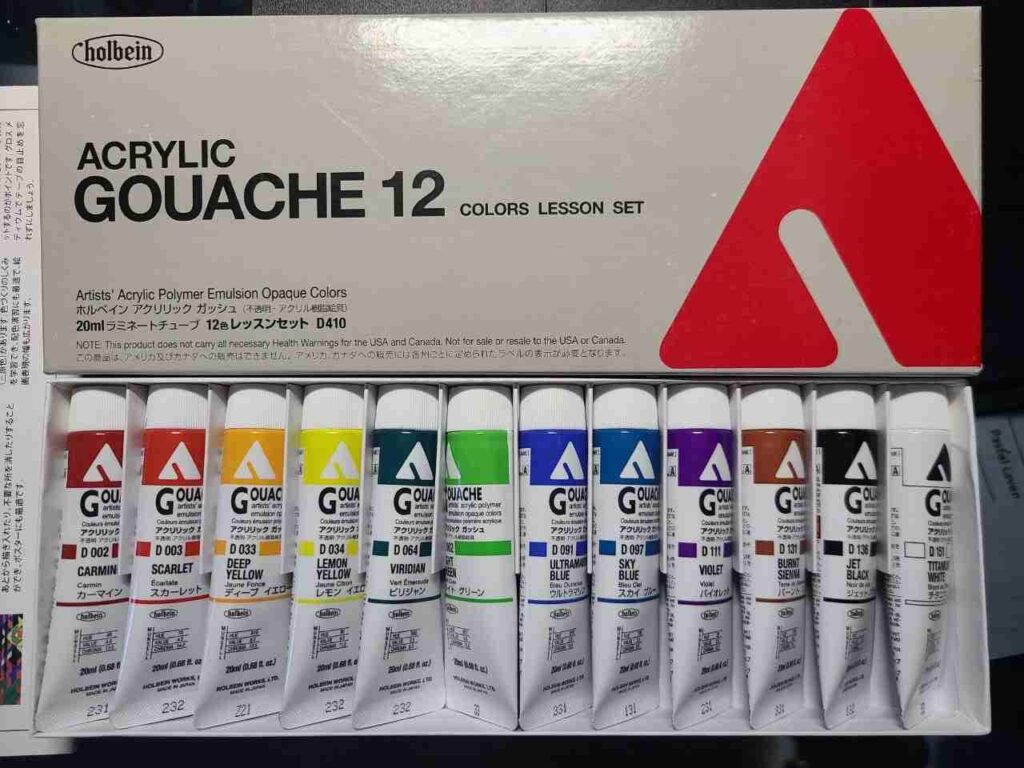 First distinction is the packaging – traditional gouache by Holbein comes in black box while acrylic gouache in a grey-red one.
The major difference though, invisible in terms of consistency or first application is the composition.
Acryla has additional binder that gouache doesn't have – acrylic polymer binder that makes it acrylic gouache.
The difference between the two paints becomes visible once two painting will dry – the one you did with traditional gouache can be corrected, reworked as regular gouache stays sensitive to water.
Holbein traditional gouache:
Holbein acryla:
Acryla on the other hand dries to a film that you will have no luck reactivating. Which means Holbein acryla is less forgiving and it will be much harder to correct mistakes especially if the paint has dried.
The colors of regular Holbein gouache may also seem slightly flatter than acrylic gouache.
---
Holbein Acryla Performance Verdict
I absolutely loved working with Holbein acryla for this little beach painting (I followed this simple tutorial).
Holbein acryla dries a bit darker, like acrylics, so you need to keep that in mind and let the layer dry before you will adjust the color.
Layering and thinning the paint helped make beautiful foam on the shore.
Fun to mix, layer, blend, add details, easy to work even when diluted, beautiful colors!
They are trickier to blend of course, as they dry super fast. If you are not familiar with blending yet, I suggest slow-drying acrylics or gouache to master it.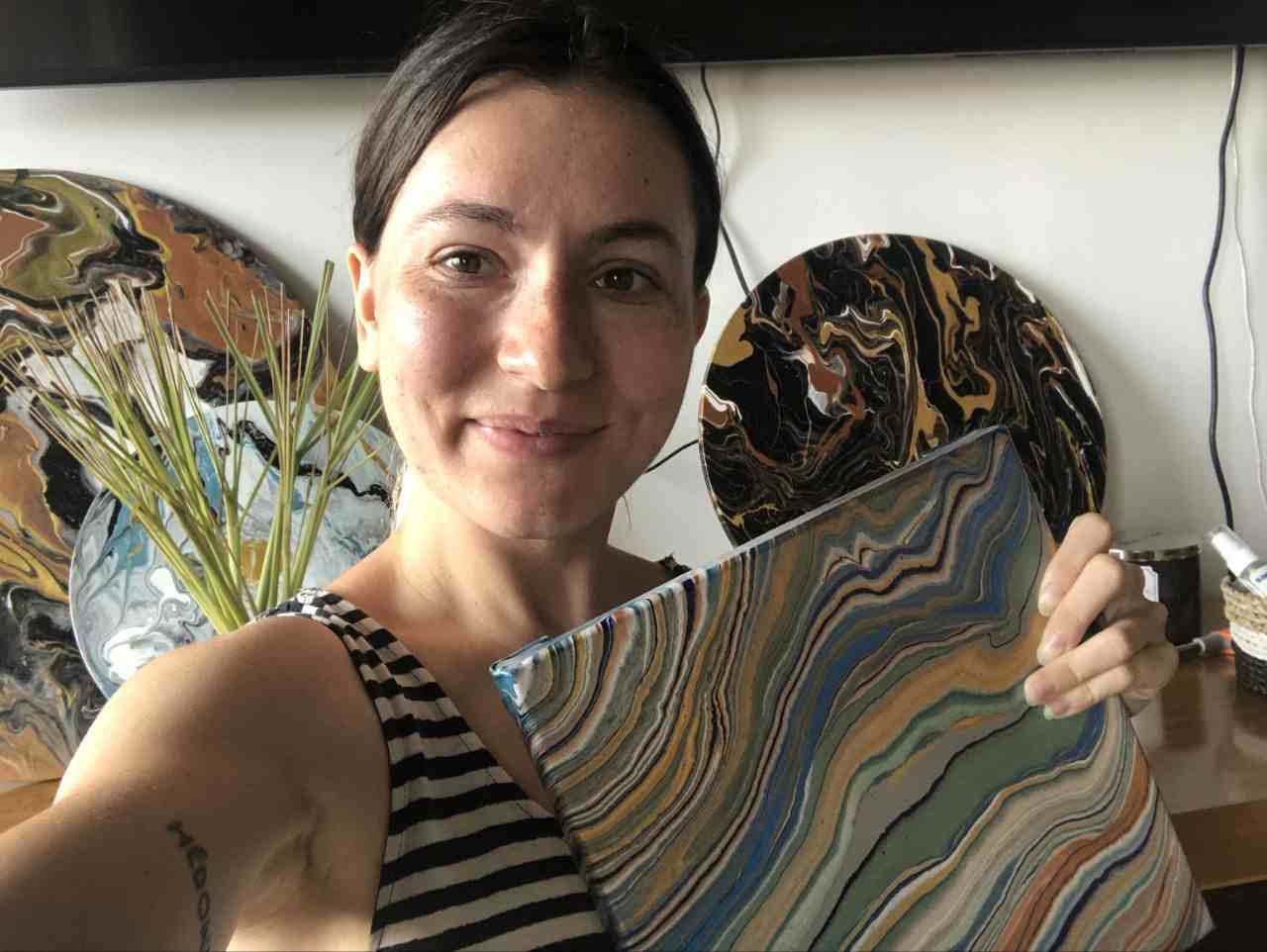 Masha Eretnova is a certified teacher. She started painting and drawing 20+ years ago and now is an international abstract artist and educator passionate about acrylic painting, gouache and crafts.
More about me.
Last update on 2023-12-03 / Affiliate links / Images from Amazon Product Advertising API