Wondering if Holbein oil pastels are as good as their gouache? I was the same!
That's why I bought a set of Holbein oil pastels and here is what I think about it.
Table of Contents
Holbein Oil Pastels Features
There are different Holbein oil pastels on the market and I have the one in light yellow-green box – the oversize sticks set of 36 colors made in Japan.
The set I have:
They are quite affordable and I already have tested a few oil pastels (my fav being Paul Rubens) as well as paints from Holbein, so I decided to tey Holbein as well.
Later on, when I googled I found out that there are 2 types of Holbein oil pastels: artist-grade (professional) and academic (I suppose student-grade) with oversize sticks sets being the latter.
What I like about Holbein oil pastels:
good size – they are big and thick, comfortable to hold and will last for a bit
durability – they have a sturdy nice feeling and don't seem to be easy to break
color range – even though you can layer and somehow mix oil pastels, it is always cool to have a 36 to 72 colors sets. I found the 36 colors set very versatile in terms of colors, the max set they have for academic pastels is 48 colors.
price – hard to buy on Amazon, but better and cheaper – on Blick
feel – they don't feel too soft or oily or too waxy.
performance – they are easy to blend and mix on paper and do highlights.
safe to use – certified to be non-toxic, so your older children can also use them (not small kids as there is still a choking hazard)
What I didn't like about them:
They crumble quite a lot when you want to cover a large area on paper.
They don't feel creamy in application, that's one of the reasons I prefer Paul Rubens Haiya oil pastels.
It felt like it is hard to get a nice even coverage with them and with some colors (green shades) it was more challenging to add layers.
---
Hobein Oil Pastels Review – Performance Test
I tested Holbein oil pastels on tinted Mungyo professional pastel paper which I really love and often use. Amazing paper with wide choice of tinted options and quite affordable too.
I chose to follow one of the free tutorials for oil pastels and that was a water lily pond.
Colors and sticks
All colors from Holbein are vibrant and opaque, some are nicely pastel, some are very bold. There are also a white, 2 greys and a black stick.
I think I want to say that branding is a bit misleading. They are called "oversize" sticks but I don't quite understand oversized compared to what?
Most pastel sticks are pretty much the same size…except for very very cheap Pentel pastels. So I wouldn't consider it as a marketing advantage. The sticks are standard size, not bigger than Cray Pass or Paul Rubens.
For your convenience here is Holbein oil pastels color swatches:
Coverage and working with pressure
I think the fact that these Holbein oil pastels lack a bit or creamy buttery texture makes them harder to use for covering / coloring areas on paper.
With light pressure they have good subtle marks:
But of course you need stronger pressure to make a nice deep color, and I think they crumble quite a bit and still don't cover very well even when I press hard:
As you go over and over one area to achieve decent coverage it starts to feel very waxy and the pastels stop sticking to it. Maybe I'm doing something wrong?
At the same time blending color in, and adding highlights or simple shades were easy with Holbein pastels.
Overall I was satisfied with color selection and the feel of the Holbein oil pastels but I think I expected more from the brand.
However, I keep in mind that this was a student-grade pastel set and maybe professional one is better.
Have you tried Holbein oil pastels? How do you like them?
Please let me know in comments!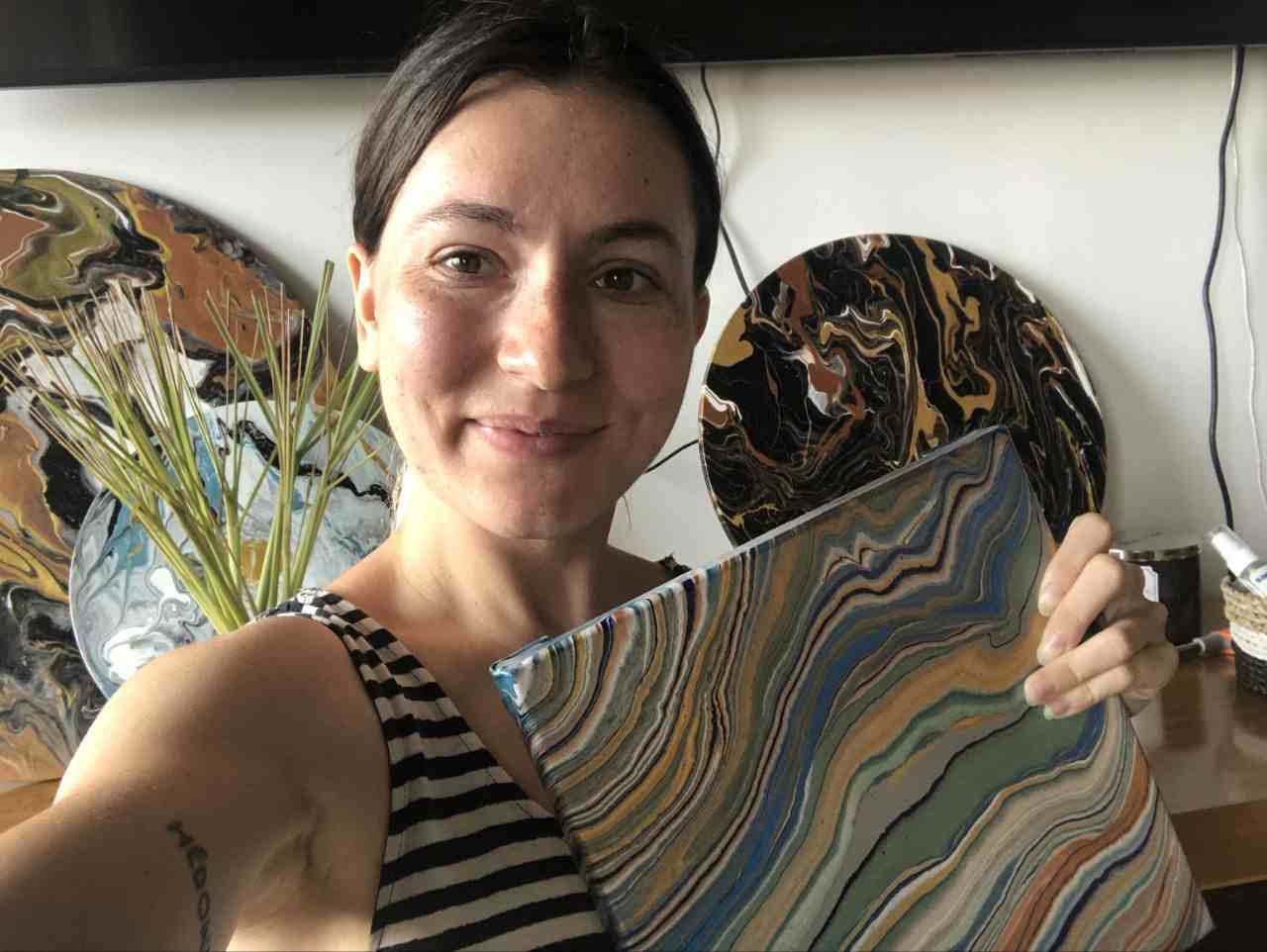 Masha Eretnova is a certified teacher. She started painting and drawing 20+ years ago and now is an international abstract artist and educator passionate about acrylic painting, gouache and crafts.
More about me.
Last update on 2023-12-03 / Affiliate links / Images from Amazon Product Advertising API