If you just learning about fluid art and some techniques seem intimidating, I suggest you start with a simple pre-mixed paints kit.
Excatly what I did!
I knew nothing about pouring and mixing recipes, but I saw a nice cheap kit in art store and decided to try it on round canvas.
My choice was Mont Marte pouring paint and I really loved it. In this review I share why 🙂
I want to highlight that I like their paints but I don't really like their pouring medium.
Table of Contents
Is Mont Marte acrylic paint good for pouring?
Mont Marte is an Australian art supplies brand and they are well known for their affordable paints.
Mont Marte pre-mixed pouring acrylic paint is a good brand for beginners, in art world that would be considered student-grade.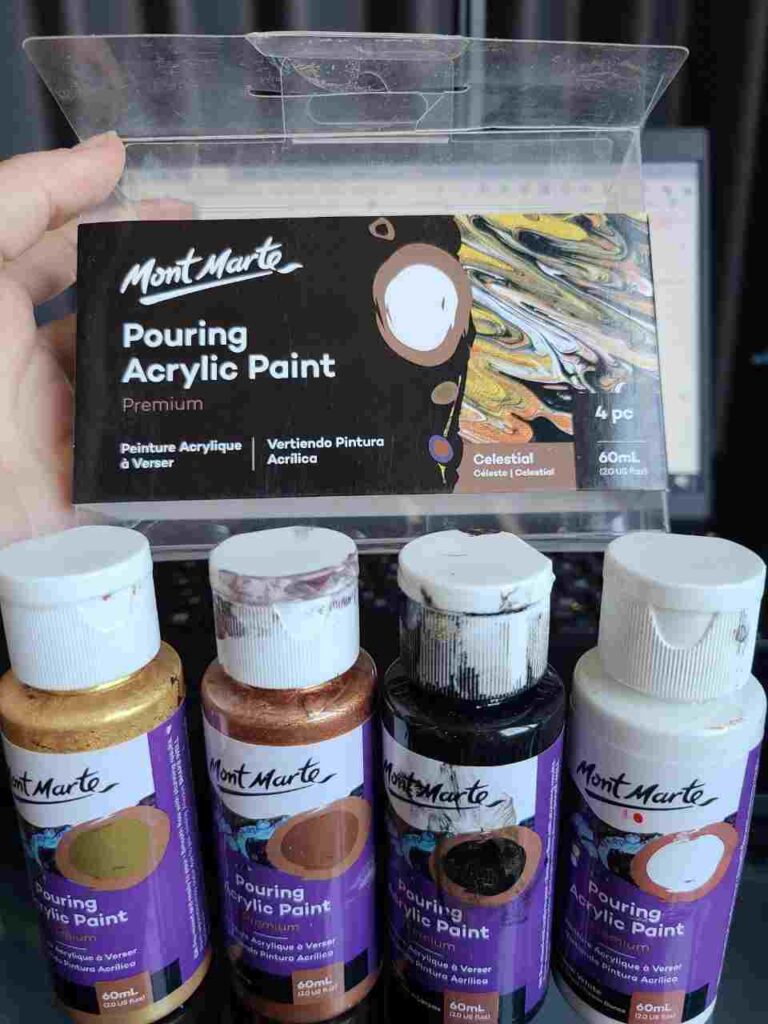 My First-hand Mont Marte Pouring Paint review
I suggest opting for their sets of 4 colors.
Why I like Mont Marte acrylic pouring paint:
they come individually but I like the sets of 4 colors. They already have a perfect color combo for you to try. And they do use most popular and beautiful combinations.
they come in small bottles (60 ml), already premixed, and it will be more than enough for a couple 20x20cm canavas pourings to try different styles. So there is no leftover paint sitting on the shelves.
They are very affordable. And the fact that they are premixed means you only need a cup and a canvas, and that's it. You don't have to spend money on pouring medium (just yet).
If you don't want to buy a set, you can buy all colors individually.
Objective downsides I should note:
They are perfect for someone who just wants to start and feel if pouring is something you can do, but of course for more advanced techniques you will learn to use DIY formulas and additionally will need to buy Floetrol or alternative pouring medium, torch or airbubble remover, mixing cups and tools for special techniques (split cups etc). Eventually you may need to make or buy a storage rack for drying pours, maybe a spinning table, etc.
Pours I did with Mont Marte pouring acrylic paint
Simple pours like flip cup, dutch pour, dirty pour are amazing to try with Mont Marte pouring paint.
These 2 pours were done with Mont Marte pour paint, I needed extra white and black as these round canvases are quite large but other than that, other colors, just one bottle for standard MM set was enough.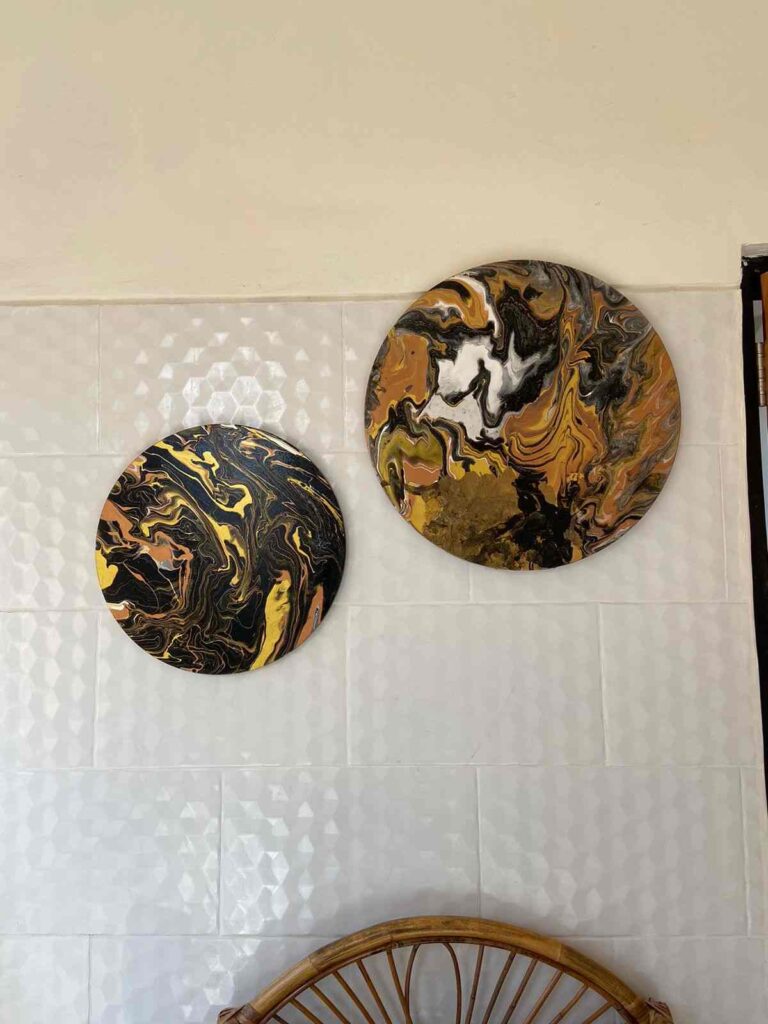 I used a set called "Celestial" that features 4 classic chic colors: gold, black, bronze and white.
Mont Marte PMPP4206 Pouring Art Acrylic Paint Set,…
Capacity: 2.0 fl oz (60 ml) x 4 colors
Colors: Lamp black, titanium white, gold, bronze
4 colors for polling art (fluids art)
Can be used as is without a medium; Can be mixed with silicone oils
Comes in an easy to pour bottle
Super Easy to Use
As I said, Mont Marte pouring paint is super beginner-friednly is the only thing you need to do is to shake it well.
You then can pour it in the cup and without mixing flip or pour onto canvas.
By tilting or spinning the canvas you will create your first pour – and that's it!
MM pouring acrylics are fluid, of perfect consistency, very opaque and vibrant color range and I had no issues with cracking.
If you want to have cells you can add a few drops of silicone oil, but probably not from the same brand, I've tried a few times silicone oil by MM and I don't know why, the cells were never as I expected.
Note: The package suggests to add more pouring medium if you think the paints are not fluid enough, at the same time I don't really like or recommend Mont Marte pouring medium (you can click to read my review). So opt for a better medium like Liquitex.
Amazing colors and color combinations
Mont Marte definitely know the winning color combinations and I think that's why they made these sets of 4 paints – I have four such sets and each one have beautiful results.
The cool thing that I can of course mix the sets up or add more colors.
Each bottle and package has names but also pigments used for each color.
The Celestial set I showed already, but also here is a pouring on a 20x20cm square canvas with the "Flamingo" set from Mont Marte: turquoise, rose gold, pink and phthalo turquoise (blue).
And this one is with the set "Rainforest" and I added some glass beads.
One piece was cracked but not because of the paint quality, unfortunately I left it in a hot and humid room without an AC and I think the layer of the paint was too thick to dry all at the same pace.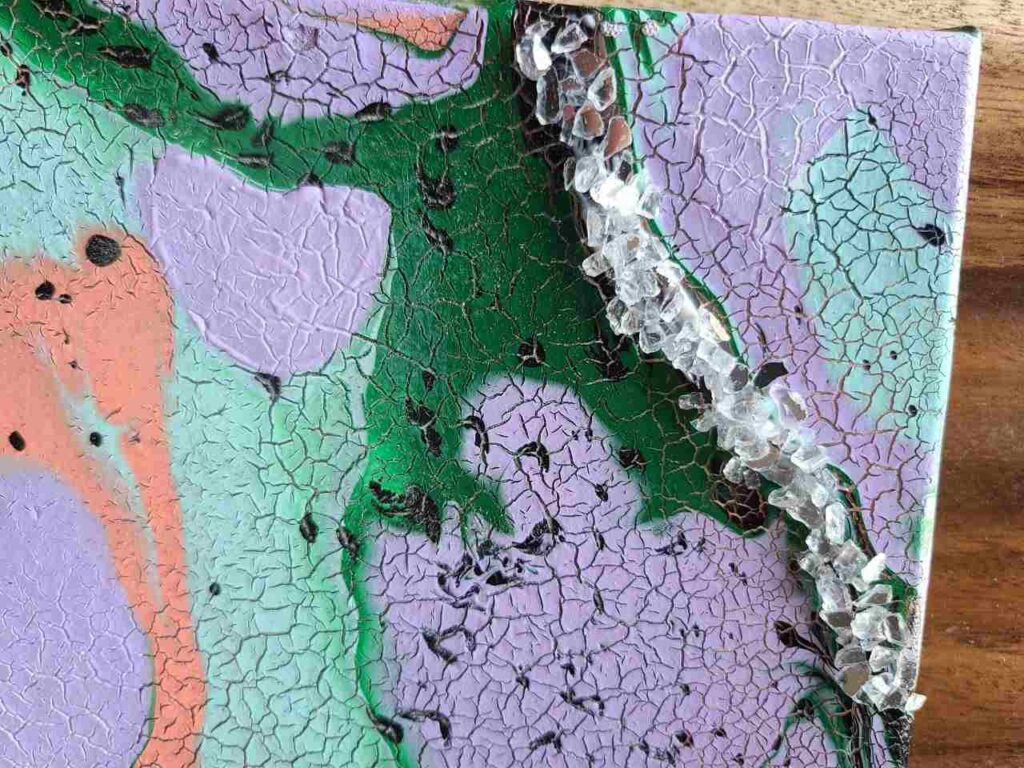 Overall they have a few sets (and 70+ individual colors):
Celestial (gold, bronze, white and black colors)
Flamingo ( turquoise, rose gold, pink and phthalo turquoise)
Rainforest (coral, black, light aquamarine, dark green)
Ethereal (light purple, dark purple, mint green, ultramarine blue)
Metallic (4 metallic colors – gold, bronze, silver, pink gold)
Cosmic (black, magenta, silver, gold)
Symphony (turquoise, black, bronze, orange)
Golden Beach (light blue, turquoise, ultramarine blue, gold)
I think all sets are great, and they are all around $16 – very affordable and also a great gift for someone creative (better to be gifted with a small canvas!)
Overall, I definitely recommend beginners to try Mont Marte acrylic pouring paint as it is easy to use, has amazing color combinations in sets and is absolutely foolproof.
If you are looking for an alternative with more paints in a set, try Hippie crafter big 24-color set (stunning metallics) that I also love to use.
Other Mont Marte products reviews I have: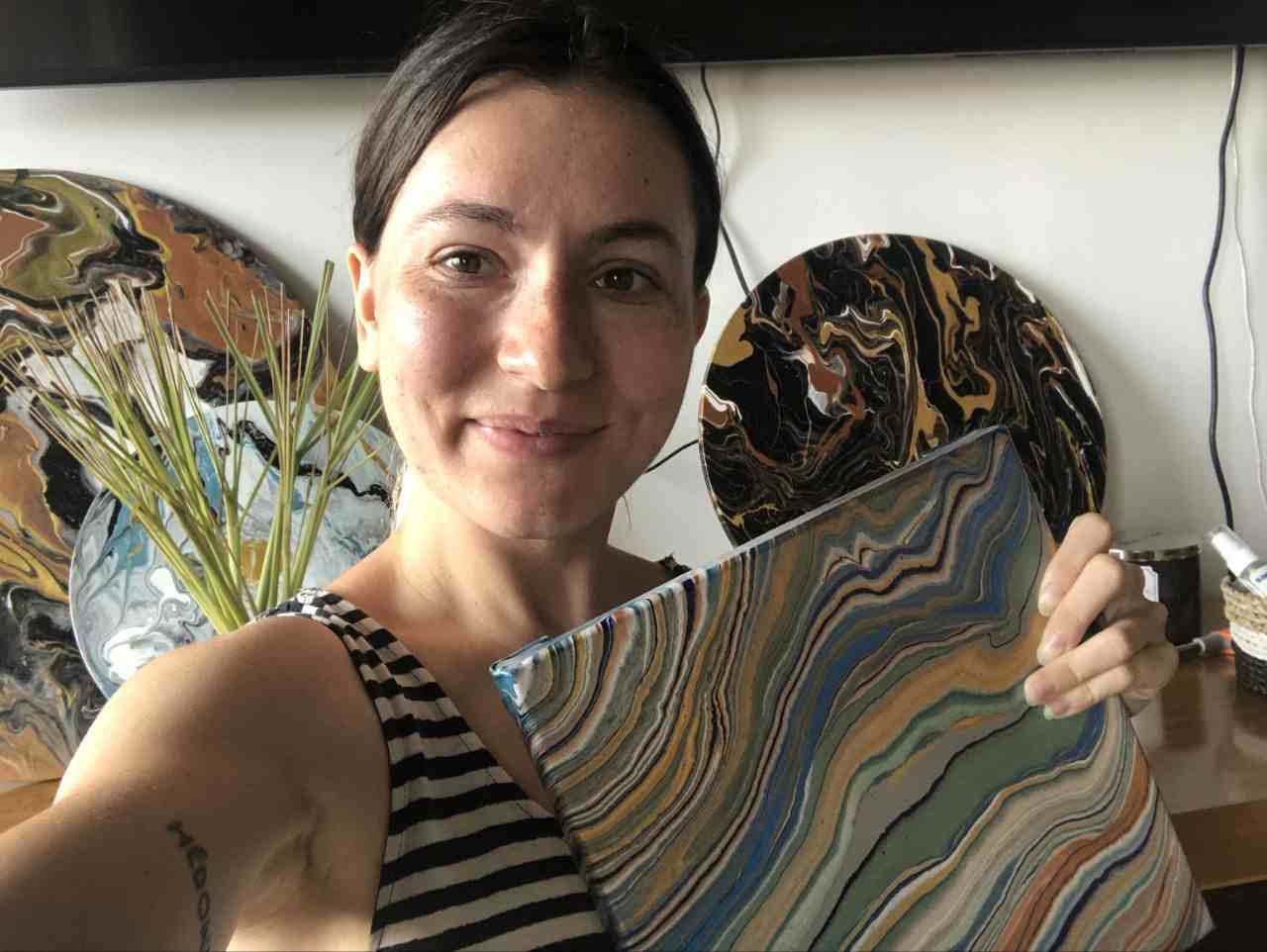 Masha Eretnova is a certified teacher. She started painting and drawing 20+ years ago and now is an international abstract artist and educator passionate about acrylic painting, gouache and crafts.
More about me.
Last update on 2023-12-03 / Affiliate links / Images from Amazon Product Advertising API