Jesmonite is an exciting new product that's been taking the crafting world by storm! I'm fascinated by all these Instagram reels with satisfying mold pouring and absolutely beautiful candle holders, coasters, and small crafts.
This jesmonite starter kit Guide for beginners will teach you everything you need to know about this innovative and popular medium, including where to buy jesmonite molds (especially if you're in the US), pigments, molds, and how to start making jesmonite crafts at home, and even more – how to make your first jesmonite coasters!
Table of content
What is Jesmonite exactly?
Jesmonite is a combination of polyester resin and jesmonite base (a mineral base). It is a so-called composite material. Jesmonite resin isn't as strong as traditional polyester resin so jesmonite pieces are lighter and more delicate than jesmonite made with resin.
Jesmonite was invented in 1984 in the United Kingdom by Peter Hawkins – Technical and Development Director of the Jesmonite company. In 2017 Jesmonite was officially named "Material of the Year" by the London Design Fair.
All of these beauties above are made from Jesmonite and are featured on the Jesmonite brand's official Instagram account.
What are the advantages of Jesmonite?
versatile: can be used for crafts, sculptures, molding, but also as a painting surface and jewelry!
a natural-looking alternative to plastic
a lightweight alternative to concrete
eco-friendly safe alternative to resin, plaster, or concrete. Solvent-free and contains no VOCs
cured jesmonite can be broken down and reused as decorative fillers to create unique patterns.
ultimate chameleon material – can mimic virtually any surface, color, or texture.
durable: flame resistant, and resistant to impact
safe to use, and easy to use and clean.
Jesmonite vs epoxy resin
Jesmonite may be an alternative to epoxy resin projects, especially if we consider the price. However, Jesmonite is more opaque than epoxy and doesn't have a glossy finish until you polish it.
Another difference is that epoxy is transparent, while Jesmonite has a concrete-like appearance and matte finish.
Related post: 73 Best Resin Mold Ideas + DIY Mold for Epoxy Recipe
---
What is a Jesmonite starter kit?
A jesmonite starter kit typically contains everything you need to start working with jesmonite, including molds of various shapes, pigments for coloring your creations, and base jesmonite resin (liquid and powder).
Jesmonite AC100 starter kit should include:
AC100 liquid or any other liquid resin
Jesmonite Base (any other mineral base)
Step by step instructions
If you are UK resident Jesmonite Starter Kit is available for you on Amazon. As well as all product lines.
---
AC100 Liquid Resin + Base
As we know now jesmonite is made of 2 parts: a resin and a mineral base. AC100 is a water-based Acrylic composite material. It is absolutely safe and eco-friendly (solvent-free, no VOC's). Simply put AC100 is an acrylic polymer or resin.
AC100 will fit you perfectly if you're planning to make some home decoration, art projects, and moulded projects, but also for making wall panels. It offers fire-resistant glass-reinforced mouldings.
You can always buy additional mediums with glass reinforcements, pigments, fillers, and control chemicals to use adaptable material for versatile craft ideas.
You can use AC300 instead of AC100 for cost-sensitive applications.
MIX RATIO: 2,5 parts of Jesmonite base to 1 part of AC100 Liquid.
Time for initial set: 15 – 20 minutes (18°C, No Retarder)
For UK residents: link to AC100 Liquid + powder 3,5 kg package. For US residents check the alternatives below.
---
Jesmonite Alternative
Everything would be just perfect but Jesmonite doesn't have an official distributor in the US, and you can't directly purchase it from their official website. On Etsy and other marketplaces, though, a standard package of AC100 will cost you around $90-$370 and not everyone is ready to invest so much in a hobby.
Jesmonite has 2 active parts: a liquid resin and a composite plaster. If you're looking for an alternative it can be resin with some kind of plaster (it makes the piece very durable), just resin, or regular quick-set cement mixed with water.
Here are some Jesmonite AC100 alternatives:
If I would choose one Jesmonite alternative – Polycell Quick Set Cement!
Quick-set cement will be the quickest to set (around 10 min, while Jesmonite is 25 min). Plaster of Paris would be quite hard to work with for molding, it doesn't flow like Jesmonite or cement, but still doable. The plaster will be also lighter than Jesmonite and you will need less Plaster to make the same amount of pieces. If you're a beginner don't start with Plaster, but you can try it out later for sure.
Don't be afraid of how pigment looks with wet cement – you may think that there will be no color, but just follow the instructions and wait until it's cured. You will see a beautiful result! You can check this video:
---
Pigments for Jesmonite
For your jesmonite projects, you can use the same pigments as for resin. There are a huge variety of pigments available on Amazon from 6 basic colors to gorgeous metallic or pearl pigments.
They are all sold in small bottles but don't be discouraged, you really won't need much. As Jesmonite official designers suggest using only 20 g of the pigment per one kilo of the jesmonite mixture. And one kile it's a lot: it will be enough to make 7 coasters!
Mix one pigment with liquid resin if you need a dense uniform color. If you want to experiment, swirl color pigments in a premixed (liquid + powder base) mixture.
Some pigment bestsellers:
---
Molds
There is nothing more satisfying than pouring the mixture into a mold and then take it from it when it's cured. The most common mold shapes are square or hexagon coasters and oval or tray molds. But you can surely find any other shapes for home decor or jewelry making.
You can search for resin molds, casting molds, or clay molds. As long as it is a silicone mold, you can use it!
For 70+ molds ideas (including jewelry and home decor) check my endless list of molds 🙂
---
Jesmonite Acrylic Sealer
A sealer for jesmonite has the same role as a varnish for an acrylic painting: to make it durable and last for years. You can use a branded Jesmonite acrylic sealer, but if you are in the US, you can replace it with any clear acrylic sealer.
This way your decorative projects will be safe from dirt and easy to clean, UV-resistant, and moisture-resistant. You may need to be replaced after 6-10 years of use.
Your first craft project can be done without sealing. And if you are casting a piece to break it, don't seal it.
Recommended clear acrylic sealer for jesmonite: Alleene's spray or any acrylic sealer in spray or liquid form. If you are using concrete, an acrylic sealer for concrete may work too.
---
How to make Jesmonite tray?
You will need:
AC100 liquid + Jesmonite Base or alternative mixture for the US market (for this tray I used 100 gr liquid + 250 gr base)
Pigments (20g of pigment per kilo of mixed jesmonite, I used 1g per 100gr and I got nice pastel colors.)
Stirring sticks or a whisk
Coaster Moulds
Nitrile gloves
Acrylic Sealer or a cotton cloth
Scales for weighing
Mixing containers or cups
A brush or cotton bud
A 220-300 grit sandpaper
Everything should be clean and dry, and your workplace should have no direct sunlight.
If you are making coasters, official Jesmonite guidelines suggest using:
SQUARE MOULD = 200g of mixed AC100 (56g liquids and 144g Jesmonite base)
HEXAGON MOULD = 126g of mixed AC100 (36g liquids and 90g Jesmonite base)
A step-by-step guide to making your first Jesmonite tray
Prepare everything, and make sure it is clean and dry.
Shake the liquid part and pour 1 part of liquid AC100. If you want one solid color, add pigment to the liquid AC100. Mix it well.
Put powder into liquid. NEVER pour liquid into the powder. Mix well until homogenic consistency. If you are working with the Jesmonite alternative, follow the instruction on the package!
If you want to add more than one color or create effects, you can add pigments to the premixed plaster with toothpick, making drops or whatever you like – it is time to experiment.
Start casting: pour an even layer of a small amount of mixture. Tap the mold and use a brush (if you're painting, use a separate brush) or a cotton bud to make sure there are no air bubbles and gaps between mold edges.
Pour the remaining mixture and tap again. The surface should be even with no bubbles.
Leave your project for 30-40 minutes.
Remove the mold and set the tray aside for 24 hours. It will let the jesmonite gain its full strength.
Polish a dried, hardened tray with a cotton cloth. If you see air bubbles or sharp edges, you can sand it slightly with sandpaper.
If you want gloss polish, you can use a water-based varnish or Acrylic sealer. A sealer is also needed to protect your coaster from UV, time, and dust.
If you're making coasters with Jesmonite, you can follow this video:
---
Tips for molding with Jesmonite
Store Hesmonite in a dry place no longer than 12 months.
Do not add too much pigment into the mixture, as it will cause breaks.
Do not leave crafts in the mold overnight – they will not dry or harden.
Always wash molds after using it with soapy water. No special product is required.
Do not spill pigments, they are very strong and may be hard to wash off.
Don't throw dried leftovers from mixing cups. Break them and use later, premixing to the plaster to get terrazzo effect. It will give amazing effects.
If you use powder pigments, remove the amount of plaster powder equal to the pigment volume, and then add pigment powder.
Jesmonite Starter Kit FAQ
What can I use instead of Jesmonite?
For fine crafts and interior design resin, plaster, or concrete are jesmonite alternatives. In construction, it can be replaced by polyester and fiberglass.
As close alternatives for jesmonite many crafters use Tiranti's Plaster Polymer liquid together with a regular 'alpha' plaster such as Crystacal R or Basic Alpha or AquaResin. Check a quick list of the alternatives above.
Jesmonite products don't have an official distributor in the USA.
What is Jesmonite made of?
Jesmonite is a type of concrete-like material that is used for a variety of different purposes. It is made of gypsum-based material – a mineral base- and an acrylic resin (water-based).
Jesmonites were first invented back in the 80s as a safer and lighter alternative to concrete and fiberglass.
What do you need for Jesmonite?
First, you need a jesmonite starter kit which includes molds, pigments, a jesmonite base, and an activator. In addition to these items, you'll also need two plastic cups in order to mix your jesmonites before pouring them into the mold. And finally, you'll also need some clippers for removing excess jesmonites after curing.
What is the difference between Jesmonite AC100 and AC300?
Jesmonite AC730 is water-based micro-concrete and it is close to glass-reinforced concrete, while Jesmonite AC100 is water-based gypsum and it's more like glass reinforced plaster.
Is Jesmonite food safe?
Even if it is already 35 years since jesmonite was designed and successfully being used in diverse projects, the manufacturer still doesn't recommend using jesmonite in contact with food.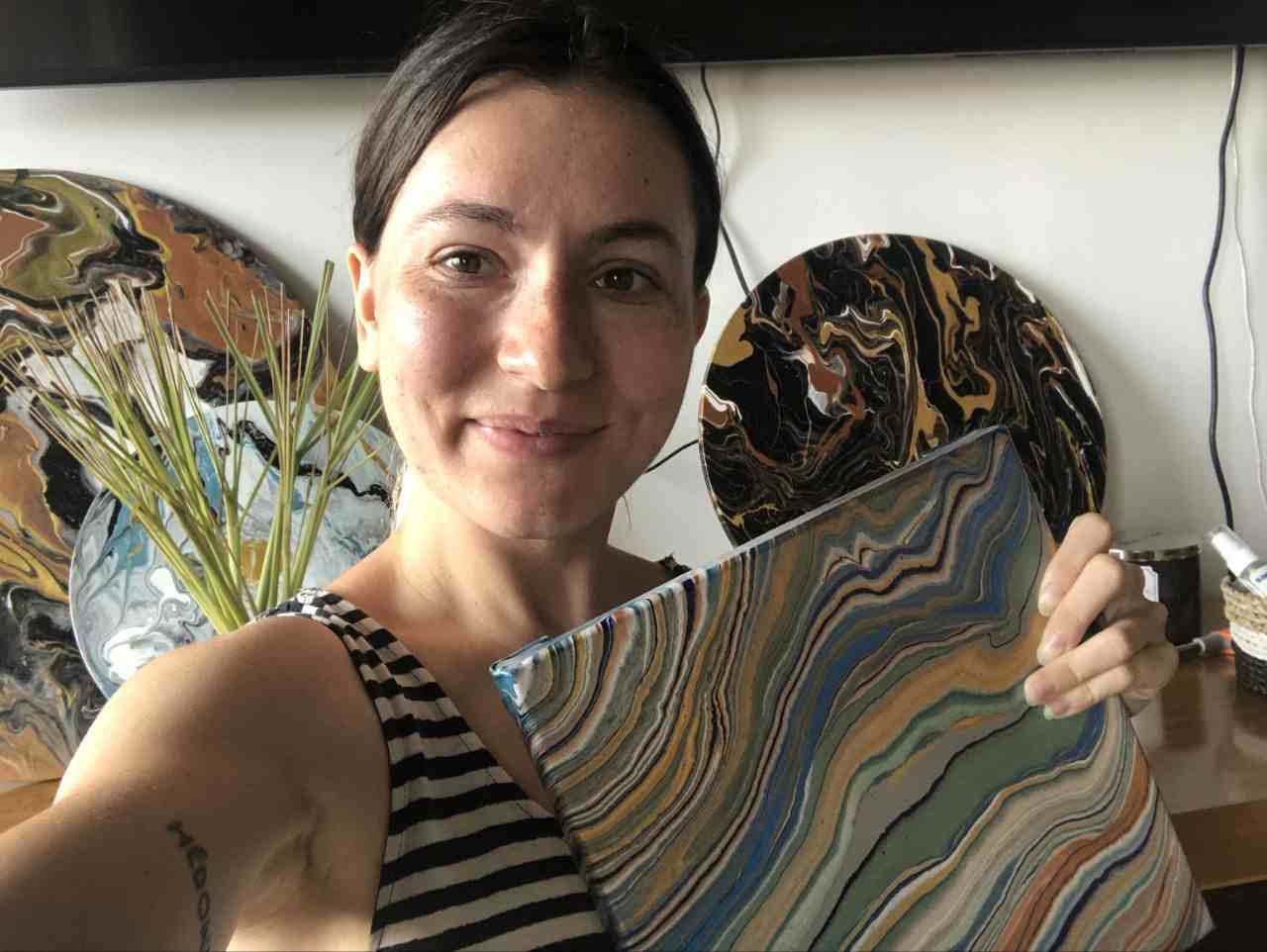 Masha Eretnova is a certified teacher. She started painting and drawing 20+ years ago and now is an international abstract artist and educator passionate about acrylic painting, gouache and crafts.
More about me.