Mold for epoxy is an integral part of molding and casting resin. The silicone molds come in all shapes, sizes, and various patterns to produce the desired finished product.
In this blog post, I will go over the most interesting and bestselling resin molds ideas you've seen on popular tutorials, as well as how to make a DIY mold for epoxy jewelry or craft project that doesn't require expensive mold-making equipment.
Wondering what you can use as resin mold? I got you!
Crafting or painting can be a cool idea for your date night with your partner! Or a fun friends' night.
Table of content:
Related post: 17 Best Heat Gun for Epoxy Resin to Get Rid of Bubbles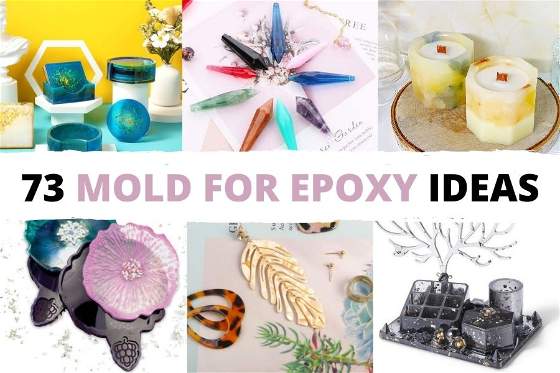 What is a mold for epoxy?
A mold is usually a silicone replica of any three-dimensional object that will help us make the desired shape with a medium of our choice: epoxy, concrete, jesmonite, clay, wax, etc.
Molds are typically used in molding and casting. You fill a mold with epoxy, let it set, and de-mold a nice home decor item or jewelry.
Molds today are so diverse! You can make mosaics, letters, animals, jewelry, pot, candles, trays, coasters, tables, countertops, and so on! You can even create your own mold with fluid silicone (I'll show you how).
Searching on the Internet, look for epoxy molds, silicone molds, or just molds.
To use straight away any of the molds you'll need an epoxy resin kit (with gloves and stirring sticks included) + measuring cups (you can use plastic ones) + vivid colors pigments. The whole set may cost you under $30!
---
What can i use as a resin mold?
Any silicone mold, store bought or DIY, as well as metal jewelry blanks or cookie cutters paired with Silly Putty will work perfectly for epoxy resin. You can use full size silicone molds, or lay down borders of a shape with silicone rubber paste over a plastic sheet if you want a custom shape.
If you plan to create large epoxy project like a river table you can use polyethylene(HDPE), plywood, plexiglass, or melamine boards as your mold.
You cannot use plastic containers as resin molds unfortunately. Resin heats up in plastic.
---
BEST SILICONE MOLDS IDEAS FOR EPOXY
This will be the most full and interesting list of all kinds of molds for your epoxy craft projects. The average price for a mold or a set of molds is very affordable – $5-$15, while all of them are reusable and versatile in terms of used mediums.
For easier navigation I grouped the 73 best molds into sections:
All molds are made of high-quality silicone which is durable, flexible, easy to use for beginners, easy-to-de-mold and clean. Not all silicone molds are food safe, I'll mention it if they are.
I recommend a lot of one my favorite molds brand – IntoResin, and this is for 2 main reasons: first, Amazon is sometimes a mess (currently unavailable items, broken links, etc), and second, I'm using their molds myself and can recommend the quality, and especially, the variety!
🧡 Shopping on IntoResin, use my coupon code ACRYLICPAINTING to get extra 10% off 🧡
---
MY TOP-10 EPOXY MOLDS
If you don't have time now to browse all 70+ options (even tho they will surprise you), this is my 10 molds for epoxy that caught my attention.
If you need the ultimate and most popular choice and can afford only one mold to try epoxy – for sure this Oval Tray will be it!
---
TRAYS AND COASTERS EPOXY MOLDS
The most popular mold for epoxy is tray mold. They are all so different and beautiful, I know! I selected some best trays molds for you, let's start with the traditional rectangle tray.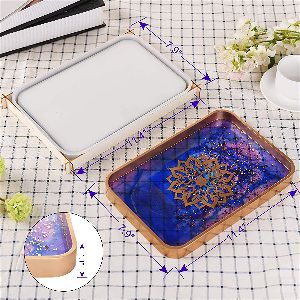 This IntoResin tray's size is 11.4 × 7.9 × 1.1 inches, and it has versatile use: for jewelry, like a coffee tray for breakfast in bed, or like a hand-made gift for loved ones. This mold is 100% smooth and reusable.
---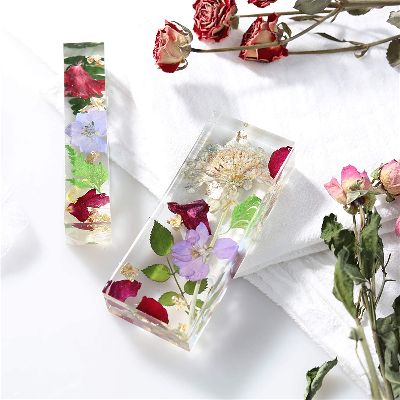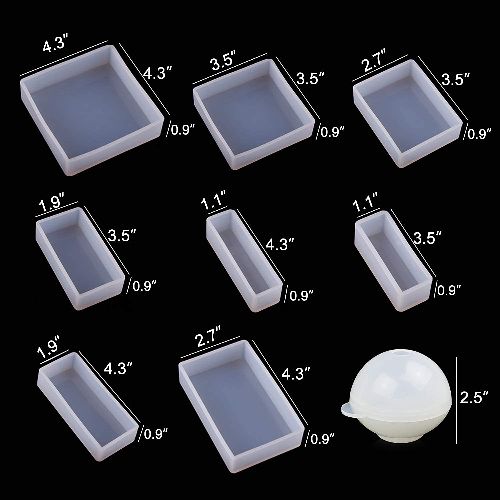 Let's Resin makes the most bestselling molds for resin, and they have a whole set of 9 different sizes of square and rectangle molds. Durable, reusable, and easy to de-mold and clean molds with a 60-day money-back guarantee.
Can be used for creating home decoration, coasters, soap, paperweights, etc.
---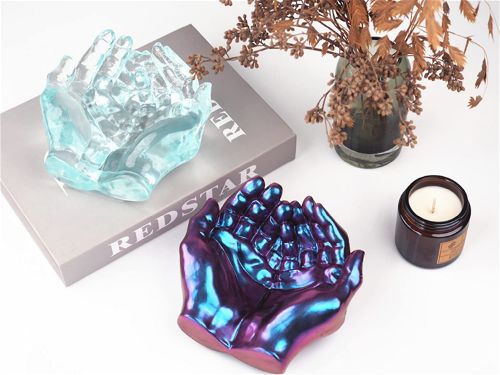 Hands-Shaped Tray Silicone Mold can be used for jewelry storage or as an ashtray. It will be also a very romantic gift for your partner.
Size is 6.2×5.9×2.7inches. Hands made very detailed, and the mold itself is a high-quality silicone reusable mold.
---
Coaster Resin Molds Set (Round and rectangle shapes with storage boxes)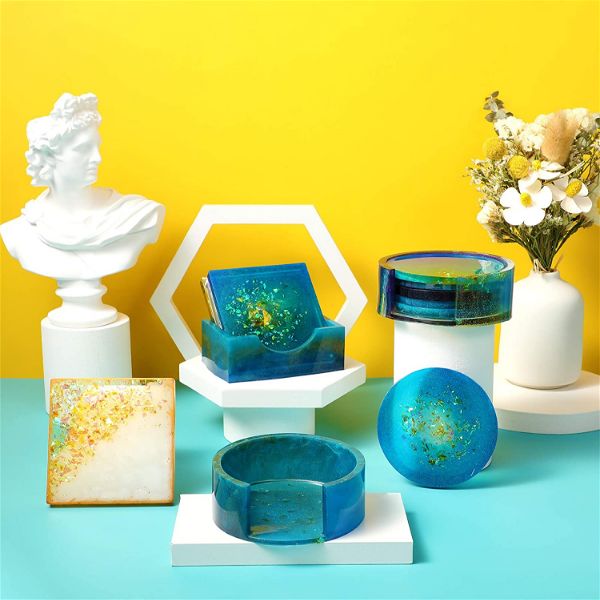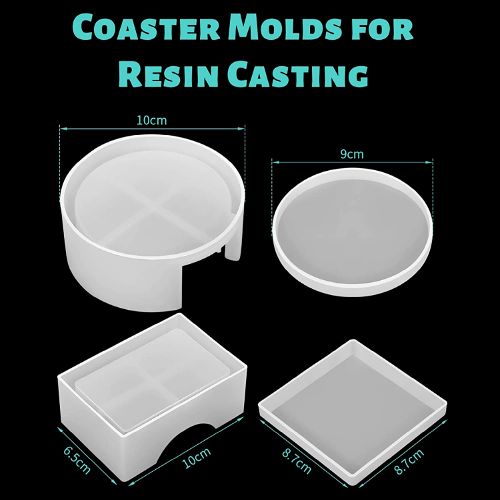 Coasters are craft projects every beginner can start with: easy to make, quick set, and no space for mistakes. The common easy sizes are round, rectangle, and hexagon. But there are also beautifully patterned or geode (earth-like) coasters I'll show you below.
This Coaster Resin Molds Set includes 12 pieces: 5 round coasters and a storage box, and 5 square coasters and a storage box. Silicone molds are microwave and dishwasher safe, reusable and recyclable.
These molds can be used with various materials, not only epoxy, as they can withstand temperatures from minus 40 to 446 degrees F.
Sizes: round – 9 cm/ 3.54 inches, square – 9 x 9 cm/ 3.54 x 3.54 inches.
---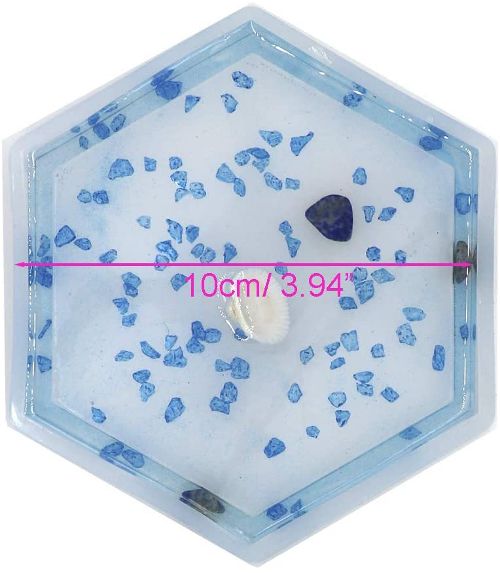 Hexagon coasters are my favorite! This shape looks very stylish and is very easy to make. This mold set includes 3 pcs of reusable silicone molds (imagine how many you can make, hah!).
size of each coaster: 3.94″ x 3.94″ (10 cm). You will need only 3ml of resin to create one coaster.
---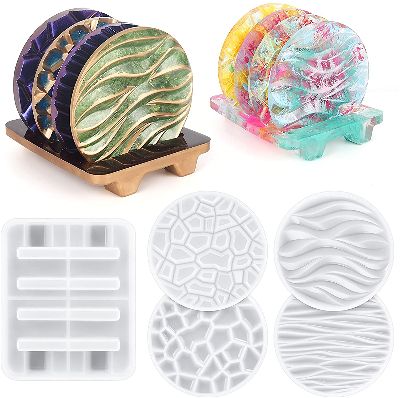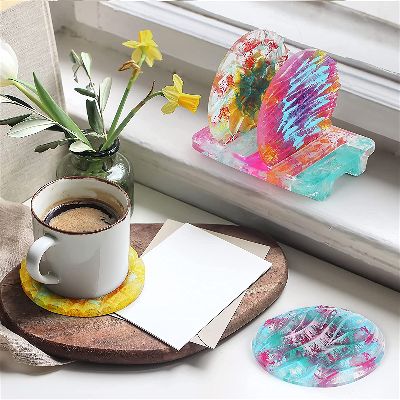 These textured molds are very unique and they are just gorgeous – they have 4 different patterns for molding. The diameter is 4.13 inches for each coaster, plus the set includes a storage holder mold for 4 coasters.
Keep an eye on them, as they are sold out pretty quickly.
---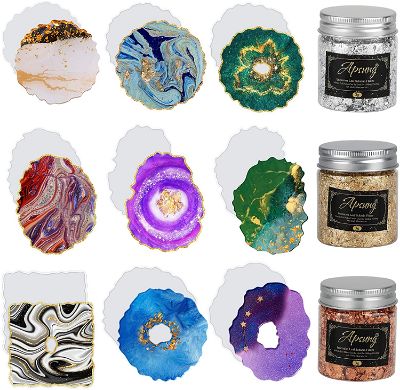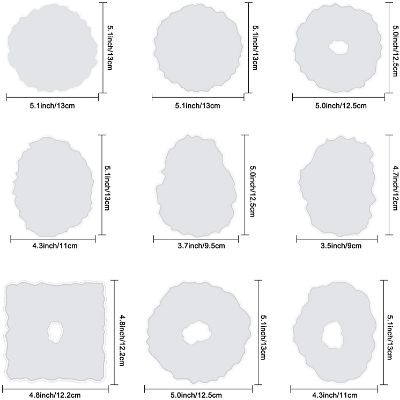 Geode trays or earth-like, precious stones-like-looking trays will be an amazing decoration for any interior! The Apsung set includes 9 different geode molds and 3 bottles of foil flakes for a unique design. I would recommend it as a gift for all craft lovers!
---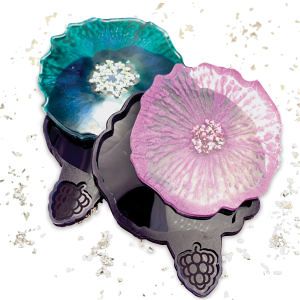 These Colorberry Silicone Molds are one of my favorites – the molds themselves are very well made and they offer the two most desirable styles: Geode and Kintsugi. A berry-shaped handle for geode molds will help you a lot with demolding. Both designs are sold separately.
Kintsugi style is Japanese art form where broken pottery pieces is reassembled using gold lacquer.
Size: ± 11 cm.
---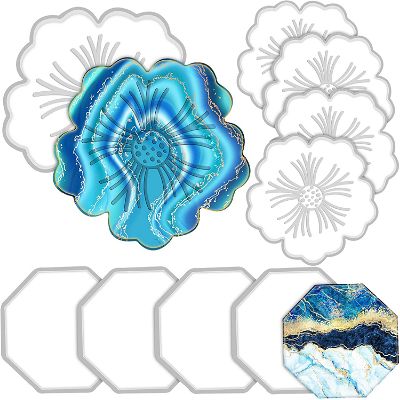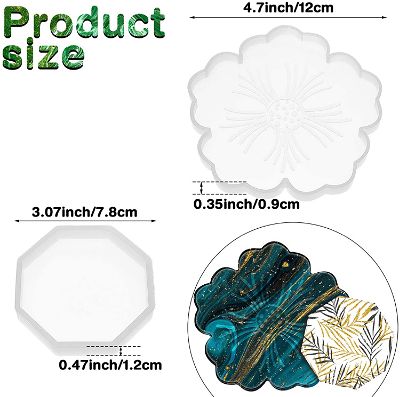 This Flower Coaster mold set actually has 4 flower molds and 4 octagon molds – another popular shape for coasters. Easy to use reusable silicone molds can work with resin, jesmonite, cement. To make the design even more attractive, you can special dried flowers for resin molds.
---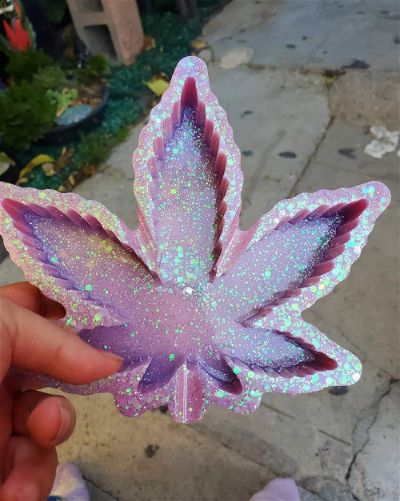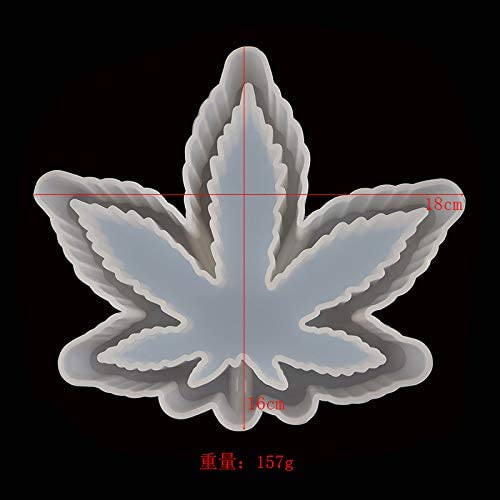 Someone may call it maple leaf or weed-like leaf mold. Can be a tray or an ashtray. There is only one silicone mold in the package, the size is 7.09 x 6.3×1.38 inch(18x16x3.5cm).
With this mold don't use heat gun or alcohol ink, they can damage the mold. The manufacturer provides a 1-year money-back guarantee.
---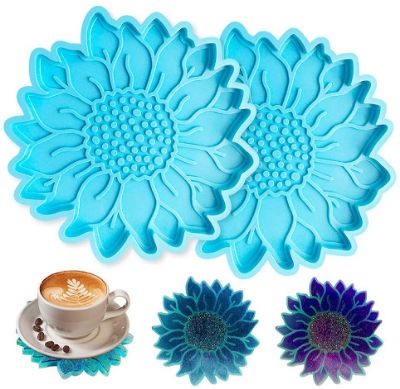 The last one for the floral collection – Sunflower coaster epoxy mold. 2 molds with beautiful details made of durable but flexible silicone.
The diameter is around 13 cm or 5.11 in.
---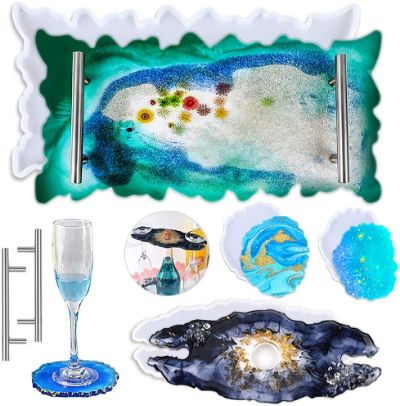 For wine lovers, I have 2 nice sets of molds. First one – Takezuaa Geode Wine mold set including a wine rack, large fruit tray with metal holders, 2 geode coasters shapes.
Sizes: Wine rack mold – 10 x 4.1 inch, fruit tray – 14.4 x 6.7inch, coaster resin molds are 4.3 x 5.3 inch and 3.9 x 4.9inch.
---
Another option is simpler – only Wine rack mold + 2 coasters, without fruit tray. The style is the same – geode or earth-like. Very natural and stylish. This set includes 6 boxes of gold foil and 6 boxes of silver foil.
Sizes: 9.8 x 4.2 inch for the rack, coasters: 4.7 x 5 and 5 x 4 inches.
---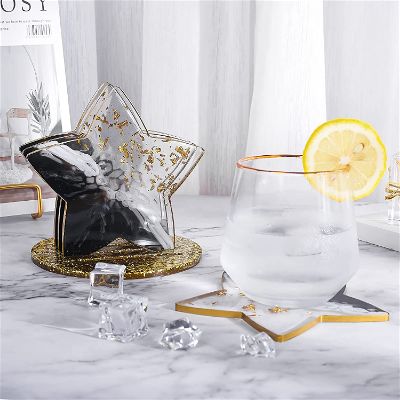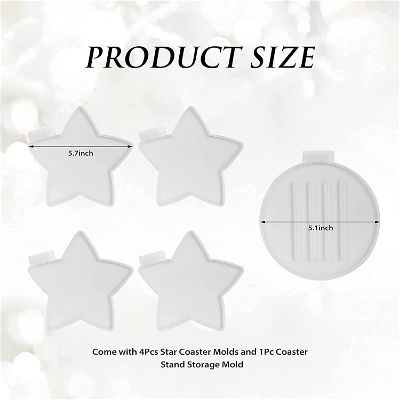 If you're looking for an uncommon shape – here are Star Coasters. The set includes 4 coaster molds and 1 round stand mold. These molds have a branded tip, that makes it very easy to de-mold resin coasters once they are set. Just pull the tip and squeeze the coaster out.
---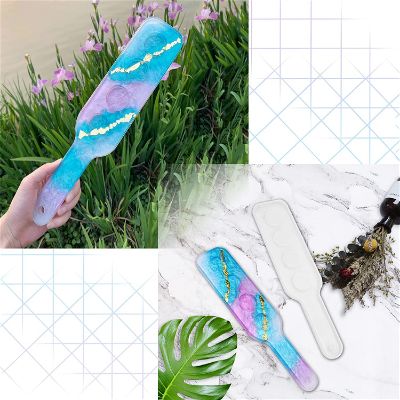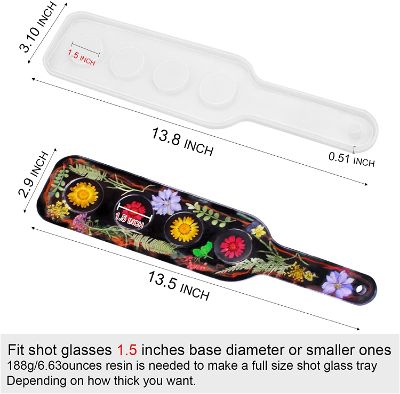 For a spectacular serving of homemade shots, you can design your own tray using this Shot serving tray mold. The tray has 4 slots for shot glasses with 1.5 inches base diameter (or smaller). Alternatively, you can use this tray as a candle holder.
Tray size: 13.8 x 3.10 x 0.51inch.
Epoxy needed: about 188g (6.63 oz) resin.
---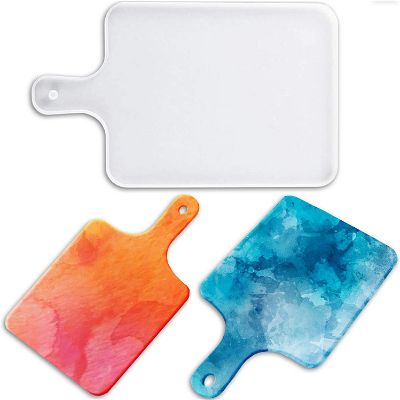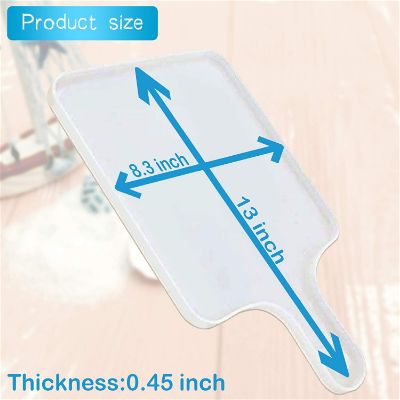 A classic kitchen tray made of epoxy is a stunning gift, especially with ocean design. Perfect for serving or decoration, but do not use it as a regular cutting board.
Size: 13 x8.3 x 0.45inch.
---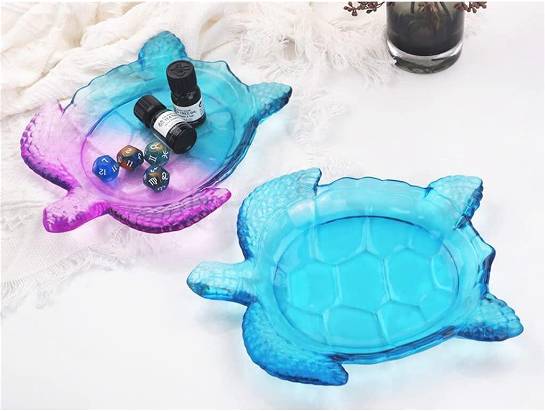 An ocean theme is very popular in epoxy molding. Marine creatures are also beautiful and may fit your interior design. This tray has a turtle shape and is absolutely functional as a serving tray or jewelry storage. You can make it purely decorative too – as wall decor.
Size: 12.5 inch x 10.5 inch x 0.4 inch.
---
Shell tray is small-sized and will work great for rings or soap storage. The high-quality silicone mold is compatible with jesmonite, cement, soap, and epoxy.
This is one of my favorite molds for epoxy and jesmonite.
---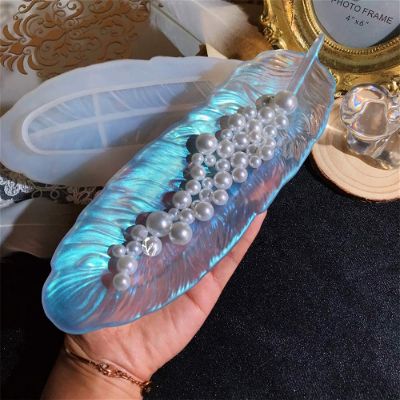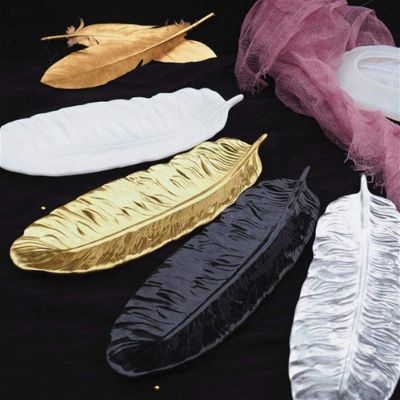 Beautiful Feather-shaped silicone mold for epoxy casting. I'd say it's perfect for jewelry, beauty products, or sweets photo sessions to have one of these feathers. Silicone mold is easy to de-mold and quite durable, so you can use it for years.
The feather is large enough – 24 cm.
---
JEWELRY & BEAUTY EPOXY MOLDS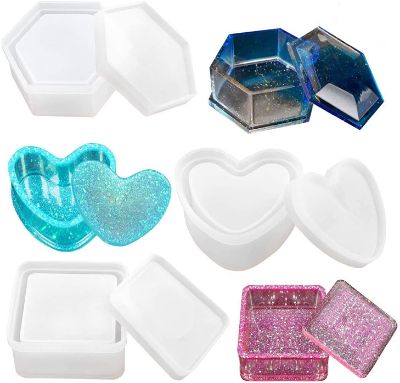 No jewelry box will be enough for a lady, but give this jewelry boxes molds set a shot! The set contains the 3 most common shapes: heart, square, and hexagon molds. They are pretty small and will fit rings, small earrings, or maybe keys or coins.
If you are a craft person you can use these boxes for material storage.
---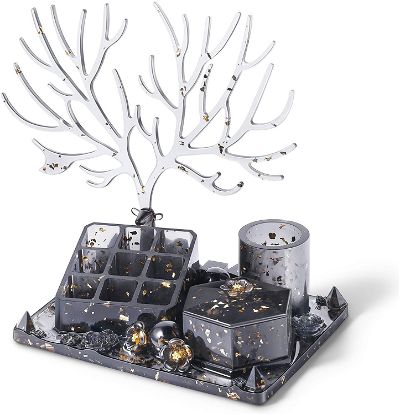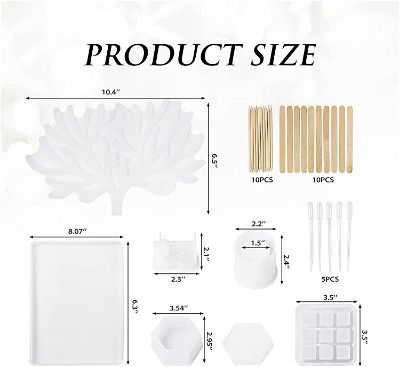 This set is perfect for a gift or the epoxy tray you'll make with it will be a great present for someone you care about. Multi-functional beauty organizer with make-up brush holder, lipsticks holder, ring holder, jewelry box – all sitting on a large tray.
This mold set is extremely cheap considering how many pieces you'll get – all for $14!
---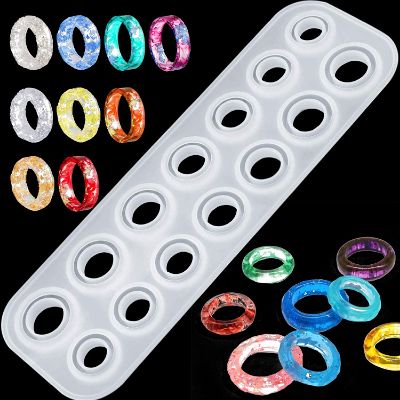 Making your own ring collection, why not? Use this silicone ring mold for epoxy and create different sizes and designs in less than 30 min. Sizes available in the mold from 17 to 23.
---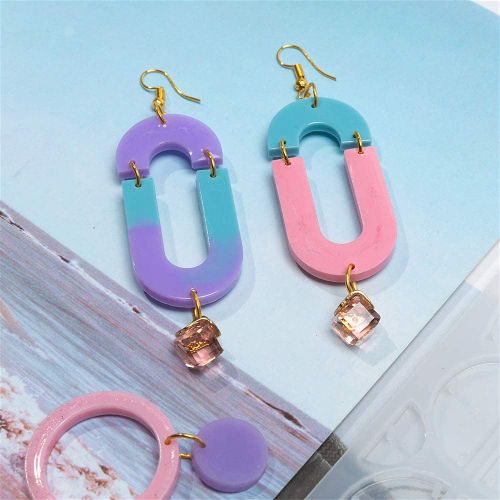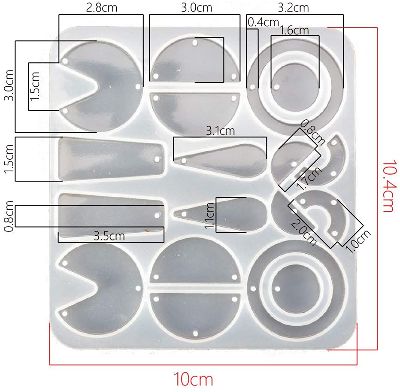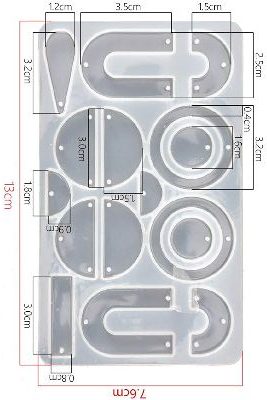 This earring set has a lot of pair combination options. All shapes are quite geometrical: round, oval, semicircle, etc. Some elements are up to 3.5cm long. Only molds, no hooks, or accessories in this set.
---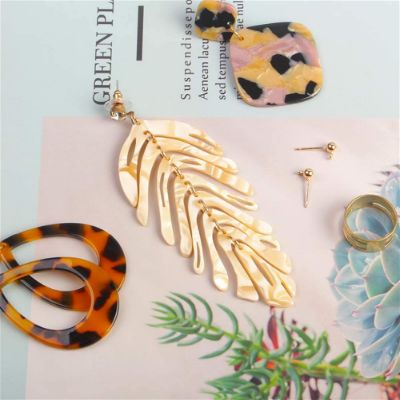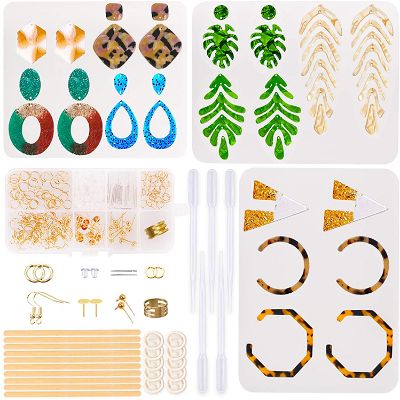 If you're looking for some bohemian shapes, take a look at this earrings mold for epoxy. This set not only includes 10 different earrings molds but also earring hooks, jump rings, studs' earplugs, brass rings. This means you can cast and assemble your earrings right now!
Great gift for a fashionista!
---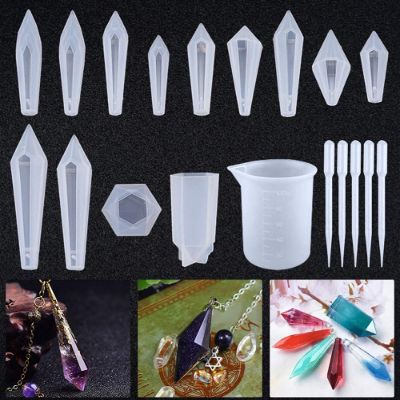 This mold set has 13 different shapes and sizes of crystal-like pendants. Each mold is made of flexible silicone and even if they are small, they are still very easy-to-demold.
---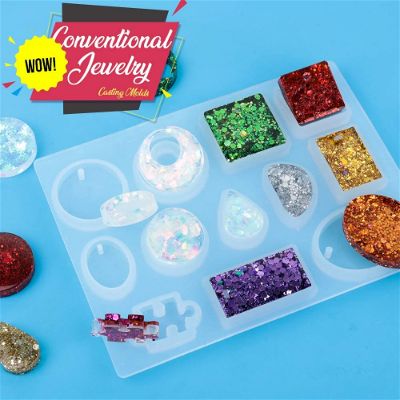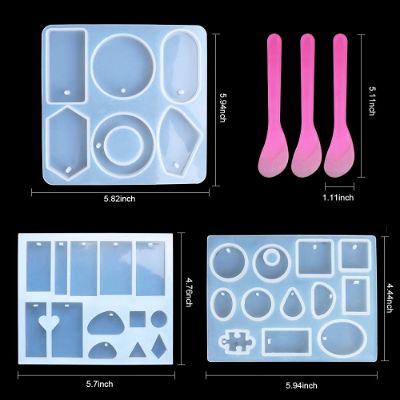 If you're not into crystals, you can try these 25 pendant molds for epoxy jewelry making. The set contains various shapes: puzzle pieces, common geometrical shapes, stone-like shapes, small molds.
The kit also includes mixing spoons.
---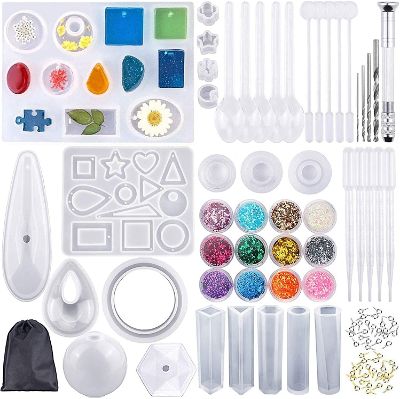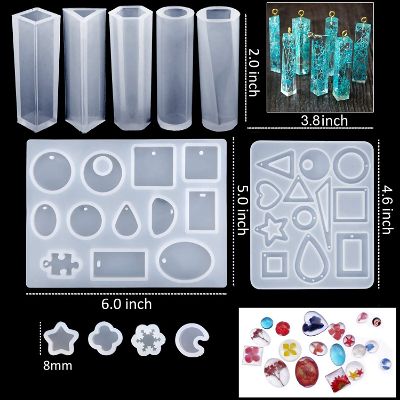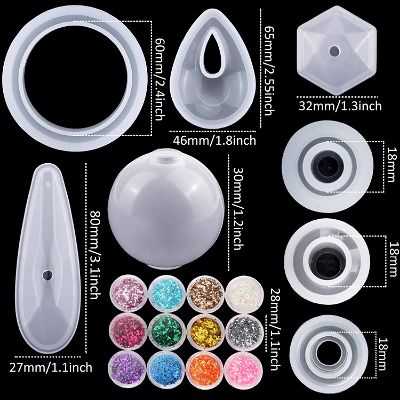 For those who don't like spending time browsing among 400 pages on Amazon choosing pigments, molds, jewelry-making supplies – a way to go is to buy a set. This set includes molds for pendants, earrings, bracelets, necklaces, gold screw eye pins, silver screw eye pins, 5 x plastic stirrers, plastic spoons, plastic droppers, Hand Twists Drill (include 4 pieces twist bits), 12 x glitter sequins, and a storage bag.
The only thing you'll need to buy separately is the epoxy resin itself.
---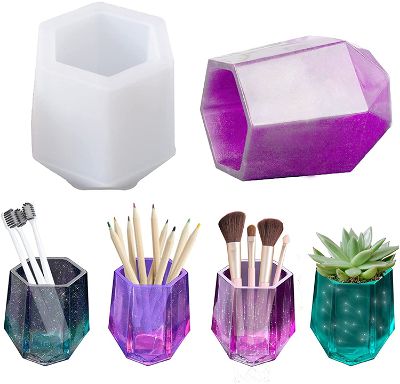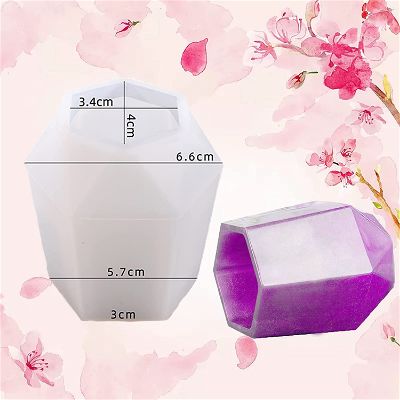 This hexagon brush holder mold for epoxy is reusable and made of durable and flexible silicone.
In fact, this mold can work also as a pen holder, toothbrush holder, or a small pot. Great multi-purpose mold for beginners.
Size: Height: 7.2cm. Cup mouth: 3cm. Bottom: 4cm*3.4cm. Maximum width: 6.6cm
---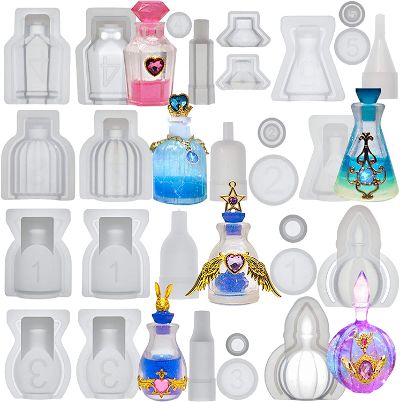 6 beautiful tiny bottles for perfume – this is just something very aristocratic and elegant. Easy-to-use and de-mold silicone molds will work with epoxy, clay, soap, plaster, chocolate, etc. All 6 bottles have different shapes!
These silicone molds are food grade. Boil and wash before using edible materials.
---
This set has 2 slightly different comb molds, but the brand itself – Souarts – offers a variety of different comb molds. Durable silicone molds with realistic design. Can be a great gift for female family members.
---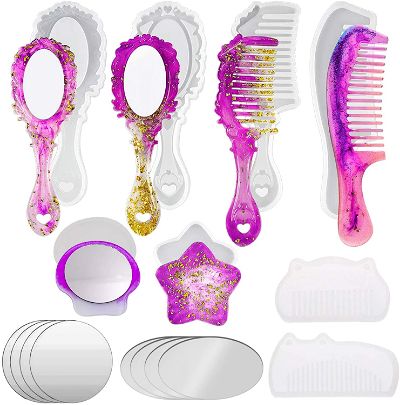 Most comb mold sets include a mirror too to make it a perfect pair. This set has everything: 4 combs molds and 4 different styles of mirrors too. Simple mirrors are included.
---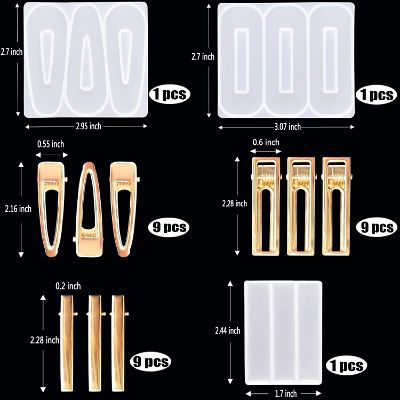 This hairpin set contains 3 different styles of hairpin molds and 27 actual metallic hair clips – you can create a whole collection very fast.
---
This Bracelet and rings mold Set includes 9 pcs total: 3 rings molds (sizes 16-18) and 6 bracelets (sizes 54-90 mm). They are round, the design of the mold is very basic, but you can create a unique style with pigments, flakes, dried flowers, etc.
---
CANDLES & CANDLE HOLDERS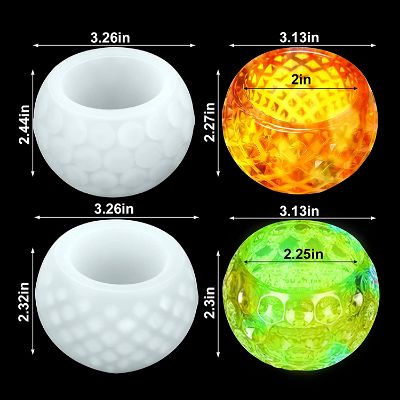 These 2 Tealight Candles Holders have sphere shapes and two different patterns: circles and rhombs. They are perfect for home decoration and events.
If not available on Amazon, try IntoResin shop, here is the direct link to these candle holders.
---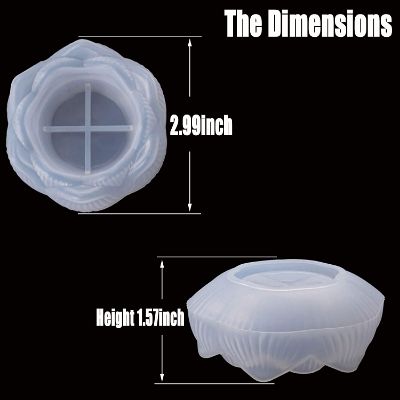 A beautiful and simple candle holder is this one – the lotus-shaped mold for epoxy, plaster, clay, and other materials. There are 2 identical molds in the set. You can use it not only as a candle holder but as a small storage box too.
The diameter is 2.99 in.
---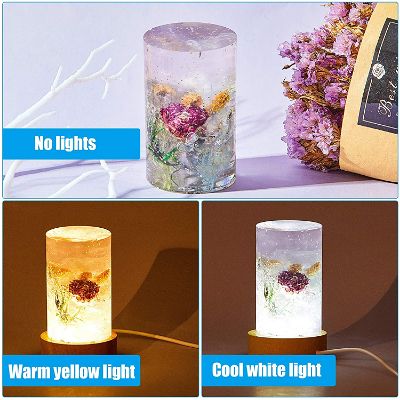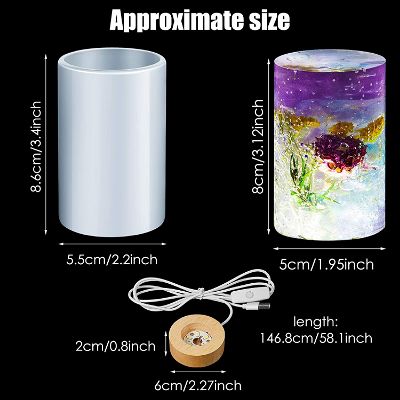 In this set classic cylinder mold is accompanied by two USB Powered Wooden Lighted Bases – you can make your resin project glow!
Add flowers, foil flakes, and cast the resin. Set it on one of the lighted stands and voila – you have a night table lamp.
The same effect won't work with clay or plaster, as the only epoxy is transparent.
---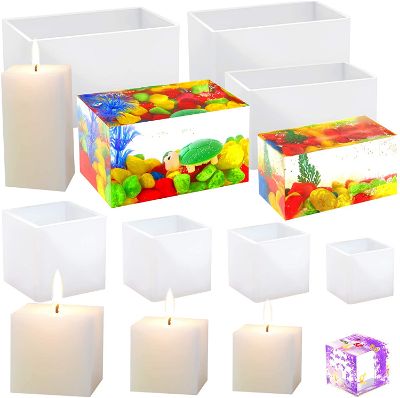 Style is all about simplicity. This set of 7 rectangle and square molds will work for candle making, epoxy flower or insects specimen showcasing, or home decor.
---
Ready to use and light up your room – set of 2 sphere lamps with stands. Amazing gift and home decoration!
Sizes: 1x 80mm sphere resin mold, and one 65mm sphere resin mold.
---
POTS & BOXES EPOXY MOLDS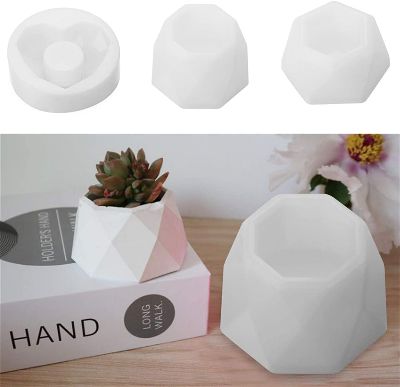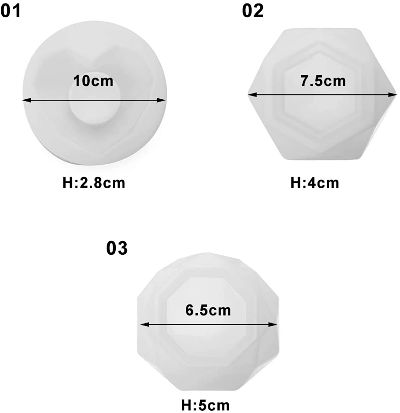 This set includes 3 small pot resin molds for small plants of 3 different shapes: hexagon, octagon, and heart shape.
The molds will work for epoxy resin, jesmonite, cement, plaster, clay.
---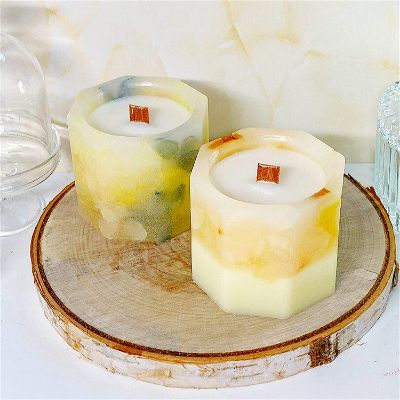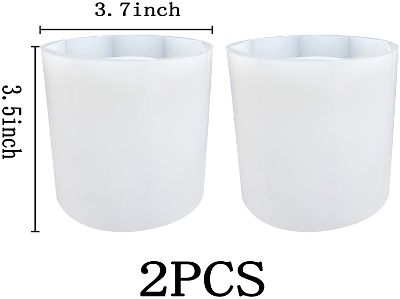 If you need a larger pot you may want to look at these 2 octagon pot molds for resin. The height of the mold is about 3,5 in.
---
This textured storage box can be easily used as a pot too if you will not cast and use the lid. Work great with resin, jesmonite, plaster, or cement!
If after casting lid doesn't fit well enough in the pot, sand it slightly.
---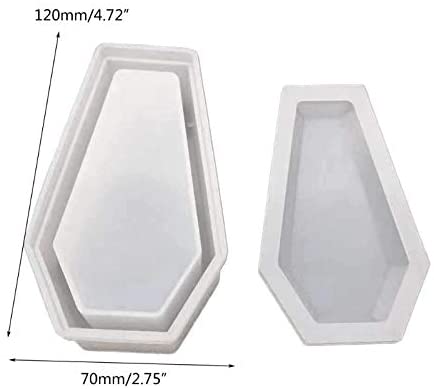 To create some decorations for a Halloween party, use this Halloween coffin mold. Looks a bit creepy for me, but I've seen a lot of finished pieces online. Of course, you can use it not only for Halloween, if you like the style, go for it – it may be a nice jewelry storage box.
---
One more storage option made of epoxy – a jar. Multiple uses are possible: for honey, small sweets, jewelry, candles, etc.
Although epoxy is food-safe in short term, make sure you are using food-grade epoxy for a jar you will use to store something edible.
---
HOME DECOR EPOXY MOLDS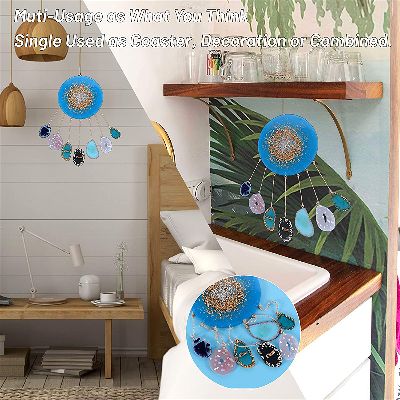 Originally, this set of molds is created to make a pendant home decoration with 12 constellations. But, in fact, you can use all details separately if you like.
The set includes 3 Packs of Jewelry making molds, 12x Steel Golden Constellation letters, 20x Jewelry hooks, Hemp rope, and a very simple hand drill.
---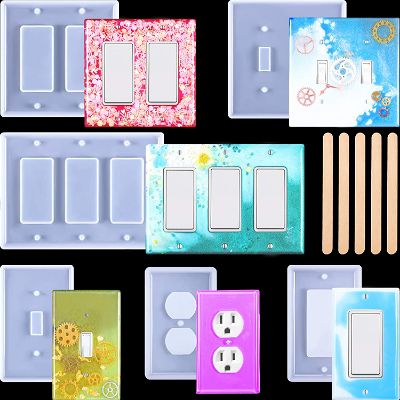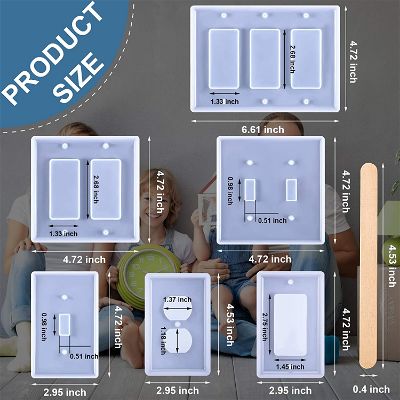 Why not make nice switch plates for your house? Any color and design you like but also you can change designs as many times during the year as you wish! You can make special plates for big holidays like Halloween or Christmas.
The set includes 6 different molds for the outlet switch cover.
---
I love playing chess, do you? With resin, you can make a chessboard, a set of 16 3D pieces, and this set also includes checkers molds.
Make your DIY chessboard in classic style or vivid colors, or with foil flakes, dried flowers, and shells. Be creative.
---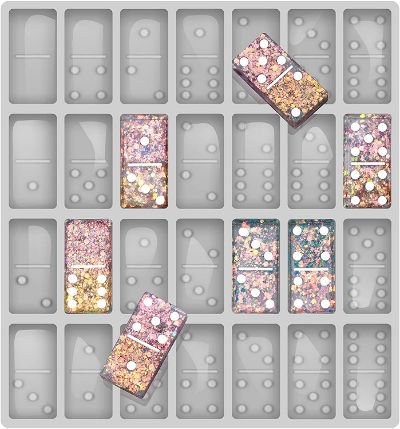 Add to your DIY board games collection domino. The set includes reusable silicone mold with cavity Size: 2-inch x 1-inch x 0.39 inch deep. The mold is very flexible and durable and easy to de-mold.
Moreover, this mold is made of food-grade silicone, so you can make edible domino!
---
Geometric figures mold basic set includes sphere, cube, pyramid, square, and round silicone molds. They are durable, reusable, easy to use, non-stick, and easy to clean. You can make soap, epoxy decorations, candles, coasters, or bath bombs.
Sizes: square 4.2×4.2, round 3.4″, cube 1.9×1.9″, sphere 2.7″, pyramid 1.9×1.9×1.9″.
The set is also including a 100 ml measuring cup and five 3 ml plastic pipettes.
More than 8,000 beginners and experienced craftsmen liked it and ordered from Amazon.
---
Super stylish mold for geometric lion. Basically, it is a candle mold, but you can use it with epoxy to make a figure for home decor or a gift for someone born in August.
Despite geometric details, this silicone mold is easy to de-mold and clean. It is also reusable, of course.
---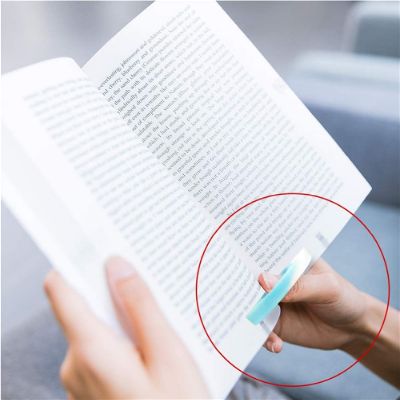 I made reading 10 pages of a non-fiction book a part of my daily routine. So I find this mold for the epoxy to make a book page holder extremely useful!
This set has 10 different styles and shapes for page holders: from the heart to the dolphin.
---
For book lovers another option – not a page holder but an actual bookmark. The set has rectangle bookmark molds of 2 sizes and a collection of colorful tassels.
Super easy to use mold and quick gift.
---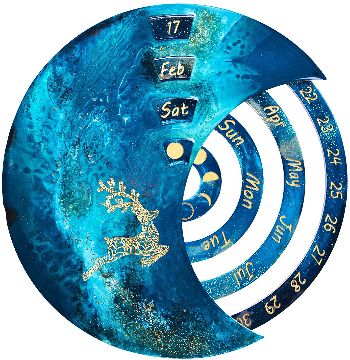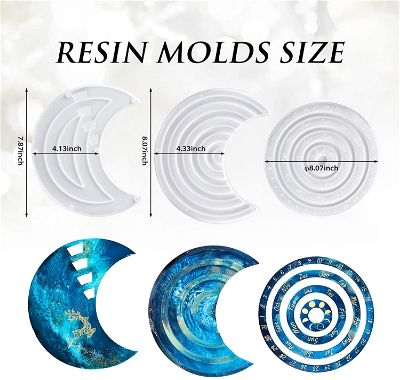 A very interesting gift or home decor – a Moon perpetual calendar that will tell you the date and the Moon phase.
It may be not the easiest project for a beginner, but definitely an exciting one. You will get 3 molds of 3 different parts of the calendar, which you need to cast and assemble.
---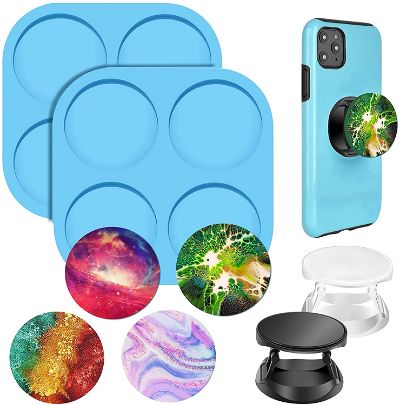 Phone grips are quite popular phone accessories and with epoxy, you can make your own grip. The set includes the mold and 2 grips themselves: black and white.
---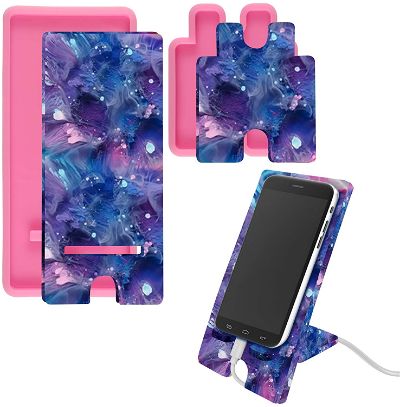 DIY phone stand mold set will fit 4-8 inches smartphones. It has 2 parts that have to be molded separately and then assembled. It can be portable too, which makes it nice for traveling – you can watch movies on your phone or have zoom meetings.
Sizes: 3.54×8″ and 3.54×4.3″
---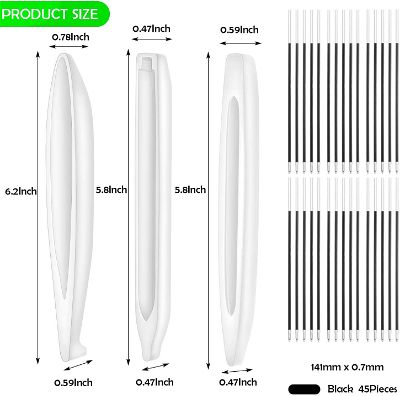 Epoxy DIY pens are a huge trend right now. BuQiuRen set includes 3 different styles of molds and 45 ballpoint refill pens (black ink).
An easy-to-make gift for a teacher or personalized stationery.
---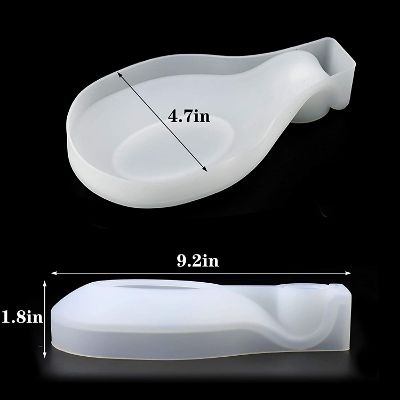 A lot of kitchen supplies can be made from epoxy resin. The simplest one is a tray, but here is another, less popular option – make a DIY spoon holder and it will make a great gift for your mom or grandmother.
This almond-shaped resin mold for a spoon holder has the following size: 9.2×4.7×1.8 in.
---
The set includes 2 main shapes for molding ashtrays: square and round. Sizes: 9.8*9.8*3.2 cm (square mold), 11*11*2.8cm (round mold).
Simple, easy to use, demold, and clean silicon molds.
---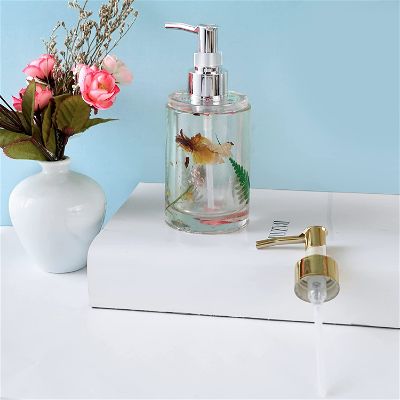 This set for the bathroom contains one large jar mold and two pumps: golden and silver. Easy to use and assemble even for beginners.
You can use this jar for the kitchen too, for sure.
---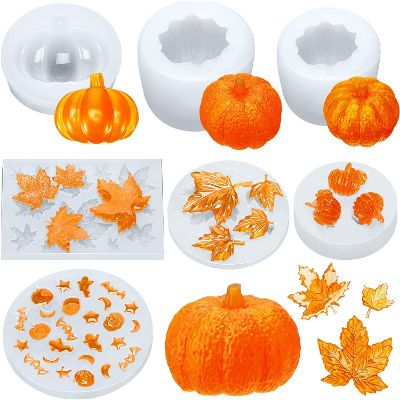 Feeling creative on Halloween Eve? Here is a set of 7 molds for Halloween: a lot of pumpkin epoxy molds, Halloween maple silicone mold, and one mixed small bat and ghost mold.
Can be a perfect pass-time for kids!
---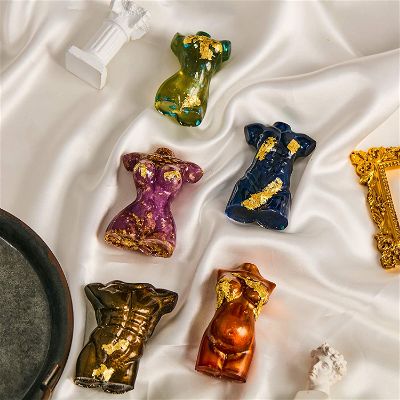 Purely decorative molds – female and masculine body shapes. But, if you will use was instead of epoxy you can quickly make beautiful candles.
The set includes 5 body shapes: 2 men, 2 women, and one pregnant woman.
---
OTHER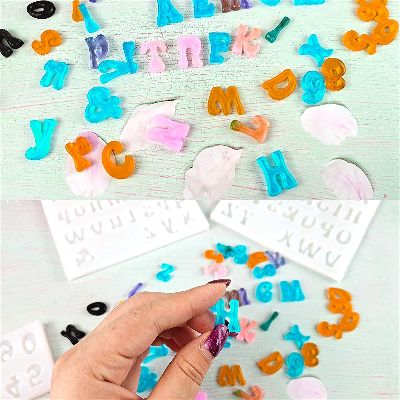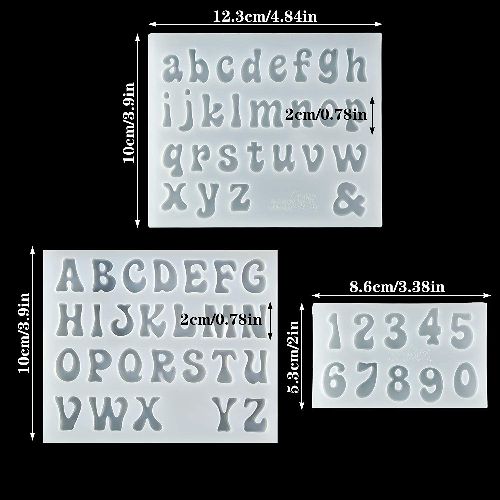 Alphabet and Numbers silicone molds set has 3 molds: one for numbers, one for Uppercase Alphabet, and one for the lowercase alphabet. The letters will be 0.78 in high (2 cm) and you can use them for epoxy, for cake decoration, for jewelry making, or even for your kids' learning process.
---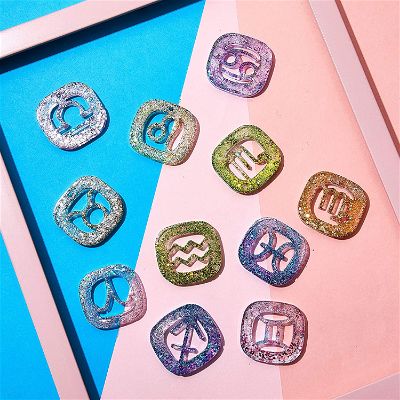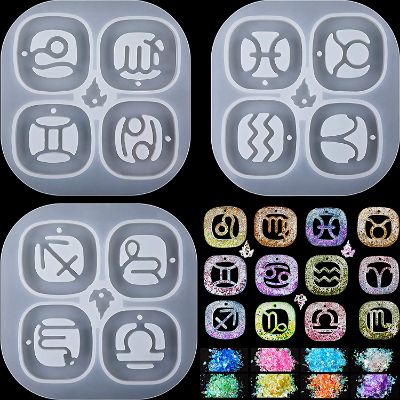 Zodiac jewelry or keychain make the perfect personalized gifts or accessories. This set has all zodiac signs molds and 8 colors holographic glitter sequins. You only need epoxy resin to start molding.
Each mold has 4 signs, each sign is approximately ±3 cm.
---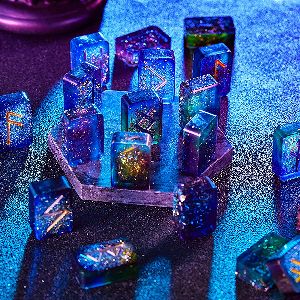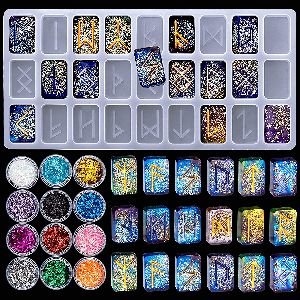 Runes are very powerful symbols for some people. If you are the one, you can make your custom set of runes from epoxy.
You can also cast a pendant using this mold.
The set includes 27 runes and 12 color glitter. Each rune is 2×3 cm.
---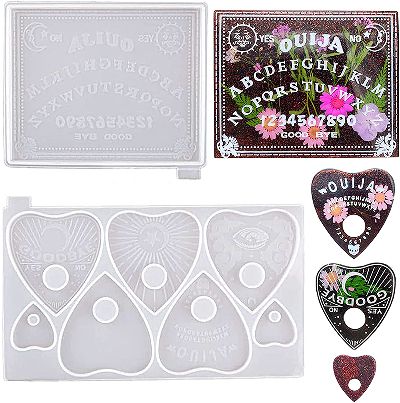 A very spiritual gift maybe this Ouija board that you will cast with resin! The set includes the gothic style board and 6 different styles of the planchette (4 big and 2 small).
Sizes: 6.8 x 5.5 x 0.37 inch (board), 3×3 inch (big planchette), 1.5×1.5 in (small planchette).
---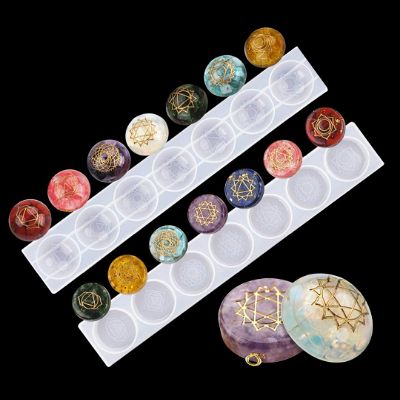 Some spiritual people believe that physical symbols can reinforce chakras. If your friend is a yoga enthusiast or practices tantra or reiki, he or she will appreciate your gift.
The set includes 7 chakras stone molds. Each mold is engraved with a chakra symbol design. The diameter is 1.5 inches.
---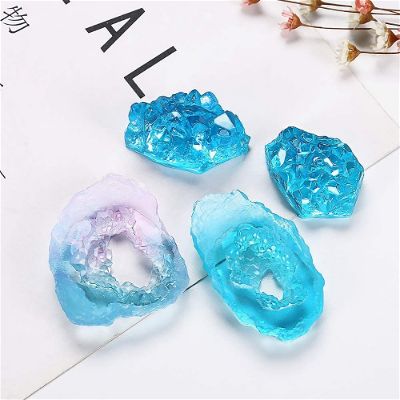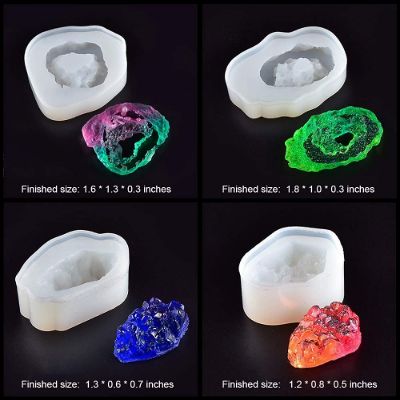 Epoxy crystals look very natural and make amazing home decor. This set has 4 molds for growing crystals, like quartz stones.
You can also use them for jewelry making and with different materials like wax, plaster, clay, etc.
---
For those who like small gifts and customize everything they see, why not make a resin lighter case?
This set has 2 sizes of the lighter cases: J3 (2.6×1.4×0.99 In) and J5 (2.2×1.4×0.99 In).
However, the problem with some custom cases is usually that they don't fit. So be careful!
---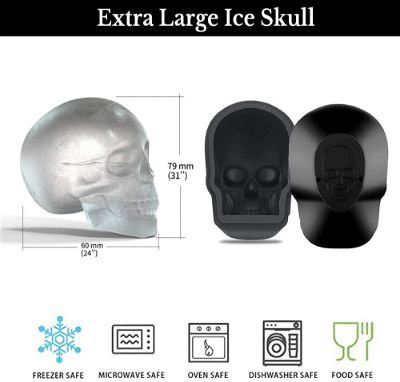 One of the classic decorations for modern interiors is a skull. Skull from epoxy will be a stylish decor, especially if you use a reusable mold for epoxy and cast different styles of skulls. One with glitter and dried flowers can look very elegant.
This mold is food-safe, so you can even make some chocolate or ice skulls for Halloween.
The set includes a funnel, which makes the molding process easier.
---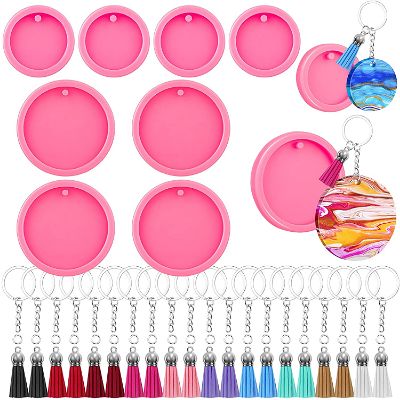 Simplicity is beautiful. This set contains simple round keychain resin molds of 2 sizes, 20 metal round keyrings, and 20 colorful tassels.
Sizes: large round is 2.7 in (7.3 cm), the small one is 1.7 in (4.8 cm).
---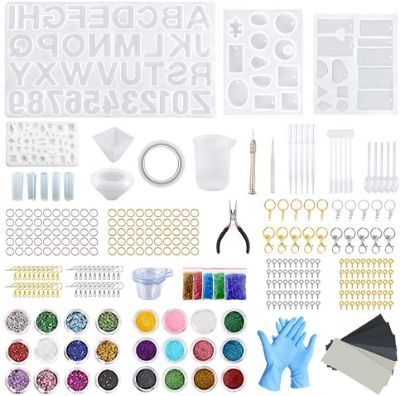 Looking for a molding set that won't let you be bored? This set has 300 different pieces to play with! Amazing gift for a beginner – all-in-one molds with tools and glitter.
The set includes the alphabet, numbers, jewelry-making molds, crystals, and many more elements for casting.
---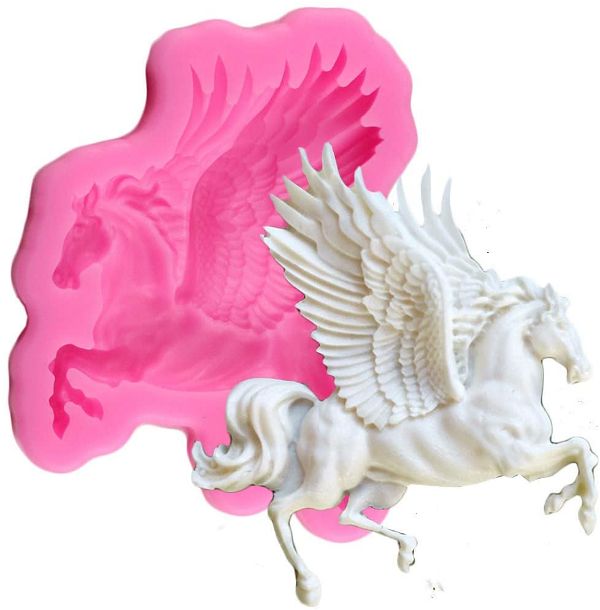 Absolutely impressive mold for epoxy – a Pegasus. You can use it for casting epoxy, but also candles or soap. The silicone is food-grade so you can even make a white chocolate Pegasus. I like how the wings and muscles are detailed!
Mold size: 7*8.5*1.3 cm.
---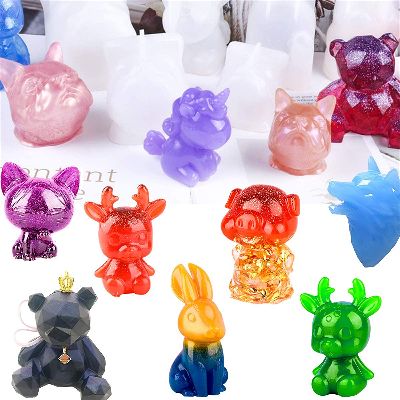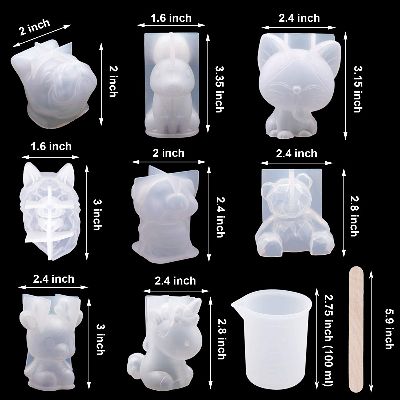 I couldn't make a list of molds without including animals. Perfect hobby time for you and your kids, nice small soap or candles.
The set includes 8 animals molds: unicorn, bear, rabbit, deer, dog, pig, cat, and wolf. They are all quite small – just a couple of inches.
---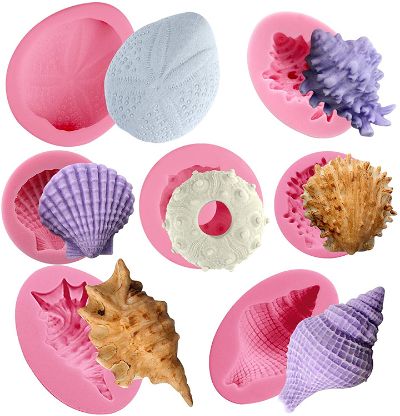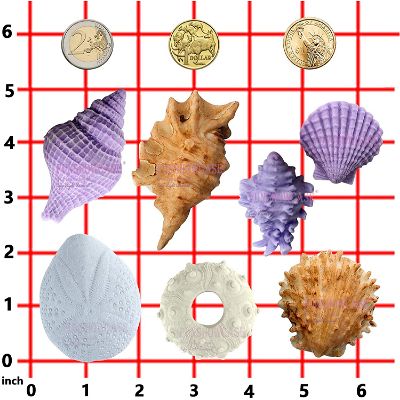 You can use these seashell molds for purely decorative purposes or make some jewelry. The silicone mold is food-safe though, so you can mold chocolate too.
All seashells have different shapes.
---
DIY Resin Mold for Epoxy Recipe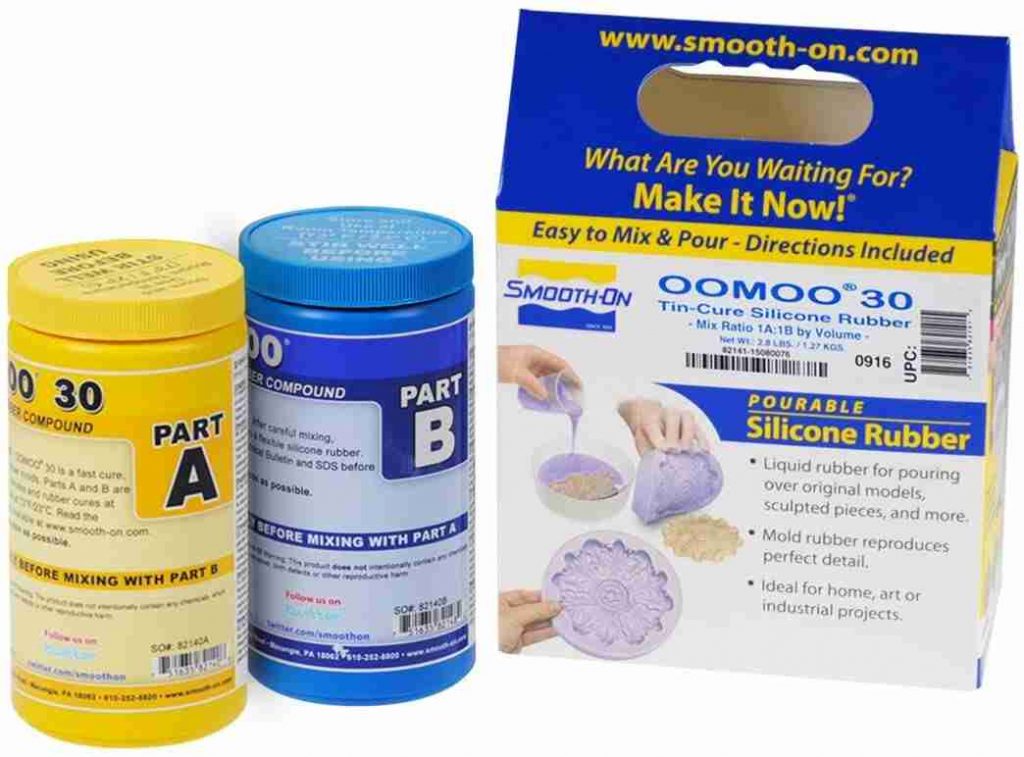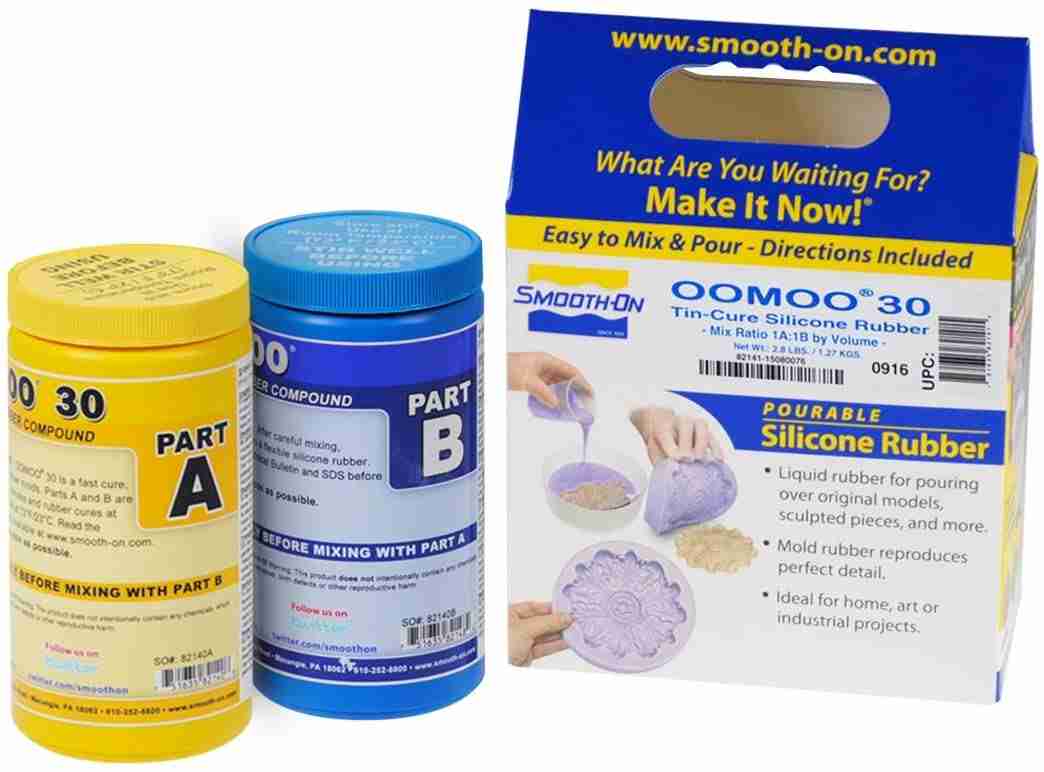 Even though all silicone molds are affordable and reusable, you can easily make your own mold for casting resin, jesmonite, clay, soap, or any other material.
Creating your own mold is easy with modern technology, plus a lot of manufacturers sell Starter Kits for mold making with detailed instructions. For ex., Silicone Mold Making Kit or this Alumilite kit if you want to make a food-safe mold.
What you need to make a silicone mold:
Reference. An object you want to copy and create a mold from.
Silicone Rubber Kit- it is a universal molding material.
Using a molding kit, you're going to follow pretty same steps no matter what brand you buy:
You need equal parts of both active compounds. Ratio is then 1:1.
Mix well until the consistency is homogenic with no air bubbles or lumps.
Cover thouroughly the object you want to make a mold of. Make sure you cover all details and corners. This step is crucial for the quality of the future mold.
Let it dry. Depending on the kit it may be 20 – 25 minutes.
Demold and set aside for 6-8 hours to make sure the mold is fully cured.
DIY Resin Mold Without Silicone
To substitute silicone you can use Paraffin wax or polyethylene molds, wood, metal, plaster of Paris, or glass, but you will have to use mold release spray to help your cured resin to come out. Melamine is a tricky material and I would not recommend it for beginners. Yet, silicone is by far the best material for molds.
Another modern alternative is ComposiMold – reusable material you can make molds for epoxy with! They are unique as they are reusable not only in terms that you can create several similar items but you can actually melt the mold in a microwave and recreate a completely new mold! This is impossible with silicone. ComposiMold is also eco-friendly. Crafters use it to learn and make some small projects.
---
How to use a mold for epoxy?
TIPS FOR SILICONE RESIN MOLDS:
Always keep your casting molds clean. Before every use check that the surface is smooth and has no cracks.
2. Always wait till the piece is fully cured before de-molding. Even if the epoxy or cement needs only 10-25 min to set, it doesn't mean the project is ready to leave the mold. Wait for 24 hours!
3. When de-molding, you can use a resin release spray and let it dry in the silicone mold to help extend the life of your molds. If you don't have it, you can use a baby wipe or a drop of soap water as a release agent, then work your way down to the silicone resin mold and push the project from the bottom.
4. Clean the silicone molds with soapy water or rubbing alcohol when necessary, then wipe dry with a soft cloth. Don't soak them.
5. Keep the resin silicone mold away from direct sunlight, dust, and fire. Some silicone molds are freeze and microwave-resistant.
---
Mold for epoxy FAQ
What can I use for epoxy mold?
Epoxy mold is a silicone mold. They are usually universal. You can look for silicone mold, resin mold, casting molds. Normally, the same mold will work for versatile materials, including cement, clay, epoxy, soap, wax, and even chocolate, so buying a silicone mold will be the right choice to work with epoxy.
What is the best mold for epoxy resin?
If you're casting epoxy, use silicone molds with smooth surfaces. Choose molds that are easy to demold and reuse. The best shape and size depend on your idea, check my TOP-10 picks for molding epoxy.
Can you use silicone molds for epoxy resin?
Yes, silicone molds are universal and you can work with epoxy with silicone reusable molds. Silicone molds are affordable, easy to clean, and beginner-friendly. It is also possible to make your own silicone mold!
Can I make my own resin molds?
Absolutely you can create your own resin molds following a simple DIY silicone mold recipe I've shared. There are a few ready-to-use kits on Amazon that you can buy, For ex., Silicone Mold Making Kit or this Alumilite kit if you want to make a food-safe mold. Mix and make your own mold based on your favorite shape, home decor object, hands, favorite mug, or anything!
Do plastic molds work for resin?
Plastic doesn't really go well with epoxy. When the epoxy is mixed it creates a chemical reaction and the heat is often what accompanies such a reaction. Heating the plastic will end up in mold warping and you can eventually damage it at least, or have a fire start! Another reason why plastic molds or cups are to avoid is that they are not as flexible as silicone. Once I mixed my epoxy in a plastic measuring cup and I could never get the leftover epoxy out of it.
---
If you want to use these molds with some other materials, try Jesmonite or quick-set cement. Here is a quick guide for you: Ultimate Jesmonite Starter Kit & 8 Jesmonite Alternatives USA.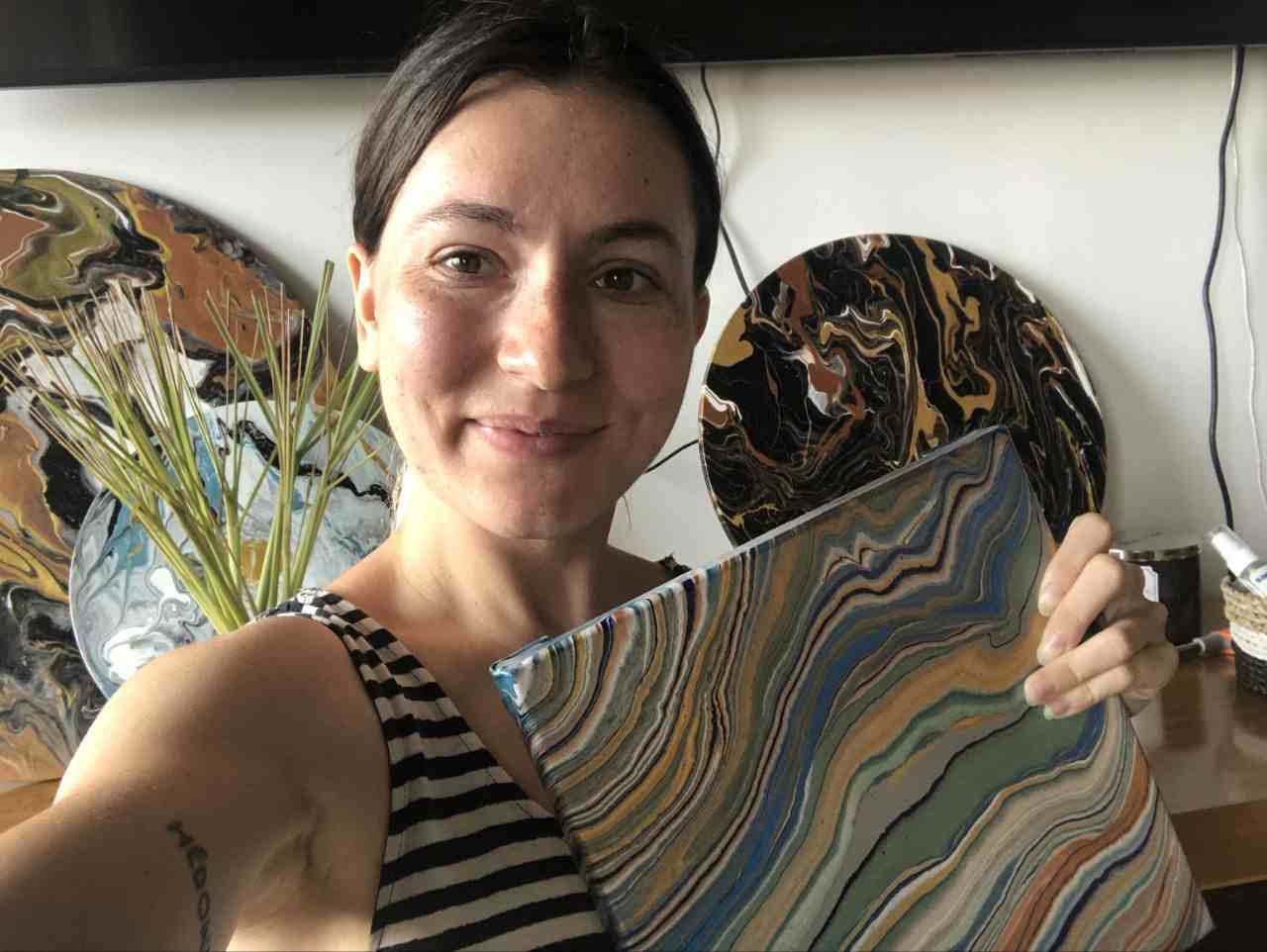 Masha Eretnova is a certified teacher. She started painting and drawing 20+ years ago and now is an international abstract artist and educator passionate about acrylic painting, gouache and crafts.
More about me.